We recently reviewed LG's 2013 Google TV, the G3; while the G3 and the LA7400 series are quite similar in terms of picture quality, the G3 ultimately claims the upper hand, due to better overall functionality and price. The 47-inch LA7400 we tested carries an MSRP of $1799.99—nearly $450 dollars more than its Google-powered counterpart.
A pretty panel with ample connectivity—atop a bloated base
Opinions around the office vary, but this TV's design is nothing if not unique. The gunmetal stand and invisible bezel blend nicely into a variety of settings, true, but there's something clumsy and overweight about the curved, crouching stand; its metal, hefty construction feels vaguely robotic. Is it a bot or a TV? Can it attack my enemies? Worst of all, the red LG logo is obnoxiously out of sync with the rest of the scheme.
Number buttons are evidently a thing of the past.
As far as connections go, users have plenty to choose from. Facing out on the left side are three HDMI hookups and three USB ports, and on the back of the same side are shared composite/component ports, an antenna in, digital and audio outs, and an Ethernet port. There is also a set of buttons on the back right side, for channel change, volume, inputs, settings, and power.
For the controller, the LA7400 ships with an unconventional Magic Remote, which uses a combination of voice and gesture functions to man the TV. We discuss these functions in more depth below, but we should mention the lack of any sort of traditional remote. Number buttons are evidently a thing of the past.
Separating the wheat from the gimmicks
If you're shopping for a new TV, but secretly you just want a living room robot, the LA7400 is a fair bet. Television is just part of what this bright behemoth offers.
Press the voice button and a cartoon girl in a tight red jumpsuit will appear. Awkward but true. After a ditzy moment of thought (wherein the user contemplates the role of femininity in technology), a word bubble materializes nearby, which is your cue to speak: Say, "Katie Perry videos"—a YouTube video with the candy-clad singer will appear. Ask for a website, a Katherine Mansfield story, a movie, how to roller skate—the cartoon babe will get what you want—most of the time.
Press the voice button and a cartoon girl in a tight red jumpsuit will appear.
Voice commands launch comprehensive searches for content, too. After a fairly simple setup to sync your cable box to your remote, a voice search for a movie or TV show will tell you where you can get that particular selection, and how much it costs to rent or buy (based on your subscriptions): cable TV, Netflix, Hulu Plus, RedBox Instant, Crackle, CinemaNow, and Vudu are all included in one sweeping search.
A voice search for a movie or TV show will tell you where you can get that particular selection, and how much it costs to rent or buy.
The little Magic Remote doesn't stop there; shake it in your hand and a cursor appears on the screen, which you control with wrist movements. Users click on a selection by pressing the ball in the center of the remote—which doubles as a scroll wheel. Users can even control the cable box with this remote. And yes, while watching live TV, by holding down the scroll wheel, you can draw a number onto the screen to change the channel. But I'll be clear: This is a complete gimmick. It's all fun and games until you realize that your magic remote has no number buttons, so in order to get to channel 849, you must either say it or draw it, neither of which gets it right every single time. And don't expect to find a full QWERTY keypad either, like on the G3; typing is absolutely miserable. You will definitely need a crutch, like a smartphone remote app or a USB keyboard.
Rounding out the gimmicks is an NFC sticker that ships with the TV. If you're an iPhone user, move on. This is not compatible with your device. For all of you Android users: Enable NFC on your phone, make sure the TV and the phone are on the same network, touch the sticker to the back of your phone, and download the two—yes two—LG apps that pop onto the screen. This will allow control of the TV via phone, and network sharing as well. And to top things off, look for four very comfortable pairs of passive 3D glasses that ship with the LA7400.
Oh, right—this is a TV, too.
Before we get too caught up in the smart feature fanfare, let's consider this machine's primary function. Much like the G3, the LA7400's picture is adequate, but not breathtaking. To begin with, it doesn't get especially dark, so its depiction of an inky black scene won't be as convincing as it could otherwise be. Luckily, most regular content consists of a balanced mix of darks and lights, and since this LED can get bright as blazes, the picture looks great most of the time, despite its dark deficit. But be sure to sit front-and-center, because the viewing angle on this TV is extremely narrow.
Some of this TV's presets are downright tangerine.
The LA7400's colors didn't exactly dazzle us either, with overly vibrant reds and blues, and blueish white levels that required toying with the settings. This is not a TV that you can unwrap, slap in the living room, and begin watching immediately; you will need to toy around with the extensive settings to capture just the right look, since some of this TV's presets are downright tangerine.
But aside from all that, the TV performs well. Even though some colors are overly vibrant, they do transition from one hue to the next quite smoothly, rendering a detailed, polished picture. And motion looks excellent too. This TV boasts a 240 Hz refresh rate, meaning it pulls data 240 times every second, so blurring and jagged pictures won't be an issue here. In fact, the motion is so smooth to begin with, that even the lowest motion processing setting on this TV renders a strange, overly-processed image—meaning it simply begins to show you too much, lending that unpleasant soap opera effect.
In a windowless setting, things looked really great, but in Reviewed.com's sunny break room the screen was marred by all sorts of reflections.
Testing talk aside for a moment, though, my experience with this TV was that in a windowless setting, things looked really great. Colors were bright and clear, motion was smooth, and even from an angle the picture looked attractive. However, when I moved it to Reviewed.com's sunny break room, and got stuck at a table on the left side of the room with my Magic-playing coworkers, not only did the picture look terrible due to a loss in contrast, but the screen was marred by all sorts of reflections. Instead of enjoying the program on TV, I wound up staring at one of our programmers the whole time—who was seated on the opposite end of the room, and appeared in great detail on the TV's shiny screen.
Worth the price?
Picture quality like this on a TV half the price would be one thing, but a price just shy of two grand is another story; the 47-inch LA7400 carries an MSRP of $1799.99. Definitely look for this on sale—we found it online for about $1200. Sure, much of what you're paying for is features—but that's exactly the point. If you're looking for top-dog picture quality, move on.
And speaking of features, if you're comparing LG's 2013 Google TV, the G3, and the LA7400 series, here's a tip: The G3 has better smart controls, namely the full QWERTY keypad on the back of its much-better remote. Believe me, that goes a very long way on a smart TV. In terms of picture quality? The two series are nearly identical. Compare your streaming subscriptions, though, as the offerings vary on each.
Welcome to the science page, where we share our findings from the TV lab. We think our eyeballs are pretty great, but we need robots to get hard numbers, so with the help of Konica Minolta's CS-200 chroma meter and LS-100 luma meter, as well as test patterns from Dr. Ray Soneira's DisplayMate software, we collect the readings we need to give you fair, unbiased reviews.
Not exactly black beauty
Since contrast ratio is a major part of a TV's ability to produce lifelike content, this is one of our most important performance tests. This test compares a television's peak luminance with its deepest black level, and since the LA7400 can't get particularly dark, it received mediocre marks for this trial. We measured a measly black level of 0.26 cd/m2 , but a gleaming peak luminance of 293.90 cd/m2 , the latter of which saves its score, accomplishing an overall contrast ratio at 1130:1—acceptable, but far from exciting.
A punchy palette
We test three aspects of a TV's color performance: temperature, gamut, and curves. The LA7400 proved hit or miss throughout this series of trials.
As far as its gamut is concerned, which is a measure of how accurately the colors match the international standard for HDTV (Rec. 709), the LA7400 missed the mark a bit. Reds and blues are too punchy and oversaturated, which contributes to an overly vibrant, unnatural image.
With regard to temperature and color curves, things looked a little better. Testing revealed few visible temperature errors, and the flaws that did occur were at the darkest end of the greyscale, where they are least visible. Thus, deep shadows may suffer an orange hue—but you probably won't notice it. Curves, on the other hand, indicate how polished the transitions are from one hue to the next. We've seen smoother curves, but there is nothing major to complain about here. True, blues peak too soon, which means the most luminous blues will lack detail, but this is not a major problem.
Front and center is the place to be.
As with many LCDs, off-angle viewing won't do the LA7400'S picture quality any favors. By measuring the contrast ratio over and over along an arc, we can determine how far from the center of your TV you can be before the original ratio falls more than 50% below its reading.
In this case, if you sit at more than 24º from the center of the TV, the contrast ratio will degrade by more than half, which makes for a total viewing angle of just 48º.
Meet the tester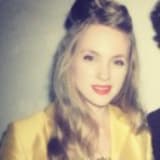 Virginia Barry
Former Managing Editor
@
Virginia is a former Managing Editor at Reviewed.com. She has a background in English and journalism. Away from the office, Virginia passes time with dusty books & house cats.
See all of Virginia Barry's reviews
Checking our work.
We use standardized and scientific testing methods to scrutinize every product and provide you with objectively accurate results. If you've found different results in your own research, email us and we'll compare notes. If it looks substantial, we'll gladly re-test a product to try and reproduce these results. After all, peer reviews are a critical part of any scientific process.
Shoot us an email