LG's 2017 OLEDs really knocked it out of the park, so it isn't surprising to find that most of the changes and improvements to the line this year are almost entirely incremental—although no less welcome. The W8 doesn't promise massive picture quality improvements compared to the W7 (because at this point, most of the core performance aspects are "maxed out"), but it does chance to deliver a much smarter, more streamlined experience that includes Google integration and a flashy new processor.
As you might guess, even a mildly improved 4K/HDR OLED is still very impressive, and very expensive. LG hasn't confirmed pricing yet, but judging by last year's W7, we'd guess the W8 will start around $8,000 or so for the 65-inch, and leap into the five-digit price range for the 77-inch. Check back in a few months for a full review complete with lab testing and hands-on results.
About the W8 Series
LG's W8 flagship OLED TV will be available in two screen sizes:
• 65-inch (LG OLED65W8), price not yet confirmed • 77-inch (LG OLED77W8), price not yet confirmed
Both the 65- and 77-inch W8 TVs promise to deliver the latest and greatest in cutting-edge TV tech, including multiple HDR (High Dynamic Range) formats, 4K resolution, a bunch of smart feature and processor upgrades, and of course, the "wall-only" wallpaper design with a separate speaker/mainboard combination. Here are the key specs:
• 4K (3,840 x 2,160) resolution • Multiple HDR format support (HDR10, Dolby Vision, Technicolor HDR, and HLG) • Wallpaper wall-mount design with separate soundbar/mainboard, Dolby Atmos support • LG "ThinQ" and Google assistant integration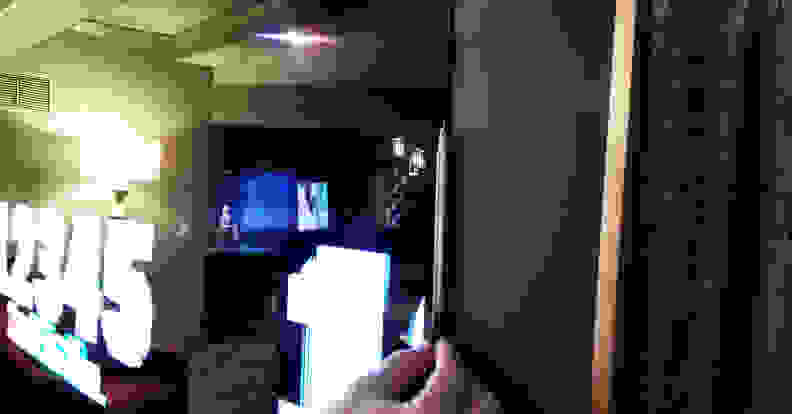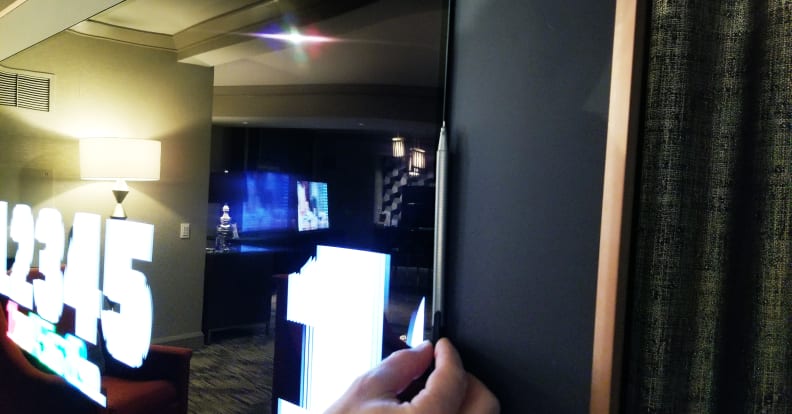 While it's possible some features will change before full production rollout, we expect the key features of the W8 OLED TVs to remain the same. Ports should include four HDMI inputs, three USB inputs, ethernet (LAN) input, shared component/composite inputs, optical audio output, and an IR control port—probably.
What We Like
The picture quality is still dynamite
The main takeaway for LG's OLED TVs (and the reason they're so expensive) is the high picture quality. While OLED TVs are still far from mainstream in terms of their price points, they're well-established as the go-to high-end choice in the market after a few years of incubation and adjustment.
Because each pixel in an OLED screen can turn on/off individually from the others (the main, major difference between OLED and traditional LED/LCD TVs), these TVs are capable of intense contrast, producing shadows that give off no light and super rich, vivid colors.
Throw High Dynamic Range into the mix, and you get a very, very impressive picture.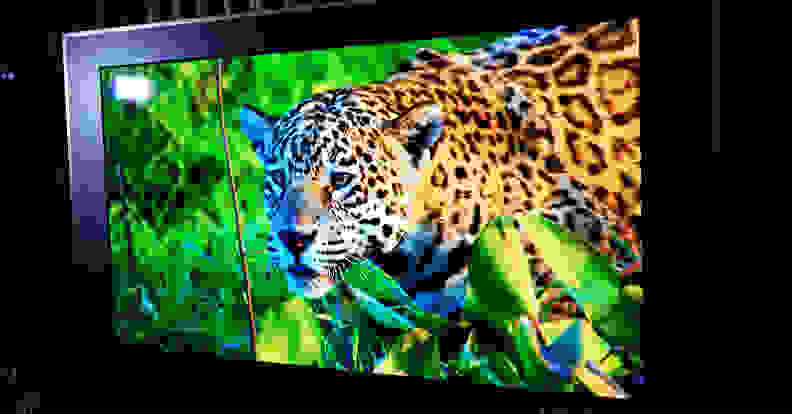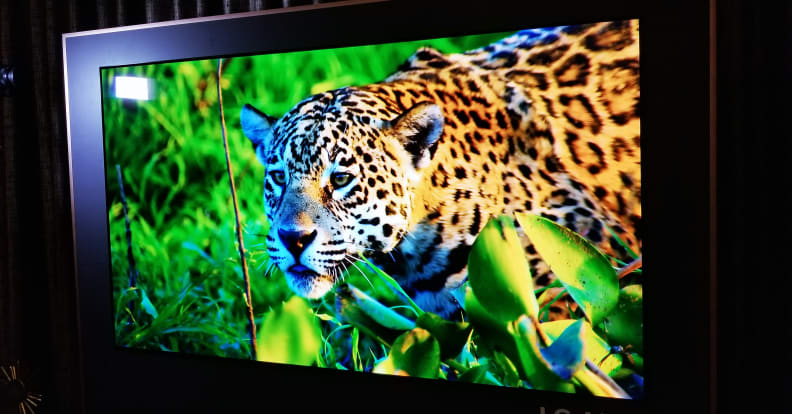 It was a big deal last year when LG's 4K/HDR TVs hit around 700 nits of peak brightness while playing HDR content, and while we haven't measured it yet, we're expecting the W8 to do the same in terms of DCI-P3 coverage and peak HDR brightness, if not even better. Naturally, the stellar black levels won't get any better—because they can't.
The new Alpha 9 processor certainly seems like a step in the right direction
The W8 looks like it's almost exactly the same as the W7, from the stellar picture quality to the LG webOS smart platform to the external soundbar and wallpaper design. What LG is banking on in terms of improvements is a concept the company calls "AI TV," driven by a new processor, the Alpha 9.
Last year's models used an A7 or Alpha 7 processor, but all of the 2018 OLEDs (except the entry-level B8) use the new Alpha 9 processor.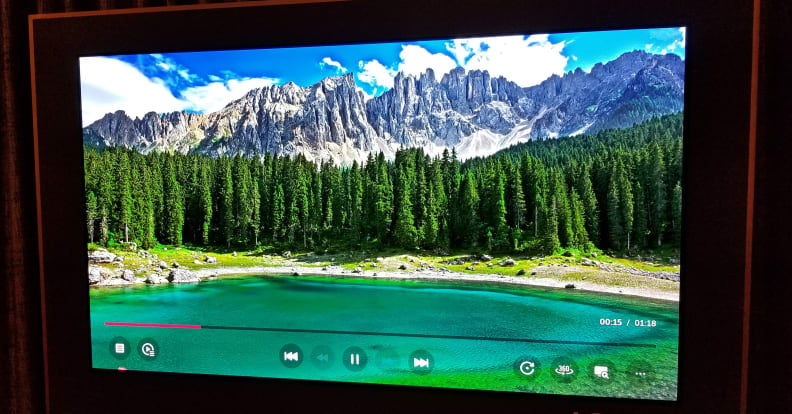 LG demonstrated the effects of the new processor, which uses a four-step algorithm to reduce noise, add or smooth out pixel sharpness, decontour banded elements, and intelligently expand the color LUT (look-up table) and add depth enhancement based on the apparent three-dimensional position of the image.
In short: they've somehow taken these amazing HDR OLED TVs and made them look even better. We ain't mad about it.
To hammer home the improvements buyers could appreciate, LG set up a side-by-side comparison with Sony's 2017 OLED TV, the A1E. Sony is famed for its attention to video processing detail, and the A1E was the company's best in 2017. They said we couldn't take photos or video of the comparison, but they didn't say we couldn't write about it!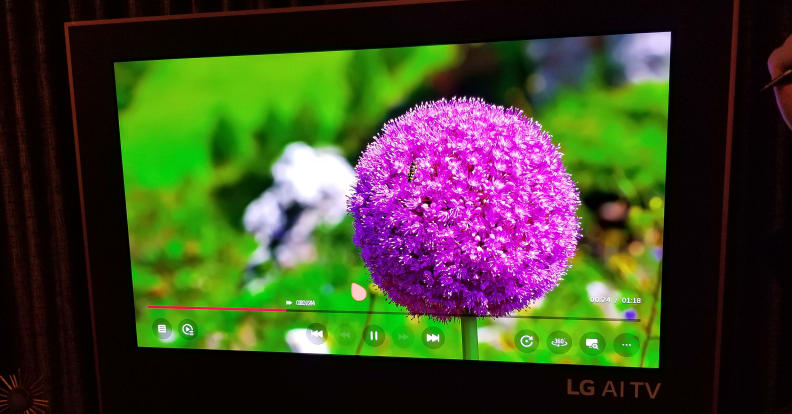 Naturally, a demo like this is hard to trust, but I can confidently say that yes, the E8 (the TV showing off the Alpha 9 image processing) looked a lot better than the A1E in every case. In a motion torture test, the A1E exhibited more "mosquito" crawl; in a shot of a bright light against a blue-black sky, the Sony TV had a ton of banding, the new E8 (a couple steps down from this TV) had almost none.
Naturally, this kind of thing needs to be taken with a grain of salt, but we at least don't doubt the new 2018 OLEDs will boast better video processing than last year's models.
The Google and ThinQ integration should make for an Alexa-like experience
Integrating Google assistance and the ever-growing smart home/internet of things into your TV might not seem to make a lot of sense on paper, but from what we can tell, making the W8 that much "smarter" can only be a good thing.
The main advantage here is that, by moving away from proprietary voice search/smart integration (LG name-dropped Samsung's Bixby as a failed example—ouch), LG may be opening up its high-end TVs to the Alexa/Google juggernaut, but it does make strides towards a smoother content-sorting and management experience, likely with much more pinache than LG could muster by its lonesome.
To test things out, I asked questions like "What's the weather in Vegas?" or simply said the name "Tom Cruise," and was greeted (pretty flawlessly) with a slew of information about how blissfully warm it is here in Sin City compared to my usual horrible frozen haunt Boston, or a list of all that sweet, sweet Tom Cruise content available through the various apps and movie channels contained in the webOS platform.
Naturally, it wasn't a flawless experience. LG's Tim Alessi asked for Tom Cruise movies three times to no avail (yet the W8 yielded them up to me with no issue... hm), instead being redirected to one of the built-in channel prompts.
Will you run into problems using the new "AI TV" functions in the W8? Almost definitely. But it's still a great addition if you held out on buying a 2017 OLED, and are in the market for one of the new models this year. (Note that the entry-level B8 may not feature the same functionality).
What We Don't Like
Not a ton of reason to upgrade this year
All of these improvements are great, but they feel a little like when the next Street Fighter game comes out, and has added new character costumes, but not new characters.
The W8 looks (from both a design and picture quality perspective) almost exactly like the W7. Is it brighter? Probably. But enough that you'd actually notice it? Probably not.
The W8's new features are very welcome, but aren't a compelling reason to upgrade from a 2017 OLED.
Fact is, like CNET's David Katzmaier already said, 2017 OLED buyers just aren't going to have buyer's remorse. The new features are very welcome, but are not a compelling reason to upgrade. Likewise, adding more HDR format support (such as Technicolor HDR or Hybrid-Log Gamma) is a professional or specialist requirement that almost doesn't impact consumers at all.
Likely bested in value by LG's more affordable OLED TVs
Last but not least, I suspect that (again) this year, LG may be its own biggest competition. Last year, the W7 knocked our socks off, but ultimately lost "best TV of the year" to LG's more affordably priced but no-less-amazing-looking B7 and C7 models.
I'm expecting the same results this year: the W8 is amazing and stylish and flashy, but you can still get its major claim to fame—the A9 processor—from the much more affordable C8 OLED. That series will also allegedly include a 77-inch size, making the W8 even less appealing overall.
Should You Buy It?
We can't say for sure—but ultimately, probably not
Like last year's W7, the W8 is a very specialist product. We wish everyone could own a high-end OLED, and your best bet for that come in the form of LG's own "entry level" (using that term liberally) B8 and C8 4K OLED TVs, which should look almost identical to the W8 in terms of picture quality, albeit without the fancy wall-mounting system or enhanced audio via external soundbar.
In fact, it's not the most exciting year for LG OLED so far, if only because last year's models were so good, they've hardly gotten better this year in our estimation. The new A9 processor and Google/ThinQ integration is great, but it lacks the "wow" factor of the HDR addition from 2015 to 2016, or the huge brightness increase we saw from 2016 to 2017.
However, we can't know for sure whether the W8 is a must-have for videophiles until we get a chance to do full, hands-on lab testing—these are just my first impressions, after all—so check back for a fully fleshed-out review later this year.
Meet the tester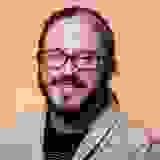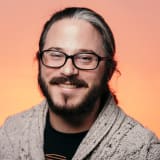 Lee Neikirk
Editor, Home Theater
@Koanshark
Lee has been Reviewed's point person for most television and home theater products since 2012. Lee received Level II certification in TV calibration from the Imaging Science Foundation in 2013. As Editor of the Home Theater vertical, Lee oversees reviews of TVs, monitors, soundbars, and Bluetooth speakers. He also reviews headphones, and has a background in music performance.
Checking our work.
Our team is here for one purpose: to help you buy the best stuff and love what you own. Our writers, editors, and lab technicians obsess over the products we cover to make sure you're confident and satisfied. Have a different opinion about something we recommend? Email us and we'll compare notes.
Shoot us an email