But the TV's got another side; one with a middling viewing angle and a gamma curve so twisted it might noticeably dampen your experience the moment you turn it on.
Panasonic has somewhat of a cult following in the A.V. community due to its penchant for catering to videophiles. Take last year's flagship AX900U, which featured killer contrast and color rivaled the plasmas of yore, stuffed in a handsome package. With pedigree like that under its belt, we were eager to see if Panasonic could bring some of that mojo down to its very affordable 2015 sets.
The Panasonic TC-50CX600U (MSRP $999.99) is a 50-inch smart TV that's ready to display a world of 4K content right out of the box. And although it doesn't quite reach the dizzying heights of last year's AX900U, it's still a heck of a bargain in a 4K TV market starved of bargains.
But while it looks great, our lab testing revealed a few nagging issues you'll want to be aware of. While that may turn off cinephiles, you may want to take a flier on this one if you don't consider yourself to be a purist.
Panasonic's got a long track record of building sturdy-but-attractive TVs, and that trend will continue in 2015. Between the CX600U and the CX800U, we've had a lot of Pannny hardware to appreciate so far this year.
The CX600U's panel is built from tough, dark gray plastic, with thin bezels that yield all attention to the screen. Its stand—a hollow, front-heavy rectangle—is the latest in an industry-wide trend to break free of the shackles of boring, simplistic stands (though it's not exactly the most abstract-looking one we've ever seen).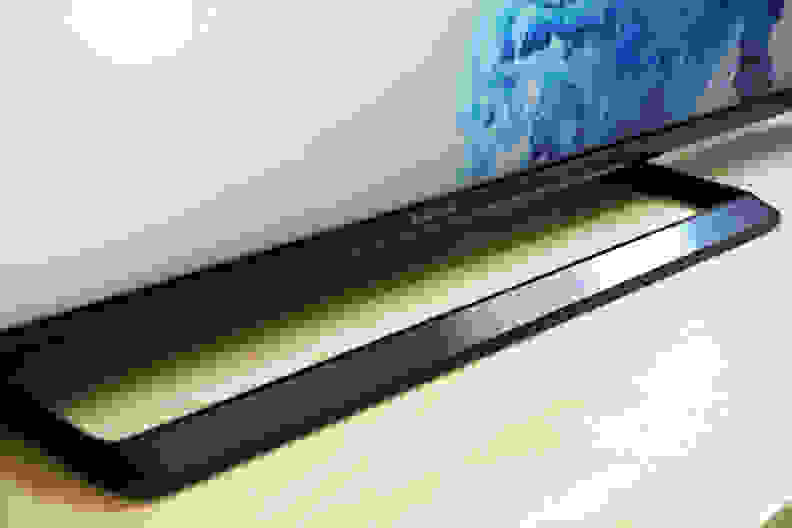 Around back you'll find a cutout that houses just about every input you'll ever need to revel in glorious, 4K content. All three of its HDMI ports are HDCP 2.2-compliant and support 4K content at 60 Hz. If that wasn't enough, one of the TV's three USB ports is USB 3.0, which means that if you're so inclined, you'll be able to enjoy 4K content from a USB device right out of the box.
The rest of the usual suspects are here, too: combination component/composite inputs, a digital audio output, a coax jack, and an ethernet port. Naturally, the CX600U also supports WiFi, should you decide that an ethernet cable is one cable too many.
The only remote control included with the TV isn't exactly a high-end one; it doesn't support voice commands or gesture controls and doesn't have a touchpad. If you're really hurting for some of these bells and whistles, you can always pick up a more sophisticated clicker from Panasonic's website.
As someone who uses a variety of TV remotes on a daily basis more than most people, I do have a minor bone to pick with the one included with the CX600U: The designated Netflix button is so close to the top directional button and so similar in shape that I frequently find myself launching the Netflix app when all I want to do is scroll up through a menu or jump up a row on an on-screen keyboard.
In a world of bulky, cookie-cutter television hardware, I have to give Panasonic props for making another attractive, sturdy TV, even if it doesn't exactly break the mold. The best thing I can say about the CX600U's design is that, although it might not wow people who long for curved, smartphone-thin panels or leaf-shaped stands, it's not likely to offend anyone, either.
After a break-in period of sustained use, we test our TVs twice—both before and after an informed calibration. Once we're finished, we compare notes to determine the difference between the TV's out-of-the-box performance and its calibrated performance.
This process is dependent on the amount of picture customization options included in the TV's menu software. Luckily, the CX600U's proverbial toolbox is jam-packed with enough stuff to satisfy most home calibrators.
Cycle through the CX600U's picture settings and you'll find 2- and 10-point white balance controls, a color management system, and gamma presets that even feature their own 10-point gain slider.
Dropping the backlight from 35 to 22 helps normalize the picture for a dark room, and after making adjustments to the TV's white balance, I decided to switch from the CX600U's normal color space to "Native."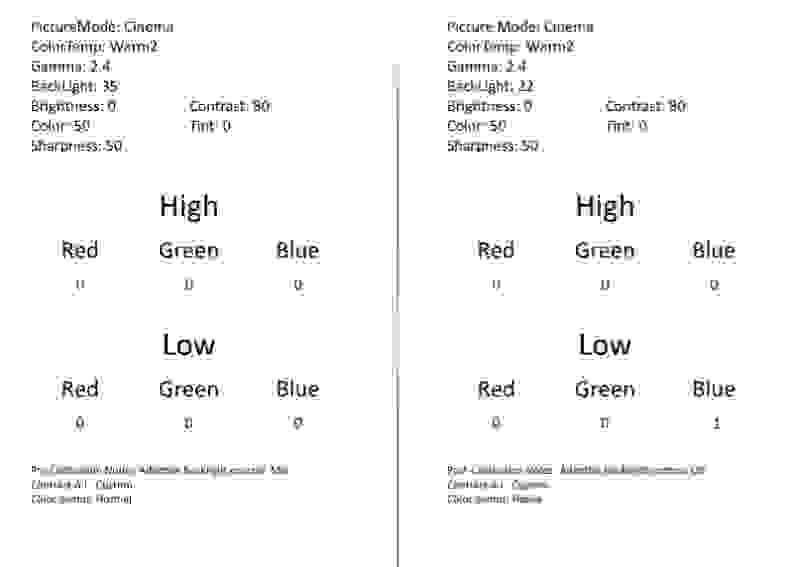 Most of Panasonic's smart TVs this year—including the CX600U–are powered by Firefox OS. While that may sound exciting, you might want to temper your expectations; the platform itself is a bare-bones affair, taking the same rudimentary approach we've come to expect from most smart platforms.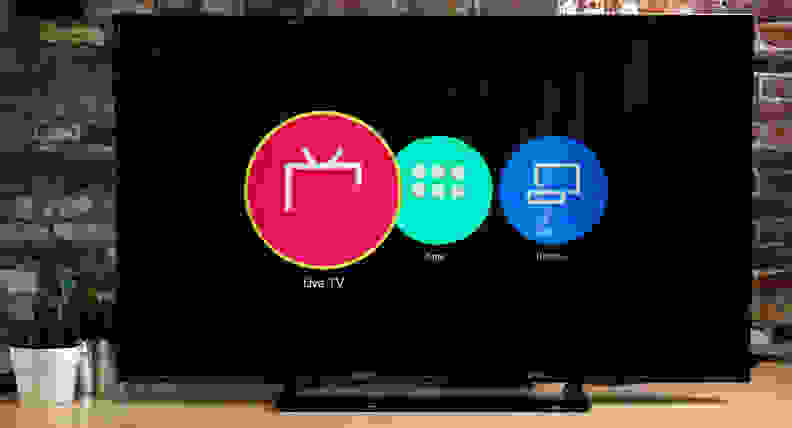 Pressing the "Home" button on the remote brings up a customizable menu of spherical-shaped icons. The default selection of icons consists of "Apps," "Live TV," and "Devices." Selecting the Apps icon will take you to the platform's main hub, which contains a complete list of every installed app. These can be pinned to the home menu depending on which ones you use most often. You can also jump right to the main hub by pressing the "Apps" button on the remote.
The "Live TV" icon is pretty self-explanatory, but it's hardwired to the TV's coaxial jack, so if your cable box is hooked up via HDMI, you won't be able to take advantage of this feature.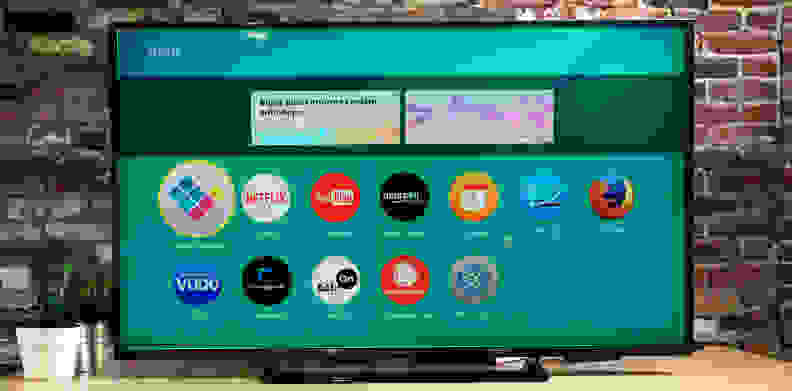 In a world of black-and-gray grids that lack personality, Panasonic should be commended for its attempt to make its smart platform colorful and bubbly. Aesthetically, it reminds me a bit of LG's webOS, but where webOS zips along with the slickness of a well-oiled machine, Panasonic's UI plods. Part of the problem is the sluggish response time, but the basic remote isn't helping, either.
The 60-inch Panasonic CX800U includes a touchpad-centric remote control that makes cycling through apps and scrolling through pages in the web browser a more fluid experience. Without it, users are stuck with the basic directional buttons on the basic Panasonic remote.
Our grayscale test reveals how pure or polluted a TV's neutral tones might be. We measure incremental steps from total black (0 IRE) to reference white (100 IRE) to determine how evenly the display's reds, greens, and blues are emphasized. The amount of error is expressed in DeltaE, with 3 or less considered ideal.
From around 50 IRE to 90 IRE, the TV over emphasizes all of its sub-pixels. This grayscale error seems to be hardwired into the CX600U's panel, too, because no amount of white balance adjustments could correct the issue entirely.

In its normal, out-of-the-box color space, the CX600U's produces colors that come fairly close to hitting the Rec.709 standards. That said, red is slightly oversaturated, blue is under-luminous, and magenta pushes blue, and in order to correct some of these issues, I had to make some adjustments to the TV's color management system.
The CMS is a bit truncated, however; all three secondary color points (cyan, magenta, and yellow) are limited to hue and saturation, leaving luminance out of the equation.
The CX600U offers an expanded color space; a gamut that is wider than the Rec.709 standard. On this setting (labeled "Native"), the CX600U's reds and greens are far more saturated. Naturally, it's not accurate according to Rec.709, but I prefer the vibrant look of this color gamut.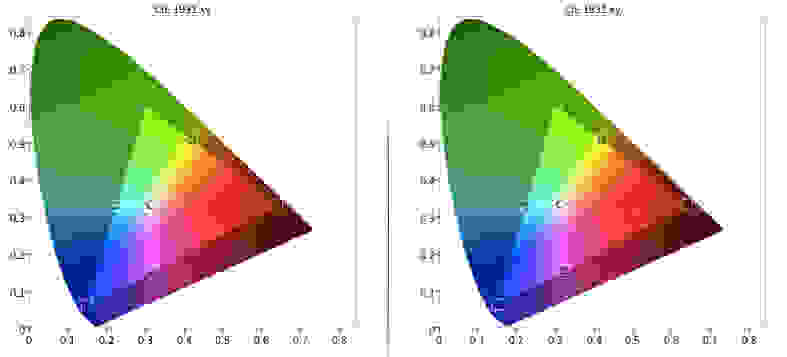 When it comes to advanced controls, Panasonic aims to please the purists more than most manufacturers in the game. The CX600U is no different, offering a variety of picture customization options for both casual and professional calibrators. I've delved into some of the finer aspects of the calibration process on the Science Page, but there are a few broader points about the CX600U's picture capabilities that are worth mentioning here.
Panasonic claims that the CX600U covers 98% of the DCI P3 color standard, or about 122% of the Rec. 709 we standard we typically test and calibrate for. The expanded color gamut, dubbed "Native," can be accessed in the TV's picture menu.
There's simply an abundance of calibration options to play with here.
Although the expanded gamut produces vibrant, saturated colors (particularly greens and reds), home theater enthusiasts may want to use the CX600U's color management system to rein some of those color points closer to their Rec. 709 standards.
There's simply an abundance of calibration options to play with here, should you feel so inclined. Be warned, though: After downloading and installing a firmware update, our CX600U's custom picture settings were reset to their factory default. Your mileage may vary, but my recommendation would be to update your TV's software before doing any extensive tweaking.
The Panasonic CX600U isn't equipped to dethrone the plasmas of yesteryear and the OLEDs of tomorrow, but it does a handful of things quite well.
Colors on the CX600U—especially those generated by the TV's "Native" color gamut—are mesmerizingly vibrant. When left uncalibrated, they're not particularly accurate, but the trade-off is a bright, vivid picture that pops off the screen. Sticklers for a photorealistic experience will probably be averse to the this color mode, but if you're not a home theater aficionado and you plan on putting this set in a brightly-lit room, I recommend letting the good times roll in the "Native" color mode.
The CX600U's motion-smoothing software is also quite good, assuming that you keep it on its lowest possible setting. Choose any setting higher than "Weak," and you're bound to experience the soap opera effect. That said, as much as the purist in me hates to admit it, I prefer having it set to "Weak" over not having it on at all. At its lowest setting, the software does a great job smoothing out judder without making the picture appear artificial.
After the plasma-like black levels we measured in last year's AX900, we were eager to get to the bottom of the CX600U's contrast production. All told, it features deep enough black levels and bright enough highlights to pass our contrast tests with a solid B+. Ostensibly, viewers will enjoy a picture rich with detail, be it in the contours of fabric or the metal outer-workings of a shuttle drifting through space.
I wish that were the end of the story, but the CX600U's got a a nasty habit involving gamma.
A TV's gamma curve is a way to describe how luminance is distributed as the TV moves out of black and up to white. If it ramps up luminance too quickly or slowly, you're bound to notice artifacts, blocking, and noise in shadows and around objects that are out-of-focus. The result is visually similar to a low-resolution video being magnified.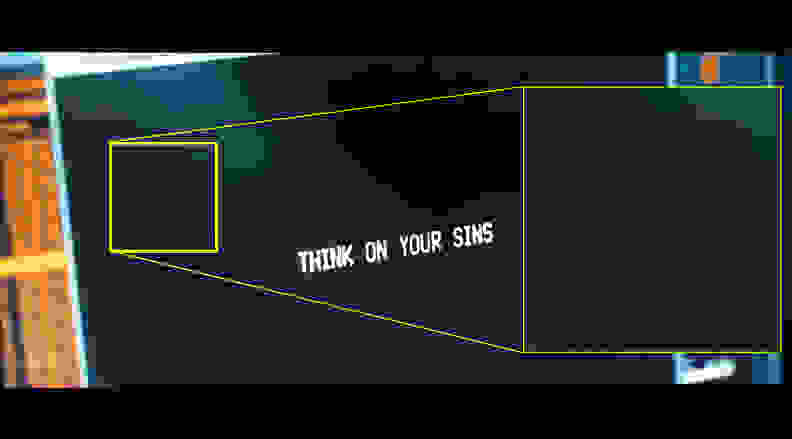 In the lab, the CX600U's poor gamma sabotaged an otherwise detail-rich picture. The effect is mostly noticeable when upscaling Full HD (1080p) content, but it's also present in native 4K content. Because poor gamma has a particularly pronounced effect on darker areas of the picture, it's disappointing to see the CX600's relatively deep black levels overtaken by its inability to allocate luminance. This poor gamma curve is almost identical to the what we measured with the CX600U's older sibling—the CX800U.
If you're on the fence about the CX600U, consider this: The TV's ghastly gamma issues are mitigated slightly when the it's situated in a dim-to-brightly-lit room. If you're not planning on making a TV the centerpiece of a dark, home theater-style room, the CX600U's struggles in this department might not bother you as much.
Perhaps the most important yardstick in evaluating an HDTV's performance, a contrast ratio divides the TV's reference white (100 IRE) by its deepest black level. A deep black level doesn't necessarily equate to a quality picture, but it's hard to have a quality picture with a shallow black level.
Using the standard ANSI checkerboard pattern, I measured a black level of 0.039 cd/m2 and a reference white of 174.4 cs/m2 , landing the CX600U's contrast ratio of around 4472:1. This is an above-average result for a mid-range LED 4K TV, though it's not quite as impressive as the Vizio M65-C1, the CX600U series' closest competitor in price.

Panasonic is a perennial favorite in certain circles of the videophile community. It's built that reputation by offering TVs that not only push the technical envelope, but also provide a ridiculous amount of wiggle room for calibrators to customize their experience.
In a pitch-black home theater environment its flaws will be badly exposed.
And this is exactly why the CX600U is such a peculiar TV. Despite being built with videophiles in mind, it's best suited for the type of consumer that doesn't necessarily care about achieving the best, most accurate picture possible. In a pitch-black home theater environment its flaws—iffy color accuracy and a suspect gamma curve—will be badly exposed, especially when enjoying movies that feature rich shadow detail and tonality.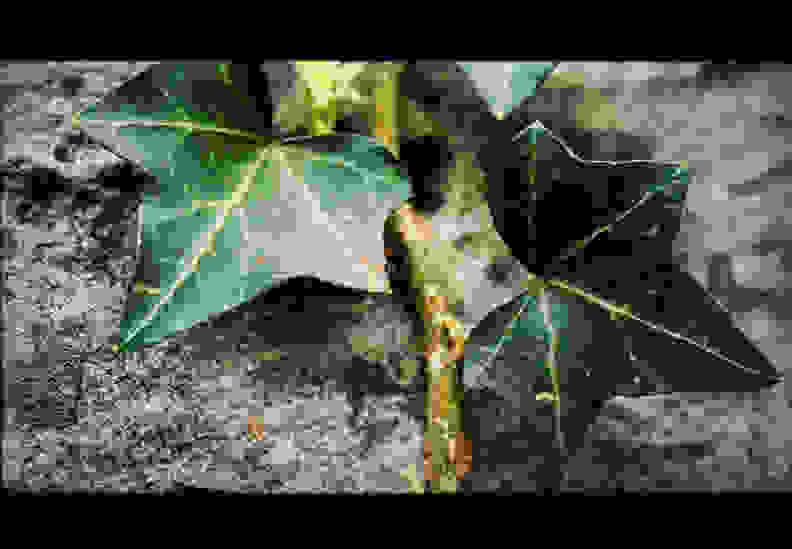 But if you're like most people, you don't have a pitch-black home theater. And for most people, a bright, vivid TV for watching cable, Netflix, and the occasional football game does the trick just fine. The CX600U does this, and you're bound to get lost in its mesmerizing, ultra-vivid colors. While not clinically accurate, that extra saturation will better hold up when it has to compete with loads of ambient light—something many higher-end TVs can't do very well.
And for the CX600U's asking price, it's hard to be picky. You can find it on sale for just $999.99, which is well below average for a 50-inch UHD TV. If you want a 4K TV that can handle movie night with a little more accuracy, we'd recommend either Vizio's 2014 P Series or its 2015 M Series, both of which were good enough to take home our coveted Editors' Choice award. The 50-inch M Series even retails for a whopping $200 less than the CX600U, even if it's not quite as pretty as the Panasonic.
For living rooms that are typically flooded with natural and unnatural light, the CX600U absolutely shines
Ultimately, the Panasonic TC-50CX600U is an affordable TV, but not the most affordable. It's also a decent performer for the price, but it's not the best value to be had. But for the right consumer—someone with a traditional living room that's typically flooded with natural and unnatural light—the CX600U absolutely shines.
If you've ever watched a TV at an off-angle and noticed a significant drop in picture quality, chances are you happened to be sitting outside of the TV's ideal viewing range.
The viewing angle "cone" represents the amount of freedom a viewer has when choosing a place to sit somewhere in the room. Obviously, the wider the cone, the more accommodating the TV. The cone drops off when our test indicates that the contrast has fallen below 50% of the TV's original, head-on contrast ratio.
Unfortunately, I measured a rather tepid viewing angle of 30° (or ±15°) when testing the CX600U. For context, that means viewers will only have about 2.5 feet to work with when choosing an ideal place to sit.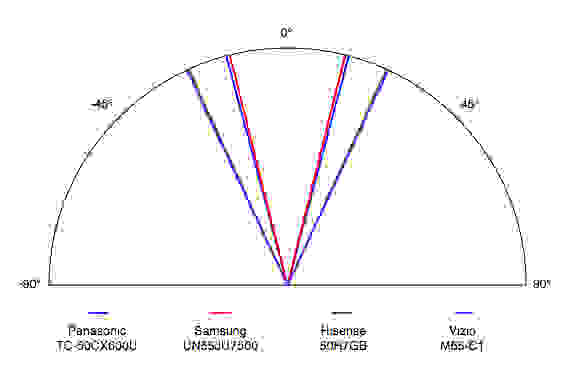 In a nutshell, a TV's gamma curve is a representation of how accurately a TV produces natural gradations of brightness. If a TV's gamma curve doesn't hit its targets, a picture's detail will be crushed; gentle gradients of color will, for instance, appear as thick bands of color. The unnatural effect is most noticeable in shadows or out-of-focus objects.
This is easily the CX600U's Achilles heel. Although the TV features a number of preset gamma settings and a custom, 10-point gamma slider, none of my tinkering seemed to have any effect on the curve itself.

Meet the testers
Michael Desjardin
Senior Staff Writer
@Reviewed
Michael Desjardin graduated from Emerson College after having studied media production and screenwriting. He specializes in tech for Reviewed, but also loves film criticism, weird ambient music, cooking, and food in general.
See all of Michael Desjardin's reviews
Michael Desjardin
Senior Staff Writer
@Reviewed
Michael Desjardin graduated from Emerson College after having studied media production and screenwriting. He specializes in tech for Reviewed, but also loves film criticism, weird ambient music, cooking, and food in general.
See all of Michael Desjardin's reviews
Checking our work.
We use standardized and scientific testing methods to scrutinize every product and provide you with objectively accurate results. If you've found different results in your own research, email us and we'll compare notes. If it looks substantial, we'll gladly re-test a product to try and reproduce these results. After all, peer reviews are a critical part of any scientific process.
Shoot us an email