televisions
Panasonic TC-60CX800U 4K LED TV Review
An excellent bright room TV—home theater owners need not apply.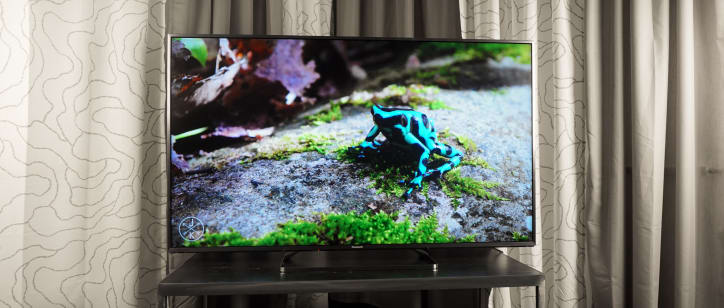 Last year's Panasonic AX900U got our hopes up for a post-plasma future, with Panasonic teasing some amazing contrast out of its flagship LED's panel. So when we got the new Panasonic TC-60CX800U (MSRP $2,499) into our labs, we were hoping for similarly stellar results. Unfortunately, it wasn't to be.
This 4K TV instead threw us a curveball: Unlike the old plasmas, it's extremely bright, and favors super-vivid colors over stone-cold accuracy. Unfortunately, it also wields shallow contrast thanks to poor black levels. So while it flourishes in bright viewing environments, it will never rule your home theater like the Panasonic plasmas of old.
The bright-and-flashy screen isn't necessarily a bad thing, however. Viewers whose TV time involves a grueling battle with windows and lights should certainly take notice of Panasonic's latest 4K. But for this price—over $2,000—you really want something that can boast the flexibility to work in bright and dark rooms, both.
Series Information
Panasonic's CX800 series (2015) is available in three different sizes:
a 55-inch (model: TC-55CX800U, MSRP $1,999)
a 60-inch (model: TC-60CX800U, MSRP $2,499)
a 65-inch (model: TC-65CX800U, MSRP $2,999)
Features such as software, the Firefox OS smart platform, A/V ports, refresh rate, remote controls, and accessories are identical. However, it should be noted that Panasonic claims the 65-inch CX800 covers 98% of the DCI-P3 color space, while the 55- and 60-inch versions allegedly only cover 90%.
Our 60-inch CX800U was received brand-new on loan from Panasonic. It was given roughly 24 hours of break-in time prior to evaluation and review. The 55- and 65-inch CX800U may use different panel types than the 60-inch, and thus performance may actually vary greatly from this model, which uses an IPS (In-Plane Switching) panel. We'll update once we've tested the other models.
Design & Hardware
Future-proofed and built to last
Panasonic TVs are usually built pretty tough, and the 60-inch CX800U is no exception. From corner to corner, the panel and bezels are sturdy and seamless, resulting in a compact, minimalist appearance. Sure, you're paying a little more for build quality, but it's worth it in the long run.
The rear of the TV is an unassuming tundra of charcoal-colored plastic. Here, you'll find utility elements—on-set control buttons and A/V ports. Because it's a 4K TV, the CX800U not only needs to offer up ample HDMI inputs, but at least a couple of them need to be be HDCP 2.2-compliant if you want to take advantage of 4K-capable devices in the future.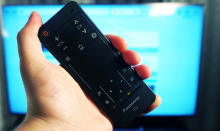 Good news, everyone! The CX800 is packin' the goods when it comes to proper 4K functionality. Though there are only three HDMI inputs, all are HDMI 2.0 and HDCP 2.2-compliant, meaning they support 4K at a 60 Hz refresh rate (the second HDMI serves as an audio return channel/ARC, too).
Of course, the TV also includes the usual shared component/composite (AV) hookups and a coaxial jack for analog cable/antenna connections. You'll also find some utility ports, including three USB ports. One is USB 3.0 for local 4K playback from a hard-drive, while two are USB 2.0 for sub-4K playback or device charging. Panasonic also includes an SD card slot, an ethernet (LAN) input for hard-wired internet connections, and digital (optical) audio out.
As far as audio is concerned, the TV sounds pretty good, but it's got nothing on a dedicated external speaker setup. I watched the opera scene from The Fifth Element, and after tinkering with some of the audio mode pre-sets my ears weren't left wanting. The TV's two 10-watt speakers do justice to mid- and higher (treble) notes, but if you want solid bass, get some external speakers.
Panasonic includes two remote controls with the CX800U. One of them is the traditional Panasonic clicker. It's lengthy and weighty, making it satisfying to hold and use. If you've used Panasonic remotes in the past, you'll be right at home with this one, and it's by far the preferable way to accomplish geeky tasks like adjusting the TV's picture settings.
The other remote is a "smart" option, with a central thumb touchpad and a more compact shape. I love using the touch/scroll and voice functions alongside the TV's browser and smart features, but I still prefer the traditional remote for everything else.
Software & Smart Features
Firefox OS offers more good than bad, and is a big improvement overall.
Panasonic introduced "Firefox OS," its new smart platform, during CES earlier this year. We didn't get to spend much time with the platform then, and have been waiting all year to try it out. It's kind of an open secret that smart platforms based on existing, functional browsing services tend to be better than what the manufacturers provide themselves, and that's the case here.
But Panasonic's new platform doesn't have anything to do with the Firefox browser, really—it simply runs on a similar architecture. So while the experience is snappier than past years' iterations of Smart Viera/Life Screen, the content's all the same. Clicking the "smart" button brings up a selection screen where you choose between Live TV, Apps, and Devices. You can bookmark or "pin" things here, too, such as TV channels, apps, or websites.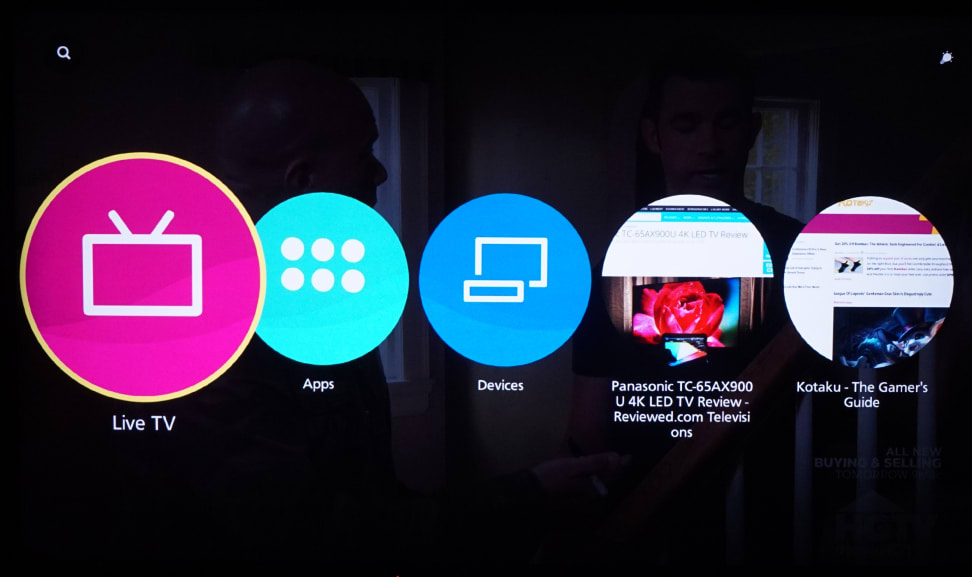 It's worth noting that Firefox OS supports cable identification—where you plug in your zip code and cable provider—but the functionality isn't integrated well with the Live TV section of the main menu. Clicking that widget always brings you to the TV's analog cable/satellite feed, even if your set-top-box is plugged into an HDMI input. So unless you're jacked in via the coax, that particular widget is useless.
4K apps include Netflix, Amazon Instant, and YouTube.
Tweet It
As far as apps go, Panasonic's Firefox OS-equipped sets don't venture outside the bounds compared to last year's smart TVs. Since the CX800 is a 4K TV, you want 4K-capable apps. You get Netflix, Amazon Instant Video, and YouTube here. There's no UltraFlix, but three out of four ain't bad. If you're hankering for social media, you'll also find apps for Twitter and Facebook. Hulu is missing entirely, which is a shame, but sports fans get access to services like MLB.TV and Fox Sports.
The rest of the content is a mix of useful and tedious. For example, the web browser is much better this year, especially paired with the smart remote. That remote's wide central thumb-pad makes it easy to quickly and accurately move the mouse cursor on the screen. Scrolling through pages is still a little sluggish (mostly due to load times), but the cursor is a joy to use, and really complements the desire to sit back and relax on the couch.
On the other hand, some utilities, like the "Calendar" tool, are just taking up space. The concept itself is sensible enough, but filling in all the info—day, event name, times, description—using single-press navigation keys and the on-screen keyboard isn't a task I'd wish on anyone. Besides a few oversights like this—and the TV's horribly outdated Flash games—Firefox OS is a success.
Menu Software
Panasonic's base menu software hasn't changed much in the last few years. Pressing the "menu" button brings up a list of sub-menus for picture, sound, network, or system settings. Panasonic's layout is a bit weird. Basically, instead of each menu being contained in its own separate section, all of the menus flow together vertically. So when you jump into the audio menu, you see all the picture menu settings above you, and network settings below, which can be a bit confusing.
Once you've mastered the menu, however, you'll find a fitting array of adjustments for a $2,500 TV. Of particular note are the CX800's ample calibration controls, which include 2- and 10-point white balance, a gamma selector, a 10-point gamma adjustment menu (this is quite rare), and a full color management system. As usual, Panasonic seems aware of what the videophile crowd is hunting for: professional controls in a consumer television.
Be sure to check out the results of my calibration and further test results on the Science Page.
Picture Quality & Viewing
This TV was built to be bright and flashy, limiting its potential in a dim environment
Once the king of plasma TVs—a tech renowned for its deep black levels—Panasonic has since attempted to deliver the same quality in an LCD. While the company pulled it off with last year's AX900U, the CX800 is a big step in the other direction. Simply put, this is a bright room TV at its core, but it won't thrive in a theater environment or dim living room.
Dark Room Viewing
The CX800 uses an IPS (In-Plane Switching) type panel, which traditionally struggles to deliver the inky blacks necessary to ace our contrast tests. To boost contrast, Panasonic has employed software called Adaptive backlight control. This software aids black levels some of the time, but when it doesn't work, it really doesn't work. Most of the time, the TV simply doesn't produce very dark shadows. As it stands, IPS panels are better at producing light than limiting it.
The IPS panel at least delivers some advantages, regardless of your environment. We measured a wide horizontal viewing angle, meaning you can really spread out while you watch. Unfortunately, changing certain picture settings—such as the Adaptive backlight control or Custom A.I. contrast settings—introduces notable backlight bleed at the corners. This has negative effects on the TV's horizontal and vertical viewing angle, too, so it's recommended you let the software do its thing.
Assuming you leave the software on, you'll find yourself stuck with gamma that's unsuitable for a dark room. Gamma refers to how accurately a TV ramps up brightness from pure black content to pure white, and can be altered to fit different viewing environments. When "curved" properly, gamma helps mid-tone and shadow details stand out.
Unfortunately, the TV's software creates what's called an "S" curve, which glosses over midtone details for the sake of a picture that really pops on either end. It's not what you want in a dark room.
Bright Room Viewing
When it comes to bright rooms, the CX800U is a completely different animal. It's naturally incredibly bright, for one, and boasts awesome color saturation thanks to some expertly engineered LCD phosphors. Reds and greens are exaggerated and poignant; in fact, the CX800U really looks its best in Vivid mode, a pre-set that's basically designed for retail show floors with lots of lights. I never thought I'd say that, but it's true.
I watched lots of content on this TV—from 1080p Blu-rays, to cable, to streaming 4K content—and everything simply looked better in "bright room" settings. Two videos stood out in particular: one featuring colorful Costa Rican wildlife and another of Japan's neon night life.
The first video's bright, richly colored 4K scenery impressed me greatly. The TV's boosted reds and greens made frogs, lizards, and exotic birds simply jump off the screen. Was it accurate? No. But after a few minutes, my eyes had adjusted, and it was hard to go back to the darker, less bombastic picture modes.
The second video—which involved mostly darker scenes—was marred a bit by low-light noise, and took on an unrealistically dramatic appearance due to the TV's gamma curve. In bright light, however, flashy and dramatic is sometimes the best way to drive the point home.
No matter what kind of room you're in, you'll find the CX800U delivers solid motion performance.
Tweet It
No matter what kind of room you're in, you'll find the CX800U delivers solid motion performance. Even with motion compensation cranked way up, 4K at 60 frames per second continued to impress as the next generation of video performance. Likewise, we've got no complaints about the TV's upscaling process—the way it presents less-than-4K resolution content. Obviously, sub-1080p stuff (like most cable/satellite programming) won't take your breath away, but it's satisfactory.
Finally, it's worth noting that while you can shut all the software and extra color off and nail down a traditional dark-room calibration, it's simply not worth the trouble at the end of the day. This TV was built from the ground up to be bright and flashy, and forcing it to be something it isn't—a home theater TV—is not the way to go. Grab your sunglasses and settle in.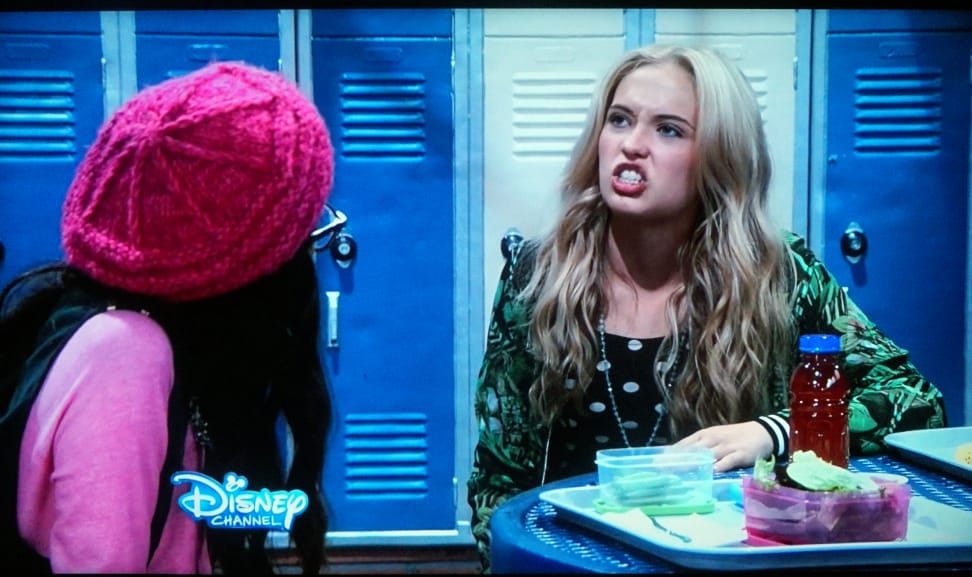 The Verdict
You might want to buy a pair of sunglasses, too
To be clear, we really like the 60-inch CX800U's pedal-to-the-floor flash. But since it pretty much obliterates the subtlety and scientific accuracy we hunt for in the lab, we can't outright recommend it. It's a great choice for bright rooms—delivering oodles of light and color—but it's not very flexible at its core.
The CX800U delivers oodles of light and color, but it's not very flexible at its core.
Tweet It
What's more, there are plenty of 4K TVs in this price range that do double-duty in variable lighting. Vizio's 2015 M Series, Samsung's JU7500 series, or Sharp's UB30 series are practically husband material when compared to the CX800U's dangerous bad-boy vibe.
Just keep in mind that the 55-inch and 65-inch CX800U likely don't use IPS panels like the 60-inch, so their contrast performance may be much better than what we measured here. If so, we'd bet they're a good bargain based on this TV's color performance and customizability.
Our editors review and recommend products to help you buy the stuff you need. If you make a purchase by clicking one of our links, we may earn a small share of the revenue. Our picks and opinions are independent from any business incentives.
Our editors review and recommend products to help you buy the stuff you need. If you make a purchase by clicking one of our links, we may earn a small share of the revenue. Our picks and opinions are independent from any business incentives.
Advertisement - Continue Reading Below
Our editors review and recommend products to help you buy the stuff you need. If you make a purchase by clicking one of our links, we may earn a small share of the revenue. Our picks and opinions are independent from any business incentives.
Advertisement - Continue Reading Below
Advertisement - Continue Reading Below
Advertisement - Continue Reading Below
Advertisement - Continue Reading Below
Advertisement - Continue Reading Below
Get Our Newsletter
Real advice from real experts. Sign up for our newsletter
Thanks for signing up!