That doesn't mean Panasonic exited the ring, though: The company claims to have rolled much of the stellar tech behind last year's ultra-premium ZT60 plasma series into its brand-new TC-65AX800U (MSRP $4,499), a huge 4K (UHD) LED LCD display. From the look of this TV, the engineers are doing something right.
Considering it's an LCD TV, the TC-65AX800U is a very worthy successor to Panasonic's 2013 plasma champions. That said, it's not a plasma—the limited viewing angle and less-than-ideal motion performance commonly associated with LCD TVs is still in play here. On the other hand, the AX800U fosters good black levels, accurate colors, and reliable screen uniformity—all hallmarks of good plasma TVs.
If you missed your chance to grab one of those last plasma TVs, you can at least rest assured that Panasonic is still heavily invested in pure picture quality: This TV is proof, even if it's not as awe-inspiring as a real plasma. It's certainly on the expensive side, but the AX800U is replete with new features, old tricks, and over eight million pixels.
The Panasonic TC-65AX800U (MSRP $4,499.99) is currently Panasonic's biggest boast on the TV market, delivering smart features, 3D, and 4K (UHD) resolution with "plasma-like" picture quality. Testing revealed that while the AX800U doesn't perform on the level of the company's best plasma, it's quite a stellar performer nonetheless, offering deep black levels, good motion, accurate colors, and enough calibration controls to perfect it by industry standards. Panasonic's Studio Master Drive and dimming effects boost this TV's performance enough that all but the pickiest viewers will find something to love here.
We tested and calibrated the TC-65AX800U in the TV's Home theater picture mode, which appeared to be the closest pre-set to our current testing standards for picture quality. Ideally, we want to see how a television performs within a black or very dark viewing environment, achieving a peak luminance of around 40 fL (or 120 cd/m2 ), a gamma sum of 2.4, and a DeltaE of 3 or less within the grayscale.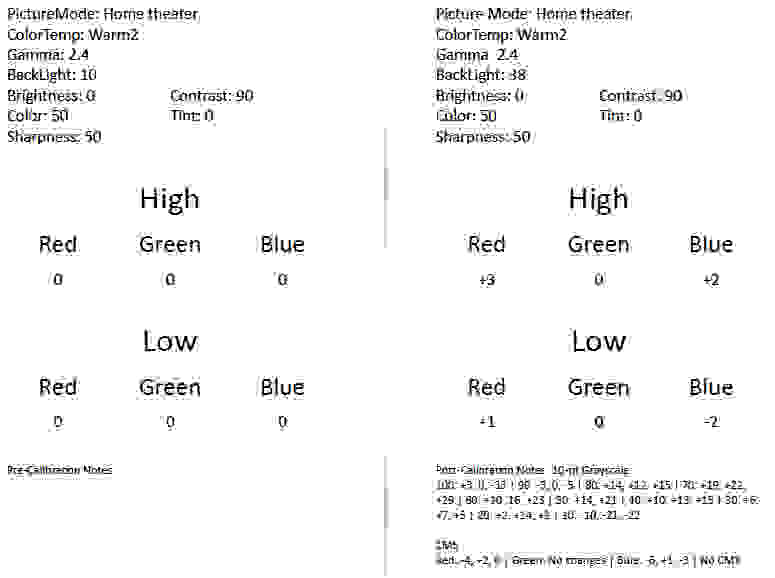 Calibrating the AX800U to our standards involved raising the Backlight from 10 (very dim) to around 38. I then corrected the grayscale and gamma as close to 2.4 as possible within the new lighting condition, and made very small adjustments to the TV's color points. Overall, the AX800U didn't require calibration, though it did benefit from some informed tweaking. Note that viewing angle and contrast results are taken before the full calibration process, reflecting what the majority of consumers will experience prior to any extra tinkering.
Studio Master Drive—all the way to the bank
Panasonic promises "plasma-like picture quality" from the AX800U, and it isn't all hype. It's true, even with its Studio Master Drive technology, it's still an edge-lit LCD TV—about the farthest thing from a real plasma that there is.
That said, this is still the best 4K TV I've reviewed so far.
Before I wade into a maze of unavoidable technical explanations as to the inner workings of Panasonic's 4K contender, I'll say it in plain English: This television produces a breathtaking picture. Colors stand out with pronounced clarity—even in very dark scenes. That's thanks to some fascinating technology that lends a lifelike tint to almost any image, no matter how bright or dark. The shadow integrity is especially impressive thanks to what Panasonic calls its "Studio Master Drive"—a direct throwback to the ZT60's Studio Master Panel.
Now for the detailed explanation: The AX800U's special drive allegedly combines separate techs that control the gamma and color coordinates of the picture at different points on screen. In short, very bright parts of the picture with subtle gradations are treated differently than very dark parts with subtle shadow areas.
LCD TVs struggle to reproduce colors in scenes with low luminosity—the AX800U solves this issue.
Similarly, colors are computed by a process akin to a how a 3D lookup table works, ensuring that color integrity is maintained regardless of how bright or dark the subjects are.
In short, LCD TVs traditionally struggle to reproduce tones like gray, white, green, or yellow in scenes with very low luminosity—essentially, those colors often need more light from the backlight source to achieve perceptible saturation. According to Panasonic, the AX800U's Studio Master Drive solves this issue. Observation supports the claim.
Very shadowy scenes on a Blu-ray look great. Subtle greens in a dark, grassy hillsides appeared very accurate despite the low lighting. And unlike on many LCD TVs, where neutral values in low-lit scenes take on blueish tints, the AX800U's grays and whites were actually gray and white—kind of like on a plasma.
This huge 4K is capable of an impressive minimum luminance level.
In fact, black is one of the things the AX800U does best. For an edge-lit LED TV, this huge 4K is capable of an impressive minimum luminance level (provided you don't set the backlight too high). One of the best things about this Panasonic, though, is that unlike most plasmas, it can flourish in multiple kinds of lighting. In the Home theater picture mode, its output is very dim, suitable for that mode's namesake. In Standard mode, however, it's as bright as we expect modern LED LCD TVs to be.
Yet things aren't all sunshine and rainbows. I tested a rather narrow viewing angle from this TV, which is a shame considering how big it is. It's a prime candidate for wall-mounting, but interested consumers may want to keep its limited viewing in mind before doing so. You'll also want to consider what kind of content you watch here, as the motion performance/response times we tested were good, but not great. If you're upscaling sports, nature documentaries, or kung fu flicks, you may find a little more blurring than you prefer, especially as the TV attempts to actively upscale the image.
From HD to UHD
Speaking of upscaling, the AX800U does a solid job preserving a 1080p image. In case you need a refresher, regular HD 1080p content can't fit perfectly on a 4K TV, pixel for pixel. Therefore, 4K TVs use various methods of guesswork and calculations to fill in the blanks, "upscaling" the 1080p (or lower) signals to fit UHD screens. The AX800U is quite good at this, so that even detailed HD scenes with closely-knit patterns in grass and leaves look fantastic.
The quality of the upscaling only goes so far, however, so don't expect anything 720p or below to look dramatically better. This display is obviously targeting serious TV and movie fans with the proper HDMI 1.4 cables and disc players required to send an already strong source. Gamers may want to keep this in mind, as well; feeding anything less than high-end PC or PS4 graphics is going to cause input lag, and there's no way around it.
The AX800U is not the strongest performer when it comes to overall contrast. We did test some very deep black levels off of an ANSI checkerboard pattern, however, which gives arguably the closest representation of real white/black levels during actual content. Within the Home theater picture mode, the AX800U produces a black level of 0.02 cd/m2 with a brightness of 55.77 cd/m2 , yielding a contrast ratio of 2788:1.
Compared to some of the competition from last year, the AX800U is capable of much darker black levels, but it's also much dimmer—sort of like a plasma. In a dark or dim environment, however, it's capable of ample brightness. We were able to calibrate the TV to about 120 cd/m2 without major detriment to the black levels, though the TV's dimming software must be enabled to take full advantage of this.
One burly balancing act
With injuries related to TV tip-overs apparently on the rise, manufacturers would be wise to invest in TVs that don't injure people—while retaining a sense of style. I think this 65-inch behemoth does a pretty solid job on both fronts.
The Panasonic TC-65AX800U is equally sturdy and stylish.
The panel is bordered in a very thin strip of reflective metal, featuring narrow black bezels and a large metal bar along the bottom. That bar isn't just decorative, it actually serves to balance the panel, which is attached to a very heavy rear pedestal. This is by far the heaviest TV stand component we've ever seen—right in the manual, Panasonic warns that "the rear pedestal cannot be held by one hand because of its weight." That's putting it lightly.
In short, you'd have to try very hard to tip this TV over once it's set up—good news for parents and klutzes alike. All in all, the Panasonic TC-65AX800U is equally sturdy and stylish: it stays put and it looks good doing it.
If you were a giant and could reach both arms around the massive panel, you'd discover six discrete control buttons on the TV's right side, and a motley assortment of ports and video inputs on the left side. While you're free to use the tactile buttons for power, volume, channel, and input, we recommend sticking with a remote.
Only the fourth HDMI input can support a 4K signal.
If you're considering popping the AX800U into your home theater, you'll be especially happy to know that there's no shortage of video connection options here. Aligned vertically along the left side are three USB inputs, three HDMI inputs, Panasonic's signature SD card slot, and a digital audio out port. I feel it's important to point out that only the fourth HDMI input, located separately on the back of the panel, can support a 4K (3840x2160) signal. It lives alongside a DisplayPort 1.2a input, a coaxial jack for cable/anetenna, a LAN (ethernet) jack, and a shared component/composite connection.
There's also quite a few extra goodies in the box. Alongside the panel and its egregiously heavy pedestal, you'll get a traditional remote with two AA batteries, a touch pad remote (new for this year) with two AAA batteries, corner caps for wall-mounting, a cover for the rear pedestal, and two pairs of active shutter 3D glasses.
Another weak area for the AX800U is in horizontal viewing angle. Viewing angle—or how far from center you can watch a TV before the picture begins to be washed out—is especially important for a larger TV like this one; as it stands, it's more prone to be wall-mounted, where viewing angle is especially important. We measured a total viewing angle of 24°, or ±12° from center to either side within the Home theater picture mode. This is a disappointing result to be sure, and something that buyers should consider prior to purchase.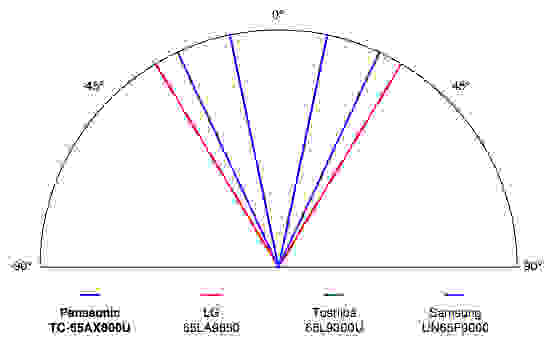 LifeScreen Plus has a few new tricks.
The TC-65AX800U is a smart TV, and thus features Panasonic's 2014 smart platform in full force. Last year's centered around the Home screen, a smart headquarters of sorts that owners personalize with their choice of apps and widgets. Like last year's high-end Panasonics, the AX800U includes a camera that tracks your face and automatically brings you to your personal home screen.
New features include a built-in IR scanner that automatically populates the screen with information.
New features include a built-in IR scanner that senses whenever someone is near, and automatically populates the screen with information like the time and weather. If you've set up your personal home screen (which includes creating a Panasonic account), you can share data, messages, and information amongst connected smartphones and tablets, too.
This is basically the same as last year's remote save for one new trick—voice recognition.
Another new feature this year is Panasonic's remodeled touch pad remote. While it certainly looks like a snazzy new toy, it's basically the same as last year's save for one new trick—voice recognition. Like Samsung and LG, Panasonic has jumped on the voice recognition bandwagon. The whole TV team took turns (via the browser's built-in Bing engine) searching for 4K test patterns and info about UHD processing. No. Honesty is the best policy: We looked up pictures of puppies and kittens. Regardless, the voice search function easily recognizes phrases like "schnauzer pups" and "Savannah cats," but didn't understand more web-specific terminology like "reddit." It's no Siri, but it works.
Finally, Panasonic's 2014 platform attempts to help users populate their Home screens with personalized content via a new "my Stream" channel, which can be saved to specific user accounts. Pressing a dedicated button on the touch remote favorites the content and websites you love, making them easy to repopulate and recall—its a much easier shortcut than the usual method of slowly navigating to a settings menu.
Panasonic's smart platform has all the fun features and content it needs to be a household centerpiece—now it just needs to speed up, and maybe jump into cable integration like the competition. Navigation, typing in any form, and even using the touch remote's browser cursor are still very sluggish tasks compared to more traditional peripherals. It's an improvement, but it isn't the top of the pops just yet.
Calibration: There's an app for that.
It really wouldn't be a "plasma-like" Panasonic without a full array of controls and processing options for hobbyists and picture purists to play with.
Panasonic has redesigned its menu this year; it still breaks down into separate categories like Picture, Sound, and Setup, but users can also just continue scrolling down or up to get to the other menus. It's a strange, possibly useless addition, and we're not sure why Panasonic added it.
The TC-65AX800U is chock full of options for customizing and improving the picture quality.
Highlights here naturally revolve around picture settings. The TC-65AX800U is chock full of options for customizing and improving the picture quality: the usual settings like Backlight and Contrast; color temperature pre-sets; Vivid color for a wider color space; adaptive backlight; a dimmer for widescreen letterbox; a whole slew of noise reduction settings; resolution and motion enhancers; and the usual "Pro settings" options like 2- and 10-point white balance, CMS (Color Management System), and 10-point gamma.
Navigating through this huge, almost endless menu isn't exactly fun, but it's necessary to set up or calibrate the TV. Or is it? One of the coolest things about the AX800U (in my opinion, anyway) is the dedicated remote control app, which is available for Android or iPhone devices. The app, which is called Panasonic TV Remote 2, allows the TV and its menus to be controlled via a smartphone or tablet—but that's not what's exciting here.
Okay, fellow display nerds, listen up! The coolest thing about this app is the Smart Calibration option. With this setting, you can very quickly and easily make adjustments to things like the TV's color space, gamma curve, gamma points, and all the usual settings like Color and Tint. Adjustments are made via touchscreen, making them much more fluid (and potentially more granular) compared to the basic software menu. It's a great way to test out potential calibration settings, save Day/Night modes, or even save pre-sets for different kinds of content. It also keeps the menu et al out of the way of your color and light meters.
In Home theater mode, the TC-65AX800U wields very accurate color per the Rec. 709 HDTV standard. The TV's Studio Master Drive helps it to achieve the proper hue and saturation for red, green, blue, cyan, magenta, and yellow by a process similar to a studio monitor's 3D LUT (lookup table), a sort of internal database for color coordinates than ensures accuracy. While the TV's colors were very accurate, they weren't perfect—but using the built-in CMS (color management system), I was able to nudge the primary and secondary colors into slightly better spots.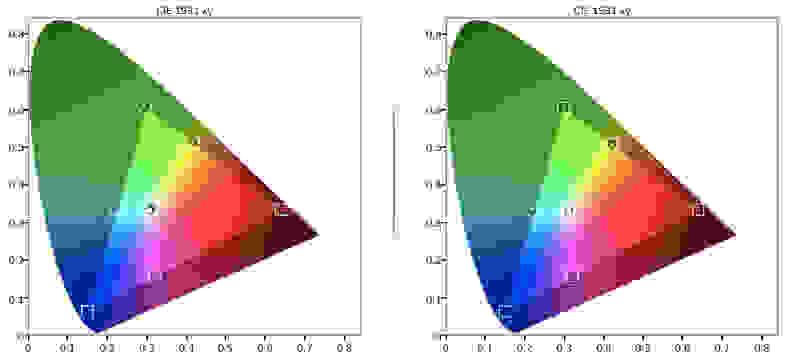 Color accuracy is very important in TVs for a number of reasons, the least of which is to make sure you're seeing every little detail that the director intended. Incorrect hues or over/under saturation in color can obscure details, especially for colors that are harder to create in a pure fashion, like orange or pink.
A digital grayscale is created when a TV combines its red, green, and blue sub-pixels to create shades of black, gray, and white. The exact coordinates of the grayscale should all correlate to a specific "flavor" or shade of white called D65, which references a color temperature of 6500K. Errors within the accuracy of the grayscale are measured in DeltaE, where an error sum of 3 or less is considered acceptable. Prior to calibration, the AX800U tested with a DeltaE of 4.7—not terrible, but a little more error than we like to see. After calibration was complete, however, the TV had only a very miniscule DeltaE of 0.52.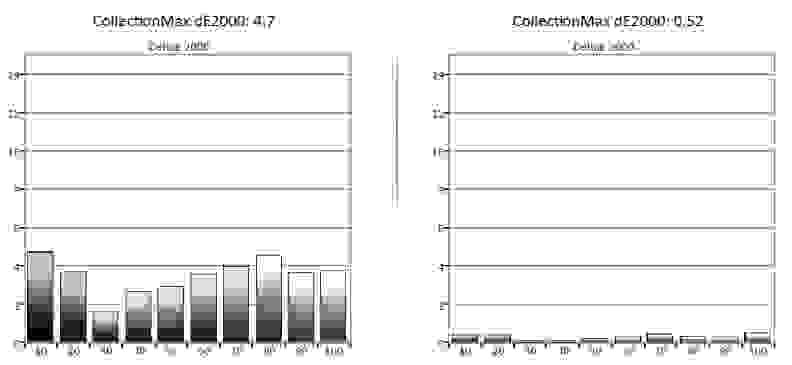 Error within the grayscale most often results from under- or over- emphasis of one of a television's sub-pixels during the production of blacks, grays, or whites. In Home theater mode, the AX800U tends to favor the green sub-pixel by default. Using the TV's 2- and 10-point white balance controls, I was able to slim down the discrepancies between the sub-pixels, proving that the TV is very capable of an almost perfect RGB balance, which makes for a clearer, more detailed, and more accurate picture.

Not a plasma, but more than an LED
The TC-65AX800U is an impressive specimen. It does tons of things right—deep black levels, good dimming, decent motion, tons of options, perfect colors, fun smart features—and is really only held back by the natural weaknesses inherent to edge-lit LCD TVs. It's not the plasma that was promised, but it's still one of the better TVs we've tested this year, 4K or not.
The big question is, is it worth $4,500? That's a lot to pay for something that arguably will never look as good as a plasma or an OLED TV—and with Vizio's hyper-affordable P Series on the way, it's even harder to stomach. Plenty of picture purists would rather watch a Pioneer Elite from 9 years ago than have access to streaming features or customizable home screens, too. The AX800U bears PQ fans in mind, though: It may not be capable of true plasma quality, but it comes quite close, and gives advanced users all the tools they need to perfect the TV's naturally powerful picture.
We're convinced that the AX800U is the 4K TV to beat right now, but it'll take dedicated buyers to adopt a technology that's still finding a content foothold, especially in the United States. If you've just got to jump on the 4K bandwagon, the Panasonic TC-65AX800U is a great choice.
Gamma can be a difficult concept to grasp, but it essentially refers to how aggressively or quickly a display exits black (or no luminance) into gray and white—essentially, how bright each step is along the grayscale (though gamma also affects the relative accuracy and appearance of individual colors and hues). Prior to calibration, the AX800U tested with a gamma sum of 2.4 in the Home theater picture mode, although it was an imbalanced 2.4—brightening too quickly out of black and too slowly into peak white. After calibration, I achieved a gamma sum of 2.39, correcting the discrepancies in the gamma points at the bottom and top ends of the grayscale.
Meet the tester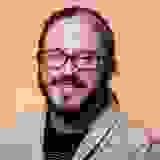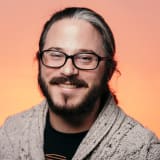 Lee Neikirk
Editor, Home Theater
@Koanshark
Lee has been Reviewed's point person for most television and home theater products since 2012. Lee received Level II certification in TV calibration from the Imaging Science Foundation in 2013. As Editor of the Home Theater vertical, Lee oversees reviews of TVs, monitors, soundbars, and Bluetooth speakers. He also reviews headphones, and has a background in music performance.
Checking our work.
Our team is here for one purpose: to help you buy the best stuff and love what you own. Our writers, editors, and lab technicians obsess over the products we cover to make sure you're confident and satisfied. Have a different opinion about something we recommend? Email us and we'll compare notes.
Shoot us an email