The AX900U is also the first consumer TV to feature adherence to the BT.1886 gamma curve, which describes a very similar light distribution to the BVMs (Broadcast Video Monitors) used during film-to-disc mastering and re-processing by most Hollywood studios. This gives 1080p Blu-rays a smooth, film-like quality even when the TV is stretching them to four times their original pixel count—an impressive feat.
This year officially marked the death of plasma TVs, once the firm stronghold of Panasonic. Despite a impassioned minority of videophiles insisting that plasma TVs produced a better image than their LCD counterparts, they suffered on the showroom floor due for a number of reasons, including dimmer outputs and fatter frames.
While OLED TVs are widely considered to be the successor to plasma, only LG is mass producing OLEDs at the moment. Panasonic has instead focused on the very difficult task of creating a 4K LCD television capable of true plasma-like picture quality.
Finally, after a year of anticipation, the company's first post-plasma 4K flagship LCD is here: the Panasonic TC-65AX900U (MSRP $7,199). The AX900U calls on the incredible knowledge and rich heritage Panasonic built with its plasma TVs, producing the finest home theater-ready LCD TV that we've seen in the past year. With numerous tweaks, enhancements, and a few videophile-friendly features never before available in a consumer television, the AX900 has trounced everything but the newest OLED televisions.
The AX900U isn't cheap, but if you're a home theater enthusiast that's had your dreams of a 4K plasma TV crushed? It might just be the next best thing.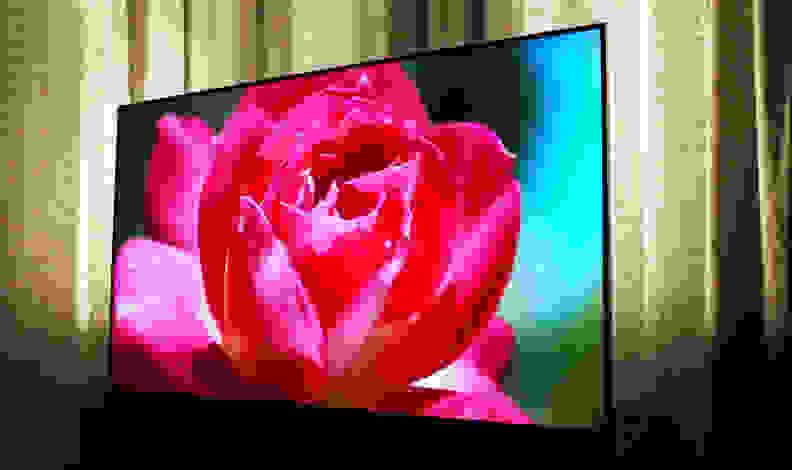 We test every TV we review both right out of the box (after a 12+ hour break-in period) and following an in-depth, professional calibration process. This achieves two things: a better understanding of the TV's out-of-the-box performance, and a glimpse of what the panel is fully capable of with some informed tweaking.
The Panasonic TC-65AX900U is basically already set up for ideal professional performance, but we calibrated it anyway. I used the "Professional1" picture mode precisely because it doesn't already adhere to the BT.1886 gamma. Usually, we aim for a 2.4 gamma curve during calibration, but Professional1 is already calibrated to a 2.4 gamma curve. To measure the granularity of the TV's white balance and grayscale controls, I calibrated this mode to the BT.1886 mode (which the Professional2 setting already adheres to).
The TV contains full CMS, 2- and 10-point grayscale, and 10-point gamma controls—all of which can be controlled accurately using the Viera Remote 2 Smart Calibration app. Though Professional1 was already very accurate, I made mild improvements to the TV's color, white balance, and gamma presentation, aiming for a peak luminance of about 40 fL and a flat BT.1886 gamma curve. Note that in order for the TV to adhere to the BT.1886 gamma curve, "Adaptive backlight control" must be set to "Min," C.A.T.S. must be Off, and Contrast A.I. must be Off.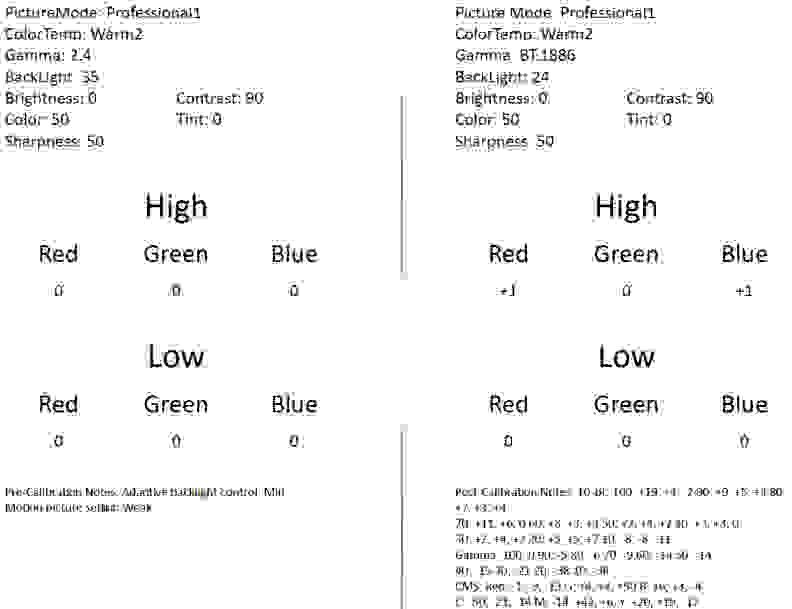 This TV might just be a plasma in disguise.
Panasonic stepped out of plasma TV production over a year ago, but the 65AX900U still reminds me of the tiny, magnesium-coated cells that once delighted videophiles everywhere. Thanks to professional-grade technology and an adherence to a new performance standard, the AX900U compares favorably to some of Panasonic's best plasmas.
The AX900U's 3D lookup table (3D LUT) feature marks the first time this technology has been available in a consumer display.
Apologies for jumping right into "full-on TV nerd" mode, but this TV just begs for in-depth discussion. One of the most notable picture quality enhancements here is Panasonic's on-board color tracking system. It's called "Super Chroma Drive," which is really just a 3D LUT (3D LookUp Table). A 3D LUT is a complicated algorithmic system used in displays to ensure accurate color matching, especially in low-light or shadowy scenes.
Typically reserved for ultra high-quality—not to mention ultra-expensive—studio-grade monitors, as far as we're aware it's the first time such technology has been available in a consumer-grade television. In essence, what it means is that every color, regardless of brightness, will be rendered as close as possible to how the filmmakers originally intended.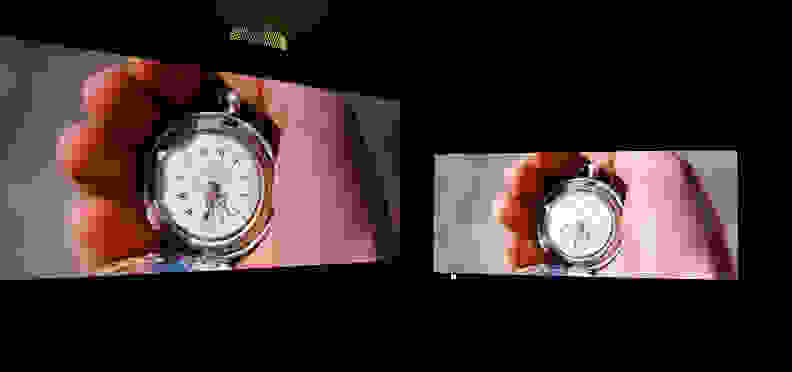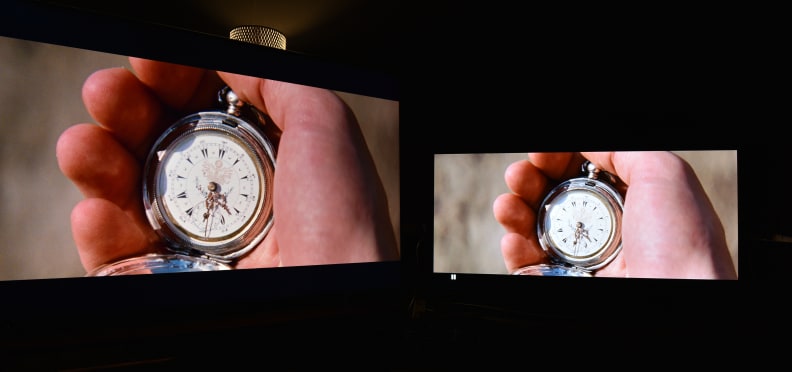 For example, when the Joker sits down with Gotham's gangsters to discuss "the Bat... Man" in The Dark Knight, the indigo hue of his suit remains consistent even while transitioning from well-lit areas into shadow. That's a detail that's often lost on bargain bin sets, where dim colors are desaturated and turn to grays and blacks. And while many premium LCDs manage just as well, the AX900U goes the extra distance by also preserving the frayed, yellow stain creeping into the jacket's fabric—a detail I've rarely noticed so acutely since I first saw the film in theaters.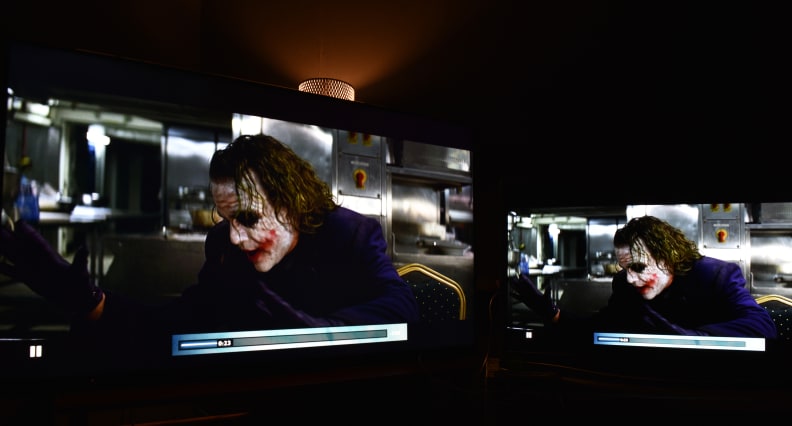 One look at the AX900U beside competing TVs and it's obvious what a difference it makes; I noticed a wealth of extra low-light color detail in various formats and films compared to the bulk of LCD TVs on the market. Sadly, the AX900 can appear a little dull when viewed side-by-side with an LED TV that leans towards oversaturation. That's right: honoring the film director's intentions by precisely matching color could perhaps doom this TV to same fate suffered by plasma. Our only hope is that the AX900 is at a price point where it's more likely to be showroomed in a home theater-like environment than under the harsh fluorescent glare of the aisles.
As you might expect, brighter, more vivid colors are also very accurate per HDTV standards. Like most 4K TVs, the AX900 is capable of greater color saturation than older Full-HD sets. It also has multiple color gamut settings, allowing the user to choose whether or not to employ the additional color depending on content type. This gives the AX900U a small advantage compared to Sony's superb X950B, which doesn't allow the user to rein in its excess color saturation (nor does the Sony include any easily accessible color tweaking controls).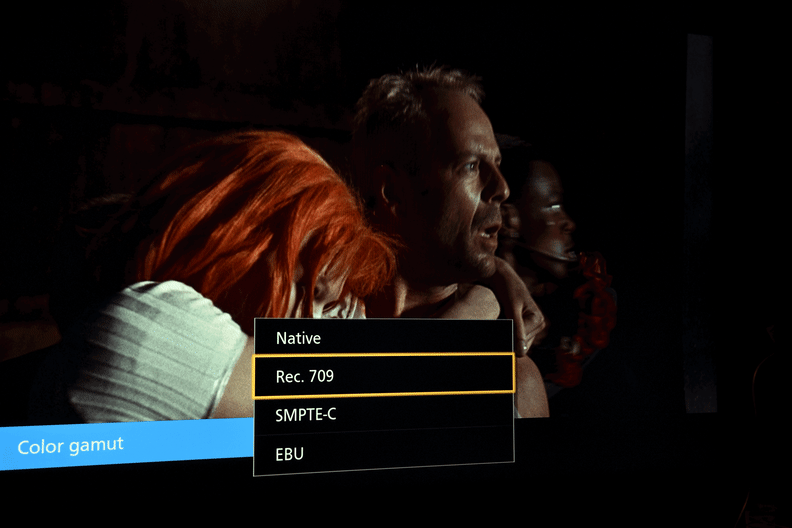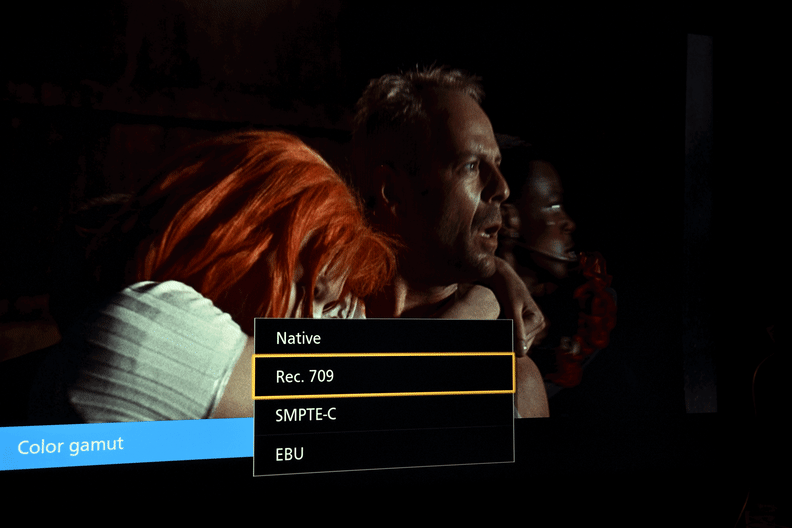 Black, gray, and white elements were spot-on as well—in true plasma fashion, there are no peachy whites or blue-tinted grays here. There are a couple of areas where the AX900 shows its LCD tendencies—a narrower horizontal viewing angle and slightly visible backlight bleed in one of the corners—but fortunately, motion performance isn't one of them. There was no excessive blurring or ghosting during any of the content I watched, and in places where I thought things could be just a little smoother, the TV's "Motion picture setting" (set to Mild) did a wonderful job reducing panning-related hiccups without introducing that awful soap opera look.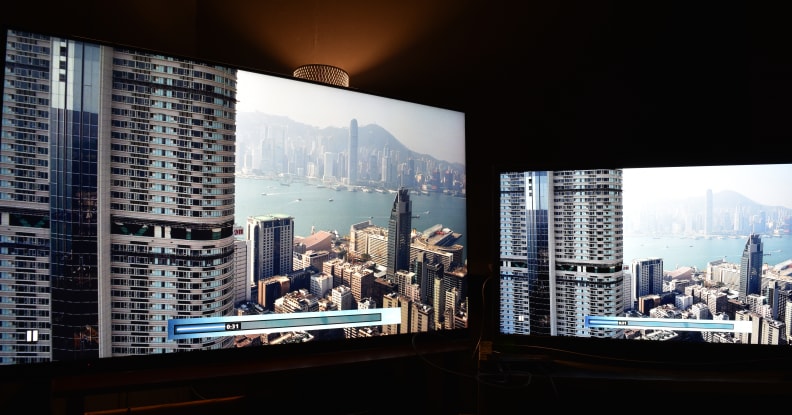 Like the Vizio P Series and the Sony X950B—two of the best LCD TVs we've tested this year—the AX900U is a full-array backlit TV with local dimming, meaning it can tweak the luminance of its backlight in real-time to benefit content. Say you've got a moon moving across a pitch-black sky. On some TVs either the moon will be dim, or the backlight will cause the dark sky to appear washed out. With local dimming the moon can be brightly lit, the sky can stay closer to black, and there's minimal loss of contrast in between.


The AX900U utilizes 128 of these local dimming zones in a 5x5 dimming matrix, giving it finer control than the far cheaper Vizio P-series, which has 64-72 zones depending on panel size. This gives the Panasonic very good light uniformity and black level consistency across the entire screen. On the other hand, this TV isn't nearly as bright as some of the searingly luminous edge-lit LED TVs we've tested in the past, so it's probably best suited for a dim or dark home theater-style room. Unfortunately, our unit also exhibited some visible backlight bleed in the top-left corner—nothing excessive, but it was distracting throughout the review process and could drive true aficionados nuts.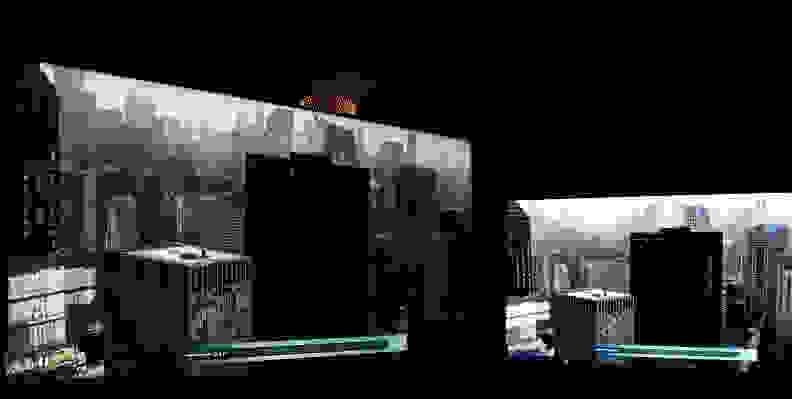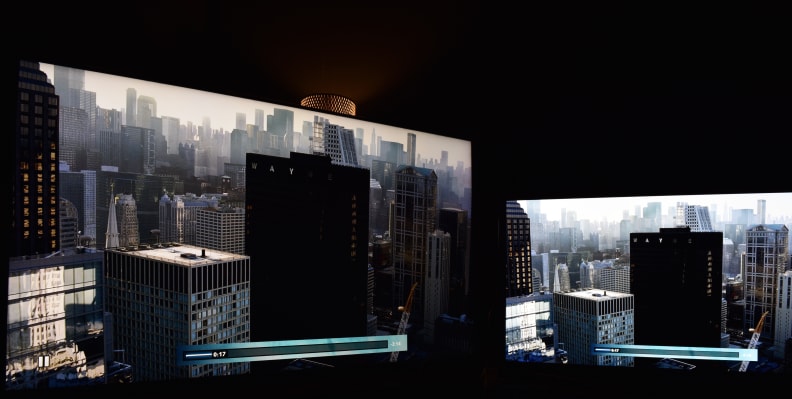 The elephant in the 4K room, of course, is the lack of native 4K content. When a 4K television plays back regular 1080p content, it has to stretch it over four times as many pixels. While it's difficult to pin down with lab data how well a TV does this, we've seen dozens of different sets, with upscaling quality falling all over the map. In my opinion, the AX900U does some of the most natural-looking 1080p-to-4K upscaling I've seen yet.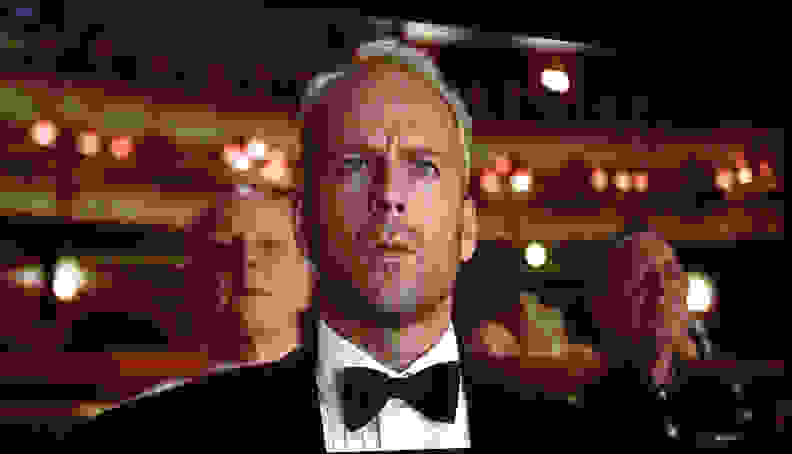 I started out watching Looper (a judicious mix of bright corn fields, seedy alleys, and Bruce Willis's expansive forehead), scanning for tell-tale signs of upscaling. To my surprise, the movie didn't look the slightest bit upscaled; I was expecting to see artifacts or added detail beyond the original 1080p resolution, but instead I found myself simply watching a movie (don't tell the boss). As long as you've got a 1080p source, sub-4K content will look just fine on the AX900.
For a closer look at our test results and final calibration settings, check out the Science Page.
A sturdy, industrial design that's fit for a home theater.
The AX900U looks almost identical to Panasonic's AX800U series. Like that previous 4K set, the AX900's standout design element is a balance bar on the bottom of the screen that the TV rests upon, with a heavy (40 lb.) ballast/cable organizer behind the screen to keep it from tipping forward or backward. Rather than perching atop a dinky stand, the screen appears to simply rest in place. It's an imposing, monolithic design touch that complements this TV's no-nonsense approach.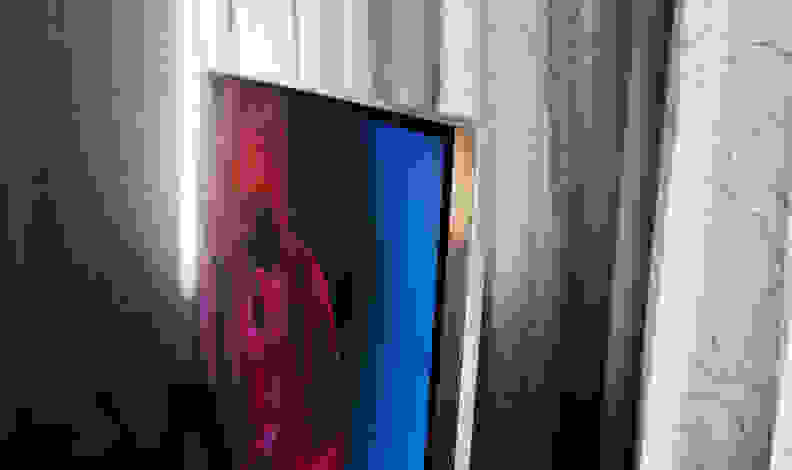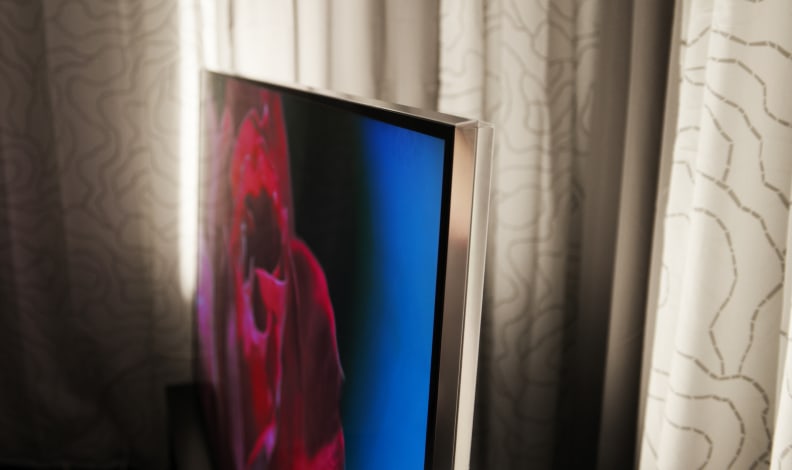 The drawback is that the panel and stand are extremely heavy, and cumbersome to place by yourself—though invested home theater owners are more likely to wall-mount the AX900, and it's certainly slim enough for that. Smooth metal wraps the perimeter of the casing, the rear of which is sturdy, inflexible aluminum peppered with lots of industrial-looking exhaust fans. This TV has a serious, professional appearance, and not one bit of it is cheap plastic.
On-set controls and video ports are hidden on the back of the panel, easily in reach while out of sight. Panasonic includes a large variety of horizontally- and vertically-positioned ports. Side-facing ports include an SD card slot, three USB inputs, three HDMI inputs, and a digital audio output jack. The downward-facing rear ports include an ethernet (LAN) in, coaxial jack for cable/antenna connections, a shared component/composite video terminal, a DisplayPort 1.2a input, and a fourth HDMI input. All of the HDMI inputs are 4K at 60Hz capable.
In the box, you'll find two remote controls: a traditional Panasonic remote, and the new Touch Pad Controller. The former is a better choice for basic menu operation or everyday channel surfing, while the latter works much better in conjunction with the TV's various smart features. For example, you can use the small, central touchpad to tap, swipe, and trace patterns to scroll around websites or hop between pages of the smart platform, while the dedicated microphone button makes search queries much faster than typing them in one letter at the time.
Videophiles everywhere will tell you that contrast and black level (or minimum luminance level) are the key elements of good picture quality. Since the AX900U utilizes an advanced full-array backlight with local dimming, it boasts very good contrast, nearing the level of many plasma TVs from the last few years. I measured contrast using various ANSI checkerboard settings (6x6, 4x4, 2x2) as well as measuring black level during actual content to avoid discrepancies with the TV's local dimming algorithm, which doesn't always play nicely with test patterns.
The AX900U tested with a respectable black level of 0.018 cd/m2 , comparing favorably with the P Series, X950B, and Samsung's F8500 plasma in bright room mode. It also tested with brighter patterned luminance than those other televisions, though during content the overall luminance tended to be quite a bit less than was measured during the pattern. Using the ANSI checkerboard, I measured a peak white of 167.20 cd/m2 , awarding the X950B a contrast ratio of 9,289:1. Note that during some content, black levels raised to as much as 0.10 cd/m2 , which would be a poor result were it the only thing we measured.

LifeScreen+ is still a bit undercooked, but the Viera Remote 2 app is a boon for purists.
Like most modern smart TV interfaces, Panasonic's LifeScreen+ smart platform aims to optimally blend the highlights of a small screen device—like apps, web browsing, and personalization—without detracting from the passive joy of vegging out while watching a giant TV. Thanks to the AX900U's voice search functionality and built-in camera, the TV does manage to offer users a unique, interactive TV viewing experience. Unfortunately, like those other smart platforms the novelty wears off quickly.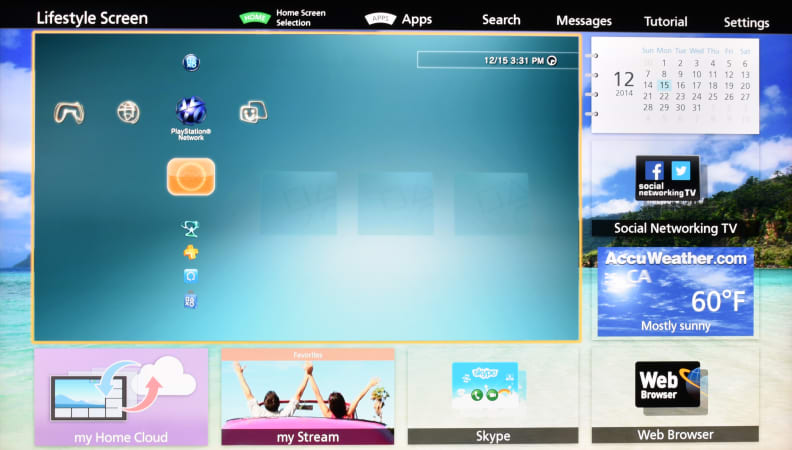 The key feature of LifeScreen+ is that you can customize and save specific smart interfaces for specific users. Once you create a user—let's say "Bob"—you can then record Bob's voice and take a picture of Bob's face via the remote's microphone and TV's top-mounted camera. The AX900U will recognize Bob's voice when he says certain key phrases, like "My Home Screen," and will recognize Bob's face when he walks into the room—not unlike the functionality offered by the Xbox One's Kinect camera. Using this feature, users can mold LifeScreen+ into a customized, personalized home screen tailored to their favorite apps and streaming services.
Using face recognition and voice controls, users can mold LifeScreen+ into a customized, personalized home screen.
Panasonic has added many new features to its smart experience compared to last year, but we'd still prefer a more streamlined look and feel. When you're watching Netflix or Hulu Plus, everything works swimmingly—but that would be the case whether or not the TV had memorized your face and voice. Attempting to get to such streaming options while navigating through largely repetitive news and weather apps, multiple customizable Home Screens, and app clusters with long load times is nothing but a headache, unfortunately. As usual, less is more.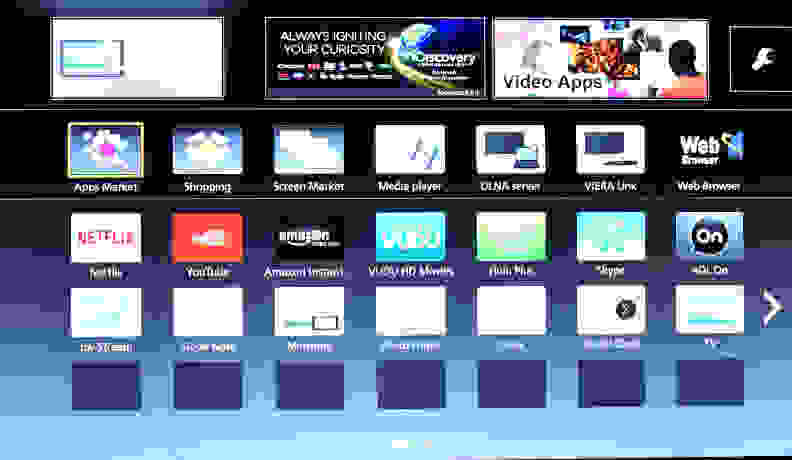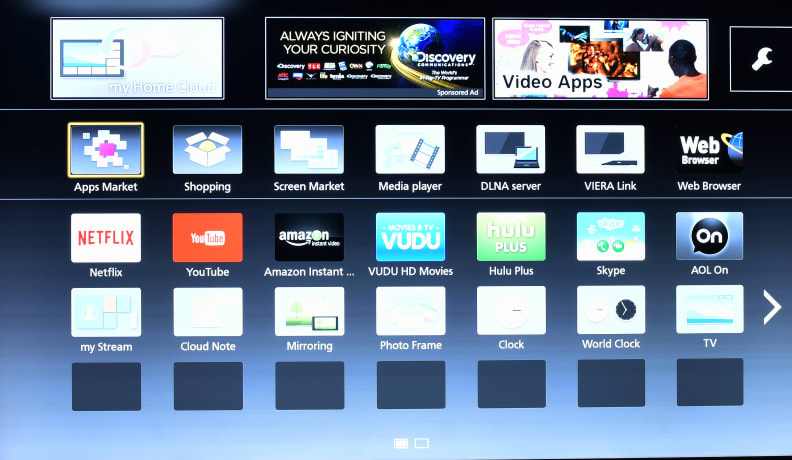 We can see what Panasonic's dream for LifeScreen+ is. Each member of the family has a uniquely detailed smart screen that automatically pops up when they talk to the TV or walk by the camera, quickly accessing their personal media and app preferences. It's not an impossible dream, but Panasonic needs to either cut out a lot of extraneous content or up the on-board processing power of the TV to fully realize this platform's potential. These kind of Jetsons-level dreams are great, but all too often the result is a patchwork of half-baked features.
This is a TV for videophiles, however, and a slightly clunky smart TV interface isn't going to sway anyone whose goal is home theater supremacy. Like Panasonic TVs before it, the AX900U can be fully controlled via an app called Viera Remote 2. This app allows you to control the TV via smartphone or tablet; you can change volume, change channels, open menus, use the web browser—basically, if the TV does it, the app controls it.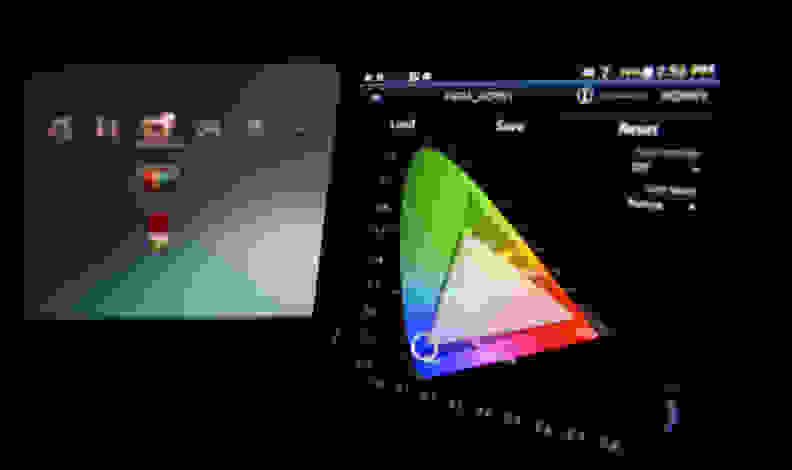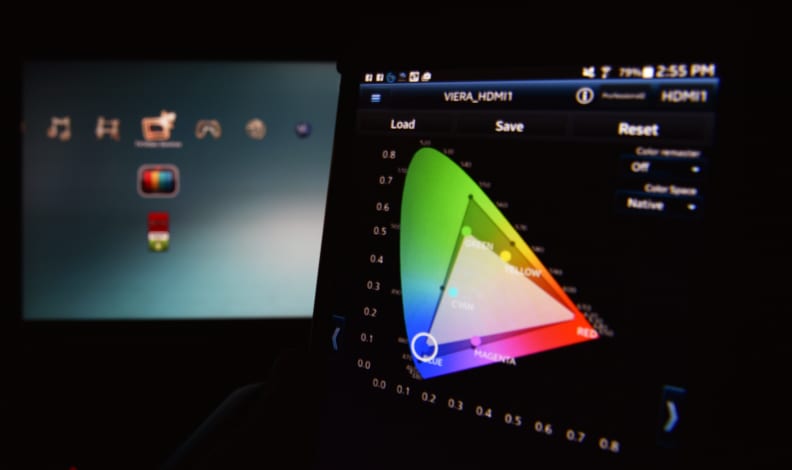 For us, the most useful function was the "Smart Calibration" mode, which gives mobile access to the TV's extensive calibration controls—color management, white balance, gamma management, color space selection, etc.—without having any menus on screen. This is especially useful when calibrating a TV with full-array local dimming (or an OLED, hint hint), as on-screen menus can alter the TV's performance enough that a proper calibration may be close to impossible.
If we have one major complaint about the AX900U that we reviewed, it's consistency. More than once the WiFi disconnected overnight, forcing us to set it back up in the morning. It's possible that's due to our labs being in a WiFi soup of downtown Cambridge, but it's a pain nonetheless.
Worse, the HDMI inputs on our unit would sometimes stop receiving a signal at the slightest bump, while and our LG Blu-ray player wouldn't play sound through the TV's HDMIs at all. These are minor issues, but they're frustrations that shouldn't exist with a $7,000 TV.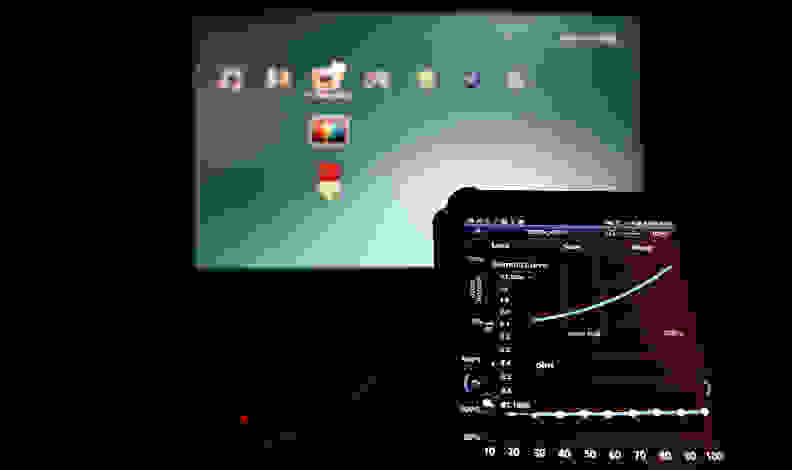 The most distracting thing, however, was a small area of visible backlight in the top-left corner of the screen, casting a blue haziness over shadowy content. This seems like a standalone defect, but it's worth keeping an eye out for similar issues—especially if you are having the TV shipped to you and can't just drive it back to the store.
Horizontal viewing angle is a big weakness of LCD televisions, and this is perhaps the only area where the AX900U falls prey to a tech-related pitfall. Contrast falls off quickly as you move away from head-on viewing: I measured a total viewing angle of 57°, or ±29.5° from the center to either side of the screen. Around 30° from the center, the luminance dropped off to about 81 cd/m2 (from an initial 169.70 cd/m2 ), though black levels hold up at this angle.
In its "Professional" picture modes, the AX900U automatically assigns color to the Rec.709 HDTV standard, and does a stellar job matching these points despite offering a higher native color space. The TV performed well out of the box, though it's worth noting that a couple of the secondary colors—cyan and magenta—were skewed into the wrong tints. This was very easy to correct using the TV's on-board CMS, however—with an informed calibration, you can get the TV's secondary colors perfect. The TV's out-of-the-box white and gray points adhered perfectly to the D65 standard white point, which is very impressive considering the majority of LCDs tend to skew into blue-tinted grayscale elements.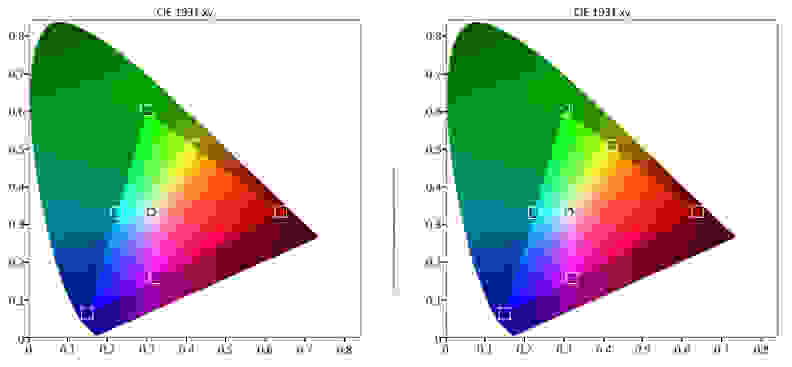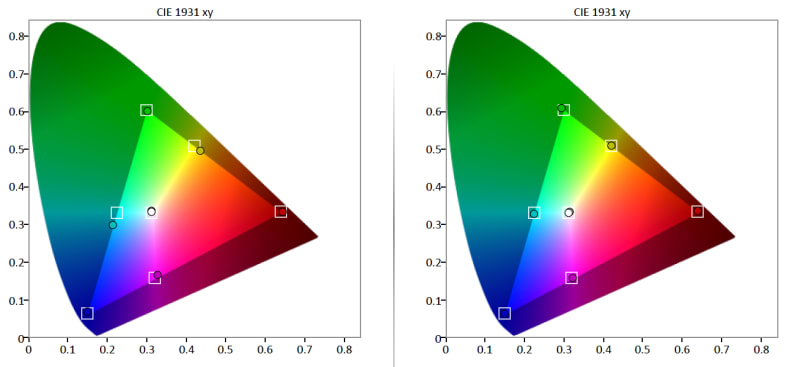 Professional performance for the home theater crowd.
The 4K TV landscape is very much in its adolescence, and like all emerging technology it is prone to rapid shifts. When we reviewed Sony's 65-inch X950B flagship TV earlier this year, it was far and away the best LCD you could buy at that time, sporting next-generation color accuracy and stellar contrast. Vizio's vaunted 65-inch full-array P Series didn't quite steal the show, but it reset the 4K value proposition by offering excellent performance and features at a fraction of the price.
While the Panasonic TC-65AX900U (MSRP $7,199) no doubt draws comparisons to those two 4K full-array models, this TV simply outperforms both. You can go ahead and check off the necessities: 4K resolution, decent upscaling, superb color, and awesome contrast; the AX900U has them all, edging out every other 4K TV we've tested this year that isn't a super-expensive OLED.
You can tweak the picture here to achieve a plasma-like appearance that adheres to standards used by Hollywood professionals, something that can't be said for any other TV we've reviewed.
The AX900U's professional-grade color matching system ("Super Chroma Drive") and local dimming algorithm ("Studio Master Drive") are bolstered further by the extremely detailed calibration controls available. Panasonic's plasma business may have bit the dust, but this set achieves a plasma-like color fidelity that adheres to standards used by Hollywood professionals—something that can't be said for any other TV we've reviewed. Though not everyone needs—or can afford—that level of perfection, this is a TV by display nerds, for display nerds.
Recommending the AX900U is easy: It's $7,000, but it's bested only by LG's brand-new $12,000 4K OLED. More affordable 4K TVs are already on the market, but if you've got the high-end home theater setup to appreciate it, the AX900U is a sublime finishing touch.
That said, for our money the best thing about the AX900U has very little to do with the display itself. Yes, this is an excellent TV, but there are plenty of those around. What makes the AX900U special is that it so deftly picks up where Panasonic's plasma business left off. We're sad to see such a proven, high-quality (and generally low-cost) technology disappear before its time, but the Panasonic AX900U proves that, at the very least, all the knowledge and care that went into developing plasma hasn't gone to waste.
A TV's grayscale refers to its production of black, gray, and white elements, rendered via a combination of red, green, and blue color filters or sub-pixels. When these three sub-pixels are emphasized properly, a television creates a color-free version of white, gray, and black that adheres to a point on the CIE 1931 color space called D65. When one or more of the sub-pixels is over- or under-emphasized, however, it results in tinted grayscale elements. Perceptible error in the grayscale is expressed in a collective called DeltaE, where a DeltaE of 3 or less is ideal.
Out of the box, the AX900U tested with a grayscale DeltaE of 2.76, just below the threshold of 3. This means that even without calibration, human beings cannot perceive any tinting or skewed grayscale elements. Using the TV's 2- and 10-point white balance controls, I reduced the DeltaE further to 0.71.

If we take a closer look at the TV's underlying RGB balance, we can often see which over- or under-emphasized sub-pixel is the cause of grayscale error. The AX900U emphasizes each primary color evenly throughout the entirety of the luminance spectrum, however, so there were no major discrepancies here. Green was mildly over-emphasized within the upper half of the luminance spectrum, but only by 2 or 3%—a negligible amount.


Gamma refers to how a TV allocates luminance at each input signal step (16-235 or 0-100 IRE) from absolute black to peak white. This is a particularly interesting category for the AX900U because it's the first TV to adhere to the BT.1886 gamma standard, a new(er) standard recently solidified by the ITU to allow consumer TVs to more closely approximate the gamma of BVMs or Broadcast Video Monitors, capturing an accuracy of luminance allocation previously impossible via power sum gamma curves such as the 2.2, 2.3, or 2.4 standards.
In Professional1 mode, the AX900U adheres to a gamma curve of 2.4, though its local dimming causes the actual result to be fairly uneven. Fortunately, the TV's 10-point gamma control software allowed us to not only alter the gamma to the BT.1886 standard, but to (mostly) garner a completely flat gamma curve. There were slight discrepancies around 20 and 90 IRE, but for the most part the TV followed the BT.1886 curve very closely, resulting in subtle but appreciable improvements to shadow details and highlights during movie and TV content.
Meet the tester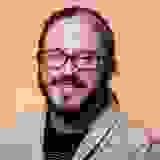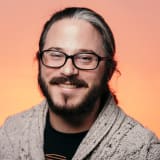 Lee Neikirk
Editor, Home Theater
@Koanshark
Lee has been Reviewed's point person for most television and home theater products since 2012. Lee received Level II certification in TV calibration from the Imaging Science Foundation in 2013. As Editor of the Home Theater vertical, Lee oversees reviews of TVs, monitors, soundbars, and Bluetooth speakers. He also reviews headphones, and has a background in music performance.
Checking our work.
Our team is here for one purpose: to help you buy the best stuff and love what you own. Our writers, editors, and lab technicians obsess over the products we cover to make sure you're confident and satisfied. Have a different opinion about something we recommend? Email us and we'll compare notes.
Shoot us an email