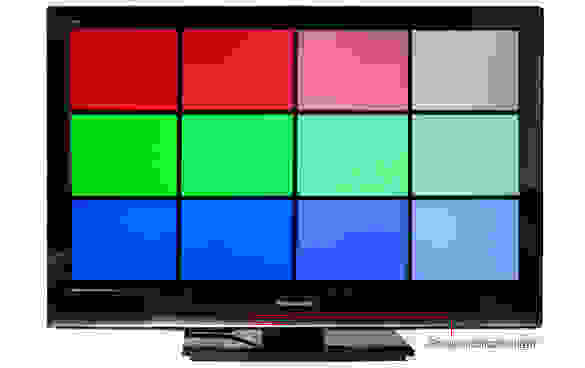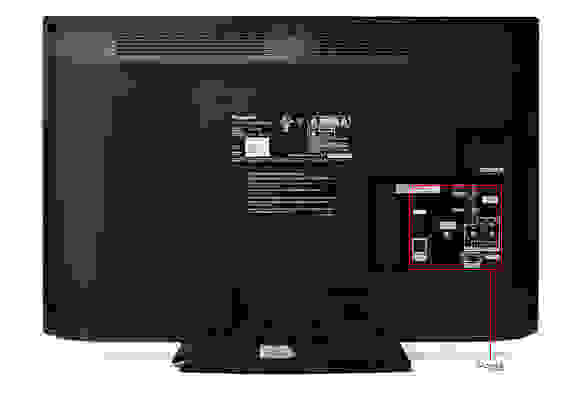 The physical controls on the set are located on the right side of the casing.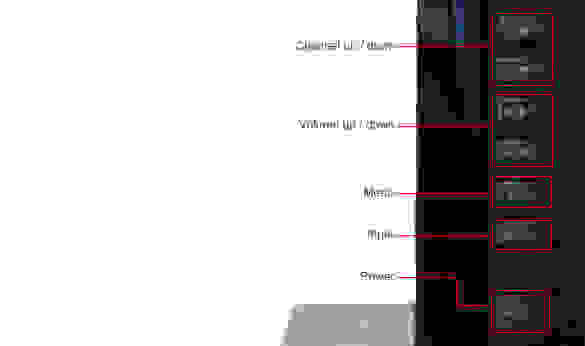 The remote control of the is identical in every way, shape and form to other entry-level and mid-range 2011 Panasonic TVs, which isn't a bad idea. If it ain't broke, don't fix it, right? Still, the remote is a little clunky, but light enough to be handled easily enough. You may find that the key travel (how far down you have to press the buttons) slows down operation of the set a bit, but it's nothing that should cause a huge problem.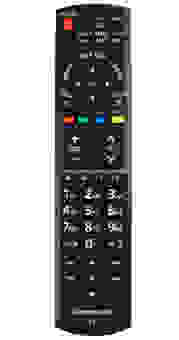 The comes packaged with a remote, stand, batteries, iPod dock and assorted documentation.
The has a disappointingly high black level of 0.32 cd/m2, which is quite far from what we'd call "good" (which we put at about 0.10 cd/m2). It's not the worst we've seen, but there are much better screens out there in this regard. More on how we test black level.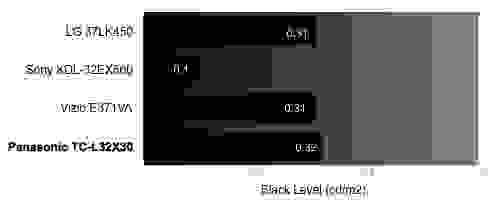 The had no troubles with producing a bright screen, however, as it recorded a peak brightness of 433.54 cd/m2 in our testing. Usually you only need 200 cd/m2 or more to view content in a well-lit room, but anything more than that is just gravy. More on how we test peak brightness.

Despite the high peak brightness, the 's contrast ratio is okay; not thrilling, but okay. As you can see from the chart below, the has a wider contrast ratio than the other LCD screens we used to compare to it, but it still can't touch TVs with a low black level. More on how we test contrast.

The doesn't have much to report in the way of tunnel contrast issues. No matter how much or how little black area there is on the screen, the maintains a relatively even brightness. More on how we test tunnel contrast.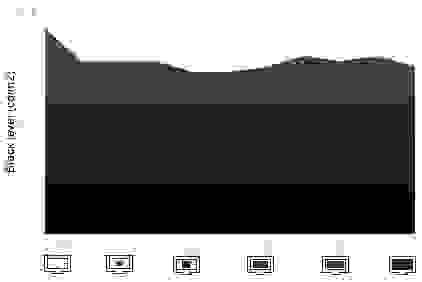 Similarly, the doesn't have any significant issues to report in terms of white falloff either: no matter how much or how little screen ares is occupied by bright whites, the maintains an almost uniform screen brightness. More on how we test white falloff.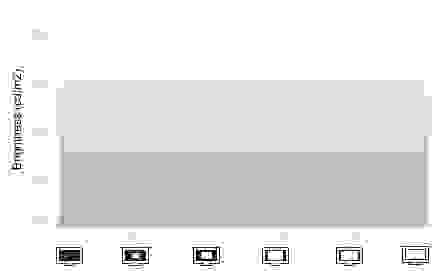 The doesn't have many blemishes in its small screen, and no major splotches or flares around the corners on either an all-black or all-white screen. More on how we test white falloff.
When we test greyscale gamma, we look at two aspects of our charts before scoring a TV's performance: the smoothness and slope of the line. The smoothness of the line tells us whether or not there were certain values of signal intensity that the TV simply couldn't produce, or if they were produced incorrectly. Ideally, the slope of the line should lie somewhere between 2.1 and 2.2, but depending on a TV's performance, this may vary. If it does, that means it doesn't quite produce the ideal values along the greyscale, which can result in lost detail, especially in shadows.
The 's gamma response was fairly average, despite its very smooth line. While it did manage to display an even transition along the entire range of signal intensity, the slope of its response line was 2.61, which is a bit steeper than we would like to see. Still, there are no major issues here, it's just that the isn't perfect. More on how we test greyscale gamma.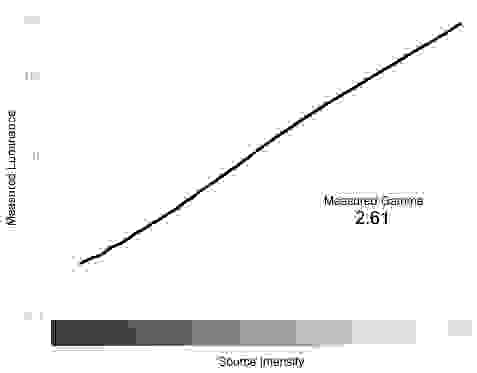 Not many issues here to report: the manages to keep a color temperature error that is within the limits of human perceptibility, and only has a weird cooling problem towards the very end of the range of signal intensity. Chances are good that you won't notice this at all unless you are really looking for it, and at that, you'll probably only notice a slight bluish tint when the screen is mostly black. More on how we test color temperature.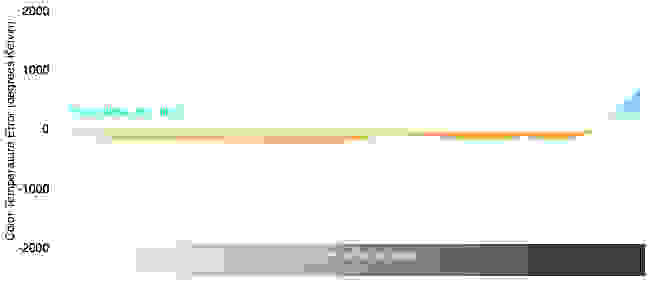 The RGB curves for the would be great if they didn't peak early. During our calibration we had difficulty getting the perfect picture, as the settings we went back and forth between either made the picture acceptable but bright, or without the color peaking but undersaturated.
Still, the curves themselves were actually pretty good for the , as they were nice and smooth all the way to where they peaked early. More on how we test RGB curves.
Below are linear representations of each RGB curve as compared to the ideal response and that of the three other comparison models.
The struggled a little bit with handling motion, as it wasn't all that good at minimizing picture artifacting. In addition to this shortcoming, pictures that moved at a steady clip would lose a bunch of detail, as well as show a slight skew indicative of some refresh rate issues.
On the whole though, it could have done a lot worse, and really struggled the worst with high-frequency patterns. Outside of that, it maintained a passable level of detail for an entry-level TV, but what is average for entry-level is not the same as average for mid-range or high-end, and it shows. More on how we test motion performance.
The didn't do too poorly in handling 3:2 pulldown or film content. With the 3:2 pulldown feature enabled, the managed to handle high-frequency patterns in motion without too many issues, but this one's tricky: the automatic pulldown feature is pretty bad at detecting film content. When we were putting the through its paces in the lab, we noticed that the "Auto" 3:2 pulldown setting would typically make the picture worse than if you had just left it off, and far worse than with the setting just left at "on." It might get annoying to switch this setting every time you watch a movie, but that seems to be a catch with this TV set. More on how we test 3:2 pulldown and 24fps.
The had some issues scaling content that wasn't its native 720p. Though the problems were usually not present in other resolutions, there was a common 2% overscan on each resolution that was unable to be corrected using the TV's proprietary system. More on how we test resolution scaling.
480p
The handles 480p content exceptionally well, with no trouble displaying high-frequency patterns or small text. It does still have that pesky 2% vertical and horizontal overscan.
1080p
The struggled here, with some definite interference problems with high-frequency patterns, and the inability to reproduce text in a legible manner. False coloration was also an issue in our test patterns, as well as the ever-present 2% horizontal and vertical overscan.
The has a native resolution of 720p and can handle all lower standard NTSC formats. It doesn't handle 1080i/p all that well, even if it can display content output with that resolution.
This is a weird one. Panasonic and other manufacturers have started to move away from traditional TFT LCD displays, and more towards newer types of display called In-Plane Switching displays or IPS for short. If you'd like to know more about the differences in screen technology, or how each works, you can read more about it here. For reference, the pixels of the can be seen below: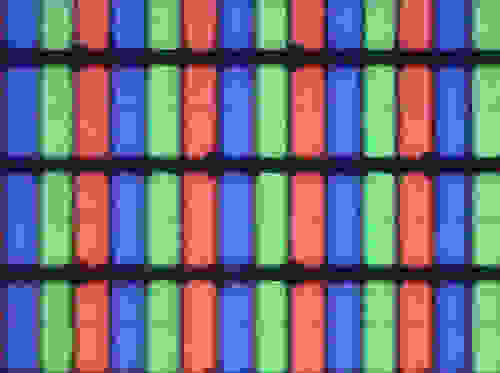 What does this mean for you? Well, for starters, the viewing angle in our charts is very misleading, for one. Despite our instrument measurements, what will be seen to the human eye is a viewing angle much smaller than the one our instrument recorded. What fooled our instruments is that as the brightness goes down (which is to be expected) the black level also goes down (which is the opposite of what we usually see). While it means that technically, yes, the contrast ratio didn't drop below 50% until about 70 degrees away from the center of the screen, the screen brightness drops off precipitously at about 20 degrees away from center, and dips below 50% peak brightness at about 25 degrees.
If you can live with that, then the viewing angle shouldn't be too much of a problem for you, but it's certainly something to be aware of.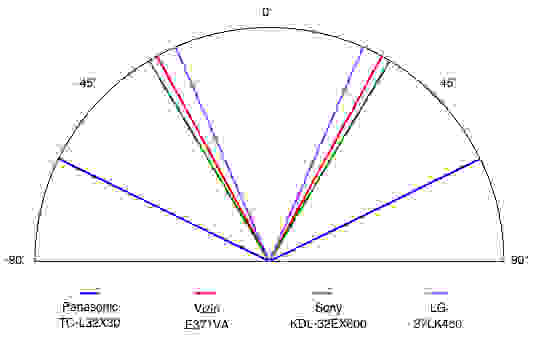 The screen of the is very reflective, and doesn't do much to mitigate the annoyance factor when there's a bright light shining on the screen. Not only is the reflection pattern huge, but it's also very bright.
The has a handful of video processing modes, some more useful than others. Here are our impressions of each processing feature:
The is surprisingly easy to calibrate to your liking, with a simple menu to control each aspect of calibration control. Using DisplayMate software, we calibrate our TV to give it the best possible display during testing. Using cinema mode as a starting point (as its color temperature was closest to ideal to begin with) we calibrated the set as follows:
[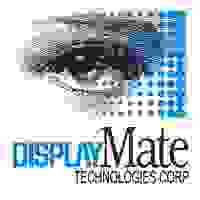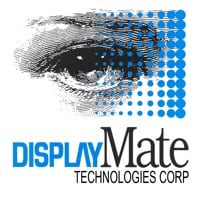 All of our calibration is done in conjunction with the DisplayMate software.
](http://www.displaymate.com/)
The has a handful of different video modes, each suited to a different viewing environment.
On the back of the set, you'll find the ethernet port, HDMI and analog video input ports, as well as the audio out ports.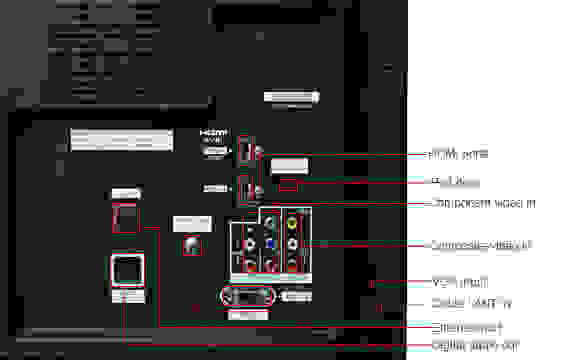 The side of the is where the SD/SDHC card slot lives, as well as another HDMI port and the lone USB port.
One of the cool things about this set is that it comes with an iPod dock, which allows you to hook your iPod directly into the TV. This is probably OK for videos and such, but we'd suggest playing music back only if your is hooked into an external sound system, as the speakers on this thing aren't going to wow you.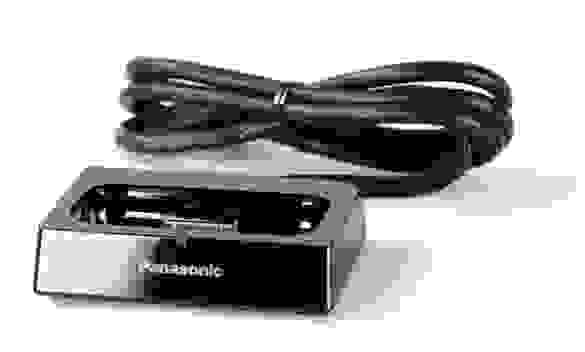 The placement of ports on the is virtually identical to that of other entry-level TVs by Panasonic, and as such, they are similarly scored. The ports are logically placed and well-labelled, and even though the analog ports are difficult to reach because the stand doesn't swivel, the TV is light enough to simply move the entire unit for access to the rear port panel.
The audio quality for the isn't all that great, and you certainly won't mistake it for an external 5.1 or 7.1-channel surround sound system. Still if you're more concerned about watching daytime cable TV, the dual 20-watt speakers should be sufficient. Still, if you're a cinephile, you'll probably elect to use your own sound setup anyways.
The menu interface is virtually identical to every other Panasonic we've seen this year and last year, with a very simplistic interface that isn't going to make you drop your jaw in awe of its beauty, but it will do the trick.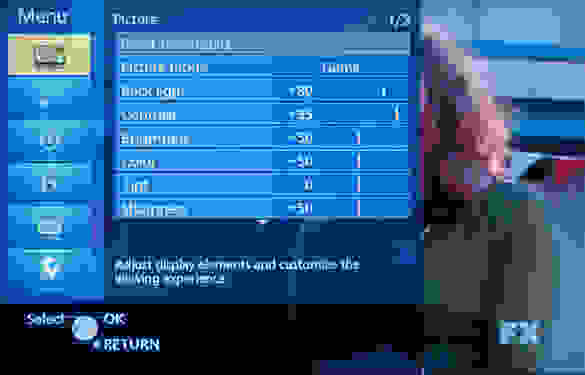 The instruction manual of the is informative and complete, with tabbed browsing, a good table of contents and index. If you have a question about the , the answer is in the manual. Top notch, Panasonic!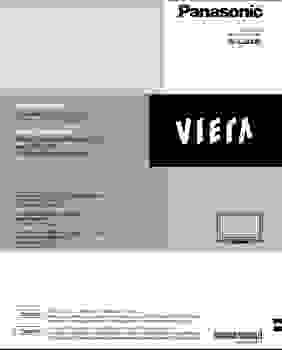 The has a few internet options, but nothing too amazing. Still, it's nice to have streaming Netflix, Amazon OnDemand and Pandora right on your TV set. It's not the most amazing thing in the world, but it does cover some of the more popular streaming options.
As the internet options are very basic, there isn't a browser or any niche applications or ability to get more installed on your relatively small set. Still, the big plus with the networking capability is DLNA support, allowing easy use of your PC or HTPC to stream content over your home network to the TV. That's a big plus.
The has one USB port and one iPod dock for external media. While we suggest a computer with an HDMI cable to browse media, if you just want to drop your iPod or thumb drive into the TV set to play back a tune or video, this TV can handle it.
Both the USB interface and the iPod interfaces are different from each other, but neither is difficult to use or decipher. Where the USB/SD card media menu is the same exact interface we've seen on other Panasonic TVs like the TC-P42X3, the iPod menu is different (pictured).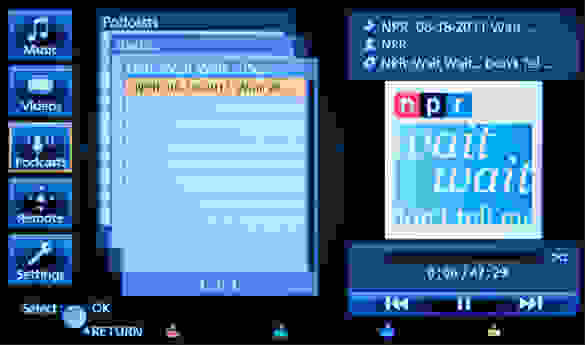 The does not support any other media.
In comparison with other TVs, the has a very low power draw for it's screen. With an average power draw of only 81.67 watts, we estimate that your will only cost you about $8.79 to run for an entire year of standard power consumption.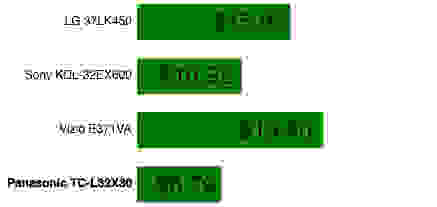 In terms of overall value, it's hard to get much closer than these two units. While the Vizio has an extra 5 inches on the smaller Panasonic, the packs in a little better performance for $50 cheaper.
The is objectively better in this metric, scoring a lower deep black, a higher peak brightness and a wider contrast ratio. That's not to say that it's impressive at all, but just that it's better than the E371VA.

Here too, the outperforms the Vizio, not only by producing far less color temperature error, but by producing slightly better RGB curves. Still, the gamut for the is not as close to the rec. 709 standard, but overall the difference is minor.
Neither set did much to impress in terms of motion performance, but the Vizio is better by a very teeny tiny degree. They're virtually identical here.
This is a difficult comparison to make, as each screen has its downfalls. The IPS-screened Panasonic technically has a huge viewing angle, but the screen loses brightness extremely quickly as the angle widens. The Vizio's screen drops 50% of its contrast at 25 degrees away from center.
The wins this one hands-down, simply by virtue of the fact that even though the two sets have virtually identical ports on the back, the has internet connectivity and DLNA support.
Despite both TVs having the same size, the Sony isn't just "more expensive," but it's a good $300 more if you pay MSRP. Because it's older, you would probably pay less than that, but let's continue on to see what you get with each, shall we?
While the Sony doesn't have the deepest black level we've ever reviewed, it's decent level is much better than the 's bad level, and helps it net a much wider contrast ratio. While the has a much higher peak brightness, that isn't as important when you consider you only need about 200 cd/m2 to view content in a brightly-lit room.

Each TV has their advantages here, as the Sony has a slightly better color gamut and better RGB curves. The , on the other hand, has a lot less color temperature error. Neither TV has a bad performance here, but the information is below for those who want to decide for themselves.
The Sony, as one would expect a higher-end TV set to do, does a much better job of handling motion than the , especially when it comes to motion smoothness.
Here is where the comparison gets a little weird. Because each TV has a very different pixel type, the viewing angle on the is quite large, but instead of losing contrast, it loses brightness as you move away from the center of the screen. The Sony, by comparison, loses 50% of its contrast far earlier than the .
While the Sony carries more analog options, where the takes an advantage is the fact that it has internet connectivity and streaming content available.
The $110 cheaper LG (if you're going by MSRP) offers 5 more inches on its screen than boasted by the , and as far as advantages go, that's about it outside of a few performance scores we'll get into later. If you're on a budget, the LG is worth a second look, despite how painful it may be to see the faux-wood paneling.
Surprisingly enough, the actually edges out the competition in this comparison, with a much higher peak brightness and wider contrast ratio. Don't read into this comparison too much, as neither TV set did very well at all when it comes to lowest black or contrast ratio.

Each TV set holds their advantage in this category, as the LG had better RGB curves and color gamut, but the has a much lower level of color temperature error. Like always, when deciding between two TV sets, you'll just have to decide for yourself what you would like.
Like the Sony, the LG handles motion much better than the does, sporting the same score in artifacting, and a better one in motion smoothness.
The IPS display of the gives it a massive viewing angle, but it comes at a price: the screen brightness drops off significantly as you move away from the center of the screen. The LG has the smallest viewing angle of the comparison models here, losing 50% of its contrast at about 23 degrees away from the center of the screen.
Like streaming content and DLNA support? Well, you won't get it with the LG. If you absolutely need Netflix or Pandora to stream directly to your TV, stick with the .
All in all, this is a pretty nice television set for its size and price. It's an entry-level TV that would work well for the kitchen or a small room to be sure, but a 32-inch 720p TV isn't going to be designed to go toe-to-toe with the latest and greatest. It offers color performance that is on-par with its competition, and a superb viewing angle so you can see a good picture almost anywhere in the room. It even has an iPod dock for users who want something playing in the background. As far as small TV sets go, this one is actually a fairly good buy if the IPS display, iPod dock and absence of silly design elements are worth the extra $100 to you.
The Panasonic TC-LxxX30 series consists of only the .
Meet the tester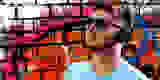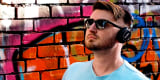 Chris Thomas
Staff Writer, Imaging
@cthomas8888
A seasoned writer and professional photographer, Chris reviews cameras, headphones, smartphones, laptops, and lenses. Educated in Political Science and Linguistics, Chris can often be found building a robot army, snowboarding, or getting ink.
Checking our work.
We use standardized and scientific testing methods to scrutinize every product and provide you with objectively accurate results. If you've found different results in your own research, email us and we'll compare notes. If it looks substantial, we'll gladly re-test a product to try and reproduce these results. After all, peer reviews are a critical part of any scientific process.
Shoot us an email