With its spartan design and trim feature set, the EM60 series offers above-average picture quality for a price that doesn't sting. Comparison shopping is never a bad idea though—I've seen similar price and performance on bigger screens in recent months—so be sure to test the waters before you buy.
Not a very snappy dresser
The EM60 series looks just like any other low-end flatscreen: glossy black plastic every which way, and rectangles as far as the eye can see. If you're looking for something ultra modern, you'll have to ask your billfold for a bigger allowance.
Users only get two HDMI ports and there is no LAN hookup or headphone jack.
The outputs and inputs on this Panasonic will do, but users only get two HDMI ports (most people are used to three), and there is no LAN hookup or headphone jack. Aside from the two HDMI, there is a digital audio out, an antenna hookup, a shared composite/component port, and one USB slot—and that's the name of that tune.
For controls, users get the bare necessities. A very elementary remote gets the job done—unless you're in the dark, since nothing lights up. If the remote goes missing or the batteries die, there is also a simple set of buttons on the right side to serve as a temporary replacement.
Extras, extras, read all about them!
Actually, there isn't much to read about: The EM60 series isn't smart, so users can't stream shows, play with apps, or Tweet selfies (thank goodness). You can't watch movies in 3D, either. But you do get to save some money!
So what features are there? Basic ones. You can alter Color Temperature, Contrast, Brightness, Backlight, and other basics. Beyond that, there is a Noise Reduction setting which does little to nothing, and a very aggressive Motion Enhancement feature. I would strongly discourage you from using this motion-smoothing item, as even the weakest setting lends a very ugly quality to the picture—it's almost like watching a sped-up, crystal-clear version of the original. Bilbo Baggins was never meant to move that fast—this setting just sucks the magic right out of him.
Not award winning, but still above average
To the meat of the matter: The Panasonic EM60 series performed slightly better than average, but did not put up scores to knock anyone's socks off. The most important performance aspects are very acceptable, with the healthy dark levels necessary for rendering realistic images. The 39-inch model we tested is also bright enough that a sunny room won't wash out its picture—check and check!
The EM60 series is not a great option if you want a wall-mounted display.
The color performance proved solid, too, though not perfect. Midtones on a Blu-ray of The Hobbit appeared a bit grainy at times, for instance. Additionally, reds are a little more faded than they ought to be, and blues sometimes take on an ugly, overly vibrant appearance. Areas of highlight look great, though, without any unwanted tints, and greens are very accurate, too.
Thus, regular content like talk shows and news reports look pretty natural and attractive. Blu-ray cinema looks quite sharp as well, aside from some very mild blurring. The only other complaint is the viewing angle, which isn't very wide. Therefore, the EM60 series is not a great option if you want a wall-mounted display.
Not exactly a goldmine, but still a fair buy
Shoppers in search of solid performance without complicated, expensive features will find a qualified candidate in the TC-L39EM60. Everyone loves scoring an off-brand price on a name-brand TV, but this Panasonic is not without rivalries, so browsing won't hurt.
If you do choose Panasonic's EM60 series, you will enjoy a good-looking picture without wearing out your wallet. From contrast, to color, to motion performance, the EM60 series delivers slightly above-average quality at a fair price.
Delivering accurate, scientific assessments of TVs is our specialty, and the Science Page is where you can come to take a look at our findings.
The Panasonic TC-L39EM60 didn't exactly sweep the TV lab off its feet, but the results still outdo some of the competition in this sub-$500 price range. Contrast, color, and viewing angle come together for above-average overall performance.
Ramping up and dimming down
Each area of a television's performance contributes to its overall score, but some performance aspects count more than others. For instance, a television's minimum luminance—or how dark it can get—is absolutely crucial. The darker a display can get, the better equipped it is to render intricate areas of shadow with meticulous, lifelike detail. I gathered a dark reading of 0.072 cd/m2 —which is very acceptable for a budget model like this, and means it will look nice in theater-like settings. The EM60 series can ramp up in brightness, too, with a peak luminance of 254.7 cd/m2 , so natural sunlight won't overwhelm these TVs. These readings make for a total contrast ratio of 3538:1, which is pretty average for displays in this price range.
Less-than-perfect results
A television's color performance is an arena that we like to break into three parts. I'll begin with gamut—which charts a television's adherence to the Rec. 709 international HD color standard. This matter gets to the heart of the matter: Which colors are depicted? Are reds the right shade of red? Are they washed-out in appearance?
Testing showed that the Panasonic TC-L39EM60 produces undersaturated reds and oversaturated blues. At times, these errors are noticeable: Blues look unnatural and overly vibrant here and there, while areas of red can appear lackluster and faded. At least green is accurate, and whites are mostly pure-white. Overall, this color gamut is fairly average—not too impressive, not too disfiguring.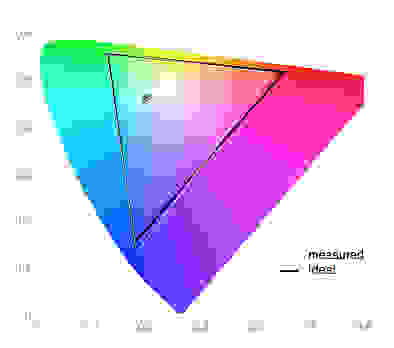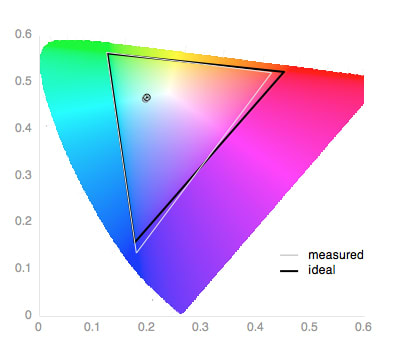 Color curves are another aspect of color performance. These curves indicate whether the TV segues from one hue to the next smoothly, or disastrously. My findings for this TV aren't too bad: The curves aren't buttery smooth, but the transitions are gradual and polished enough that pictures look clean and detailed, for the most part.
Finally, the results from the color temperature test look great, as well. When we test color temperature, we're hoping to note the same temperature in Kelvins throughout a TV's whole output, from dark to light. While the EM60 series isn't perfect, its temperature errors are mild, polluting a small portion of the darkest area of the grayscale—the least visible area—with a blue tint.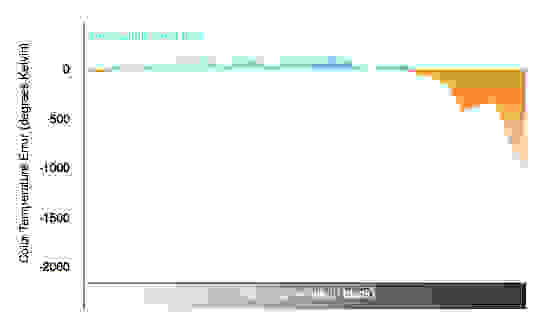 Center up
Testing a panel's viewing angle gives users an idea of how comfortable they'll be on the end of a couch. Is the view much worse from the side than it is from the head-on? In this case—yes.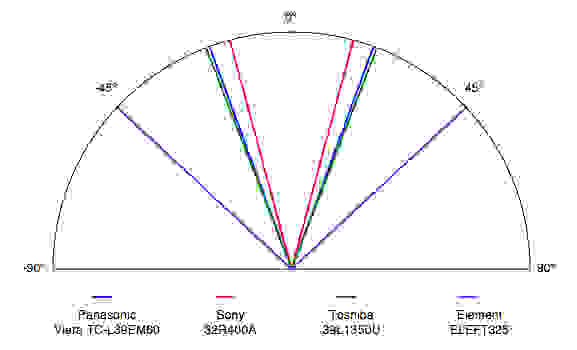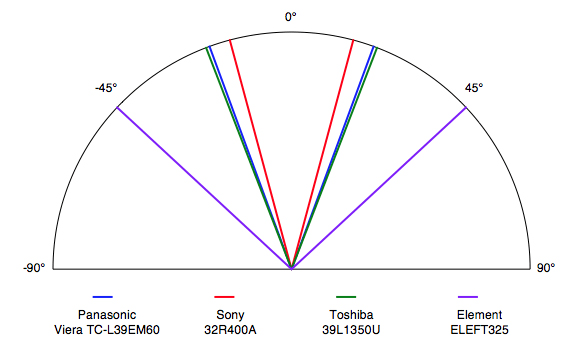 We measured a total viewing angle of 40° on the 39-inch EM60, or ±20° from either side. In other words, if you sit at off angles of more than 20º, the contrast will fall by upwards of 50%.
Meet the tester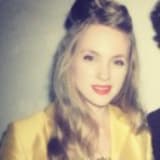 Virginia Barry
Former Managing Editor
@
Virginia is a former Managing Editor at Reviewed.com. She has a background in English and journalism. Away from the office, Virginia passes time with dusty books & house cats.
Checking our work.
We use standardized and scientific testing methods to scrutinize every product and provide you with objectively accurate results. If you've found different results in your own research, email us and we'll compare notes. If it looks substantial, we'll gladly re-test a product to try and reproduce these results. After all, peer reviews are a critical part of any scientific process.
Shoot us an email