The L42E50 sounds good on paper, but does it actually produce a good picture? We are happy to report that yes, it does the basics very well. There were some hiccups with screen quality and we do have some squabbles with Viera Connect, Panasonic's brand name for their smart TV features. Overall, though, it's a solid performer, not to mention a looker.
The Panasonic Viera TC-L42E50 is a classy-looking TV. Its sleek black bezel is accented by strips of clear plastic that add a hint of elegance to this display. The way the TV sits on the base gives it the appearance of floating, which will definitely impress the neighbors.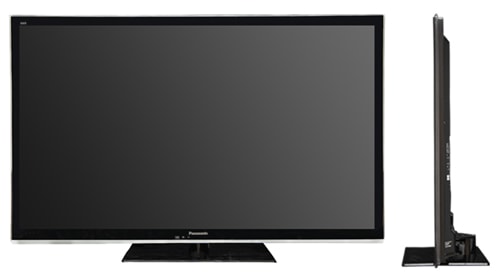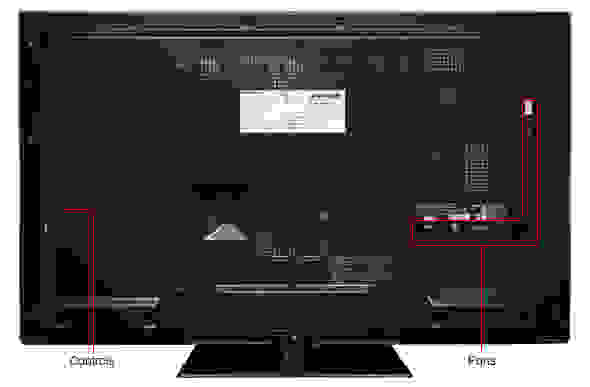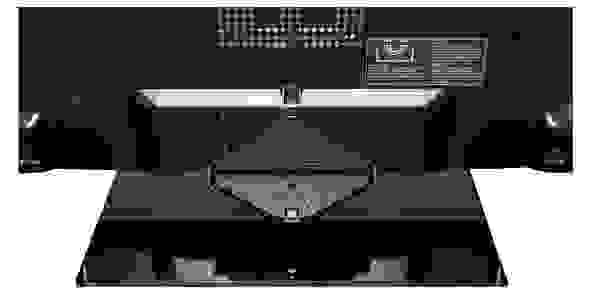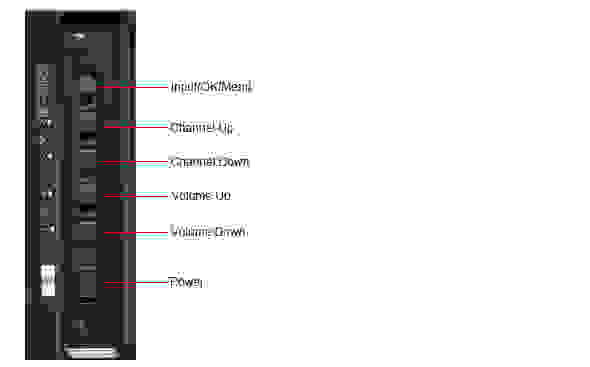 The remote that Panasonic bundled with this TV is very basic. The only buttons that differentiate it from old-school remotes are the internet buttons and the USB button, which give quick access to their respective features.

The L42E50 comes with a remote, batteries, a component/composite adapter cable, a user manual, a quick setup guide, and warranty information.
The Panasonic TC-L42E50 has an ample amount of connections. There are four HDMI ports, two USB ports, a component/composite adapter, a VGA input, an antenna input, an S/PDIF output, and an ethernet connection. There is even an SD card slot, which seems to be a staple of Panasonic's mid-range and high-end TVs. The exclusion of any kind of Wi-Fi on an internet-capable TV is rather odd, especially in 2012.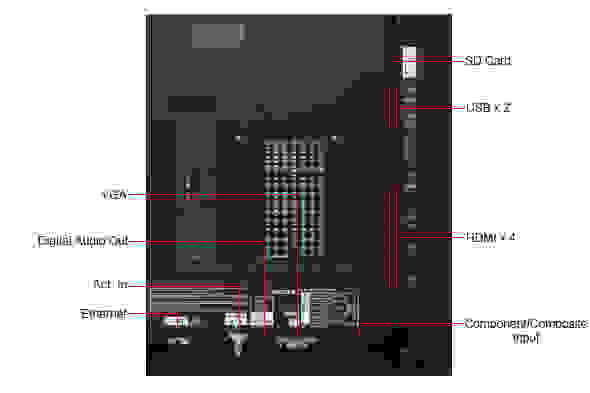 The L42E50 impressed us in a few performance areas. The main draw here is the excellent screen uniformity, which was clear and smooth across the expanse of the screen. The color gamut for this Panasonic was also impressive – very close to the exacting industry standard. The color temperature was very good and as a result, the TV does not display an overly warm or cool picture. The L42E50 did not have the strongest contrast ratio, although it wasn't terrible by any means. The screen gets exceptionally bright, but the black levels are nothing special. Color curves had uneven transitions and were not the best. Overall, though, this Panasonic had an admirable performance.
The L42E50's contrast ratio of 1123:1 is just average. Sony's KDL-46HX750 and the Insignia NS-50L240A13 both had superior contrast ratios, while the Panasonic TC-L47DT50, the L42E50's big brother, only had a slightly better ratio. [More on how we test contrast.](/content/How-We-Test.htm#contrast)
What happened here? The greens and the greyscale, represented by the black line, have good transitions. The blues and reds get overly bright very quickly and have jagged lines, meaning they have an uneven transition when the input signal gets lighter. More on how we test color performance.
This color temperature is very good since most of the fluctuations are not visible. There is a dip into the warmer tones at the darkest input signals, but that will not be very noticeable. More on how we test color temperature.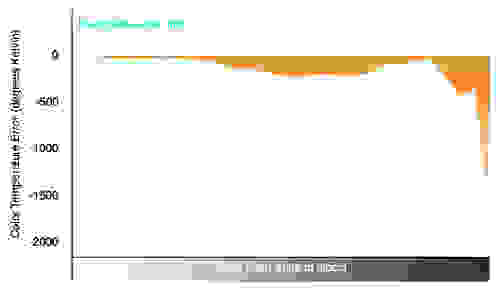 This is a great color gamut. The reds are almost perfect while the greens and blues are just slightly off the industry standard. More on how we test color temperature.
The picture dynamics were great on the L42E50. This TV kept a consistent black level with an increasingly white screen and a consistent white level with an increasingly black screen. More on how we test picture dynamics.
The Panasonic Viera TC-L42E50 has a native resolution of 1080p and displays all standard NTSC formats.
The L42E50's total viewing angle of 45° is decent. It bested the Sony Bravia KDL-46HX850 and was comparable to the Insignia NS-50L240A13, although it can't touch the higher-end Panasonic Viera TC-L47DT50.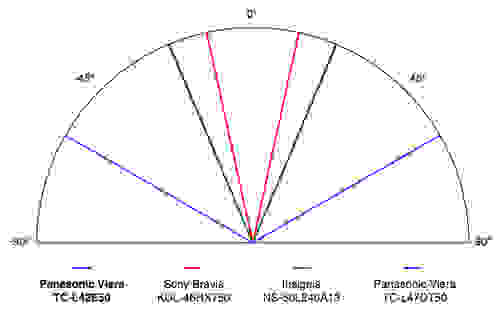 This Panasonic's motion performance was just average. There was minor blurring that occurred when an image moved across the screen and there was some minimal color trailing. Vertical lines moving across the screen had some jaggedness, although the effect was not that bad.
The L42E50 had a superb uniformity. Whether the screen was all-black or all-white, the image was clear and smooth. Part of the reason for this is the LED back-lit screen as opposed to an edge-lit screen – a full array of LED lights will produce a more uniform brightness.
The two 10-watt speakers on the L42E50 do a good job of producing a clear sound, although the low-end frequencies are definitely lacking. It is rather uncommon for TVs to have subwoofers, but some are better than others when it comes to bass. This Panasonic has an option to boost the bass, which helps a little bit, but don't expect explosions or dubstep to sound great.
There is a surround mode and it acts as an additional bass boost. The effect is noticeable, and we recommend keeping it on, but the low ends are still lackluster. There is another helpful sound option called A.I. sound, which equalizes volume levels. This function tends to make voices and dialog easier to hear.
For all of our gripes with the bass, the middle and high frequency sounds were very good quality and made for an enjoyable aural experience.
The Panasonic Viera TC-L42E50 was very energy efficient in our testing. With the minimum recommended settings, this TV will only cost an estimated $11.59 annually. If you crank the backlight up, the annual cost only goes up to $13.99, which isn't bad considering how bright this TV can get.
There are energy saving options that will decrease the screen's brightness and turn the TV off if a signal isn't detected after a certain amount of time, which will decrease the already manageable operating cost of the L42E50.
We had to change a few settings around to get our ideal calibration. We always start by changing the video mode to cinema. From there, we adjust the settings with the help of the DisplayMate software.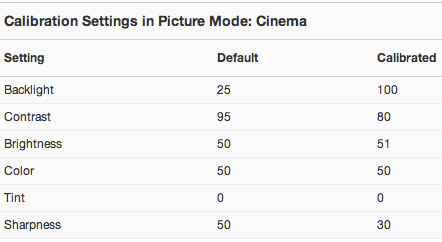 All of our calibration is done in conjunction with the DisplayMate software.
There are five video modes to choose from: vivid, standard, cinema, game, and custom.

Viera Connect is Panasonic's smart TV platform. As far as internet platforms go, this one is pretty basic. Pressing the "internet" button on the remote takes you to the smart TV interface where you can access apps like Netflix, Hulu Plus, and Amazon Instant Video. Panasonic has an app store, but there are not many interesting apps to find on it because most of the good ones (like the aforementioned video streaming apps) are already installed.
One app that is strangely absent from this TV is an internet browser. We won't shed too many tears over this – we were never huge fans of Panasonic's browser.
Panasonic decided not to include an internet browser on the L42E50. Can't say we blame them.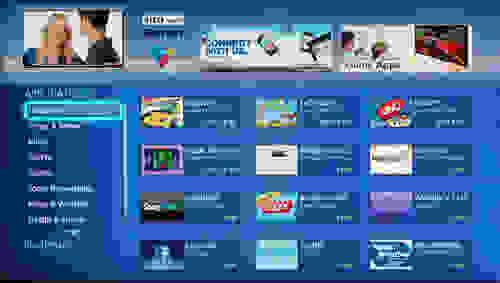 Panasonic has all the basic apps covered. The video streaming apps like Netflix, Hulu Plus, Amazon Instant Video, and YouTube are all present. Facebook and Twitter are both here for social networking. Panasonic has an app store, but there aren't many interesting apps to see.
For a more detailed look at Viera Connect, check out our in-depth look here.
Connecting the L42E50 to the internet is mostly easy. During the initial setup, the TV wants to know whether you are connecting via an ethernet cable or Wi-Fi. We usually choose Wi-Fi because having less cables is never a bad thing. Unfortunately, this TV doesn't have Wi-Fi; when the L42E50 asks if you want to use Wi-Fi, it is really asking if you want to use a USB Wi-Fi adapter. This was annoying, but not the end of the world.
The L42E50 supports photo, music, and video playback via a USB drive. The interface is pleasant and separates content into the three categories.
Panasonic designed a great menu interface. Everything is labeled clearly and laid out in an easy-to-find fashion. Menu options are separated into six categories: picture, audio, network, timer, lock, and setup. Highlighting an option will show a description of what it does. This is an impressive interface.
The included user manual has instructions for assembling the TV and what each of the connections are. It doesn't get too in-depth, but luckily Panasonic has a very good digital manual. The eHelp guide has descriptions for just about every setting on the TV, plus instructions for how to use the Viera Connect platform.
Panasonic knows how to craft a handsome TV (though it certainly took them a few years). The TC-L42E50 (MSRP $900) is more than just looks, though. It is a solid performer when it comes to screen uniformity and picture dynamics, plus the color gamut is excellent. We're also fans of Panasonic's easy to use menus.
The L42E50 isn't a complete joyride. There are some problems when it comes to the ideal color curves, and the contrast ratio is merely average. The audio, while mostly decent, suffers from a lack of bass. As far as smart TVs go, the Viera Connect platform isn't the worst, but it has a very sparse interface and apps that aren't that useful.
Luckily, the L42E50 hits most of the right notes. It's refreshing to see a TV that has internet content like Netflix and Hulu Plus, but doesn't force you to commit to 3D (a feature of limited usefulness compared to its significant expense). If you are looking for a solid performer and a TV that looks good enough to impress your friends, the Panasonic Viera TC-L42E50 definitely worth checking out.
Meet the tester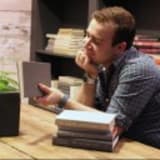 Josh Fields
Staff Writer
@reviewedtech
An enthusiast of all things tech, Josh is one of Reviewed.com's resident television experts. When he's not looking at bright TV screens in a dark room, he's probably reviewing a laptop or finding a new snack at 7-11.
Checking our work.
We use standardized and scientific testing methods to scrutinize every product and provide you with objectively accurate results. If you've found different results in your own research, email us and we'll compare notes. If it looks substantial, we'll gladly re-test a product to try and reproduce these results. After all, peer reviews are a critical part of any scientific process.
Shoot us an email