Panasonic tends to produce simple low-end plasma televisions that feature deep blacks and modest "variable" features, such as where input ports and interface customization are concerned. The TC-P50U50 is a testament to that tradition. For under $1000, getting a 50-inch plasma is not a bad deal. However, there are some negative quirks to this model--such as its poor viewing angle, and inability to swivel--that consumers should be wary of.
This TV is certainly not overpriced, and it might prove difficult to find a better plasma at the same cost.
There's nothing very surprising about the U50's design. The 50-inch panel is balanced squarely upon a plain, black plastic stand--you know, the kind that tends to gather fingerprints like a rich man gathers friends. The stand is affixed to the panel by two rounded, metal rods, so as long as your screws are tight, the TV promises to be sturdy. Unfortunately, that sturdiness comes at a price: namely, a glaring lack of flexibility. The P50U50 does not swivel, which we find to be a hugely lamentable oversight, especially by today's standards for HDTVs. While there aren't a lot of ports to speak of, the U50's two HDMI inputs are located on the back of the TV, rather than the side, and a little swivel would be a welcome addition to be sure.
Design components aside, this TV is very average looking. Its bezel, like its stand, is black plastic, giving way to a rounded metal back that feels strong, yet strangely hollow. Almost all of its major ports are located on its back, though there aren't many of them. The left side of the TV is where you'll find the controls--which are quite easy to use--and a single USB port for playing back your pictures and music, as well as the now ubiquitous Panasonic SD card slot, which Panasonic continues to include as a way to boost their sales of Panasonic brand SD cards. We think that's a silly reason to include a port that doesn't do anything that the much more consumer-friendly USB port doesn't already do.
The U50 has a plain black bezel, a metallic back casing, and a plain black plastic stand.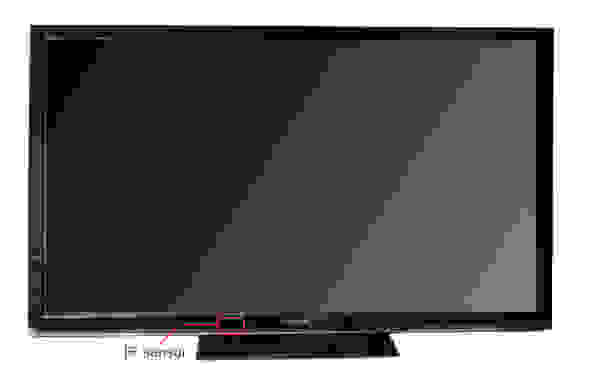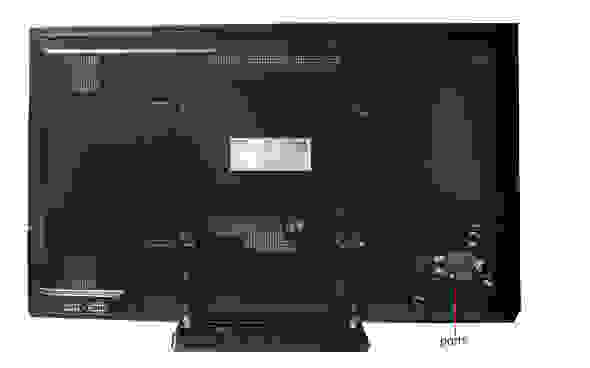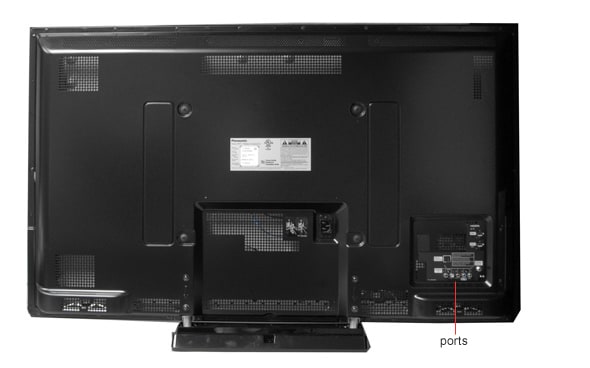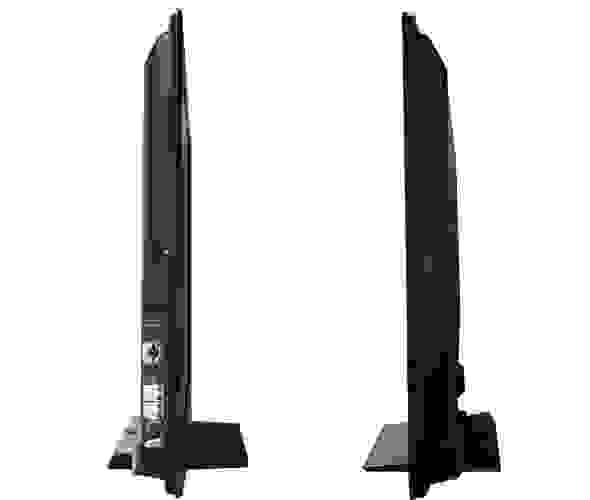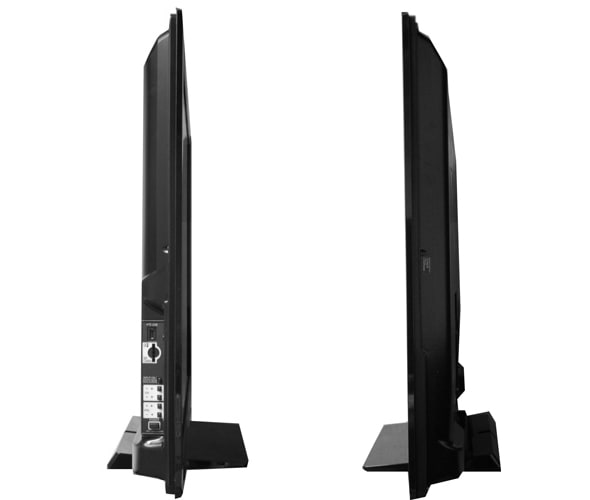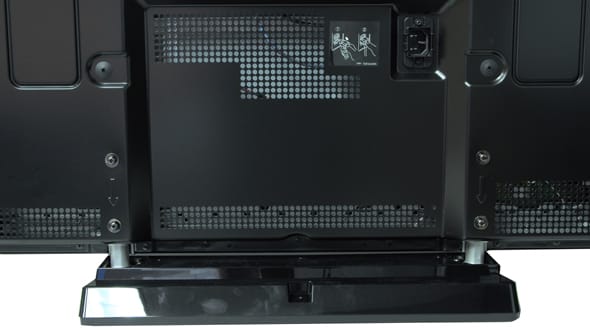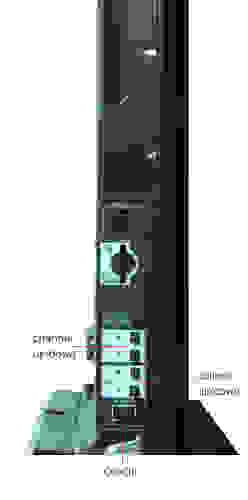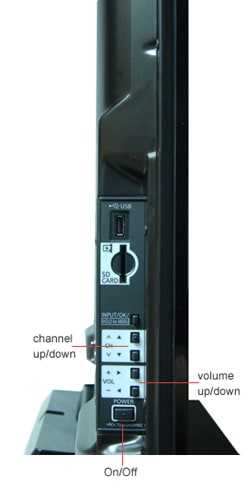 The P50U50's remote control is the standard remote for their 2012 TVs that don't have any internet features. It's easy enough to use, but despite the TV's simple design, the remote has an awful lot of what we would call "extra" buttons. There are hotkey buttons for accessing the SD card and USB card, input selection, toggling surround sound, toggling closed captions, and toggling aspect ratio. This isn't a bad thing, as it all but eliminates the need to use the TV's main menu.
In the box, you'll find the display panel, stand components and screws, remote and batteries, and the user manual.
There are ports located on the back and the left side of the TV, and they are essentially just the bare necessities needed to operate a standard array of connected devices, such as a video game console, or DVD player, or to outsource the TV's audio to an external speaker system. There is no ethernet cable input, of course, because the U50 series does not support any internet features. Here you'll find 2 HDMI inputs, analog audio, and a shared component input. Like we said, very basic.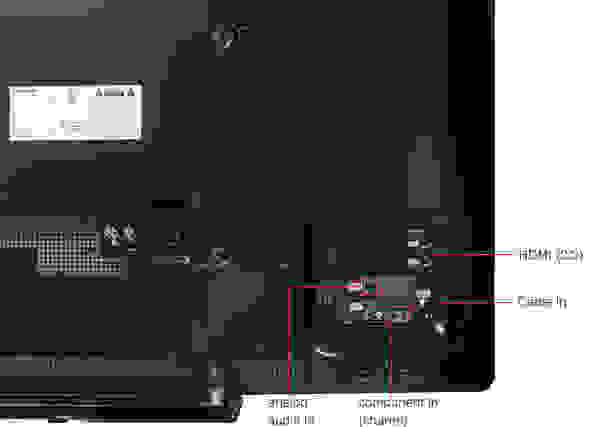 On the left side of the TV, you'll find the on-set controls, and above them, a single SD card slot and USB input. The USB slot is meant for picture, video, and music playback, but also serves as the doorway to potential firmware updates. The SD card slot would be useful for browsing pictures directly from a camera, or for accessing data stored on some other portable device. Frankly, it seems unnecessary when paired with the USB input.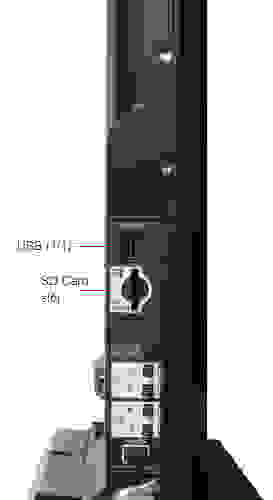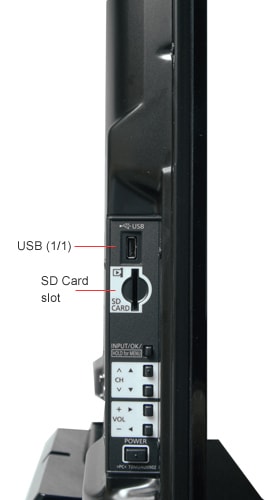 The port placement on the P50U50 follows a standard set-up, with "access" ports--the SD card and USB input ports--located on the more accessible side of the TV, and device connection inputs, i.e. HDMI and component AV, tucked away on the back of the TV. A smart port design, in our opinion.
One thing we consistently look for in entry-level or low-end TVs is a strong core performance. That is to say, good scores in contrast ratio and color accuracy. In our opinion, this is a necessary requirement for all TVs, but is especially important when dealing with a consumer television that is bereft of extra features or extensive interfacing options, like the Panasonic TC-P50U50. You'll be glad to know we were pleased with what we found.
Plasmas are often sought out for their ability to produce much deeper blacks than LED televisions, and 2012's P50U50 continues that tradition. Next to the more expensive Panasonic comparisons we pulled (and one Insignia), the P50U50 boasts a deeper black level than any of them. While 10 or 20 cd/m2 is not much difference on the peak brightness side of things, the difference between a black level of 0.01 cd/m2 and 0.02 cd/m2 is twice the difference between 0.02 and 0.03; mathematics aside, let's just say that a black level of 0.01 cd/m2 is about the best you can hope for.
Where color accuracy is concerned, the P50U50 did well. It did not have the smoothest of color curves, and its color temperature was off on the darker side of the picture, but it tested with a very accurate color gamut. Essentially, what we mean to say is that all but the strictest judges of color production will likely be pleased with how the P50U50 handles color.
In a nutshell: great blacks, decent color, and acceptable screen dynamics paint this Panasonic as a smart buy.
As we expected, the Panasonic TC-P50U50 has an excellent maximum contrast ratio, over 5000:1, due primarily to its impressively deep blacks. It's a very dim TV, however, and likely won't fare well in any bright environment. More on how we test contrast.

As you can see from the chart, these color curves weren't terrible, but they were just barely on the cusp between acceptable and bad. Gamma and sRGB are peaking early, meaning a big loss of detail between highlights across the entire spectrum of visible light. The choppy nature of the curves also means sudden jumps in detail between shades of the same color; probably not enough for the human eye to notice, but we'd still like to have seen smoother curves. In our opinion, this doesn't invalidate this TV's performance, but it's worth keeping in mind while shopping around. More on how we test color performance.
It's rare to find a low-end TV with perfect color temperature; in fact, it's rare for any TV to maintain stability across the entire input spectrum. That said, this isn't an awful performance. As the chart below indicates, most of the temperature errors in the bright- to mid-grays is not perceptible to human vision. But as the light input drops, these color temperature errors become more and more visible, and will be noticeable in the darkest shades. More on how we test color temperature.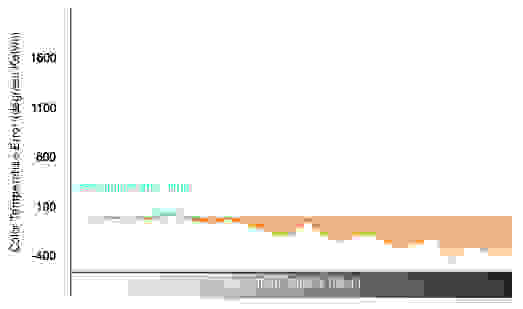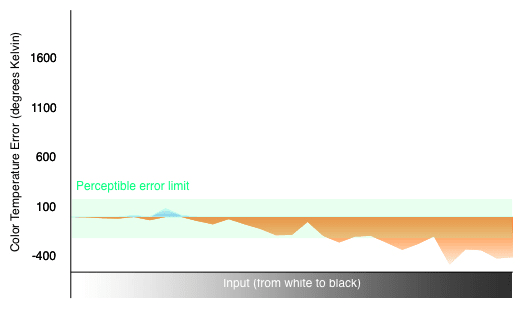 Hands down, an excellent color gamut. While it wasn't perfect, it was very close. The green point, blue point, and white point were spot on, with just mild oversaturation keeping the red point off of its mark. This is a great color gamut in a general sense, and even better considering that you can get this TV for under $1000. More on how we test color temperature.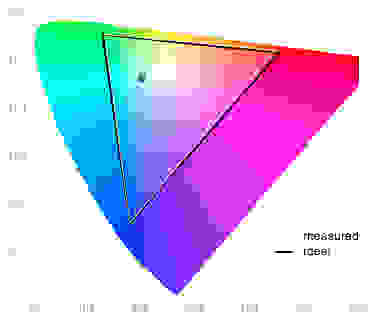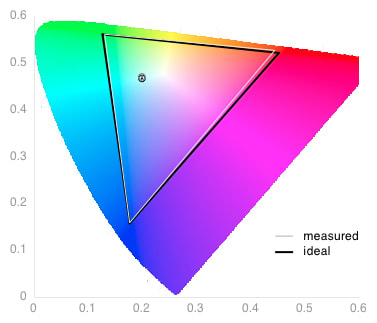 Like most plasmas, the black and white level of the P50U50's picture varied depending on how much of the screen was given over to a particular shade, but for the most part did not vary in very large amounts. At 100% and 5% of the screen, the P50U50's peak brightness was roughly the same--around 50 cd/m2, which is extremely dim. The same consistency was found in its black level. There was some mild auto dimming, which we couldn't change, but for the most part the P50U50 tested with solid picture dynamics. More on how we test picture dynamics.
The Panasonic TC-P50U50 supports all NTSC/ATSC formats.
The P50U50's viewing angle was much worse than comparably priced plasmas, and even a number of 2012 LEDs. A 50-inch screen is definitely big enough for a group of 3 or 4 people to watch, but with a 55-degree total viewing angle, you're not going to be able to spread out too much. The P50U50's viewing angle suffered because of how dim it is; from an angle, its blacks remained deep, but its already lilliputian peak brightness diminished substantially at just 20 degrees off center, reducing contrast by almost 60%. To put it more simply, it's just not a bright enough TV to support a wide viewing angle.
We expected a much better viewing angle than we found. For a plasma, the P50U50's viewing angle was very poor. Despite this one flaw, though it is a major selling point for plasma televisions, the P50U50 tested well during our motion and uniformity tests (below).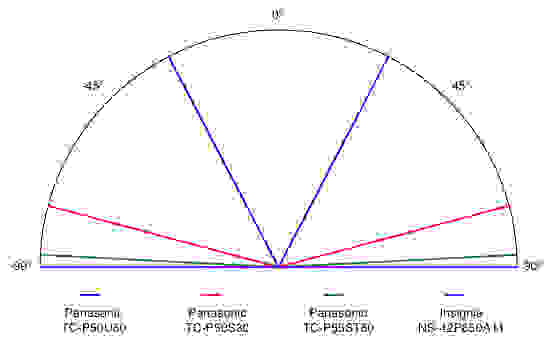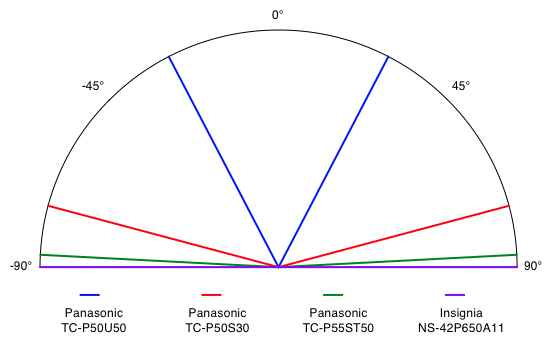 The Panasonic TC-P50U50 performed very well during our motion tests. A square photograph was able to slide smoothly across the screen with no blurring or trailing; complex hatched brickwork stayed crisp, and smaller pictures of faces kept their detail and color. There was a bit of shape distortion during the moire lines test, but throughout the entire motion performance we didn't see a single artifact. While not a perfect performance, the P50U50 promises to perform well for almost any motion-based content.
The P50U50 tested with great uniformity. We test uniformity subjectively, as its very easy to see when a TV has sudden jumps in detail between shades of dark and light. Not only were black and white rendered perfectly within the center of the screen, but the corners—the trickiest part of a TV to keep uniform—were just as consistent, with no flashlighting or gamma bleed. This would be all the more impressive if the P50U50 wasn't so dim. It just doesn't support a bright white.
Like many, many HDTVs on the market right now, the Panasonic P50U50 has two 10-watt speakers and a poor, almost completely transparent surround sound setting. We like that the audio menu allows for adjustment of treble and bass, and it does make a difference, but only if you crank one or the other all the way to maximum. While not necessarily better in terms of decibel clarity, the speakers on the P50U50 were louder than other 10-watt speakers we've heard on the past, without incurring a great deal of distortion. Frankly, they'd be fine for a semi-quiet group of people, but if you're looking for a "Super Bowl" TV capable of drowning out a considerable din, we'd recommend laying down some extra cash for at least a modest speaker system.
Being a plasma TV, the P50U50's backlight can't be adjusted. Furthermore--having such a weak peak brightness--it doesn't use that much power, though it averaged over 165 cd/m2 with the brightness set to 100. While we recommend setting the brightness to 70 for the most detail in your high-end whites, it's still going to cost around $30/yr to operate this TV, unless you drop the brightness down to 0. In which case, we ask that you invest in a pair of night vision goggles.
Don't let the X-axis on the chart below fool you. It's only a couple of dollars less a year than Panasonic's higher end plasmas.
Calibrating the P50U50 was fairly easy, we only had to tweak its settings a little to achieve the best contrast and color performance. As usual, we dropped sharpness to 0 to eliminate the haloing on white text against black backgrounds. Brightness also had to be bumped up a little; yet for such a dim television, turning brightness up to 100 washed out the detail from brighter whites and colors.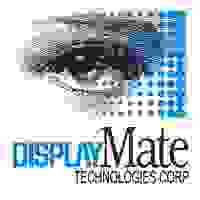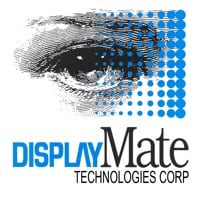 All of our calibration is done in conjunction with the DisplayMate software.
The P50U50 has 5 video modes: Vivid, Standard, Cinema, Game, and Custom.
As we've previously stated, the P50U50 has no internet (or 3D). While a number of Panasonic's 2012 series will not be internet enabled, all of them except the U50 series have 3D capabilities. The 50-inch variant is also the only screen size available in the U50 series.
The menu system for the P50U50 is simple and short-lived. You could probably adjust most of the settings that need regular access just using the remote, which we applaud Panasonic for, even if it makes for a button-heavy ordeal.
Pressing the "Menu" button on the remote, or holding the "OK" button on the on-set controls, will bring up the main menu for the Panasonic TC-P50U50. Within, users can adjust the settings for Picture, Audio, Timer (screen dimming, auto off, etc.), Lock (to prevent menu access via a 4-digit password), Closed Caption, and Setup. Some of these menu tabs seem redundant, as though Panasonic just wanted to make the menu fill the vertical width of the screen to mask how simple this TV is. Make no mistake: it'd be hard to get lost in a menu like this.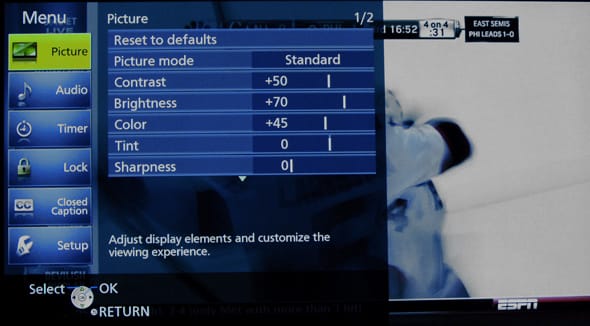 We like that the menu is fairly streamlined and easy to navigate, and that the TVs treble and bass audio settings can be adjusted.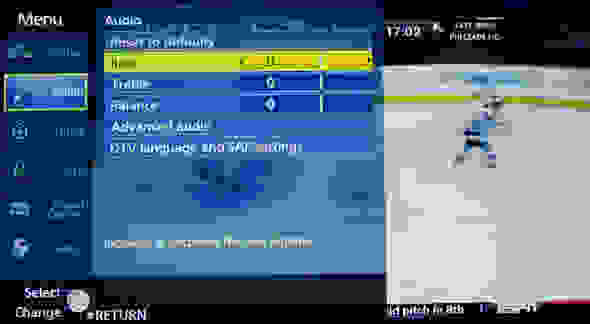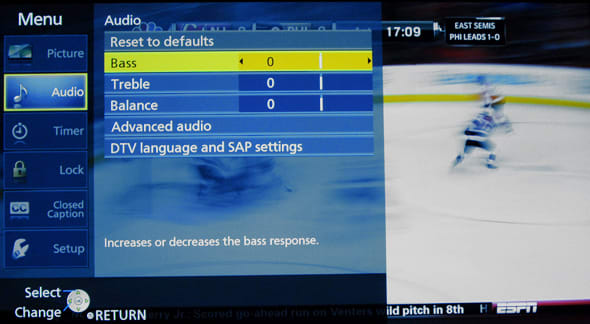 The instruction manual that comes along with the P50U50 is a simple, black-and-white affair. It has pictures for assembly and a detailed guide to the remote, as well as an extensive section on the TV's VIERA Link capabilities.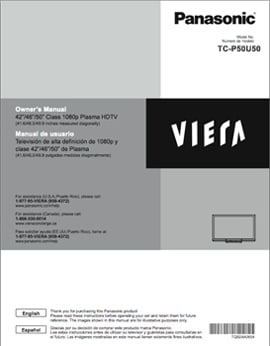 Where value is concerned, time must be taken into account. The suggested MSRP for the Panasonic TC-P50S30, a 2011 plasma, is $999, but by now, this price has undoubtedly dropped. While this is more expensive than our P50U50, it's also internet-enabled, albeit in a very limited way. The P50U50 boasts better color and contrast performance, and really only falls short--where performance is concerned--in the arena of viewing angle. Our money's on the P50U50 for its core performance only.
The Panasonic TC-P50U50 tested with a much higher maximum contrast ratio than the TC-P50S30. With a measured black level of 0.01 cd/m2, it's got the best contrast out of all the models we compared it to.

When we tested it in 2011, the Panasonic TC-P50S30 did not do so well in the area of color accuracy. The P50U50, on top of having great contrast, also has more accurate color production than the P50S30.
The P50U50 has a surprisingly low viewing angle, and was annihilated by the TVs we compared it to. While it may be the better television in most other areas, 2011's P50S30--and almost any other plasma on the market--has a much larger total viewing angle.
The Panasonic TC-P50U50 handled our motion tests very well, with very little shape distortion, and almost no artifacts whatsoever. While 2011's P50S30 did okay in this area, it's clear that Panasonic has learned better ways to handle motion on-screen in the last year.
The Panasonic TC-P50U50 has all the same ports as 2011's S30, save for the latter model's ethernet input. There's not much to compare here.
Both of these TVs are from 2012, but sit far apart on the price spectrum. The P55ST50 is a 3D-ready plasma with internet connectivity, and is about $1000 more expensive than the P50U50. However, the P50U50--while lacking these extra features--was the stronger performer in contrast and color. Essentially, if you just want a strong basic performer, you're better off with the U50 series. But if you feel you'd miss 3D and internet options, it might be worth your while to spring the extra cash for the higher-end ST50.
While both of these Panasonics have good contrast ratios (anything over 1000:1 is decent), the P50U50's yawning void of a black level boosted its contrast ratio over 5000:1, which is really hard to beat.

Where strict color accuracy is concerned, you could go with either TV and get a strong performer, but overall, the P50U50--despite being a lower-end model than the ST50--had better color accuracy, specifically in the area of black-point color gamut.
Again, viewing angle is the weakest link for the P50U50. While both TVs tested with comparably good performance in reflectance and contrast consistency, the ST50 bested the U50 in total viewing angle--which isn't hard to do; in the realm of plasma televisions, the U50 has one of the worst total viewing angles we've ever seen.
The P55ST50 has a feature called the 2500 FFD (Focused Field Drive) that greatly enhances its motion performance--MotionBlur settings notwithstanding. While the U50 is a fine television for motion-based content, its also a low-end model that doesn't have this same FFD feature. Where motion is concerned, the ST50 is the better TV.
The Panasonic TC-P50U50 has the most basic possible input/output port selection--2 HDMI, shared component AV, a cable jack input, and a USB input are about all she wrote. Being a more expensive, mid-range model, the ST50 has all of these same ports, but more of them, as well as a larger array of dedicated USB inputs. Not to mention, it's also got the whole internet at its disposal.
Terrible core performance and limited connectivity are the name of the game for the Insignia NS-42P650A11 (what a mouthful). It's not a horrible TV, and getting a 42-inch plasma for an MSRP of $499 seems like a good deal, but its value is definitely reflected in its price: it's just not a high quality television. The P50U50 is a better performer in almost every area, is only a few hundred dollars more expensive. If you had to decide, we'd recommend the U50 all the way.
With a maximum contrast ratio of 418:1, the Insignia model's contrast performance is lackluster at best--nigh unacceptable by modern HDTV standards. Compared to the U50's ratio of over 5000:1, it's clear to all which TV is the better choice within the realm of contrast.

Akin to their compared contrast performances, the U50 is again the stronger television. While its color accuracy isn't perfect, it's miles ahead of the Insignia model, and overall, quite accurate and consistent (where temperature is concerned). While the U50 has some mild temperature errors at the black end of the light input spectrum, the 42P650A11's temperature errors were visible at every input due to it missing the rec. 709 white point by a long shot.
Viewing angle is probably the only good thing about the Insignia. We recall testing its viewing angle earlier this year, and being blown away by the fact that, at 90 degrees from center on either side, you get a 180-degree total viewing angle, the largest viewing angle possible. Not only is this better than a large majority of plasmas on the market right now, it's much, much better than the P50U50. If you want a TV that you could wall mount in a very large room and watch from almost anywhere, the Insignia wouldn't be a bad choice (except that most everything else about it, well, sucks).
Both TVs tested very good motion performance, but to our surprise, the Insignia's motion performance was actually a little better than the P50U50's, if only by a small margin.
Being lower-end, entry level models, neither TV has a very large array of connection options. The only thing the P50U50 has that the 42P650A11 doesn't have is an SD card slot, this being due to Panasonic also selling Panasonic-brand SD cards.
We definitely enjoy reviewing a TV that's got all kinds of bells and whistles. Playing with smart features, motion control, and 3D settings is great, but there's something to be said for running a simple, no-frills TV through our gamut of testing. TVs like the P50U50 have no gimmicks or extraneous functions to hide behind, and are--in a way--the purest representation of a company's ability to produce a TV with solid core performance.
With that in mind, we were very pleased with the Panasonic TC-P50U50. While it doesn't have much to offer in the way of connectivity or customization, its performance proved it to be a viable alternative. It's good to know that, for a comparably cheap price, consumers who just want a strong plasma--who have no desire to yet test the waters of 3D, and who don't want to pay the extra money to clumsily browse websites via a television browser--have the option.
The P50U50 sort of feels like an afterthought on Panasonic's part. It's the only size in the series, by far the most basic television they'll produce this year. It's also the only TV in their entire line-up that doesn't have 3D or internet. However, it's a good example of what their TVs can do when left only to the realm of contrast/color performance: the P50U50 boasts one of the deepest black levels we've seen in a long time, and it's got strong--though imperfect--color accuracy.
If you're in the market for a "classic" plasma--50-inch screen, dim whites, deep blacks--the P50U50 (MSRP $899) might be your best choice in 2012.
Meet the tester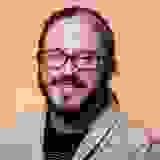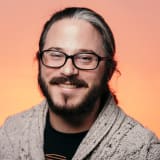 Lee Neikirk
Editor
@Koanshark
Lee has been Reviewed's point person for most television and home theater products since 2012. Lee received Level II certification in TV calibration from the Imaging Science Foundation in 2013. As Editor of the Home Theater vertical, Lee oversees reviews of TVs, monitors, soundbars, and Bluetooth speakers. He also reviews headphones, and has a background in music performance.
Checking our work.
We use standardized and scientific testing methods to scrutinize every product and provide you with objectively accurate results. If you've found different results in your own research, email us and we'll compare notes. If it looks substantial, we'll gladly re-test a product to try and reproduce these results. After all, peer reviews are a critical part of any scientific process.
Shoot us an email