Most of the big-name manufacturers have a series like this in their catalogue: 720p, one screen size, and considerably cheaper than the rest of the line-up. Panasonic's happens to also be 3D and smart, which we weren't expecting. A 50-inch, smart, 3D HDTV at an MSRP of $799 sure seems like a good deal on paper.
The XT50 is playing things pretty close to the chest--at least from a designer's perspective. It eschews a hyper-thin bezel or contortionist stand in favor of a more traditional approach. Black plastic of average thickness frames the screen; the rectangular platform stand is ubiquitous to all of Panasonic's low-end models this year. Tack on basic ports and controls placement, and you've got a simple, average-looking plasma TV. Not a bad thing at all.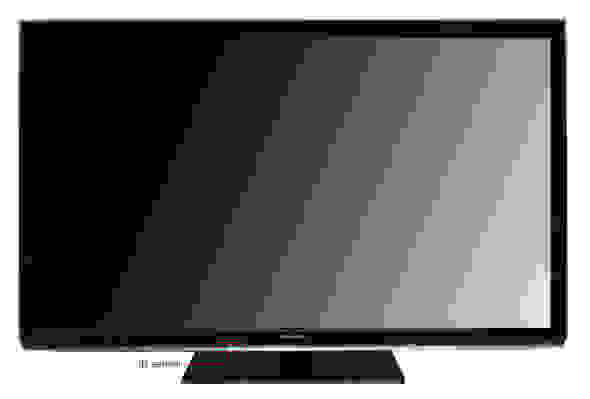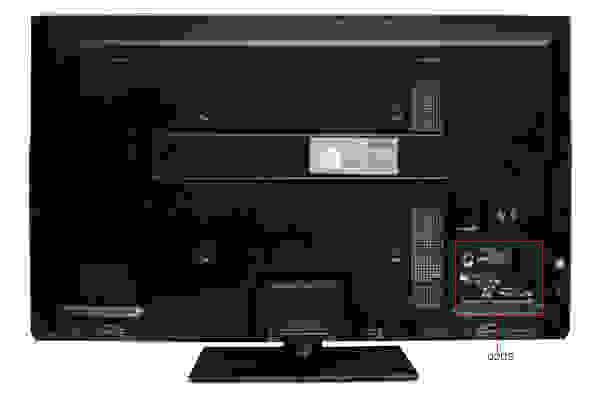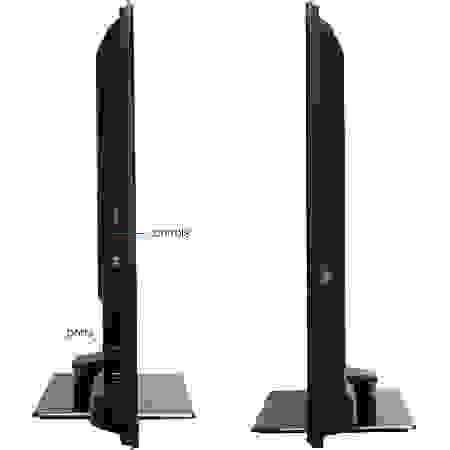 The XT50's simple, rectangular stand doesn't allow the panel to swivel or tilt. It's plenty sturdy though.
These six on-set controls are quite simple, and don't require too much explanation. They double as menu navigators, but the remote is a much better choice in that regard.
The remote that's packaged with the XT50 is a simple, backlit Panasonic infrared, manufactured this year for their 2012 TVs. It's equipped with volume and channel ramps and a 0-9 number pad, as well as dedicated buttons for "Internet" (which is simply a handful of apps) and "Viera Tools," which allows you to adjust 3D settings or toggle Game Mode.
In the box you'll find the 50-inch panel, stand components, screws, remote, 2 AA batteries, manual, warranty information, and four cable ties.
The XT50's side ports are located along its left side, beneath its controls. All you'll find here is a dedicated SD card slot and two USB inputs, meant specifically for photo/music/video playback via the XT50's media menu.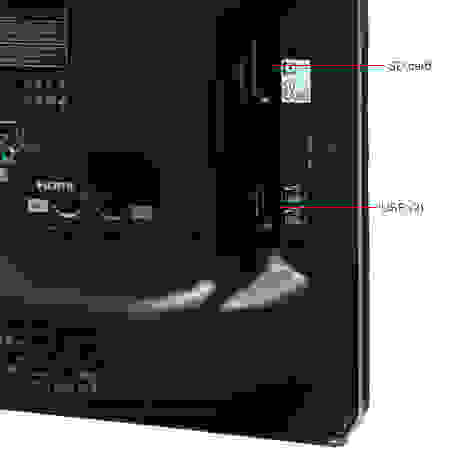 On the back, right-hand side of the TV, you'll find the rest of the XT50's ports. There's not an awful lot to choose from, not even a composite input--something old-school device owners should be aware of. Here, you'll find a component input, digital audio out, a LAN cable input (which is very necessary, as WiFi is not standard on this product), two HDMI inputs, and a coaxial jack for a cable/antenna connection.
We think the XT50's sparse ports are smartly placed.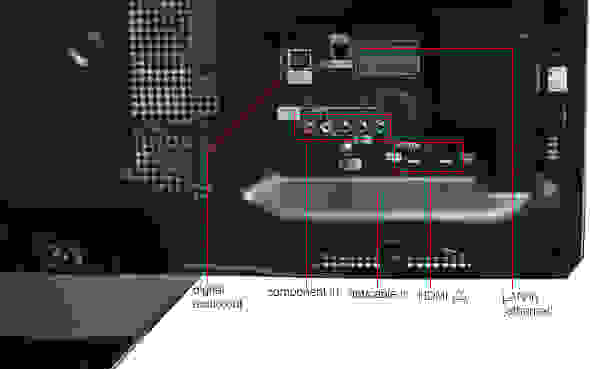 There's not much bad to say about the XT50--in fact, it has a lot of features worthy of our hard-won praise. It may not have a browser, a fancy remote, or turn on at the sound of your voice, but at its price the XT50 is a superb performer in two extremely important areas: color and motion. You might say, "What about its contrast ratio?" Well, it doesn't have a terribly wide contrast ratio--it's severely dim, but still managed an average rating due to deep blacks. We rarely see the accuracy of color gamut and flawless motion performance we saw while testing the 50-inch XT50, and were very impressed.
Panasonic's entry-level XT50 tested with a rather narrow maximum contrast ratio, especially if you consider that it's a plasma TV. Forget one-million-to-one: this model barely squeezed by over 1000:1, showing much less dark/bright differentiation than the three other TVs we pulled for comparison purposes--two of them LCDs. This isn't an awful result, but is much less impressive than the TV's color scores (below). More on how we test contrast.

Other than a mild hiccup occurring at the brightest edge of the greyscale curve, these curves are very good. They are uniform in their shape and ramp describing an even circle, showcasing only a little bumpiness along the way. In simpler terms, your greys, reds, blues, and greens are going to be evenly represented between shadows, mids, and highlights. This is a solid result. More on how we test color performance.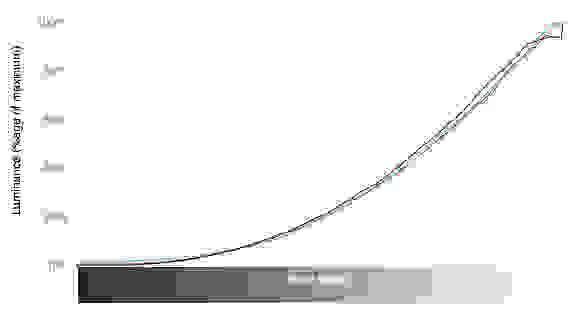 The chart below illustrates the XT50's adherence to a singular color temperature--orange and blue "stalactites" representing temperature deviations along degrees of Kelvin. Anything within the grey rectangle--which shows the limit of imperceptible deviations--will be invisible to human eyes. As you can see from the chart, there are only a few spots where the XT50's color temperature deviates into visible change, which will color greys with a slightly orange or blue shade. More on how we test color temperature.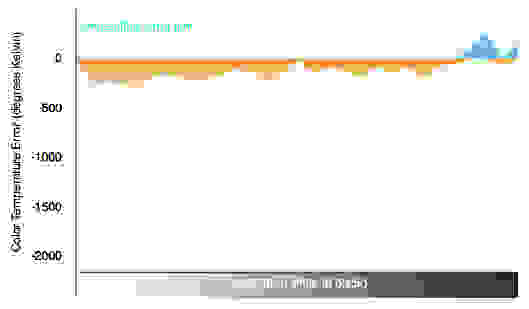 This color gamut is severely impressive. The color gamut illustrates the brightest points (255 on the 0-255 spectrum) of a TV's display, with points representing red, green, blue, and white. The gamut dictates the other 1,021 hues and shades your TV uses.
The XT50's gamut is spot on with the rec. 709 gamut, which is the ideal gamut for HDTVs as of the early 20th century. We see this kind of result very rarely, and have seen it perhaps one other time this year out of hundreds of TVs tested and reviewed. More on how we test color temperature.
The XT50 tested with superb picture dynamics. For a plasma TV, we want to see certain dynamic qualities: blacks staying the same darkness regardless of how much of the screen is dark, and whites getting brighter in small patches and dimmer in large patches. The XT50 is, by design, a very dim plasma, and its levels did not radically shift during our tests for tunnel contrast and white falloff. Blacks stayed at roughly 0.05 cd/m2 no matter their screen dominance, with whites shifting at an increase of about 9 cd/m2 between a 100% and a 5% white screen--not a huge change, but the XT50 has very little light output to work with. More on how we test picture dynamics.
The Panasonic Viera TC-P50XT50 is a native 720p plasma TV. It supports 480i, 480p, and 720p display resolutions.
The XT50 tested with an excellent viewing angle, a total of 163°, or about 82° from center to either side. We expect good viewing angles from plasma TVs, and this particular angular width will allow 5-6 people to comfortably watch the XT50 without a drop in screen contrast performance. As you can see from the chart, it bested the three comparison models we pulled for it--even Samsung's E550 series, another plasma series from 2012.
The Panasonic XT50's motion performance was almost flawless. We test motion performance subjectively, moving a series of semi-complex and very complex images across the TV's screen in a variety of directions. The XT50 handled each image with splendid efficacy. During our photo segment, the details of a human face, etched metalwork, bricks, sun shafts, and fine lines were all preserved with no blurring or juddering. The same can be said for complex montages of monochromatic pixels and boxes of colored squares: there was no tearing, artifacting, or shape distortion.
The XT50 tested with decent screen uniformity, though its thick bezel did cause some noticeable shadowing around the perimeter of the screen during our all-white test. There was also mild light bleed-in during the black screen, which was very surprising considering how dim this TV is. We were expecting better uniformity, but for a TV that uses neither auto- or local-dimming, this isn't a bad result.
There's not much to say about the XT50's audio quality. It has Panasonic's standard 2012 "audio package"--a built in bass/treble/balance EQ, A.I. sound (for auto-volume), a very poorly executed surround sound imitator, and a bass booster that works to add some richness to most bass tones, but truly deep tones simply become a touch too distorted, threatening to free the rumbling 10-watt speakers from their entombment within the TV casing. This kind of audio is fine for most purposes, but wouldn't hold up to the din of even a small party, and would benefit drastically from a true surround system.
With its peak brightness of a little under 55 cd/m2, we were expecting a milder power drain from the XT50, but no dice. It averages about 230 watts during most content, and even drains for a little while after being turned off. We don't expect too much energy saving from an entry-level model like this, but were still surprised at the results. Running the XT50 for 4-6 hours a day, for one year, is going to add about $45 to your electricity bill--and that's nothing to sneeze at.
We had to make some fairly serious adjustments to Panasonic's Cinema pre-set, though only within the area of Contrast. Panasonic's setting of 100 Contrast was washing out the high-end whites and colors, and bumping it down to 48 achieved the nigh perfect gamut it tested with later that day. After knocking Sharpness down to 0, our work was done, and the XT50 was calibrated for optimum contrast and color. You can see Panasonic's original presets, alongside our final calibration, in the table below.
[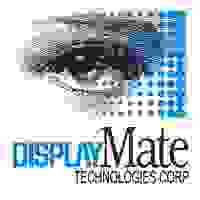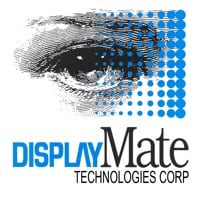 All of our calibration is done in conjunction with the DisplayMate software.
The XT50 series uses Panasonic active shutter glasses to provide a convincing but crosstalk-riddled 3D experience. The glasses are fairly lightweight, despite their included battery, and can toggle through a number of modes depending on whether you're viewing full HD 3D or using the 2D-to-3D conversion system.
Background and middle-ground images look solid, but a lot of "in your face" style 3D images end up looking blurry and out-of-place. Panasonic's 3D is definitely better than it was last year, but on the 720p XT50 series it looks a little lacking. We'd venture that 75% of the time, the 3D looks fine, but the other 25% has foreground and even middle-ground ghosting, especially around bright or shining objects, which is all the more distracting.
We would like to see better 3D on the XT50 series, but at its cheap price would feel amiss being too disappointed by it.

Making use of Panasonic's 3D is a multi-step process, complicated slightly by the "HDMI signal" nature of 3D in its current state. For "full HD 3D" to take effect (quotations added for snarkiness), the TV must receive a 3D signal from a Blu-ray player or 3D compatible device. Attempting to instill 3D outside of this signal quality will bring up the menu pictured below, which only gives immediate options for 2D and 2D-to-3D conversion. Overall, Panasonic's 3D is alright, but has a lot of crosstalk problems. We're not giving it full marks, but it isn't taking away from the TV's overall value either.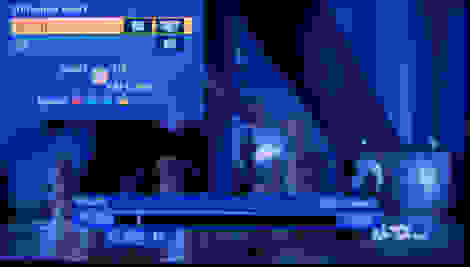 The 3D glasses meant to be used in conjunction with the XT50--which aren't included in the box--are fairly lightweight and springy for a pair of active shutters. The glasses (below) must be charged up via a USB cable every 4-6 hours, but their own real drawback is how ugly they are.

Surprisingly, the XT50's 3D contrast ratio was wider than its 2D contrast ratio. Achieving an impressively deep black of 0.01 cd/m2, its pathetic peak brightness of 11.75 cd/m2 wasn't as much of a detriment as we suspected. At least your contrast performance won't drop while you're watching 3D content on the XT50; it actually improves.
While not as impressive as its 2D color temperature, the XT50 managed decent color temperature adherence while displaying in 3D. It showed a fair amount of visible error on the dark side of the input spectrum, but nothing so extreme that it'll distract you from the TV's already distracting 3D images.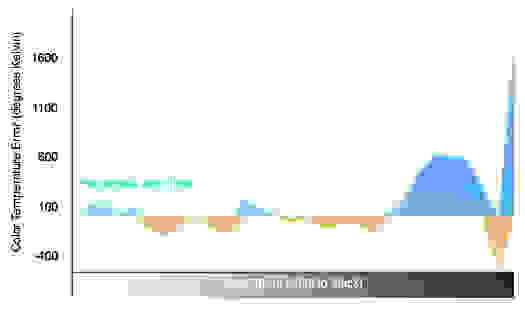 Again, the XT50's 3D curves were a lackluster version of their 2D counterparts, but weren't awful. It's good to know that 3D is doing less and less to ruin the color and contrast of HDTVs that perform powerfully while displaying in 2D. There's an odd "knee" to the greyscale curve, but that's not the first time we've seen that this year--it's the 3D tech's way of boosting midtones to keep the spectrum evenly paced.
Just to spite us, the XT50's perfect 2D color gamut carries over beautifully into 3D. The chart below shows how the XT50's 3D gamut matches up to its 2D gamut--and of course, it's spot on. Considering that the XT50's 2D gamut was spot on with the rec. 709, we can chalk this up as an excellent result, perhaps the only one like it this year.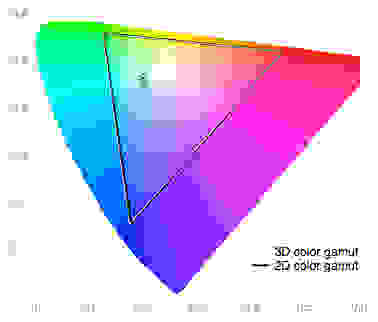 Rather than include their entire Viera Connect Platform with the XT50, Panasonic has instead included only a selection of apps. Pressing the "Internet" button brings these up along the bottom of the screen. It's a nice addition to the TV considering its price, though the lack of built-in WiFi might be problematic for a number of people. The menu software on this product is the same as Panasonic's other 2012 entry-level TVs.
Panasonic's XT50 series doesn't use their entire Viera Connect Platform. Instead, connected users simply press the "Internet" button to bring up the row of content providers shown below. There's no app downloading or app organization here, only what's shown below: Netflix, CinemaNow, VUDU, Amazon Instant Video, and Hulu Plus.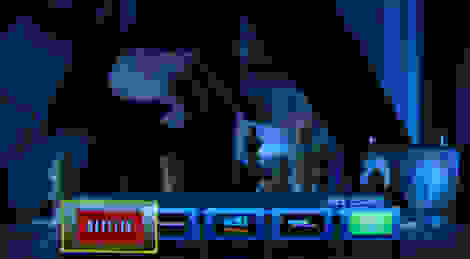 Panasonic's azure-hued menus hug the left side of the screen, populating it with headers: Picture, Sound, etc. Each sub-menu contains relevant adjustable options, such as aspect ratio, sound EQ, network settings, or time/clock settings. Navigating these menus using the remote's navigational arrows is an easy process.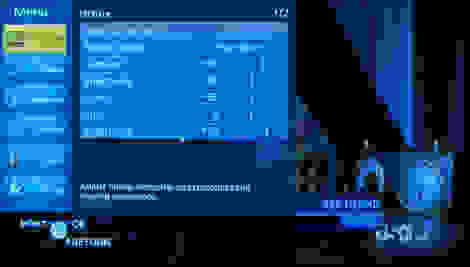 Panasonic's media menu starts up whenever a compliant SD card or USB drive is inserted into the TV. From here, users select either Picture, Music, or Video to view the relevant files on their device and play them back on the XT50's screen or through its speakers (or both). Like most TV companies, this media menu automatically sorts picture/video information into separate folders and thumbnailed images.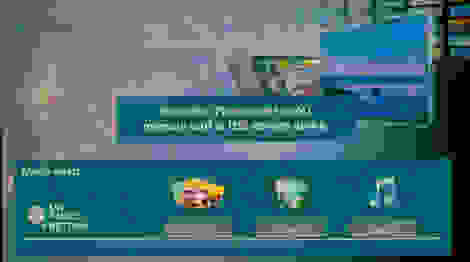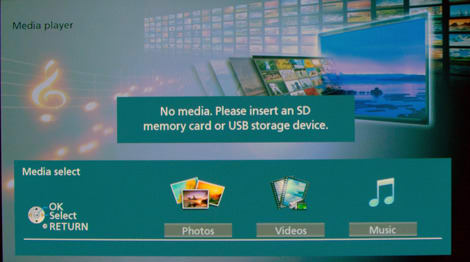 The XT50 is a surprisingly powerful performer. Here's what we like about it:
It has very good 2D color accuracy, with a perfect color gamut. Its viewing angle is huge, and its motion performance was great. While not terribly bright, it's dark enough to brandish its plasma tech proudly, and its contrast ratio is still slightly above average. The 50-inch version carries an MSRP of $799, and includes smart access to the big name content providers, and usable, if imperfect, 3D tech. You're getting a lot for a relatively small price.
We don't like that the XT50 currently only comes in one screen size (50 inches, though a 42-inch model is on the way). We also don't like that it lacks built in WiFi, and doesn't include any 3D glasses in the box.
Those slight qualms aside, we recommend the XT50 as a strong core performer with a touch of high-end frills, for a price that's pretty hard to believe. Unless you absolutely need 1080p display ability, there's good reason to consider investing in this TV.
Meet the tester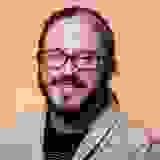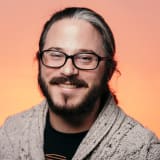 Lee Neikirk
Editor
@Koanshark
Lee has been Reviewed's point person for most television and home theater products since 2012. Lee received Level II certification in TV calibration from the Imaging Science Foundation in 2013. As Editor of the Home Theater vertical, Lee oversees reviews of TVs, monitors, soundbars, and Bluetooth speakers. He also reviews headphones, and has a background in music performance.
Checking our work.
We use standardized and scientific testing methods to scrutinize every product and provide you with objectively accurate results. If you've found different results in your own research, email us and we'll compare notes. If it looks substantial, we'll gladly re-test a product to try and reproduce these results. After all, peer reviews are a critical part of any scientific process.
Shoot us an email