The Panasonic Viera TC-P65VT50 is swinging for the fences, and both our objective and subjective tests have shown that it's a home run. Accurate color, smooth motion, and well above average audio quality are just a few perks this TV brings to the table. Whether you're just looking for a TV with solid core performance, or are more interested in 3D movies and streaming content, or want a suitable host to your home theater hub, the VT50 is an expensive, but smart, investment. But don't take our word for it; the P65VT50's test results say plenty.
Panasonic's TC-P65VT50 is straddling the line between conservation and progress. It's quite thin for such a massive plasma, though it dwarfs smaller televisions who squat within the shadow of this colossus. Despite its considerable weight and size, it's not the monstrosity it could have been. Panasonic Viera specifically followed a "single plate of glass" design, to minimize bezel and give the appearance that your display is floating comfortably in mid air. The stand, which upon first glance looks perfectly boring, is actually laid over with a gradient that brightens from black to white from front to back. While this design choice is meant to make the stand more aesthetically pleasing, some might feel it's more aesthetically cheesing. The on-set controls and ports are tucked away behind the TV, leaving its face free of blemish. We feel that any changes in port or controls placement might have been overkill, but Panasonic hit a smart middle ground between over-innovating and clinging to safe harbor.
It's clear that Panasonic has learned a lot from their past design choices; the VT50 is one of their most handsome plasmas to date. Its design has been improved from last year's VT30, and it's much slimmer and more aesthetically sound than the VT20 series from two years ago. We feel that people will wax and wane about this plasma's overall appearance, but there's no arguing that it sparks the mind's eye: either to the beauty of the TV, or to the beauty of TVs to come.
We personally feel that this TV looks splendid from the front, but it's fairly standard from most other angles. The stand choice is interesting, at least, but beyond the slimline front and semi-thin side view, it could be any 2011 Panasonic from the back (which isn't a bad thing). Our one complaint is that it doesn't swivel. The "no swivel" stand design might be necessary; after all, it weighs 127 lbs. Assembling the TV revealed that its modernist stand serves a much more functional purpose, serving as a heavy, industrial grade metal plank that slides up into the back of the TV to keep it in line. But pictures say much more than words, and you've got to make up your own mind.
Panasonic's 2012 design concept for their high-end TVs insists on a sculpted melding of glass and metal to create a natural looking but crisply defined panel display. It still looks like a TV to us.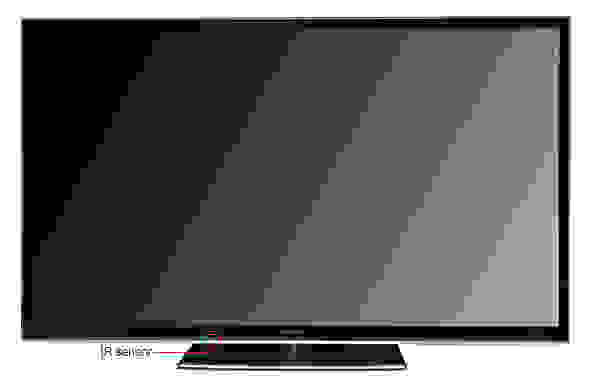 While there are much thinner LCD TVs on the market (Samsung's ES8000 comes to mind), the P65VT50 is actually quite thin for a plasma. Here, you can see the stand's gradient appearance at work.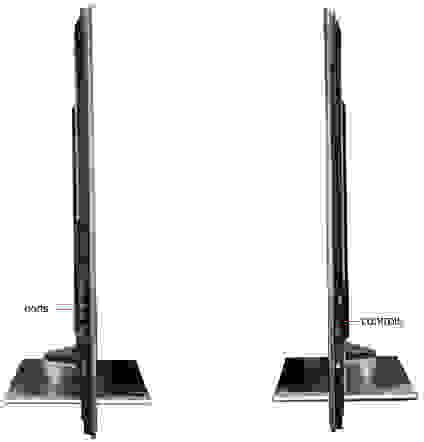 The stand (which does not swivel) is overlaid with a black-to-white gradient; a plastic cover conceals the metal and screws that keep the television sturdy.
The hidden on-set controls are a set of six buttons, standard in their size and press response. You can change volume and channel, turn the TV on or off, access input, and work through the TV's menus.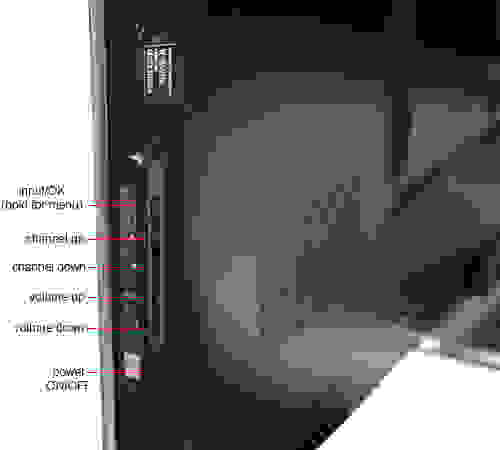 The Panasonic TC-P65VT50 comes with two remote controls.
The first remote is the standard infrared model for Panasonic's 2012 TVs that feature 3D and smart functions. It's got a dedicated button for just about every extraneous TV function: 3D settings, the Viera Connect smart platform, quick picture/sound adjustments, a shortcut to the USB/SD menu, and a Favorite button for jumping speedily to your favorite web sites. It's also got all the usual fixins like volume, channel, and menu control. The buttons are big and respond well; we think it's an above average remote, at best.
The second remote, new for this year, is Panasonic's Touch Pad remote. It's got the weight, depth, and size of a PC mouse, and connects via bluetooth to the TV during initial set-up. The middle area serves as a touch-responsive input pad, allowing for fluid, mouse-like control of the cursor on screen. It can also turn the TV on and off, change volume or channel, and be used to navigate Panasonic's smart menu (as well as the on-screen keyboard). In short, it's just as intuitive and effective as LG's splendid Magic Remote for cursor control. To see the Touch Pad remote in action, check out the final section of our article on Panasonic's 2012 Smart TV Platform.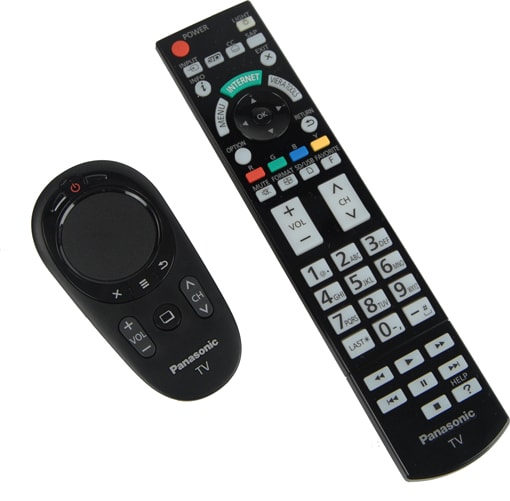 In the box, you'll find the display, stand components, 9 screws, standard remote, Touch Pad remote, 4 AA batteries, power cable, warranty information, quick start guide, and instruction manual. There are no 3D glasses included--they must be purchased separately.
Directly to the left side of the Panasonic TC-P65VT50, you'll find common quick-access ports. USB and HDMI ports are usually placed to the side of the TV, as it's assumed that USB devices and HDMI cables will be switched and changed most often. The P65VT50 has 4 HDMI inputs, and 3 USB inputs. In line with 2011's port choices, the P65VT50 also features a dedicated slot for an SD/SDXC card. Panasonic's app store also sells Panasonic products, not the least of which are SD cards.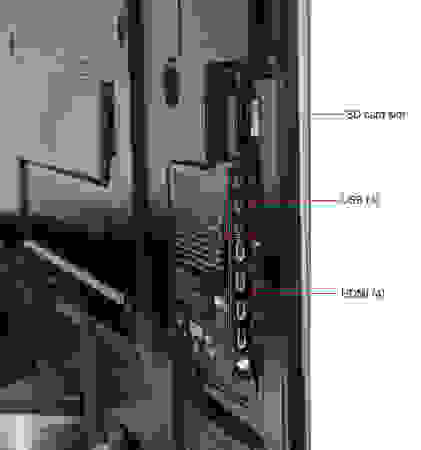 The lower portion of the L-shaped port cutout on the back of the TV features vertically inclined inputs, the kind which are usually left in place for longer than USB and HDMI connections. Here, you'll find inputs for an ethernet cable (LAN), a VGA cable for PC connection, the antenna jack for broadcast cable, and a Component/AV splitter. The TV comes with a combined component/composite cable that allows for either an HD (component) connection or an SD (composite) connection. This split connection only allows for one component or one composite connection at a time, so invest in some HDMI cables for your hi-def products.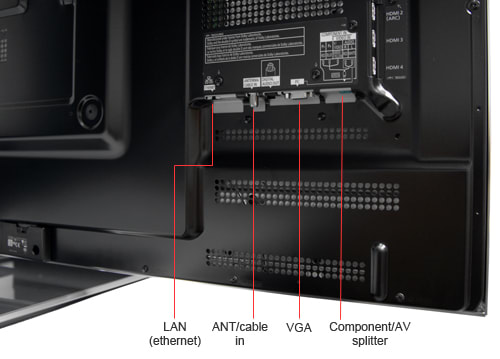 Compared to the flagship models from LG, Samsung, and Toshiba, the connectivity options on the Panasonic TC-P65VT50 could be called "standard." But it still has, on average, a larger array of ports than most mid-range and entry-level HDTVs.
We find that rating and testing the average HDTV--be it an LCD or a Plasma--is often a game of give and take. If a TV has great core performance and screen dynamics, it sometimes has the drawback of using an excess of electricity. If it's very bright, it's not very dark. And if it's got blue ribbon audio and menus, it usually is lackluster in some other feature. It's rare to see any TV whose excellence in some area (or group of areas) doesn't result in at least some negligence to one or more key components of its performance.
This is not the case with the VT50. We were excited during initial testing--while Panasonic's smart platform is, in our opinion, poorly designed, everything else that this TV brings with it is top quality. It's got deep blacks, accurate color, and ear-pleasing audio, but still manages to only add around $20 per year to your electric bill.
While we'd expect nothing less for an MSRP of $3699, it's always a breath of fresh air to see a TV that doesn't cut corners.
Panasonic's flagship plasma tested with a great maximum contrast ratio of 3401:1, roughly three times what we consider to be a decent, average score. Put up against the flagships from LG, Samsung, and Toshiba, it definitely held its own.
A black level of 0.03 cd/m2 and a peak brightness of 102.03 cd/m2 will give you plenty of black/white differentiation, hands down. More on how we test contrast.

The P65VT50 tested with average color curves, though they're a little sloppy. Plasma TVs tend to favor shadow tones over highlights (due to their technology), and you can see that happening in the chart below--the white, red, green, and blue lines representing those hues are slow to ramp up. White, in particular, showed us an awkward bend that will give less detail to shadow tones, and more to midtones and highlights. Red, green, and blue, on the other hand, will favor shadow tones and harbor less detail in midtones and highlights.
Overall, these curves are pretty smooth, and apart from a little color banding, we'd call this a decent performance. More on how we test color performance.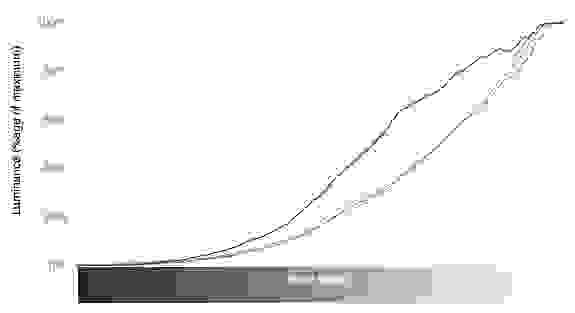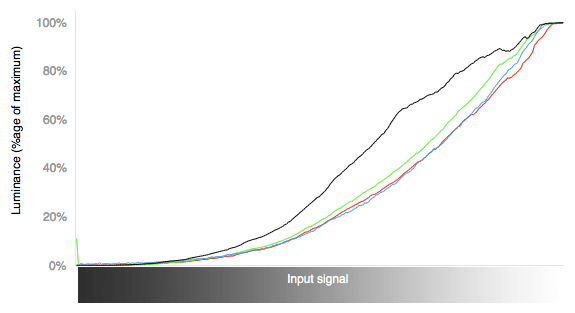 This is a great color temperature performance, and here's why. We test a TV's ability to maintain a 6500° K color temperature across the light input spectrum. The shaded area below represents deviation from that temperature that is imperceptible to the human eye. Thus, we can discern that almost no color temperature error will be visible during viewing.
This is a great result--no perceptible error means this plasma maintains its color temperature integrity 100% of the time. More on how we test color temperature.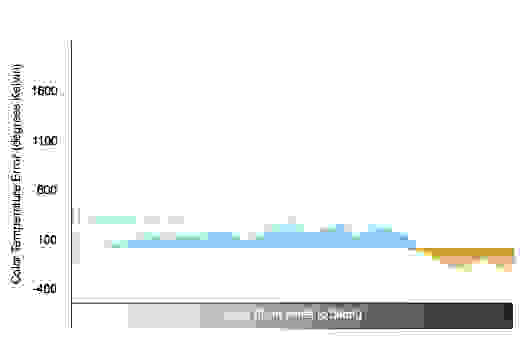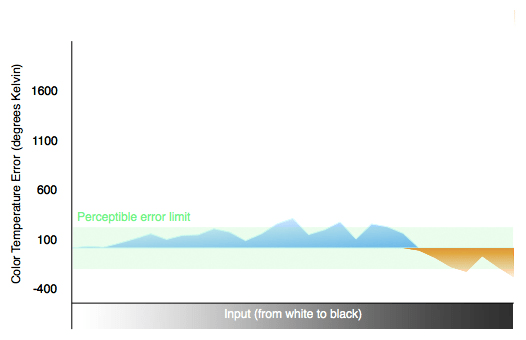 We test a TV's sRGB (white, red, green, blue) performance against the rec. 709 standard for HDTVs. You can see from the chart that the Panasonic TC-P65VT50 was very accurate, with its gamut (the white triangle) almost perfectly matching the ideal gamut (the black triangle).
The mild deviations at the triangle's corners and white point won't be overtly visible during viewing. An almost perfect result. More on how we test color temperature.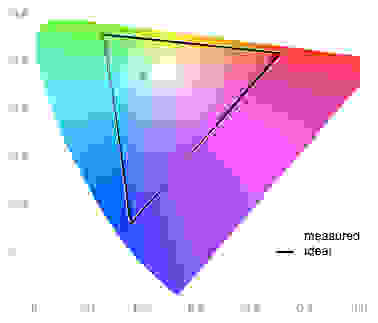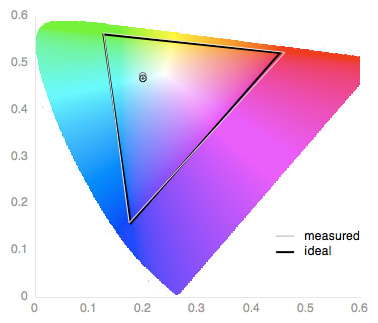 The P65VT50's tested with fine picture dynamics. Plasma televisions level their black/white saturation based on the amount of each shade on screen, tending to foster brighter whites in small patches, and dimmer whites over larger areas. The P65VT50 showcased a balanced dynamic contrast between those shades, with only mild deviations in brightness or darkness regardless of which held the lion's share of the screen.
The Panasonic TC-P65VT50 is plenty dark, and doesn't make use of auto-dimming during a 100% black screen. Overall, good picture dynamics. More on how we test picture dynamics.
The Panasonic Viera TC-P65VT50 is a native 1080p plasma, 3D, smart HDTV. It supports all NTSC resolutions and formats.
The P65VT50 tested with an impressive total viewing angle of 139°, or roughly 70° from center in either direction. As expected, it outperformed the other flagships--plasmas almost always have wider total viewing angles than LCDs, and it's one area where the P65VT50 has the advantage.
This result gives ample space for 5-6 people (in a medium/large room) to experience full contrast viewing.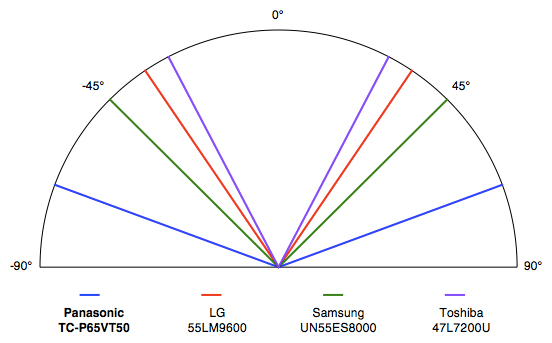 The P65VT50 showed us a motion performance that was well above average, just as we expected it would. There was a touch of blurring on highly detailed photographs, but this was corrected by setting the Motion Smoothing to either Low or Medium. Overall, shapes maintained their integrity, blurriness was minimal, and the only artifacting we saw was during a complex montage of banded pixels.
An almost perfect motion performance, to be sure.
Panasonic's flagship plasma showcased excellent uniformity. During an all white screen, smoothness was the name of the game from centers to corners. The P65VT50's thin metal bezel kept the white screen from being marred by the shadow which is so common to televisions with thicker bezels. During an all black screen, the P65VT50 did not implement auto-dimming, but was still uniformly black with no banding or flashlighting. A very good performance.
So far this year, we've been repeatedly disappointed by the audio quality of most of the TV's we've reviewed. Granted, none of them have been terrible; the standard speaker set-up for TVs is two 10-watt embedded speakers, and they usually sound okay, but are a far cry from what is possible with a good surround sound system.
We were impressed by the audio quality on the P65VT50. It's got two 8-train speakers along the lower rim of its bezel, and the back panel is equipped with an integrated sub-woofer. Let us be the first to tell you, it's notably good audio. The TV is plenty loud--with crisp trebles and satisfying bass tones--at just a quarter volume, and turning it all the way up would probably be more volume than most people cared for. It's simply got a wider range of sound dynamics than is usually supplied by standard HDTV speakers, and we applaud Panasonic for improving more than just the VT50's color performance.
Panasonic has clearly implemented some energy saving technology into the overall functions of the P65VT50. Looking at the chart below reveals that, on average, using this TV 4-6 hours a day will cost you roughly $20/year. That's not bad at all--compare it to the flagship LCDs we pulled for comparison, or to Panasonic's U50 plasma, a low-end TV that costs more to power per year than the P65VT50. Don't let the X-axis on the chart below fool you, the VT50 only costs three or four dollars more, per year, than Samsung's ES8000.
As you can see from the chart below, we didn't have to change much to achieve an optimized calibration of this TV. As per usual, we set the Picture Mode to Cinema, but the only setting we changed was Sharpness, which we bumped down from 50 to 0 to reduce pixel haloing. It's rare to see a TV that's calibrated correctly right out of the box, but the P65VT50 came very close.
[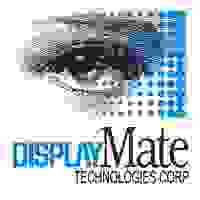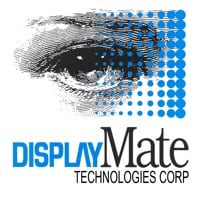 All of our calibration is done in conjunction with the DisplayMate software.
](http://www.displaymate.com/)
The P65VT50 has 5 video modes: Vivid, Standard, Cinema, Game, and Custom.
3D is not so new anymore. Sure, it's a lot newer than color talkies or wireless remotes, but it's becoming more and more common to the average family's TV purchase, and is certainly sweeping through the world of cinema--be that good or bad.
There are a number of things we look for when we're testing a TV's 3D capabilities. First and most importantly, how is the native 3D? Native, full, or "real" 3D is achieved when a TV receives the proper signal from a connected Blu-ray device via HDMI. This is the most immersive, and unfortunately, most problematic area of 3D performance, because it stresses the back, middle, and foreground 3D effects to their limits, often resulting in distracting crosstalk and greatly diminished color and contrast performance. Second, if the TV has an after the fact 2D-to-3D conversion setting (and most of them do), we subjectively test whether it's convincing or just a tacked on gimmick. Finally, are glasses included? Are they way too expensive for any sane person? Are they comfortable?
Panasonic uses "active shutter" 3D glasses, meaning they must sync via bluetooth to the TV, and must be charged using a USB cable. They retail from $60 to $100, and you don't get any free pairs with the VT50. We think this is a huge oversight on Panasonic's part, especially considering their 3D integration with the P65VT50 is actually rather improved from 2011's showing.
Overall, Panasonic's glasses have gotten more comfortable, but they're still very pricy. Their 3D technology now maintains better color integrity, but at a huge cost to contrast. And the 2D-to-3D conversion is a decent distraction, but simply isn't convincing enough to stay fresh in the long run.
Panasonic's got a lot of bases covered where 3D is concerned. Their glasses sync quickly with the TV, which manages to maintain good color fidelity while showing mostly crosstalk-free 3D images. Users are treated with numerous warning messages (y'all know not to let your young'ns stare at 3D images all day, right?), and most of the 3D settings (side-by-side, top-to-bottom, depth of field) are hidden away in a menu that isn't easy to access (pictured below). This is surely Panasonic's attempt to streamline and simplify the 3D experience. Native 3D looks decent, but is not yet as good as Samsung's or LG's.
Essentially, the P65VT50 is neither bolstered nor dragged down by 3D.
Panasonic's active shutter 3D spectacles felt more comfortable this time around, but perhaps we're simply getting used to wearing them; they haven't changed them in almost a year, despite our complaints. They fit alright over spectacles, if only due to the fact that their nose bridge is slightly wider than usual and their tinted lenses are mildly convex, which adds to comfort. Panasonic's 3D glasses are light enough to be worn for a long period of time, as long as you're already used to looking goofy.


One of the biggest problems with 3D is how it affects color and contrast performance. The comparison chart below should make it clear that the P65VT50's impressive 2D contrast ratio gets clipped at the wings during 3D viewing, which is a shame, but is simply the result of watching content with fancy sunglasses on. The original black level of 0.03 cd/m2 gets quite a bit brighter, due to the TV overcompensating for the darkening effect of the glasses. But this compensation can't save the peak brightness dropping by almost 50%.
Long story short, if you want the best possible contrast from the VT50, don't watch anything in 3D.

Like its 2D color temperature performance, the Panasonic P65VT50's 3D color temperature was very accurate. While there were mild deviations from 6500° K across the spectrum, the majority of them are imperceptible to the human eye. An above average result.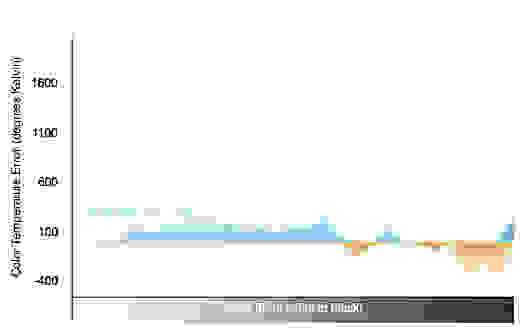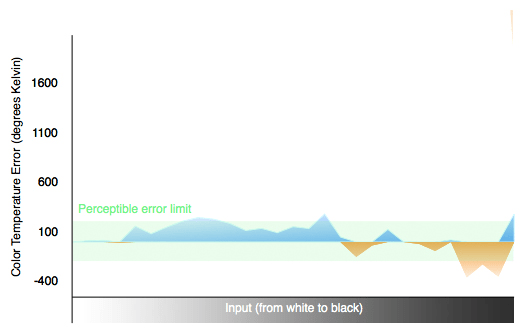 While these curves are quite jagged, they're also rather uniform--both in terms of overall shape, and in how quickly they ramp up. Compared to the 2D color curves, this kind of performance is to be expected. We wouldn't plan for perfect color while watching 3D content, but we've seen a lot worse in the past, too.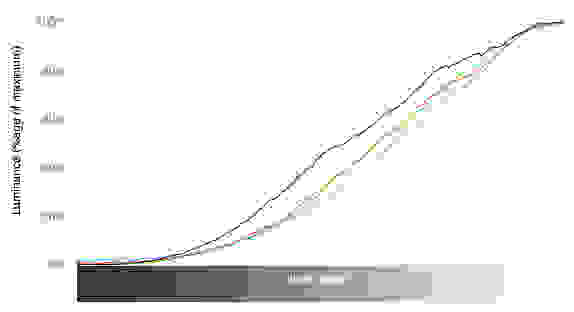 This gamut is so-so. The black triangle on the chart below represents the 2D color gamut; the white triangle represents the 3D color gamut. As we saw during 2D testing (you are reading the whole review, right?), the P65VT50 has a highly accurate 2D gamut; its 3D gamut was, by comparison, skewed.
Imperfect color production is a big problem with 3D, and continues to be.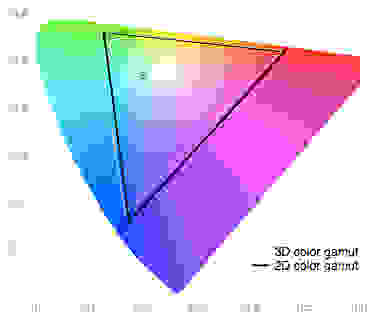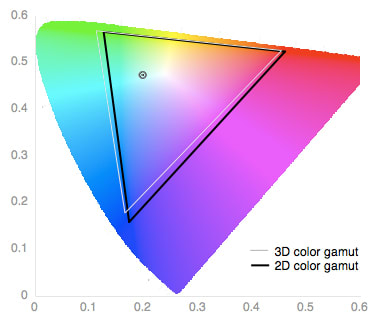 Compared to what we saw while testing the Panasonic TC-L47DT50, it seems that Panasonic is perfecting their banishment of the crosstalk banshees. Crosstalk occurs when a 3D image meant for one eye leaks into the other eye, causing that eye to see two images at once; this effect is also called "ghosting," because of the translucent effect it has on solid objects. We saw no crosstalk whatsoever during 2D-to-3D conversion, and only a little during full, native 3D.
The Panasonic TC-P65VT50 doesn't have any new features where its menus or smart content is concerned, but the processing speed has been considerably boosted by cloud-based processing.
While we initially maligned the processing speed and content found within Panasonic's Viera Connect platform, it seems that they've finally gotten their act together. Don't get us wrong; we still feel that Panasonic's smart platform is organized in a terrible fashion, and confounds your access to basic content. But at least now it confounds quickly. The TC-P65VT50's internet features are much more smoothly integrated into the TV, and everything, from apps to web sites, loads a lot quicker. This may have something to do with the two cooling fans embedded into the back of the TV. It's a plasma, however, and still gets very hot. The Touch Pad remote, coupled with this new speed, vastly improves your browsing experience.
The 3D, USB, and settings menus haven't changed at all, but they were okay to begin with. Picture, sound, and 3D menus are still allocated to azure colored opaque menus that hug the left side of the screen to allow live previews of changes in settings. The USB menu houses all of your picture, video, and music content under one roof, be it connected via flash drive or through Panasonic's wireless Viera Link system.
Panasonic's internet browser hasn't changed from past iterations; a look at the TC-L47DT50 reveals that almost all aspects of Panasonic's browsing experience have stayed the same. However, the VT50's included Touch Pad remote, which is surprisingly accurate, makes the browser experience much more positive. Click here for a more in-depth look at Panasonic's web browser.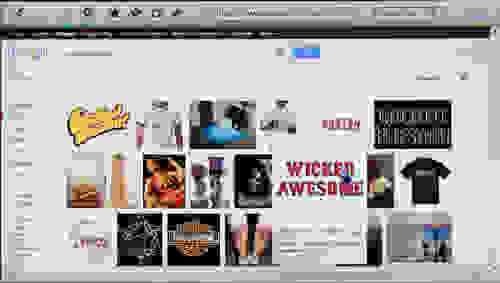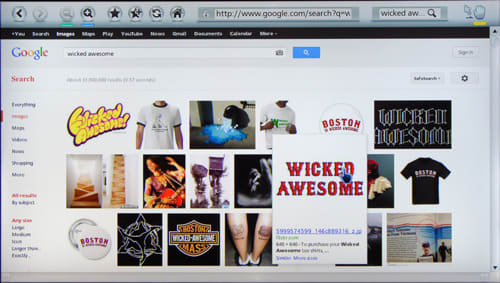 Panasonic features a decent amount of apps, and they're growing on a monthly basis. The Viera Connect Market hosts a slew of games, news, sports, and various niche apps for download. Some of this content--the kind you have to pay for--is worth your money, and might prove very useful over time. Most of it, however, is lackluster and unwanted. Click here for a more in-depth look at Panasonic's Viera Connect Market.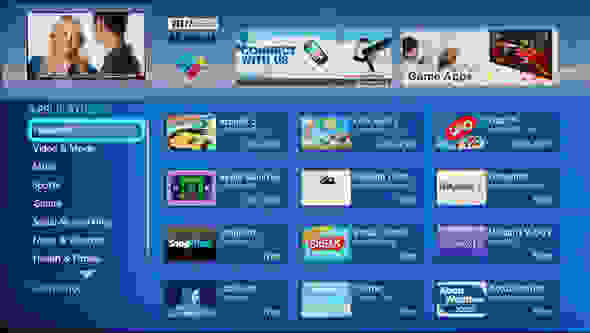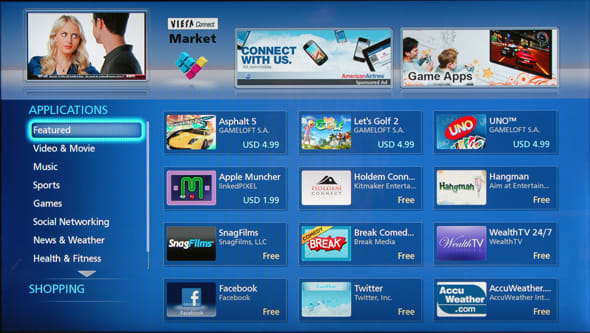 Panasonic's media playback hub allows you to play back your pictures, videos, and music from either a connected USB device (such as a flash drive or portable hard drive) or from a wireless device that has been connected to the TV using Panasonic's "Viera Link" software. The playback menu can be accessed either through the Viera Connect platform or by pressing the dedicated "USB/SD" button on the infrared remote. Once there, your media is automatically sorted by type. For more information on Panasonic's media playback functions, click here.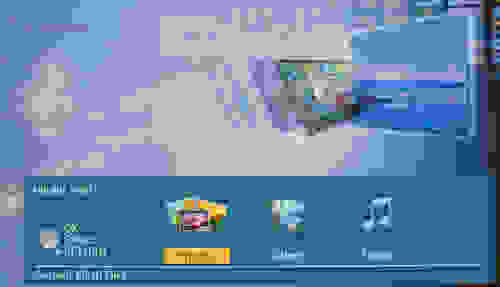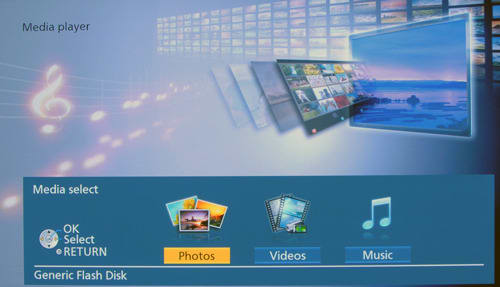 The P65VT50's main menu is unchanged from previous 2012 Panasonic 3D smart TVs, featuring sub menus for Picture, Audio, Network, Timer, Lock, and Setup. Most of these menus are fairly self-explanatory to anyone who has done much interfacing with HDTVs in the last few years. We like Panasonic's simple menu, both its layout and its appearance.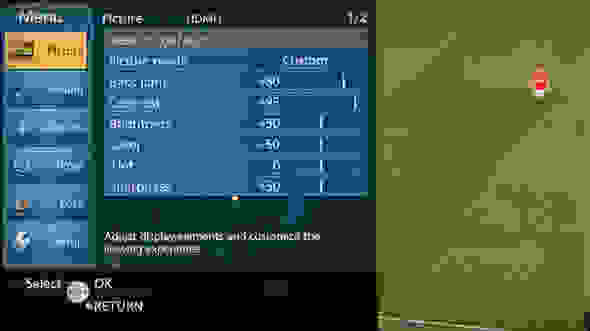 The advanced picture settings menu allows for adjustments to noise reduction, motion smoothing, black level, etc. The Sound menu allows the user to manually adjust the levels of bass and treble, turn surround sound on or off, and to tell the TV how close/far it is from the wall behind it. The Network menu will walk you through setting up various internet features, like whether you've got a wired (ethernet) connection or a wireless (wi-fi) connection. The Setup menu will allow for overarching changes to certain TV functions, and is also the menu to use should you wish to walk through your initial set-up a second time.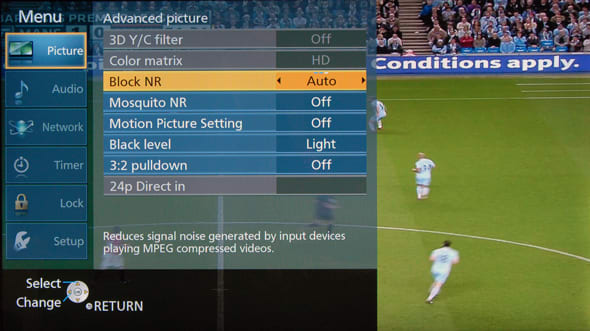 The basic paper instruction manual that comes with the P55VT50 and P65VT50 provides a decent amount of information on those products. It will walk you through setting up your panel display on its stand, how to use the standard remote, how to sync the Touch Pad remote with your television, and how to configure cable connections or over-the-air digital channel signals. It's got a decent amount of information on interfacing functions, such as naming different inputs, and will guide the user step-by-step on how to start using the Viera Connect smart platform.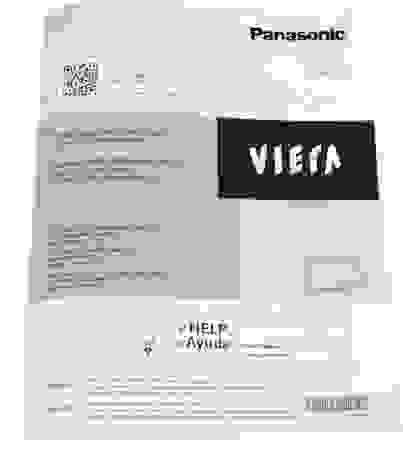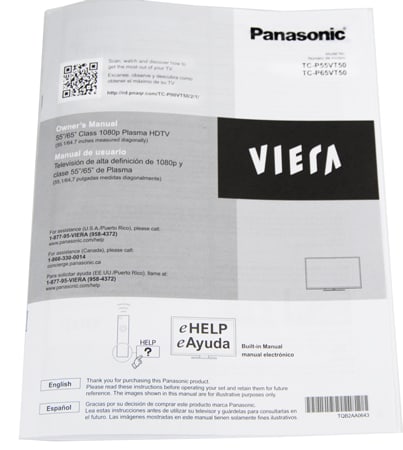 2012 has so far introduced some excellent flagships from LG, Samsung, and Toshiba. The Panasonic Viera TC-P65VT50 may, however, be the finest TV we've reviewed this year. Here's why.
There are three major areas we test when reviewing a TV. The first, and most important, is core performance. The P65VT50 is an excellent core performer. It has highly accurate color, a large contrast ratio, smooth motion, and a wide viewing angle. It's got everything you'd want in a plasma, no matter the price or extraneous features. On top of that, it tested with well above average audio, and 3D that--while not being as convincing as LG's or Samsung's--does not detract from the TV's overall performance.
The second area is user interfacing. Things like menus, innovative remotes, and smart platforms. While Panasonic's smart platform is organized in a clunky, heavy-handed fashion, their cloud-based processing is finally coming into its own. The P65VT50 showed us a much quicker interface and much shorter load times. Its system menus are easy to use and easy to read, and the new Touch Pad remote brings with it the same ease of use as a wireless mouse, making web browsing much more pleasant--at least, where TV browsers are concerned.
The final area we inspect is the TV's design, both inside and out. This refers to its aesthetic appearance outside, and to the placement of ports, inputs, and on-set controls. There's no arguing that the Panasonic TC-P65VT50 is a visually appealing TV. Even if you don't like the gradient stand, its "glass and metal" design centric gives it a classy air, despite being so large. It's got decent port selection, and its overall design could only be improved if Panasonic could find a way to let it swivel without compromising the sturdiness of the stand.
All in all, the Panasonic TC-P65VT50 is an expensive television; an MSRP of $3699 is nothing to sneeze at. Yet its only drawbacks are sub-standard 3D (the standard having been set higher by LG) and Panasonic's Viera Connect platform, which could use some spring cleaning. Where performance is concerned, its only real competitor is Samsung's excellent ES8000 flagship series. The 55-inch ES8000 carries an MSRP of $3799, whereas the 65-inch VT50's MSRP is $3699: thus, discerning between these two falls along the lines of affordability, desired screen size, and personal preference between LCD or Plasma.
We feel with such impressive test results and smart design parameters, the P65VT50 is worth getting excited about, and might be the most valuable buy of early 2012.
The PxxVT50 is the most expensive, high-end plasma series that Panasonic will produce this year. Both TVs are 1080p, Smart (internet enabled), and support 3D content. They have identical ports, inputs, and design schematics. Both come with the standard infrared remote, as well as the Touch Pad remote. Both sizes of the VT50 series feature standard Panasonic menus and Panasonic's Viera Connect smart platform.
Meet the tester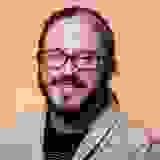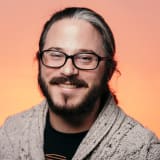 Lee Neikirk
Editor, Home Theater
@Koanshark
Lee has been Reviewed's point person for most television and home theater products since 2012. Lee received Level II certification in TV calibration from the Imaging Science Foundation in 2013. As Editor of the Home Theater vertical, Lee oversees reviews of TVs, monitors, soundbars, and Bluetooth speakers. He also reviews headphones, and has a background in music performance.
Checking our work.
Our team is here for one purpose: to help you buy the best stuff and love what you own. Our writers, editors, and lab technicians obsess over the products we cover to make sure you're confident and satisfied. Have a different opinion about something we recommend? Email us and we'll compare notes.
Shoot us an email