The Story
For years, hobbyist consumers and video experts alike have searched for a display with picture quality better than the legendary Pioneer Kuro. At CES 2013, Panasonic announced the ZT60, the company's most high-end plasma display panel ever. The ZT60's "Studio Master Panel" was built with the sole purpose of claiming the coveted title of Reference Display. In case you don't know, a "reference display" is a television or monitor that produces the ideal image, and is then even sometimes used to calibrate other displays. While it will never be a mass-market seller, it's a feather in the cap of whichever manufacturer pulls it off.
To make a long story short, the patented tech that made the Pioneer Kuro so unfathomably dark has been implemented into the panel design of Panasonic's ZT60. And since tracking down even a used Kuro was a herculean task, the world can sleep easier knowing its successor has arrived and is widely available (probably with overnight shipping). Granted, the 65-inch version of the ZT60 makes a pricy picture at $4,100 retail. Keep in mind that you're paying for the best display to grace the market since 2008—it's practically fit for a king.
Hands on Video
## The Looks #### Same face, different space From the outside, the Panasonic ZT60 is inch-for-inch identical to the [VT60](https://www.reviewed.com/televisions/content/panasonic-vt60-revisited) series: A corner-to-corner glass front; shiny, beveled "V" stand; and thin silver trim along the bezels are trademarks of both series. The ZT60 doesn't even have the top-mounted camera found on its twin, so what makes it so high and mighty? Panasonic's "Studio Master Panel," which features an entirely new panel design.

The change to the ZT60's design is deceptively simple on paper, but provides such an obvious advantage that we're surprised no one thought of it before. The ZT60 is built so that its panel is set close against the front protective glass, removing the usual gap between panel and screen. Read: it reaches your spongy human eyes more easily. At the same time, the panel reflects less ambient light back, which would otherwise reduce contrast. In my opinion, this change is apparent right away. We set up the ZT60 in our theater room and took our new Blu-ray of *The Hobbit* for a spin. The newest Tolkien film adaptation is becoming a great warm-up film for the plasmas we test, as there are a variety of scenes demanding different levels of light and motion from the TV at hand. Even in mid-level ambient lighting, the ZT60 was comfortably viewable, with very little glare, preserving black levels and finer details. That's obviously not proof of the new panel type's awesome power, but it's something (more on our unexpected journey in the next section).
Even in mid-level ambient lighting, the ZT60 was comfortably viewable, with very little glare, preserving black levels and finer details.
Like the VT60, the ZT60 features simple, side-mounted controls and a decent connectivity array: 3 HDMI, 3 USB 2.0, and Panasonic's usual SD card slot are highlights. We still lament that only 3 high-definition devices can be connected at one time, as it slightly mars the ZT60's claim as a home theater TV (though you'd have to be a real stick in the mud to actually complain).
Each ZT60, regardless of size, ships with 2 pairs of Panasonic's Active 3D glasses, the basic Panasonic remote, and the mouse-like Smart Touch remote. While the touchpad controller is a great tool for browsing Panasonic's smart platform, I still prefer the classic clicker for menu operation; something about the ZT60 demands a more complex device. Each unit in this series also comes with a classy-looking black booklet, signed by Hideyo Uwabata (President TV Manufacturing, Panasonic) and Kazunori Kiuchi (Head of TV Design, Panasonic), with the sequential manufacturing number of the TV. Ours is A02946, for the record.
Looking Further
The Experience
So much to tweak and toggle, you'll forget to watch TV
The ZT60 is a smart TV, and you can read all about what it can do in our full article detailing Viera Connect 2013. Frankly, the heady details of this series' software are much more interesting, from an A/V perspective, than its available apps and internet content.
Like other high-end Panasonics, the vaunted ZT60 is full of picture controls, especially if you're calibrating the picture in Cinema mode. Calibrating in that mode specifically allows access to a sub-menu called "Pro settings," which is just about what it sounds like—settings for pros. By that, I'm talking about either professionals or in-the-know hobbyists who have a better-than-average understanding of the inner workings of a television—things like gamma adjustment, color temperature offset, and white balance.
There is one option within Pro settings, however, that is very easy to understand: Panel brightness. Panel brightness directly affects the luminous output of the ZT60's panel; Low, Mid, and High settings are available. The Low setting looks more like the dimmer, dark-room-only plasmas of yesteryear. We found Mid to be the best by far, as High forces red and orange hues into oversaturated tones in an attempt to compensate the luminance; the result turned all of Bag End in The Hobbit into an orange-tinted mess, and pushed skin tones into "too much wine" levels of red. Yes, it's brighter, but it looks wrong.
The ZT60 contains a plethora of settings meant to enhance non-HD content to modern standards.
The ZT60 also contains a plethora of settings meant to enhance non-HD content to modern standards; supposedly, anything below 1080p bereft of proper bit-mapping can benefit. There are five settings within the Picture menu engineered to this effect: Video NR, MPEG remaster, Resolution remaster, Caption smoother, and Brilliance enhancer. These settings are meant to stretch, smooth, boost, and brighten an incoming 480i/480p/720p signal; like the air brushing applied to nearly every swimsuit model, it's not going to look entirely natural.
If original film content is your forté, the ZT60 also contains a number of settings listed under "Advanced picture" meant to kowtow to ye olde film reel: "24p direct in," for instance, allows the TV to older sets to capture the original frame rate and flicker a spinning film reel. We checked it out against non-film content, and it looks horrible... but in the right setting, it will match the TV's refresh rate (flicker speed) to the speed of the film (48, 60, and 96 Hz settings are available). There's also a 3:2 pulldown setting, 1080p pure direct (for when you know the content is capable of maxing the TV's resolution) and the usual Game mode. We toggled 1080p pure direct on and off against The Hobbit, but any effect it had on the Blu-ray was very mild.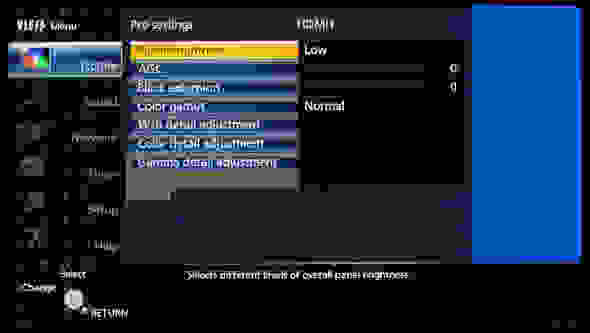 Finally, there are a number of settings that don't appear to do much of anything; however, they also appear to primarily effect the ZT60's expanded color gamut, which we don't use for comparison/snob reasons. These settings, called Vivid color, Color remaster, and Photo enhancement are likely in place for playback of photos or videos taken within a wider color gamut than is supported by most HDTVs. Is the ZT60 trying to sub-in for a proper graphic design monitor? Mayhaps. There's also one setting—C.A.T.S, or contrast automatic tracking system—that adjusts panel light output based on surrounding ambient light, in an attempt to mimic the effects of a calibrated day/night mode.
For all its treasury of extra settings and picture modes, the ZT60 doesn't really need any of it. If you've got a Blu-ray player and an HDMI cable, you're going to be able to see and experience an amazing picture almost immediately. Playback of The Hobbit looked terrific; I actually almost forgot I had intended to take notes while I was watching, the shadow tones were so deep and consistent—I was spellbound. In particular, the opening panoramic swoop over Lake-town and down into the depths of the mountains contrasts a warm, lush sunlit cityscape against the craggy details and scattering shadows of the mines. Without any help from the host of special settings we just outlined, the picture was still outstanding.
Looking Further
The Picture
The king is dead, long live the king!
Picture quality aficionados should rejoice: The ZT60 is the new king of home theaters everywhere. Between the cornucopia of picture settings, and the television's naturally robust, expertly engineered panel, there's been naught like it on the market before—and with the downfall of the plasma panel looming on the horizon, this may be a big, last hurrah for those little plasma cells. But my, what a hurrah it is.
Darker blacks than ever before—yes, at least as dark as the Kuro.
Our objective tests have given us a peek at the science behind the incredible picture quality; the ZT60 is just about flawless. I tested a natural contrast ratio just shy of 30,000:1, which is—for the third time this year—the largest in our collective reviewing history. This means darker blacks than ever before—yes, at least as dark as the Kuro—coupled with a white output capable of combating mid-level ambient lighting (though it still looks best in a dim/dark theater environment).
Like the slightly less high-end VT60, the ZT60 also has extremely accurate colors: these perfectly saturated hues appear severely vibrant and rich when contrasted against the ZT60's true black backdrop. Each step along the intensity scale has ample breathing room, seamlessly shifting to create a picture that's more lifelike and detail-rich than almost any other out there. The 65-inch ZT60 looks especially impressive; if you ever want to see Dwalin, Bofur, or Bifur in their maximum ale-swilling, nose-hair-having glory, this plasma captures (and preserves) every detail.
As one might expect, motion performance is equally terrific. All but the most intensive, high-motion content is preserved in excellent detail, even in grey-on-black and shadow tones. We confirmed this both via our objective motion tests using moving, high-moire pattern images, and a subjective test again using The Hobbit. The scene where Gandalf and the dwarves are running through Goblin Town was a particularly good example of the ZT60's motion abilities, as things like flickering torches, splintering bridges, and panicking baddies were as crisp as any human eyes would need them to be.
As far as picture purity goes, this high-end plasma is flawless, as I've surely made clear by now. The one drawback I'd cite is the amount of power it consumes: The 65-inch in particular is hungry for watts, but compared to its $4,000 MSRP, the annual cost is pretty mild.
The Verdict
Simply the best picture quality available
At this point, I've said a lot about this TV; however, the only thing that needs to be said is that it's the best. Is it leagues and leagues better than anything else you could buy? No—but neither is it leagues more expensive. Sure, the 65-inch model is demanding four thousand of your hard-earned greenbacks, but any home theater enthusiast would be lucky to own this grade-A plasma.
The bottom of the line is that the ZT60's price-to-performance ratio is higher than average. As it stands, most TVs after a certain price point begin to become indistinguishable from a performance perspective; you end up paying for features, modes, and extras. The ZT60, however, is unique. Everyone in our office who's watched it with us has walked away with a better understanding of what a TV is supposed to look like.
If you want the blackest of blacks, the truest of colors, and the power to control such an elegant, efficacious machine at the swipe of a finger, Panasonic's ZT60 has endured the burning press of an autoclave to shine its majesty throughout your living room. Long-time Kuro owners, it's time to creep out of your caves—the new king demands tribute.
Behind the Screens
The ZT60 performed exceptionally well on our tests, especially within the realm of black level and contrast ratio. Its motion performance is nigh flawless, and its screen purports a perfect 1920 x 1080 geometry. We also tested very accurate colors—though its Rec. 709 gamut was just slightly oversaturated at blue and red, and its curves, though uniform, were a touch bumpy. The ZT60 also boasts a nearly perfect horizontal viewing angle; overall, its picture quality is unequalled.
Contrast Ratio
The deepest black level on the market
The ZT60's claim to fame is its severely deep black level. The proper black level creates realistic, immersive contrast as a backdrop to mid-tones and highlights, and also enables a TV to better blend into a theater environment. Put up against "true black," even shadowy hues look more colorful and rich, more like real life.
We tested a very impressive black level of 0.004 cd/m2 , which is the least amount of light output we've ever had the pleasure to (barely) see. Its white level hit a luminance that's considered almost perfect within the theory of calibration: 114.90 cd/m2 at 20% APL gives the ZT60 a massive 28,725:1 contrast ratio—over twice what we've tested on other plasmas this year.
Viewing Angle
A theoretically perfect viewing angle
A narrow horizontal viewing angle can make-or-break a TV, especially if it's in the running to live in a home theater. The ZT60 demolished this test, however; its contrast performance does not fall below 50% of maximum even up to almost perpendicular obtuse angles.
Make sure to mount or set-up this TV at eye level.
We tested a total viewing angle of 178°, or about ±89° from center to either side of the screen. Essentially, there's no horizontal position you can view from that will result in either contrast degradation or color shifting. Like other Panasonic televisions, however, the ZT60 does not foster a good vertical viewing angle: Watching from a little too far above or below the screen results in a shadowy, scaly quality across patches of pixels. Make sure to mount or set-up this TV at eye level for the best picture.
Color Quality
An accurate, rich color palette
The ZT60's color gamut was not pinpointed to the Rec. 709 color gamut in the same way as the VT60, which we found to be curious; it just slightly oversaturates peak red and blue. However, it is certainly capable of producing the natural saturation found within the HDTV standard color space, as well as a wider gamut unique to Panasonic plasmas. Overall, this is very adept color saturation.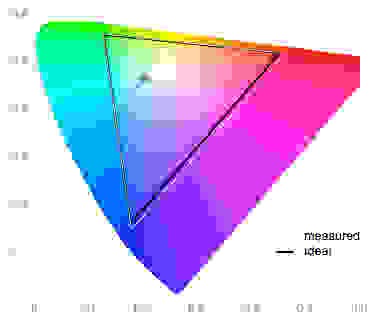 This Panasonic also adheres to a strict, error-free color temperature. Across the intensity input of its greyscale, the ZT60's color temperature deviation does not exceed ±200K, which means any technical error is not visible to the human eye—except for one small peak at the far end of the spectrum, deep in shadow tones.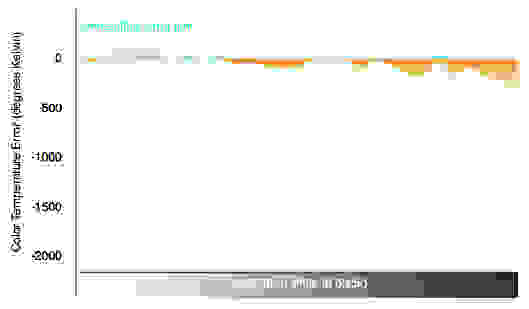 Finally, we found the ZT60's color and greyscale curves to be strangely bumpy. This would imply a jagged, uneven transition between neighboring hues and shades, which we saw none of during other tests or during subjective viewing. The curves, while a bit bumpy, are spaced in a sensible fashion to adhere to the saturation results of the color gamut test, resulting in an even picture on screen (to human eyes).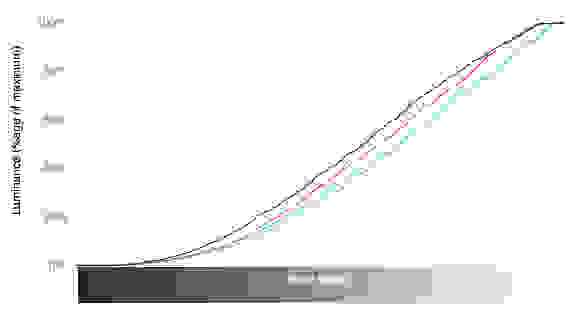 Meet the tester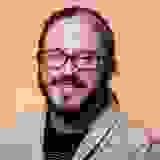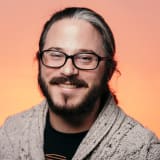 Lee Neikirk
Editor, Home Theater
@Koanshark
Lee has been Reviewed's point person for most television and home theater products since 2012. Lee received Level II certification in TV calibration from the Imaging Science Foundation in 2013. As Editor of the Home Theater vertical, Lee oversees reviews of TVs, monitors, soundbars, and Bluetooth speakers. He also reviews headphones, and has a background in music performance.
Checking our work.
Our team is here for one purpose: to help you buy the best stuff and love what you own. Our writers, editors, and lab technicians obsess over the products we cover to make sure you're confident and satisfied. Have a different opinion about something we recommend? Email us and we'll compare notes.
Shoot us an email