Panasonic's flagship LCD is a huge improvement over last year's WT50, despite carrying the same MSRP of $2,299 (47-inch model). We tested terrific color accuracy, smooth motion, solid audio quality, and an above-average horizontal viewing angle. Toss in Panasonic's new smart platform, and you're working on a good deal. Add to that the WT60's undeniably attractive design, and you have a great product.
Moby Dick, eat your heart out
When we met with Panasonic back in April to discuss the company's approach to its LCD line-up, one thing was very obvious: This series was "dressed to impress." Now that I've got a 47-inch model in for review, I can wholeheartedly concur. This TV is gorgeous.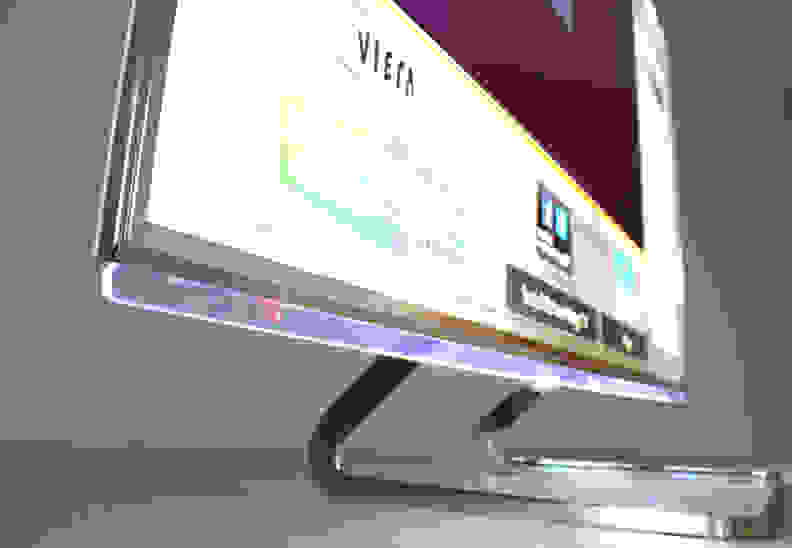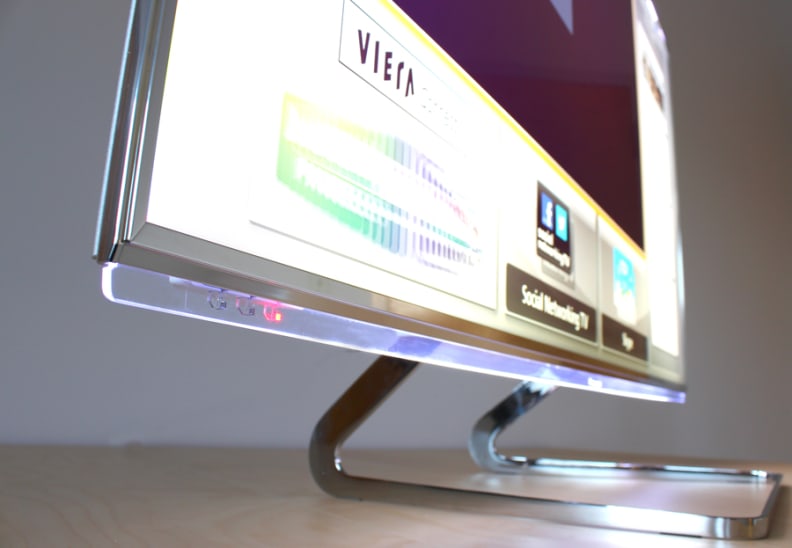 The WT60 series sports thin, shining bezels, and a bright white back reminiscent of the original iPod. We've never really seen anything like it before—even the stand is a shimmering, unique affair.
"The WT60 series sports... a bright white back reminiscent of the original iPod."
The lightweight, 47-inch WT60 also comes with four equally feather-light passive 3D glasses, as well as some really bizarre accessories: A twisted, phone-cord like plastic tube for cable organization, and a plexiglass mount than can be slid inside the curved stand for extra support. I think it looks terrible, but this TV would probably look better wall-mounted than anything else. The WT60's bottom edge also lights up when the TV is on, though this can be toggled off in the menu. You could even say it glows.
Like its plasma counterpart, the WT60 series comes with a top-mounted, built-in camera, and two different remotes: the basic infrared, and Panasonic's touch pad remote, both of which are a matching silver. The remotes complement the looks of the TV well; the Touch Pad is a particularly handsome companion to this eye-catching machine.
"The Touch Pad is a particularly handsome companion."
Where usability is concerned, Panasonic has equipped the WT60 with all of the necessary connections. Among the usual sub-HD feeds, you'll find three HDMI inputs, three USB ports, LAN (ethernet) in, and digital audio out. All of the WT60's ports are clustered together on its left side, and in a small recessed area on its back/left. As per usual, you'll find its on-set controls tucked away behind the opposite bezel, on the right. The final effect leaves the screen front-and-center, free of button-and-port blemish, almost appearing to float above the stand.
All in all, this TV is extremely attractive. There's no denying the breathtaking quality of its clean white hardware; the sleek allure of its sparkling bezels; and the way it gently glows when in a dim room. This TV might look a touch futuristic for some folks, but if you want a flat-panel that stands out and draws the eye, the WT60 looks good from every angle.
Looking Further
The new Viera Connect is a big step up from last year
Like the Panasonic VT60, the WT60 series comes with a flagship array of features and interfacing options. We've detailed the entirety of Panasonic's smart platform in a separate article, and the basics of that exposition still apply to the WT60. It's a solid effort on Panasonic's part, but still falls short of impressing our embittered, tech-tired staff.
That's not to say the average user won't enjoy Viera Connect—we've just been bombarded with so many smart platforms of different shapes, sizes, and colors that we're hyper-skeptical. Viera Connect possesses all of the accoutrement of the modern smart TV platform: streaming content, apps, a web browser, and a built-in camera that can populate a custom home screen based on a saved picture of your face. Needle scratch—that last one is actually entirely unique to Viera Connect, and is one of the coolest features about it.
"Viera Connect possesses... a built-in camera that can populate a custom home screen based on a saved picture of your face."
Outside of the content that requires an internet connection, the WT60 actually features a surprisingly expansive and detailed settings menu, wherein users can alter complex picture processing settings, audio EQ, and numerous system operation procedures. Like the flagship VT60, the WT60 features a Pro settings menu (accessible only when using the Cinema picture mode) that allows for deeper calibration still.
Within Pro settings, users can adjust red, green, and blue bias/gain, panel brightness, and the finer details of picture aspect ratio. This will, for example, allow a more experienced calibrator to zero-in on an average color temperature without delving into any hidden service menus. The WT60 features an almost exhaustive number of picture options, including motion smoothing and overscan adjustment, and at least half as many speaker and audio options.
The total package is a TV that gives you a figurative cornucopia of options and software packages—it might even be overload for more casual viewers. However, Panasonic seems well aware of the potential inherent in this amount of customization; it certainly lends the WT60 some serious flexibility when it comes to individual user preference.
Looking Further
A high-quality picture, if you can stand such light black levels
The WT60 is first and foremost a "high ambient lighting TV." This means that its picture looks best (and most impressive) when viewed in high amounts of natural or synthetic light. It's not that you can't watch it in the dark, or in dim lighting, but if you do, its white levels will attack your eyeballs like a cat on a laser point.
"The WT60 ... looks best when viewed in high amounts of natural or synthetic light."
We measured a very high peak brightness with Backlight set to maximum, which is our standard for testing. Unfortunately, this also resulted in some very marred black levels. Like the VT60, the WT60 appears to be equipped with a new, somewhat specialized panel: the result is some severe color temperature shifting in shadow tones, as well as decent horizontal viewing (and very bad vertical viewing).
Where color accuracy is concerned, the WT60 is actually a very strong performer for an LCD. Its color gamut matches the HDTV Rec. 709 standard almost perfectly, which means all of the shades and hues it displays will be properly saturated, preserving the most detail in whatever content you're watching. It's also capable of maintaining the fine details in moving images, so things like video games and sports will suffer very minimal blurring—none at all if you turn on the motion smoothing setting. Just watch out for the soap opera effect.
This TV looks crisp and sharp in the right lighting, but is pretty painful to watch in a theater-like environment, where dim or no lighting is the norm. Granted, you can always turn down the backlight if you want—but if you just want a dimmer picture, Panasonic's plasmas are almost always going to be a better choice. While the WT60 is not quite as accurate as its plasma counterpart, it is good to know that color purists won't have to sacrifice palette integrity if they pick up Panasonic's flagship LCD instead of its flagship plasma.
A viable performer that need not live in a cave
The Panasonic Viera WT60 is a very solid television. Its jam-packed full of features both useful and not, but its core software is, at heart, an open playground for the discerning individual. If you want part of your money to go towards a bounty of customization options and tweaking potential, Panasonic has really embedded this series with some serious toggle-bles.
That's not the half of it though—I can't express enough just how smooth and attractive this TV is. The stand's not the best we've ever seen, but it shines like stainless steel, matching the TV's hyper-thin bezels. Best of all, the WT60 is wrapped up in a white mantle, which makes wall-mounting it a really tough decision: It's seriously the only TV I've ever seen that might look better from the back than from the front.
Most importantly, however, this bright LCD is capable of producing very accurate color, something that's a bit of a rarity when it comes to non-plasmas. We were heavily impressed with Panasonic's flagship plasma, but this TV is actually a viable option if you want a high-end Panasonic, but don't have a dark room for viewing. The WT60 is one of the stronger LCDs we've tested, and is priced fairly at $2,299 and $2,799 for the 47- and 55-inch units.
Welcome to the science page, feeble mortal. Here, you'll find all of the hard data, charts, and numbers to back up our more subjective front page claims. All of our tests are conducted in a light-controlled environment, and our test patterns are driven over a full 1080p signal using DisplayMate's software. We gather color data using the Konica Minolta CS-200, and luminance data using the Konica Minolta LS-100.
Poor black levels make for a sub-par contrast ratio
Hefty contrast ratios are the realm of the plasma panel, but the WT60's natural contrast ratio of 975:1 is still fairly disappointing. Granted, this LCD is very bright, sporting a 20% APL luminance level of 341.20 cd/m2 , which is about as bright as we've seen from flagship LCDs this year. Watching in high ambient lighting will decrease the relative gray of the black levels, which measured a poor 0.35 cd/m2 with Backlight at maximum.
While watching this TV in brighter lighting, you're not going to notice the narrow contrast ratio quite as much; the higher the white level, the less detail your eyes can even see in areas of shadow. However, this result is still disappointing in a general sense. The WT60 tested with a lesser contrast ratio than Samsung's F8000 and F5000 series, and Toshiba's L7300U flagship.
Very solid color results for an LCD
We test three aspects of HDTV color integrity: color gamut, color temperature, and color curves (which also reveals greyscale gamma, as sort of an added bonus). While some would argue that contrast ratio is more important to a television's performance than color integrity, when it comes to super bright LCDs, color accuracy is a very important part of their core performance.
The WT60's color gamut tested very accurately against the HDTV Rec. 709 standard, which is the international standard by which content is created and driven to digital displays. While neither red, green, blue, or white are entirely, 100% accurate, none of them are too askew either. Red is mildly undersaturated, meaning golden-cochineal hues will lose a bit of luster. Blue, likewise, tends towards a slightly more violet hue than it should. These color errors are very mild, however, and the TV's high brightness is going to favor the underplayed wavelengths at hand.
Our color temperature test revealed that the WT60 maintains a very consistent 6840° K, wavering slightly across the intensity input, and warming to incredible levels at the lowest end of the spectrum. The result was actually a visible blue sheen across a good amount of shadow tones, though this was only heavily visible at obtuse off-angles. For 90% of the input, however, the temperature does not increase or decrease by more than 100° or so, a change which is imperceptible to human vision.
Finally, our tests revealed that the WT60 transitions smoothly between neighboring hues and shades: its color curves are well-rounded, with only mild bumpiness and clipping in highlights. The way that red, green, and blue describe a gradual circle in close uniformity to one another means that neither primary color will hog a majority of luminance within the picture, enabling the maximum amount of detail. Overall, this is a very strong color reproduction result for a liquid crystal display.
A solid horizontal viewing angle
Viewing angle is an often misunderstood and mis-advertised spec within the displays world; often, TV manufacturers claim viewing angles approximating ±80°, which for most panels is a far cry from the truth. However, the WT60 tested with a very respectable viewing angle for an LCD, trouncing the competition.
Put up against two Samsung LCDs (flagship and entry-level) and Toshiba's flagship, the WT60 boasted the widest horizontal viewing angle by far—a total of 108° (±54°) is much better than average for this panel type. This result means you can comfortably watch the WT60 with a mid-sized group of people without major contrast or color shifting. As a side note, we'd again like to caution consumers planning to wall-mount the WT60: Like the plasma VT60, the WT60 suffers from bizarre darkening at off-angle vertical viewing, so wall-mount at eye level if you must.
Meet the tester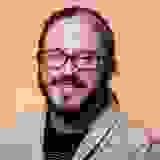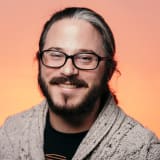 Lee Neikirk
Editor, Home Theater
@Koanshark
Lee has been Reviewed's point person for most television and home theater products since 2012. Lee received Level II certification in TV calibration from the Imaging Science Foundation in 2013. As Editor of the Home Theater vertical, Lee oversees reviews of TVs, monitors, soundbars, and Bluetooth speakers. He also reviews headphones, and has a background in music performance.
Checking our work.
Our team is here for one purpose: to help you buy the best stuff and love what you own. Our writers, editors, and lab technicians obsess over the products we cover to make sure you're confident and satisfied. Have a different opinion about something we recommend? Email us and we'll compare notes.
Shoot us an email