However, like many midrange LED TVs the dimming functions are good, but not amazing, and leave the TV with middling contrast and the VA panel-related narrow viewing angle. The drawback here is that a trained calibrator could likely fix issues with grayscale tracking/colors—which the TV nails—but can't increase the contrast ratio or viewing angle.
The JU7100 was at least impressively calibrated in Movie mode, nailing rec.709 color and grayscale mapping. Read on to see my calibration settings, as well as the pre/post calibration charts (with data/summaries in captions).
4K TVs are all the rage these days, but the market is seemingly split between budget buys and uber-expensive flagships. The Samsung JU7100 series (MSRP $1,499–$10,999 depending on size) straddles a deliberate middle ground, giving you a taste of high-end performance while falling just shy of the high-end "SUHD" models in Samsung's lineup.
We spent about a week with the JU7100, putting the 55-inch model through its paces. But while it delivers crisp 4K resolution and did well in most of our tests, there are other 4K TVs in this price range that we just like a little bit more.
The Samsung JU7500 looks just as good and has more features for around the same price (depending on size), while the Vizio M Series is nearly as good of a performer and costs much less. The JU7100 is still a solid all-around TV, but it may be worth waiting for a deeper discount before you take the plunge.
You can find Samsung's JU7100 series in a whopping seven size options, ranging from 40 inches to 85 inches. We tested the 55-inch JU7100, which is in bold below:
• 85-inch (UN85JU7100), MSRP: $8,999 (previously $10,999)
• 75-inch (UN75JU7100), MSRP: $4,799 (previously $5,999)
• 65-inch (UN65JU7100), MSRP: $2,599 (previously $3,499)
• 60-inch (UN60JU7100), MSRP: $2,099 (previously $2,999)
• 55-inch (UN55JU7100), MSRP: $1,599 (previously $2,199)
• 50-inch (UN50JU7100), MSRP: $1,199 (previously $1,899)
• 40-inch (UN40JU7100), MSRP: $1,099 (previously $1,499)
As you can see, every TV in the JU7100 series has received a major price cut since initially debuting in 2015, sweetening the deal that much more.
Other than diagonal screen size, the TVs in the JU7100 series are identical in specs and design, each delivering 4K/UHD resolution, full-array local dimming backlighting, VA-style LCD panels, 3D compatibility, and Samsung's 2015 Tizen smart platform. Here's the full list of shared specs:
• 4K/UHD resolution
• "PurColor" color enhancement
• "UHD dimming" backlight (Full-array Local Dimming)
• Tizen smart platform
• 3D compatible
• 4 HDMI/3 USB inputs with OneConnect Mini
• 3D glasses, Samsung Smart Control, and batteries included
• VA panels


Because the JU7100 boasted such accurate grayscale tracking and HD color out of the box in Movie mode, I didn't have to make too many adjustments during calibration.






The JU7100 is a very sleek, attractive TV that's easy on the eyes.
Our 55-inch review model stands out first and foremost because, frankly, it's a sexy TV. For a set that wields the heavier full-array LED backlight type, the JU7100 strikes a slim, modern profile. The brushed metal stand and bezels look and feel high quality, the subtle gunmetal coloration should match most living rooms, and the filigree decorating the rear chassis' plastic is a nice touch. But most Samsung TVs look pretty slick; this one could look a lot worse and there'd still be plenty to like about it.
The JU7100 series has accurate colors and proper white balance.
We calibrate every TV that comes into the lab for numerous reasons—and just 'cause we can—but we prize TVs that look good out of the box, and Samsung's JU7100 falls into that category. While it lacks the intense "Nano Crystal" (read: quantum dot) color of the company's SUHD sets (and the step-up JU7500), it still hits the color production bull's-eye. You'll find a rich, balanced palette in Movie mode and lots of bright, pleasing "pop" in the set's Dynamic (day) mode.
The JU7100 looks good whether or not you're watching 4K content.
While the 4K resolution is definitely a plus here, there's still not much 4K content. That means you need good "upscaling," a video conversion process that makes non-4K content look best on a 4K screen. This involves a lot of guesswork and interpolation, but the JU7100 is pretty smart about it. While most manufacturers have gotten a handle on successfully upscaling content, Samsung's latest 4K/UHD TVs have looked particularly good and the JU7100 is up there with the best of the bunch.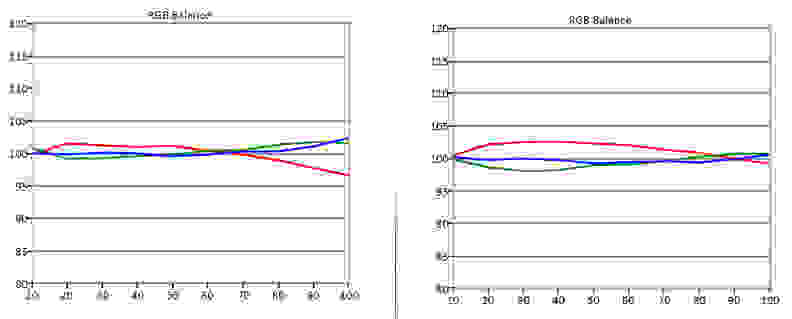 The JU7100's contrast is disappointing for this price range.
The JU7100 TVs wield "VA" style LCD panels and boast local dimming, but despite these enhancements I found that the JU7100's contrast wasn't on the level with similarly priced options like Vizio's M Series. They're not bad, but the black levels I measured using standard test patterns revealed that shadow tones and overall scene contrast leave a bit to be desired (especially for the original $2,100 price). This means it will look a bit more luminous than you'd like if you're watching in a strict, dark environment—but otherwise, no worries.
The JU7100's horizontal viewing could stand to be more generous.
While VA panels (like the one found here) usually promise great contrast, the tradeoff is that you get more narrow viewing angles. That's the case here, as well. Testing revealed that viewers sitting more than about three feet to the right or left of center (when viewing the TV from 10 feet away) start to lose contrast and picture integrity.
The JU7100's OneConnect Mini is an unnecessary accessory.
Unlike the high-end SUHD TVs—which use the fully realized version of the OneConnect, a box that externalizes all of the TV's ports—Samsung's regular 4K/UHD sets wield the Mini version, which houses HDMI/USB ports and optical audio, but none of the other connectivity options like ethernet, coaxial, or component inputs.
The JU7100's shadows may look more luminous than you'd like if you're watching in a strict, home theater environment.
This means that, unless you plan on only using HDMI/USB devices—which admittedly is not out of the question—you're going to have to connect things directly to the back of the TV anyway. And if you lose or break either the box or the proprietary cable, you'll have to replace them and it isn't exactly cheap, nor something you can expect to find readily at your local retailer from what I understand.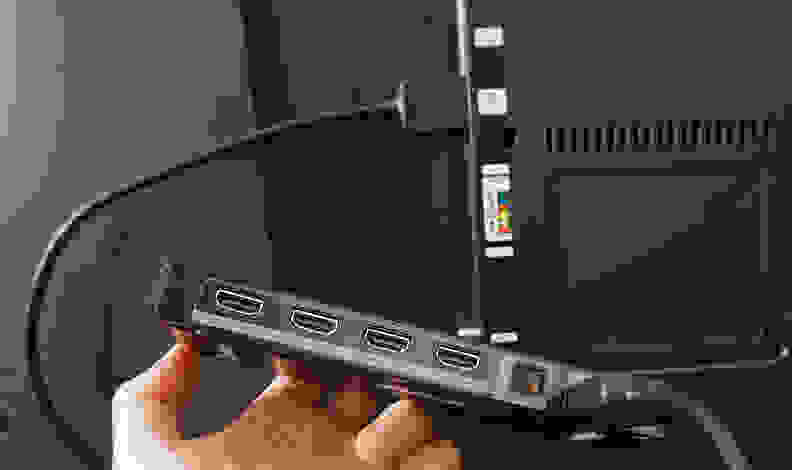 The JU7100's remote control could stand to add a few buttons.
Remote controls keep getting smaller, lighter, and curvier, but it might not be a good thing. I like a good ol' fashioned clicker, and the "Smart Control" included with the JU7100 series is a little too minimalist, making it tedious to adjust basic menu settings or even get into the picture/audio menus at all (on the other hand, it's great for zipping around the Smart Hub).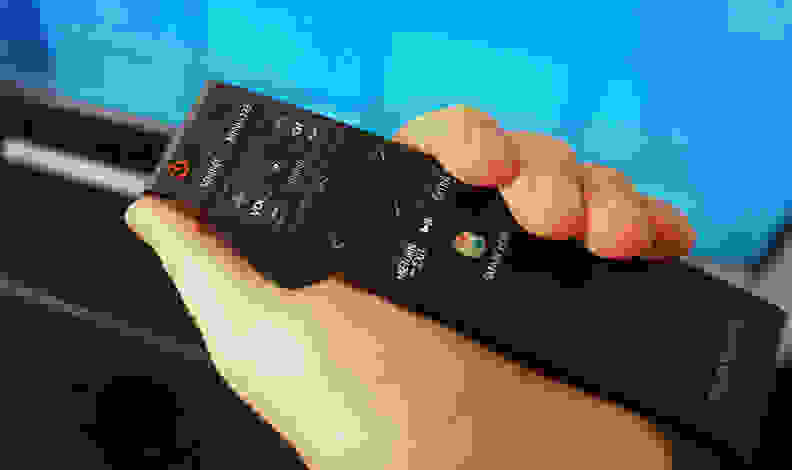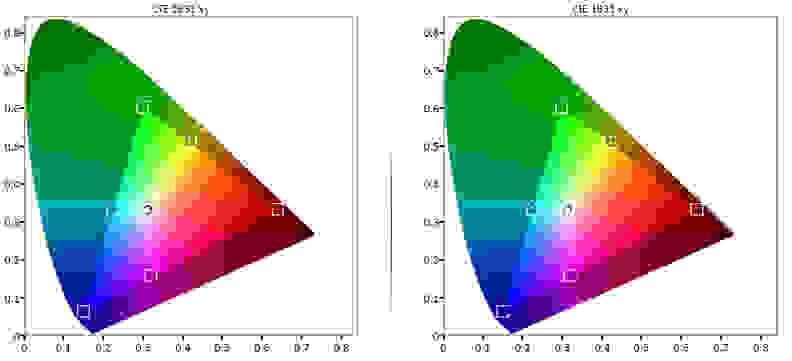 Maybe.
If you can find the JU7100 series on sale, it's a good deal. Some of the discounted prices—especially for the 50-inch (UN50JU7100) and 60-inch (UN60JU7100)—are very good, but many of them still feel a little high for this performance. Even still, the JU7100 is undoubtedly a great performer with a sleek finish and good extras. It isn't the best in terms of strict price to performance, but we think most viewers would be happy to have this TV in their living rooms. Just don't pay full price.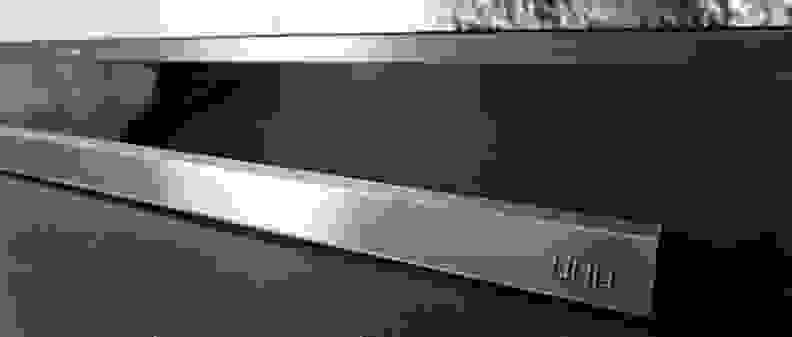 If you want a better 4K TV in this price range or for less money...

Consider the Vizio M series. It's neither as sexy nor as finely calibrated out of the box as the JU7100 series, but it boasts killer contrast and (with a little tweaking) encapsulates better overall performance for less money.
If you want a Samsung 4K TV for around the same price...
Check out the JU7500 series. You can get the 55-inch for about $1,600 on Amazon, and it delivers the same great design, robust features, and better performance.
If you don't need 4K and want a great (and bigger) 1080p TV...
Maybe you don't need or want 4K. In fact, 55 inches is right on the line where 4K may not be necessary if you're watching from 10 or so feet away. In that case, we'd recommend the Sony W850C series. It's a stellar performer and you can get the 65-inch for around $1,300 online.
Meet the tester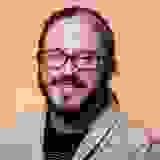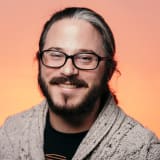 Lee Neikirk
Editor
@Koanshark
Lee has been Reviewed's point person for most television and home theater products since 2012. Lee received Level II certification in TV calibration from the Imaging Science Foundation in 2013. As Editor of the Home Theater vertical, Lee oversees reviews of TVs, monitors, soundbars, and Bluetooth speakers. He also reviews headphones, and has a background in music performance.
Checking our work.
We use standardized and scientific testing methods to scrutinize every product and provide you with objectively accurate results. If you've found different results in your own research, email us and we'll compare notes. If it looks substantial, we'll gladly re-test a product to try and reproduce these results. After all, peer reviews are a critical part of any scientific process.
Shoot us an email