For around $300, this TV includes decent color accuracy and consistency, very good motion performance, and some moderately dark black levels and modestly bright white levels. We can forgive Samsung for the shoddy viewing angle and awful uniformity on a black screen—this TV offers decent performance for the money.
There isn't much that sets the Samsung LN32D403 apart from other similarly priced televisions. This TV nails the "generic" television look: wide bezels, thick profile, and an oval-shaped stand. The only things that set this TV apart from other cheap TVs are the bright Samsung logo and the touch-sensitive buttons on the bezel. We can't complain about the design too much, though—it looks like a TV and does exactly what it's supposed to do.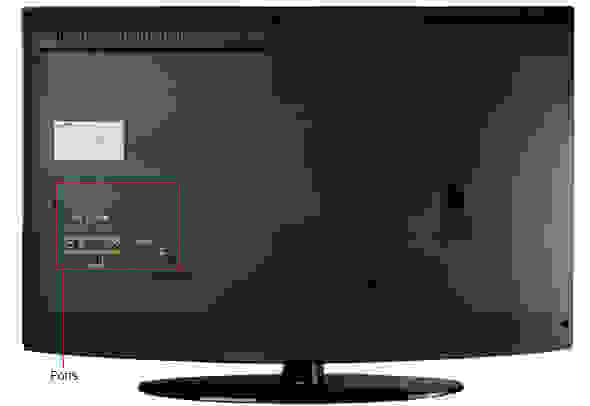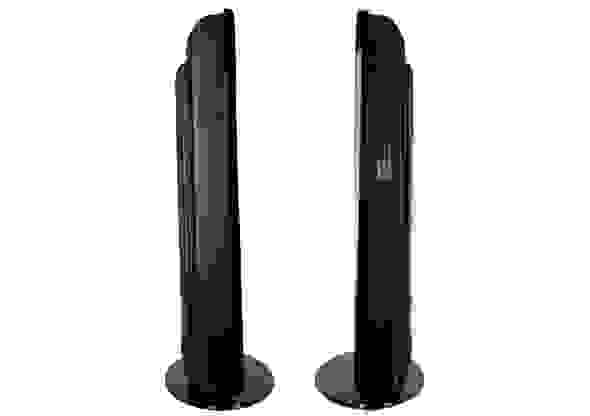 The on-set controls for the Samsung LN32D403 are located on the bottom-right bezel and are touch-sensitive. There are buttons to change the input, access the menu, change the channel, adjust the volume, and power the TV on/off. While there is no haptic feedback when pressing these buttons, they worked well.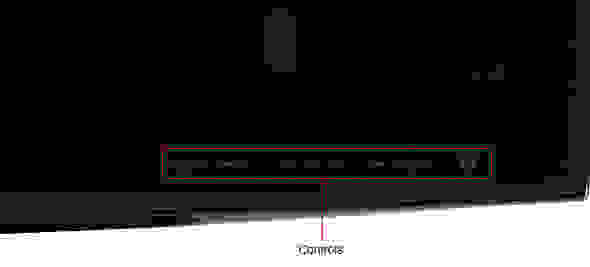 This lightweight remote is comfortable to hold and has just enough buttons for the basic features that the Samsung D403 offers. Accessing the menu is a breeze thanks to the bluish-green button located in the middle of the remote, plus the channel and volume control buttons are easy to find.

The Samsung LN32D403 comes with a remote, batteries, a user manual, and warranty information.
There isn't a whole lot to see on the backside of the Samsung LN32D403. There are two HDMI ports, a component input, a USB port, an antenna input, and a service port. All of these connections, located on the right-side of the TV (left-side if viewing from the back) are easy to find.

There is a lot to like when it comes to the overall performance of the Samsung LN32D403. This TV was able to produce a good contrast ratio, transition from colors smoothly, and handle motion adequately. The subpar screen uniformity was a misstep and so was the awful viewing angle, but this budget TV has a lot to like.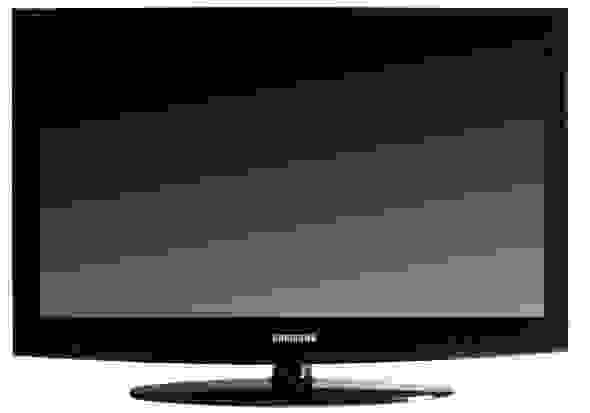 The Samsung D403 was able to get moderately dark and decently bright. Its contrast ratio of 2117:1 was good, especially for an inexpensive TV. More on how we test contrast.
The color curves for the LN32D403 were excellent. The curves show how smoothly a TV transitions from an input level of zero (black) to an input level of 255 (pure red/green/blue). This little Samsung was able to show plenty of transitional colors, which is something more expensive TVs have trouble with. More on how we test color performance.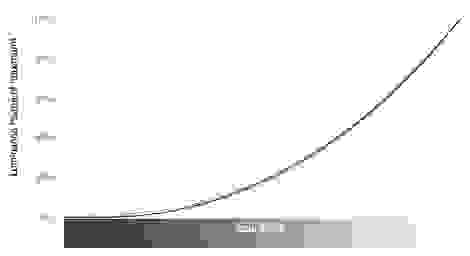 The Samsung LN32D403 had color temperature that was slightly warm. There wasn't much of a color temperature issue from white to the middle greys, but the picture starts to get increasingly warmer after that. More on how we test color temperature.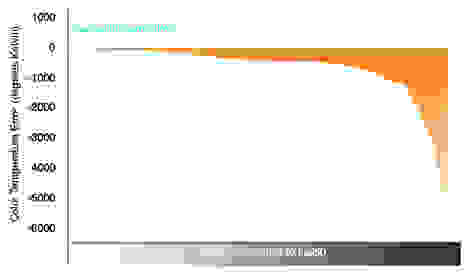 This is an average color gamut. The white point, which affects the overall color temperature, is very close to the industry standard. Reds can get slightly more pink, while greens can look a bit more neon. Blues, at their peak input level, will appear purplish. More on how we test color temperature.
The picture dynamics for the Samsung LN32D403 were excellent. When a white image was displayed on a mostly black screen, the luminance level was consistent with that of a pure white screen. The same holds true for a black image displayed on a mostly white screen: a 90% black screen had a luminance of 0.12 cd/m2 , while a 5% black screen had a luminance of 0.08 cd/m2 . More on how we test picture dynamics.
The Samsung LN32D403 has a native resolution of 720p and supports all standard NTSC formats.
This Samsung's total viewing angle of 31° was below average and can't compete with the much better viewing angles that the LG LS3400 and the Sony Bravia BX330 have.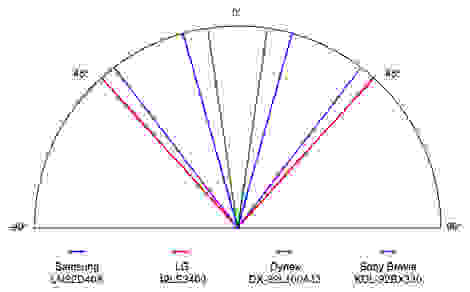 We were surprised by the motion performance that this bottom-of-the-line Samsung produced. Fast moving images had some blurring, but nothing too drastic. Edges and lines did not get too choppy when moving around the screen. Color trailing, which is when colors trail behind an image, was not a problem at all. For a 60 Hz TV with no motion enhancement features, these results were impressive.
With a completely white image displayed on the D403, the uniformity was excellent. This Samsung had a crisp image with no shadowing along the edges. An all-black image was a different story: certain parts of the screen were much brighter than others. This effect, called flashlighting, ruined the black screen uniformity on the Samsung D403.
The standard audio quality we heard from the Samsung D403 was lousy. The two 5-watt speakers on this TV produced a lackluster sound experience: treble tones were tinny and bass was almost non-existent. There is an equalizer available, but it didn't help make things sound better.
This awful sound experience changed dramatically by toggling the surround mode on. The main thing that this mode does is increase the bass. Low-end frequencies were boosted and sounds in general were spread around. While the audio quality on this TV won't win any awards, it will suffice for folks who don't feel like purchasing a separate sound system for a $350 TV.
The Samsung D403 is cost efficient over the course of a year, although it had some stiff competition in this category. With our minimum recommended backlight setting, running the D403 for an average of five hours per day will yield an estimated annual cost of $13.86. While it was more expensive to run than the other TVs we compared it to, it is still a TV that will be easy on your electricity bill.
The main things we did to calibrate this TV were turning the backlight all the way up and bringing the contrast and brightness down. Since we calibrate with the DisplayMate software, we are connected to a PC. The Samsung D403 would not let us adjust the sharpness or color when plugged into the PC, so these settings were not changed.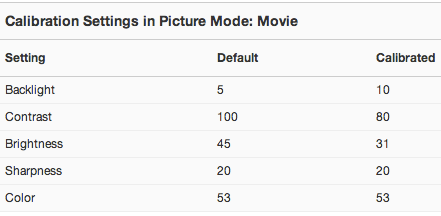 All of our calibration is done in conjunction with the DisplayMate software.
](http://www.displaymate.com/)
There are three video modes offered on the Samsung LN32D403: dynamic, standard, and movie.

We are big fans of the menu interface that Samsung uses on their high-end and mid-range TVs. The LN32D403 does not make use of this, but consumers shouldn't fret—there are enough options to choose from and navigating this menu system is easy, just don't expect it to look as good as the higher-end menu does.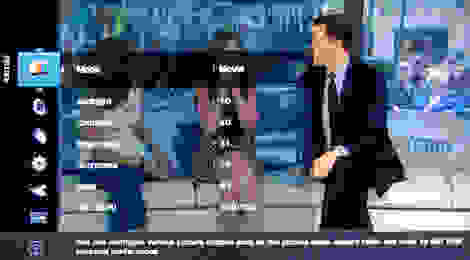 The menu interface on the LN32D403 is not the same interface that Samsung uses for their higher end televisions. It is a simplified version, which unfortunately means it is uglier. Regardless of how it looks, this menu interface has enough options to satisfy most consumers' needs.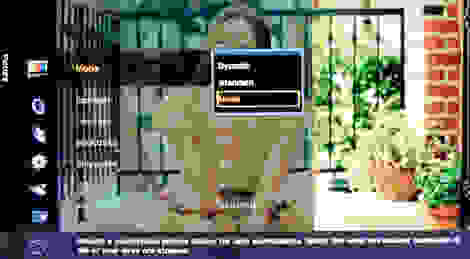 There are six different menu categories to choose from: picture, sound, setup, input, application, and support. Picture and sound allow users to adjust picture settings and change audio modes, while setup has general options like using a sleep timer or a V-Chip.
The input and application submenus only have one option each, which is to change the source input and access USB media, respectively. The support submenu has an option to run a self diagnosis if there are problems with the picture, as well as a software upgrade option.
Samsung's bottom-of-the-line TV can still display photos and play music from a USB drive. This TV was able to display all of our photos with various file extensions, something that more expensive TVs don't always do. Accessing the media was easy—Samsung's interface is simple.
Is the Samsung LN32D403 (MSRP $349) a hidden gem or should you put a restraining order on it? While it certainly won't win any awards, Samsung's entry-level LCD TV from 2011 has plenty to like. The contrast and colors were decent, while the motion performance was surprisingly good. Even the sound was acceptable, as long as the surround mode was turned on.
There are areas that this TV just doesn't handle very well. The viewing angle was abysmal and the screen uniformity had some issues, as well. For those who want to use this TV for connecting lots of media, watch out: there are only a bare minimum of ports on the LN32D403. For the price, though, this Samsung offers plenty to like.
Meet the tester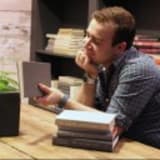 Josh Fields
Staff Writer
@reviewedtech
An enthusiast of all things tech, Josh is one of Reviewed.com's resident television experts. When he's not looking at bright TV screens in a dark room, he's probably reviewing a laptop or finding a new snack at 7-11.
Checking our work.
We use standardized and scientific testing methods to scrutinize every product and provide you with objectively accurate results. If you've found different results in your own research, email us and we'll compare notes. If it looks substantial, we'll gladly re-test a product to try and reproduce these results. After all, peer reviews are a critical part of any scientific process.
Shoot us an email