Meet the E8000--the plasma version of Samsung's high-quality LCD flagship. It's got all the same features: voice and gesture controls, full HD 3D, the Smart Hub, and Samsung's new Smart Touch remote. But this time around, it's all bundled up into a relatively thin Plasma TV.
The E8000 is an odd bird for being a flagship plasma. Plasma televisions are known for their deep black levels, wide viewing angles, and smooth motion. Oddly enough, the E8000 showed us neither particularly deep black levels, nor completely blur-free motion (though both were good enough, if not better). On the other hand, the E8000 has some of the most accurate 2D and 3D color production we've seen this year, and a viewing angle that almost maxed out the possible 180° from center.
Combining these eccentric, but nevertheless impressive, core specs with solid 3D technology, Samsung's well-designed Smart Hub, and a smart, aesthetically sound design centric makes for one top-notch plasma. It's also important to consider the relation of screen size to price when comparing the E8000 (a plasma television) to its LCD-twin, the ES8000. Larger screen sizes for the E8000 will be considerably cheaper than those same size screens for the ES8000. This is another advantage the E8000 holds as Samsung's flagship plasma.
Like so many of Samsung's high-end TVs this year, the PN51E8000 innovates in appearance, but stays conservative where port and on-set controls placement are concerned. The first thing we noticed about was that it's quite thin for a plasma, possibly the thinnest plasma on the market this year, and is not nearly as heavy as some of the Samsung plasmas we've tested in the past. Its stand is the same one that the ES6500 series uses: an X-shaped metal platform that serves to adequately balance the TV while innovating beyond the usual black rectangle. Beyond the stand's shape, the PN51E8000's inputs and ports are located within the now familiar L-shaped cutout on the back, left side of the TV, and its on-set controls are allocated to a jog stick on the bottom of the bezel.
We think it's a handsome TV, and there's nothing too wild about it beyond the cross-bar stand.
The PN51E8000's bezel is ringed around with a clear acrylic fringe, and sits sturdily upon a X-shaped, metal stand. The TV swivels about 23° forward and backward. Its on-set controls are all mapped to the jog stick found beneath the bezel (just below the IR sensor), and its connectivity options are all found within the L-shaped cutout on the back of the TV.
A sensible and aesthetically sound design, in our opinion.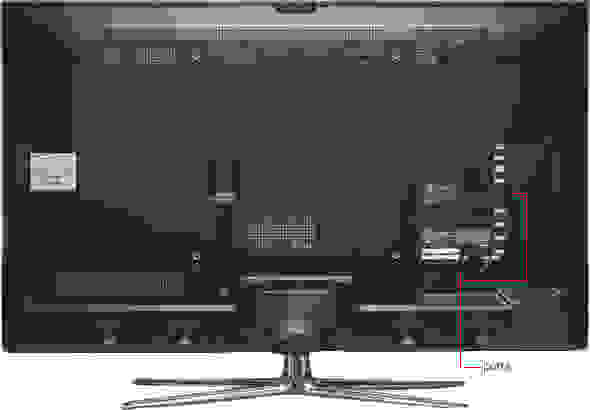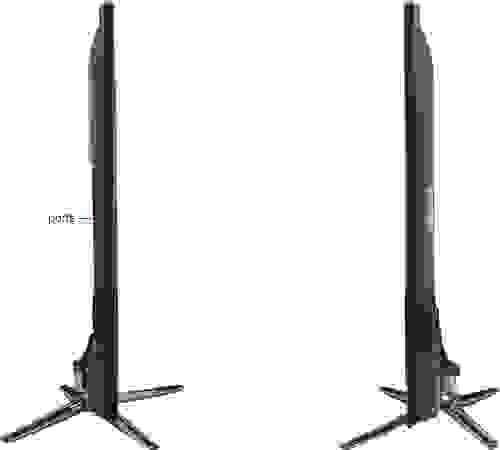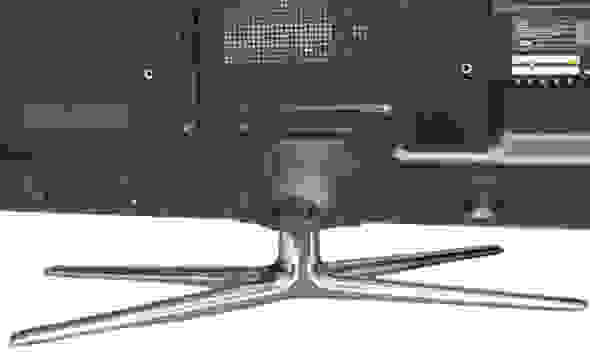 So far this year, all of the Samsung TVs we've used have allocated their on-set controls to a jog stick. The jog stick is a small nub that moves in four directions, and also clicks. Clicking the jog stick will turn the TV on or off. Its left/right or back/forward functions control volume and channel, respectively. The jog stick is fairly easy to find in the dark, and it won't take you long to memorize what it does. Its drawback is mainly how limited it is. You can't manually access menus or navigate internet content with it; but then again, the E8000 comes equipped with two remotes, voice recognition, and gesture control, so we imagine extensive on-set controls would be overkill.
Like the ES8000, the E8000 series comes with two remote controls.
The first remote control is Samsung's standard infrared for 2012. It's a comfortably-sized, backlight equipped remote. Numerous single-use buttons are arranged around the navigational arrows and large volume/channel buttons, allowing for fairly easy navigation of the basic menus, AllShare media menu, and Samsung's Smart Hub--that's where the internet content is. We like this remote for basic navigation, but using it during web browsing makes one well aware of why the other remote has been included.
The second remote, new for 2012, is Samsung's unique Smart Touch remote. It's got a small, laptop style track pad for the upper half, and a handful of the most commonly required remote buttons: volume, channel, power, and the Smart Hub button, to name a few.
We've recorded a brief video detailing the Samsung Smart Remote in action, and you can also read a little more about it by clicking here.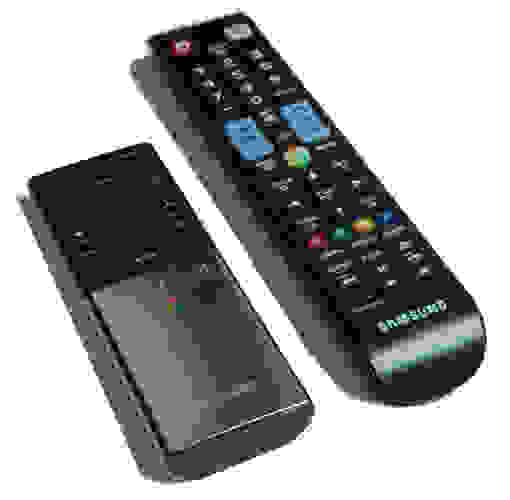 \ In the box, you'll find the Smart Touch remote & batteries (2xAA), an IR blaster & batteries (4xAA), the standard infrared remote & batteries (2xAAA), the user manual, a cleaning cloth, warranty information, 2 pairs of 3D Active Glasses, and the TV's power cord. As you can see from the picture below, the Samsung PN51E8000 has a decent variety of ports allocated to the cutout behind the TV, but they're ordered in a somewhat strange way. All in all, you've got 3 USB inputs (for flash drive, portable HDD, etc.), 3 HDMI inputs, and a shared Component/AV input. Those will handle your connected devices. The EX-LINK input is a dedicated port for software upgrades. You've also got the option to run a wired internet signal, via ethernet cable, and a dedicated jack for cable/antenna input (for broadcast content). Finally, a digital audio out allows the integration of a surround sound system, whereas DVI audio in will route the audio output from the connected DVI device to your TV's speakers. We like Samsung's L-shaped cutout, but are not sure why the EX-LINK port is placed first on the side, or why the USB ports are split up rather than together. Other than these mild complaints, we think the E8000's got a good port selection with a standard design. While you're looking, take note of the Evolution Kit. The Evolution Kit is a removable tech component that will allow Samsung to make hardware upgrades to the processor and dedicated memory in the future.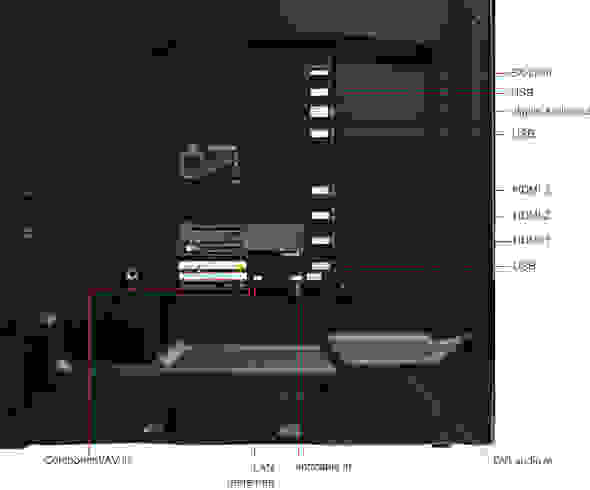 Samsung excels in the production of high quality LCDs and plasmas, especially those with price tags in the range of three- or four-thousand dollars. While the E8000's $3699 MSRP is bumped up by its included smart platform, smart touch remote, gesture and voice controls, and dual-core processing, it's also a solid performer in the more basic arenas of contrast ratio and color accuracy. While its maximum contrast ratio was a little small for what we were expecting, it showed us good color temperature integrity, and an absolutely spot-on color gamut. It's also got the kind of energy saving technology that'll help to keep your electrical bill a little slimmer. It proved easy to calibrate, as well. The only drawback we found in the area of screen dynamics is that, like other 2012 Samsung plasmas, it has slightly blurry motion during complex, fast-action content. The Samsung PN51E8000 is a strong performer beneath its various, spotlight-stealing extra features.
The PN51E8000 tested with a decent maximum contrast ratio, though it was less impressive than we were expecting from Samsung's flagship plasma. A deep black of 0.06 cd/m
2
is okay, but take a look at the chart below. The PN59D7000 (from last year) was much darker at 0.02 cd/m
2
; Panasonic's flagship, the VT50, was also darker, scoring 0.03 cd/m
2
. Finally, even Samsung's entry level plasma, the [PN51E530,](https://www.reviewed.com/televisions/content/Samsung-PN51E530A3-Plasma-HDTV-Review.htm) had a deeper black level. For general purposes, a contrast ratio of 2775:1 is plenty of black/white differentiation on screen. But in theory, the PN51E8000 ought to have tested with deeper blacks. [More on how we test contrast.](/content/How-We-Test.htm#contrast)

Take a look at the chart below. The black line represents the E8000's grayscale detail across the light input spectrum. The red, blue, and green lines represent--you guessed it--red, blue, and green. This is a decent performance; your colored lines ramp up in slow uniformity, which will give extra detail to shadow tones--the hallmark of a sound plasma. This is offset by the grayscale detail, which is favoring detail in midtones, and begins to get choppy as gets closer to highlights.
These color curves aren't perfect, but they do complement one another to make for accurate color representation, and to give as much detail as possible across the entire visible spectrum. More on how we test color performance.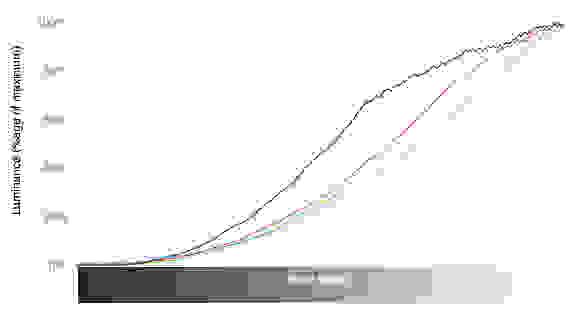 The chart below represents how well the E8000 manages its color temperature input across the light input spectrum. To put it more simply, we run this test to determine how well a TV can maintain the 6500° K standard color temperature across the full spectrum of light output.
The clear area around the orange and blue spikes represents the limit of imperceptibility. This is a good result because, as you can see, there's almost no visible error to be had, save at the very darkest input, where it's likely the temperature skews to the warmer side of detail as it begins to favor shadow detail over temperature integrity.
Across the remainder of the spectrum, there's no visible error. This is a good result, and you won't notice a thing during broadcast content. More on how we test color temperature.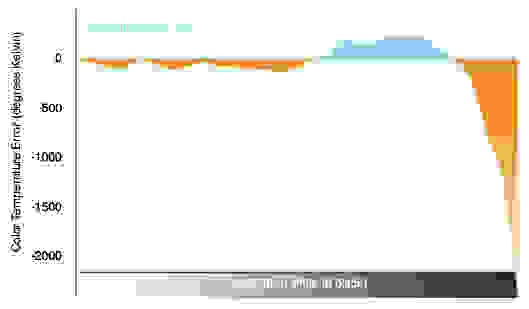 The most impressive aspect of the E8000's core performance is right here. We check each TV's color gamut against the rec. 709 standard for white, red, blue, and green, essentially to determine how closely it matches those four points to what is considered "perfect" by the aforementioned standard.
For consumer purposes, and for all possible content viewed, the E8000's color gamut is spot on. An amazing result which we rarely see. More on how we test color temperature.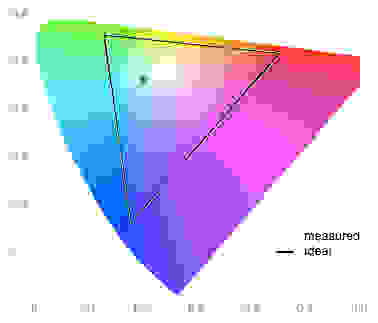 The Samsung PN51E8000 showed us technology with a good dynamic sense. For plasmas, this means leveling the brightness/darkness of white/black depending on the amount of each hue on screen. The E8000's brightness increased in even integers--about 4 cd/m2--as white decreased in screen real estate by about 10%.
Toss in well implemented auto-dimming on all black screens, and you've got a smart use of picture dynamics. More on how we test picture dynamics.
The Samsung PN51E8000 is a 3D, Smart, 1080p, plasma HDTV. It supports all NTSC resolutions and formats.
Despite not having the largest contrast ratio, this plasma's off-center viewing result was outstanding. We test each TV to see how well its contrast holds up as viewing is done further and further from 90°, or looking straight on. The E8000's contrast doesn't drop below 50% of total even at 89.97° off center; that's almost a full, 180° total viewing angle (which is impossible, of course). The comparison plasmas we pulled already had impressive viewing angles, but the E8000 beat 'em all. We haven't seen this result since the Insignia NS-42P650A11.
Pack as many blokes as you can into the room; everyone will have perfect contrast, unless they're watching from behind the TV.
We were disappointed by the motion performance result we saw for Samsung's entry-level E530, and unfortunately, that's only been slightly improved upon in the E8000. We slide complex photographs--faces, hatched brickwork, intricate brushed metal details--as well as barred montages of pixels across a TV's screen to see how well it preserves detail during motion. While there was no artifacting or shape/color trailing, lines of detail blurred just enough to be noticeable during the E8000's motion test.
We'd hope for perfect motion from a flagship plasma, but it seems like Samsung's motion technology is still playing catch-up to their impressive interfacing features.
Smooth all-white, all-black screens from center to corners. The only problem with this plasma's uniformity has everything to do with it being a plasma. Like the ES8000, the E8000 has embedded microphones and a built-in camera at the top-center of its bezel. Unlike the ES8000, it's a thicker TV (due to being a plasma) with more bezel around its face plate. This extra bezel causes some shadowing along the edges of the screen during bright content.
Bezel shadow aside, the E8000 has great uniformity.
Samsung's made a lot of improvements to their 2012 television line-up. One thing they've yet to improve, however, is their standard audio quality. Like all of Samsung's 2012 TVs, the E8000 features two embedded 10w speakers. The audio they provide has ample loudness for a single person, assuming they're sitting fairly close. Yet, loudness aside, the crispness of treble and bass sounds--clarity in booming explosions, or the metallic rattle of machine gun fire--is severely lacking. We recently reviewed Panasonic's flagship, the P65VT50, which featured an audio system boasting dual 8-train speakers and an integrated sub-woofer. Coming from that (which sounded superb), the E8000's standard speaker set-up simply feels lacking.
The audio is just average, to be sure, but for an MSRP of $3699 we hope for more than average in every area of a TV's design.
Taking a look at the comparison chart below says a lot about the PN51E8000. The first thing to note is the price per year. If you use this TV for 4-6 hours a day for one year, it's going to cost you roughly $50 in electricity. The second thing to note is that Samsung has significantly reduced the cost per year from last year's D7000 plasma. The E8000 also costs less, overall, than the low-end E530 series. This tells us that Samsung has implemented a little more energy saving technology in their flagship. But the most interesting thing is that Panasonic's 65-inch plasma, which is just as "loaded" a baked potato as the E8000, costs less than half as much per year--and that's with a bigger screen size.
The E8000 is not cheap, but it could have cost a lot more. Conversely, the comparison with Panasonic makes us wonder if Samsung couldn't have done more to reduce yearly cost.
We found that calibrating the E8000 prior to testing--to maximize its black/white contrast and color spectrum integrity--was very easy. Calibrating within Movie Mode, the only change we made was to turn Sharpness down, from 20 to 0. Everything else about it lent great color detail along the whole spectrum, right out of the box. Turning Sharpness down reduces the overly aggressive contrast 'haloing' around areas of high contrast. This looks good from a distance--say, in a retail store--but for personal, home viewing, extra Sharpness is simply unnecessary.
[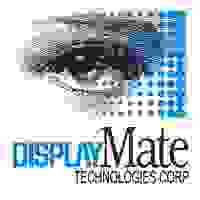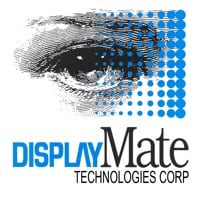 All of our calibration is done in conjunction with the DisplayMate software.
](http://www.displaymate.com/)
The E8000 has 4 video modes: Dynamic, Standard, Relax, and Movie.
Out of all the TV manufacturers we encounter during our trek to sort a year's harvest of televisions, Samsung and LG seem to have the firmest grasp on immersive, convincing 3D content. Samsung makes use of comfortable, lightweight 3D glasses--light enough to be passive, but with the fluid, quality 3D that comes from active shutter shades.
Don't get us wrong--3D still has a long way to go before it will be the preferred method of viewing content. In many respects, it's still a marketing gimmick. But Samsung's native, HD 3D is getting very close to being a top selling-point for their TVs. There are a few things we look for: immersive full 3D, a useful 2D-to-3D conversion option, and comfortable, wearable glasses.
Samsung's 3D picture is convincing, be it a full 3D signal from a connected HDMI device, or their after the fact 2D-to-3D conversion implementation. While their glasses are still a little hard to wear over spectacles, the flexible, detachable arms make it a little easier to customize them to your liking.
Finally, to seal the deal, any Samsung Smart TV is going to give you access to Samsung's Explore 3D widget, which features plenty of free, streaming 3D content, enabling users to make considerably more use of their 3D television if they don't have a stack of 3D Blu-ray movies to delve into.
We were very impressed with Samsung's 3D showing this year, and the E8000 continues that tradition. Samsung's full 3D viewing shows convincing depth-of-field without much crossover--when images become "ghosted" and the immersion is foiled. Samsung is also very good about including at least two pairs of their active shutter 3D glasses--a choice Panasonic could learn from.
The PN51E8000 comes with two pairs of Samsung's 3D glasses, which are lightweight, active shutter devices. They come disassembled, meaning you'll need to snap the arms into place and install the battery before syncing them to the TV, via Bluetooth. It's easy enough to get them set up, and they're pretty comfortable compared to other glasses we've tried. The only problem we foresee is for anyone who wears particularly thick spectacles, as there's not a lot of room offered in that regard.

The PN51E8000 didn't show us a huge 2D contrast ratio--while 2775:1 is about twice the acceptable, average limit, it's cut down considerably during 3D viewing. 3D televisions, aware of the fact that their viewers are wearing fancy sunglasses, tend to amp up their light output to offset the natural darkening that occurs. Unfortunately, that tends to wreck black levels--and the E8000's 0.06 cd/m2 was already not as dark as comparable plasmas. The peak brightness is usually halved--or in this case, cut by almost 75%. This leads to a rather pathetic contrast ratio of 470:1, but as we've seen, contrast is not this plasma's strongest area.
Overall, content will still be viewable, but expect to be noticing 3D picture depth more than strong contrast in your movies.

Like it's 2D color temperature, the 3D color temperature integrity of the E8000 was quite good, if not better. The only deviation from 6500° K happens around the darkest part of the input spectrum. This is a good result, better than average.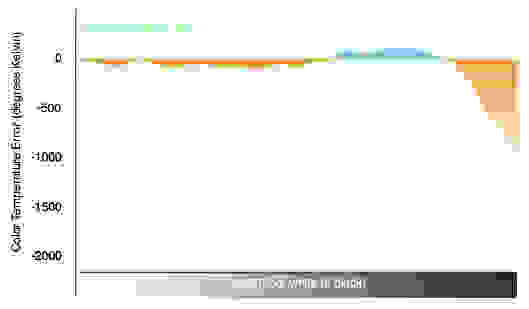 The E8000's 3D color curves almost complete mimicked its 2D color curves--which, regardless of accuracy, is a good sign. Like the 2D curves, the RGB side of things ramps up in a fairly uniform manner, while the grayscale favors a convex knee to add detail to the midtones. This isn't an amazing result, but considering its closeness to the 2D curves, it's a good thing to see this kind of accuracy.
If you'll recall from our section detailing 2D performance, the E8000 jumped a huge hurdle in managing to show us an absolutely perfect 2D color gamut. That said, the 3D gamut tested with about half as much accuracy--which isn't really bad at all if you consider how spot-on the 2D gamut was. It deviated at the white and blue points, but it's red and green points are spot on.
Essentially, this is much better color integrity than many TVs show us while in 3D. Not a bad result at all.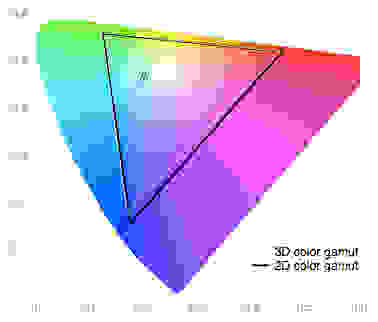 Samsung's done a good job at minimizing (or totally eliminating) crosstalk from their full 3D content. While the occasional extreme foreground image will have a bit of the ghost-like quality denoting crossover effects, 3D content was almost entirely free of crosstalk, which is starting to happen within the realm of 3D TVs for the first time. Samsung's got some very well implemented 3D technology (compared to most of the competition), and it shows.
The PN51E8000's menus (Picture, Sound, Network, etc.) haven't been changed from previous Samsung TVs this year, and that's fine by us. They're an azure-colored stack of information that line up along the left-hand side of the TV's screen, allowing for real-time viewing of changes to things like aspect ratio or picture sharpness. Long story short, we like these menus. It's nothing innovative, but we don't think the E8000 would benefit from new menus.
The real show-stealer here is the Smart Hub, Samsung's headquarters for all of their internet content. The Smart Hub, a huge feature of Samsung's 2012 TV line-up, is packed full of streaming TV and movies, free 3D content, and a solid web browser, as well as some useful (or at least entertaining) widgets like Fitness and Family Story. The Smart Touch remote makes navigating the Smart Hub and the web browser a much easier task, and the selections offered by Netflix and Hulu Plus are just as easy to access as your personal media in the AllShare menu.
Samsung's web browser is fairly standard. Navigating it with the included infrared remote can be a painful process, but the included Smart Touch remote makes mouse navigation a breeze, and the speech-to-text function triggered by pressing that remote's microphone button makes it even breezier. The browser defaults to Bing.com, but users can specify their own home page as well. Click here for more information on Samsung's web browser.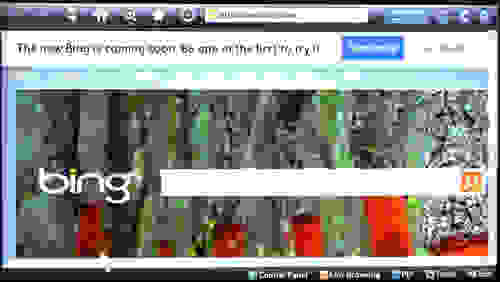 You'll find an awful lot of apps within the Smart Hub: Facebook, Twitter, YouTube, Hulu Plus, Netflix, and VUDU movies, to name just a few. Samsung's also got some interesting unique content, such as the Family Story widget, which allows users with connected Samsung Smart TVs to share photos, videos, and notes. For more information on Samsung's app selection, click here.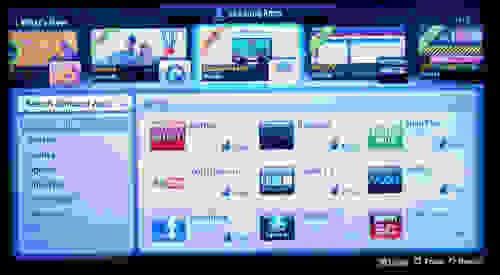 One of the best ways to interact with Samsung's ritzy new smart TVs is through voice and motion gestures. We've found through testing and subjective use that the best way to navigate through broadcast content, basic menus, or the Smart Hub, is by using a combination of voice controls, gesture commands, and the Smart Touch remote. We've even got a couple of brief videos detailing their functionality, so you can decide for yourself:
Samsung's main menu features a very standard array of options: Picture, Sound, Channel, Network, System, and Support.
Picture allows you to make changes to your Picture Mode, cell light, sharpness, brightness, color temperature, etc. Sound works in a similar fashion: users choose a Sound Mode, and can determine overall treble/bass balance, as well as toggling Surround Sound on or off. Channel allows management of analog/digital antenna signals from available channels. Network is what you'll use to set up a wired (ethernet) or wireless (wi-fi) internet connection, and assists you in locating and finalizing your internet connection. System is used to manage things like channel locking, password protection, time/date setting, and running Initial Setup over again--in case you decide you want to take a crack at the Smart Hub en Français. Support will link you directly to Samsung's plasma-specific e-Manual.
Things like customized Picture or Sound options will be automatically saved when changes are made; and they will be saved between modes. This means that changes made to the Standard Picture Mode will not affect the other Picture Modes. Sound Modes work the same way, and most menus that allow for personalization of your TV's performance will have a "Custom" mode, if you'd rather not mess with Samsung's presets. Changes can be reset by menu, meaning if you like your picture setup but don't like your sound output, you can reset your Sound menu individually.
The AllShare menu can be accessed either by pressing the dedicated remote button, or by navigating to it through the Smart Hub. The AllShare menu filters your media content into one place, whether or not it's being accessed through a USB flash device, digital camera, or wireless connected PC or smartphone.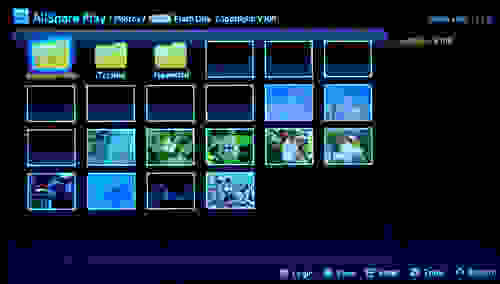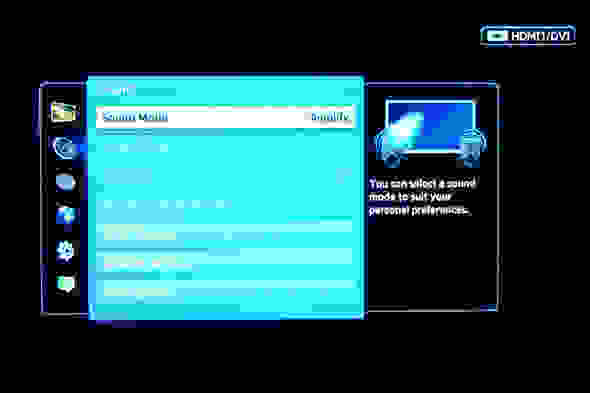 The Samsung PN51E8000 is a welcome entry to Samsung's excellent flagship line-up.
The first thing to note is its excellent color production. Its color temperature, color curves, and color gamut results were very, very good, whether viewed in 2D or 3D. While it didn't have the impressively deep blacks of the plasmas to come before it, its maximum contrast ratio--2775:1--is still above average, and should prove suitable for almost any viewing purpose. Speaking of 3D, we were pleased to see that not only is Samsung's 3D still as good as it was when we tested the ES8000, it's now been implemented in just as immersive a fashion while managing to preserve a modicum of the TV's 2D color/contrast performance. This, dear friends, is a rare occurrence.
The E8000 offers decent menus, ample interfacing options--such as fairly accurate voice and motion commands--and a smart design that straddles innovation (in stand design) and traditional placement of controls and ports. It's got the same quick dual-core processing we saw first featured in the ES8000 series, giving you ample speed to navigate Samsung's content-heavy, intelligently arranged Smart Hub at a whim. Traditional menus, while not much different from 2011's, are easy to navigate and sort through.
We're not sure if the E8000 is more than just a plasma version of the ES8000 (an LCD), but it certainly isn't less. Both TVs are excellent, but where price is concerned, the plasma variant of Samsung's flagship will be more affordable in larger screen sizes than the LCD variant. This is due to the space-taking technology that powers plasma TVs; essentially, it's why they're heavier and thicker, and it's cheaper to manufacture them in larger screen sizes.
The PN51E8000 is an excellent television, with a huge slew of extra features, and just as much solid core performance. It may be expensive, but we feel it's worth the $2199 MSRP.
Each model in the E8000 series shares a number of key components. Expect viewing angle, motion performance, color integrity, contrast ratio, and interface options (voice/gesture commands) to be identical. Likewise, each model will share available input/port selections, menu interface, and Samsung's Smart Hub. They all come with the standard infrared remote, the Smart Touch remote, and an IR blaster.
Meet the tester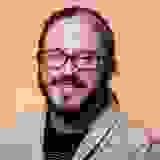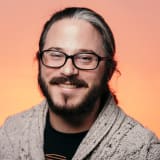 Lee Neikirk
Editor, Home Theater
@Koanshark
Lee has been Reviewed's point person for most television and home theater products since 2012. Lee received Level II certification in TV calibration from the Imaging Science Foundation in 2013. As Editor of the Home Theater vertical, Lee oversees reviews of TVs, monitors, soundbars, and Bluetooth speakers. He also reviews headphones, and has a background in music performance.
Checking our work.
Our team is here for one purpose: to help you buy the best stuff and love what you own. Our writers, editors, and lab technicians obsess over the products we cover to make sure you're confident and satisfied. Have a different opinion about something we recommend? Email us and we'll compare notes.
Shoot us an email