The 60-inch E7000 is a large but flexible TV that comes equipped with 3D technology and internet capability. Its cross-bar stand and thin bezel give it a stylish appearance, to boot. Samsung's E8000 series proved excellency when we reviewed it earlier this year, and we went into our testing of the E7000 with high hopes.
We were extremely impressed with the E7000's screen performance--its viewing angle is huge, and it has great motion. While it tested with worse color accuracy than the E8000, it's still one of the best TVs to hit our labs all year.
The 60-inch E7000 (MSRP $2529) is a plasma television. What this means, for the performance side of things, is that we expect it to test with deeper blacks and smoother motion than the average LCD. This is due to the nature of plasma technology. The "drawback" to this, from a design standpoint, is that traditional plasma TVs are often thicker, heavier, and less flexible than LCDs.
Fortunately, Samsung's design schematic for this year's plasmas allows them to be relatively thin, fairly lightweight, and flexible, staying right in line with the aesthetic ideal we've seen from so many of their LCDs. The E7000 is a handsome TV, and its semi-thin panel swivels easily. It's much lighter than other 60-inch plasma TVs, too.
Considering that all of Samsung's 2012 TVs have followed the same sensible layout for their controls and ports placement, we can conclude rather quickly that the PN60E7000 is on the smarter side of the design spectrum.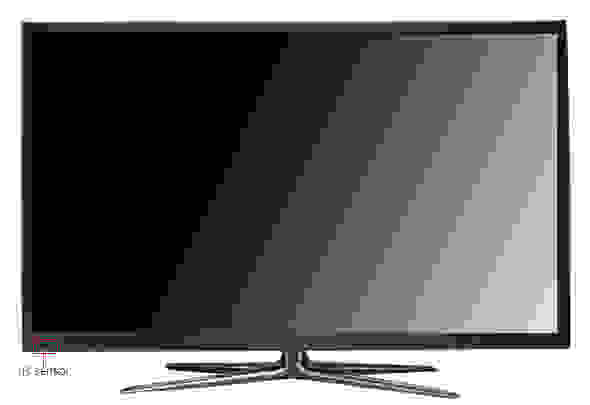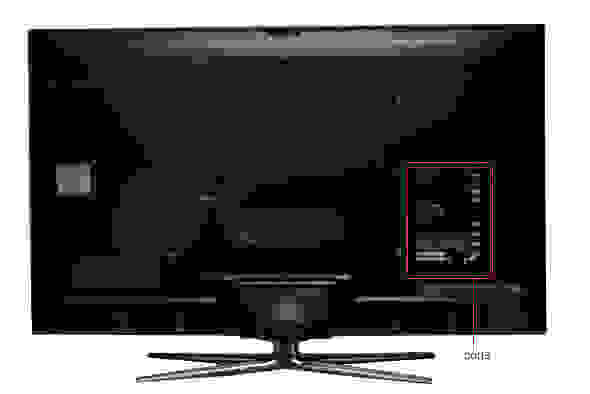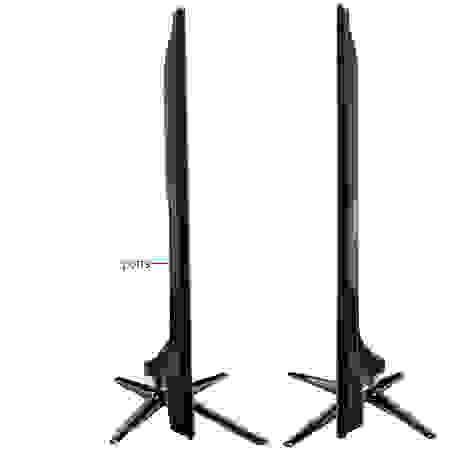 Like the rest of Samsung's 2012 TVs, the E7000's on-set controls are allocated to their signature Jog Stick. The E7000's is located on the left-hand side of the TV, along the bottom of the bezel, below the IR sensor.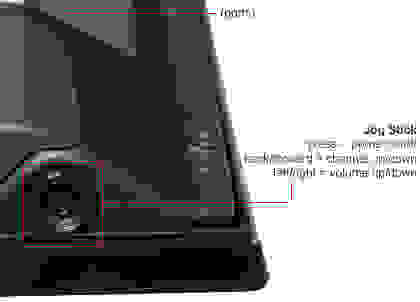 The infrared remote that comes with Samsung's E7000 series is a long, button-laden device that's backlight and has excellent infrared tracking. As long as the TV has received a few direct-signal commands from the remote, you can point it up to 45° away from the TV's infrared sensor and it will still input accurately.
In the box, along with the display panel, you'll find: the stand components, eight screws, the remote control, two AAA batteries, the AC (power) cable, a quick-start guide, a user manual, warranty information, cable ties, and a cleaning cloth.
The E7000's ports and inputs are located around an L-shaped cutout on the back, left-hand side of the TV (or the right-hand side if you're looking from the back).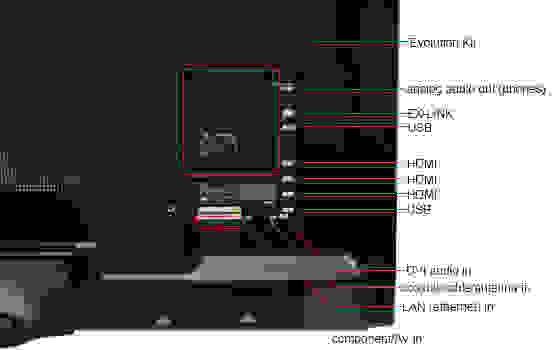 The side ports (those that are horizontally inclined) are the ports you'll need access to the most. HDMI and USB devices tend to be switched out or removed the most often--at least, that was Samsung's thinking during the initial design. Along the side of the port area, you'll find two USB inputs (for an external hard drive, for instance, or a flash drive) and three HDMI inputs. These ports are very easy to access, due to how thin the panel is, and it's easy to swivel the TV to the right to get an easier look at the side ports. At the very top of the side ports is an analog audio input; this is where you'd plug in a pair of headphones if you wanted to personalize the TV's audio output.
The lower portion of the L-shaped cutout features vertically inclined inputs for DVI (PC) audio, a cable jack, an ethernet cable, and a shared component/composite AV input. It's assumed that things like cable jacks and ethernet cables (for internet) won't be switched out very often, which is why these ports are slightly harder to access than the side ports. The shared component/AV input can only support one device at a time, but will automatically detect whether it's a component/composite video signal.
When we tested the E8000 a few months back, we discovered that, on top of being loaded with features, it was also a superb performer in the important areas of contrast and color.
The E7000 is a little less feature-heavy, and is also not quite as good as the more expensive E8000 in the realm of color accuracy. While it's a solid performer all around, its best assets all fall into the category of screen performance--viewing angle, motion, and uniformity.
Outside of the line-up of Samsung TVs, the E7000 would receive heaps of praise from us for everything it does so well. Within Samsung's line-up, however, it's not the gold medal performer that we were expecting.
Out of the three other plasmas we compared it to, the Samsung PN60E7000 had the second largest contrast ratio. Its deep black of 0.05 cd/m2 is a good result, and it also tested to be the brightest out of all four plasmas. A contrast ratio just shy of 3000:1 is a very good result, no matter which way you slice it. More on how we test contrast.
The PN60E7000's color curves were a little dodgy. The chart below illustrates the slope of red, green, blue, and gray colors/shades across the light input spectrum. Ideally, they would start out low, slope up gradually and evenly, and all peak at the same place in the top corner. As you can see, that's not what happened. Right around 50% input, the curves start to get choppy, meaning they're getting lighter, then darker, then lighter, rather than just continuously, gradually growing lighter.
The take-away here is that, despite their choppiness, they all manage to be "choppy" in the same way and to peak in the same place. This isn't a bad result at all, and for the most part won't be easily visible during content. More on how we test color performance.
The graph below illustrates the E7000's ability to maintain a neutral color temperature across its light input spectrum. As you can see, the orange stalagmite-looking points are deviations from neutral, which we'll call 0 for the sake of clarity. Any points that jump beyond the gray rectangle--which denotes perceptibility--will be slightly visible during content. Fortunately, most of the deviations are only a little beyond the perceptibility limit, save for the last 25% of the input spectrum, which grows considerably more visible. This isn't a perfect result, but it isn't terrible either, and shouldn't be too apparent while you're watching. More on how we test color temperature.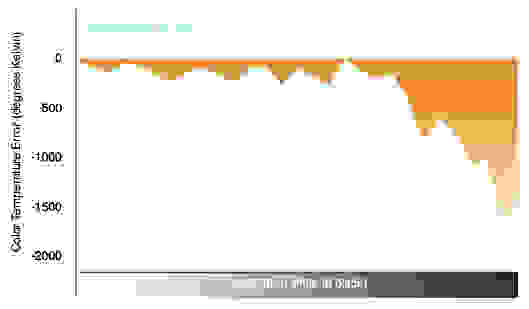 The E7000 tested with a very good color gamut, the most important aspect of its color integrity. The chart below compares the E7000's gamut to the rec. 709 standard gamut for HDTV color. As you can see, the E7000's gamut is just about perfect, with mild undersaturation pulling some of the points a little too far from center. Overall, however, this is a very good result. More on how we test color temperature.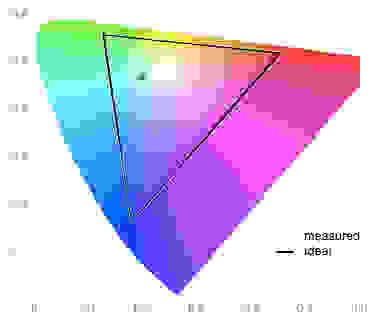 For plasma televisions, we expect to see a leveling of blacks/whites depending on which holds the lion's share of the screen. The nitty gritty is that when there's more white, it's dimmer, and when there's less white, it's brighter. For black levels, we want to see consistent brightness (or lack thereof) no matter how much is on screen.
With that in mind, the E7000 tested with very good picture dynamics. Its brightness during a 100% white screen was 45.15 cd/m2 , but jumped up to 135.90 cd/m2 during a 5% white screen. Between a 90% and a 5% black screen, its black level only varied by 0.02cd/m2 at any given time, which is a solid result. More on how we test picture dynamics.
The Samsung PN60E7000 is a 3D, smart, plasma HDTV. It is a 1080p resolution television, and supports all NTSC formats.
Lately, we've been purposefully putting our 2012 plasmas up against the Insignia NS-42P650A11 because of its insanely good viewing angle. It's kind of a Bar Exam for plasma TVs, in that sense.
Well, in short, the E7000 passed. While the LG and Panasonic below both have very good viewing angles in their own right, the E7000 tested with a total viewing angle of 178°, a result just shy of perfect. 89° from center on either side means you, your mom, your dad, your siblings, your significant other, and the neighbors across the street can watch from a huge variety of positions with no loss in contrast performance.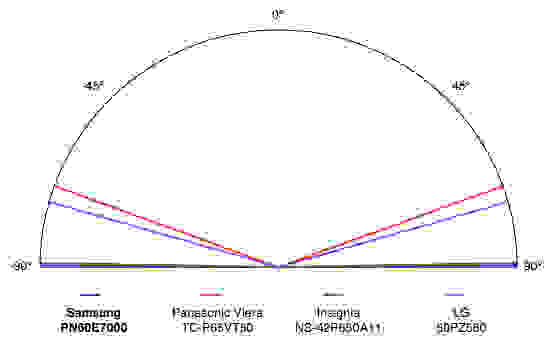 The PN60E7000 tested with some of the best motion we've seen since its big brother hit the labs a few months ago. Moving pictures depicting face details, hatched brickwork, lattice, and shafts of sunlight were completely blur free without motion assistance. A more complex montage of banded, monochrome pixels maintained its crispness throughout a full range of motion, and eschewed those pesky artifacts we almost always see. A brilliant result.
The PN60E7000 tested with very good screen uniformity. We test screen uniformity by subjectively viewing 100% white/100% black screens on our lab-bound TVs; it's usually fairly easy to notice blemishes or light bleed-through when it occurs. The E7000's sleek design schematic prevented it from being marred by the usual "bezel shadow" that often conspires to disrupt the perimeter of the screen during an all-white display. Further, despite its effective use of auto-dimming during an all-black screen, canceling this feature (by hitting the "mute" button) showed us that, even without the plasma cells blacking out, the E7000's all-black uniformity is still superb.
Samsung's 2012 TVs are all equipped with two 10-watt speakers; the E7000 is no different. Like most HDTVs, the speakers are located along the underside of the TV's screen, and channel their sound output downward. This results in audio quality that is completely average. Sure, it's listenable, but it won't impress you, and would probably end up buried beneath the din of noise created by five or six people having a discussion.
The PN60E7000 also features a surround sound mode and a sound equalizer. The equalizer allows you to adjust speaker balance, treble, bass, and various specific hertz settings. It's useful, though adjusting it doesn't do much to make the speakers sound better or louder. The surround mode is entirely useless, unfortunately, and doesn't seem to make much--if any--notable difference in the TV's audio output.
This is the kind of audio that most folks wouldn't have a problem with, but by objective standards can be considered sub-par.
The E7000 is a plasma television, and thus, does not have a backlight. Rather than just testing it once, we tested two different video modes: Movie, using our calibrated settings; and Standard, using Samsung's factory presets. While both modes are fairly pricy, Standard mode (which has a dimmer cell light) is the less expensive of the two. Overall, watching this TV 4-6 hours a day, for one year, is going to add approximately $35-$50 to your electricity bill. That's a little expensive, but isn't terrible for a 60-inch plasma.
The PN60E7000 proved very easy to calibrate. Samsung's presets in Movie mode were very well optimized to achieve the highest color integrity and contrast performance already; our only adjustment was to turn the TV's Sharpness setting down to 0. You can see Samsung's settings, alongside our final calibration, in the table below.
All of our calibration is done in conjunction with the DisplayMate software.
The PN60E7000 has four Video Modes: Dynamic, Standard, Relax, and Movie.
So far, our experience with Samsung's 2012 TVs have shown us a consistent quality of 3D imagery unlike any year before it. That's not to say it's perfect--for example, the default depth of field is a little on the "shallow" side when compared to IMAX 3D, with one advantage being that this eliminates most crosstalk. On the whole, 3D looks good almost all of the time, and is a positive addition to the E7000.
Our one complaint would have to be the included glasses. While it's a nice touch to get two free pairs, we wish Samsung had followed the design schematic for the LCD variant of their 3D glasses. The included glasses are more square, and very flat, leaving little room for spectacles.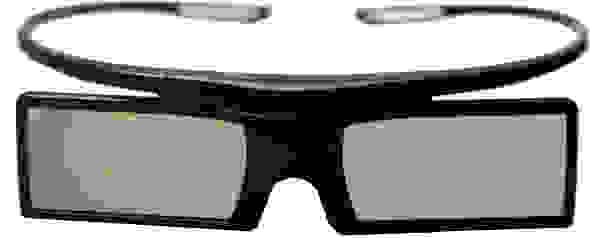 Samsung's 3D equipment comes with a lot of options, probably with the intention of fulfilling user preferences. The glasses come disassembled, but are easy to snap together. Samsung's 3D menu (pictured below) allows the user to adjust the depth of their 3D, adding either more or less depending on the extremity they desire, and perhaps upon the nature of the content at hand. Overall, the E7000's 3D all looks very solid, and the battery life on the glasses is generous.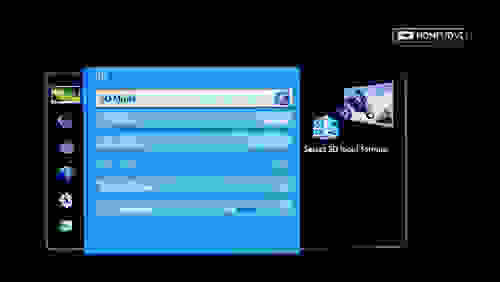 Speaking of the glasses, we mentioned earlier that they're a little uncomfortable. They're certainly lightweight and unobtrusive enough; the discomfort really comes from long-term use. Despite how light they are, the harder plastic edges can cause a residual discomfort over time, as they aren't very well padded. While they're quite a bit more stylish-looking than Panasonic's glasses, they aren't quite perfect.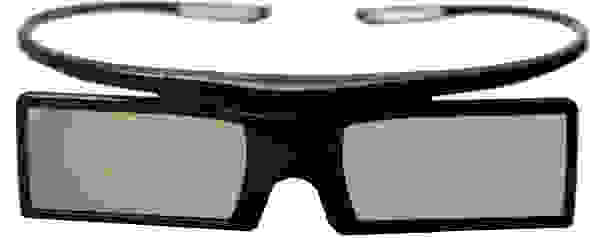 As you can see from the chart below, Samsung's 3D technology really does a number on the E7000's contrast ratio. Bumping the black level up from 0.05 cd/m2 to 0.06 cd/m2 makes a big difference, especially when the brightness has been cut by about 70%.

This color temperature result is decent, and we were expecting it to be a lot worse. The only temperature deviation that's visible to the human eye is the orange area that passes over the perceptibility threshold (more than -200° from neutral). Fortunately, this deviation only happens within the last 20%-30% of the light input spectrum, on the dark side. Not a perfect score, but nothing that'll be too distracting while you're watching 3D.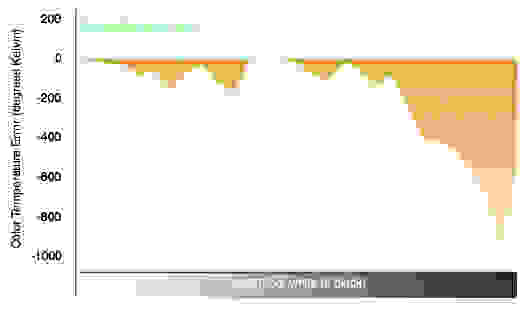 The sRGB curves below started out with a fairly uniform, smooth ramp, but towards the last 50% of the light input spectrum they start to get very choppy and bumpy. What this means is that they're getting lighter, then darker, then lighter, etc., rather than getting consistently lighter. The bumps aren't too extreme, and you likely wouldn't notice this during content, but we've seen much better 3D RGB curves this year.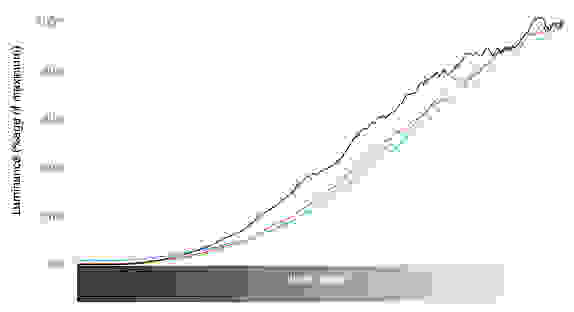 The E7000's 2D color gamut was very accurate; as we expected, its 3D gamut didn't quite cut the mustard. While the green and red points are spot-on (impressive in its own right), the blue point is considerably oversaturated, likely due to the lightening that occurs when a TV is in 3D mode.
If there's one thing Samsung does with consistent excellence, it's bringing their TVs to life with user-friendly menus, easily accessible content, and very well explained set-up procedures. We're very fond of Samsung's software. Each click of the remote to adjust volume or jump to a heading in a menu is heralded by a soft 'ping;' the TVs have more sound effects than some early Nintendo games, and we think it's pretty cool. The menus themselves are very well organized, and should be a breeze to figure out no matter your HDTV experience level.
Perhaps the penultimate example of this approach is found in Samsung's Smart Hub (video below), which is easily one of the best smart platforms available out of all the TVs on the market right now. We're not particularly fond of internet-enabled or app-heavy TVs, as a rule, but we feel the Smart Hub could make a believer out of anyone. It's got a huge supplement of apps, widgets, and access to streaming content without being heavy handed or overly complex.
Samsung's web browser has some advantages over other HDTV browsers. The E7000 comes equipped with a dual-processor, so it can load things like web sites, YouTube videos, and flash games a good deal quicker than the competition. Unfortunately, that's about the only advantage it has. Navigating a web site using the standard infrared remote's navigational buttons is a slow, painful experience. Don't even get us started on the hair-pulling frustration that comes about from trying to type using the on-screen keyboard.
To learn more about Samsung's web browser, and all of their internet capabilities, click here.
Samsung's apps store, called the (...wait for it!) Samsung app store, offers the user a pretty decent variety of games, tools, and content updates. While it's got nothing on Apple, there's more to be found in the app store than there was a few months ago, so that's a start. Most of the content is free, and a large amount of it is of the 3D bent; our hat's off to Samsung for giving users a way to get more out of their 3D-enabled TV.
To browse more info on Samsung's apps, and all the other wacky widgets, click here.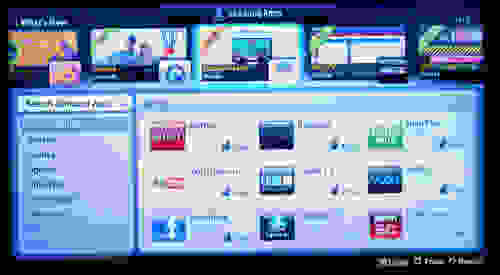 We really like the E7000's mildly opaque, azure-hued menus, and can't think of many ways they could be improved upon. The menu is broken into Picture, Sound, Channel, Network, System, and Support sub-menus.
Most of these sub-menus are fairly self-explanatory, and navigating through them using the navigational arrows on the included remote is very easy. Management of your picture settings, sound settings, available cable/satellite channels, network (internet) options, and TV system settings are all allocated to a handful of tabs in each sub-menu.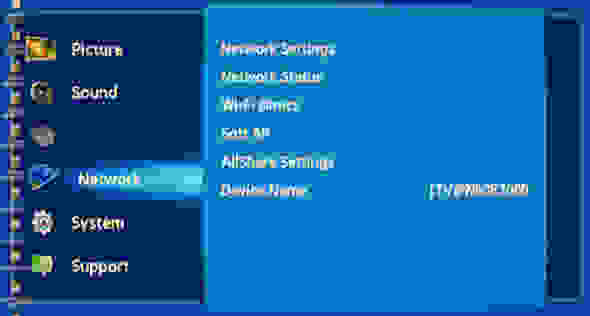 The Support menu (pictured below) is a sub-menu built into the E7000's software that's meant to take the place of a traditional paper instruction manual. It provides answers to common questions, and explains the TV's various functions. The E7000 comes with a paper manual, too, but we feel the Support menu is very well implemented.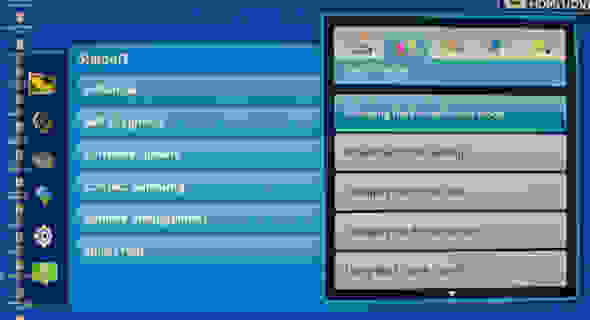 The E7000 is a great TV because of its versatility. It's a plasma, giving you deep blacks and smooth motion, but without being bulky and cumbersome. It swivels, and is easy to interface with and use. While its color accuracy wasn't as good as we were expecting it to be, we had very high expectations, and it's still miles ahead of a lot of plasma TVs on the market right now.
The PN60E7000 (MSRP $2529) is a touch expensive, but it's large enough to serve as a decent home theater hub. We feel that video game fans should keep an eye on this one: it's got very good, blur-free motion, and its Game Mode function all but eliminates input lag. Between the 3D immersion, Samsung's excellent Smart Hub, and this TV's solid performance and interface usability, we'd call it a smart investment.
Meet the tester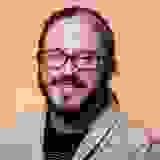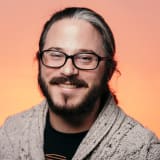 Lee Neikirk
Editor
@Koanshark
Lee has been Reviewed's point person for most television and home theater products since 2012. Lee received Level II certification in TV calibration from the Imaging Science Foundation in 2013. As Editor of the Home Theater vertical, Lee oversees reviews of TVs, monitors, soundbars, and Bluetooth speakers. He also reviews headphones, and has a background in music performance.
Checking our work.
We use standardized and scientific testing methods to scrutinize every product and provide you with objectively accurate results. If you've found different results in your own research, email us and we'll compare notes. If it looks substantial, we'll gladly re-test a product to try and reproduce these results. After all, peer reviews are a critical part of any scientific process.
Shoot us an email