According to Samsung's own website, this 1080p beast really does sell for under a grand. And according to our tests, it's a bonafide winner. Sure, you get less HDMI ports and no internet features, but if that flies with you, the F5300 is a delicious treat for hungry TV enthusiasts. Aside from some color issues, there isn't much to dislike about this plasma.
Even with an interesting stand, this plasma is a Plain Jane.
Samsung isn't reinventing the wheel—or redesigning the TV—with the F5300. A rectangle with medium-sized bezels sits atop the company's unique cross-shaped stand, which is the only interesting feature of this tele's design. Since it's a lower-tier plasma, it doesn't have a super-thin profile either.
On the connectivity side, things look just as blasé: only two HDMI inputs, a USB port for media, a digital audio output, and a component input. How am I supposed to keep my stash of video game consoles hooked up with two measly HDMI ports and a lone component input? I'll have to go buy an HDMI splitter—at least they're cheap!
The no-frills parade continues with the bundled remote, which is standard Samsung fare. You won't be getting the company's fancy Smart Touch Remote, but since the F5300 doesn't offer internet features, you don't need it. And if you happen to misplace your remote—a perfectly logical excuse to have a panic attack—then you can always reach behind the F5300 to use the fabled jogstick. This thingamajiggy, which resembles a joystick that a mouse would use, allows you to access the TV's menu, volume, channel controls, and power.
Samsung's unique cross-shaped stand is this TV's only interesting design feature.
Simplicity is the name of the F5300's game, but keep in mind that this lower-end model retails for way less than Samsung's design heavy-hitters like the beautiful F8000 and ruggedly-handsome F8500. You get what you pay for, and for most of us, that's quite alright.
No smart features, but same great interface
It's no exaggeration to say that I love the menu interface on the F5300. Samsung uses the same layout featured on its high-end models, which is simply elegant. Or elegantly simple. Maybe both.
All of the typical picture adjustment options are here, including Contrast, Brightness, Color, and Cell Light—the plasma equivalent of Backlight. For the hardcore TV enthusiasts, Samsung delivers an impressive amount of advanced options, too, like numerous white balance adjustment settings and the ability to fine-tune red, green, and blue.
Samsung's Black Optimizer is worth utilizing
Other picture options include the Digital Clean View and MPEG Noise Filter settings, which don't appear to do much. Samsung's Black Optimizer is worth utilizing, though, for a slightly richer black level.
Audio options are above-average, including multiple sound modes, an equalizer, a surround-mimicking feature, and a dialog-enhancing mode. Putting the TV on Movie mode gives it a fuller sound, and doesn't require additional tweaking. Then again, if audio is your thing, it's always wise to invest in external speakers and skip a TV's sound menu altogether.
Color issues mar an otherwise terrific picture.
For $949.99, you can do a lot worse than the F5300's picture quality. If you want flawless image quality on a screen this big, you'll need to pay exponentially more.
The F5300 is capable of surprisingly bright white levels—something plasma televisions struggle with.
For contrast junkies, Samsung's lower-end plasma offers some excitement. It has above-average black levels, which give content a more realistic appearance, but that's not what astounds me. The F5300 is capable of surprisingly bright white levels—something plasma televisions struggle with. Typically, you wouldn't want a plasma display in a sunny living room. With the F5300, though, feel free to let a little sunshine in—this TV is bright enough to handle it.
Color is where Samsung's plasma runs into a bit of trouble. HDTVs are supposed to produce a certain range of colors, and the F5300 does this wonderfully. But what it doesn't do wonderfully is transition from one hue to the next. For example, your local weatherman's light red sweater won't look quite right.
Another color defect potential buyers may notice is flawed color temperature. Whites and grays have a somewhat orange tint, meaning the overall picture looks warmer than normal. This is nothing too deal-breaking, but it's far from picture perfection.
The overall picture looks warmer than normal.
At least the F5300 makes up for this color mistake with excellent motion performance and a wide viewing angle—two staples of plasma technology. Extreme camera panning does not produce any noticeable image distortion, and off-angle viewing affords the same contrast-rich picture as head-on gazing.
Even with color imperfections, this plasma is still a bargain.
The Samsung PN60F5300 will never compete with picture perfection like Panasonic's ZT60, but it doesn't have to. With a bafflingly low MSRP of $949.99, this plasma offers a respectable picture that won't leave you feeling swindled.
This Samsung does have direct competition with some other plasmas on the market, namely the Panasonic Viera TC-P60S60. Both currently retail for around the same price, and have comparable test results. The main reason to purchase one over the other? Samsung's F5300 gets much brighter, while Panasonic's S60 gets darker and offers some internet features. If you have a sun-filled living room and need a big-screen TV, Samsung's plasma is the clear winner.
Samsung's F5300 does a lot right. We tested this budget plasma extensively and walked away impressed with its wide viewing angle, exceptionally bright whites, and satisfyingly deep blacks. Even motion performance is strong on this display. Unfortunately, we noticed some color issues—specifically, the F5300's color temperature runs warm and discolors whites with an orange tint.
Even with a perfect color gamut, the F5300 is flawed.
Imagine our delight when we saw the F5300's near-perfect color gamut. The international standard for HDTV color—known as ITU-BT709 or Rec. 709—is accurately represented on this plasma, meaning that the peak values for red, green, and blue are spot-on. Its white point is slightly off, though, and skews towards orange.
And that brings us to the F5300's first major flaw: a too-warm color temperature. We noticed that the white point is slightly discolored, and that also holds true for this TV's grayscale. A warmer color temperature is noticeable throughout the entirety of this Samsung's whites and grays. To be honest, you probably won't notice it because—while flawed—it is consistent.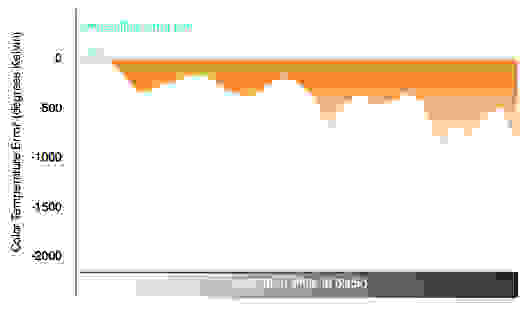 The biggest drawback on the F5300 is its ability to transition from one color hue to the next. Uneven curves like the ones produced by this display indicate inaccurate transitional colors. I noted that its peak colors are perfect, but other colors—lighter shades—are faulty. If a movie has a scene with blue water, the TV might interpret the color differently and show another shade. Worse, there is some occasional color banding—when different shades of the same color show an unnatural gradation. Not ideal, but not the end of the world, either.
Bright enough for Sunday afternoon football
Plasma televisions are renowned for their ability to display rich black levels—a characteristic that adds a touch of realness to the viewing experience. I'm happy to say that the F5300 lives up to that reputation. This tele produces a black level of 0.023 cd/m2 —an excellent result, if not exactly mind-blowing.

The F5300's peak brightness actually is mind-blowing—for a plasma TV, at least. I measured a 20% average picture level (APL) peak white of 154.9 cd/m2 , which blows away the competition. In other words, when the F5300's screen is 20% white and 80% black, it gets quite bright.
Don't think Samsung's budget plasma can fully compete with the blazing white levels produced by LED displays, though. The more white displayed on a plasma screen, the less bright it becomes. Sure, the F5300 produced a big light reading on a 20% white screen, but how about on a 100% white screen? Just a disappointing 42.32 cd/m2 . The moral of the story? This TV is great in the daylight, but don't watch hockey on it.
Watch this TV from anywhere in the room
The viewing angle on the F5300 is limitless: No matter where I sat or stood, the image produced was acceptable.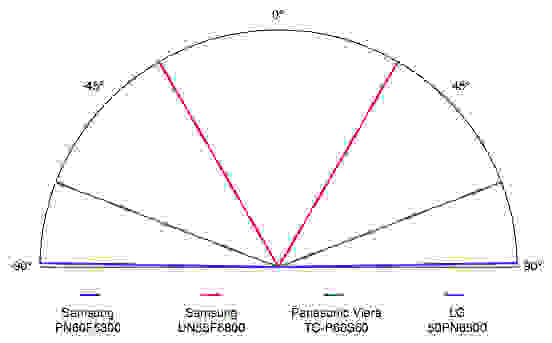 We test a TV's viewing angle by comparing its contrast ratio at different points along an arc to the display's original, head-on contrast. The F5300 never dipped below 50% of its original contrast ratio, which is an outstanding result. Samsung's budget plasma scored even better than most plasmas we review—no small feat since plasma TVs in general have outstanding viewing angles.
Meet the tester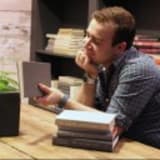 Josh Fields
Staff Writer
@reviewedtech
An enthusiast of all things tech, Josh is one of Reviewed.com's resident television experts. When he's not looking at bright TV screens in a dark room, he's probably reviewing a laptop or finding a new snack at 7-11.
Checking our work.
Our team is here for one purpose: to help you buy the best stuff and love what you own. Our writers, editors, and lab technicians obsess over the products we cover to make sure you're confident and satisfied. Have a different opinion about something we recommend? Email us and we'll compare notes.
Shoot us an email