Pros
Superb brightness and color (high-dynamic range)

4K resolution and 120 Hz refresh rates

Sturdy, minimalist stand
Cons
Less-than-great horizontal viewing angles
The Q7F is the most affordable of Samsung's QLED TV line, which includes the Q7, Q8, and Q9 series. However, as you might guess from the first paragraph, that doesn't mean the Q7 is cheap. It's only available in a few screen sizes, and they start at (gasp—wait for it) almost $3,000.(available at Amazon)
However, the Q7F series justifies its price tag in oodles of ways. This is one of the best-looking LED TVs we've ever seen, promising more brightness (light output) and color than almost any TV to come before it. It's also beautifully crafted—from the stand, to the remote, to the way you connect source devices to it. Snazzy! But while you're most certainly getting cutting-edge performance here, the Q7F also has some competition that interested buyers should be aware of.
Samsung's Q7F QLED TV series is available in three screen sizes:
• 55-inch (Samsung QN55Q7F), $2,799 MSRP
• 65-inch (Samsung QN65Q7F), $3,599 MSRP
• 75-inch (Samsung QN75Q7F), $5,999 MSRP
The Q7F series is pretty expensive, though it's still the most affordable of the QLED TVs. We received the 65-inch Q7F on loan from Samsung, and gave it about 24 hours of warm up time prior to evaluation and review.
Other than screen size, the Q7F TVs are identical. Here are their key specs:
• Resolution: 4K/UHD (3,840 x 2,160)
• Color space: DCI-P3
• HDR compatibility: HDR10
• Tizen-based Smart Hub
• Edge LED lighting
• Quantum dot enhanced color and brightness
• One Remote / One Connect box
When's the last time you found yourself rubberneckin' a TV that wasn't even on?
For the last few years, Samsung has had a clear design mantra: TVs should look good from "every angle." And the Q7F delivers. From its hyper-minimalist stand and silvery bezels to the textured, high-quality plastic on the rear chassis, the Q7F looks good.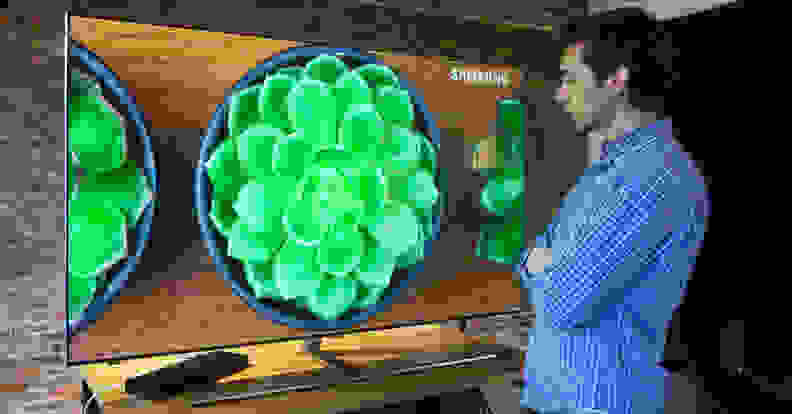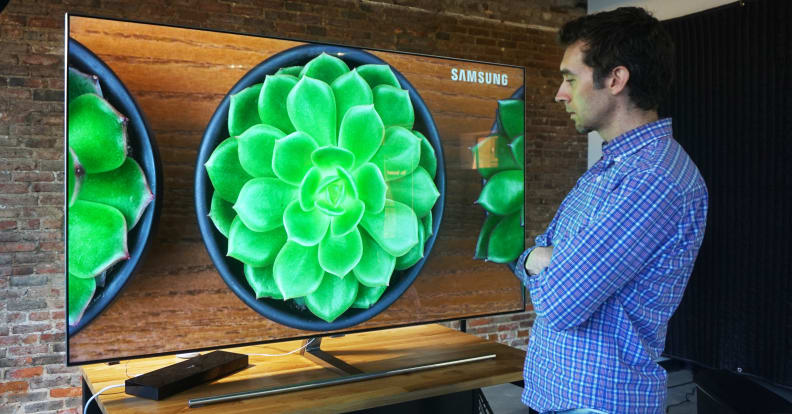 Samsung again is using the "One Connect" box, an outer mainboard that connects to the TV via a single simple cable. The cable is so thin that it is spooled about a rubber disc that affixes to a hidden compartment in the back of the TV. Actually, it's easier to just show you.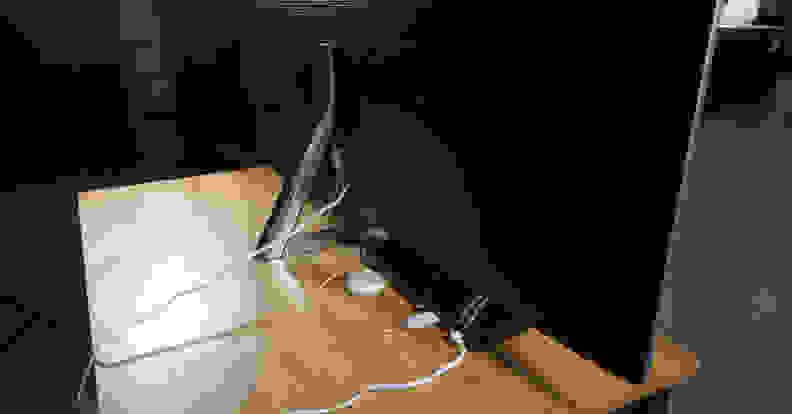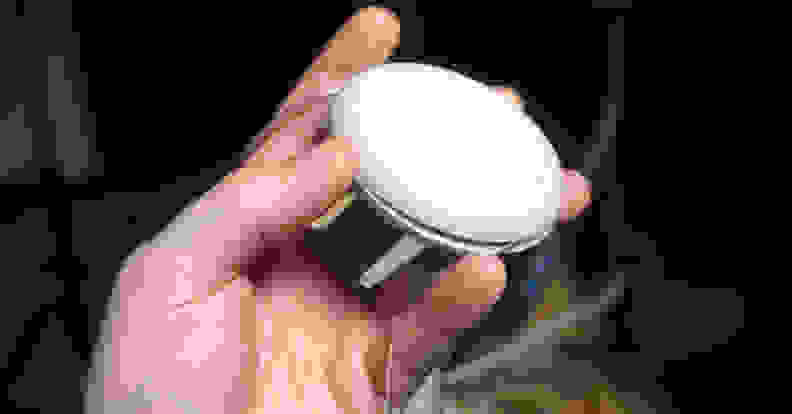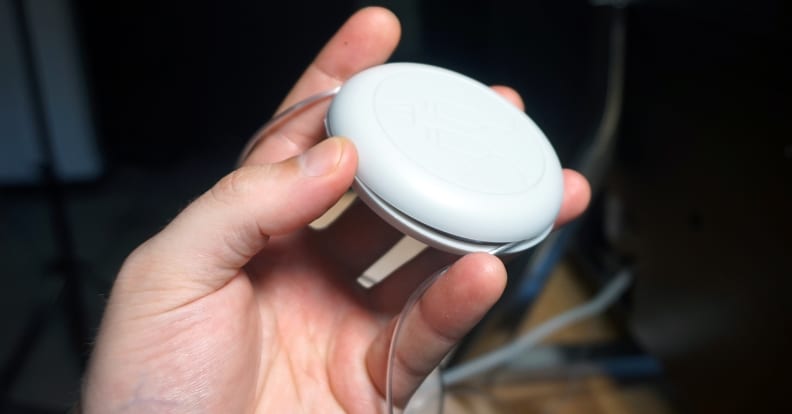 Finally, you'll also get the Samsung "One Remote." The Q7F's remote is a sleek, silver, minimalist remote that features voice search, a compact/streamlined button design, and—most impressively—the ability to identify and control a huge array of HDMI input devices via CEC.
We plugged our 2016 Samsung UHD Blu-ray player in, and not only did the Q7F identify it very quickly, but I was able to fully control the player using the Samsung One Remote. Pretty cool!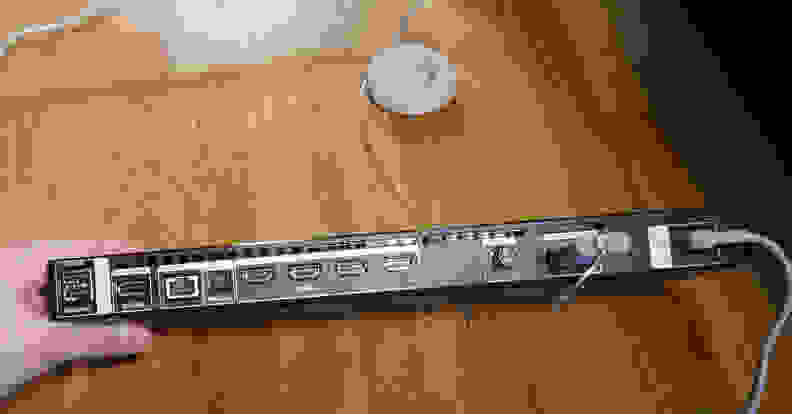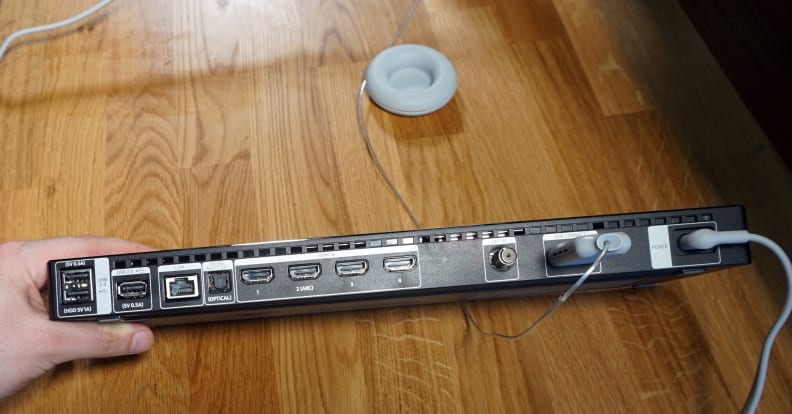 The picture quality here is incredible
At $3,600, the Samsung S7F better deliver. And boy does it: our 65-inch sample unit exhibited polish on every front. It's beautifully designed and utilizes some awesome new features and menu systems. But that's not why the Q7F deserves the spotlight—it's because it basically is a spotlight.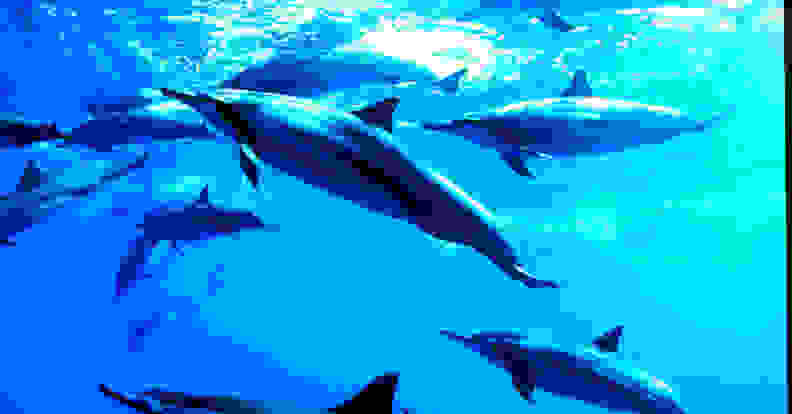 Yes, the Q7F's biggest foot forward is its sheer, blinding brightness. During CES, Samsung's claims about performance made it sound like the QLED line would include the brightest and most colorful LED TVs ever. From what I've seen during testing, it's a very believable claim.
The Q7F didn't quite hit the brightness specs Samsung claimed during CES (1,500-2,000 nits), though those may have been describing the flagship Q9 series. However, I did measure over 1,300 nits of brightness during HDR content, which makes the Q7F one of the brightest TVs ever made. (For reference, TVs from 3-4 years ago were lucky to hit 300 nits peak brightness).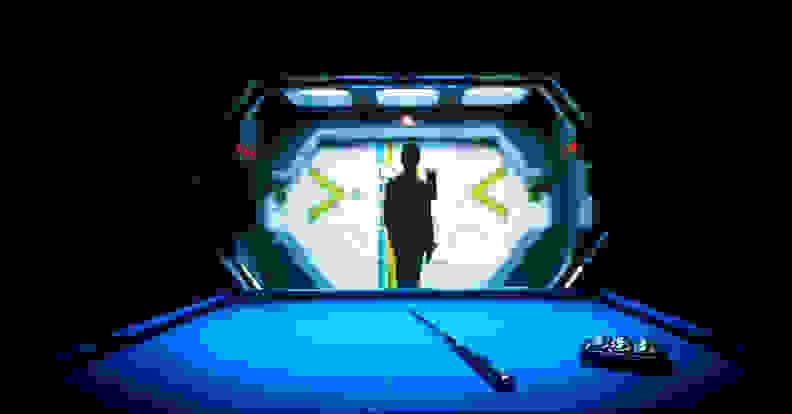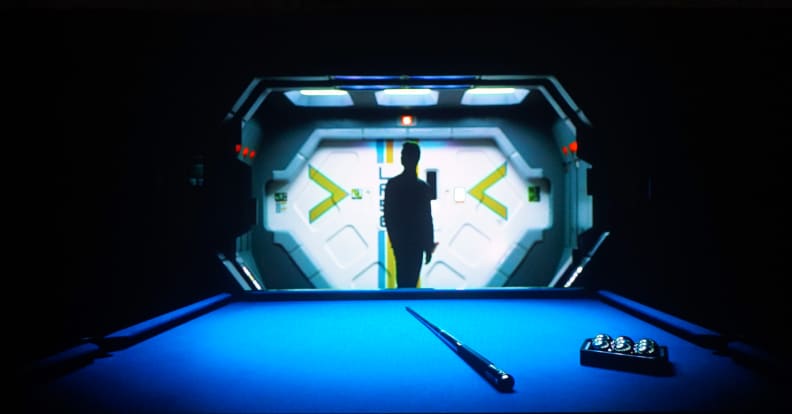 Likewise, the Q7F is extremely colorful. Naturally, it's capable of the full range of color expected of standard TVs, but it's also capable of almost covering 100% of the new DCI-P3 color space, which is the current target for most HDR content. More simply, that makes the Q7F—despite being the "cheapest" QLED series—one of the more colorful TVs we've ever tested.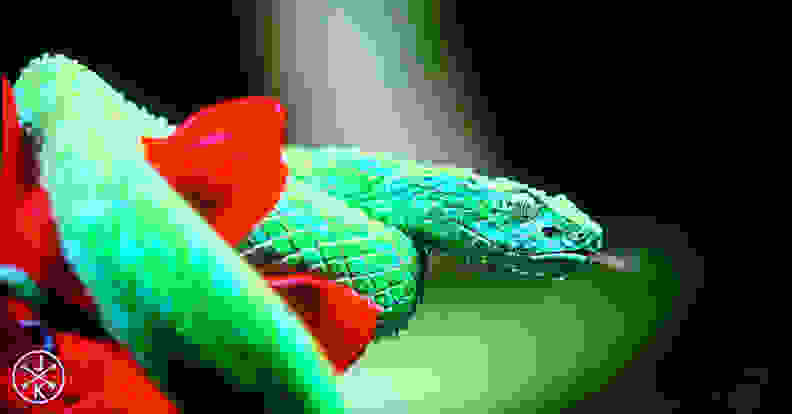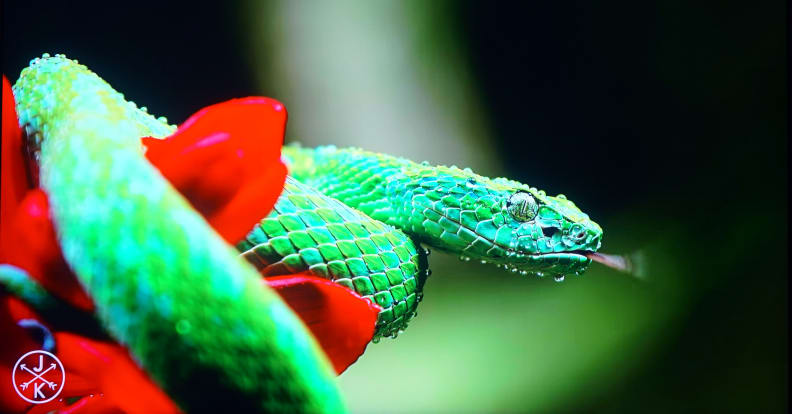 This is the main reason the Q7F series is so expensive. All of its light-delivery power makes it an excellent HDR (High Dynamic Range) TV, but it looks good playing essentially anything. The crisp 4K resolution, accurate/wide color, and motion performance make basically anything and everything look good. Sub-4K content is upscaled reliably, the the new Auto Motion Plus "Auto" setting—which adjusts de-blur and de-judder automatically depending on content—is the best I've seen from Samsung in years.
But incredible as it may be, it isn't entirely flawless
While the Q7F delivers a long list of desirable performance features, it still suffers some hurdles based on the LCD panel type and LED edge-lighting used to light it. For example, while Samsung claims better viewing angles for its QLED lineup, they're still not as good as an OLED TV.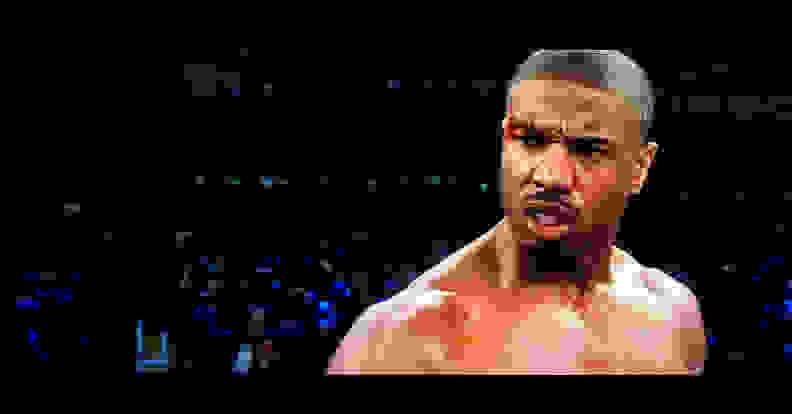 I measured a total viewing angle of just under 30°, which—while a standard result for an edge-lit TV with a VA panel—is still limited. While the TV's excessive brightness makes the drop in contrast less apparent to the viewer, you'll still see LEDs shining through shadows at about 30° or more off angle.
This is one price you pay for a stlyishly thin TV. It doesn't have the space for a full array of LED lights behind the screen. In fact, while the flagship Q9 has edge lighting along the entire perimeter, the Q7F only has lighting on two sides of the panel. That said, it does have much better shadow uniformity than the edge-lit LEDs of years past.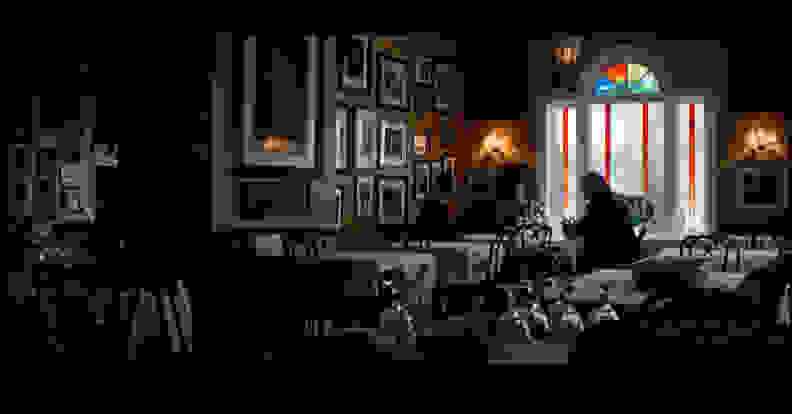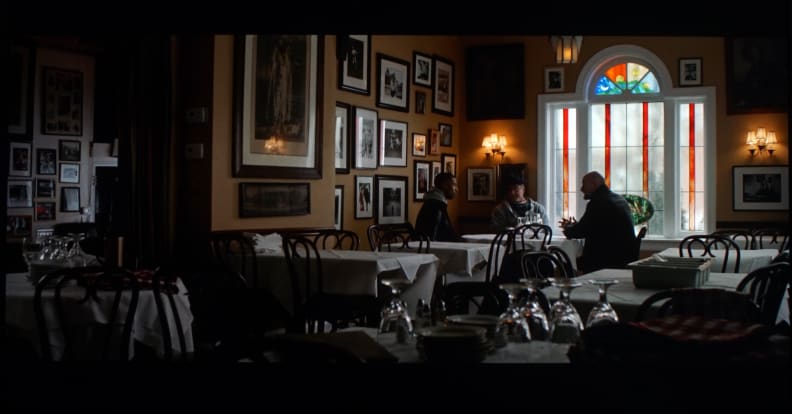 Another drawback of the thin panel construction is in audio quality. While you're paying for the picture, it is something buyers should be aware of. Most TVs simply don't have the space inside for big/high-quality speakers, and that's the case with the Q7F.
You'll love some of these features, but they aren't huge selling points
Outside of its sleek design and jaw-dropping brightness, the Q7F's main claims to fame are some neat features revolving around the "One Remote" and "One Connect" boxes. But first, a bit about durability.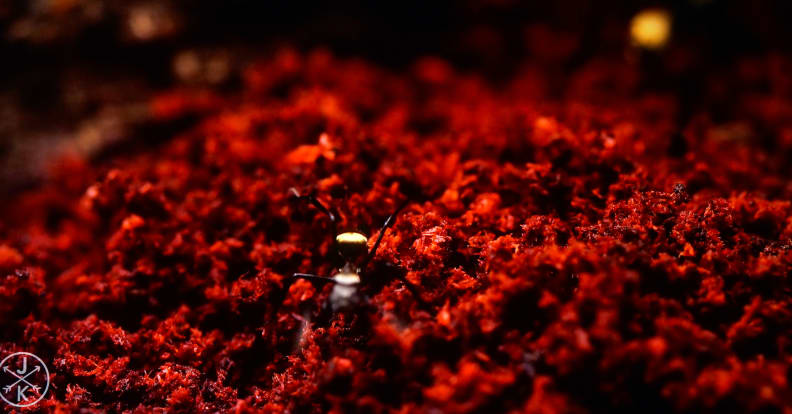 Samsung's design for the new "One Connect" is not too different from past years, but what is really different is the connection cable. It's a super thin connector that spools out from around a rubber looping mechanism. You can affix the mechanism to the back of the TV, which allows any excess cable length to be hidden away behind a removable panel.
It's a cool system, but I'm a bit worried about the durability of this very thin connection cable. While it should be fine with careful handling, repeated yanking/pulling may mean it wears out faster than traditional cables.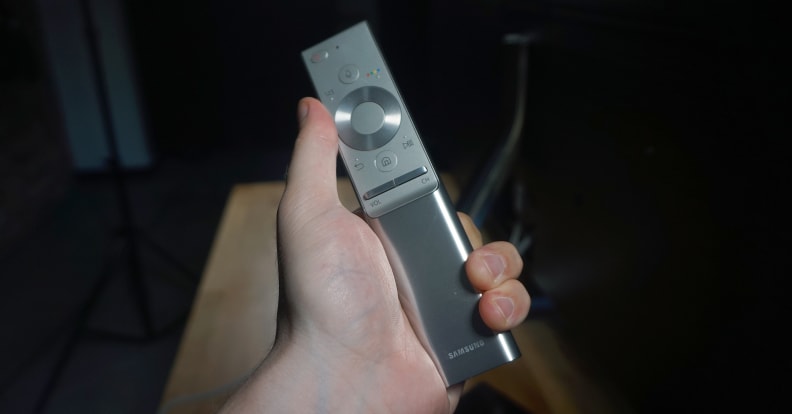 However, the rest of the Q7F's features are welcome ones. The One Remote synergizes well with the smart platform, navigating through apps and menu systems quickly and reliably. The voice search is a nice alternative to typing, though it's not as well-developed as in some systems.
The coolest feature by far is the "HDR+" picture mode option, which uses an algorithm to give non-HDR content an HDR-like appearance. While it lacks the subtlety and mastering of actual HDR content, it is a great way to take advantage of the Q7F's massive brightness and color ranges until more HDR content becomes available.
Yes—if you want a truly premium HDR experience, and don't mind paying for it.
The Q7F is an extremely impressive TV, and easily one of the best HDR series to come along so far. But that functionality comes at a price. The 55-inch will set you back about $2,600, while right now our 65-inch test model demands another $1,000 on top of that. That said, those prices are in line with the market for everything you're getting. The Q7F exhibits high quality in every aspect, from its design, to its features, and especially in terms of picture quality.
If this is your price range, you might also consider the LG C7 OLED series. The 65-inch is about $500 more than the Q7F, but for that price you also get excellent picture quality and Dolby Vision compatibility on top of standard HDR performance. OLEDs are a better choice for darker rooms, generally, where you can really dig into their hyper-deep black levels—though if I had to pick between a QLED and an OLED, after this review I'm not sure. The Q7F is about the same price as LG's B6 OLED from 2016, and this Samsung may actually be the better choice.
Finally, if you're looking for a great bright room TV but want to save some money, we'd have to recommend one of last year's Samsung models, the 65-inch KS9500. You can get it for around $2,500 (about $1,000 less than the Q7F), and it's almost as bright and colorful, with a similar focus on design and sleek features. It won't deliver quite the advances that the Q7F will, but it's a great way to save a grand.
Meet the tester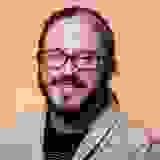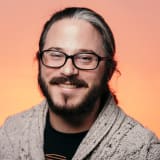 Lee Neikirk
Editor, Home Theater
@Koanshark
Lee has been Reviewed's point person for most television and home theater products since 2012. Lee received Level II certification in TV calibration from the Imaging Science Foundation in 2013. As Editor of the Home Theater vertical, Lee oversees reviews of TVs, monitors, soundbars, and Bluetooth speakers. He also reviews headphones, and has a background in music performance.
Checking our work.
Our team is here for one purpose: to help you buy the best stuff and love what you own. Our writers, editors, and lab technicians obsess over the products we cover to make sure you're confident and satisfied. Have a different opinion about something we recommend? Email us and we'll compare notes.
Shoot us an email