The Samsung RU7100 (available at Amazon) is such a TV—it's just not without its foibles. As one of Samsung's affordable TV offerings for 2019, it'll likely prove to be one of the better choices throughout the year for non-fussy shoppers who want a solid TV at a decent price, but it's not exactly poised to sweep cinephiles off their feet. In fact, if you're shopping for a 4K/HDR TV that really pops, the RU7100 will probably underwhelm you—it just doesn't get super bright, even in HDR.
That said, the RU7100 manages to deliver dependably decent picture quality regardless of content, and crucially, all six sizes in the RU7100 series lineup are competitively priced. As the year progresses, there's a good chance we'll be recommending the RU7100 to readers who're looking for an affordable 4K offering with decent chops—especially if the price comes down. With that in mind, there are comparable TVs that cost far less, and the shortcomings of those TVs are easier to swallow due to their lower costs.
About the Samsung 7 Series (RU7100)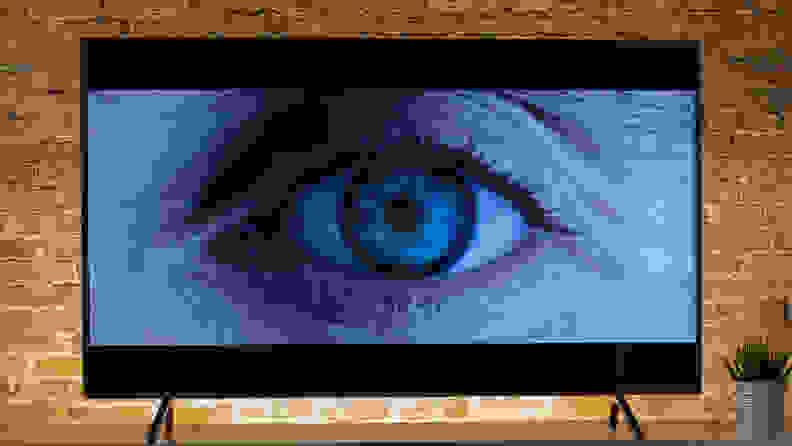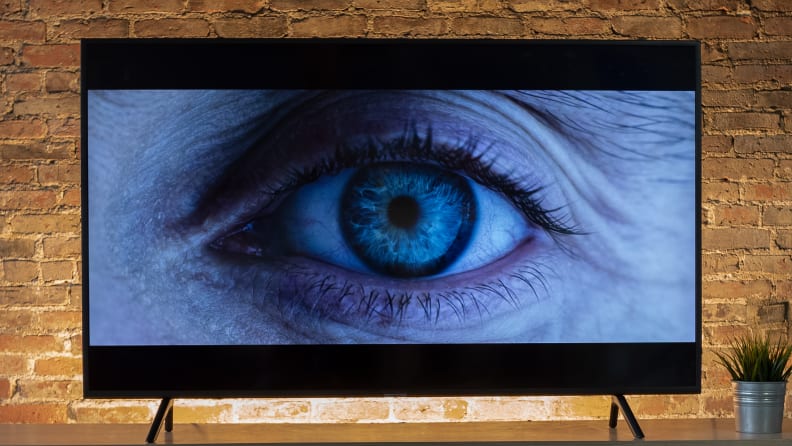 The Samsung RU7100—also known as the 7 Series—is available in six sizes ranging from 43 inches to 75 inches. Here's how each of these models is currently priced:
• 43-inch (Samsung UN43RU7100FXZA), MSRP $429.99
• 50-inch (Samsung UN50RU7100FXZA), MSRP $499.99
• 55-inch (Samsung UN55RU7100FXZA), MSRP $599.99
• 58-inch (Samsung UN58RU7100FXZA), MSRP $649.99
• 65-inch (Samsung UN65RU7100FXZA), MSRP $899.99
• 75-inch (Samsung UN75RU7100FXZA), MSRP $1,599.99
For this review, we bought the 55-inch version of the RU7100, but we don't expect there to be any major differences in performance between screen sizes. Here's what you're getting with the 7 Series, regardless of size:
• 4K (3,840 x 2,160) resolution
• Supports High Dynamic Range (HDR10)
• Native 60 Hz refresh rate
• Samsung's Smart Hub smart platform
As per our TV testing protocol, I kept the Samsung RU7100 powered on with a continuous signal for over 24 hours prior to testing. When testing both SDR and HDR performance, we used Samsung's "Movie" picture preset.
I'll expand on the test results further down page, but for now, here are some key takeaways:
Performance Data
• HDR contrast (brightness/black level): 247.8 nits/0.044 nits
• SDR contrast (brightness/black level): 215.7 nits/0.041 nits
• HDR peak brightness: 250.6 nits (40%)
• SDR color gamut coverage: 93% (Rec.709)
• HDR color gamut coverage: 90% (DCI-P3/10-bit)
• Viewing angle: ±19°
Connectivity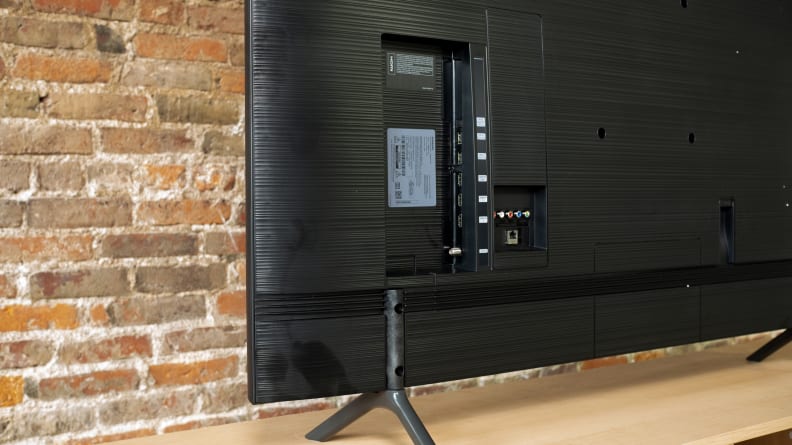 The RU7100 doesn't offer the type of premium connectivity suite you'd find on the back of a higher-end TV, but if you're not a hardened AV enthusiast, you'll probably be set with these inputs.
• 3x HDMI 2.0 (1x ARC)
• 2x USB 2.0
• Component, LAN ethernet port, RF input, optical audio output
What We Like
A sleek, non-fussy design
Like a number of TVs in its price range, the RU7100 stands on top of a pair of wide-set, inverted-check-mark-shaped feet. From a design standpoint, the look is basic and ubiquitous, but truth be told, I appreciate its simplicity. Without a busy, cluttered stand beneath the panel, the panel itself remains the focus—even when the TV's off.
The RU7100's bezels are narrow, too, but not impressively so, and around back, the RU7100 is wrapped in a chic, textured plastic. All told, the RU7100 won't turn any heads, but its unassuming design will fit nicely in any room, and it avoids the all-too-common problem of a mid-range TV saddled with a flimsy build.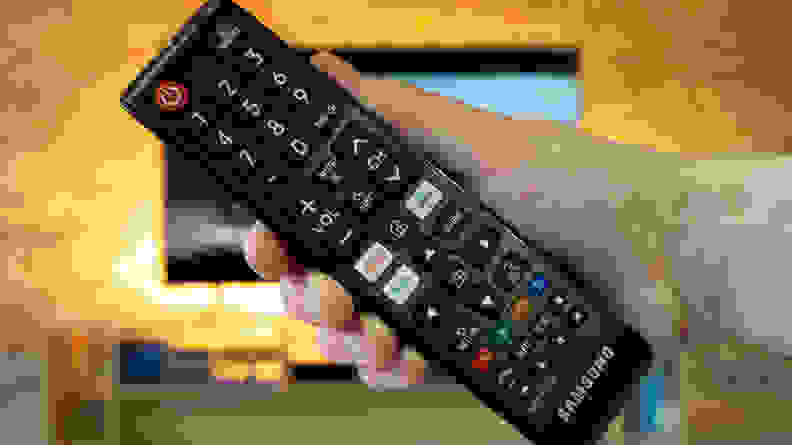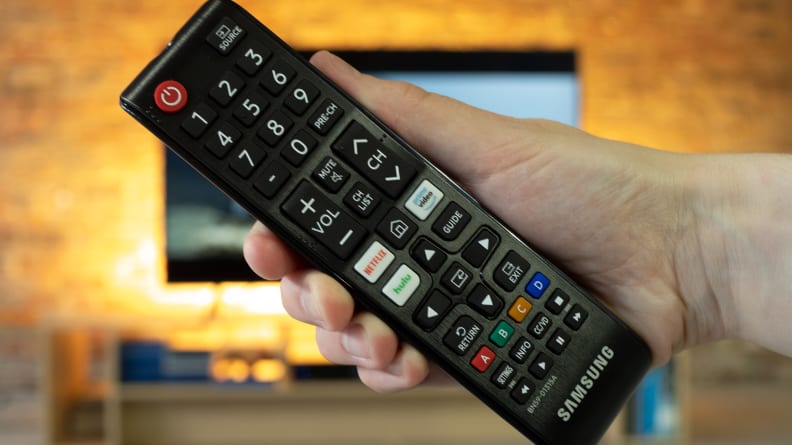 Solid performance for the cost—but not without some caveats
I'll cut right to the chase: For the most part, the Samsung RU7100 performs well in the critical areas of contrast, color, and motion. From a contrast standpoint, standard content looks great—the TV is capable of deep blacks and relatively bright highlights. Its color output, too, falls squarely in the range of "acceptable-to-good" (though the RU7100 isn't able to pump out the type of rich, saturated colors we've seen from higher-end TVs). And, even though my eyes couldn't handle the woozy, rubbery look of Samsung's motion smoothing software, they also weren't able to detect the degree of judder that often plagues low-end and mid-range TVs.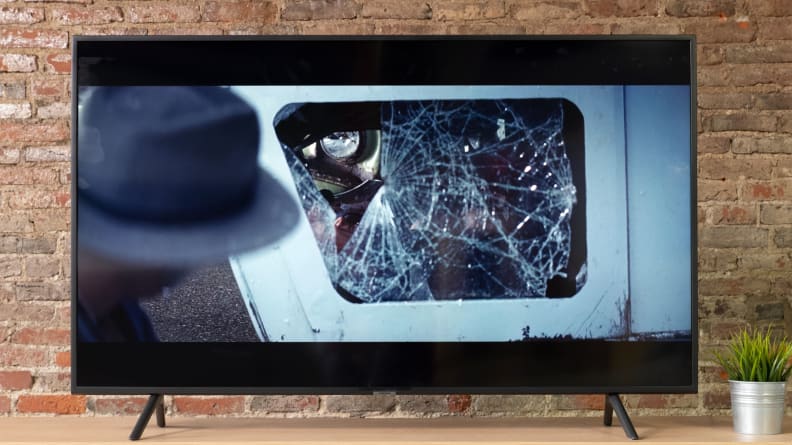 So what are the caveats, then? Well, despite qualifying as an HDR-ready TV, the RU7100 isn't capable of the type of brightness that makes HDR content so special to begin with. As a result, there's not a big difference between SDR and HDR content, at least to the naked eye. I'm also disappointed by the RU7100's performance in dark, shadowy scenes, which suffer from considerable banding as lighter portions of the picture fade into darkness.
All of that being said, the RU7100 is good enough to satisfy the majority of people shopping in this price range, and given its cost, gets the job done.
What We Don't Like
The RU7100's software isn't great.
For people with a dedicated streaming device, Samsung's smart platform will be an afterthought—something to engage with occasionally but whose features are mostly redundant. But if you're relying on your next TV to have a robust, user-friendly smart experience, the RU7100 might not be that TV.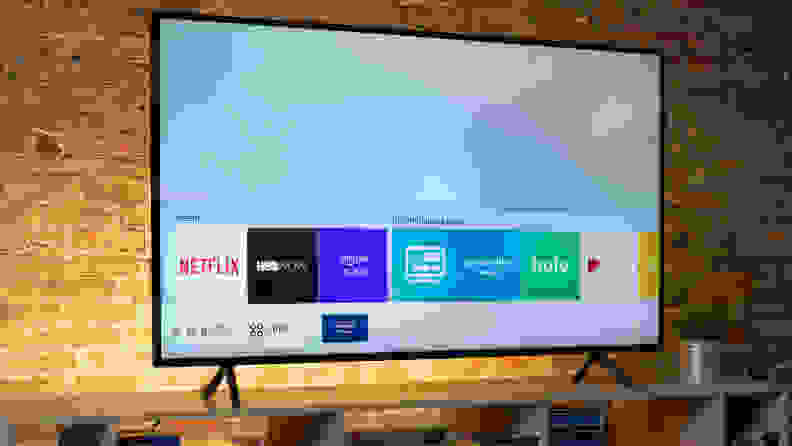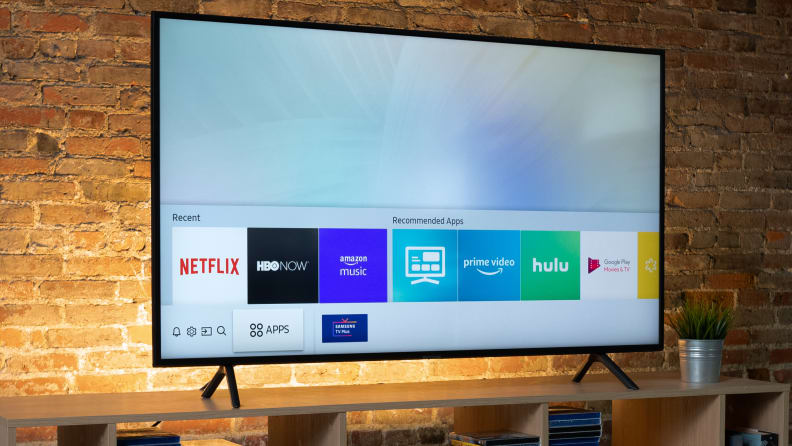 The Smart Hub works as you'd expect: Press the home button on the remote to pull up a row of shortcuts, then select the apps icon to introduce a row of recommended apps. From here, you also have the option to dive into the dedicated apps landing page and customize the smart experience even further. It's a basic system with basic functionality, albeit one that feels cluttered and, at first, hard to navigate. Additionally, once you acclimate yourself to the ins and outs of Samsung's smart platform, its sluggishness never fully goes away.
The slow-to-respond navigational controls aren't limited to apps, either—the RU7100's menus are just as sluggish. It's not an uncommon pain point for mid-range TVs, but the extent of the issue is apparent from the moment you pick up the remote.
Narrow viewing angles will make group viewings difficult.
Although the RU7100 sports relatively impressive contrast for TVs in this price range, the good looks begin to fade the further you move away from the center of the TV. At even a slightly off-center angle, the picture's brightness begins to drop. Move further to either side, and eventually shadow details will flatten out and content will suffer greatly. This is especially important to remember if you're considering a 65- or 77-inch version of the RU7100, since big TVs are often the centerpiece of group viewings.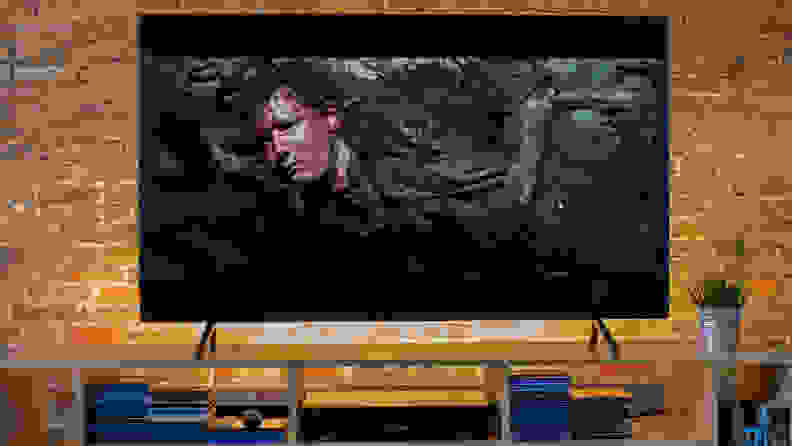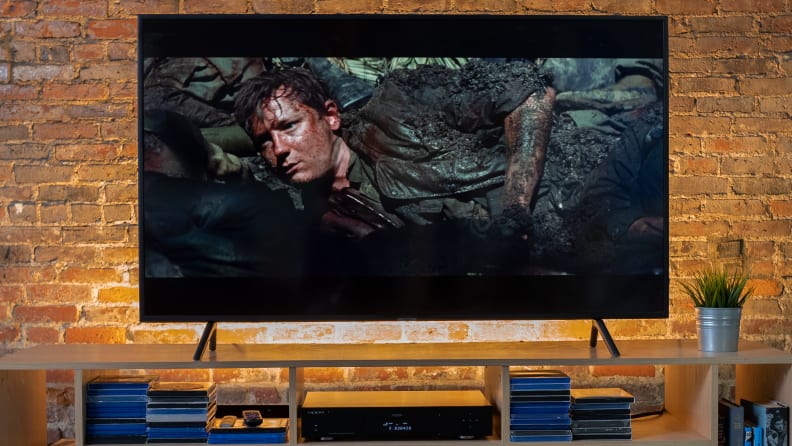 If you're just going to plant the RU7100 in front of a couch and don't plan on opening a room up for company, you probably won't be dealing with poor viewing angles very often. It's also worth remembering that most VA panels in this price range perform similarly. so it's not like this issue is outside the realm of normalcy.
Should You Buy It?
Yes—but only if you're due for an affordable upgrade.
The Samsung RU7100 is a great option for people who need a new TV this year but would rather not spend a premium on high-end performance or unnecessary bells and whistles. That said, you could land this type of performance for far less than the cost of the RU7100. Consider, for example, the recently released TCL 4 Series, which packs roughly the same punch for substantially less cost. As I write this, a 55-inch TCL 4 Series is listed at around $380, while the 55-inch Samsung RU7100 is listed at around $600.
Plus, the TCL 4 Series comes with Roku's smart platform baked right into the TV—no streaming box required. It's a much friendlier app solution for people who'd rather not arm wrestle with Samsung's quirky software (which I imagine makes up a large subset of people who are shopping for a 4K TV in this price range).
All told, the Samsung RU7100 is a solid performer whose HDR capabilities don't quite reflect what makes HDR content exciting to begin with. With the RU7100, you're certainly not buying a bad TV, but you'll be paying more than you need to for what amounts to a middle-of-the-road experience.
Meet the tester
Michael Desjardin
Senior Staff Writer
@Reviewed
Michael Desjardin graduated from Emerson College after having studied media production and screenwriting. He specializes in tech for Reviewed, but also loves film criticism, weird ambient music, cooking, and food in general.
Checking our work.
Our team is here for one purpose: to help you buy the best stuff and love what you own. Our writers, editors, and lab technicians obsess over the products we cover to make sure you're confident and satisfied. Have a different opinion about something we recommend? Email us and we'll compare notes.
Shoot us an email