If you're just looking for the biggest you can buy, there are certainly larger TVs available in a comparable price range (the Hisense 32H3 and the Panasonic TC-32A400U, for example) but this Samsung is a great option if you want solid smart features, too. Considering you can find the 24-inch H4500 online for as little as $199.99, we highly recommend it to consumers looking for a premium experience at entry-level prices.
Looks & Experience
It ain't pretty, that's for sure
This year has brought curved screens, a motorized stand, and sleek, silver-colored bezels. What do all of those things have in common? They all belong to mid- and high-range TVs. Take a gander at the 2014 entry-level lineup and the key players are all pretty much the same: black-on-charcoal rectangles with utilitarian stands (which are usually also rectangles). Still, if you're considering purchasing a sub-$300 low-end television, attractiveness probably isn't at the top of your checklist. The H4500 follows the all-too-familiar formula of its ilk.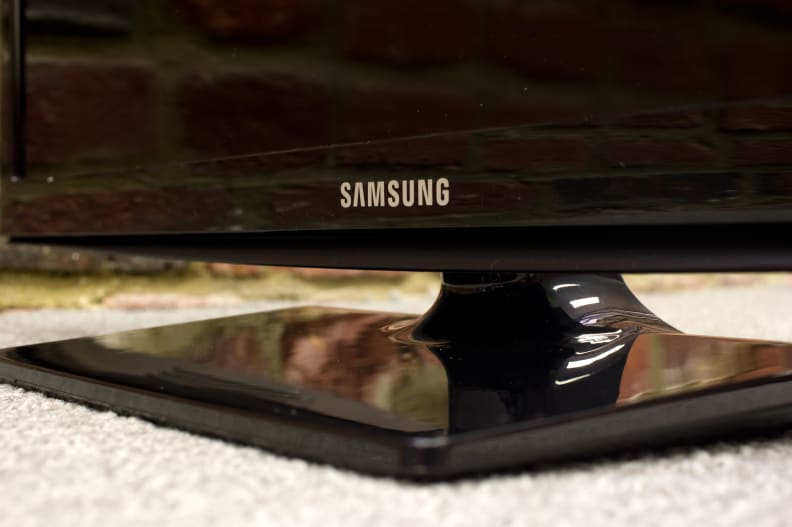 ×
Samsung UN24H4500
On the back of the panel sits a rather impressive collection of connection ports for an entry-level TV. There are 2 USB ports, 2 HDMI ports, shared component/composite inputs, a digital audio output, an ethernet port, a headphone jack, a coaxial connector, and RS-232. The remote control included with the H4500 is just as basic as the TV it controls, but anything fancier would damage this TV's entry-level street cred.
The H4500 comes with a rather impressive collection of connection ports for an entry-level TV.
Smart features on this minor TV are a minor miracle.
The H4500 comes equipped with Samsung's smart platform, Smart Hub. The Smart Hub browser is an absolute headache to navigate without motion control, so if you're hoping to get some surfing done with this TV, don't get your hopes up. As a whole, the Smart Hub platform feels cramped on a screen this tiny, but if anything this is a testament to how cool it is that a TV this small was outfitted with smart features in the first place. The usual suspects (Netflix, Facebook, Hulu, HBO Go) are all here, either pre-installed or available for download.
The Picture
Mid-range performance at an entry-level price
Samsung has gotten fairly good at squeezing the best possible picture out of their low- and mid-range televisions, and the H4500 is no exception. Despite the fact that it never quite excels in any one area, the H4500 is one of the best-looking $200 television available today.
Despite the fact that it never quite excels in any one area, the H4500 is one of the best-looking $200 television available today.
Side-by-side with our reference TV, the H4500 looked humorously tiny, but its color production was impressive by comparison. Naturally, there's considerably less detail in a 24-inch, 720p picture than there is in a 1080p plasma display, but the color production is surprisingly comparable. The H4500 also manages to achieve a deep enough black level that darker images maintain a respectable amount of detail. To reiterate, there is nothing phenomenal about the UN24H4500's performance, but it's good enough to raise a few eyebrows.
There is nothing phenomenal about the UN24H4500's performance, but it's good enough to raise a few eyebrows.
One unfortunate downside to a 24-inch, edge-lit LED panel is a consistent lack of uniformity. Dark images are especially problematic, with "hot spots" of light leaking into the corners and center of the picture. Motion performance is more than a little questionable, as well. The H4500 carries a refresh rate of 60 Hz and does not wear it well. Horizontal camera pans in particular are stymied by a complete lack of fluidity.
Still, you get what you pay for, and all things considered the H4500 performs far above its weight class.
The Verdict
Competency for a steal
The H4500 is a minuscule machine built with value, not performance, in mind. As such, it makes for a great personal TV for a dorm room, bedroom, or guest room. The picture quality isn't going to blow anyone's hair back, but for a $200 entry-level TV performing at 720p, it hits all of the right notes.
What's more, the inclusion of Samsung's smart platform is almost unfair to the competition. It's not the future centerpiece of your home theater, but if your plan is to kick back in bed with Netflix or a couple of rounds of Halo, you could do far worse than the H4500. If 24 inches is too small, Samsung also offers the H4500 in the slightly bigger, 28-inch variety, but at that rate I would recommend spending a little more on the 32-inch H5203.
Behind the Screens: Calibration
The Samsung UN24H4500 (MSRP $279.99, online for $199.99) may never totally wow an audience, but for the price it performs well beyond our expectations for an entry-level TV. Sure, it's marred by a weak viewing angle, struggles with motion, and tops out at 720p, but for $200-$300, you're probably not going to find a better option.
Although all of our scores are based on out-of-the-box testing, we also test our TVs after calibration in order to get a sense of their full potential. Depending on the complexity of a TV's customization options, calibration sessions can range from basic to extensive. With gamma adjustment and 2-point white balance controls, the H4500 has more customization options than most of its classmates, but it isn't nearly as in-depth as most of its mid- and high-range brethren.
The best out-of-the-box picture mode/color temperature tandem is "Movie" and "Warm2." I lowered the gamma to -1 to accommodate for a dark room, dropped the backlight from 20 to 17, and made finer adjustments to the H4500's 2-point white balance settings.
Grayscale & RGB Balance
If you've ever seen a television picture that seemed oddly blue- or red-tinted, chances are that particular TV was struggling to emphasize its sub-pixels evenly. TVs generate images via red, green, and blue sub-pixels. These primary colors make up a television's neutral shades as well, so by measuring a TV's grayscale, we get a glimpse into how evenly its sub-pixels are emphasized. An over-emphasis of red, for example, will likely lead to peach-colored skin tones and an all-around red malaise.
The UN24H4500 muscled through our grayscale error test with the skill and swiftness of a seasoned veteran. The test itself consists of a 10-point scale from 0 IRE (black) to 100 IRE (reference white). The amount of error at each IRE level is represented by DeltaE, with the ideal DeltaE average being 3 or less. The H4500 averaged 3.77 out-of-the-box, but after some minor tweaks to the TV's 2-point white balance control, it produced an average DeltaE of 2.36.
The recurring theme throughout the H4500's grayscale seems to be a minor over-emphasis of the red sub-pixel as well as a slight under-emphasis of blue. Still, the effect is negligible, and for a TV of this class, you can't ask for much better than this.
Contrast Ratio
A television's black level is the cornerstone of its overall picture quality. Deep, inky shadows are critical for a modern, immersive picture. A bright reference white to contrast a rich black level is ideal, which is why we test the contrast ratio of every TV we review. A contrast ratio is the television's reference white (100 IRE) divided by its black level (0 IRE).
Thanks to a black level of 0.04 cd/m2 and a reference white of 152.1 cd/m2 , the H4500 produces a respectable contrast ratio of 3802:1. While it's not earth-shattering, this is still very good for a 24-inch, entry-level TV.
Viewing Angle
A television's viewing angle describes the distance viewers can sit from a direct, head-on angle before the picture begins to degrade past an acceptable point. Understanding a TV's viewing angle is crucial if you're hoping to entertain a group of people. If the viewing angle is too narrow, sharing the picture with a room full of people might prove to be a troublesome task.
Naturally, the overall importance of viewing angle lessens with smaller-sized screens, and the 24-inch H4500 is about as small as they come in the world of 2014 entry-level HDTVs. I measured a claustrophobic viewing angle of 8°, or about ±17° to either side of the screen. This isn't accommodating in the slightest, but then again, how often will viewers be sharing a 24-inch screen with a room full of people?
Color Gamut
The key to accurate color production lies with an international standard for HDTVs known as Rec. 709. This document outlines precise points (based on hue, saturation, and luminance) for primary colors (red, green, and blue), secondary colors (cyan, magenta, and yellow), and a white point.
Mid- and high-end HDTVs usually come equipped with extensive color customization options that make it easier to adhere to these standards, but entry-level TVs don't often include these tools, which is the case with the H4500. Fortunately, the H4500 is packing commendable color performance right out of the box. None of the primary color points are perfect, but there are no egregious offenses to speak of. The H4500's biggest shortcoming belongs to a slightly under-saturated blue point.
Gamma
In a nutshell, gamma is a measurement of how fast a TV gets brighter out of black and across its grayscale. If there's too much or too little of a jump in brightness from one level to the next, there will most likely be a distinct lack of detail in certain areas of the picture. There are different gamma ideals depending on the amount of ambient light in any given room, but we calibrate for dark rooms and aim for a gamma of 2.4.
The UN24H4500 produces an out-of-the-box gamma sum of 2.31, which is adequate for rooms with a small amount of light. If you're looking to put the H4500 in a darkened home theater, however, your best bet is to do what I did and drop the gamma setting to -1. This resulted in an average of 2.44; close to ideal for a dark room.
Meet the tester
Michael Desjardin
Senior Staff Writer
@Reviewed
Michael Desjardin graduated from Emerson College after having studied media production and screenwriting. He specializes in tech for Reviewed, but also loves film criticism, weird ambient music, cooking, and food in general.
Checking our work.
Our team is here for one purpose: to help you buy the best stuff and love what you own. Our writers, editors, and lab technicians obsess over the products we cover to make sure you're confident and satisfied. Have a different opinion about something we recommend? Email us and we'll compare notes.
Shoot us an email