With praiseworthy picture performance and a smart platform to boot, the H5203 is a sure-fire bargain for those looking to dip their feet in the inviting waters of full HD entertainment. If the 32-inch screen isn't big enough for you, Samsung's got you covered: There are 40-, 46-, and 50-inch models in the series, as well.
We test our TVs twice: before and after calibration. By testing twice, we get an accurate look at both the TV's out-of-the-box performance as well as its full potential. We also make note of any changes that we make during the calibration process, so that readers can implement those changes themselves.
Despite two major caveats (viewing angle and motion performance) the H5203 zipped through our tests with relative ease. It isn't going to bowl anyone over, but as far as low-end TVs go, you can't ask for much better than this.
I started in the H5203's "Movie" mode with a color temperature of "Warm2." I lowered the gamma to -1, dropped the backlight from 20 to 17, and using the two-point white balance, lowered the blue gain to -2.
The Smart Hub elevates an otherwise dull design.
We've noticed a fair amount of disparaging user reviews stating that a number of the H5203's smart features are broken. It's unfortunate that these features aren't ready to go out-of-the-box, but with up-to-date software installed, streaming Netflix is a relatively painless process.
Smart features aren't ready to go out-of-the-box.
TV manufacturers don't usually equip low-level models with radical design features. For the most part, TVs in this price range follow a formula: black/charcoal colored plastic and basic, utilitarian shapes. That said, there have been a few recent examples of low-level TVs featuring stylish stands and back casings. Samsung's own H5500 immediately comes to mind, which features a handsome brushed metal stand in place of the typical glossy plastic.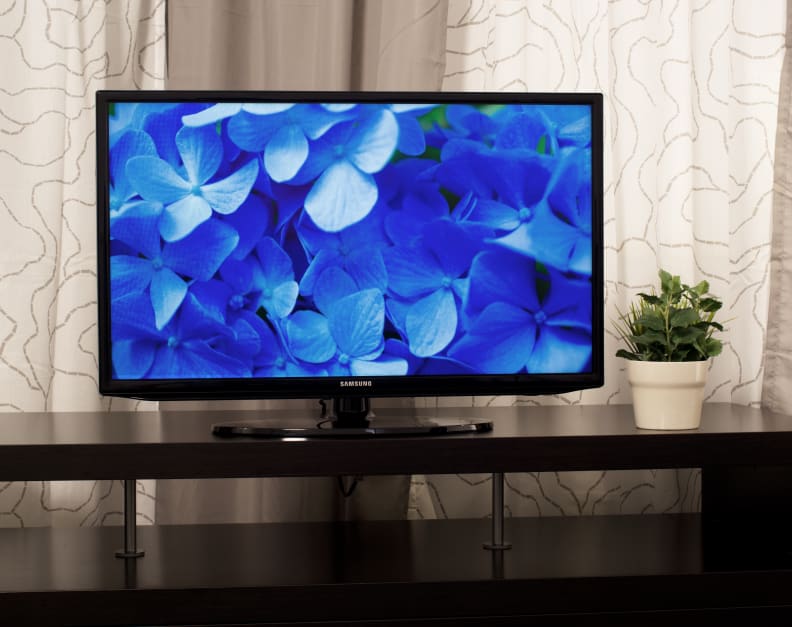 ×
Samsung UN32H5203
Unfortunately, Samsung didn't outfit the H5203 with a similar, class-defying design. A circular plastic stand and disappointingly thick panel paint the H5203 as irrefutably entry-level. On the back are AV component and composite ports, two HDMI ports, two USB ports, a digital audio port, an ethernet port, and a coaxial connector.
The remote control isn't flashy, but it gets the job done... most of the time.
The remote control isn't flashy, but it gets the job done... most of the time. After downloading the latest software update and connecting to the Smart Hub, the remote control's performance began suffering considerably. It's as if the menu software becomes tethered to the wireless network instead of operating independently of it, so any hiccups in the network will result in severe input lag.
A TV uses red, green, and blue sub-pixels to create a spectrum of color, including gray, black, and white. When we measure its grayscale, we get a clear idea of how evenly the TV emphasizes these sub-pixels. If any of the three are overemphasized or underemphasized, gray tones may appear discolored.
Thankfully, the H5203 does not have any major issues in this department. Reds, greens, and blues are evenly emphasized across the gradient.


We assess grayscale error by studying a 10-point scale of various shades of gray ordered from dark to light. The measurement used in this test is called "DeltaE," and an average DeltaE of 3 or less signifies a low amount of color pollution.
The H5203 aced this test as well, turning in an average DeltaE of 1.68.
Punching above its weight
In terms of performance, the H5203 is head and shoulders above most of its low-level competitors. Although it has its limitations, with properly managed expectations (and a little bit of calibration), the H5203 may satisfy even picky picture sticklers.
Users searching for an inexpensive TV to showcase Blu-rays or play current-generation console games needn't look any further.
The H5203 excels in just about every area of performance. Its colors are accurate, its black level is considerably deep, and at full 1080p HD, the resolution is a cut above other TVs in the same price range.
Users searching for an inexpensive TV to showcase Blu-rays or play current-generation console games needn't look any further. The H5203 out-performs televisions well above its weight class and blows away just about every other entry- and low-level TV that we've seen thus far this year.
This TV suffers from a seriously questionable viewing angle and poor motion performance.
Now for the flaws: This TV suffers from a seriously questionable viewing angle and poor motion performance. Generally speaking, people need to view the H5203 head-on in order to experience the TV at its best. Of course, this doesn't matter much for a 32-inch panel, but if you're purchasing this TV in a larger size for group-viewing, it's certainly something to bear in mind.
The motion performance issues are harder to ignore. Horizontal camera pans and fast-moving objects often appear choppy, which is a bummer during action sequences or scenes where the spatial orientation of certain objects is critical. For example, you will undoubtedly notice the jumpy movement of cars during a chase sequence.
If you consider TVs to be reproducers of art, accurate colors and rich black levels are absolutely critical in delivering a director's intended vision. For anyone in search of brilliant color and detail-rich shadows on an inexpensive TV, that is precisely what the H5203 offers.
A TV's contrast ratio is represented by its peak brightness over its deepest black level. In our opinion, black level is the most critical element of picture quality since it affects almost every other aspect of a TV's performance.
The H5203 sports an excellent contrast ratio of 2623:1 thanks to its black level of 0.065 cd/m2 and a peak brightness of 170.5 cd/m2.


The ability to watch a television from multiple angles without the picture quality degrading is important, particularly if you're planning on having multiple people enjoy a movie at once. We measure the TV's contrast from increasingly off-center angles until it drops below 50% of its ideal, head-on value.
Unfortunately, the H5203's viewing angle measurements were not very good. In fact, it was on of the TV's biggest shortcomings. I measured a total viewing of 35°, so ±17° from the center, the picture quality drops off significantly.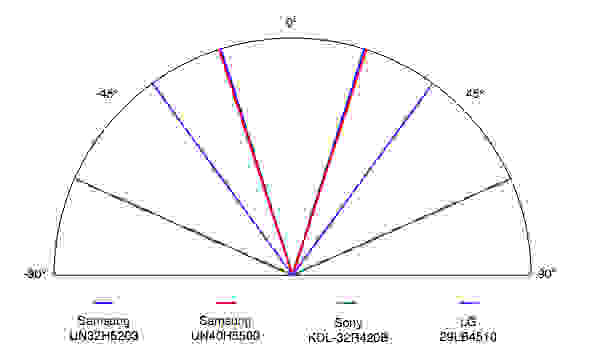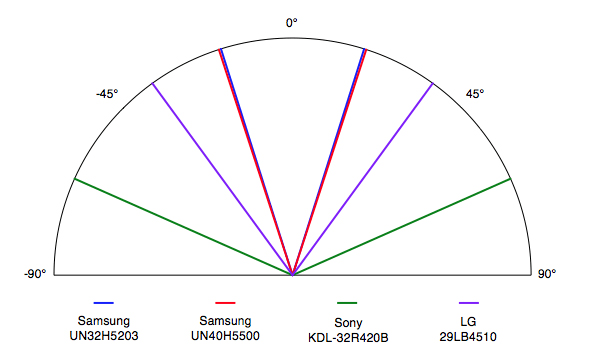 A perfect personal TV
With fantastic picture performance, a commendable smart platform, and an attractive price tag of $329.99, there's no doubt that the Samsung H5203 is a dynamite deal. There are a few performance-related drawbacks, but the H5203 excels where it matters most.
The H5203 is a bargain even before factoring in the Smart Hub. The ability to stream content makes it the perfect personal TV for a bedroom or small living room–and it won't break the bank.
Gamma sum is a measurement of how well a TV distributes luminance while it climbs up from its darkest point to its peak brightness. For a home theater set-up, we strive for a gamma sum of 2.4, which is ideal for a dark room.
After dropping the H5203's gamma to -1, our tests clocked the TV at an average of 2.45–a little high, but better than its pre-calibration gamma sum of 2.33.

There is an international standard for ideal HDTV color performance called Rec. 709. This standard is represented visually by a color gamut, which is broken up into three primary color points, three secondary color points, and a white point. We judge each TV's color accuracy based on how close it comes to meeting these standards.
For the most part, the H5203's color gamut impresses. Calibration improved the TV's white point, but I was unable to rein in magenta, a secondary color.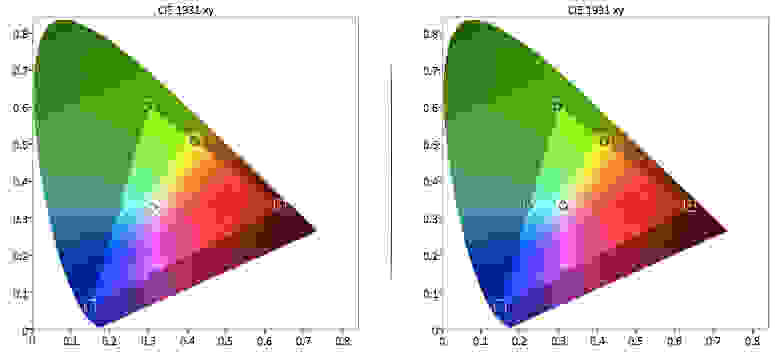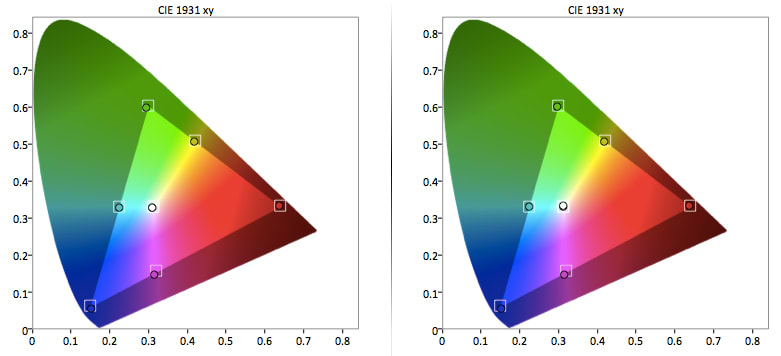 Meet the tester
Michael Desjardin
Senior Staff Writer
@Reviewed
Michael Desjardin graduated from Emerson College after having studied media production and screenwriting. He specializes in tech for Reviewed, but also loves film criticism, weird ambient music, cooking, and food in general.
Checking our work.
Our team is here for one purpose: to help you buy the best stuff and love what you own. Our writers, editors, and lab technicians obsess over the products we cover to make sure you're confident and satisfied. Have a different opinion about something we recommend? Email us and we'll compare notes.
Shoot us an email