In this case, I didn't bother calibrating the J4000 due to its lack of white balance, color management, or gamma slider controls. The video legal limits are set correctly in the Movie mode default—in this case, the best thing you can do is select that picture mode and adjust the backlight to your viewing environment.
The Samsung UN32J4000 (MSRP $419.99, online for $217) is the company's entry-level model for 2015, available only in a 32-inch size and completely stripped of frills. You won't find smart features, 3D, contrast/motion enhancement software, or any of the fancier trimmings of pricier TVs. In fact, you don't even get Full HD (1080p) resolution—this is a 720p (1,366 x 768) model.
What you do get, however, is a fairly decent little TV for what you're paying. Solid color depth and accuracy complement a surprisingly wide viewing angle and cleanly balanced neutral tones. The only drawback is contrast: Compared to even slightly pricier LED TVs, the J4000 is seriously lacking in the shadow depth department, so don't expect a hugely immersive picture.
While it does outperform its predecessor, the Samsung H4000, the 32-inch J4000 is not quite the top performer amongst 2015 TVs in this price range. While getting this TV for around $220 isn't a bad value, you can find this 2014 Sharp model online for around the same price. The Sharp boasts better performance and is also a Full HD (1080p) model, giving it wider applications as a computer monitor compared to Samsung's J4000.
Not going to turn any heads, but it's suitably modern
The 32-inch J4000 sports a very simple appearance. The panel perches on two black "arc feet" that are set wide at the edges of the screen. It's a look that's quite different from most entry-level TVs, which tend to use plain rectangular stands. The bezels here are a little thicker than on Samsung's more expensive sets, but overall it's still a handsome, sturdy product.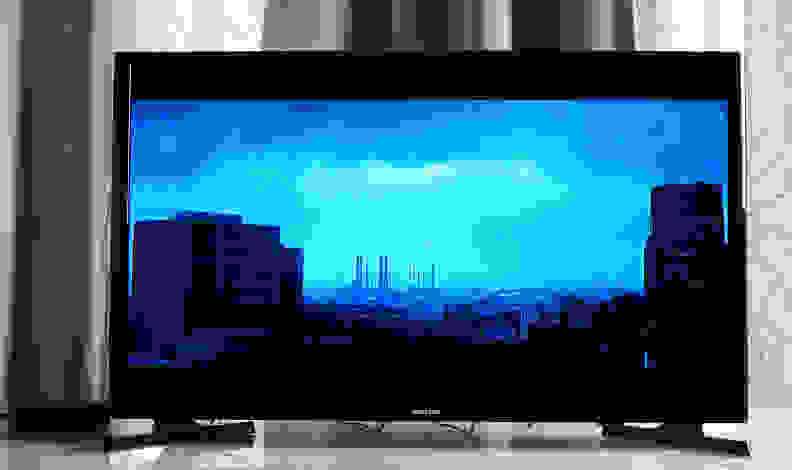 Around back, you'll find a fairly modest selection of audio/video ports. Two HDMI inputs, one USB 2.0 input, shared component/composite inputs, digital (optical) audio out, and a coaxial jack for cable/satellite connections. With a TV this size, I'd like to have seen a dedicated analog audio or headphone jack, but it's a small complaint. Also, all of the ports are clustered on the back of the TV; Samsung didn't see fit to move any to the side. This isn't a big deal with a TV this small, but it's worth mentioning.
You probably won't be wall-mounting this little guy, but if you do, it's VESA compliant at least. One big plus to a TV this size is the weight; it's a little over eight pounds once assembled, so it's super easy to pick it up and move it around from room-to-room. Finally, you'll find a standard non-smart Samsung remote here. Buttons are cleanly labeled and you get plenty of hotkeys for things like picture size adjustment, source information, and rockers for channel/volume adjustment.
Simple software that makes for an easy setup
This TV's as simple on the inside as it is on the outside. Once you turn it on, you'll be taken through a very brief setup process to guide you in getting your cable or satellite hooked up, or scanning for OTA channels. Thankfully, you can skip these steps if you don't plan on doing any channel tuning—some TVs in this price range force you to sit through it.
You can tell this is a Samsung TV from the menu design, but beyond that you won't find any trace of the company's usual software additions like Auto Motion Plus (for motion smoothing), LED Clear Motion (backlight shuttering), or local dimming functions (though the less effective Motion Lighting mode can still be enabled). Available picture modes are pared down a bit, too, with just three in total: Dynamic, Movie, and Standard.
There's not a lot here by way of advanced calibration options, like color management or white balance, but that isn't as much of an issue with an entry-level TV like this one. Samsung still includes plenty of audio customization, like sound modes and various settings for the optical audio out port. Scanning for OTA or digital channels with the TV's built-in tuner is also very easy to do. Overall, this is a simple menu spread, but you get what you pay for.
Contrast is by far this Samsung's biggest flaw. Using the standard ANSI checkerboard (in Movie mode), I measured plenty of brightness with a reference white of 200.20 cd/m2 , but a rather poor black level of 0.169 cd/m2 , giving the J4000 a contrast ratio of 1185:1. This isn't absolutely terrible—in fact, it's in line with last year's H4000—but it compares unfavorably to similarly priced competitors.
Decent picture quality for the price
As it stands, the 32-inch J4000 is not a powerhouse performer. The TV's overall contrast presentation simply can't hold a candle to higher-end LED TVs, and while you're saving money with this purchase, contrast is the thing you're losing out on. Fortunately, it's a pretty reliable little screen in every other regard.
In terms of basic presentation, the J4000 is a much safer bet than most 32-inch options in this price range. We've tested countless off-brand budget models that struggle to present accurate colors, or produce neutral shades like gray and white with an overtly blue tinge. You simply don't get that here—which is great news, because there's also no way to calibrate anything.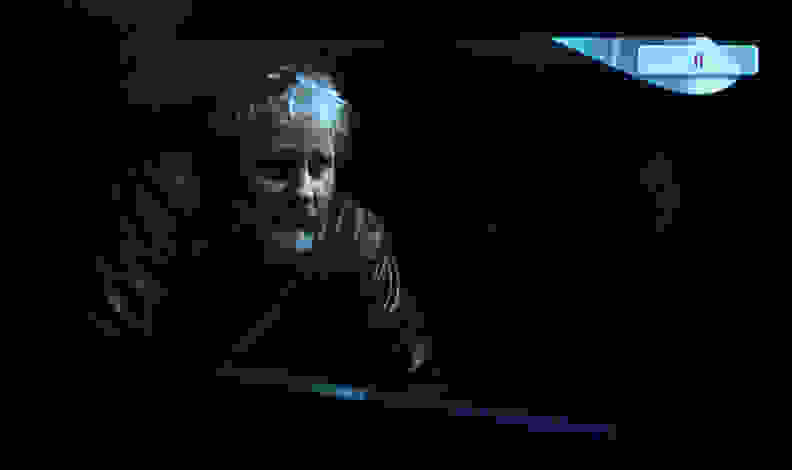 As I mentioned, the J4000 is not the staunchest performer in terms of contrast. It's plenty bright, but struggles to produce black levels of the same caliber as slightly pricier TVs. This Samsung's shallow contrast may prove advantageous to gamers, as lesser contrast can lend a small boost to a display's overall response time, but it's ultimately a disappointing result.
On the other hand, if you're a competitive gamer, you may also want to consider the native 60 Hz refresh rate and 1,366 x 768 resolution. Not only does this mean the TV can't pixel map to actual 720p (or 1080p) content, but it's a very low resolution if you're considering using the J4000 as a computer monitor. Simply put, websites will strain your eyes and look thin—sort of stretched, like butter spread over too much bread. The 60 Hz resolution will hold you back if you're aiming for more than 60 frames per second, but it's fine for most movies and TV shows.
Given the poor black levels here, you'll likely will want to watch or use this TV in a semi-bright environment. It's also possible to see small traces of backlight bleed during 16:9 (letterbox) content at the top and bottom of the screen, but a few lights in the room will diminish their visibility considerably.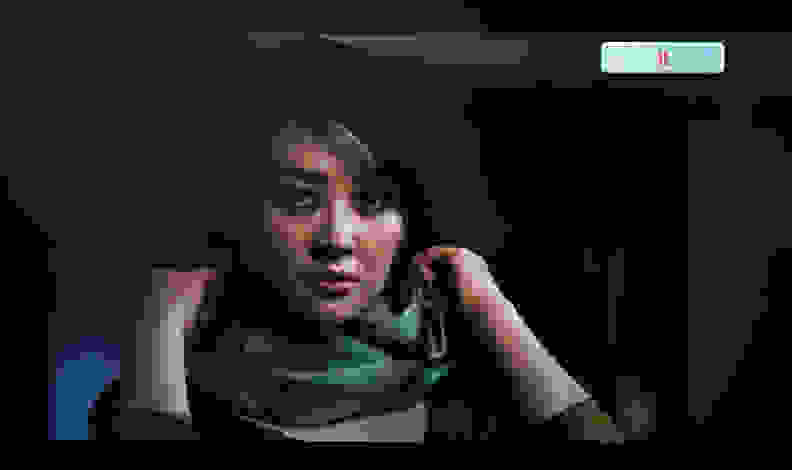 For a budget TV, the J4000 also performs notably well in terms of luminance falloff versus APL (average picture level). Basically, the screen stays equally dark/bright throughout changing levels of light on the screen—so if you switch from a night sky scene to, say, a hockey rink, you won't be totally blinded. It's a small concern, to be sure, but worth mentioning.
Given the poor black levels here, you'll likely want to watch this TV in a semi-bright environment.
Finally, and bizarrely, this TV's strongest suit is actually its viewing angle. You can watch from wide horizontal off-angles before the picture starts to degrade. Unfortunately, that's not as much of a plus in this size, but it is still one more feather in the TV's cap. Even still, from 10 feet away you've got about 18 feet of lateral viewing flexibility—not too shabby.
Overall, the 32-inch J4000 has plenty of strengths, but it still settles just shy of awesome (for the price) due to the below average contrast performance.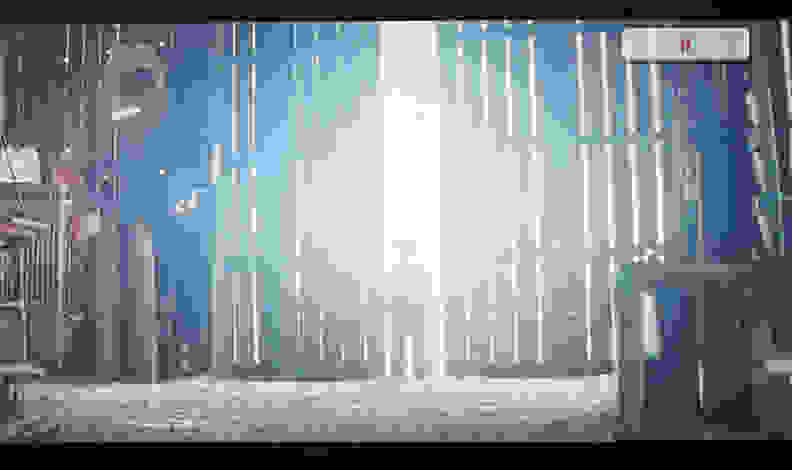 Horizontal viewing flexibility is one of this TV's best areas. Measuring in 10° arcs from the center to the side of the screen, we examine contrast integrity and more and more obtuse angles, capping a TV's viewing angle once its contrast result falls below 50% of the original, head-on value. The J4000 tested with a total viewing angle of 81°, or ±40.5° from the center to either side of the screen. This isn't quite as good as last year's H4000, but it's amply good for a 32-inch TV.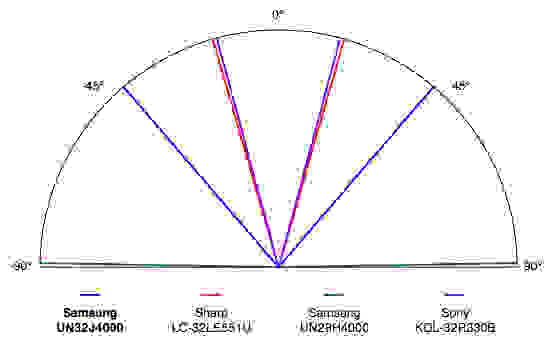 There's no way to adjust the J4000's color (short of hacking into a secret menu, or adjusting the extremely coarse "Color" control), so what you get in Movie mode is what you're stuck with. Fortunately, the TV boasts fairly accurate colors overall, with a bit of oversaturation in green and a bit of skewing in blue, but nothing so bad that most viewers will have reason to complain. The white point is also very accurate—in fact, it's less blue than a few much more expensive televisions.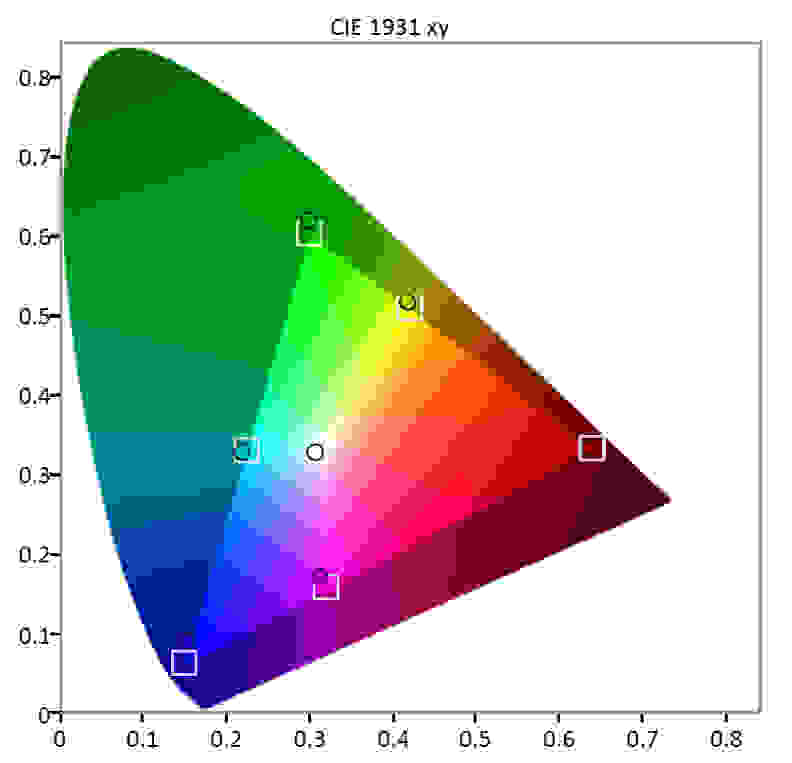 Not a bad budget choice, but there are better options out there
This 32-inch Samsung is a solid performer, taken on its own merits. At the online price of around $220, you're getting a reliable performer that's easy to set up, and boasts great viewing flexibility thanks to its light weight and wide viewing angle.
There are a few weaknesses, though. Namely, the lower resolution (1,366 x 768) make this one a risky choice for use as a computer monitor, as text will look blocky and pixelated in this screen size.
What's more, the poor contrast performance renders movies and film content with less realism than comparable models, so movie night won't be quite as satisfying. The 32-inch J4000 would be a decent choice for older consoles like an Xbox 360 or PS3, but otherwise it doesn't really fit into a clear-cut category.
The 32-inch J4000 would be a decent choice for older consoles, but otherwise it doesn't really fit into a clear-cut category.
This Samsung's not a bad choice, but before you run out and snatch it up, consider some other options—namely, the now equally affordable but better performing sets from 2014. You can find the Sharp LC-32LE551U or the Sony KDL-32R330B—both of whom outperform this Samsung and offer Full HD (1080p) resolution—for a couple hundred bucks online.
Finally, it's worth keeping in mind that while some 2014 TVs may be better deals right now, the J4000 will get cheaper over the summer and into early 2016. It's already a decent value at around $200, but if you can find it for less it'd be nothing short of a steal.
The J4000 has solid grayscale tracking for a budget TV. The big problem with grayscale is that it's rarely gray in reality—TVs, who use additive color, like to make it blue, peach-tinted, or sometimes even green. Visible (or close to visible) error in the grayscale is measured in a collective called deltaE, where a deltaE of 3 or less is ideal (and, arguably, perceptibly perfect).
At an out-of-the-box dE of 3.54, the J4000 doesn't produce a perfect grayscale, but it's close enough to the limit of imperceptibility that you'll never notice a thing, especially at this screen size and resolution.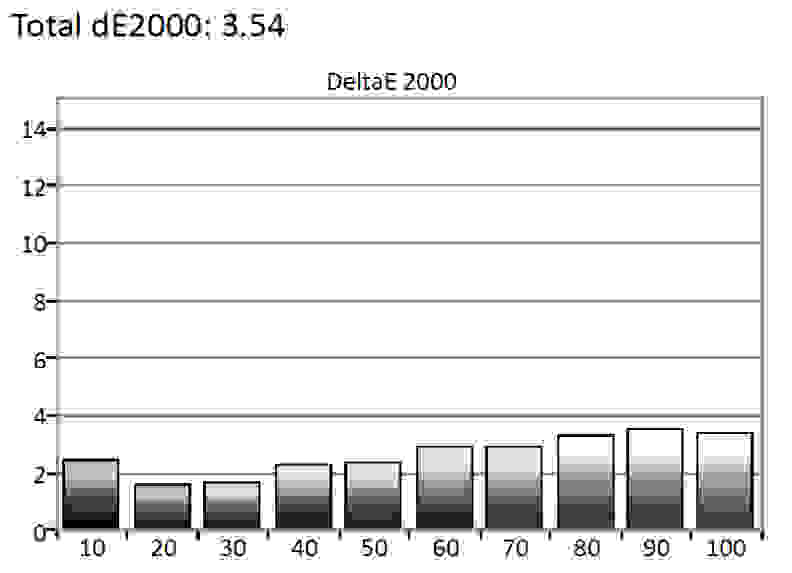 If we take a closer look at the underlying (additive) RGB emphasis that makes up the J4000's grayscale production, we can see that while it's not as evenly emphasized as it could be (with each line at 100% emphasis), the discrepancies are all within a range of 10% or less, which is quite good, especially in this price range.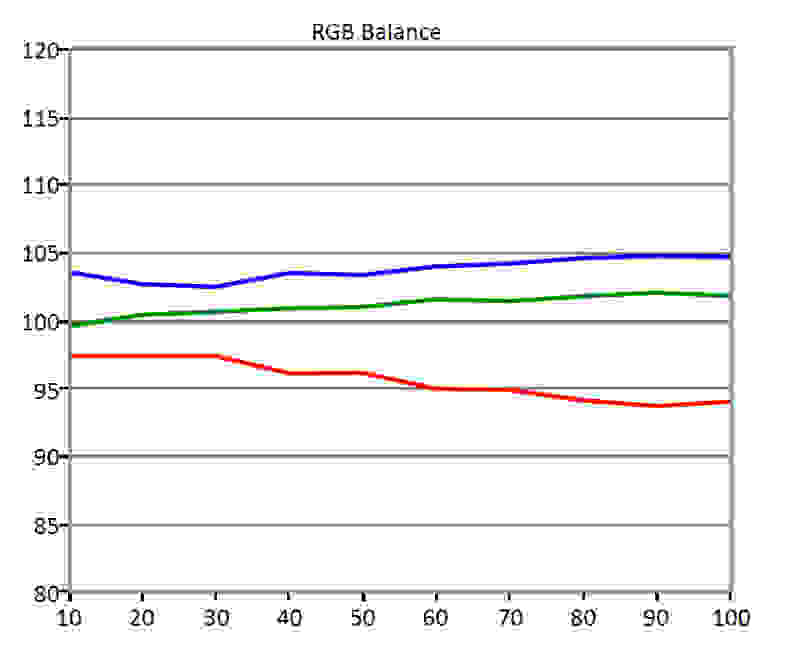 The J4000 tested with a gamma sum of 2.23, which is quite close to the 2.2 "normal lighting" standard. It's a bit bright coming out of black and really closer to a flat 2.3—which is Samsung's standard, generally—meaning it's well-suited for rooms with some or normal amounts of ambient lighting.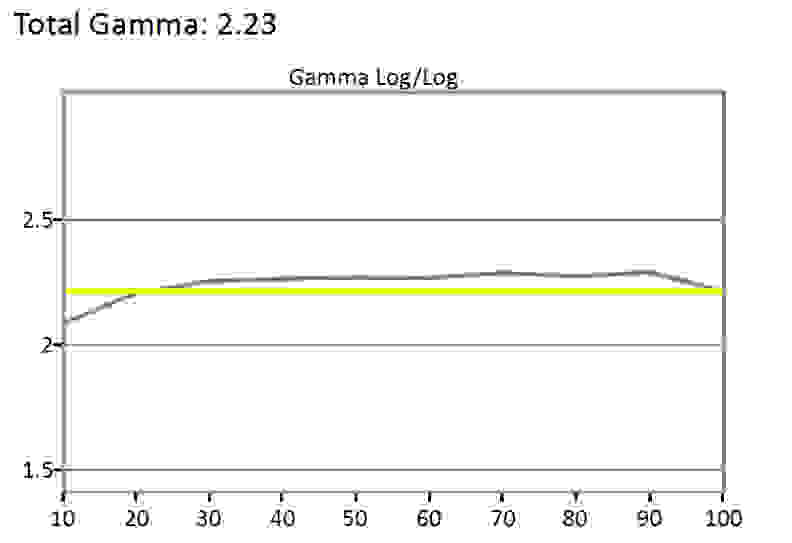 Meet the tester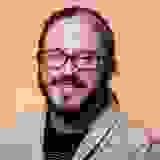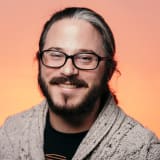 Lee Neikirk
Editor
@Koanshark
Lee has been Reviewed's point person for most television and home theater products since 2012. Lee received Level II certification in TV calibration from the Imaging Science Foundation in 2013. As Editor of the Home Theater vertical, Lee oversees reviews of TVs, monitors, soundbars, and Bluetooth speakers. He also reviews headphones, and has a background in music performance.
Checking our work.
We use standardized and scientific testing methods to scrutinize every product and provide you with objectively accurate results. If you've found different results in your own research, email us and we'll compare notes. If it looks substantial, we'll gladly re-test a product to try and reproduce these results. After all, peer reviews are a critical part of any scientific process.
Shoot us an email