Calibrating this TV was a dream, as well, thanks to Samsung's inclusion of 2/10 point white balance controls, a gamma slider, and a custom color gamut (for CMS controls).
The Samsung UN32J6300 (MSRP $749, online for $499) is the smallest member of Samsung's J6300 series. Also available in 50, 55, 60, 65, and 75 inches, the J6300 series is Samsung's premium Full HD (1080p) lineup for 2015, meaning it gives users access to some of the company's best smart features and picture quality enhancements.
For the online price of $499, this may be one of the best 32-inch TVs you can get this year. Time in the lab (and on the couch) revealed a stellar cocktail of performance strengths with only a couple of small weaknesses. Combined with a frills-free smart experience that focuses on apps, and one of the better looking TV outfits you can find in this size, the UN32J6300 is simply an awesome value.
Despite how well it performs, however, we definitely wouldn't pay the full $749 suggested price—that's simply too much money for a 32-inch 1080p TV these days, especially one that could feel limited in a few years when 4K content is widely available.
A handsome hodgepodge of Samsung design elements
Though it's the smallest member of the J6300 series, this 32-inch TV still boasts a handsome finish. The panel is supported by a black, V-shaped stand highlighted with brushed silver trim, while the rear casing's blue-tinged plastic is embroidered with the same decorative patterns you'll find on Samsung's high-end models.
The panel's trim black bezels and slim profile are icing on an already good-looking cake. Really, the 32-inch J6300 does its best to look like Samsung's premium lineup, and it does a pretty good job of it. The only design issue is that while the stand looks good, it would provide much better support if it was just a little bit bigger.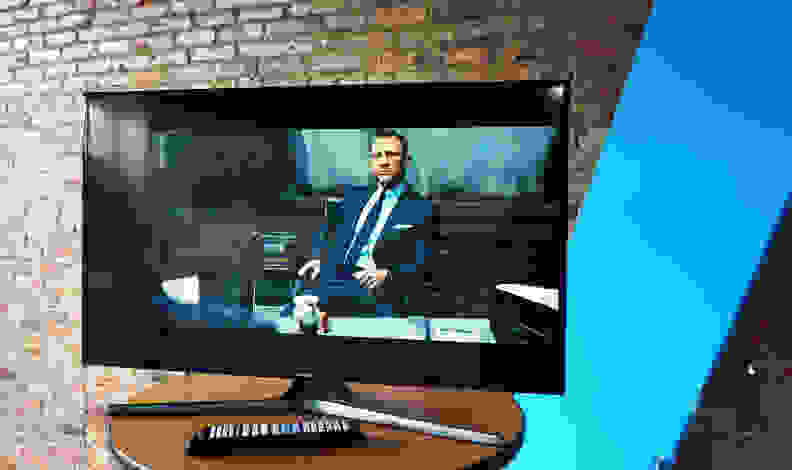 As usual, audio/video ports live in dedicated cutouts on the back of the TV. Here, you'll find four HDMI inputs, three USB 2.0 inputs, an ethernet (LAN) input, shared component/composite jacks, RF (coaxial) in for cable or satellite programming, digital (optical) audio out, a headphone jack, and an RS-232C control port. This is solid port flexibility for a smaller TV, as you don't usually get four HDMI inputs in this size.
Included with the TV is the standard Samsung smart remote, which means you won't get the motion/voice search functionality found on Samsung's pricier options, but you do still get plenty of functions—like a smart hub button, play/pause buttons, and contextual keys for different menus—that make smart features like apps and the web browser much easier to use.
All in all, the J6300 delivers better-than-average design and extras, helping it stand out from the sea of off-brand 32-inch options out there. The decorative stand and expansive port lineup are a big part of what you're paying for where design is concerned. Oh, and did I mention that the remote has a full backlight?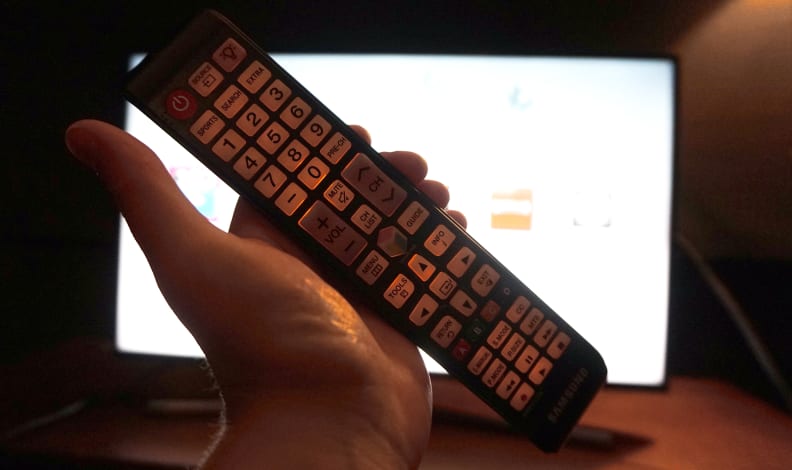 We calibrate each TV we review for a couple reasons. First, a full calibration session shows us the full extent of a TV's abilities. Can it match the 6500K standard from 0 to 100 IRE across the grayscale? Can it match the Rec.709 HD color standard in hue/saturation/luminance? Can it adhere to 2.2, 2.3, or 2.4 gamma ramps? By the time the calibration's done, we've answered these questions, and also determined the exact strengths of the TV's out-of-the-box, uncalibrated picture quality.
Calibrating the 32-inch J6300 was easy—basically, the TV functions very admirably right out of the box in Movie mode. Below, you'll find Samsung's defaults for Movie mode on the left, and my final calibrated settings on the right. In the following sections, we'll discuss the out-of-the-box results compared to the calibrated results.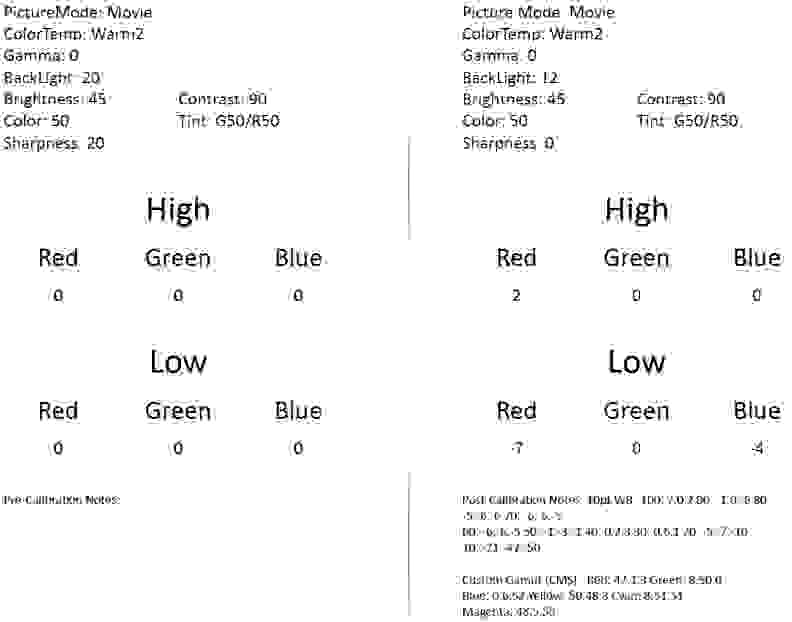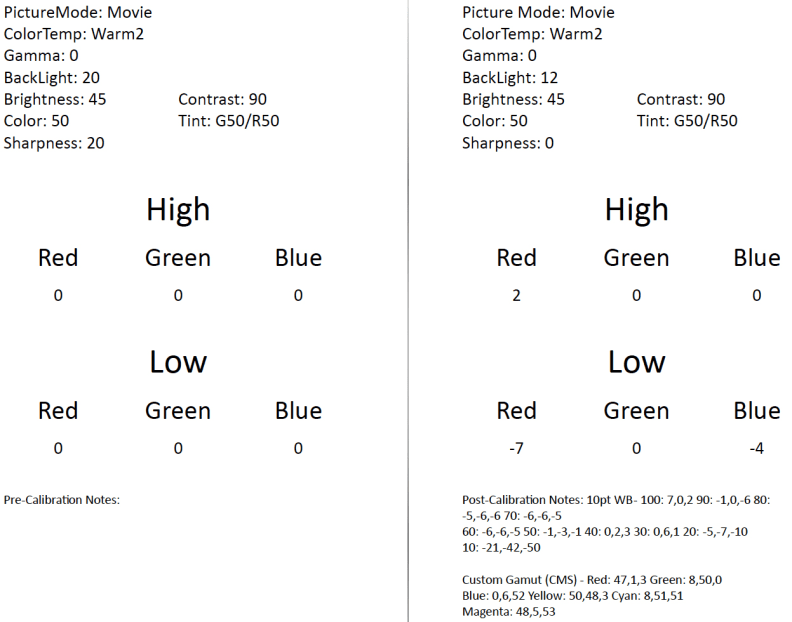 The J6300 series is available in six different sizes
Our review unit (purchased from Amazon) is the 32-inch J6300 (UN32J6300), but this series is also available in five other sizes. The UN50J6300, UN55J6300, UN60J6300, UN65J300, and UN75J6300 with prices ranging from $899 (50-inch) to $2,499 (75-inch).
All sizes offer identical features and specs as the 32-inch version we tested, but picture quality may differ slightly. It's also worth noting that some early Amazon reviews caution that some sizes in this series ship with different panels than the expected Samsung VA-type, something that interested consumers should keep in mind.
Contrast—the differentiation between shadow and highlight elements—is a huge factor in creating an immersive, breathtaking picture. For a 32-inch TV, the J6300 boasts very impressive contrast results, mostly thanks to Samsung's "Micro Dimming Pro" technology. It's not the darkest VA-paneled TV we've tested, but it's just dark enough to be convincing while maintaining enough brightness to operate in multiple lighting scenarios.
Using the standard (6x6) ANSI checkerboard pattern in Movie defaults, I measured a black level of 0.069 cd/m2 and a reference (peak) brightness of 211.80 cd/m2 , giving the J6300 a default/static contrast ratio of about 3070:1, which is solid. Most of our best-testing LCDs get at least 3000 in contrast, and this is a solid result.

Our viewing angle test measures how far you can watch a TV from the center to either side of the screen before the picture degrades beyond 50% of its original head-on contrast. We measure full-field black/white screens, starting at 0° (head-on) and moving in 10° increments to either side until contrast drops below 50%. This is one area where the J6300 didn't test well; its black level was quickly compromised, jumping from around 0.07 cd/m2 to around 0.015 cd/m2 after just 10°.
Overall, I measured a total viewing angle of 26°, or ±13° from the center to either side of the screen. It's not much worse than comparable models in size/price, but it's definitely on the narrow side for viewing flexibility.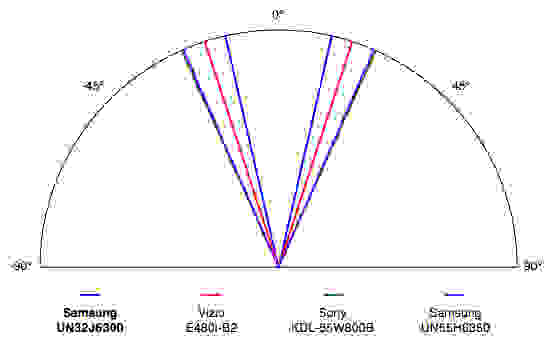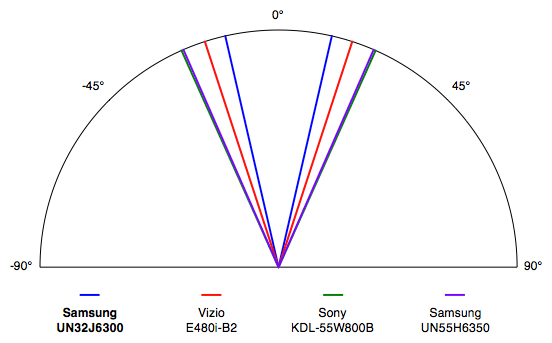 Not the whole pizza, but a pretty tasty slice.
Samsung's high-end 4K and SUHD 2015 TVs boast a full-featured, Tizen-based smart platform with numerous apps, games, and multimedia functions. The J6300, on the other hand, cuts out a lot of the extra features and instead delivers a simplified package that primarily consists of apps, home networking abilities, and a web browser. You'll find Netflix, Hulu Plus, and Amazon Instant Video here, to name a few—that's more than enough "smart" for most people.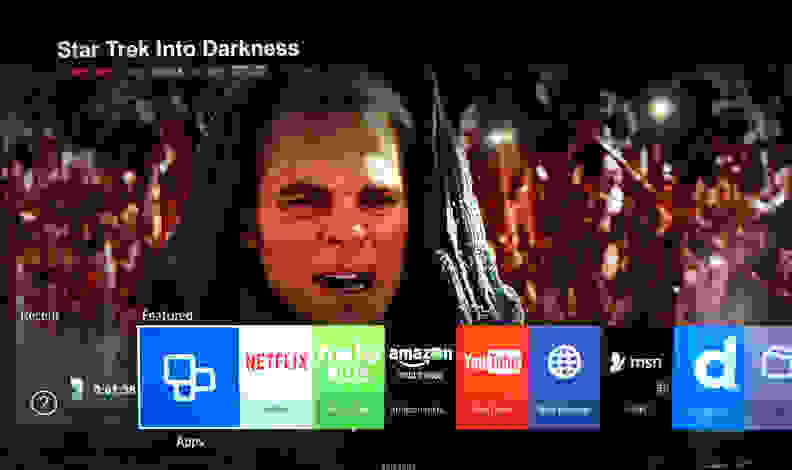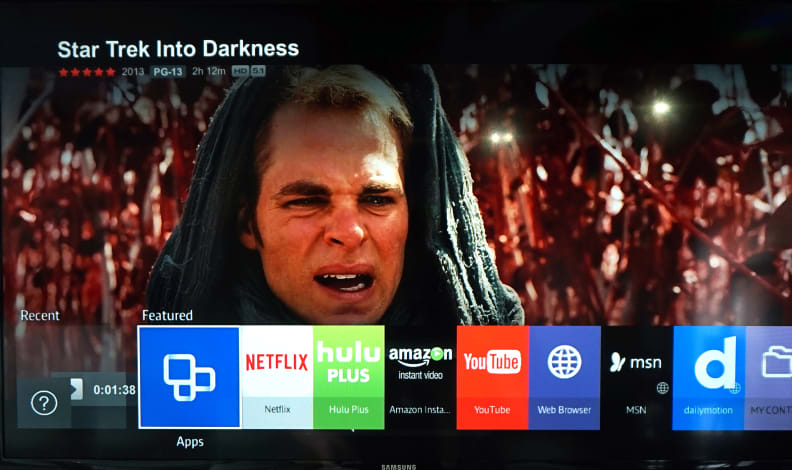 The web browser here is not an unwelcome addition, but considering the limited abilities of most TV web browsers—they lack the codecs and support for most advanced functions like in-browser video, or even .gif playback—this one can really only be truly valuable if it's very streamlined and easy to use. And like most TV web browsers, it really needs a motion-based remote control to achieve that. Navigation is sluggish, but if you're not in a rush, though, everything works just fine.
The 32J6300 is equipped with most of the controls required to fine-tune and calibrate its picture quality.
Last but not least, Samsung includes plenty of audio and video customization options. Even though it's a smaller TV, the 32J6300 is still equipped with most of the controls required to fine-tune and calibrate its picture quality. You'll find the usual gamma slider, 2- and 10-point white balance controls, and custom color gamut (CMS) as Samsung's premium TVs; all of the basics like backlight, color, and contrast are here, too. Audio options include various sound modes optimized for different content scenarios—like movies or music playback—while the network menu helps streamline the process of getting the TV online.
The 32-inch J6300 also includes a good amount of picture enhancement features, such as Samsung's Auto Motion Plus suite of motion compensation modes, and a dynamic contrast setting to boost shadow and highlight perceptibility. Check out the Picture Quality section for more information.
A color gamut is a visual illustration of a TV's hue/saturation accuracy for its white point, primary (red/green/blue), and secondary colors. The J6300 performed admirably here, though we were able to get it a little better during calibration. Most viewers will have absolutely no qualms about this color performance, but note that it's locked to the HD (Rec.709) standard. Samsung also offers a wider (xvYCC) option, but not much content supports it.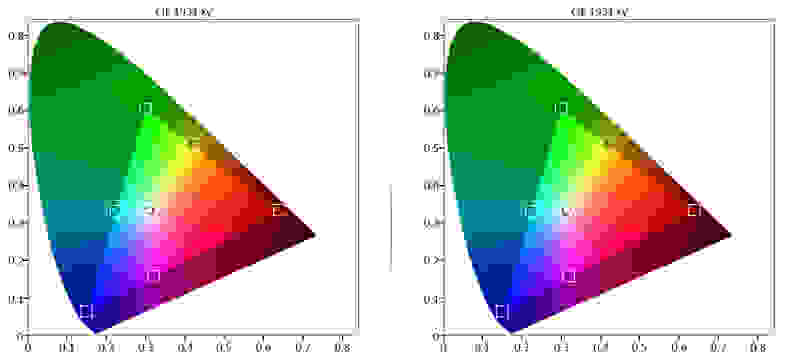 If we look at relative gamut luminance and color error (in deltaE), we can also see that there's not much by way of luminance error right out of the box.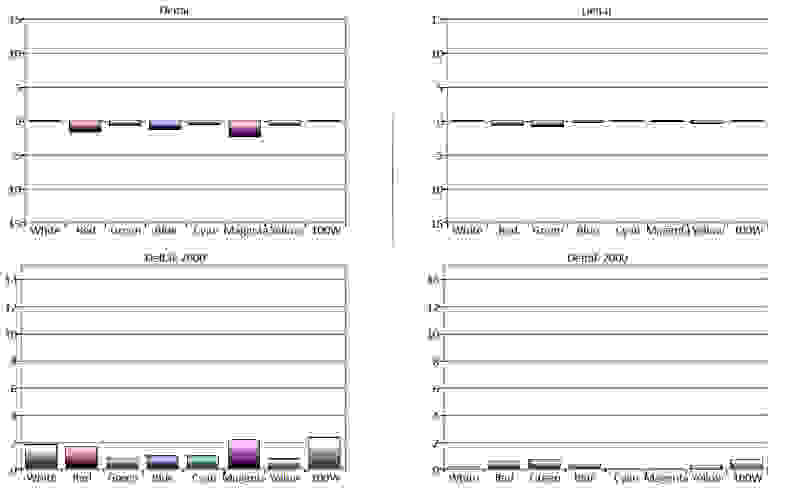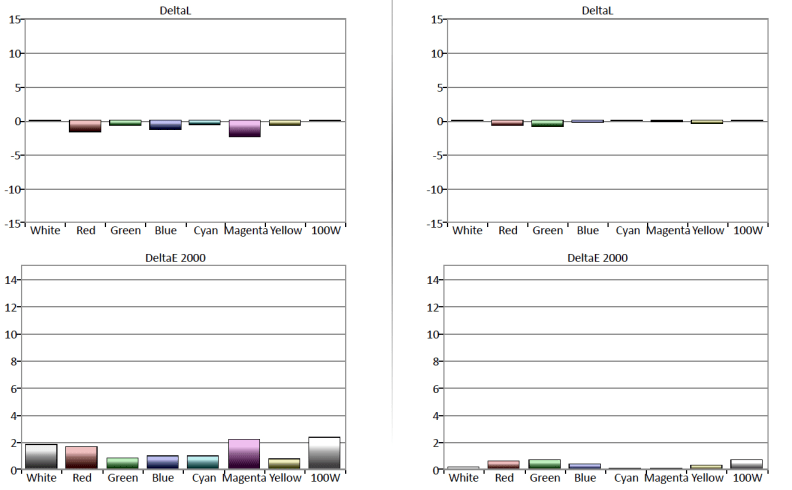 Top o' the pops
There's no bones about it: The 32-inch J6300 is a solid all-around performer. I watched content from streaming providers like Netflix and Hulu—including Skyfall and Dragonball Z—as well as a couple of our in-house Blu-rays, The Dark Knight and The Hobbit: An Unexpected Journey. I was quite impressed with this TV's performance regardless of the content source.
First off, let's talk about contrast, the keystone of good picture quality. The J6300 uses Samsung's "Micro Dimming Pro" backlight algorithm—usually reserved for the high-end models—alongside a VA (Vertical Alignment) panel type, resulting in some seriously inky tones alongside great full-field and specular highlight elements.
Sure, the J6300 will never look as inky black as an OLED, but for an LCD TV it presents very solid contrast, and won't cost you an arm and a leg.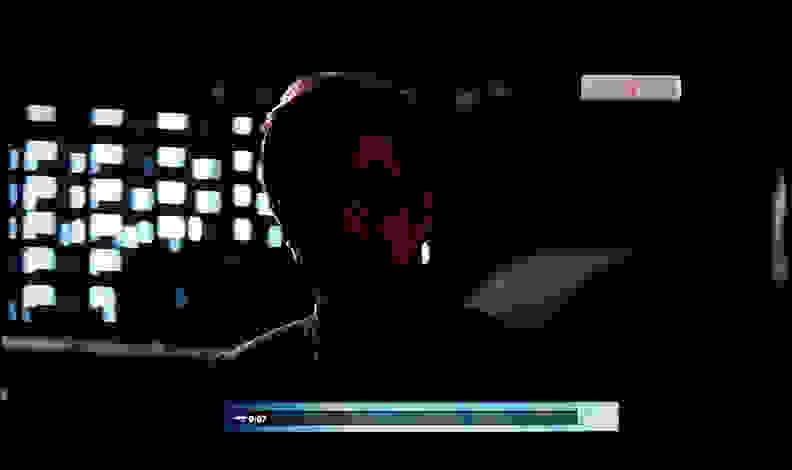 Because it uses a direct LED backlight, the J6300 also maintains good backlight uniformity. I studied a number of static test images and movies with letterbox (16:9) black bars, and never saw even the slightest bit of backlight bleed or flashlighting. Granted, the TV doesn't get that dark to begin with, but it's a smart trade-off. Black levels are dark enough without crushing the backlight's ability to produce good typical brightness or specular highlights. This is a strong-suit of LED-based TVs, actually, and is one of the J6300's advantages over emissive models like plasmas and OLEDs.
Unfortunately, the VA panel type that aids the TV's black level also makes for less-than-stellar horizontal viewing. That's one of this TV's flaws: you simply can't watch it easily from extreme angles. Unless Samsung swaps over to different panel types in the larger sizes, this can be expected across the whole J6300 series. If you're five feet away—pretty normal for this screen size—you can't move more than a foot-and-a-half in either direction before the picture starts to degrade, which is a bummer.
If you're five feet away, you can't move more than a foot-and-a-half in either direction before the picture starts to degrade.
Likewise, both bright and low-light colors displayed a great level of accuracy in both saturation (how colorful they are) and luminance (how bright they are). This makes for a good amount of clarity in scenes with side-by-side bright/dark color schemes. This terrific color control carried over into the neutral shades, too. Bright blacks, middle grays, and sub-peak whites are clean and free of color pollution right out-of-the-box.
The J6300 may disappoint picky viewers when it comes to motion performance. Samsung has opted for a 60 Hz panel here (or 120 Clear Motion Rate, in Sammy's terminology), which has pros and cons. The on-board motion compensation mode Auto Motion Plus can be great for gently smoothing out fast-action content like sports, and looks a little less like a daytime soap compared to the same effect on 120 Hz models. On the other hand, the 60 Hz rate occasionally can't keep up with twitchier content—especially very fast video games—without motion assistance.
All said, however, the J6300 lives up to its namesake as Samsung's Full HD (1080p) flagship for 2015. The only thing we'll caution is that you may not get this kind of performance from every retail unit. Reviewers on Amazon and AVS Forum have noted that some J6300 TVs use non-Samsung LCD panels, which results in notably different (and sometimes notably worse) performance than you'll get from a proprietary Samsung panel.
A TV produces grayscale (neutral) elements via a combination of its red, green, and blue sub-pixels. Each pixel has three sub-pixels fitted with a filter color that translates the backlight into all the colors your TV produces. When all three sub-pixels are utilized, grayscale elements like black, gray, and white are created. Cool!
Ideally, all steps across the grayscale will adhere to a standard point on the CIE 1931 gamut, roughly x = 0.313, y = 0.329, which correlates to a color temperature of 6500K or D65. When colors are emphasized unevenly, visible error within the grayscale occurs, measured in a collective called DeltaE (or dE), where 3 or less is ideal. The J6300 tested very well here, measuring with an out-of-the-box dE of 2.35, and a post-calibration dE of 0.83.

If we study the underlying sub-pixel/RGB emphasis, we can see where the initial error arose and how it was reduced. Our 32-inch J6300 had a tendency to subtly over-emphasize the red sub-pixel in lower grayscale elements, and then reduce its visibility in favor of blue/green. None of the discrepancies surpassed more than about 3% of the signal range, so this was an excellent performance. The ability to improve it during calibration is a testament to the fine granularity of Samsung's white balance controls.
A great little TV with multiple strengths
The 32-inch J6300 is a great option if you don't mind paying a little more for a premium experience. Built-in apps like Netflix and Amazon Instant Video work great, and the design aesthetics and port selection are top-notch. I especially like the decorative, embroidered back panel, and four HDMI inputs in this size class is a rarity, to be sure.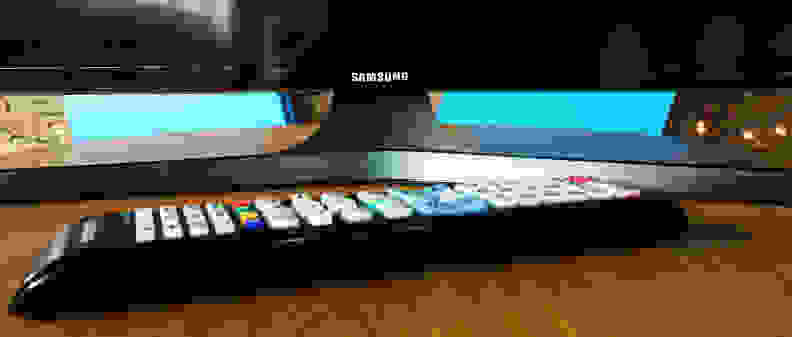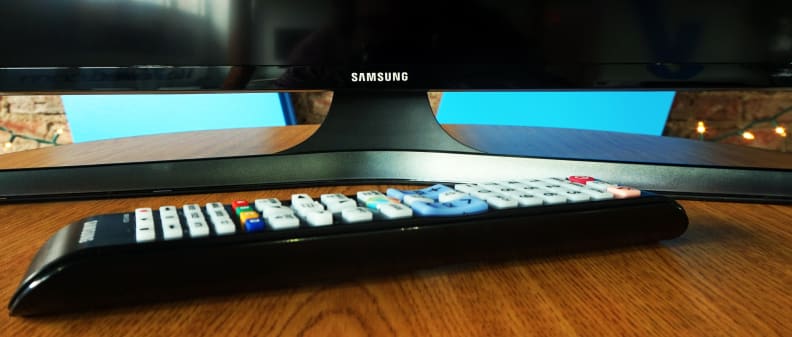 What really earns this TV a gold star, however, is its core picture quality. Great contrast, solid color accuracy, and clean grayscale elements mean all kinds of content looks great. The 60 Hz refresh rate may put off hardcore gamers or sports nuts, but everything else—game consoles, cable, and film content—looks perfectly fine.
If you want similar picture quality without the premium design and smart extras, however, there are much cheaper options. For example, Sharp's 32-inch LE653U (2015 model) offers similarly good performance, and you can find it for $279 online. And if you want something bigger, the J6300 series is a safe bet—just keep on the lookout for sale prices.
Gamma is a measurement of power law, or, how much luminance is translated per electrical input as the TV moves from dark to light. TV gamma now has a standard (BT.1886), but it's been slow to take hold. In the past, Samsung has informed us that their TVs aim for a standard gamma of 2.3, which is good for a dim environment like your living room on movie night.
This held true for the J6300, as well. Out of the box, it measured with a gamma of 2.27, very close to the 2.3 ideal, and almost totally flat (small discrepancies at 10 and 80 IRE). During calibration, I took the easy way out and continued to aim for a 2.3 gamma based on the black level measurements and typical viewing environments (2.4 seemed unlikely for most viewing purposes here). The 2.32 gamma I ended up with was mostly a step-by-step improvement, but at 90 IRE the TV failed to step properly.


Meet the tester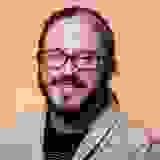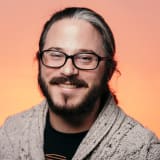 Lee Neikirk
Editor
@Koanshark
Lee has been Reviewed's point person for most television and home theater products since 2012. Lee received Level II certification in TV calibration from the Imaging Science Foundation in 2013. As Editor of the Home Theater vertical, Lee oversees reviews of TVs, monitors, soundbars, and Bluetooth speakers. He also reviews headphones, and has a background in music performance.
Checking our work.
We use standardized and scientific testing methods to scrutinize every product and provide you with objectively accurate results. If you've found different results in your own research, email us and we'll compare notes. If it looks substantial, we'll gladly re-test a product to try and reproduce these results. After all, peer reviews are a critical part of any scientific process.
Shoot us an email