Where utilities are concerned, the ES6100's available port inputs are varied and easy to access, making it a decent hub for various HDMI or USB devices. The Jog Stick serves the basic functions of power, channel, and volume, but can also be used in conjunction with an on-screen quick menu to operate most of the TV's functions sans remote control. Overall, the Samsung UN40ES6100 is smartly built, and maintains a lot of Samsung's best design ideas for 2012.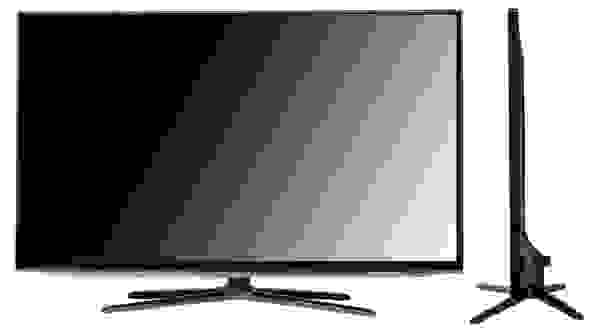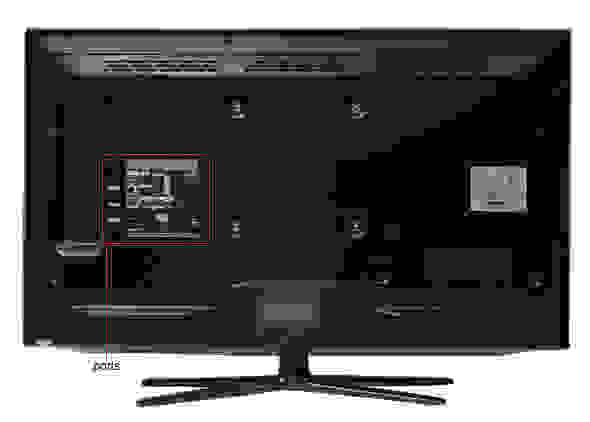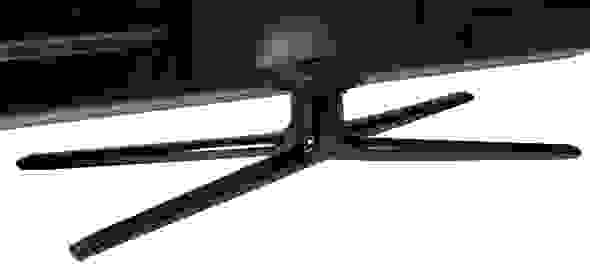 The remote control that ships with the ES6100 series is the standard infrared partnered with all of Samsung's Smart, non-3D televisions. It has a big, central button for the Smart Hub, a full number pad, big buttons for channel and volume changes, and buttons to make jumping into menus and interface options quicker and easier. It's a slightly longer remote than average, but we feel it's still easy to use, and is just shy of being overly crammed with buttons.
In the box, you'll find the display panel, stand components, eight screws, the power cable, remote control, two AA batteries, and a quick start guide. There's no paper instruction manual, but a lengthy PDF guide can be found on Samsung's web site.
On the back, right hand side of the TV, you'll find a sensible selection of input and output ports. There are 3 HDMI inputs, with one inclined to the side of the TV, and two more located on the back. The 3 USB inputs are split as well, with the side offering two inputs, and the back area housing a third.
Users also have access to a shared component/composite input, an EX-LINK port for service updates, audio inputs for DVI (PC) and analog (3.5 mm) devices, a LAN input for a wired internet connection, digital output for SPDIF (surround system) audio, and a coaxial jack for antenna or cable input.
Overall, the UN40ES6100 offers a comprehensive connectivity hub, and the ports are easy to access and find thanks to the stand's available swiveling.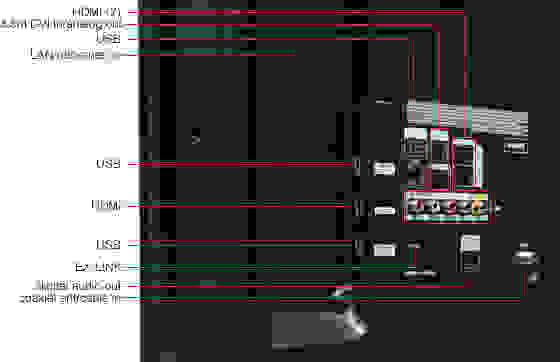 Like most TVs, the Samsung UN40ES6100 tested with pros and cons. First and foremost, its picture quality is quite good. We tested a maximum contrast ratio over 3500:1, and very smooth, uniform sRGB curves. The ES6100's color accuracy wasn't perfect, however, as it showcased mild yet visible color temperature errors, as well as a decent, but slightly flawed, adherence to the rec. 709 color gamut. The UN40ES6100 may have a large contrast ratio, but its ability to maintain that contrast across a wide angle of viewing is lacking. We tested a total viewing angle of around 30°, which is about 15° lower than we would consider flawless. While this doesn't promise to be a huge problem for anyone watching this TV head-on and (probably) solo, it does mean you're probably going to be taking advantage of the stand's swiveling if you want to use this TV in a large room. The Samsung UN40ES6100 looks to be a good TV for a smaller room, like a dorm or an office. It's fairly inexpensive, provides accurate color, average audio, and won't loot your wallet with its electricity costs. There's nothing that stands out about it as inherently terrible; but you get what you pay for, and nothing about its performance is inherently great, either.
The Samsung UN40ES6100 tested with a black level of 0.05 cd/m
2
, and a peak brightness of 194.34 cd/m
2
. This gives it a maximum contrast ratio of 3887:1, just shy of 4000, which is a great result for any HDTV. Put up against the three comparison models we pulled, the UN40ES6100's contrast ratio was the second largest, bested only by another Samsung, the UN40EH6000. The ES6100 tested with a contrast ratio almost twice as large as the Sony Bravia KDL-40EX640, and over three times as large as the Panasonic Viera TC-L42E50. Overall, this is a great result, and promises ample black/white differentiation no matter what you're watching. [More on how we test contrast.](/content/How-We-Test.htm#contrast)

The UN40ES6100 tested with smooth, uniform curves across the spectrum of red, green, blue, and the greyscale. The gradual sloping of each curve means that ample definition will be given to each color/shade, and shadows, midtones, and highlights will transition to and from one another seamlessly. This is a very good result. More on how we test color performance.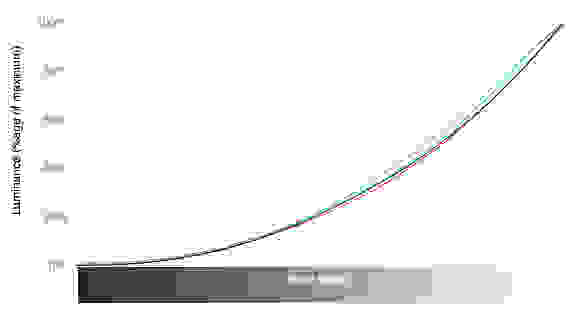 The chart below illustrates the ES6100's adherence to the a set color temperature. The orange coloration shows a deviation from this temperature--in this case, on the cooler side. The shaded area represents deviations in color temperature that are imperceptible to human vision, but there's plenty of perceptible error as well, which is disappointing. This isn't a terrible result, but it does show that the UN40ES6100 showcases visible color temperature error across the majority of the light input spectrum--however, considering the sensitivity of the human eye, one could also maintain that the majority of the TV's color temperature will be roughly in the same range--"deviated," in this case--and that it only has mild errors, on the warmer side, at the lightest and darkest areas of the input spectrum.
Yes, it's a touch complicated, but to simplify: this is a decent result, albeit imperfect. More on how we test color temperature.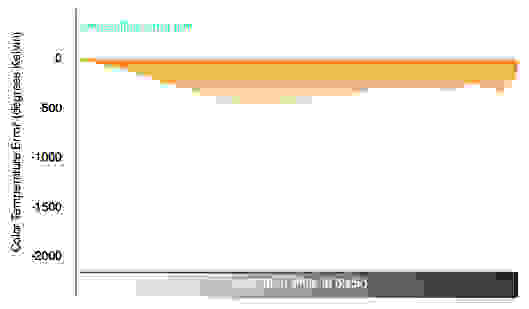 The black triangle in the graph below represents the ideal standard color gamut, as dictated by the rec 709. color standards for HDTVs. The white triangle represents the UN40ES6100's performance. As you can see, it was fairly accurate, with green and red points almost perfectly matching the standard. The blue and white points, however, were slightly off, keeping the ES6100 from achieving a perfect gamut. This won't be noticeable during standard broadcast content, but would probably mar the perfection of familiar pictures. More on how we test color temperature.
The Samsung UN40ES6100 tested with excellent picture dynamics. LCD picture dynamics are the measure of a television's ability to level its black/white tones equally, regardless of how much black/white is on the screen. The ES6100 showed us vigilant levels of light output, varying by only a few cd/m2 between integral levels of white, and staying around 0.05 cd/m2 for all black levels. A very sound result. More on how we test picture dynamics.
The Samsung UN40ES6100 is a Smart, LED LCD HDTV. Its native 1080p picture supports all NTSC resolutions and formats.
The Samsung UN40ES6100 tested with a very small total viewing angle of about 30°, or 15° from center, which is below average, but would only be considered a horrendous result if the ES6100 were a plasma television.
As you can see from the graph below, the ES6100 has the smallest total viewing angle amongst the three comparison models we pulled for it. Its roughly half as generous with viewing capability as the Panasonic E50, and only offers about 75% of the viewing angle accorded by the other Samsung and the Sony Bravia. This is a noticeably below average result.
This wouldn't be a problem for a lone, head-on viewer, but it promises limitations if you wanted to use this TV as the central viewing hub for more than two or three people.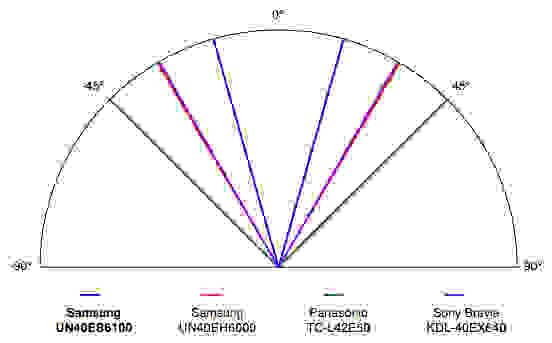 The UN40ES6100 tested with decent motion performance, though not without some notable errors. Moving pictures depicting faces, metalwork, hatched lattice, and complex visual patterns were blurry, but maintained their shape integrity. More involved patterns of banded pixels showed us artifacting--rippling, false areas of picture--as the ES6100 struggled to refresh the image across its screen.
This means a little blurring during sports or other fast-action events, though nothing that'll ruin your experience. Gamers, on the other hand, might find some of their high-end titles aren't rendered as gracefully as they should be. A so-so result, but still acceptable.
The edgelit ES6100 has the usual problems showcased by edgelit, LCD televisions. A fully white screen proved to be smooth and uniform from center to corners, and the usual bezel shadow was eliminated by the UN40ES6100's very thin bezel. We saw considerable flashlighting during the all black screen, but awarded points for the ES6100's auto-dimming feature, which does an alright job hiding this problem from the viewer. Overall, the uniformity is imperfect due to the problems with edgelighting, but at least 100% dark screens are salvaged by the set's auto-dimming, which is implemented fairly well.
The Samsung UN40ES6100 has two, down-facing 10-watt speakers that provide completely average HDTV audio. Most modern TVs feature the same set-up: two 10-watt speakers embedded below the TV. They're usually decent as far as volume is concerned, but don't offer any rich bass tones or higher, treble clarity. This was the case with the ES6100, which also lacks a surround sound imitation mode (in our opinion, that's just fine).
This is the kind of audio quality that audiophiles will turn up their noses at, but the standard lone viewer will be fine with. Just be ready to crank the TV up if you're watching with a noisier group of friends.
The Samsung UN40ES6100 consumes the most energy when compared to the three comparison models we pulled for it, but it's still very cheap. At maximum backlight, it will cost most users just a little under $18 a year in electricity costs when using the TV 4-6 hours a day, which is only a few dollars more than the comparison models from Sony and Panasonic, and the slightly lower-end EH6000 series, also from Samsung.
While the chart makes it look a little pricy, it's really quite cheap compared to previous years' TVs, and modern plasmas.
The Samsung UN40ES6100 was very easy to calibrate; we hardly had to change a thing. Calibrating within the picture mode Movie, the only change we made was to turn the Sharpness down, from 20 to 0. The default settings within Movie were already tweaked to give the greatest detail and accuracy to colors, and the starkest contrast between black and white. Very commendable on Samsung's part.
[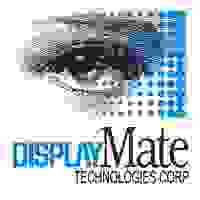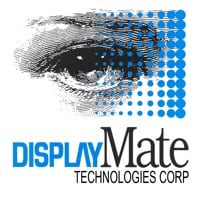 All of our calibration is done in conjunction with the DisplayMate software.
](http://www.displaymate.com/)
The Samsung UN40ES6100 has 4 Video Modes: Dynamic, Standard, Natural, and Movie.
Our first look at Samsung's 2012 smart platform, which is organized into a headquarters of quality content called the Smart Hub, revealed that it's one of the best--if not the best--smart platforms available amongst this year's line-up of internet-enabled TVs. Whether or not its used in conjunction with Samsung's Smart Touch Pad remote, or the innovative voice/gesture controls found on Samsung's ES8000 and E8000 series TVs, the Smart Hub is a great way to access streaming content, a comprehensive selection of apps, and your own personal media via USB or wirelessly connected devices.
The standard menus utilized by the UN40ES6100 are the same menus found on Samsung's other 2012 TVs. They hug the left side of the screen, featuring a stack of sub-menus for Picture, Sound, Settings, etc. The menus are intuitive and load quickly, and navigating them with the ES6100's standard infrared remote are a painless process.
Overall, there are no drawbacks to Samsung's standard menus, and the Smart Hub is a welcome addition to any of their TVs.
Samsung's web browser is easy to hop into, but navigating it with the standard infrared remote is not great. While the entire speed of the Smart Hub is commendable, it still takes longer than most people have the patience for to navigate web sites and punch in a URL letter by letter. Samsung's Smart Touch Pad remote makes this process a lot easier, but it's not available for use with the ES6100 series. Still, if you absolutely had to use a web browser, you could do worse than this one.
For more information on Samsung's web browser, click here.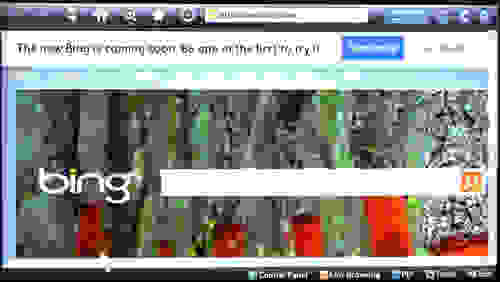 Samsung's apps store, available immediately after entering the Smart Hub, offers a large variety of apps organized by type, popularity, or price. Many are free, and many will only cost you a few dollars. There are utility apps, flash games, and news/weather widgets that can be downloaded and then organized to the user's preference within the Smart Hub. Overall, it's a very comprehensive and simple system.
For more information on Samsung's app selection and app management system, click here.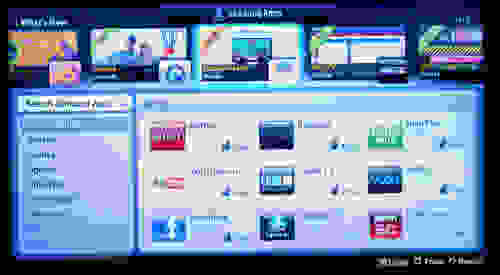 Pressing the "Menu" button on your Samsung remote will bring up a drop-down list of sub-menus: Picture, Sound, Network, Settings, Input, and Support. These menus allow for rather in-depth changes to picture settings like Backlight or Contrast, picture size (Just Fit, 4:3, Wide, etc.), sound mode, network connection, naming HDMI/component inputs, and all of the HDTV options that have become standard in the last few years. The layout is simple and effective, and Samsung's done a good job allowing even novice users to make informed alterations to their TV's settings while hiding the more complex technological processes in the background.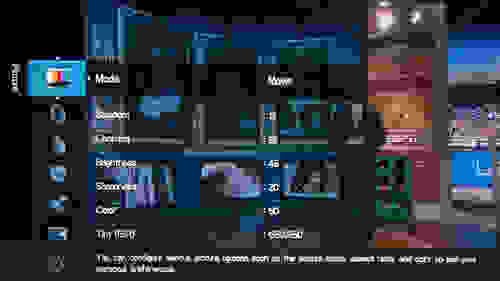 Users can even alter how opaque their menus are, allowing for more or less ease in studying the changes made to background picture while altering those settings. Timers and locks can be set to prevent access to certain menus, and to automatically shut their TV off after a certain period of time.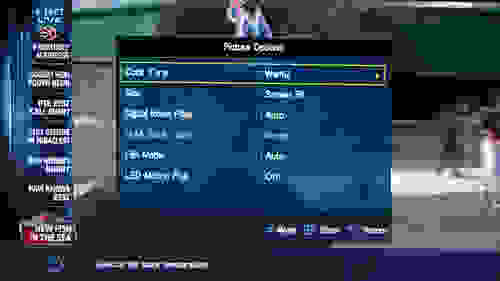 The Samsung UN40ES6100 is a solid performer, and a decent TV overall. You're paying a few hundred dollars more than you would for a VIZIO or a Dynex TV of the same size, but that's largely due to the fact that Samsung's included wired or wireless internet with this series, giving you access to their Smart Hub and plenty of streaming options for movies, TV, and music. Expect fairly average performance in the areas of audio and motion; nothing terrible, but nothing mind-blowing, and the same quality color production we've come to expect from Samsung as a company. You'll have enough connectivity options to satisfy most users, and the stand's 20° of swivel means the TV's narrow viewing angle is not as much of a drawback in a smaller space. It's about $400 more expensive than Samsung's 40-inch EH6000 series TV, but offers a much wider array of connectivity options and includes their smart platform, putting it into a wholly different category of media variety.
We can't brand a TV of this size and caliber as the cream of the crop, nor as a good choice as the central hub for a home theater set-up, but it's a great option if you want a quality, fairly affordable smart TV for a small room or office, or even to tote around from dorm to dorm.
The 5 screen sizes within the ES6100 series share connectivity options, stand components, and core performance parameters. They are each wi-fi enabled, smart TVs with no 3D capability that ship only with a standard infrared Samsung remote control, and their on-set controls are allocated to jog wheels in the same location as the one found on the 40-inch variety. Their stands are the same size, and the only variable amongst the sizes in the series in the size of the panel itself.
Meet the tester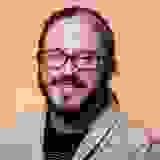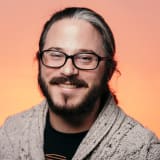 Lee Neikirk
Editor
@Koanshark
Lee has been Reviewed's point person for most television and home theater products since 2012. Lee received Level II certification in TV calibration from the Imaging Science Foundation in 2013. As Editor of the Home Theater vertical, Lee oversees reviews of TVs, monitors, soundbars, and Bluetooth speakers. He also reviews headphones, and has a background in music performance.
Checking our work.
We use standardized and scientific testing methods to scrutinize every product and provide you with objectively accurate results. If you've found different results in your own research, email us and we'll compare notes. If it looks substantial, we'll gladly re-test a product to try and reproduce these results. After all, peer reviews are a critical part of any scientific process.
Shoot us an email