It doesn't have a motorized stand, it's not thinner than an iPhone 5, and it's definitely not 4K, but the H5500 delivers solid picture performance and handy just about any streaming apps you'll need.
If you're easy to please, we may have found your soul mate—at least for the next few years.
We test our televisions before and after calibration. By doing this, we learn about a TV's initial performance as well as its full potential. All of our tests are done in compliance with ITU Standards, which are considered the de-facto ideal.
Although the H5500 improved greatly with calibration, the necessary adjustments proved quite simple. I started in the H5500's Movie mode with a color temperature labeled Warm2. From there, I dropped the gamma to -2 and the backlight to 13. I also lowered the red, green, and blue highs and lows slightly.
If it ain't broke...
While not particularly interesting or unique, the build of the Samsung UN40H5500 is aesthetically pleasing. The TV wears super slim bezels—just 0.3 inches wide. A square stand holds the panel firmly aloft, and a brushed metal finish imparts a modern feel and minimizes light reflection. All in all, the H5500 is surprisingly handsome, avoiding the cheap, glossy-plastic sheen of most TVs in its class.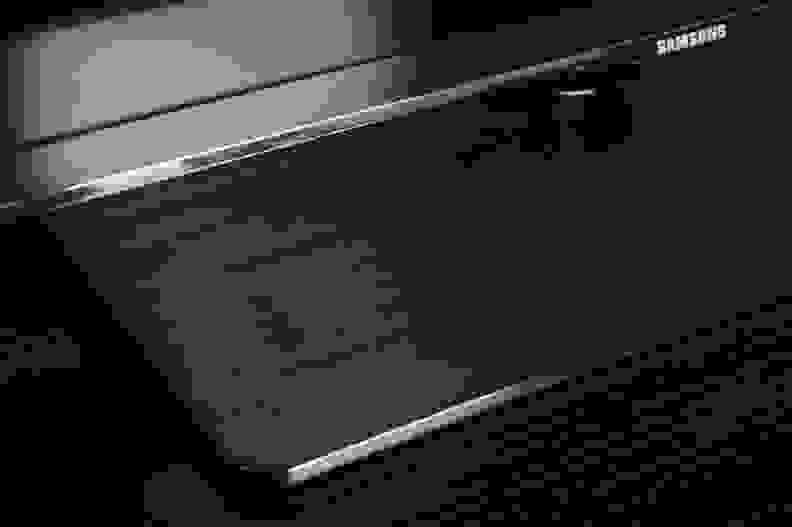 Samsung doesn't venture outside the box when it comes to the connectivity, though. Organized neatly on the back of the panel, the TV houses 3 HDMI ports, AV component/composite, 2 USB ports, digital audio out (optical), LAN, and an RF hook.
The remote control doesn't break any rules, but really, why should it? It's clean, easy to navigate, and ergonomical.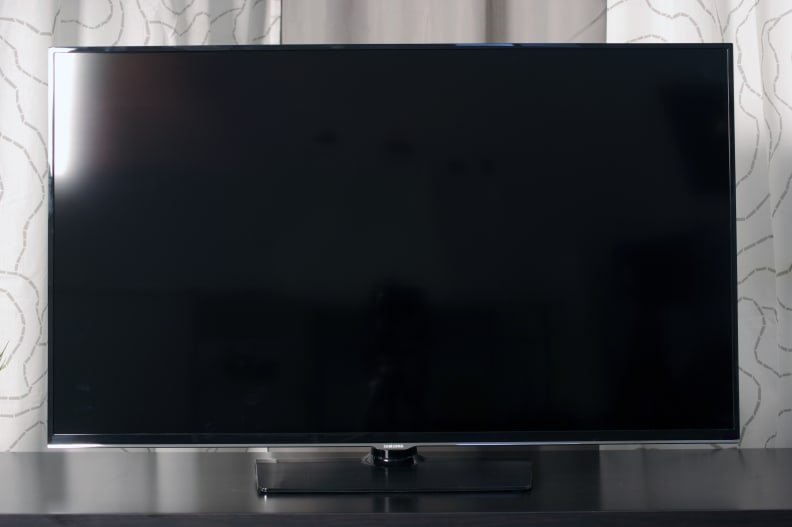 ×
Samsung UN40H5500
Mostly painless
The H5500 features Samsung's smart TV platform, and while it doesn't boast an extensive collection of apps out-of-the-box, what's included is more than enough for the average consumer.
Connecting to the Samsung Smart Hub was easy. Within minutes I was streaming Netflix from the comfort of our TV lab. And for such a low-end model, the H5500 offers one very high-end perk: Just like the company's deluxe offerings, the H5500 pulls cable content from your provider and displays it using attractive, organized movie posters inside Samsung's Smart Hub. Just plug in the included IR blaster to get this feature up and running. Goodbye, hideous cable menus.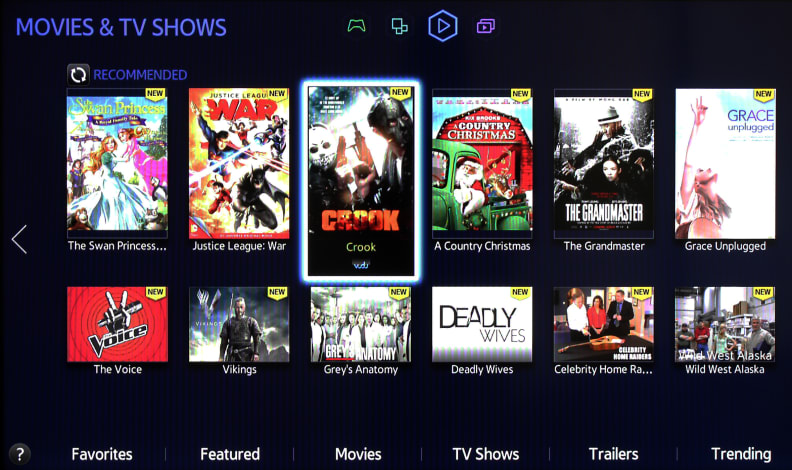 ×
New Gallery
As with most Samsung televisions, the software is clean and easy to use. In terms of menu options, all of the usual suspects are accounted for (picture and audio settings, network controls, etc.) They're arranged logically, and most of the submenus preemptively display a detailed list of their content, which makes navigation relatively painless.
The software is clean and easy to use.
I use the word "relatively" because the remote control is criminally unresponsive. It's difficult to determine the speed with which to push keys in order to generate a response, which occasionally results in rather violent button pressing. There's no sense of proper feedback.
TVs produce black, gray, and white values using an additive method that combines red, green, and blue sub-pixels. So, in order to assess a display's grayscale, we must evaluate its RGB balance. If a television over-emphasizes red, for example, certain shades of gray may appear warmer than they should.
Grayscale error is measured in DeltaE over a 10-point scale that represents different shades of gray (from darkest to peak brightness.) Ideally, we'd like to see a DeltaE average of no more than 3.
The UN40H5500 fared well in this test, averaging 2.92.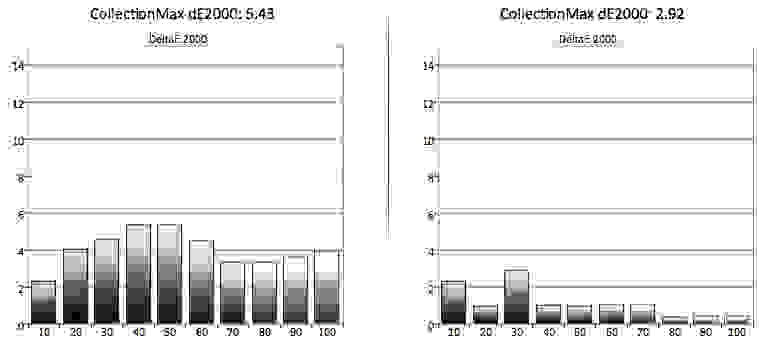 Optimally, televisions should balance red, green, and blue sub-pixels evenly. This would mean that the TV emphasizes its sub-pixels evenly across the entire grayscale.
The H5500's RGB balance is better than most entry-level TVs, generally speaking. The blue sub-pixel receives more emphasis than it should, but human eyes are far less sensitive to blue than to red or green—so this error isn't especially problematic.

Minor flaws, commendable performance
For the cost, the Samsung UN40H5500 is an impressive TV. Its performance out of the box earned great marks, and if you take the time to properly calibrate it, the H5500 shines even more.
The H5500 brings the thunder with a deep, rich black level and a shining peak brightness.
The H5500 brings the thunder with a deep, rich black level and a shining peak brightness—talk about contrast. This is especially important if you're planning on using it primarily in a home theater, because inky black levels are the cornerstone of lifelike picture quality. The H5500 also deserves recognition for its stellar color performance, which is even better if you take the time to calibrate it to its full potential.
On the other hand, if you're hoping to get one of the best pictures in the neighborhood on game day, you might want to fish around for other options, as the H5500 isn't well equipped for fast-paced sports. The problem lies in its inability to display motion smoothly. Thanks to its 60Hz panel, this television struggles to handle motion in a smooth-enough fashion for sports or nature documentaries. Specifically, during horizontal camera pans, the TV hiccups instead of gracefully moving from frame to frame. I viewed a nature documentary and noticed that the legs on animals appeared to clip one another as they walked. In short, motion handling just isn't this model's strong suit.
This television struggles to handle motion in a smooth-enough fashion for sports or nature documentaries.
It'd be remiss of me if I didn't mention the fact that our H5500 arrived with a dead pixel. It's rare that we find dead pixels on televisions, so be sure to give your panel a close look before you trash its wrappings.
Another significant weakness I discovered during testing was the UN40H5500's shallow viewing angles. If you stray too far from a direct line of sight, the image becomes murky and dim (which is something to keep in mind if you're looking for a TV that can entertain a crowd.)
That said, if you're in the market for a modest upgrade to your living room, you could certainly do worse than the UN40H5500. Its performance was better-than-average for its class.
Our viewing angle test measures the degree to which a user could sit away from the center of the screen without the picture quality suffering too dramatically.
Compared to its peers, the H5500 does not have an impressive viewing angle. In fact, it was one of the weakest aspects of the TV's performance. The total viewing angle for the H5500 was 18°, or ±9°. If users stray too far from a head-on view, they'll notice a dramatic drop-off in contrast.
Solid picture, solid value
If you can see past its minor blemishes, the Samsung UN40H5500 will make for a great addition to your home. It isn't a medalist in terms of motion performance and viewing angle, but that's the case with most 60Hz LCD panels. Thanks to a great black level and accurate color production, though, this series is a great low-end option for budget home theaters.
Of course, the H5500 isn't alone in its quest to earn a spot in your living room. The 2014 Vizio E480i-B2 is around the same price, offers basic streaming, and performs better. You could also drop a little more on Samsung's own H6350 series and nab better performance, a faster panel, and a sleeker design.
All the same, the Samsung H5500 deserves recognition for its attractive picture, great smart platform, and pleasing price tag.
A television's contrast ratio is its average peak white level divided by its average minimum luminance level. Because black level is such a critical element of good television performance, the contrast ratio is an exceptional stat when comparing the performance of multiple TVs.
For a television of this class, the H5500's contrast ratio of 4012:1 is superb. It's not quite as good as the TC-50AS530U's contrast ratio of 4982:1, but it holds its own in this category compared to other entry-level TVs.

In order to determine the accuracy of a TV's color output, we take measurements and compare the results to an international standard for HDTV color called Rec. 709. The color gamut is a visual representation of that test. There are seven points of measurement: three primary points, three secondary points, and a white point.
The H5500's white point profited the most from calibration, whereas secondary colors (magenta, cyan, and yellow) improved very little (luckily, colors looked pretty accurate to begin with).
By measuring gamma, we learn about how well a TV distributes luminance across its grayscale. We hope to find a gamma sum of 2.4, which is the standard ideal for a dark room with little to no ambient light. Essentially, there are right and wrong ways for a TV to transition out of black, through gray, and into peak white—and a gamma sum of 2.4 is what a display needs to hit to meet home-theater standards.
Prior to calibration, the H5500 produced a gamma sum of 2.11 in its Cinema mode. That's too bright for a dark room. With some informed changes, I managed to procure a much-better sum of 2.32—just shy of the 2.4 standard.
Meet the tester
Michael Desjardin
Senior Staff Writer
@Reviewed
Michael Desjardin graduated from Emerson College after having studied media production and screenwriting. He specializes in tech for Reviewed, but also loves film criticism, weird ambient music, cooking, and food in general.
Checking our work.
We use standardized and scientific testing methods to scrutinize every product and provide you with objectively accurate results. If you've found different results in your own research, email us and we'll compare notes. If it looks substantial, we'll gladly re-test a product to try and reproduce these results. After all, peer reviews are a critical part of any scientific process.
Shoot us an email