Fortunately for consumers (and us), Samsung backed up this great design with extremely solid performance scores and features galore. There are plenty of ports, colors look very good, and Samsung's Smart TV platform is one of the best out there. Even the 3D experience on this TV is pleasant and well executed.
While there were some bumps along the way, like a not-so-great viewing angle and a shoddy user manual, this TV is mostly a delightful experience.
Everything about the says "sleek." The black bezel and clear trim help to make this TV attractive and an attention grabber. The most interesting aspect about the might be the base it rests on, though. Instead of the usual slate of metal or plastic, this TV is sitting on four "legs" that resemble a bird's foot. The base blends in well with the rest of the TV; the Samsung design team should be commended for this one.
The has style in all of the right places. From the bezel all the way down to the base, this is one good looking TV.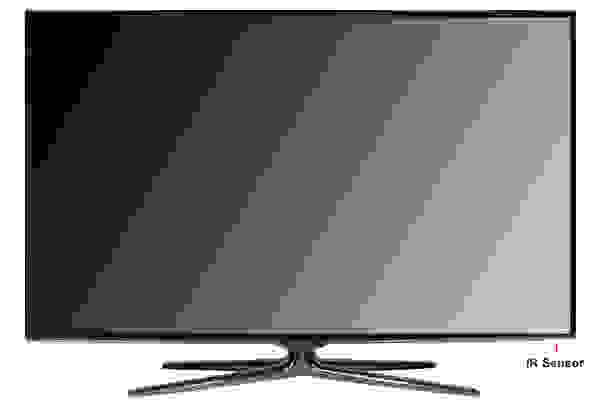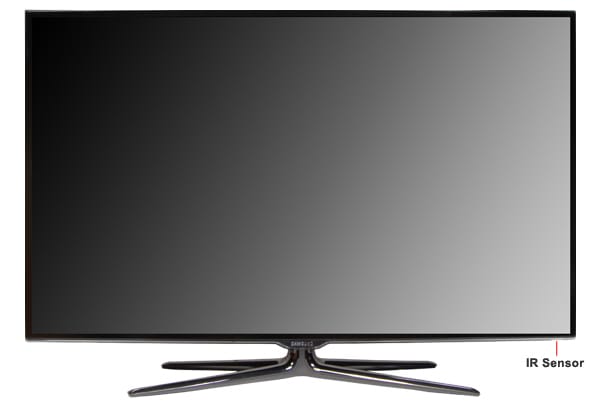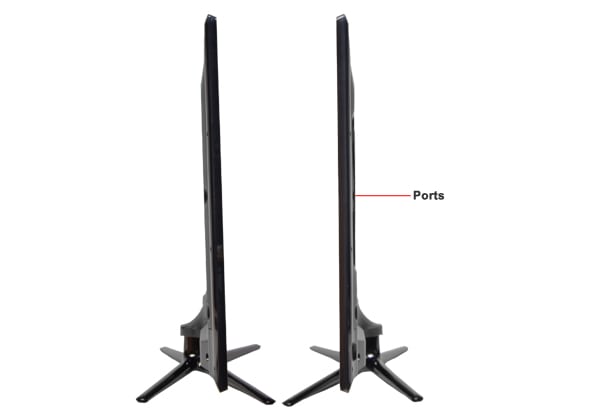 This interesting base is both attractive and functional: it has a 10° swivel angle.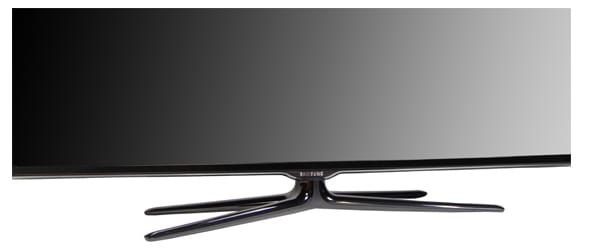 The manual controls on this TV are simplified into just one button, which is located on the right-side on the back. Pressing the button brings up a menu which can be navigated by moving the button up, down, left, or right. The menu includes access to the TV's main menu, the Smart Hub, input control and power off. Pressing the button while the TV is off simply powers it on.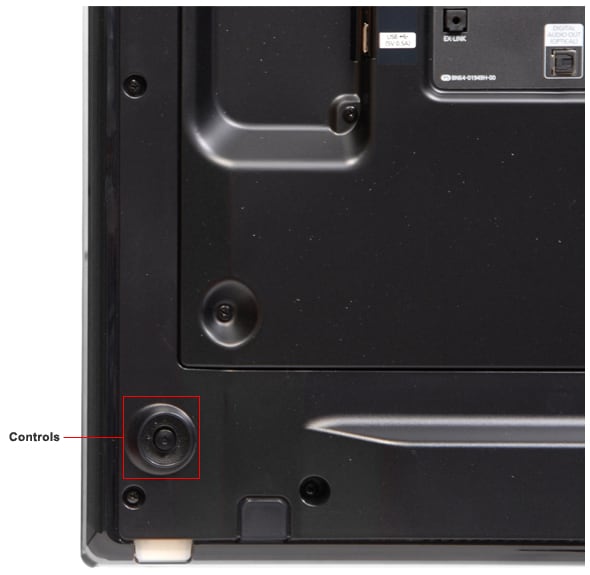 The comes with a standard remote that works well enough for most of the functions on this TV. This is a Smart TV with apps and an internet browser, meaning you will be inputting text if you use these features. There is no QWERTY keyboard on this remote which means you will be selecting letters one character at a time.
The comes with a remote, batteries, a user manual, two active 3D glasses, a user guide for the 3D glasses, a cleaning cloth, a warranty card and a safety guide.
The ports on this TV are located on the right-side on the back. There are enough ports to connect almost everything in your living room. We say "almost" because Samsung neglected to include a VGA port. This will not affect those that have an HDMI port built into their computers, but for consumers who still swear by their trusty Video Graphics Array ports, it is something to consider.
The arrangement of the ports are slightly confusing, although it does not affect the 's usability. Instead of grouping all of the HDMI ports together and all of the USB ports together, they are separated. There are two USB ports coupled with one HDMI port on the side and then there is another USB port above the ethernet jack and another two HDMI ports next to those. If it sounds confusing, it is, but this is just nitpicking. Since everything is clearly labeled, consumers should not have a problem figuring out where everything goes.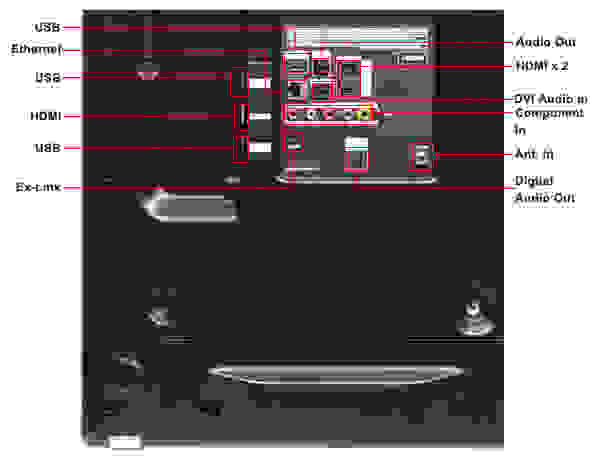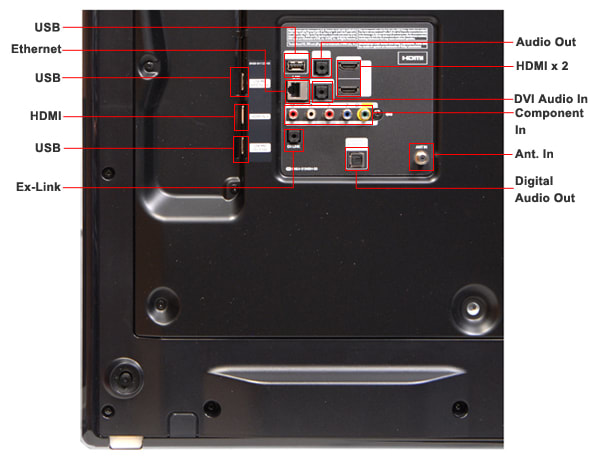 The range of scores for the went from just good to great, with the exception of the TV's viewing angle, which was just bad. Aside from that little snag, this Samsung had good color and contrast and great color temperature and uniformity. The motion performance, which is a term we use to measure whether the TV has choppy lines or color trailing when images are moving on the screen, scored highly as well.
While not as bright as some other LED TVs, the had very deep black levels that contributed to its excellent contrast ratio of 2658:1. [More on how we test contrast.](/content/How-We-Test.htm#contrast)
The color curves show that this TV has very accurate colors, especially when the picture is darker. As it starts to get lighter, the reds and blues get brighter than the greens and blacks. While this is not ideal, it is hardly noticeable on this TV. More on how we test color performance.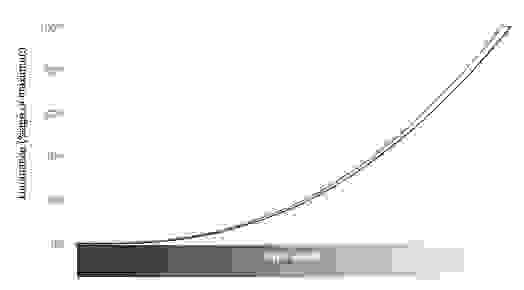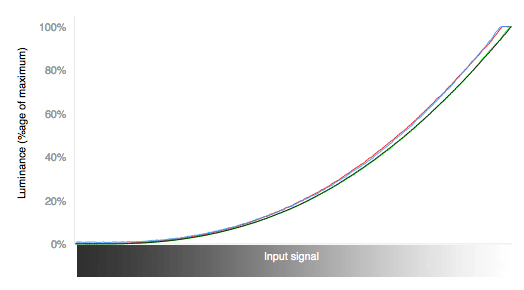 The has outstanding color temperature. This is a slight drop off at the end, meaning that as the screen gets darker, colors will get warmer. Most of the color temperature fluctuations here are not perceptible to the human eye. More on how we test color temperature.
The blues and reds are slightly under-saturated, meaning that they will not appear as vibrant as the ideal standard. The greens are almost perfect and the white point is excellent as well. More on how we test color temperature.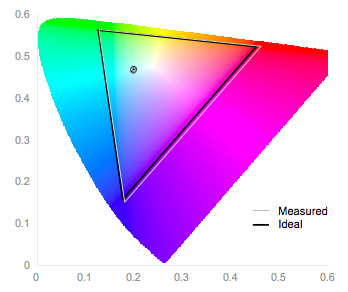 The picture dynamics for this TV were top-notch. Blacks stayed very dark on a mostly white screen and whites stayed very bright on a mostly dark screen. More on how we test picture dynamics.
The UNxxES6500 series is a native 1080p display but also supports 1080i, 720p and 480i.
The 35° total viewing angle of the is easily trumped by the LG 47LM6700's 61° viewing angle and the Panasonic TC-L47DT50's superb 120° viewing angle.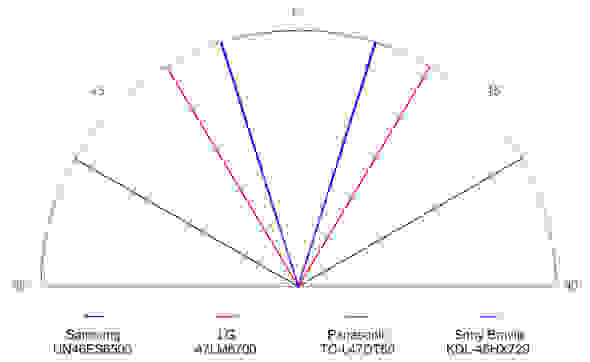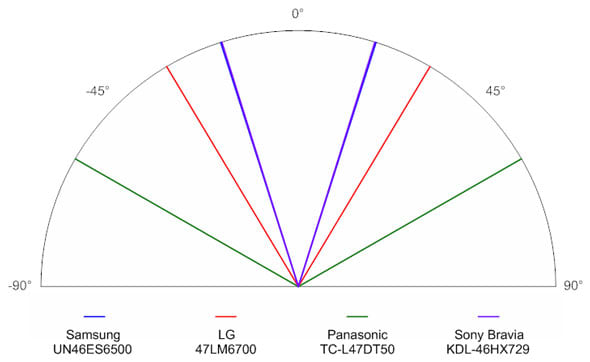 There are two motion processing features on the , one called Auto Motion Plus and one called LED Motion Plus. Auto Motion Plus is set to standard by default. The effects were mild enough that we recommend simply turning it off. If the setting is changed to smooth, there is a very noticeable Soap Opera Effect.
There are also options to customize the Auto Motion Plus settings by adjusting how much blur reduction and judder reduction it produces.
As far as LED Motion Plus, there was not much of a noticeable difference with the setting turned on.
This TV has excellent screen uniformity. Black and white levels were very consistent; there were no bright patches on an all-black screen. There was very minor shadowing near the bezel with an all-white screen but it was nothing that would detract from viewing any sort of content on this TV.
The comes equipped with two speakers that are 10W each for a total output of 20W. There are additional options for surround sound (called SRS TruSurround HD) and for voice enhancement (called SRS TruDialog).
The sound quality is just average with this TV. Since there is no subwoofer built in, low-end sounds take a hit and are noticeably dull. Samsung attempts to rectify this with the SRS TruSurround HD setting. When toggled on, there is a slight bass boost. The other sound option available is called SRS TruDialog, which attempts to make dialog and voice more noticeable without lowering the other sounds. Similar to SRS TruSurround HD, SRS TruDialog simply boosts the mid-range frequencies which gives speech a slight volume boost. If you require more frequency boosting, there is an equalizer option that lets you boost or lower frequencies in the 100Hz, 300Hz, 1kHz, 3kHz and 10kHz ranges.
The best sound that we managed to produce from the was with the movie setting turned on. Ambient noises that were not present with the standard setting were clear and audible with the movie setting. We recommend turning this on for added depth.
At just over $18 per year for its estimated power consumption, the was bested by the other TVs that it was compared to. Still, at only $8 more per year than the LG 47LM6700, this TV still performs adequately here.
Our calibrations are always done in a cinema-type mode, which is called "movie" mode on this TV. We crank the backlight up all the way so that the TV can be viewed in any type of lighting. Any type of motion processing or noise filtering is turned off. There were not many settings that had to be changed on the default movie mode for the .
[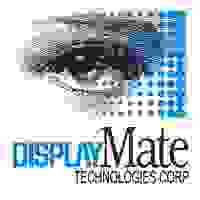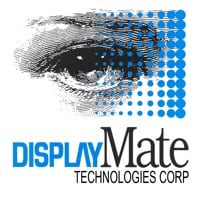 All of our calibration is done in conjunction with the DisplayMate software.
](http://www.displaymate.com/)
This Samsung comes with four different picture modes.
3D technology in TVs is becoming more common and less of a gimmick. Samsung seems to take 3D seriously; they package two pairs of their 3D glasses with the TV, which the box says we are getting for "free." Regardless, it is a nice gesture and it feels like Samsung is inviting their customers to try out this technology.
The technology in question is active 3D, which involves an image being shown to each eye in an alternating succession. The active glasses that are worn must sync up with the TV so they know which images to show each eye. When done correctly, the illusion of 3D is created. In the case of the , this mind trick is reproduced successfully and consumers are treated to a pleasant 3D experience.
The 3D on the is eye-pleasing and makes watching a two-hour movie in 3D an enjoyable experience. Scenes were given added depth and occasionally had images that appeared to pop out of the screen. Crosstalk was never a problem; the picture was crisp and blurry images were not detected during testing.
While the did not "wow" us, it did leave us nodding our heads in approval.
Samsung includes two of their active shutter glasses with the TV, which is always a plus. While they do not break any new ground in terms of style, these glasses are light weight and fit comfortably. Over time, we forgot they were on, which is as much of a complement as you can give a pair of 3D glasses.
Since these are active shutter glasses, they must sync up with the TV in order to produce 3D. This can be done by simply holding down the power button on top of the glasses. After about five seconds, a screen will pop up that says the glasses are connected.
Additional glasses can be purchased from a variety of retailers and cost about $30.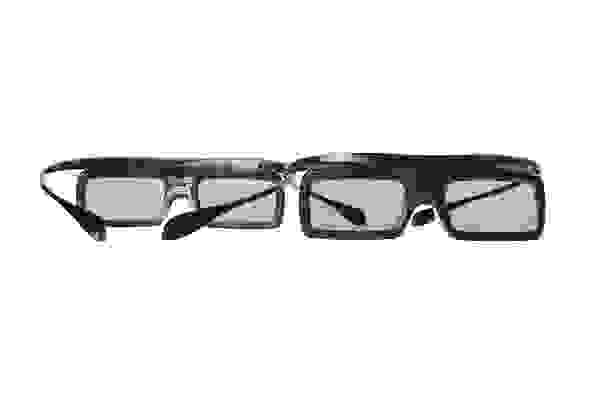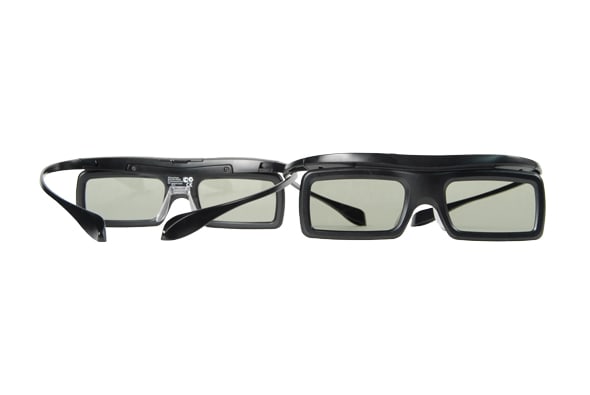 The 3D contrast ratio is much smaller than the 2D contrast ratio, but the still managed to get a respectable 1087:1 ratio.
The chart here shows that the has colors that run on the cooler side while in 3D, although the variance in color temperature is just above the perceptible limit. With 3D glasses on, this will be barely noticeable.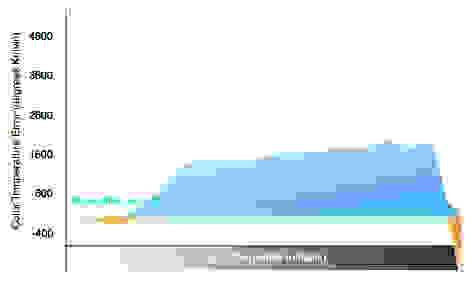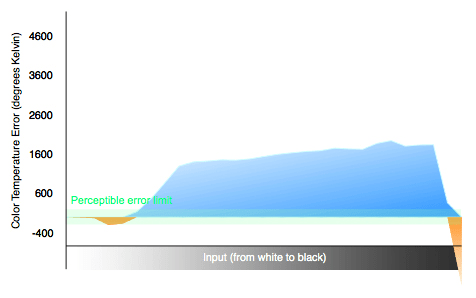 The best way to describe these curves is "not great." For every color except blue, the dark grey input signals will render black. These black, blue, and green curves flatline very quickly, meaning that the colors peak way too early.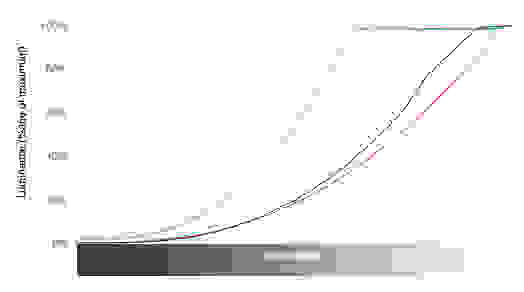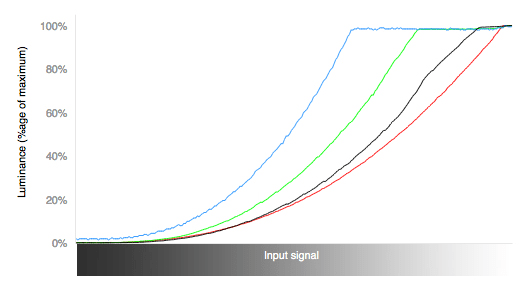 Compared to the 2D colors, the greens in 3D take on a bluish tone and the blues are brighter. Reds are slightly lighter, but not by much.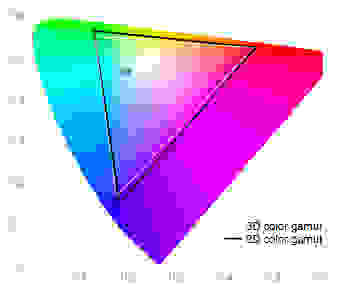 We did not experience any crosstalk while testing the . 3D effects were pleasant and image ghosting was nowhere to be found.
Samsung's Smart TV platform has a lot going for it. It has a robust app selection (for a Smart TV platform, that is), it has an easy-to-use layout, and it performs very smoothly, with very little lag. The colorful hexagon in the middle of the remote whisks you away to the Smart Hub, Samsung's base of operations for their internet TVs.
For a more comprehensive look at Samsung's Smart TV platform, check out our Samsung Smart TV overview.
As good as Samsung's Smart TV platform is, the internet browser included still feels useless. The layout is clean but finding a webpage and then navigating it is completely unintuitive because the remote that is bundled with this TV is not optimized for Smart TV features. Using the pointer on the screen to navigate and click on links is done with the arrow keys on the remote and it feels too slow to be of any use.
For a more in-depth look at the internet browser, check out our Samsung Smart TV overview.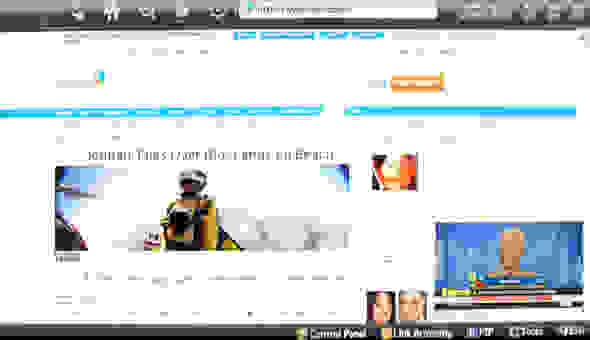 In addition to the browser, some of the apps included are YouTube, Hulu Plus, VUDU, MLB TV, Pandora and Facebook. Samsung's app store, call Samsung Apps, has a good amount of additional applications to download for a Smart TV. These include more video apps like AOL HD and Blockbuster to news apps like an AP News Ticker and USA Today. Many of the apps are free except for the games, which seem to be half free and half paid.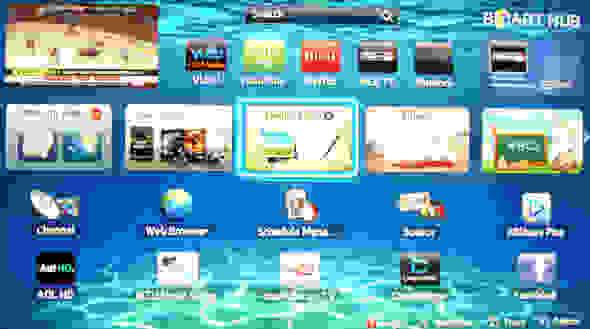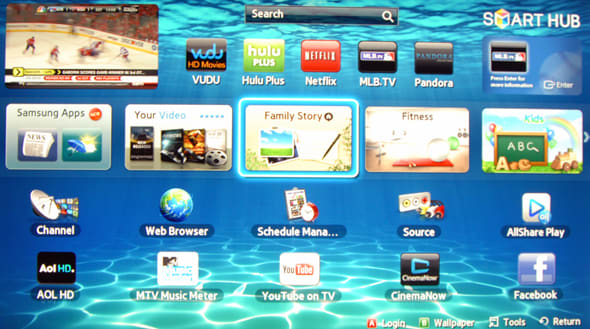 Setting up the internet on the was easy. The TV will walk you through the setup when it is first plugged in. There is also a network option in the main menu that allows you to configure the Wi-Fi settings. If Wi-Fi is not your forté, an ethernet jack is available on the back of the TV.
The comes with three USB ports. These can be used to show pictures or to play music and videos from a flash drive.
The menu on the is smooth and easy to use. The interface is divided into six categories: picture, sound, channel, network, system, and support. Once an option within one of these categories is selected, text will pop up in a box to the right of the menu explaining what each option does.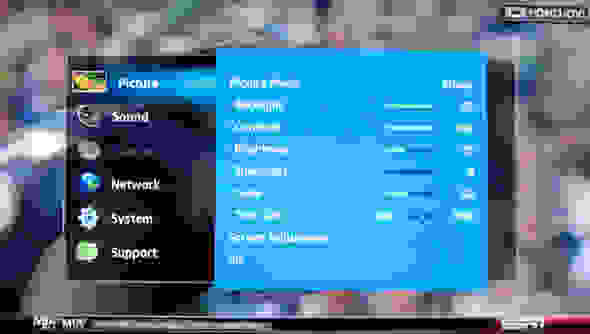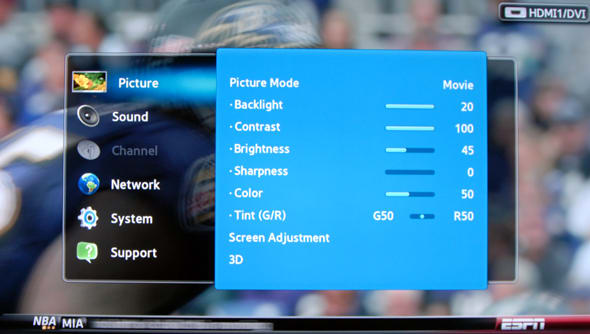 The paper user manual is lacking a table of contents, which is rather frustrating. It includes a list of bundled accessories, ports, a guide to connecting the TV to various sources, a guide to installing the base, and a guide to mounting the TV on the wall.
The digital manual on the , called the "e-Manual," is located under the support section of the menu. It offers explanations for what the different picture modes do, a guide to using 3D, an overview of the Smart Hub, and troubleshooting tips. The e-Manual was much more organized than the paper user manual and was more helpful explaining some of the finer points of this TV.
The (MSRP $1,729) is loaded with great features like Smart TV functionality, 3D, and media sharing via USB, just to name a few. Samsung deserves credit for not only implementing these features, but doing them very well.
The picture quality was excellent on this TV. Blacks were very dark and whites were modestly bright. The 46ES6500 had a great contrast ratio of 2658:1 and the screen had consistent black and white levels. Colors were not the best we've ever seen, but were still pretty good and hold up well compared to similar TVs.
For the first time, TVs using the active shutter technology are "good," or at least good enough for our jaded eyes. On the ES6500, foreground images popped out to just the right level and the entire picture was treated to the added depth that 3D brings. The problems that have plagued 3D TVs, like ghosting and other headache-inducers, are finally dissipating.
Samsung's strong point in the battle for TV supremacy is their Smart TV platform. They have a good selection of apps and an easy-to-use interface. Their internet browser still needs some work, but so do all the browsers on televisions.
With so many good things to say about the , it is easy to recommend it. If 3D, internet functionality, and a great picture quality are what you want in a TV, the is worthy of your attention.
The Samsung UNxxES6500 series of 3D LED LCD HDTVs offers Samsung's Smart TV platform and active 3D technology. They have a native resolution of 1080p.
Meet the tester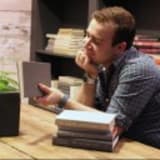 Josh Fields
Staff Writer
@reviewedtech
An enthusiast of all things tech, Josh is one of Reviewed.com's resident television experts. When he's not looking at bright TV screens in a dark room, he's probably reviewing a laptop or finding a new snack at 7-11.
Checking our work.
We use standardized and scientific testing methods to scrutinize every product and provide you with objectively accurate results. If you've found different results in your own research, email us and we'll compare notes. If it looks substantial, we'll gladly re-test a product to try and reproduce these results. After all, peer reviews are a critical part of any scientific process.
Shoot us an email