We'll start with what this TV did well: color consistency was mostly great, the black and white levels were superb, and the smart features included on this TV are the same as all internet-connected Samsung TVs, which means they are top-tier.
The not-so-good parts about this TV involve its poor viewing angle, lackluster screen uniformity, and awful 3D glasses, which are surprisingly different from the glasses found on the Samsung ES7500 and ES8000. The 3D experience, while very good, had a few hiccups that prevent it from true excellence.
The ES7100 series has a similar style to the ES7500 series, with the only difference being that there is no built-in camera for motion controls. All of the other design elements that we enjoyed from this TV's big brother are still here: the slim bezels, the razor-thin profile, and the fabulous four-legged base. If you were to purchase this TV strictly as a living room center piece, we wouldn't blame you.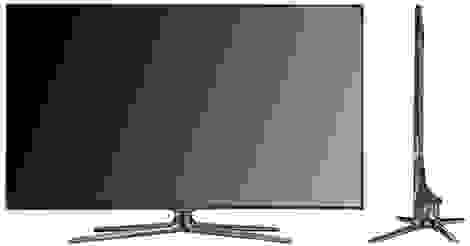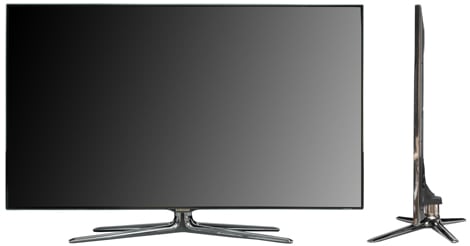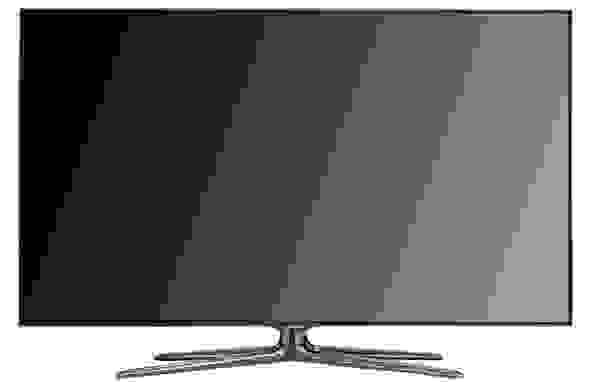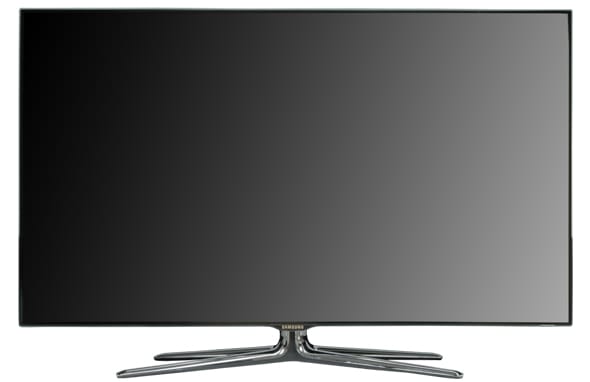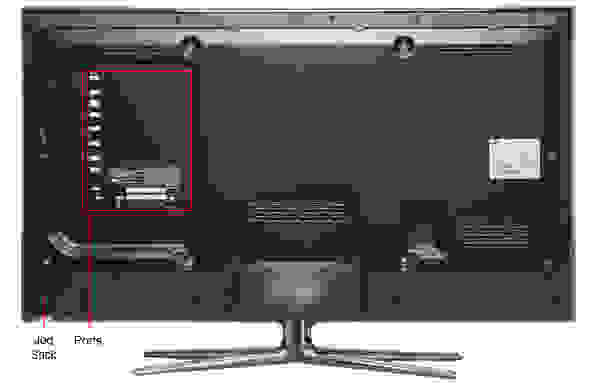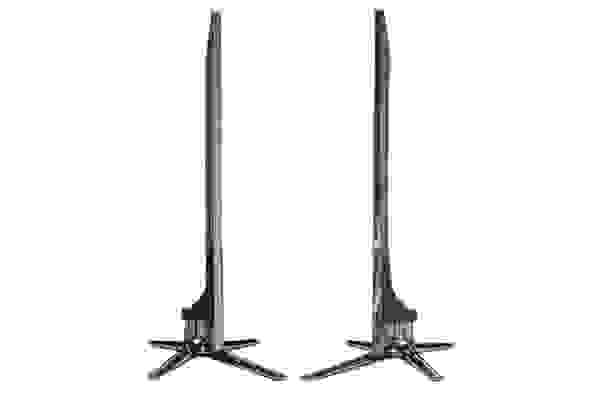 Samsung features something called a "jog stick" on the ES7100 series because buttons are so 20th century. This little knob is surprisingly intuitive and it is easy to find on the bottom-right side of the TV.
The jog stick performs different functions depending on how it is used. Pressing it in powers the TV on while flicking it left or right adjusts the volume. Pressing up or down on the jog stick will change the channel and pressing it in while the TV is on will bring up a menu with additional options.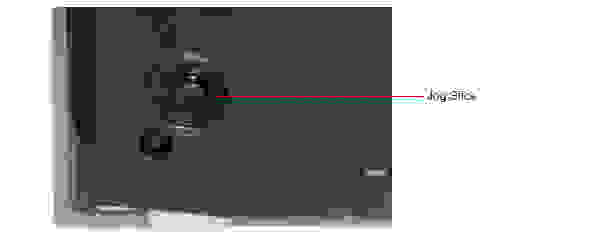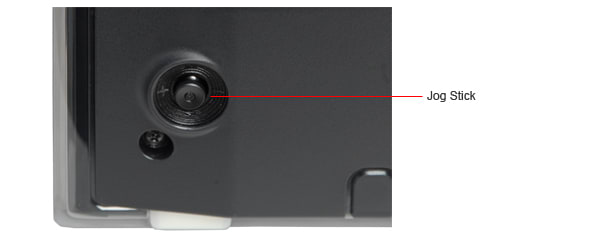 Samsung packages a basic remote with the ES7100, although there are some helpful features on it for accessing smart features. There is a Smart Hub button that will take you to Samsung's smart interface, as well as a 3D button that can toggle this feature on or off. One of our favorites features on this remote is the button that illuminates it—finding the volume button while watching a scary movie just got that much easier.

The Samsung UN46ES7100 comes with a remote, batteries, a user manual, a cleaning cloth, four pairs of active 3D glasses, warranty information, and safety information.
Samsung puts all of the ES7100's connections on the right-side of the TV (or if you're looking at it from the back, the left-side). Everything is easy to access and is labelled adequately. Our only complaint is that there are only three HDMI ports. What if we wanted to connect a separate Blu-ray player in addition to our cable box, Xbox 360, and Playstation 3?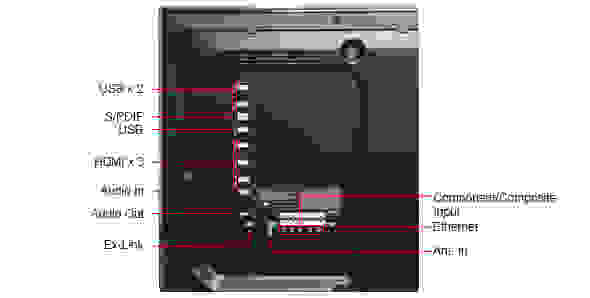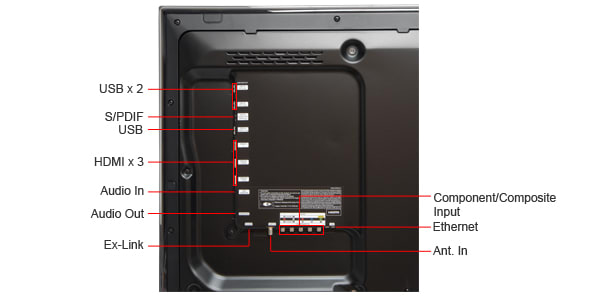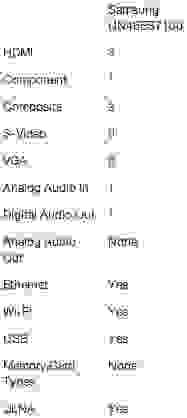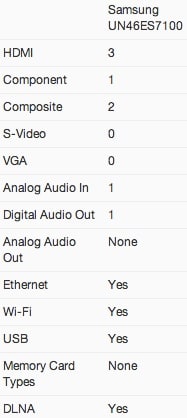 The Samsung UN46ES7100 offers a mixed bag when it comes to screen performance. The color consistency was very good, although the color temperature was rather poor. This TV was able to produce deep black levels and bright white levels, but we noticed that the viewing angle was quite bad and the motion performance was just average. The good does outweigh the bad on this Samsung, though.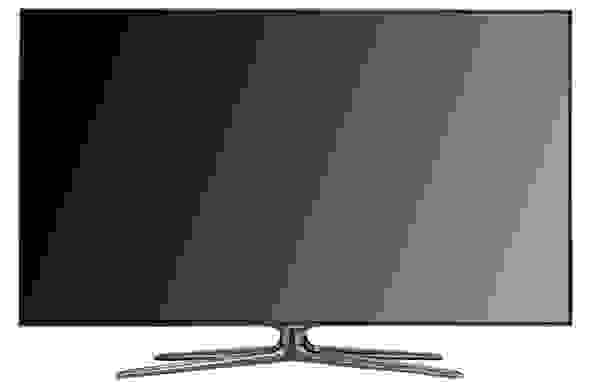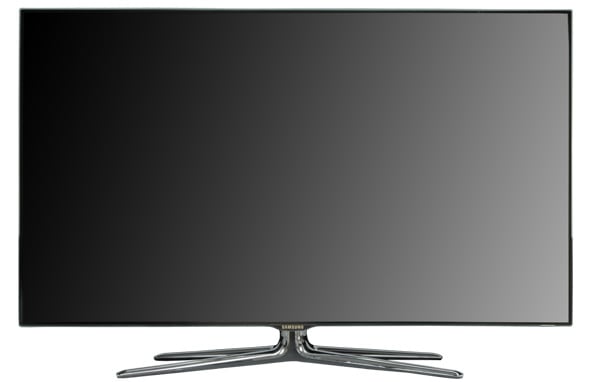 This Samsung had a very respectable contrast. It managed to get a black level of 0.10 cd/m2, while getting a very bright peak white level of 286.02 cd/m2. These measurements were very similar to the higher-end Samsung ES7500. More on how we test contrast.

These color curves look great. Every color, including the greyscale, had a smooth transition from black to its peak value. More on how we test color performance.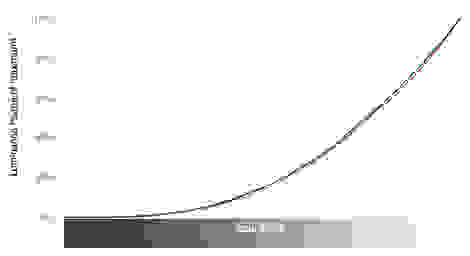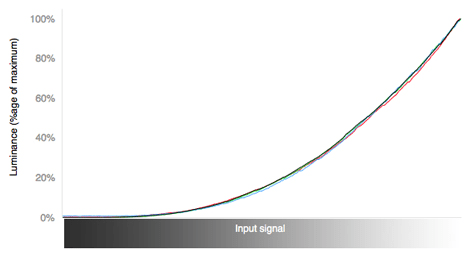 The Samsung ES7100's color temperature ran into some problems with the darker greys—the chart shows that the color temperature gets cooler in this area. During our calibration, we noticed images that were supposed to look dark grey instead had bluish and greenish tones. More on how we test color temperature.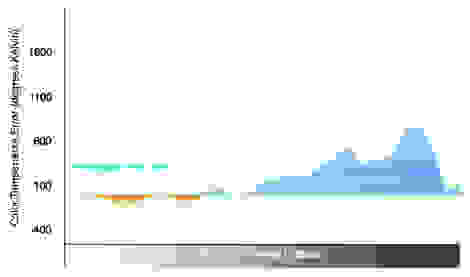 The ES7100 is able to produce blues and greens that adhere to the ideal color gamut for TVs. The reds were slightly oversaturated, meaning that they can appear more vivid. The white point was slightly off, but not by much. More on how we test color temperature.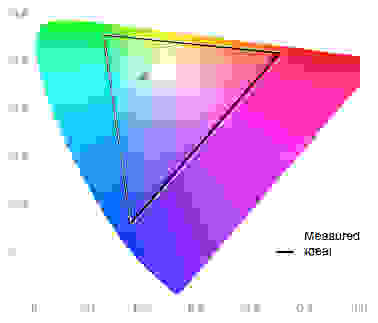 The picture dynamics were great on the UN46ES7100. This TV kept a consistent black level with an increasingly white screen and a consistent white level with an increasingly black screen. More on how we test picture dynamics.
The Samsung UN46ES7100 has a native resolution of 1080p and displays all standard NTSC formats.
The UN46ES7100 had a total viewing angle of 21°, which is rather poor. Its dismal performance is matched by its big brother, the Samsung ES7500—the two viewing angles are overlapping in our chart. None of these LED TVs were a match for the exceptional viewing angle that the Panasonic DT50 had.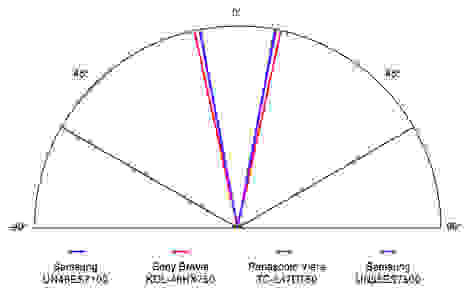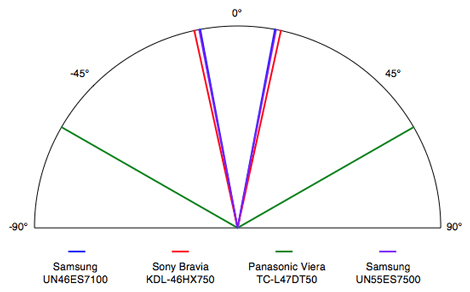 We noticed satisfactory motion performance on the ES7100. Fast moving images were slightly blurry and lines became a bit jagged, but it wasn't enough to seriously detract from the TV-watching experience. Samsung does include options to tweak motion performance, although most of these options will leave you with the Soap Opera Effect.
The screen uniformity on the ES7100 was not impressive at all. An all-white screen on this TV looked pretty good, with minimal shadowing along the edges. When the screen was completely black, the result was not nearly as good. There were bright spots throughout the screen, which made the resulting image look something like a Rorschach inkblot test.
We enjoyed the audio quality on the Samsung ES7100, although it still pales in comparison to a good set of external speakers. Samsung includes options for toggling the sound mode between five different settings:
| Sound Mode | | Description |

| Standard | | The basic sound mode offered. |

| Music | | Emphasizes music over voices. |

| Movie | | Provides the best sound for movies (turns surround on by default). |

| Clear Voice | | Emphasizes voices over other sounds. |

| Amplify | | Increases the intensity of high-frequency sounds to provide a better experience for the hearing impaired. |
Having the surround mode on spread the sound out, simulating an actual surround system. While this mode will never take the place of an actual 5.1 setup, it does make the TV speakers sound better and we recommend turning it on.
The Samsung UN46ES7100 tested fabulously here—this LED TV was truly easy on the power consumption. Out of three similar TVs we compared it to, only the Panasonic DT50 was able to score better here.
This Samsung is one bright TV. We had to turn the brightness down to 32 in order to achieve an ideal calibration. Contrast had to be tweaked slightly and sharpness just added a halo-effect to edges, so we turned it off.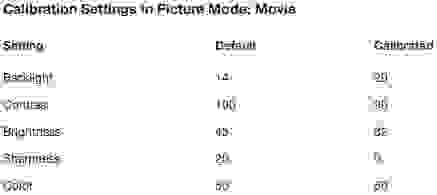 [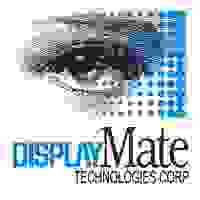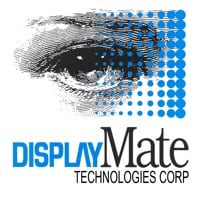 All of our calibration is done in conjunction with the DisplayMate software.
](http://www.displaymate.com/)
There are four picture modes on the UN46ES7100: dynamic, standard, natural, and movie.


Samsung manages to consistently produce great 3D experiences and the ES7100 is no exception, but some things are different this time around. We noticed some slight image ghosting during our testing, although it was not very much. Samsung included different glasses with this TV than what we have used previously and we were not impressed by them at all. Even with these drawbacks, we were still satisfied by the total 3D experience that is offered on the ES7100.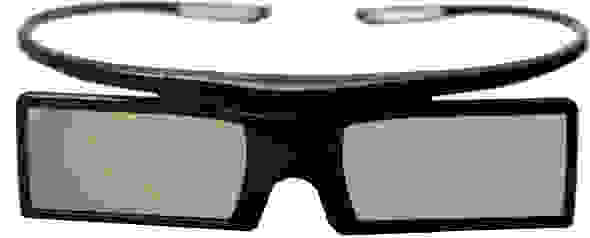 Samsung produces a great 3D experience, but not everything is perfect here. The good news is that the 3D effect is subtle, but noticeable—it is never distracting. Menu screens appear to pop out of the screen and movie scenes benefit from the added depth that 3D brings. The bad news is that the ES7100 is not completely crosstalk free. There were a couple instances where we noticed a slight ghost image. While these occurrences were few and far between, it is still noteworthy.
We have praised Samsung's 3D glasses in the past, but the glasses packaged with the ES7100 are not the same as the glasses that come with the ES8000 and the ES7500. They are not as flexible and feel loose around the head. We also felt like these glasses didn't cover enough of our vision, especially towards the bottom of the lenses.
Since wearing 3D glasses is like wearing sunglasses, both the black levels and the white levels are darkened. The ES7100 still managed to score respectably here.


The 3D color temperature is pretty bad. Most images take on a cooler tone.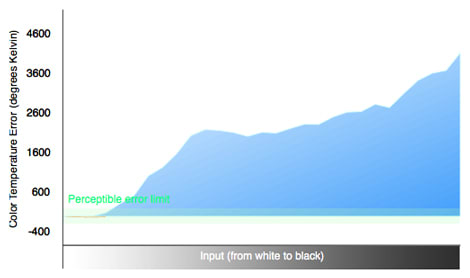 All of the colors peak way too early in 3D. Reds achieve their peak value way too quickly.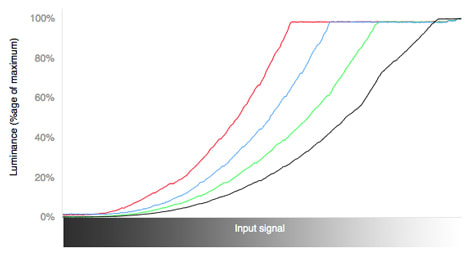 The 3D color gamut has undersaturated blues compared to the 2D color gamut. The white point is off—it is more green than white.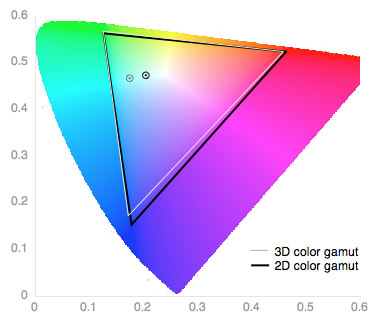 While many TV companies are offering smart features on their latest TVs, Samsung does (most of) them right. Having an app store helps and having one that offers more than ten apps is even better. The main reason we are continually impressed by Samsung's smart interface is because it is clean and easily navigable—they strike a balance between having plenty of content and making that content easy to find.
For an in-depth look at Samsung's smart platform, check out our overview here.
Samsung does a lot of things right, but making a great TV browser is not one of them. To be fair, no one (except maybe LG) does a great job in this area.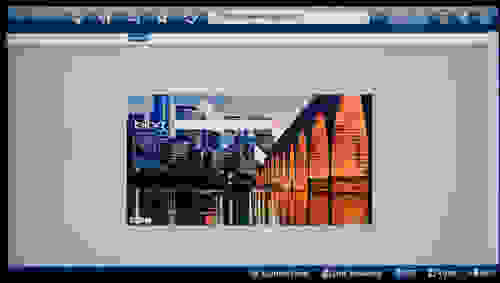 On other TVs, like the ES8000 and ES7500, Samsung includes their Smart Touch Remote, which makes browsing a website less of a chore. Sadly, this little device is not included with the ES7100. Users will instead have to adjust to using an on-screen keyboard with a standard remote, which is not even close to a good time.
There are plenty of apps to find on Samsung's ecosystem. The most important apps for any smart TV are ones that stream video content and Samsung has plenty of those. Netflix, Amazon Instant Video, Hulu Plus, and YouTube all make an appearance on the ES7100.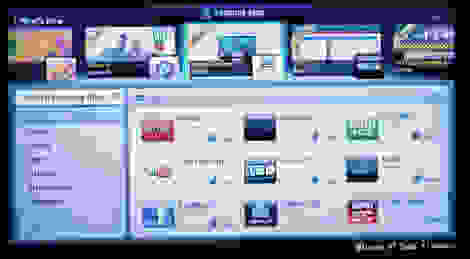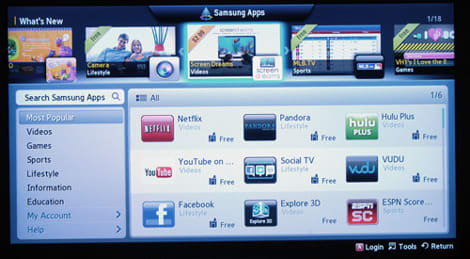 For more information on Samsung's app selection, and all the other Smart Hub features, click here.
The ES7100 can view photos and videos plus listen to music via a USB drive. Once plugged in, a pop-up screen will ask what type of media you would like to view on your TV. If you want to check out your USB media later, you can press the "source" button, Samsung's version of an input button, and select the USB drive that way.
Samsung's menu is a joy to navigate. It is divided into six different sections: picture, sound, channel, network, system, and support.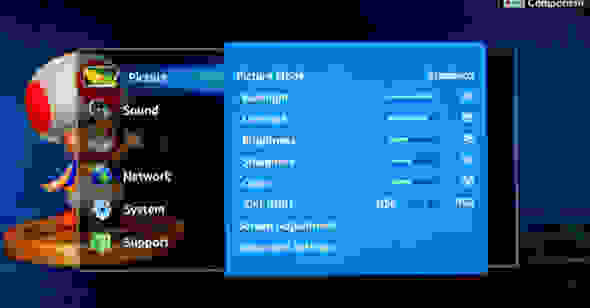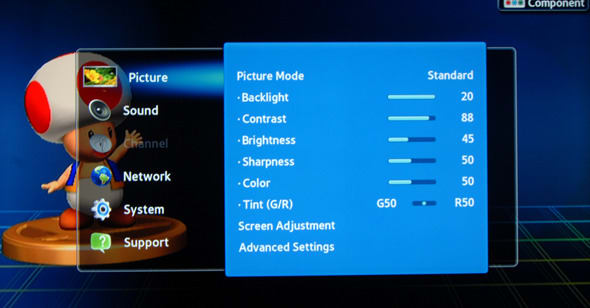 Pressing the menu button on the remote will bring up the ES7100's menu interface, which is the same one featured on all of Samsung's 2012 smart TVs. Once a setting is selected, there is usually a description that tells you exactly what that setting does. Way to be user-friendly, Samsung.
There is plenty of detailed info in Samsung's user manual for the ES7100. A table of contents would be nice, but we can forgive Samsung for that oversight because of how in-depth this manual gets.
The Samsung UN46ES7100 (MSRP $2,309) is not a bad TV at all. We were impressed by its ability to produce deep black levels and bright white levels. We also enjoyed its decent audio and efficient power consumption. As always, Samsung brings their A-game when it comes to internet connectivity, although the 3D experience was merely a B+ this time.
We were surprised to see the rather poor color temperature on the ES7100—while the color consistency was mostly superb, some of the dark greys were off-colored. The viewing angle was another stumble, and Samsung's decision to use 3D glasses that are way more uncomfortable than the glasses found on the ES7500 models is puzzling.
The bottom line is that the UN46ES7100 is not a bad TV, but for around $200 more, consumers can purchase the 46-inch ES7500, which is an all-around better performer.
The Samsung ES7100 series of 3D LED HDTVs includes Samsung's smart TV platform and four pairs of active 3D glasses.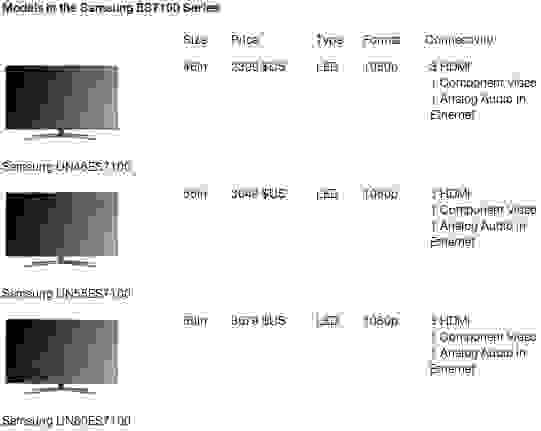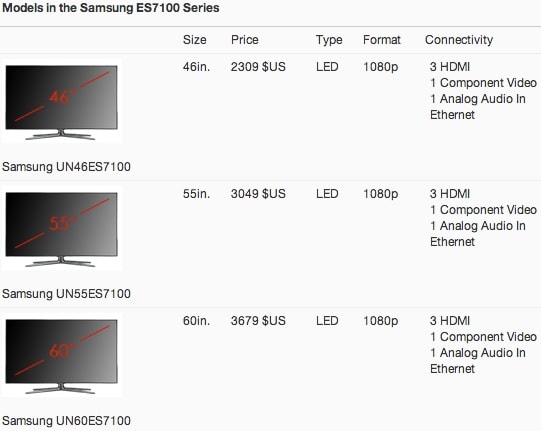 Meet the tester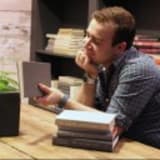 Josh Fields
Staff Writer
@reviewedtech
An enthusiast of all things tech, Josh is one of Reviewed.com's resident television experts. When he's not looking at bright TV screens in a dark room, he's probably reviewing a laptop or finding a new snack at 7-11.
Checking our work.
We use standardized and scientific testing methods to scrutinize every product and provide you with objectively accurate results. If you've found different results in your own research, email us and we'll compare notes. If it looks substantial, we'll gladly re-test a product to try and reproduce these results. After all, peer reviews are a critical part of any scientific process.
Shoot us an email