Taken on its own merits, the F6400 is a solid TV. Its picture is terrific without any calibration, and it boasts all of the Smart Hub goodies that make Samsung Smart TVs such a hot commodity. Taken within the range of Samsung LCDs, however, it's ultimately bested in value by other Series 6 options this year.
A great choice for most purposes
Time in the lab has solidified it: the UN46F6400 is another stellar LCD from Samsung this year. From dynamic range to color production, this 46-inch smart TV produces a very appealing picture.
Our first round of tests covers picture dynamics—contrast ratio, white falloff, and the like. I measured an acceptable minimum luminance in the lab, meaning shadowy content and black areas on-screen will look suitably dark. Contrasting this, the F6400 can also reach high levels of light output, ensuring that it's bright enough to live comfortably even in very well-lit rooms.
This TV exhibits a good deal of input lag unless the Game Mode setting is on.
Motion performance is one area where the F6400 bests lesser 2013 LCDs. Its 240Hz motion processor makes mincemeat of fast-moving content, especially once Auto Motion Plus—Samsung's stock motion processing mode—has been customized to a source. Variable De-Judder and De-Blur settings, including the usual pre-sets, help the TV meet the motion requirements of most content.
There is a caveat here, however. This TV exhibits a good deal of input lag unless the Game Mode setting is on. The Game Mode locks into the Standard picture mode, which uses a non-adjustable backlight limiter to reduce power consumption (meaning some games will flicker and fluctuate between larger and smaller amounts of white on screen). This can range from a small nuisance to a big problem, depending on the game.
If you're all about the bright, vivid color provided by modern HDTVs, never fear: The F6400 trounced that test, too, testing with an exceptionally accurate color gamut in Movie mode. Expect to see pleasing balance between the vivid and the subtle, with preservation of color detail from top to bottom/
The F6400's narrow viewing angle makes choosing the right spot a high priority.
Last but not least, we'd like to advise potential buyers about this TV's viewing angle. The F6400's narrow viewing angle makes choosing the right spot a high priority. Extreme and even mild off-angle viewing causes degradation in picture quality.
Fortunately, the F6400 is very light—about 30 lbs. altogether—so moving it around on its stand is an easy task. It also swivels, though neither of these design additions will assuage viewing angle issues if you've decided to wall-mount it. Something to keep in mind.
Modern and sophisticated
Modern Samsung TVs are beautifully designed, and the F6400 is no exception. Its slim panel perches upon an X-shaped stand, and can swivel about 15° to the left or the right. The F6400's black bezels are wrapped in a transparent trim, emphasizing screen real estate. The TV looks modern, light, and more expensive than it actually is.
The TV looks modern, light, and more expensive than it actually is.
You'll find video connections on the right side of the panel's rear. It's a mid-tier product, but Samsung doesn't skimp on the selection: four HDMI inputs, three USB ports, shared component/composite, RF in, IR blaster out, and digital/analog audio are all easily accessible and clearly labeled.
Alongside the panel and stand, the F6400 comes bundled with Samsung's 2013 Smart Touch remote, a small, handsome wand that uses a combination of infrared signal, touchpad, and microphone to make browsing through menus and Smart Hub components easier than ever before. Two AA batteries are included, but a traditional remote is not—something I personally find myself pining for.
Overall, the 46-inch F6400—now about $900 online—looks much better than many of last year's Series 6 TVs. Its quad stand and minimalist design help it blend into most environments—just turn it on if you want it to stand out.
Apps, a browser, all at the touch of a... word?
The UN46F6400 is a 3D smart TV, which means it's stuffed with the same high-end smart platform you'll find on much more expensive Samsung LCDs this year. A fully-fleshed menu and intuitive interface make setup and day-to-day easy, and these smart features actually won our Best Of Year award, so you know they're worth considering.
If you don't like fiddling with TV menus, you'll be glad to know that most of the F6400's pre-set picture modes—Standard and Movie, particularly—are already set up really well as soon as you boot this thing up. If you do like fiddling with menus, you're in for a treat: There's tons to mess with!
For basic menu functions, the Picture and Sound settings alone may leave you reeling. In the Movie preset, users can adjust the Backlight, Color, Contrast, Brightness, Tint, and Sharpness controls to start, but there's more within the Advanced menus. Complex controls for Gamma, White Balance, and Color Space can be utilized with a little digging, allowing a full calibration of the TV's performance—see mine on the Science Page.
The Audio menu allows for adjustment of treble, bass, and speaker balance. It also provides an imitation surround sound mode, volume equalizing, digital audio out customization, and a number of audio pre-sets for various types of sound playback. There's lots to do, but don't expect too much from the stock speakers—they've got nothing on a surround sound system.
Complex controls for Gamma, White Balance, and Color Space can be utilized with a little digging.
The best thing about the relatively affordable F6400 is that it allows access to the Smart Hub. Expect a number of pre-installed apps like Netflix, Hulu Plus, YouTube, and Twitter. There's also an included IR cable so you can control your cable or satellite box via the TV's included remote—it even sucks your programming information into the Smart Hub, giving you a visually-appealing alternative to the traditional ugly cable menus.
The one thing that's not above-and-beyond yet is the F6400's web browser. It's just a little too sluggish to warrant continual use, even in conjunction with the touchpad-equipped Smart Touch remote. Searching Google using the remote's built-in microphone is a fun gimmick, but it's still a lot slower than just typing on a traditional keyboard. If you're going to buy, buy for the apps and cable integration.
This is not the porridge you're looking for
Unfortunately, unless you really want 3D or really need a 240Hz panel, the UN46F6400's extra features come at too high a price for the trade-off in basic picture quality. It's at only a middle-ground of value between its little and big brothers.
Thus, I have to recommend the slightly more affordable, less-frilly F6300 if picture quality is all you want, or—if you're going to spend at least $1,000 on something frilly anyway—the award-winning F6800 series.
That said, the F6400 isn't a bad choice, it's just not the best choice. This series packs a lot of goodies—the Smart Hub, 3D tech, a 240Hz panel—alongside totally palatable picture quality, and has a ton of sizing flexibility. If you absolutely can't find any of the other Series 6 TVs, you can at least find this one in seven different screen sizes starting at $700 online.
The UN46F6400 ($1,449) is an excellent performer, hands down. Solid black levels, almost perfect white balance, and above-average motion performance solidify this LCD as one of the better midrange offerings this year. Calibration was quick and painless—I hardly had to change a thing—so customers can count on a hassle-free, beautiful picture in Movie mode.
With some TVs, the calibration process is a long, grueling task; not so the F6400. Other than adjusting gamma, altering the white balance slightly to achieve D65 (ideal white), and reducing the prevalence of the blue sub-pixel from the TV's RGB balance, the UN46F6400 is set up almost perfectly in Movie mode right out of the box.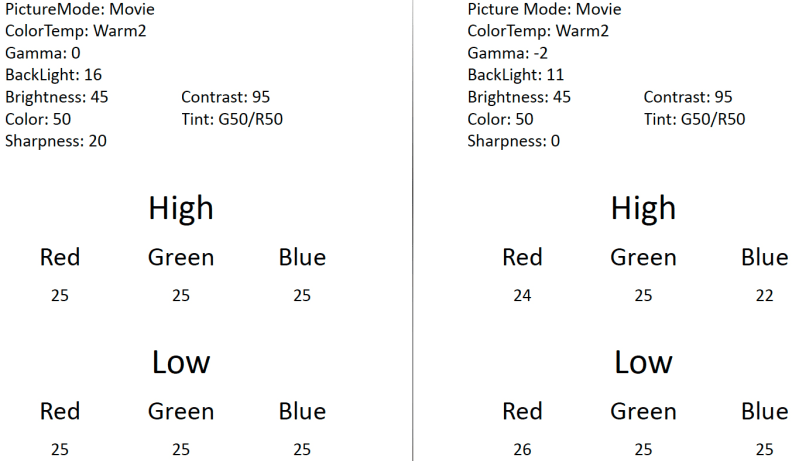 I reduced the default Backlight settings from 16 to 11 to hit around 45 fL, a good peak luminance for a dark/dim theater setting. Altering gamma from 2.2 to 2.4 also favors dim-light viewing, adding depth and detail to low-mid luminance elements. I reduced the Sharpness control—an analog holdover—from 20 to 0, and used the TV's 2-point white balance controls to remove some blue from the top half of the grayscale and add some red to the bottom half.
The end result was a marginal improvement upon an already stellar picture. In the following sections, you'll find the pre- and post-calibration results in greater detail.
In the displays industry, the "grayscale" refers to a TV's spectrum of neutral shades: black, gray, and white elements. TVs use what's called additive color to create grayscale elements, relying on red, green, and blue sub-pixels combining to create black, gray, and white light. Naturally, these sub-pixels need be balanced to create grayscale elements without impurities; an imbalance in the sub-pixels can create reddish, blueish, or even greenish-looking black, gray and white elements, which are often present in every scene of every TV or movie to some degree.
Prior to being calibrated, the F6400 tested with a total grayscale error (DeltaE) of 3.08, just outside of the acceptable range, 3 or less. After calibrating the TV's sub-pixel balancing, the DeltaE was reduced to 1.24, with each step of the grayscale containing so little error as to be perceptually perfect.
A close look at the sub-pixel balance revealed that the present errors owed to an overemphasis of the blue sub-pixel. Reducing its presence (and balancing it to the green sub-pixel) required only a few small changes to the TV's red/blue emphasis.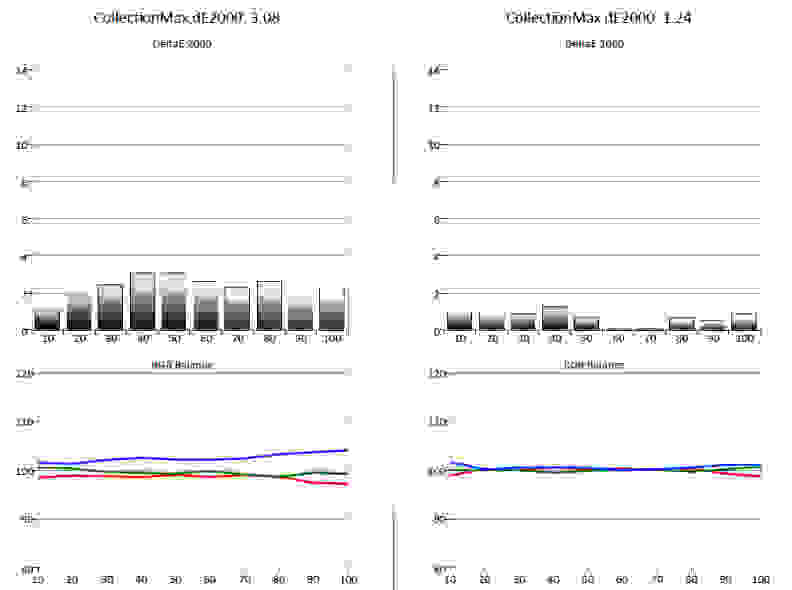 Displays use "gamma correction" to alter digital luminance signals for analog eyes. The interval of increase between steps of luminance along the grayscale is measured in a gamma sum, most commonly 2.2 or 2.4 for TVs. The higher the number, the more gradually the display increases from black to white. By default, the F6400 is set to a gamma of 2.2, but it also adheres to the 2.4 standard quite well.

Other than correcting the F6400's white point slightly, I found during calibration that its adherence to the Rec. 709 international color standard for HDTVs was commendable. The F6400's red, green, blue, cyan, magenta, and yellow are almost perfect as soon as you turn it on, which is an awesome result.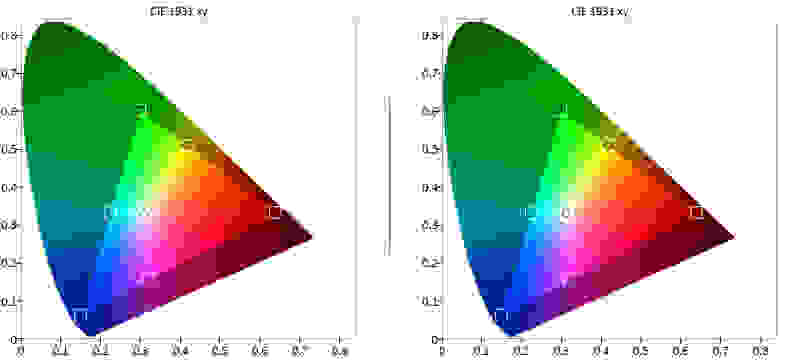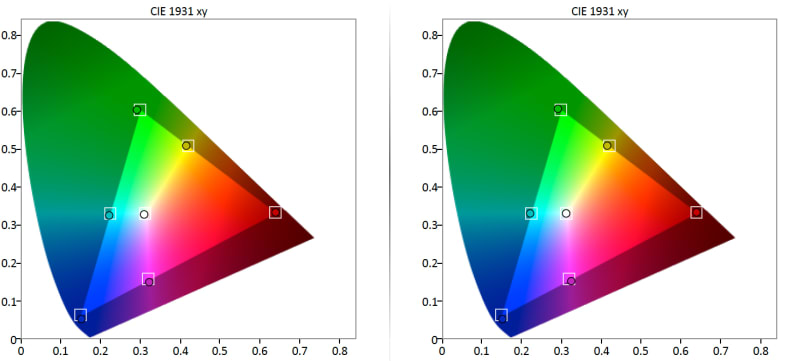 While not on the level of a plasma display, the F6400 LCD is capable of a solid contrast ratio, producing both acceptable black levels and ample brightness. I tested a minimum luminance level of 0.07 cd/m2 and a correlated brightness of 209.40 cd/m2 , giving the F6400 a static contrast ratio of 2991:1.


Within the scope of horizontal viewing angle, the F6400 performs like most LCDs on the market: poorly. Due to their design, liquid crystal TVs often suffer from a degraded picture during off-angle viewing. I tested a total viewing angle of 31°, or ±15.5° from the center to either side. This isn't a horrible result—it's right in line with the F6400's competition—but it does mean you need to place this TV carefully to reduce losses in perceived picture quality.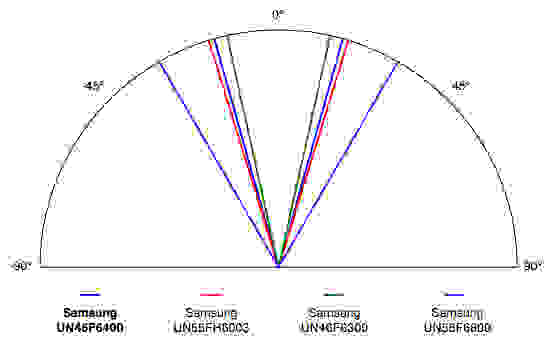 Meet the tester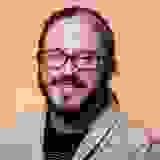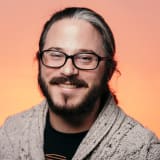 Lee Neikirk
Editor, Home Theater
@Koanshark
Lee has been Reviewed's point person for most television and home theater products since 2012. Lee received Level II certification in TV calibration from the Imaging Science Foundation in 2013. As Editor of the Home Theater vertical, Lee oversees reviews of TVs, monitors, soundbars, and Bluetooth speakers. He also reviews headphones, and has a background in music performance.
Checking our work.
Our team is here for one purpose: to help you buy the best stuff and love what you own. Our writers, editors, and lab technicians obsess over the products we cover to make sure you're confident and satisfied. Have a different opinion about something we recommend? Email us and we'll compare notes.
Shoot us an email