If you're hoping to share your TV with friends and family, be warned: The JU7500's viewing angle is very narrow. Whether or not the curved screen is responsible for this is unclear, suffice it to say that the curve certainly doesn't offer any tangible benefits in this case.
Although a 4K resolution is preferable to full HD, a TV's resolution has no impact on most of the performance areas we test for. A television's motion performance is also entirely subjective, since we don't have a formal test for it.
The price of the average 4K (UHD) TV is coming down. It hasn't been a speedy process, but it's happening, slowly but surely.
And as the price of this technology begins to fall, it's hard not to forecast two or three years of increasing affordability. If you're prone to buyer's remorse, this can be a frightening time to commit to the TV you'll likely be spending the next five years with.
After all, the industry is still catching up to last year's P Series. That Vizio lineup debuted good 4K TVs aimed at consumers who might be gun-shy over the expense of newer technology.
The Samsung UN48JU7500 (MSRP $1,599.99) is a mid-to-high-end 4K TV from Samsung that hasn't exactly gotten the memo. While it certainly sports an impressive picture and does more or less everything you'd expect from a smart TV, it's not quite $1,600-good, and that's a serious bummer.
Ahead of the...nevermind.
The curve is here to stay. After a 2014 stuffed to the brim with curved monitors, curved phones, and more curved Samsung TVs than you can shake a remote at, the trend forecasts well into 2015.
It's a polarizing design feature, and as of now, it's purely aesthetic: Despite campaigns that would have you believe otherwise, we have yet to measure any real tangible benefit from curved panels. Some people feel that the curve is more immersive, but that experience is subjective, and only a factor when one person is sitting in the TV's sweet spot.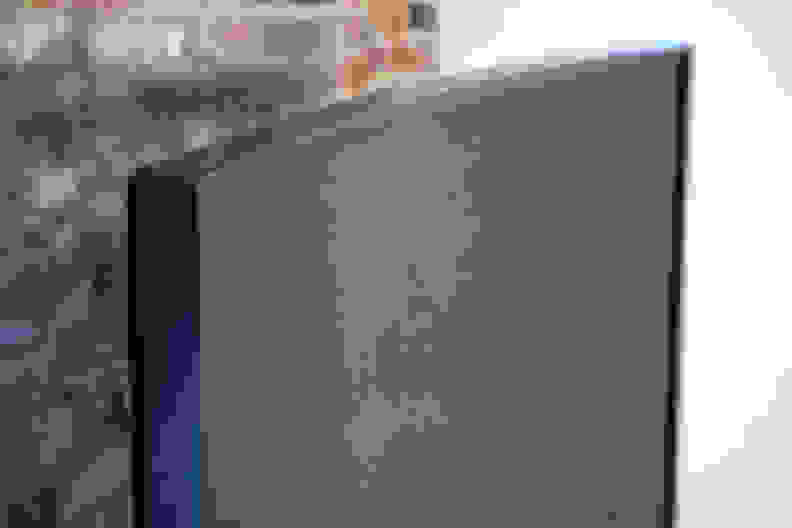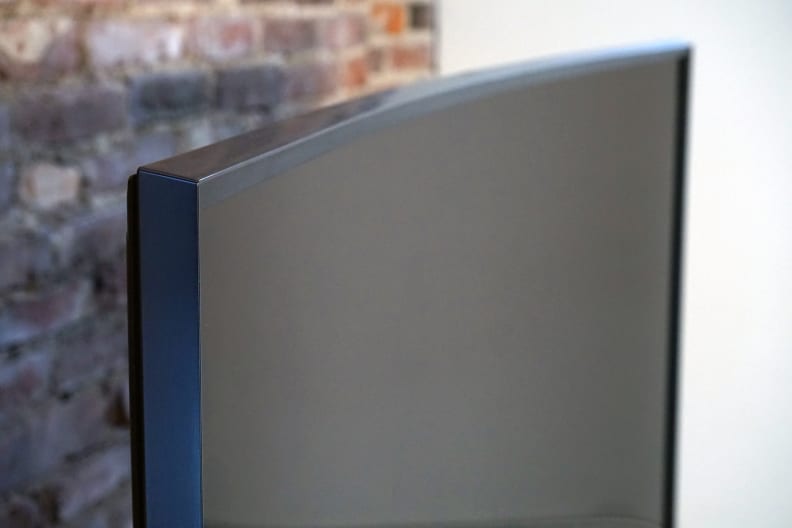 But if you love the look—and, more importantly, if you're willing to pay the premium for it—you'll most likely be satisfied with the JU7500's outfit. The 48-inch model features Samsung's not-so-subtle curved panel in dark gray, and although the bezel isn't particularly thin, the TV's visage is a handsome one.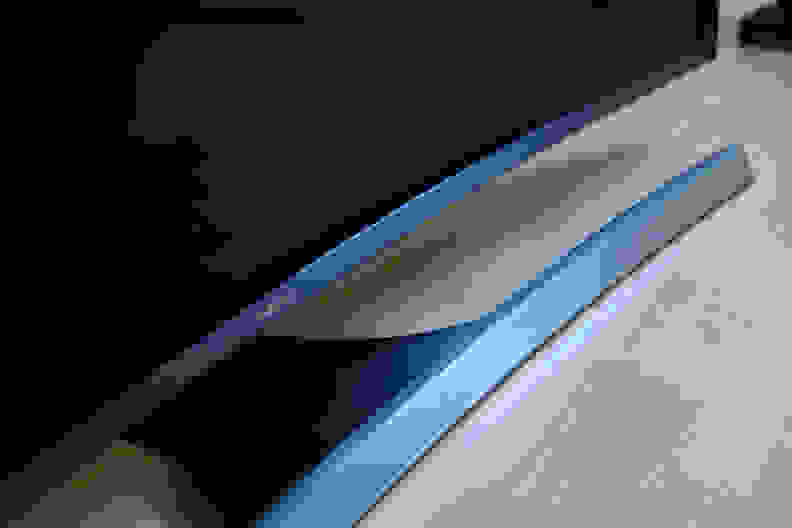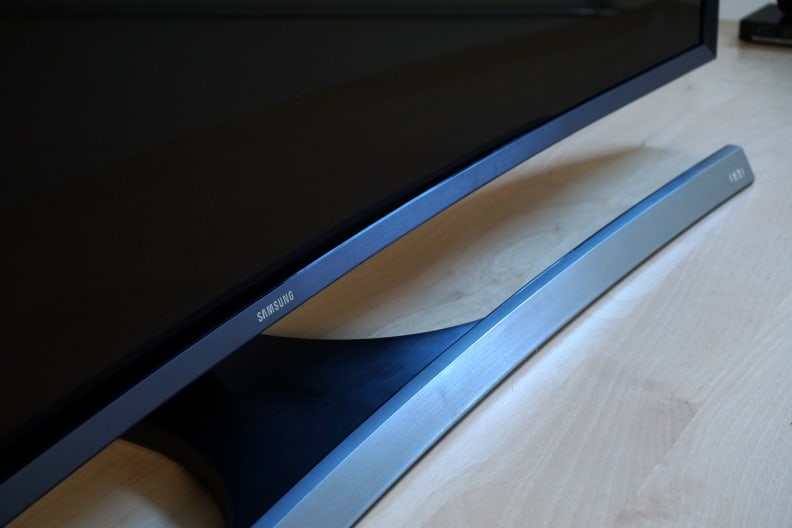 One of the elements that contributes to the JU7500's attractive looks is its matte silver stand, whose curved shape rhymes with that of the panel. From the top, the connective plastic between the neck of the stand and its curved, front-facing bar looks a bit odd, but the outfit is elegant when you're actually settled in and watching content.
One Connect Mini
The TV ships with Samsung's One Connect Mini, a truncated version of the company's One Connect Evolution Kit. The One Connect Mini is a small box that houses a digital audio output and four HDCP 2.2-supported HDMI ports.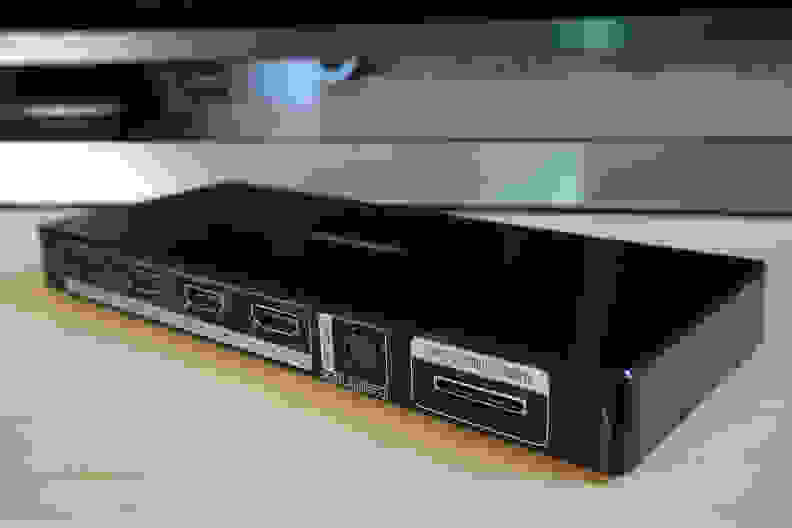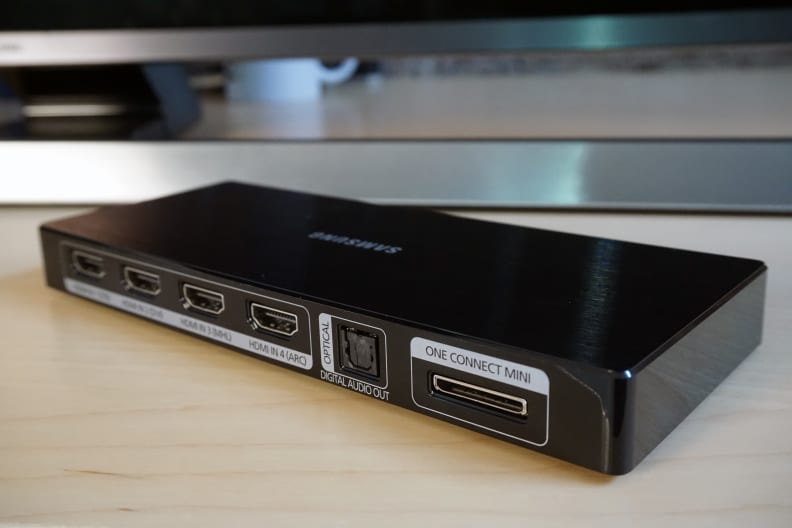 The ports on the One Connect Mini are compliant with High Efficiency Video Coding (HEVC), which means that the JU7500 is ready to display 4K content—from the web, Blu-rays, or otherwise—without the type of compression associated with AVC, its precursor.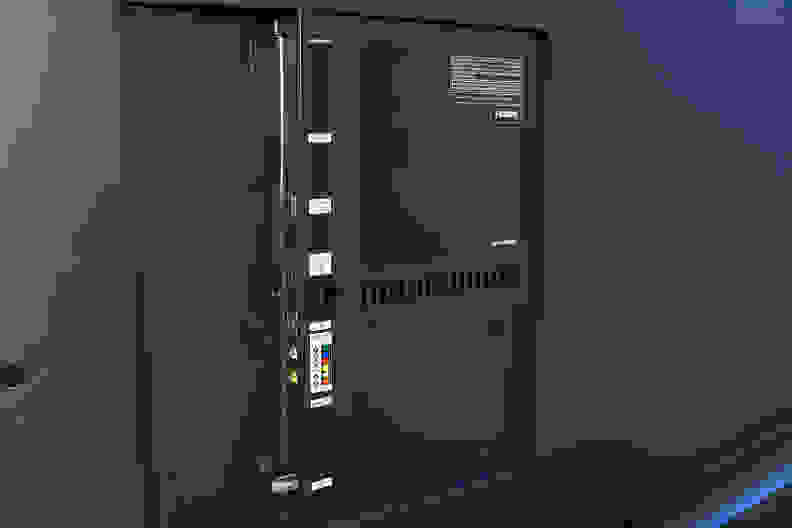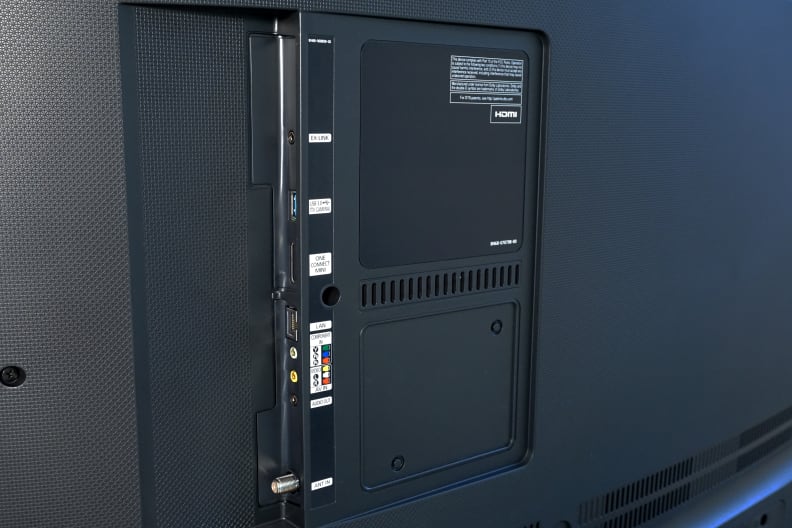 Because the most of the TV's primary inputs are located on the One Connect Mini, the back of the JU7500 is relatively sparse. The panel itself features the One Connect's input, a USB 3.0 port, combination component/composite inputs, a mini-jack analog audio output, and an ethernet (LAN) port.
A new remote for a new era
The JU7500 includes a new version of Samsung's Smart Control, which features both motion and voice control. If you're anything like me, however, you'll probably not be using either of them very often. It's not that these features are dysfunctional, but for basic commands, the tried-and-true method of button-powered menu navigation still reigns supreme. Having said that, if you're planning on using the TV's web browser, the motion controls will inevitably come into play in a pretty big way.
Ergonomically speaking, the Smart Control feels great, despite its peculiar shape. Holding the new Smart Control feels a little bit like holding a Wii Remote, and although there isn't a trigger button on the Smart Control, there are comfortable ridges to rest your fingers on. The back of the remote is also outfitted with a crosshatch texture that provides a posh veneer.
If I had a bone to pick with the Smart Control it would be with its directional pad and center button. You're likely using these buttons more often than any of the others, so they're the strongest candidates for the remote's backlight illumination, but they're the only ones that don't light up.
The colorful images on your TV screen are produced by red, green, and blue sub-pixels. Since neutral tones—that is, black, white, and gray—are a combination of all three of these sub-pixels, we measure each TV's grayscale to extrapolate its sub-pixel emphasis. Over- or under-emphasis of one or more of these sub-pixels can cause color pollution across the grayscale.
Grayscale error is described by DeltaE, with a DeltaE of 3 or less being the ideal. The JU7500 sports an out-of-the-box DeltaE of 4.47, and although it narrowly misses the benchmark, it's still above average in its weight class.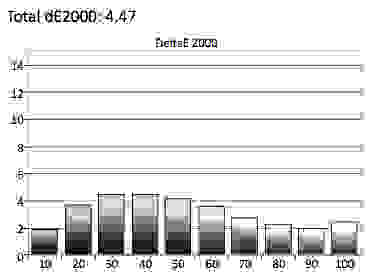 Taking a closer look at the RGB balance reveals the culprit: The JU7500 over-emphasizes blue and slightly under-emphasizes green. The result are grays and whites that appear tinged with blue.
The ability for a TV to get really, really dark is absolutely critical in the production of a realistic picture. Not only do deep black levels allow for more detail in darker scenes, but the closer a TV can get to "true black," the better colors look in comparison.
We determine contrast ratio by measuring a TV's peak brightness and black level from an ANSI checkerboard pattern, and then dividing the former by the latter. Higher contrast ratios almost always equate in a more satisfying viewing experience.

Although the JU7500 gets searingly bright (we measured a reference white of 201.3 cd/m2 ), the TV unfortunately struggles to produce a black level deeper than 0.094 cd/m2 .
For this TV's asking price, we were expecting better in terms of black level and overall contrast.
Off to a slow start
This is our first look at the 2015 version of Samsung's smart platform, Smart TV. Powered by an open-source operating system called Tizen, Samsung is aiming to integrate the television experience with mobile devices and social platforms in a relatively new way.
The graphical interface resembles that of most major smart platforms, with a main menu bar at the bottom of the screen displaying the most recently used apps and a shortcut to the main hub.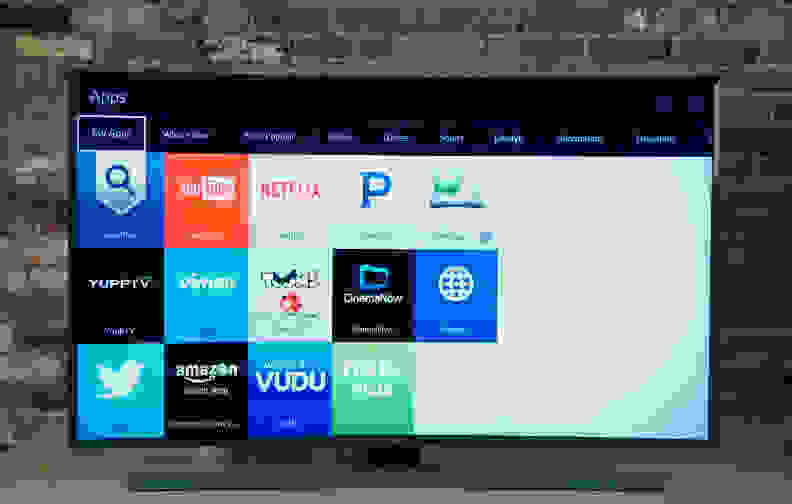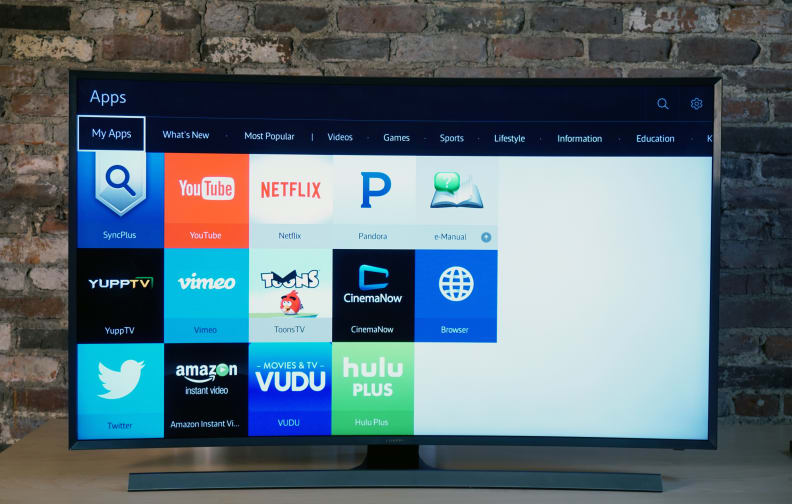 From the main hub, users can access every additional app, game, and smart feature. Most of these options are arranged in a grid and categorized by type. The JU7500's out-of-the-box offerings are slim, so most users will find themselves spending some time in the Smart TV app store in order to stock up on some essentials.
Unfortunately, the Tizen-powered Smart TV feels a little sluggish.
Aesthetically, the platform looks fine, albeit a bit sterile—especially compared to the bubbly personality of LG's webOS. But what matters most is performance, and unfortunately, the Tizen-powered Smart TV feels a little sluggish, even after installing the most recent update from Samsung. Navigating from window-to-window or app-to-app is far less fluid than it ought to be, and spending a significant amount of time with the TV's web-based features can grow tiresome.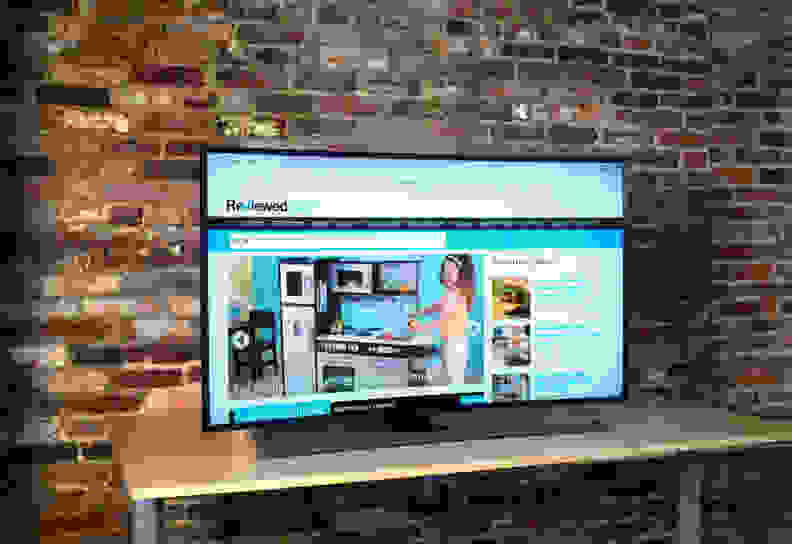 That said, this version of Smart TV is brand new, and there's still plenty of time for Samsung to smooth out some of the wrinkles. The good news is that big-name apps—Netflix, YouTube, Hulu—work swimmingly once they're up and running. It's the transition between them (and the transition between menu screens) that cause hiccups.
Menus, menus everywhere
Despite a pleasant, clean design, one of the more baffling aspects of the JU7500's menu software is its layout.
Hit the "Menu" button on the the remote and you're greeted by a bar along the top of the screen. From here, you can select a number of options including network preferences, voice recognition options, and so on.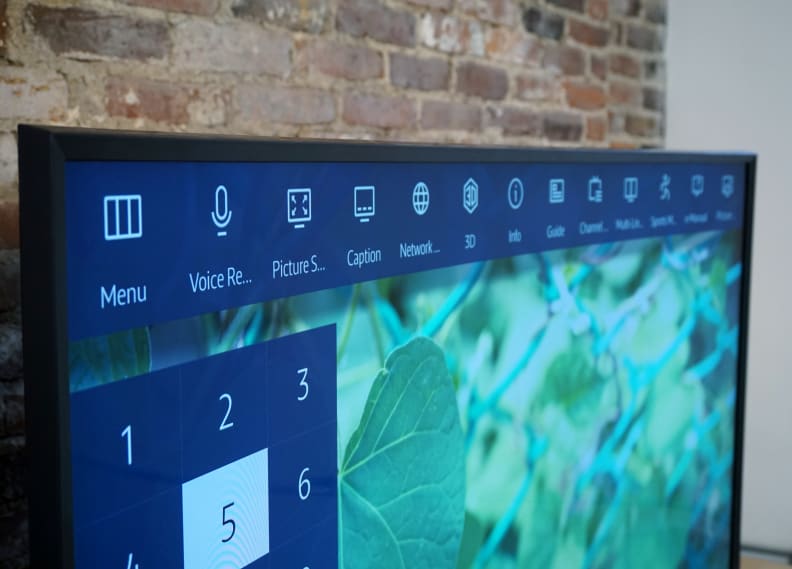 But there's also a "Menu" button within this bar that takes you to a separate section. This submenu features all of the traditional options you might look for in a TV menu, like picture, audio, and software settings.
So at any given time, you're dealing with two separate menus, and some options can be accessed by both of them, but others are exclusive to either the main menu or the menu bar, respectively.
Frankly, I found this layout needlessly complicated, and despite having spent a good amount of time with the JU7500, I never got used to it.
Shallow black levels spell trouble, but brilliant colors make up for it.
There are some caveats, but for the most part, the JU7500 produces a commendable picture. The most important question is this: How good should a 48-inch UHD picture look before the $1,600 is justifiable?
Although the JU7500 reaches respectable levels of brightness—and seriously, this TV gets bright—it can't contrast those highlights with comparably deep black levels. When there's not a lot of real estate between the darkest black level and the brightest white, picture details—especially those in low-light scenes—are often lost.
Although the JU7500 reaches respectable levels of brightness, it can't contrast those highlights with comparably deep black levels.
It's not just a matter of detail, either: Colors look inherently better next to rich, inky black tones. To learn more about contrast ratio and to get a full rundown of our testing process, check out the Science page.
The JU7500 also utilizes a process called "Peak Illuminator" that works in conjunction with this TV's "UHD Dimming." This is a new backlight function that imitates the full high dynamic range (HDR) compatibility of some of Samsung's other UHD offerings. Although it's effective, it is in no way a replacement for the real deal.
Despite its struggles in the contrast department, the JU7500 produces a vibrant, accurate color palette right out of the box. If you're so inclined, an informed calibration goes a long way, but the JU7500 is not a TV that demands such treatment in order to look good.
Pound-for-pound, the JU7500 rivals our reference plasma when it comes to achieving beautiful, vibrant color without sacrificing proper saturation.
The first episode of the Netflix series Bloodline offered a good opportunity to assess the TV's color production. The series opens on the sun-soaked vistas of rural Florida, with green, verdant landscapes popping against the blues of the ocean. Pound-for-pound, the JU7500 rivals our reference plasma when it comes to achieving beautiful, vibrant color without sacrificing proper saturation.
In fact, the only missteps in the color department are a slight over-emphasis of blue (particularly in bright, close-to-white neutral tones) and over-saturated greens.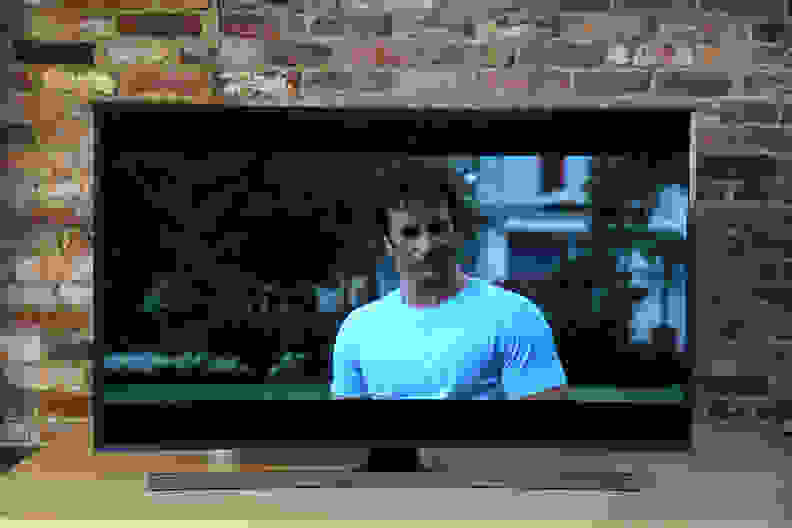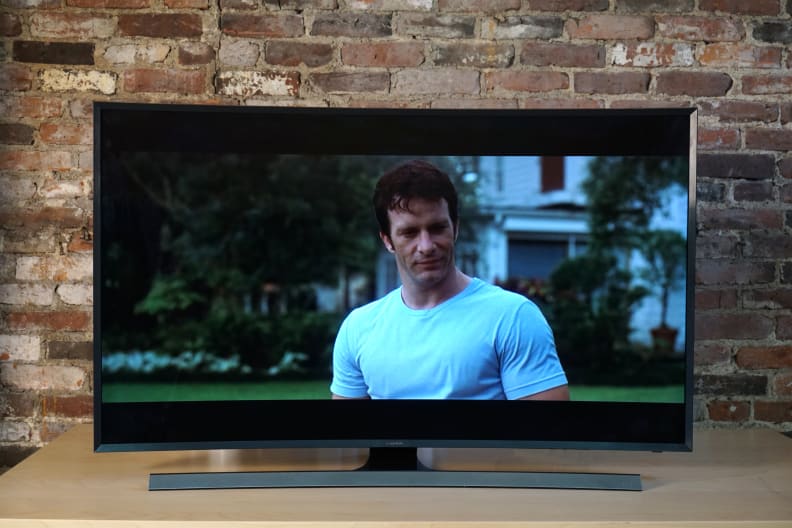 These aerial establishing shots also gave us an opportunity to see how well the JU7500 fares in the motion department, and while it doesn't exactly set the world on fire, the JU7500 manages to display motion in a relatively judder-free manner.
Deciding what to do with Samsung's "Auto Motion Plus" enhancer is entirely up to you, but I don't often find it to be very beneficial. While it reduces a small amount of judder, the overall effect is too artificial-looking, especially for cinematic content.
A word about viewing angle
As I touched on earlier, no manufacturer has embraced the curved display more fully than Samsung. Besides highlighting the sexiness of the design, the company boasts the curve's functionality, as well: Samsung's website promises that the curved display makes "any seat the best seat in the house."
The JU7500 boasts an almost criminally narrow viewing angle.
While we can't say for sure that it's the curve's fault, we do know this: The JU7500 boasts an almost criminally narrow viewing angle. Essentially, straying about 2.5 feet to either side of the screen cripples the JU7500's contrast. This is an important thing to consider given the UN48JU7500's 48-inch panel, which is a size that lends itself well to group viewings.
A color gamut is a visual representation of a television's color accuracy based on the international standards for HDTV color. A gamut highlights three primary color points (red, green, blue) and three secondary points (cyan, magenta, yellow).
Prior to calibration, the JU7500 tested splendidly in this area. In "Movie" mode, the JU7500 produces vivid, accurate colors that rivaled those of our reference plasma. The only rough patches are the TV's over-saturation of green and its tendency to skew its secondary colors towards blue.
These issues can be corrected with an informed calibration thanks to the JU7500's color management software.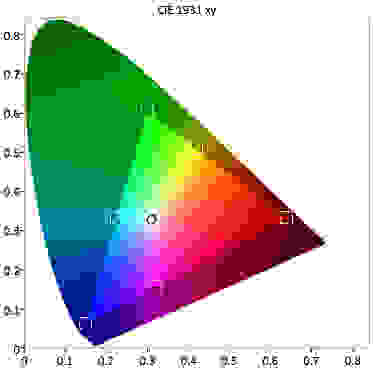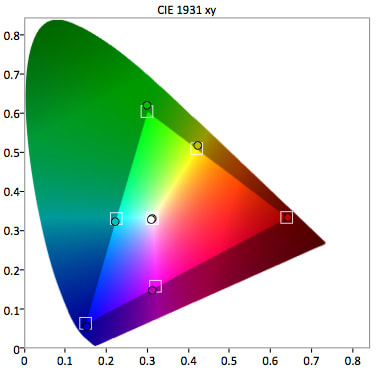 Despite a relatively shallow black level and some sluggish software, the JU7500 is a great TV that will keep plenty of people happy for years to come.
In terms of value, however, there are few praises to sing. The JU7500 just can't find a way to justify its $1,600 price tag. 4K TVs are still expensive, and Samsung's curved design only adds to that premium.
The JU7500 just can't find a way to justify its $1,600 price tag.
We live in a post-P Series world. Vizio's P502ui-B2–the base model of its series—sports two extra screen inches and can be had for around $600 less than the 48-inch JU7500.
Even if you were to eliminate the price consideration, the 50-inch P Series is simply a better performing TV; its contrast ratio alone is more than double as the JU7500's. This is likely due to the P Series' full-array backlight; hardware that is vastly superior to the JU7500's edge-lit panel.
To be fair, however, the Vizio does not get nearly as bright as the JU7500—something to consider if you're looking to accommodate a brightly-lit room.
I suspect that as new firmware rolls out and more developers get their hands on the open-source platform, Smart TV will improve.
Samsung certainly has a leg up on Vizio when it comes to the companies' respective smart platforms, too. Despite its sluggishness, Smart TV is a better bet going forward. I suspect that as new firmware rolls out and more developers get their hands on the open-source platform, Smart TV will improve.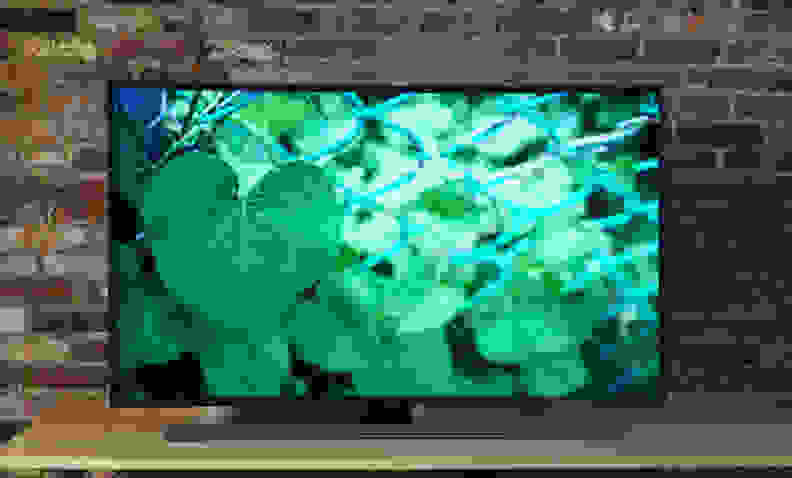 The Sony XBR-49X850B scored similarly to the JU7500, though its contrast ratio is even smaller than the JU7500's. Still, it's currently around $300 cheaper than the JU7500 online, which makes for a pretty good deal if the curved design isn't your cup of tea.
However, if your heart is set on a curved display and you're not a stickler for performance, the JU7500 will serve you well. This TV is for sports fans and casual movie-watchers, though, and not cinephiles or home theater enthusiasts.
This TV is for sports fans and casual movie-watchers, not cinephiles or home theater enthusiasts.
With solid motion performance, fantastic color production, and the future-proofing benefits of the One Connect Mini, Samsung's got a an impressive TV on their hands. The issue here is value: How much are you willing to pay for a handsome-looking TV that underperforms its price tag?
If you move too far to the left or right of a screen, you'll eventually notice a considerable drop in picture quality. Our viewing angle test determines how much leniency a viewer is granted in this regard.
The JU7500's total viewing angle tops out at 32°, or ±16°. It's not a very good statistic for such an expensive TV, especially since its size lends itself well to group viewings.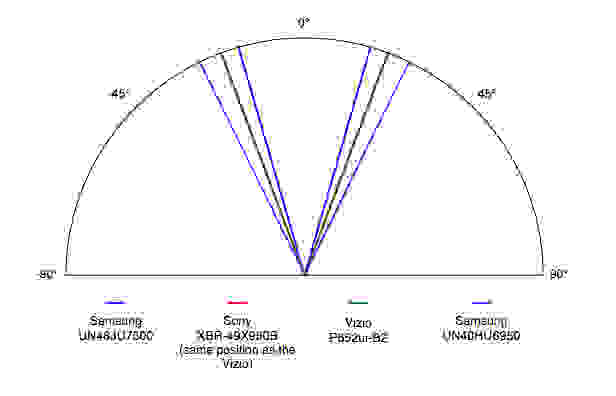 Gamma describes a TV's allocation of luminance across a grayscale. If you've ever noticed blotchy, poorly-delineated colors—especially in shadow tones—you're most likely looking at poor gamma. If a TV leaps out of one shade and into another too quickly or slowly, the picture's detail is crushed in the process.
Since we test and calibrate for dark room standards, we look for our TVs to hit a gamma curve of 2.4. A gamma of 2.2 is better for a dimly-lit room.
The JU7500 produces an out-of-the-box gamma of 2.12. This is fine for slightly brighter rooms, but less-than-ideal for darkened, home theater-type settings.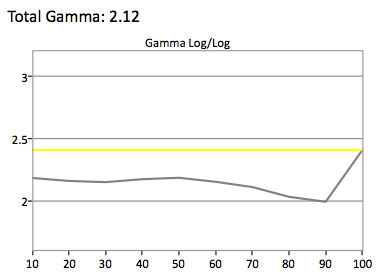 Meet the tester
Michael Desjardin
Senior Staff Writer
@Reviewed
Michael Desjardin graduated from Emerson College after having studied media production and screenwriting. He specializes in tech for Reviewed, but also loves film criticism, weird ambient music, cooking, and food in general.
Checking our work.
We use standardized and scientific testing methods to scrutinize every product and provide you with objectively accurate results. If you've found different results in your own research, email us and we'll compare notes. If it looks substantial, we'll gladly re-test a product to try and reproduce these results. After all, peer reviews are a critical part of any scientific process.
Shoot us an email