Like the EH5000, the EH5300 is an excellent core performer, with almost no major drawbacks save for its narrow viewing angle. At an MSRP of $1199, you get a solid 50-inch TV with internet access and simple, intuitive menus. For the price, we think the EH5300 is a very good deal.
At one point, while meeting with a handful of Samsung's engineers, they mentioned that the ES used in so many of their series names refers to the slim depth of the TV's panel. We're not sure what EH refers to, but it's true that the Series 5 TVs aren't as daringly thin as their more expensive counterparts.
We still think they're somewhat attractive TVs, and we think you'll agree with us. The panel appears to meld into the glossy black plastic of its flat, oval stand. The UN50EH5300 doesn't swivel, but is easy to set up, and features simple port and controls placement. It won't make your neighbors jealous, but it'll blend nicely into most rooms.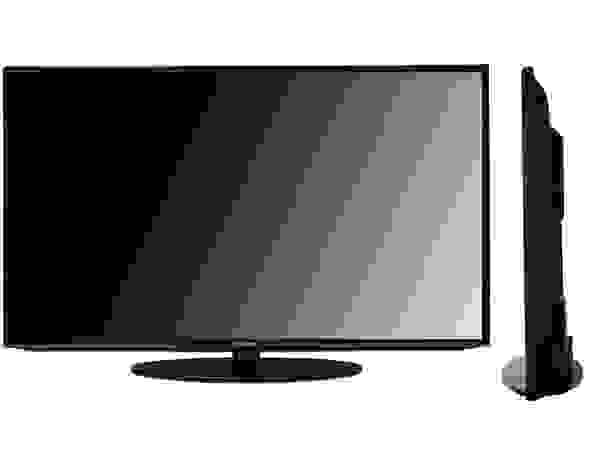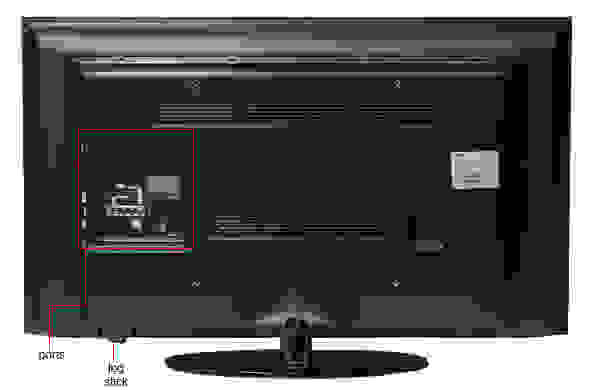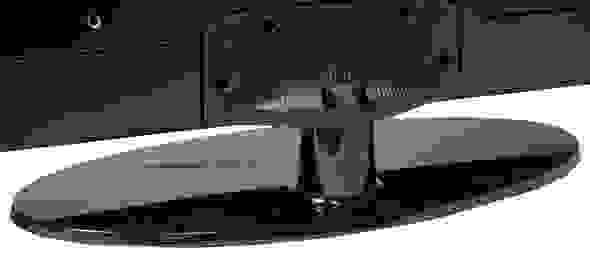 Like every other Samsung TV this year, the EH5300 allocates its on-set controls to the jog stick, a combination button/analog stick. The EH5300's jog stick is located on the underside of the TV's bezel, on the right-hand side, below the ports. Pressing the jog stick while the TV is off will turn it on. Pressing it again while the TV is on will bring up a small, four-way menu for accessing the menu, inputs, or turning the TV off. While not in this menu, pressing the jog stick backward or forward will change cable channels. Pressing it to the left or right will adjust volume.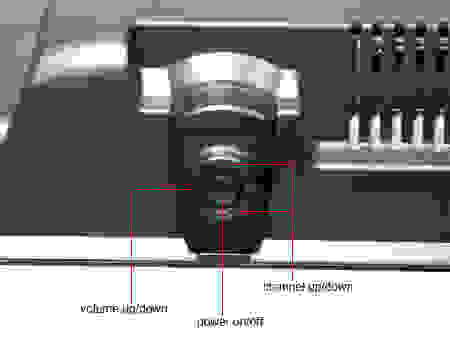 The remote that comes packaged with the UN50EH5300 is a long, button-filled wand of the infrared-signal variety. Its major features are a backlight, a central button for Samsung's Smart Hub, large platforms for volume/channel adjustment, and numerous single-use buttons like "Family Story" and "Tools," which allow for more detailed interactions with specific TV functions. It is long and thin, but the important buttons are well within reach of the thumb.
In the box, you'll find the 50-inch panel, stand components, eight identical screws, remote control, two AA batteries, power cable, manual, warranty information, and a cable tie.
Just like the EH5000, the EH5300 features a standard port placement design comprising the back, right-hand side of the TV, with high-access ports along the right side.
The side ports (pictured below) are the ports you're going to need access to the most, comprised of one HDMI input and two USB inputs. This set-up is fortunate, because the EH5300 doesn't swivel or tilt.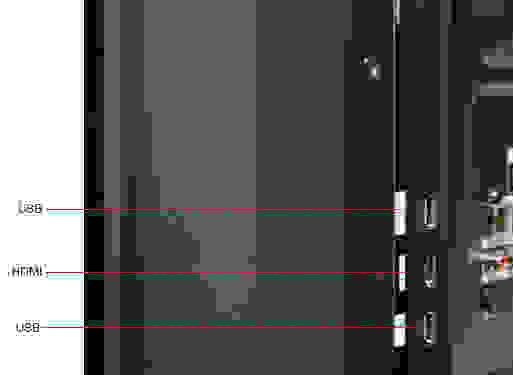 The rear port area contains two more HDMI inputs, as well as connection options that are traditionally more static--not changed out often. On the back of the TV, you'll find a shared component/composite input, a LAN input for an ethernet cable, analog and digital audio out, and a 3.5mm input jack for headphones. There's also an EX-LINK port for software updates.
The Samsung UN50EH5300 does a lot of things well. It has fairly deep blacks and very bright whites, giving it an excellent maximum contrast ratio. It also adheres well to international standards for HDTV color; in other words, the EH5300 makes most content look excellent. While it didn't showcase perfection in any area, the UN50EH5300 has a solid skill-set in areas not related to contrast and color. Its got decent motion and uniformity, average audio, and is very cheap to pay for on the electricity bill side of things. Almost everything about it is either acceptable or great, save for one thing: its viewing angle (how far from center you can watch without contrast issues) is very narrow, meaning it isn't a great TV for large groups.
The Samsung UN50EH5300 tested with an excellent contrast ratio of 4776:1, though it surprisingly ranked third out of the three other LCD HDTVs we pulled for comparison. A contrast ratio a little under 5000:1 is an excellent result, none the less, and provides ample black/white differentiation for any viewing situation. [More on how we test contrast.](/content/How-We-Test.htm#contrast)

The EH5300 tested with smoothly ramping, uniform curves on all fronts. The chart below illustrates a result just short of color and greyscale perfection: in this example, the black line (representing the 0-255 greyscale spectrum) is perfect, with red, green, and blue just barely missing the mark. For human eyes, this is going to yield a wide spectrum of accurately depicted colors. An excellent result. More on how we test color performance.
The chart below illustrates the EH5300's ability to maintain a consistent color temperature across the light input spectrum. The grey box surrounding the majority of the blue (cool) temperature deviations represents the imperceptibility limit. Only the blue or orange spikes that exceed beyond the box (technically, a deviation of +/-200°K across its intensity range) will be visible to humans. In short, this is a very good result, with very little perceptible color temperature deviation. More on how we test color temperature.
A TV's color gamut result is the most important color test we run, and unfortunately, the EH5300's gamut was its weak spot out of the three color tests. The white triangle below represents the gamut we tested from the EH5300. The black triangle represents the rec. 709 gamut, the international color standard for HDTVs.
As you can see, the EH5300's green point was about perfect, and its D65 (white) point, in the middle of the triangles, was also relatively flawless. The problem came about from the less reliable blue and red points, both of which are oversaturated. This is a decent result, but is nothing spectacular. More on how we test color temperature.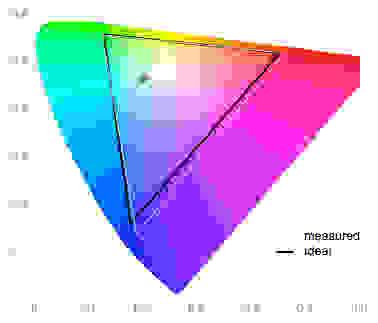 The EH5300 tested with excellent picture dynamics. We test picture dynamics to determine how well an HDTV maintains its light output for white/black shades. Ideally, they will be of the same luminosity (brightness) no matter what percentage of the screen they fill. Between a 90% and a 5% black screen, the EH5300 tested with a black level of 0.05 cd/m2 . Between a 100% and a 5% white screen, its luminosity varied by only 0.47 cd/m2 , an imperceptible deviation. More on how we test picture dynamics.
The Samsung UN50EH5300 is a native 1080p television. It supports all NTSC resolutions and formats.
We were surprised, and a little let down, by the EH5300's tiny viewing angle. It had the smallest viewing angle out of the three HDTVs we pulled for comparison, clocking in at 19.89° from center on either side (or a little under 45° total). We consider a total viewing angle of 45° to be average. We'd venture that 2-3 people could comfortably watch this TV in a medium-sized room, but add any more and you might experience noticeably decreased contrast performance.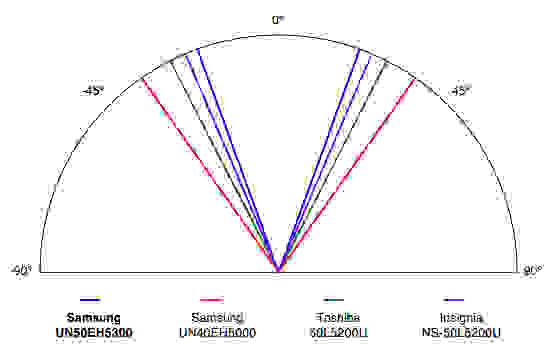 The EH5300 tested with decent motion performance. The biggest problem it had was with blurriness, though in truth, it also struggled with mild interlacing and shape distortion problems. Its motion smoothing setting--called LED Motion Plus--did help to aid the blurring problem to a degree, but either way you're still going to notice some blurring and potential interlacing (jagged edges) during fast-motion content.
The Samsung UN50EH5300 would have tested with superb screen uniformity, if its bezel weren't so thick. Unlike Samsung's higher-end, slim-bezel TVs, the EH5300's thicker bezel creates considerable bezel shadow during a 100% white screen, though this is primarily a problem in the corners. Overall, its uniformity was above average, but was marred by bezel shadow.
The two embedded 10-watt speakers below the UN50EH5300's panel are of standard quality, and don't impress much in terms of volume or audio clarity. They're not terrible, but they're also nothing worth writing home about.
The UN50EH5300 has five sound modes: Standard, Music, Movie, Clear Voice, and Amplify. In our opinion, Movie seems to give the best overall sound response.
The UN50EH5300 has two sound settings that can be toggled on or off: SRS TruSurround HD, a surround sound imitator, and SRS TruDialog, which is meant to boost and clarify dialogue during content. Unfortunately, neither one seems to make much difference on the overall audio experience.
The Series 5 TVs all come standard with a built-in sound equalizer.
If you were to watch the UN50EH5300 for 4-6 hours a day, every day, for one year, the 50-inch EH5300 would only add $15-$20 to your electricity bill. As you can see from the chart, the EH5300 only costs a few dollars more to power, per year, than the EH5000. It's also a little cheaper than the Toshiba, and much cheaper than the Insignia we pulled for comparison.
Calibrating the Samsung UN50EH5300 was fairly easy, though we had to tweak a few more settings than we've needed to for Samsung TVs from previous weeks. The table below shows Samsung's preset calibration within the video mode Movie on the left, with our final calibration alongside it on the right.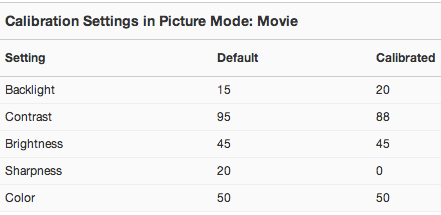 All of our calibration is done in conjunction with the DisplayMate software.
The Samsung UN50EH5300 has four video modes: Dynamic, Standard, Natural, and Movie.

Like almost all of Samsung's 2012 TVs, the UN50EH5300 comes equipped with simple, intuitive menus and immediate access to the Smart Hub, Samsung's internet-based smart platform.
The menus consist of simple bundles of settings, in the vein of topics like Picture or Sound. Most of these menus have sub-menus for the more complicated TV features you might want to fiddle with, but they do an excellent job of hiding them away, allowing you to decide what level of complexity you're ready to initiate.
The Smart Hub was our 2011 pick for best smart platform, and it's in the running to receive those honors again this year. It's jam-packed with useful (or at least interesting) content, giving users access to social networks, TV, movies, music, a web browser, and a generous collection of apps and widgets.
Samsung's web browser, which defaults to Bing.com, is a decent--but quite imperfect--way to navigate web pages. Navigation is achieved via the included remote, using the arrow keys to jump around links and to scroll pages. Let us be the first to tell you, this is in no way preferable to a PC, tablet, or even a smartphone. Typing in URLs using the remote's arrows is about as frustrating as it gets.
For a more in-depth look at Samsung's web browser, and all the other Smart Hub features, click here.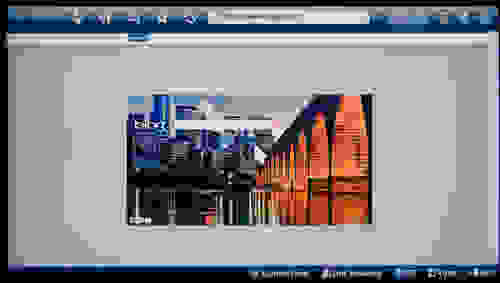 The apps selection in Samsung's app store is probably the best on the market right now. Sure, they've got nothing on Apple, but there's a wide variety of apps related to games, TV, movies, 3D content, and utilities. The best part is that most of it is free, and the ones that do cost anything are only a dollar or two. They're quick to download and easy to organize, too.
For more information on Samsung's app selection, and all the other Smart Hub features, click here.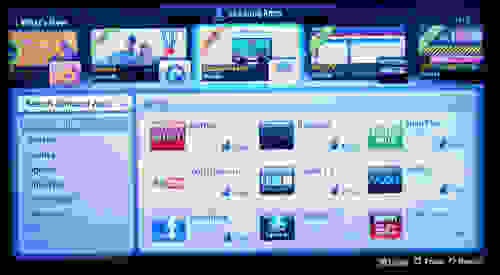 Samsung breaks their menu up into six parts: Picture, Sound, Network, Channel, System, and Support. Each menu section contains sub-menus for more advanced toggling of settings, but it's easy to achieve usable results from just the front pages of the header menus.
PIcture allows you to adjust how your TV looks. Sound deals solely with adjusting how your TV sounds. Network allows the set-up and management of a wired, or wireless, internet connection. Channel allows you to manage and add digital or analog cable channels. System is where you'll go to set things like date, time, menu language, and game mode. Support is a menu reserved for helping the consumer with any problems they may experience while using the EH5300.
The Tools menu (pictured below, alongside Toad) is a quick-access menu for adjusting your major Picture or Sound pre-set (either Samsung's pre-sets or your own) without jumping into the full menu. It's also a great way to toggle and check connected devices, and makes keeping an eye on any tasks not related to what's on-screen a lot simpler.
The Samsung UN50EH5300 (MSRP $1199) is an excellent TV for the price. We might have a few qualms if it were any more expensive, but feel that--given its performance and features--it's an appropriate representation of the TV's value.
The whole package is giving you a sizable screen, great contrast and color, decent motion and audio performance, and access to Samsung's overly friendly, but perfectly useful, smart platform. The only drawback here is the TV's narrow viewing angle.
This is a great budget TV if you want to save some money but still have access to all the same internet features available on Samsung's higher-end models. It's got comparable performance parameters to more expensive models, and barring 3D, has almost all the same features too. The UN50EH5300 is a smart investment, and a solid TV.
Meet the tester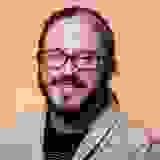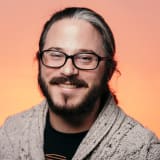 Lee Neikirk
Editor
@Koanshark
Lee has been Reviewed's point person for most television and home theater products since 2012. Lee received Level II certification in TV calibration from the Imaging Science Foundation in 2013. As Editor of the Home Theater vertical, Lee oversees reviews of TVs, monitors, soundbars, and Bluetooth speakers. He also reviews headphones, and has a background in music performance.
Checking our work.
We use standardized and scientific testing methods to scrutinize every product and provide you with objectively accurate results. If you've found different results in your own research, email us and we'll compare notes. If it looks substantial, we'll gladly re-test a product to try and reproduce these results. After all, peer reviews are a critical part of any scientific process.
Shoot us an email