Testing will often tell a different story and when we ran the numbers, we found the two TVs were very similar but there were a few noticeable differences. The power consumption was higher in the ES7500, the contrast wasn't as good, and the viewing angle was worse. Every other great feature that the ES8000 has is present on the ES7500. For a TV that costs almost $400 less than the flagship model, we think the UN55ES7500 delivers.
This TV is a looker, plain and simple. Samsung's high end TVs are ultra slim, light, and modern – the UN55ES7500 is no exception. There is a super thin bezel surrounding the screen, followed by a strip of clear plastic that goes around the bezel. This clear plastic strip adds an elegant touch to the whole design, much like the Panasonic Viera TC-L42E50. Samsung's base, which looks like a chrome chicken foot, might be too modern for some, but we think it complements the design nicely.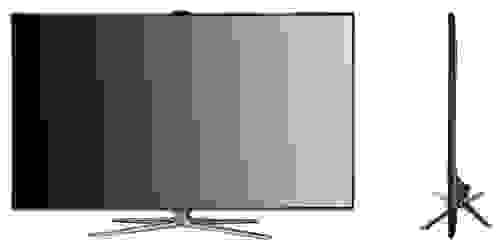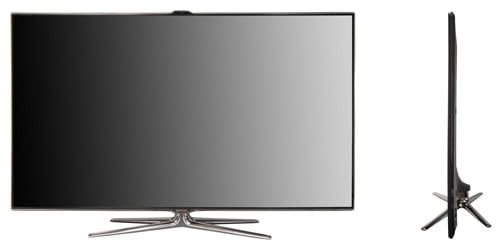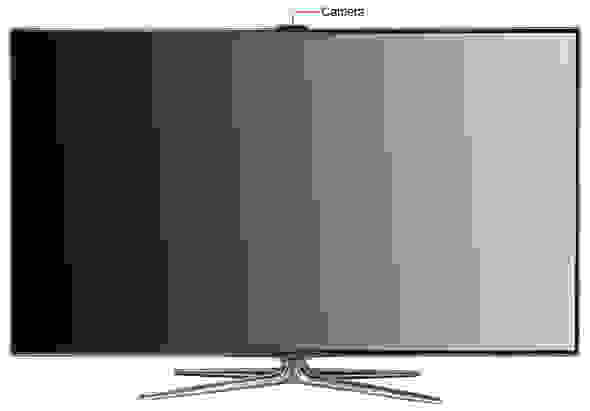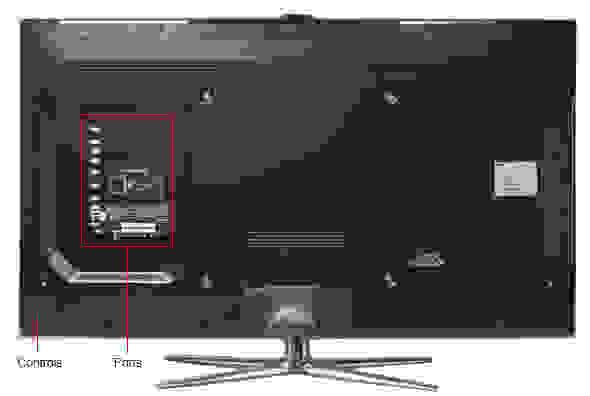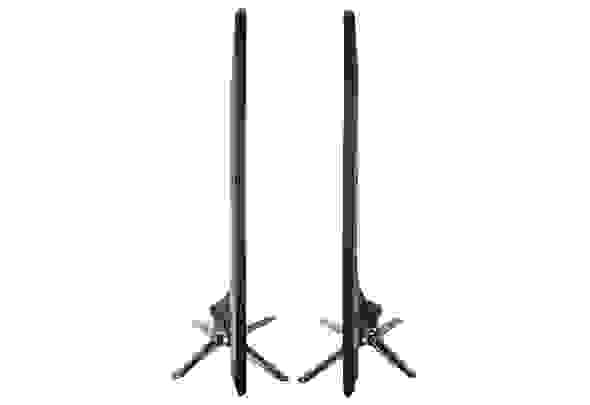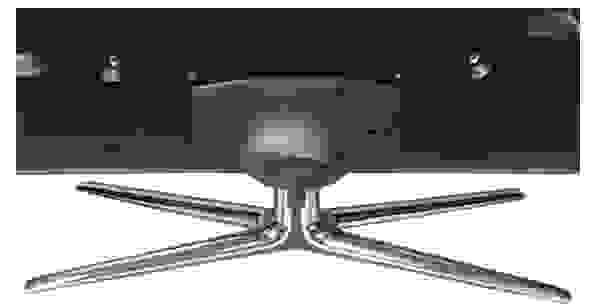 The UN55ES7500 can be controlled by this little nub, called the TV Controller. Pressing it while the TV is off turns the power on, while moving it left/right controls the volume and up/down controls the channels. Pressing it while the TV is on opens up a menu on the screen that has access to the Smart Hub, the main menu, different inputs, and an option to power the TV off.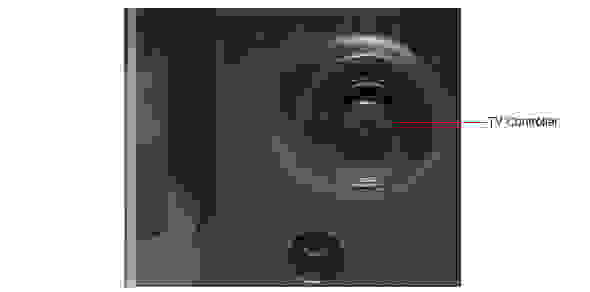 Samsung includes two different remotes with the UN55ES7500. The first remote is your basic TV remote, so we're sure you don't want to hear too much about that. The second remote Samsung bundles with this TV is the Smart Touch Remote, which features a touch pad on the top half that controls a cursor on the screen. This remote is useful for navigating web pages, although using the touch pad to input text with an on-screen keyboard is still a pain in the neck.
There is an additional item here, called the IR Blaster, that works in conjunction with the Smart Touch Remote. The IR Blaster can be synced up with other infrared devices, such as a Blu-Ray or DVD player. After syncing up the devices, the Smart Touch Remote will be able to control them. We tried this out with a Panasonic Blu-Ray player and it actually worked with the Samsung remote.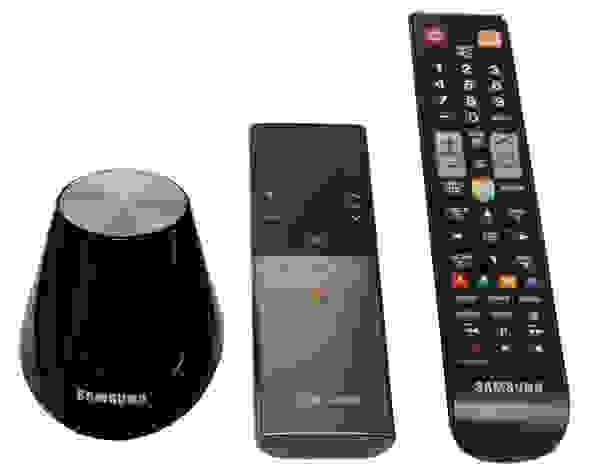 The Samsung UN55ES7500 comes with a normal remote, the Smart Touch Remote, an IR blaster, batteries, a user manual, a 3D user manual, four pairs of 3D glasses, and a composite adapter cable.
Samsung hits all the right notes when it comes to ports on the ES7500. There are three HDMI ports, three USB ports, a digital audio output, a headphone audio output, a 3.5 mm audio input, an adapter for a composite input, a component input, an antenna input, an ethernet jack, and finally an ex-link port. What the heck is an ex-link port? It's primarily there for Samsung technicians to use in order to run diagnostics on your Samsung TV. In other words, it's boring.
Finding all of these ports is easy. Everything is labelled adequately and positioned well. One part that stands out is the diagram for inserting an "evolution kit." This kit, which has yet to be released, is supposed to future-proof your Samsung TV. We aren't too sure how since Samsung's press release was rather vague, so we'll be interested to see what is released in 2013.
The UN55ES7500 was quite the performer. It produced very good colors, the contrast was good, and the screen uniformity was excellent. Not everything was perfect, though. The motion performance was decent, but not anything spectacular. The viewing angle was pretty bad, even for an LED TV. These not-so-good features still can't bring the ES7500 down – the good definitely outweighs the bad here.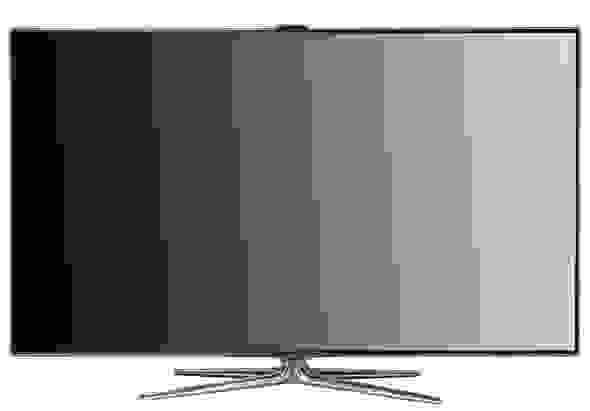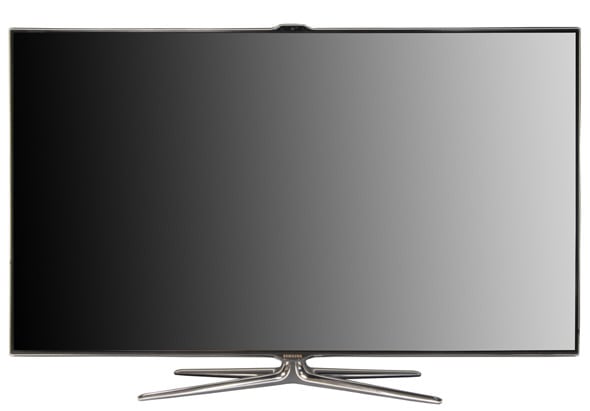 The ES7500 has a good contrast ratio of 2611:1. While the peak black level of 0.11 was quite dark and the peak bright level of 287.23 was pretty bright, the ES7500 was still bested by its big brother, the ES8000. More on how we test contrast.
The colors are very good here. Everything has a smooth transition to peak luminance, although the blues get slightly too bright towards the lighter input signals. More on how we test color performance.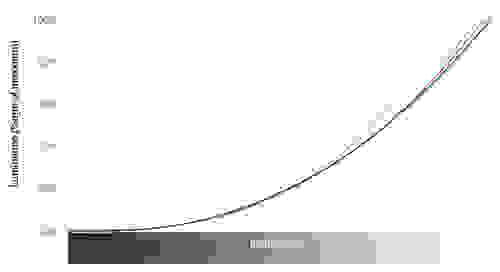 The color temperature on the UN55ES7500 is mostly excellent. The only visible error comes at the end with a completely black input signal. More on how we test color temperature.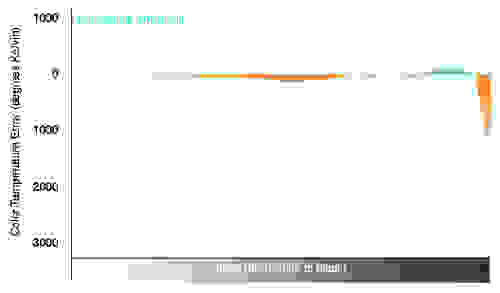 This is a good color gamut. The blues veer slightly into purple territory and the reds get ever-so-slightly pink, but the whole gamut is pretty accurate. More on how we test color temperature.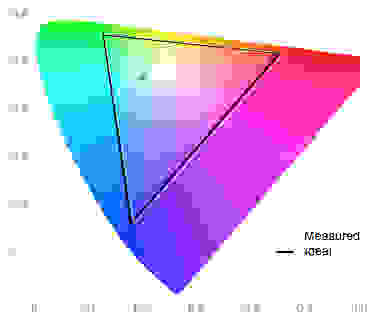 The picture dynamics were great on the UN55ES7500. This TV kept a consistent black level with an increasingly white screen and a consistent white level with an increasingly black screen. More on how we test picture dynamics.
The Samsung UN55ES7500 has a native resolution of 1080p and displays all standard NTSC formats.
The total viewing angle of 22° for this TV is not great, to say the least. It was barely beaten by the Sony Bravia KDL-46HX750 and easily bested by its big brother, the ES8000, and the Panasonic Viera TC-L47DT50.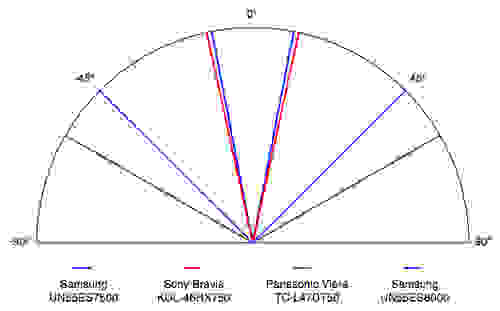 Motion performance was decent on the UN55ES7500. There was moderate blurring during our moving image test, but nothing bad enough to detract from a movie experience. Our line test, which has vertical lines moving horizontally across the screen, produced very jagged lines, something we didn't expect from a TV of this caliber. Color trailing, which we test by having squares of varying colors move across the screen, was non-existent.
The uniformity was great. An all-white screen displayed a crisp white image with only a tiny bit of shadowing in the edges. An all-black screen was even better since it was completely dark and smooth.
The audio quality on the ES7500 is good, but not great compared to surround speakers or a decent 2.1 setup. There are two 10-watt speakers on this TV that produce clean mid-range frequencies like voices. Our big complaint with the speakers is that they do not get very loud. You can crank the volume up to 100 and not be bothered by the sound at all. Having a loud TV does not make it better, but some consumers may have a loud fan or an air conditioner in their TV room and the max volume on the ES7500 might have trouble competing with those appliances.
There are five sound modes to choose from on this Samsung: standard, music, movie, clear voice, and amplify. Standard is your basic sound mode while music is supposed to make your favorite tunes sound better, although we didn't notice much of a difference with this setting on. Movie mode is the surround mode on this TV and it does create a slight surround experience, but it isn't much. Clear voice pushes mid-range frequencies like voices to the front of the audio mix while amplify was just a slightly louder version of the standard sound mode.
The UN55ES7500 was a little on the power-hungry side. While it didn't eat up the same amount of delicious watts that the Sony Bravia KDL-46HX750 did, it did manage to use a bit more power than the top-tier ES8000.
We tweaked the settings slightly in order to get an ideal picture in accordance with the DisplayMate software. We didn't change too much and Samsung's simple menu system made changing these settings a breeze.
[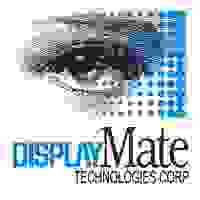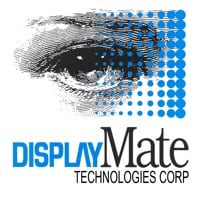 All of our calibration is done in conjunction with the DisplayMate software.
](http://www.displaymate.com/)
There are four picture modes on the UN55ES7500: dynamic, standard, natural, and movie.
Samsung has really stepped up their 3D experience for all of their 2012 TVs. They are utilizing active 3D technology, which means that the 3D glasses sync up with the TV in order to display two separate and alternating images. This whole process creates the illusion of 3D, and it's an illusion that we're quite happy with. Samsung includes four pairs of 3D glasses with the ES7500 and as far as we know, they are the only company to include active 3D glasses with their TVs. Take note, Panasonic and Sony.

Samsung delivers a crisp 3D experience on the ES7500. Images are treated to the added depth that 3D brings and there will occasionally be times when images pop out of the screen.
Samsung has plenty of options to customize the 3D experience in the 3D menu, which can be found under the picture settings. You can toggle the intensity of the 3D effect in this menu and also adjust what kind of 3D mode the ES7500 is in (2D-to-3D, Side-by-Side, automatic).
Samsung's current glasses may look goofy, but they're actually very comfortable and you will forget that you are wearing them after a few minutes. Included with this TV are four pairs of 3D glasses, which is just awesome.

This is one of the rare cases where the 3D contrast ratio is higher than the 2D contrast ratio. This happens because 3D glasses are essentially sunglasses: they cut the peak bright level, but they also darken the peak black level. With the UN55ES7500, the peak white level was cut to 85.13, but the peak black level was reduced to an exceptionally dark 0.03.

The 3D color temperature on the ES7500 tends to be on the cooler side. While this is not a great color temperature to have on a TV, it did not detract from the 3D experience.
The 3D colors all get too bright too quickly, with red being the worst offender. All of the colors flatline early, which means that the colors will reach their maximum luminance before receiving a completely white input signal.
The ES7500's 3D color gamut was not that different from the 2D color gamut. The blues are a bit undersaturated and do not get as deep while the white point is slightly green.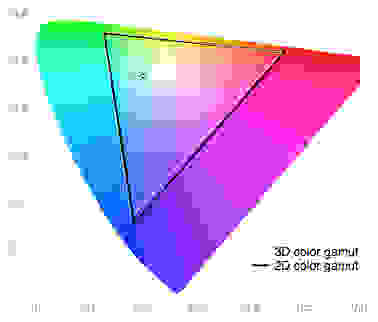 Crosstalk, or image ghosting, is when an image intended for one eye bleeds into the image intended for the other eye. This was never seen during our 3D testing. The UN55ES7500 produced a clean 3D experience all while having a noticeable 3D effect.
Samsung is leading the industry when it comes to smart TV features. Their smart TV platform has a great interface, called the Smart Hub, with plenty of apps that will satisfy most users' needs. The whole experience is very fluid – pressing the Smart Hub button on the remote is a near-seamless transition to the smart TV interface. It is important to remember that while Samsung may have the best smart features, the whole experience pales in comparison to what consumers can find on their smartphones.
One thing that is worth mentioning is Samsung's motion controls work to navigate the smart interface. Also, Angry Birds was released on both the ES7500 and the ES8000 and works with motion controls. It may be gimmicky, but it's one hell of a crowd-pleaser and a lot of fun until your arm gets tired.
Samsung's browser is your basic TV internet browser: not very good. Websites are a chore to navigate with the basic remote and pages just don't load very quickly.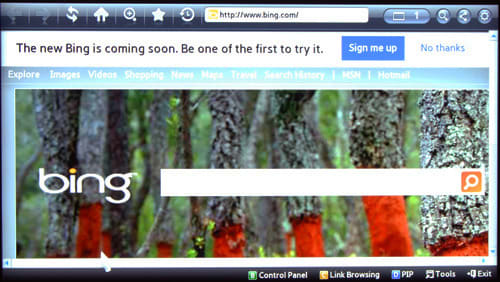 The browser experience is made much better with the addition of Samsung's Smart Touch Remote. Using the touch pad on this remote makes browsing borderline enjoyable. It is so much easier to use the touch pad, which controls a cursor on the screen, to click on links instead of using the old-fashioned remote.
Motion controls work with the browser, too. Using the browser this way is more of a gimmick; we can't see people buying this TV strictly to use hand gestures to browse the internet. It's a good way to amuse your friends, but if you seriously want to use your TV to surf the internet, stick with the Smart Touch Remote.
For an in-depth look at Samsung's browser, as well as other internet-related features, check out our overview here.
Samsung's app selection is the best in the industry right now. All of the major players like Netflix, Hulu Plus, and YouTube are present. Some other good apps that are on the Samsung app store are the ESPN ScoreCenter app, which updates you with the latest scores for sports you are interested in, and a camera app that will let you take candid pics with that fancy camera sitting at the top of the ES7500.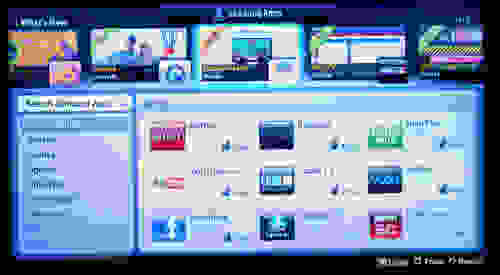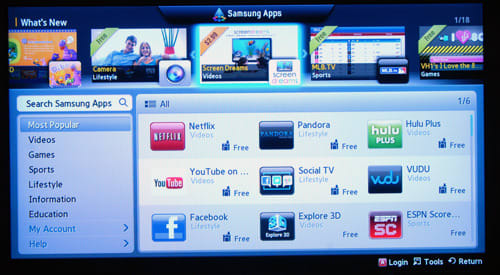 Setting up wireless and getting the internet to work on the ES7500 was a breeze. Samsung guides you through everything when you first power on the TV, plus there is some really great lounge music that plays throughout the process. Who would have thought that getting online would be so relaxing?
The ES7500 can view pictures and movies plus listen to music via a USB drive. Once plugged in, a pop-up screen will ask what type of media you would like to view on your TV. If you want to check out your USB media later, you can press the "source" button, Samsung's version of an input button, and select the USB drive that way.
Samsung has a well done menu interface that is simple to use. Pressing the menu button on the remote will bring up this interface, which lists options for six different categories: picture, sound, channel, network, system, and support. Samsung included descriptions for every setting that let you know exactly what you are tweaking.
Tired of using that boring remote to interface with your TV? The ES7500 has you covered with a touch-controlled remote and a camera on the TV that allows for motion controls. There's also voice control, but you knew that, right?
Samsung includes a hearty user manual. While we lament the lack of a table of contents, the user manual itself offers so much detailed information that we can't be too mad.
Samsung's UN55ES7500 (MSRP $3,379) is one heck of a TV. It includes every top-of-the-line feature, like 3D and internet connectivity. What's more, it actually does those features well.
There isn't a whole lot that's different from the ES8000. Aside from trading in the ribbon-styled base for a four-pronged one, the ES7500 is just about as good as the ES8000. We noticed that the ES7500 used slightly more power and didn't get as dark or as bright as the ES8000, but those were the only real drawbacks.
The good things we can say about this TV are numerous. The color accuracy is very good, the screen uniformity is great, and the 3D experience that it provides is impressive. Samsung's smart TV platform is just as good as it is on the ES8000, so consumers who purchase any of the ES7500 models will be in for a treat. With its lower price tag compared to the UN55ES8000 ($3,379 vs. $3,749), the UN55ES7500 is still a pricy TV, but it is also a clear-cut winner.
The Samsung ES7500 series of 3D LED HDTVs includes Samsung's smart TV platform and four pairs of 3D glasses. These TVs also come with Samsung's Smart Touch Remote and an IR Blaster.
Meet the tester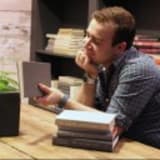 Josh Fields
Staff Writer
@reviewedtech
An enthusiast of all things tech, Josh is one of Reviewed.com's resident television experts. When he's not looking at bright TV screens in a dark room, he's probably reviewing a laptop or finding a new snack at 7-11.
Checking our work.
We use standardized and scientific testing methods to scrutinize every product and provide you with objectively accurate results. If you've found different results in your own research, email us and we'll compare notes. If it looks substantial, we'll gladly re-test a product to try and reproduce these results. After all, peer reviews are a critical part of any scientific process.
Shoot us an email