Out-of-the-box results in the TV's Movie mode were very favorable, and things got even better after an informed calibration.
The UN55H6350's only real drawback is that its horizontal viewing angle is a little on the narrow side—but giving that the TV pivots upon its stand to the left and right, this quite as big of an issue, though we still don't recommend wall-mounting it.
4K (UHD) televisions may be here to stay, but make no mistake, TVs with Full HD (1080p) resolution are still very much the standard for cable/satellite, Netflix, and current-gen video game consoles.
As such, the UN55H6350 (MSRP $1,399, online for $900) is still a perfectly relevant option. It's a Full HD (1080p) TV from Samsung that straddles the line between mid-range and high-end, offering a solid combo of top-tier smart features and a frills-free design. This means you're paying for what matters—a good picture—without too many extraneous add-ons.
Best of all, time in the lab proved that this Samsung not only looks good and works handily, it stands up to some of the better LED TVs we've tested recently. If you're craving high contrast, rich color accuracy, and solid motion performance, the UN55H6350 delivers the goods.
Very solid performance right out of the box.
Any TV can benefit from a professional calibration—a tune-up that helps the TV present the cleanest and most pleasing picture possible. Ideally, however, you won't need to do much tweaking to get a great picture, and that's exactly what you get with Samsung's UN55H6350.
Time in the lab revealed very solid performance for an edge-lit LED TV, including satisfyingly dark shadow tones, bright highlights, clean, color-free neutral shades, and rich, accurate colors; basically, what you want when you hire a calibrator. Best of all, the TV doesn't rely on any video processing or software enhancements to achieve these results—they're indicative of pure panel quality, especially if you're using the Movie picture mode.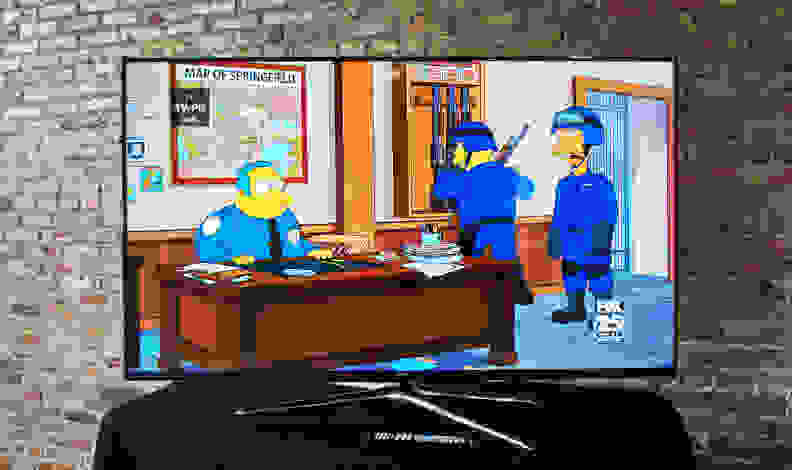 This means that almost anything you watch looks exactly how it should, and you can raise and lower the Backlight (screen brightness) to suit the room without impacting the TV's performance. The H6350's naturally high contrast complements shadow-rich content like movies/films, while the vivid will work for cable cartoons and the 120Hz panel is great for sports or twitchy video games.
If you plan to watch in absolute darkness, you'll probably notice flashlighting in one or more of the corners.
There are a couple little drawbacks, however. First off is the TV's viewing angle—you simply can't watch from obtuse off angles without picture degradation and mild color shifting. Fortunately, the panel swivels atop the stand, so you can shift if you need to. Secondly, if you plan to watch in absolute darkness, you'll probably notice backlight bleed (flashlighting) in one or more of the corners.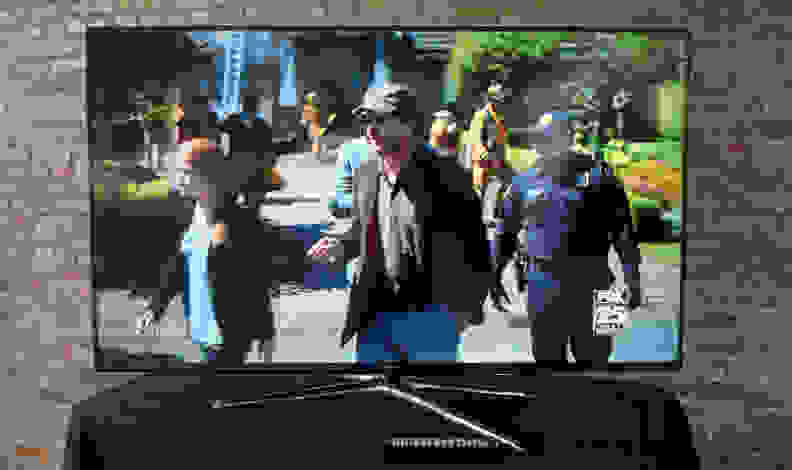 Overall, however, most people will be pleased as punch with this Samsung's picture quality. To check out the hard data and my calibration settings, head over to the Science Page.
We calibrate each TV we test to both gauge its overall performance and to glimpse the full extent of its performance abilities after an informed calibration session. Typically, we calibrate displays to optimal "Dark Room" settings, meaning a peak (reference) white of 40 fL and a flat gamma sum (or curve) of 2.4.
Note that the results for both Contrast Ratio and Viewing Angle are recorded prior to the calibration process using the TV's default settings.
Below, you'll find Samsung's default Movie mode settings (right) alongside my final calibration settings (left). Notes include final settings for the TV's 10-point White Balance and Custom Color Space settings. The following sections detail the results of the calibration.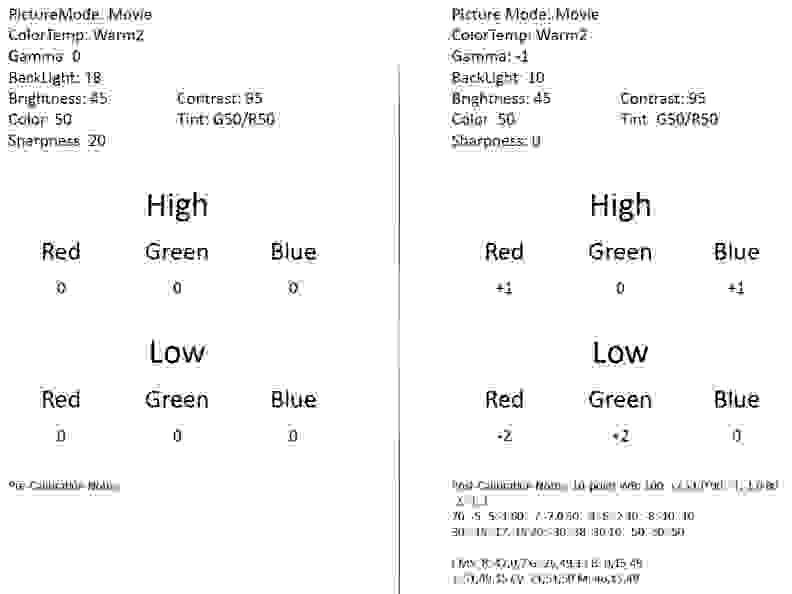 This TV captures a posh appearance without the usual high price tag.
For a 55-inch LCD, the H6350 is not terribly expensive—you can find it online for less than $900—but it still looks comparable to Samsung's pricier 2014 models. Modern touches like a spindly silver stand, thin bezels, and a slim profile mean the H6350 looks classy, even if the materials are mostly lightweight plastic.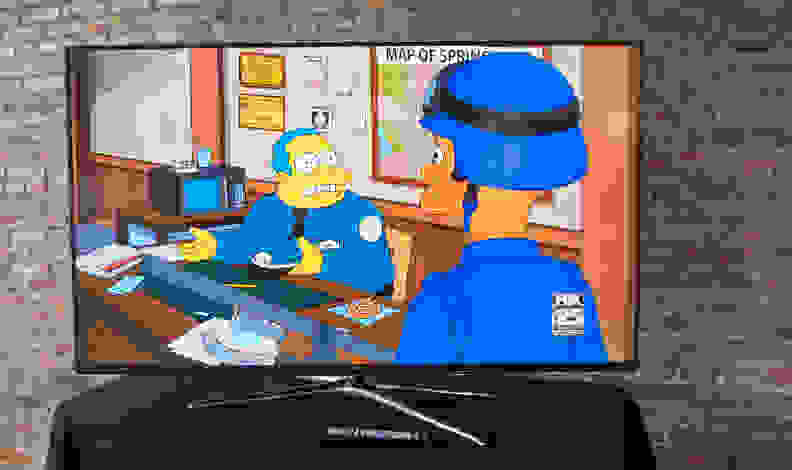 Input/output ports are tucked away on the back of the TV, putting all emphasis on the screen from the front. Like most modern HDTVs, the H6350 aggregates its audio/video ports into an L-shaped cutout, allowing for both horizontal and vertical cable orientation. You'll find four HDMI inputs, three USB inputs, a coaxial jack for cable/antenna, digital and analog audio out, ethernet (LAN) input, and a shared component/composite cluster.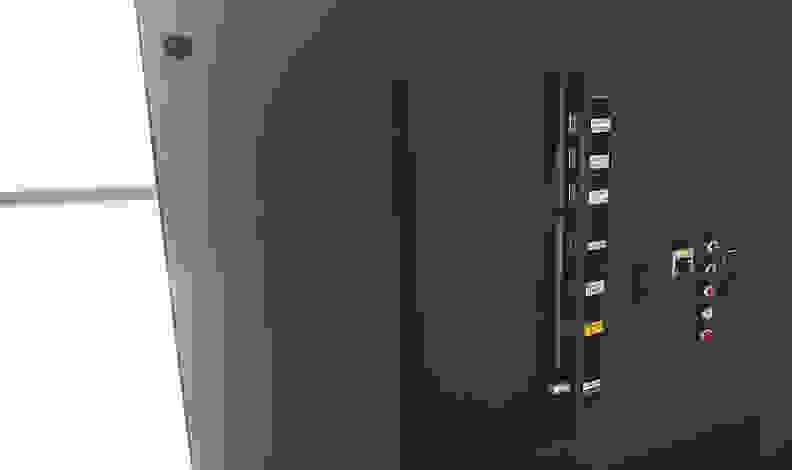 Instead of a series of button controls, the UN55H6350 uses a "Jog Stick," a single button/stick combination hidden on the back of the TV. Pressing the Stick turns the TV on, and pressing it again brings up a four-way contextual menu for functions like the menu software, volume, or channel selection.
While the Jog Stick stands out as entirely unique to Samsung TVs, we still recommend sticking with the included remote whenever possible. It's not as slick as, say, LG's Magic Remote, but it makes navigating the Smart Hub/menu software an easy enough task, with plenty of dedicated hotkey buttons.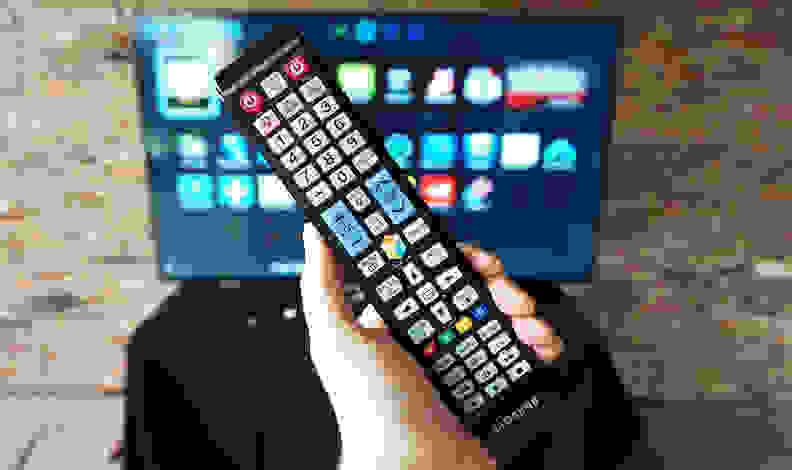 The H6350 is also amongst that rare class of HDTV that can swivel upon its stand, meaning the panel can turn to the left/right without the stand moving alongside it. This is especially useful for a TV this size, since it means you can more comfortable use it in a very large room without worrying too much about placing it to perfectly suit every angle.
Without any sort of software enhancements or artificial backlight adjustment, the H6350 is capable of a stellar contrast ratio. We determine contrast ratio by dividing a display's peak (reference) white by its absolute minimum black level, using luminance data gathered from the standard ANSI checkerboard pattern.
I tested a solid black level of 0.05 cd/m2 , which is rather standard for Samsung's LED TVs, and an equally stellar reference brightness of 217.80 cd/m2 . This gives the UN55H6350 a total contrast ratio of 4356:1, which is a great result for an edge-lit LED TV and promises a highly immersive picture. This compares favorably to three well-received comparison TVs in similar sizes.

More smart features than you can shake a remote at.
The UN55H6350 falls within the upper tiers of Samsung's midrange TV lineup, meaning it comes equipped with the company's full 2014 smart platform, called the "Smart Hub." The Smart Hub is broken up into four pages for different kinds of content: TV/Movies, Multimedia, Apps, and Games (there's also a fifth page, called "On TV," that appears when a cable/satellite connection is active.)
The Smart Hub's organization makes it very easy to keep track of everything, which is good, because there's lots to keep track of. On top of all the most basic, popular apps—including Netflix, Hulu Plus, Amazon Instant Video, Facebook, Skype, and Twitter—there are a ton of apps unique to Samsung like Fitness and SyncPlus.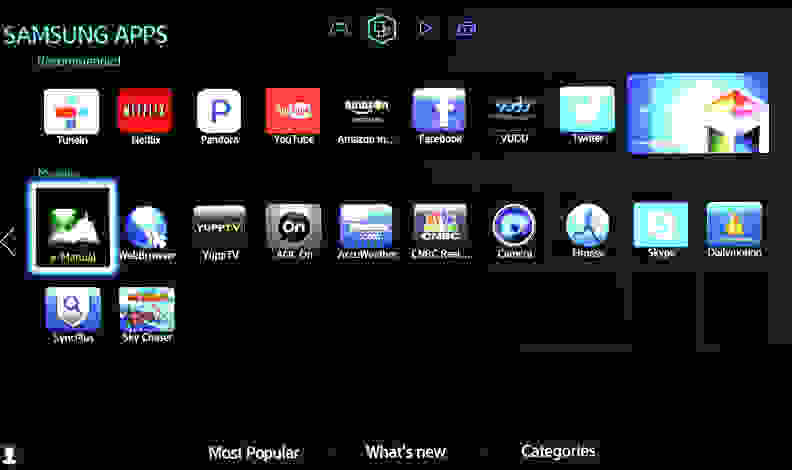 Once you've downloaded and signed into your favorite apps, the TV/Movies page will allocate all of the content you have access to into a single, searchable headquarters. For example, if you search for a movie like The Dark Knight, you'll be able to see all the apps you can stream it from and the prices available.
There are also tons of ways to stream/view your personal media, via USB or over the same WiFi network, and lots of better-than-average games and peripherals by which to play them. You can read our much more in-depth breakdown of the 2014 Smart Hub here.
Samsung's menu software—settings for Picture, Audio, etc.—is equally fleshed-out. Users can choose from numerous Picture and Audio mode pre-sets, and there are ample tools to make everyday use easier, like an off timer, SSID network search, online manual, etc. Samsung's simple blue menu is clean and easy to both navigate and read.
If you're a really advanced user, you'll be glad to know that the Picture menu contains plenty of advanced calibration controls, too. Samsung includes both 2- and 10-point white balance options, a color tuner (CMS), a gamma slider, and a number of software enhancements like Auto Motion Plus that can be used to further tailor the picture as you see fit.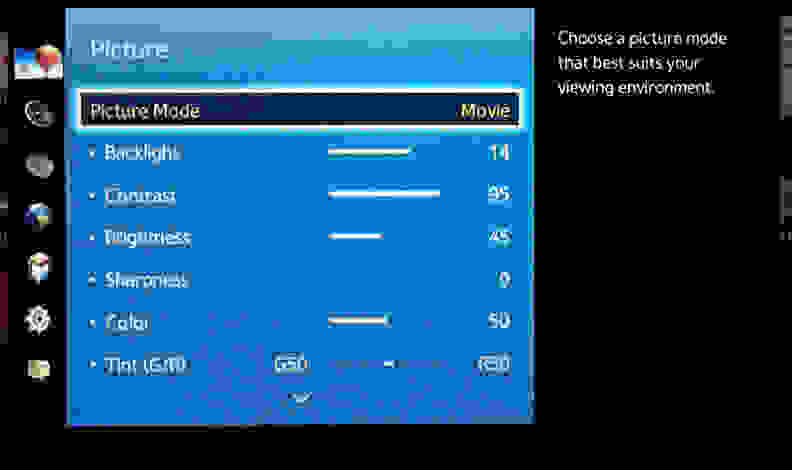 Our viewing angle test measures a TV's off-angle horizontal viewing flexibility—basically, how far from "head-on" you can watch before the picture degrades past a certain point. Specifically, we measure full-field contrast patterns and move in 10° arcs until a TV's contrast drops below 50% of its head-on (0°) value.
The H6350 tested in-line with other non-emissive (LED) TVs in this regard—not great. I measured a total viewing angle of 47°, or ±23.5° from the center to either side of the screen. While this isn't the widest viewing cone you could find, it's not bad, and shouldn't be problematic considering that the TV also swivels upon its base.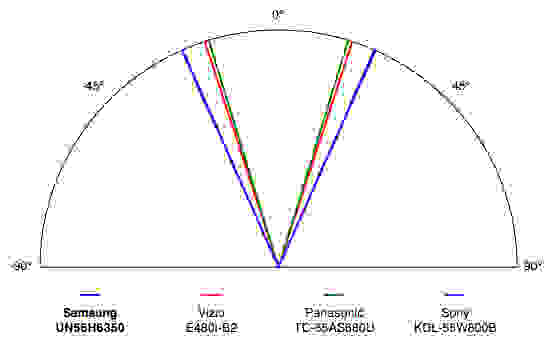 A smart choice for almost any buyer.
At an online price of about $900, the UN55H6350 is hard to argue with. It offers up a creamy smooth trifecta of unique design, great smart features, and picture quality that punches above its price tag. If you're hunting for a big, beautiful picture that looks good as soon as you turn it on, this Samsung is on-point.
In terms of price-to-performance, this TV finds major competition only in Sony's 55-inch W800B (MSRP $1,499). Sony's upper midrange option boasts slightly better picture quality overall, so it might be a better choice for especially picky users.
The H6350 offers a creamy smooth trifecta of design, smart features, and picture quality.
You can find both this Samsung and Sony's W800B for about $900 online. We recommend this Samsung for users looking specifically for a smart TV, and especially for those of you who like to watch with lights on. If you've already got a modern game console or a streaming device like Roku or Chromecast, the Sony is the better choice for shadow depth and uniformity.
Either way, if you're in the marker for a good, affordable 55-inch TV, the H6350 is a great place to start.
A color gamut is a visual illustration of a TV's color accuracy compared to a color "standard," like Rec.709 or Rec.2020. Because it's an HDTV (and not an SDTV or UHDTV), the H6350 adheres to a specific set of color coordinates—the "correct" coordinates are dictated by an international document that you can check out here.
The H6350 is a solid performer here. Out of the box in Movie mode, it boasts very accurate colors—green is a bit over-saturated, and magenta is slightly more blue than it should be, but otherwise the color production is spot-on. Using the TV's custom color settings, I was able to correct its color a little, achieving a nigh perfect representation of the high-def color gamut.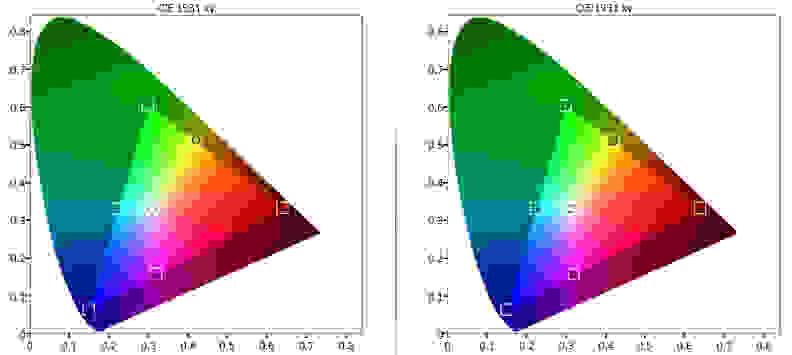 TVs create grayscale elements (colorless, neutral shades) by combining their three primary colors: red, green, and blue. Properly balancing these three picture elements or sub-pixels results in the "correct" color of white, which correlates to a temperature of 6500K. When one or more colors is over- or under-emphasized, however, this results in visible tinting of neutral shades which is, obviously, bad.
The H6350 was, again, a very strong performer in this regard. We like to see a Grayscale DeltaE (collective error) of 3 or less, and the H6350 tested with a DeltaE of 2.92 out of the box, which is within the ideal range. During calibration, I was able to use the TV's 2- and 10-point White Balance (grayscale) tuners to drop the DeltaE even further, to 0.47.
If we look at the underlying RGB emphasis (or balance), we can see that by default the H6350 tends to over-emphasize the blue sub-pixel just slightly, resulting in a small modicum of error that builds and grows more visible as the TV gets brighter. By reducing some of the excess blue and adding a bit of red/green to the mix, we were able to achieve an almost error-less grayscale presence.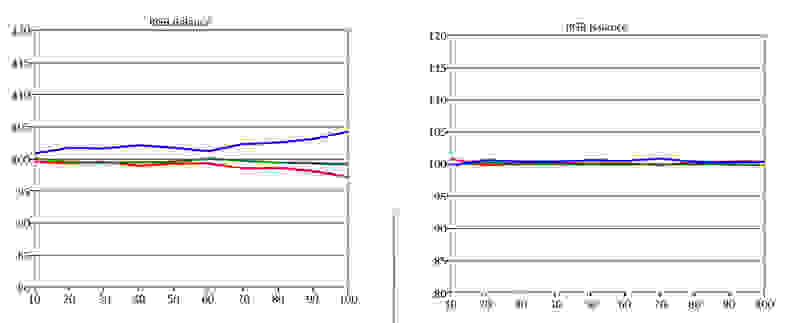 Gamma is a measurement of how quickly (or slowly) a TV adds luminance at each electrical signal level from 0 IRE (minimum luminance) to 100 IRE (maximum luminance). Adding too much luminance early on can gloss over valuable shadow details, while adding luminance too slowly can make for poorly differentiated highlights. Typically, TVs adhere to usual gamma sums of 2.2, 2.3, or 2.4.
The H6350 tested with a semi-flat gamma sum of 2.2 by default, which is a solid result, though it brightens a bit too slowly from 20 IRE to 90 IRE to achieve a totally flat, mathematically perfect curve. Using the TV's grayscale controls to adjust luminance in tandem with RGB emphasis, I achieved a final gamma curve of 2.4. Though it's not entirely flat, it's slightly better than what we started with.
Meet the tester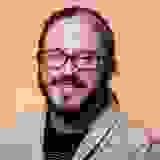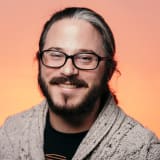 Lee Neikirk
Editor
@Koanshark
Lee has been Reviewed's point person for most television and home theater products since 2012. Lee received Level II certification in TV calibration from the Imaging Science Foundation in 2013. As Editor of the Home Theater vertical, Lee oversees reviews of TVs, monitors, soundbars, and Bluetooth speakers. He also reviews headphones, and has a background in music performance.
Checking our work.
We use standardized and scientific testing methods to scrutinize every product and provide you with objectively accurate results. If you've found different results in your own research, email us and we'll compare notes. If it looks substantial, we'll gladly re-test a product to try and reproduce these results. After all, peer reviews are a critical part of any scientific process.
Shoot us an email