After a whirlwind of lab tests we can confidently confirm that, besides a couple of minor flaws, this HDTV delivers a great picture. The impressive image is complemented by cutting-edge features a la Samsung's Smart Hub, and a sexy, silver outfit. So what's the catch?
The only real drawback here is the price, which is steep compared to some of the competition. For example, you could secure Sharp's 4K-capable, 60-inch UQ17U for the same price, or go much bigger with Vizio's 65-inch M Series ($1,499) or Samsung's own 64-inch H5000 plasma ($2,099).
Of course, if flat TVs just don't turn your head anymore, it's worth noting that the H8000 series is currently the only non-4K option for a curved LED TV on the market.
The Samsung UN55H8000 (MSRP $2,899, online for $1,999) is a terrific performer with few flaws. I tested decent black levels, making for good contrast when coupled with a luminous reference white output. Viewers will enjoy accurate, rich colors, whether the TV is matching international standards or adding a little extra color in its Native color space. Motion performance was also laudable, though the 240 Hz native refresh rate exhibited moments of detail loss for particular types of content. Finally, the TV's viewing angle is on the narrow side, which is especially important to keep in mind if you plan on wall-mounting it.
Displays like TVs and computer monitors are often calibrated to international standards dictated by a team of scientists and all-around smart guys. The calibration process ensures that content—movies, TV shows, documentaries, video games, websites—look the way they're intended to. In fact, when done correctly, a properly calibrated TV can surpass the cinema experience.
Naturally, the TVs we review are rarely calibrated to perfect standards out-of-the-box, though many come close. The Samsung H8000 performs admirably to these standards in Movie mode, though with a little tweaking I was able to finely tune it to almost perfect performance. When we calibrate in our testing lab, we aim to optimize each TV for performance within a lightless home-theater environment.
Below, you'll find my final calibration settings for the UN55H8000 alongside Samsung's default settings in the Movie picture mode.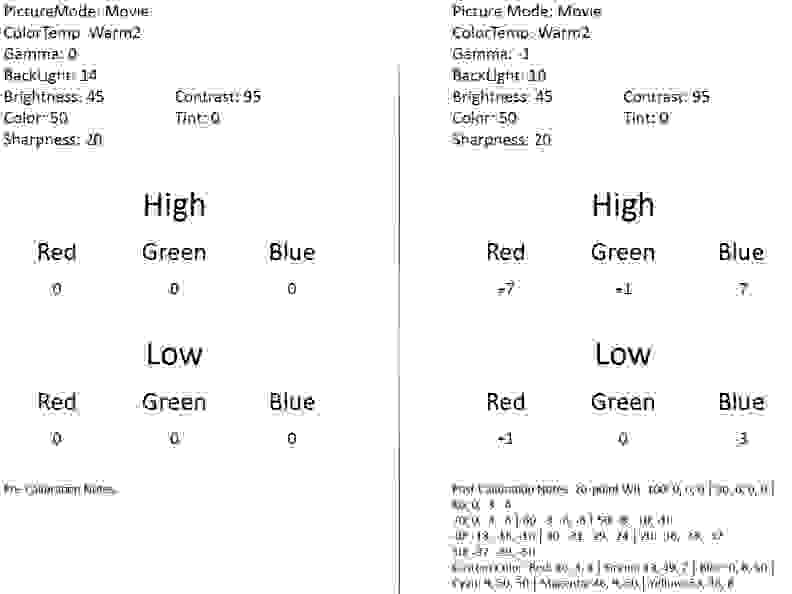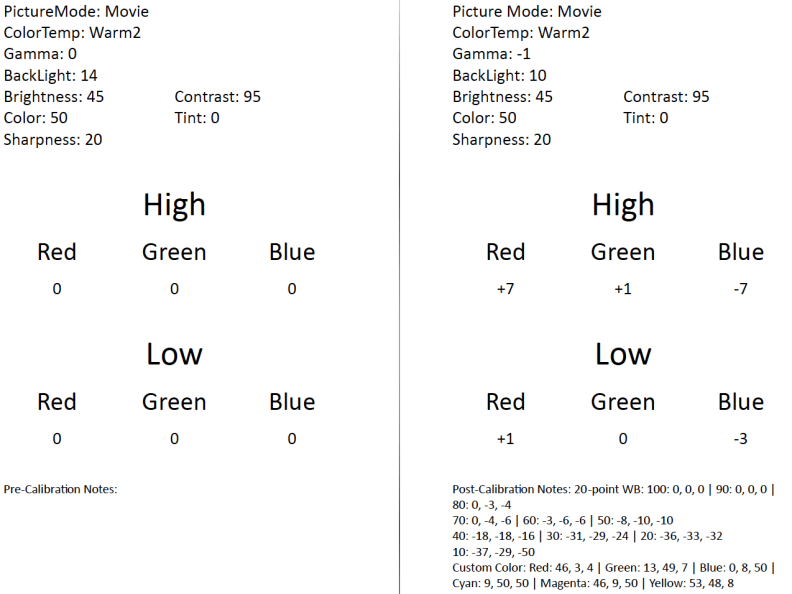 Blue-ribbon picture quality, but a couple of flaws
Samsung's 55-inch H8000 stepped into our bevy of lab tests with real swagger. This curved LED performs with serious panache, and though it has a few drawbacks, it's an excellent television in terms of picture quality.
Compared to its peers, the H8000's black level production is decent, but not excellent. In Movie mode, the TV produces deep-enough shadows for a pitch-black viewing environment, but performs best with a little ambient lighting. I tested a commendable amount of luminance (light output) also, which creates both pros and cons. The TV is capable of a bright, flashy image, but the curve of the panel causes some uniformity issues and hotspots in the corners. Hints of the backlight bleed through on black and dark gray areas, which is especially crippling for letterbox or 4:3 content. Fortunately, the TV has a setting called Cinema Black that helps to darken letterbox areas—we recommend turning it on.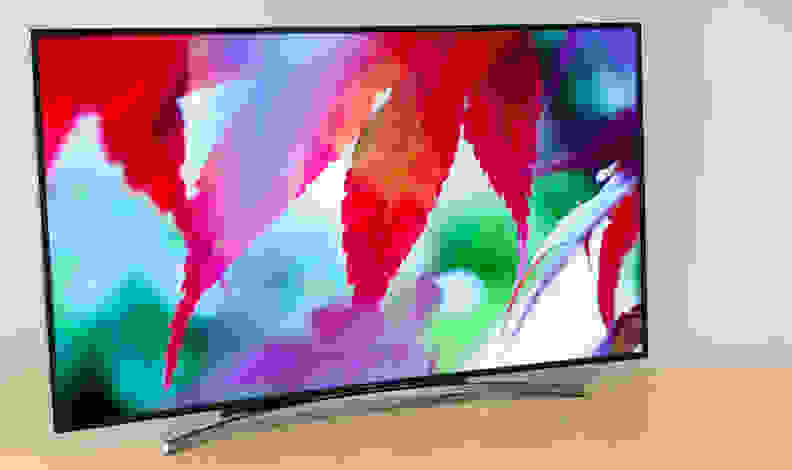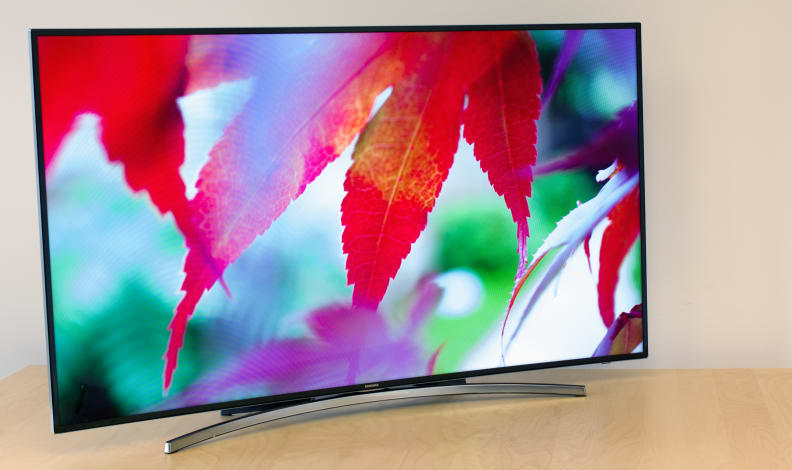 In terms of color performance, the H8000 continues to deliver. I measured very accurate colors, and was also impressed by what I saw while watching Blu-ray content. Like other Samsung LEDs, the H8000 allows the user to select between Auto, Native, and Custom color spaces. The default Auto setting matches the HDTV standards very accurately, while Native expands the colors mildly. Purists may rather avoid the latter, but I found the wider color space approximated the appearance of the more colorful movie content you see in theaters without tremendous detail loss. On the other hand, certain content (like cartoons or video games) can look a little garish with the extra color.
The Native color space approximates the appearance of cinema content in a complimentary fashion.
I was expecting great things from this TV in terms of motion. Samsung claims that the H8000 has a native 240 Hz refresh rate, which means the screen should refresh four times as often as a run-of-the-mill HDTV. Unfortunately, this doesn't always translate into flawless motion. First of all, this above-average refresh rate causes Samsung's on-board motion processing, Auto Motion Plus, to render movement too aggressively, overly smoothing from frame to frame. Secondly, it means that without motion assistance, some scenes are rendered in such impressive detail that the outliers look worse than they normally would by comparison; most details remain impressively sharp throughout motion, which tends to highlight the ones that don't. The H8000's motion is still above-average, but the algorithm that operates it is not always ideal for film content and certain TV programs.
Family and friends on the far ends of the couch may find that their view of the action is decidedly sub-optimal.
Like other curved TVs I've tested, the viewing angle here is a little narrow. Naturally, the real advantage of the curve comes from watching right in the middle of the screen, but in practice you're not always going to watch by yourself. Family and friends on the far ends of the couch may find that their view of the action is decidedly sub-optimal. This makes wall-mounting the H8000 an even trickier decision, as it's possible you'll end up battling constrained viewing angles more often than you'd like.
For an even deeper dive on what the Samsung H8000 can do, check out our full lab results and calibration settings on the Science Page.
If you want a TV with an immersive, realistic picture, hunting down a set with a high contrast ratio is a good first step. Contrast ratio is determined by dividing a display's reference white (100 IRE) by its black level (0 IRE), and obviously, the larger the number the better.
The H8000 is not a world-beater in this category, but it's still got some swag. I measured a decent black level of 0.065 cd/m2 and a reference white of 204 cd/m2 for a contrast ratio of 3138:1, which isn't outstanding, but it's still above-average for edge-lit LEDs like this one.


WHOA, THIS TV IS CURVED!
... Now that I've gotten that out of my system, I can go on to tell you that I think the H8000 is a good-looking receiver, even if it handily breaks tradition. Hyper-narrow black bezels cling confidently to the edges of the screen, and they're kissed by silver highlights that wrap the perimeter. The stand is a matched metallic hue, and follows a slightly more aggressive curve, softening the panel's undulation by comparison.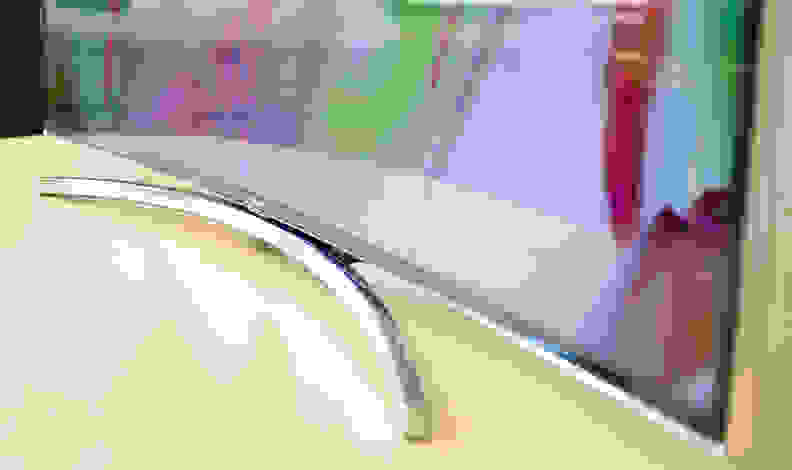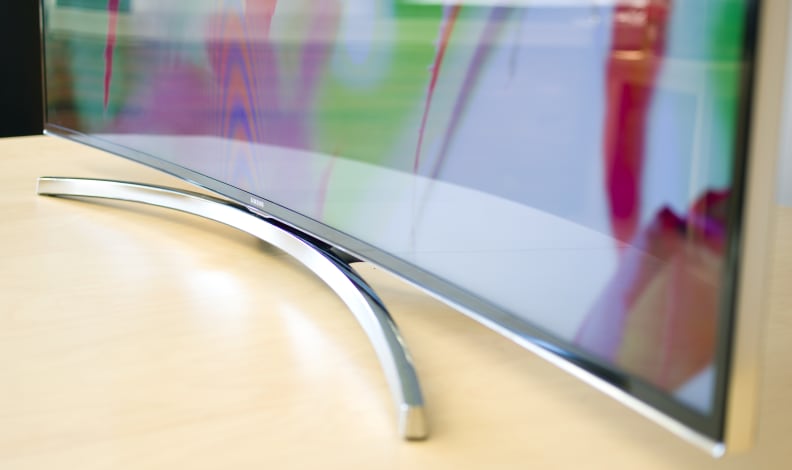 As usual, utility elements like on-set control buttons and video connections are hidden on the back, leaving the face plate free of blemish. This charcoal-colored surface yields up four HDMI inputs, three USB inputs, LAN (ethernet) in, a coaxial jack for cable/antenna hookups, digital and analog audio out, IR out for the included IR blaster, and an RS-232c control port. There are also splitter cables for composite (AV) or component inputs.
Alongside the panel and stand, Samsung throws in a whole box of goodies. This "Accessory Kit" contains the TV's two remote controls, the traditional black, plastic wand and the new Samsung Smart Control, a mouse-like controller that's great for browsing the smart content. You'll also find an IR blaster for cable programming integration and set-top-box control, and four pairs of Samsung's Active 3D glasses.
The Smart Hub still earns an A
Considering its premium pedigree, it'd be downright silly if the H8000 didn't give users access to smart content and 3D capability. I've had plenty of chances to check out this year's Smart Hub, and it remains a streamlined, content-focused experience on the H8000.
Once your H8000 is online, press the Smart Hub button on either of the included remotes and you'll see a string of apps lined up horizontally along the bottom of the screen. You can select from this quick bar, or navigate to the full Smart Hub screen, which allocates content into four separate pages: Movies & TV Shows, Games, Apps, and Multimedia. Highlights of the Smart Hub include the TV's ability to integrate information from your cable or satellite provider, and a slew of new, premium-branded games that you can play with an optional controller, or even a bicycle peripheral. You can read all about it here.
A setting called Smart LED controls the aggressiveness of the TV's micro-dimming—we highly recommend leaving it on to get the best contrast performance.
For picture quality fanatics, the ins and outs of the H8000's on-board menu software are probably equally as interesting as the TV's internet content. You'll find the usual toggles for backlight, color, contrast, and brightness in the Picture section, as well as a wide swath of fine-tuning controls in the Advanced menu. White Balance contains options for 2- and 10-point grayscale tracking correction, and the TV's color can be customized and calibrated in the Color Space menu. A setting called Smart LED controls the aggressiveness of the TV's micro-dimming—we highly recommend leaving it on to get the best contrast performance.
Viewing angle is important if you don't want to have to sit right in the middle of the screen all the time. It's also a very important facet if you plan on wall-mounting in a larger room. Narrow viewing angles mean everyone watching the TV has to sit relatively close to the center, which can make for some uncomfortable elbow-to-elbow movie nights.
Testing revealed that the H8000 may be better-suited for snuggling couples than clusters of germophobes—it simply doesn't have a very wide viewing angle. I measured a total viewing angle of 31°, or ±15.5° from the center to either side of the screen. This provides a narrow viewing space, unless you're quite far from the TV.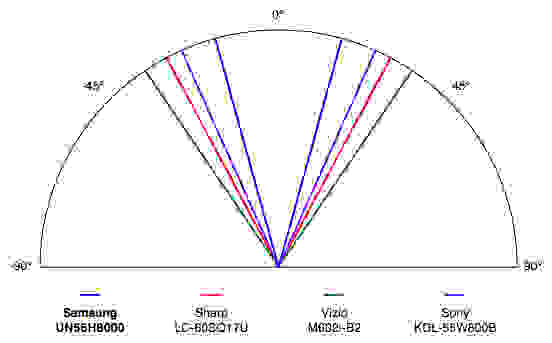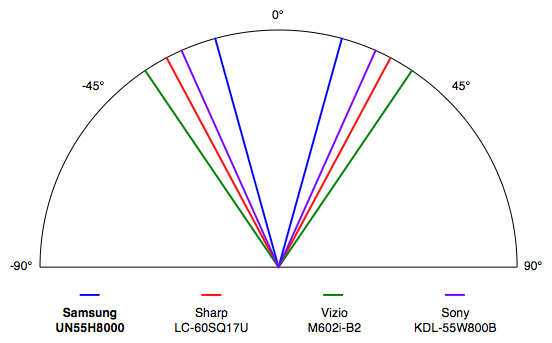 A very solid TV—but you're paying for the curve
If reviewing multiple curved TVs has taught me anything, it's that the design flourish adds notably to the price you pay. The UN55H8000 is quite expensive at an MSRP of $2,899—even the current sale price of $1,999 is steep compared to competition from Sharp, Vizio, and Sony. On the other hand, the H8000 is a slightly better performer than those three televisions.
It may not be the pinnacle of value, but this TV still delivers a premium experience that's matched by its svelte, unique appearance.
While it's worth keeping in mind that you're paying for curvature with no conclusive evidence that it improves the viewing experience, it's not an outrageous price boost, especially if you just really want a curved TV. The 55-inch H8000 lives up to its price tag with commendable picture quality, great smart features, 3D functionality, and a bevy of extra accessories. It may not be the pinnacle of value, but this TV still delivers a premium experience that's matched by its svelte, unique appearance.
A color gamut illustrates the millions of colors a TV is able to display, while also mapping the accuracy of a TV's primary colors (red, green, and blue), secondary colors (cyan, magenta, and yellow) and white/gray points. HDTVs like the H8000 should adhere to a set of color standards dictated in the Rec. 709 document—when they don't, it's bad for everybody, baby.
The UN55H8000 matches the Rec. 709 color gamut quite accurately, although its a bit blue-heavy by default. The white and gray points are lightly tinged by blue, as are cyan and magenta. Using the TV's custom color space option, I corrected these small discrepancies, achieving an almost-perfect representation of the standard color gamut.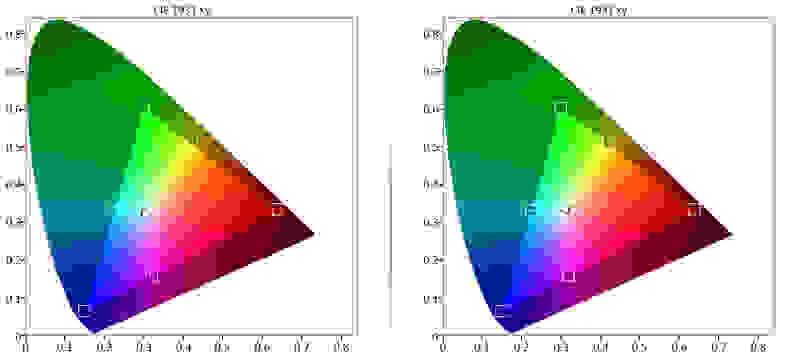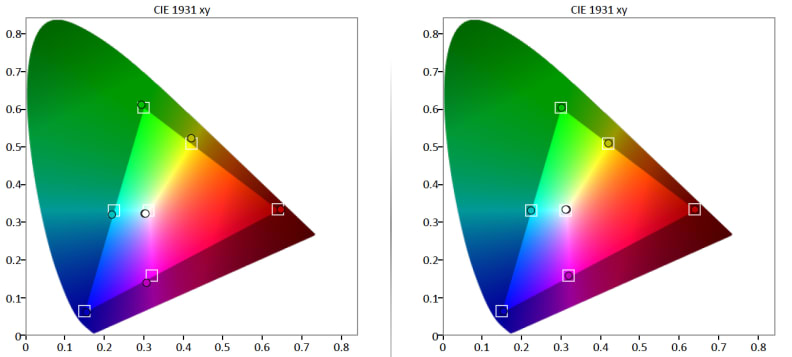 In TV land, a grayscale refers to all of a TV's neutral shade production, from black, to gray, to white. Since TVs use an additive, tristimulous color model, the primary colors (red, green, and blue) are combined to create grayscale elements. When these colors are not emphasized evenly, it can results in improper white balance within the entire picture—red-tinted grays or blueish whites, for example. This collective error is called DeltaE, where a performance DeltaE of 3 or less is ideal.
The H8000 tested with a pre-calibration DeltaE of 4.75, which is only a hair above the 3 or less ideal. Using the TV's 2- and 10-point white balance (grayscale) controls, I reduced the DeltaE to 0.63 during the calibration process.


Analyzing the way the H8000 utilizes its sub-pixels reveals the source of its grayscale error. By default, this TV slightly over-emphasizes blue across the luminance spectrum, reducing the presence of the green and red sub-pixels in the process. After removing a lot of blue using the H8000's white balance controls, the resulting sub-pixel emphasis was much more evenly balanced.

Gamma refers to the interval allocation of luminance across a TV's output spectrum. Essentially, it's a measurement of how quickly (or slowly) a TV gets brighter out of black. Gamma is expressed in numbers like 1.8, 2.0, 2.2, and 2.4, where lower numbers are better for brighter rooms, and higher numbers are better for darker rooms. Most TVs exhibit a gamma curve of 2.2 or 2.3, but during calibration we aim for a more difficult gamma curve of 2.4.
In its default Movie pre-sets, the H8000 tested with a gamma curve of 2.29, very close to 2.3, which is ideal for a room with some ambient lighting. Using the 10-point grayscale control, I tuned this set a little closer to a 2.4 gamma curve, hitting 2.38 with a very flat response overall. This is a great result if you want to watch in total darkness.


Meet the tester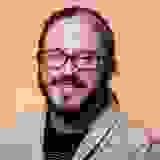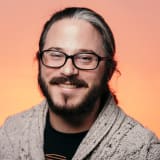 Lee Neikirk
Editor, Home Theater
@Koanshark
Lee has been Reviewed's point person for most television and home theater products since 2012. Lee received Level II certification in TV calibration from the Imaging Science Foundation in 2013. As Editor of the Home Theater vertical, Lee oversees reviews of TVs, monitors, soundbars, and Bluetooth speakers. He also reviews headphones, and has a background in music performance.
Checking our work.
Our team is here for one purpose: to help you buy the best stuff and love what you own. Our writers, editors, and lab technicians obsess over the products we cover to make sure you're confident and satisfied. Have a different opinion about something we recommend? Email us and we'll compare notes.
Shoot us an email