In practice, however, the gentle dimming algorithm and need to hit a certain minimum luminance (to back up the HDR claim) make for fairly weak black levels, especially for a VA-panel equipped LCD television. Outside of the limited contrast, however, the TV delivers excellent color, good-enough motion, and awesome upscaling for what you're paying. Read on for all of our test results and calibration settings.
Samsung's "SUHD" line of premium 4K, nano-crystal (quantum dot) equipped UHD TVs tend to fetch a high price: from the flagship JS9500, to the curved JS9000 and flat JS8500, you're paying for Samsung's best.
If the high tech catches your eye but the top-end models are too rich for your blood, the Samsung UN60JS7000 (MSRP $2099, online for $1,500) might be the perfect choice. This entry-level option isn't as fancy as Samsung's pricier SUHDs on the outside, but boasts the same nano-crystal color enhancement, 4K resolution, and HDR compatibility on the inside.
But despite its full-array, local dimming backlight, the JS7000 lacks the excellent black levels we measured on the other SUHD TVs; they're not bad, but they're not very impressive, either. But while this may not be the year's best 4K value, for less than $2,000 it does grant consumers the unique opportunity to sample some of the cutting-edge features that make the SUHD series notable—and that's hard to put a price on.
The JS7000 series is available in three sizes
Samsung's JS7000 series is available in three screen sizes: a 50-inch (Samsung UN50JS7000), a 55-inch (Samsung UN55JS7000), and a 60-inch (Samsung UN60JS7000). While the MSRPs for these sets seem to be in flux at the moment, it's worth noting that the JS7000 TVs are considerably discounted from their original MSRPs: The 60-inch can be found for around $1,500 online, or the 55- or 50-inch options for $1,200 or $1,000, respectively.
The three JS7000 TVs are identical in design, and offer full-array LED backlights, nano-crystal color, the Tizen smart platform, 4K resolution, and 60 Hz refresh rates.
All audio-video connectivity ports are located on the bodies of the TVs themselves, rather than externalized via the OneConnect or OneConnect mini box you'll find with the other SUHD models. Likewise, the included remote is the standard Samsung type.
Our 60-inch JS7000 was received on-loan from Samsung, and given roughly 50 hours to warm up and break in prior to evaluation. Because the only difference between the 50- and 60-inch JS7000 SUHD TVs is screen size, expect the performance noted in this review to be similar between sizes. The 55-inch JS7000 uses an IPS style LCD panel, however, and we would expect it to offer better viewing angles, but slightly worse black levels.
It may be the cheapest of the SUHD TVs, the but the JS7000 is still a premium 4K/UHD option, and as such it delivered great core accuracy and grayscale/color performance out of the box. While calibration yielded slightly improved results (and better home theater reference brightness and gamma), overall the TV's Movie mode pre-set is plenty accurate without calibration.
Below, you'll find Samsung's defaults in Movie mode (left) and my final calibration settings—with the aim of a 2.4 gamma and 40 fL reference brightness—on the right.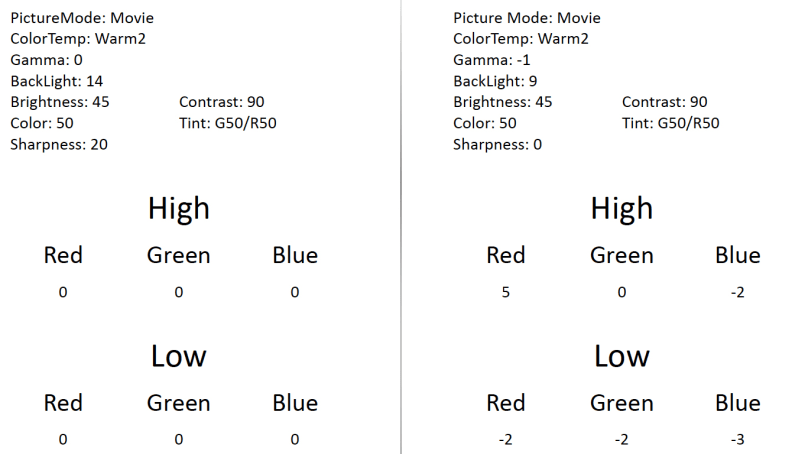 As noted on the front page of the review, the JS7000's contrast is not its strongest area. Despite its HDR compatibility and full-array backlight, the TV produces brighter black levels than the other SUHD models due to a lower number of dimming zones and/or less effective dimming software. It's still on-par with a wide majority of the year's LCD models, but is notably less strong in terms of contrast than the pricier SUHD options.
Using the standard ANSI checkerboard pattern (in Movie mode), I measured a black level of 0.08 cd/m2 and a reference brightness of 200.60 cd/m2 , giving the JS7000 a static contrast ratio of 2507:1. This isn't a bad result by LCD standards, but it's narrower than some of the pricier SUHDs (like the JS8500).


Straightforward design and simplified software help cut costs
With the JS7000 series, it's clear that Samsung hopes to deliver some of the SUHD line's more cutting-edge features for less money. To that end, the UN60JS7000 is less design-oriented than the other SUHD options, which tend to exhibit fancy stands, brushed-metal bezels, and even rippled, "shirring" backplates. The JS7000 keeps things simple and minimal: it looks nice, but isn't on par with the top-end sets.
You'll find a healthy selection of AV ports on the back of the TV, including four HDMI inputs, three USB inputs, component, composite, coaxial, and digital/analog audio outputs. While you don't get the OneConnect or OneConnect Mini—external input connection boxes that ship with the higher-end SUHD TVs—the JS7000 still offers as many ports as other premium 4K TVs. You also don't get Samsung's Smart Control, but the traditional remote works fine.
The JS7000 includes the fully realized version of Samsung's Tizen OS-based smart platform, Smart Hub.
Likewise, the JS7000's basic menu interface—controls for picture, sound, network, etc.—are quite minimalist compared to the pricier SUHD options. There's no "Smart LED" for local dimming, nor "Cinema Black" to dim the letterbox bars. Fortunately, Samsung still includes its suite of calibration-focused controls like 2/10 point white balance, a gamma slider, and a custom color space (color tuner).
Lastly, you'll find the fully realized version of Samsung's "Smart Hub" here. This Tizen OS-based platform's strengths include the ability to stream native 4K from capable apps (like Netflix, Amazon Instant, and YouTube), as well as a web browser, cable integration, and a comprehensive selection of additional apps and games. It's a welcome addition to the TV's feature set, especially the built-in 4K streaming, which only a handful of non-proprietary devices can do right now.
Like most VA-equipped LCD TVs, the JS7000 doesn't deliver the widest horizontal viewing angle, though it's on-par with similar models we've tested this year. Using full-field black/white screens, I measured a total horizontal viewing angle of just 30°, or ±15° from the center to either side of the screen. This is quite narrow for a TV of this size, allowing only about 3 feet of lateral viewing from the center to either side of the screen.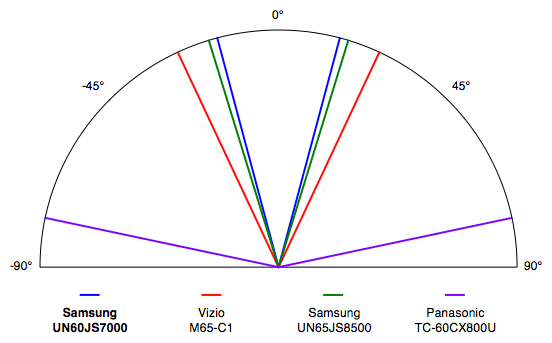 While it lacks the dazzling contrast of the other SUHD models, the JS7000 delivers beautiful color
Samsung's "SUHD" line of premium 4K TVs offer the company's best in contrast, color, and resolution this year. The high-end JS9500 flagship is the best LED TV we've tested so far this year, and while the JS7000 does a decent job imitating its pricier cousin, it's also not nearly on the same level—but that's to be expected.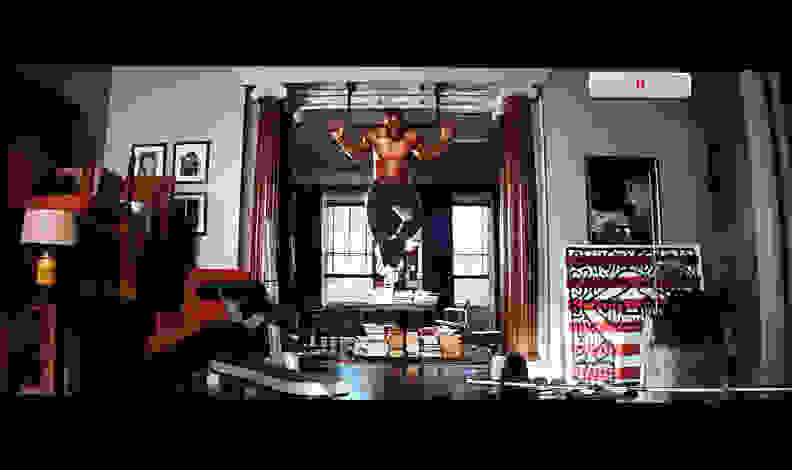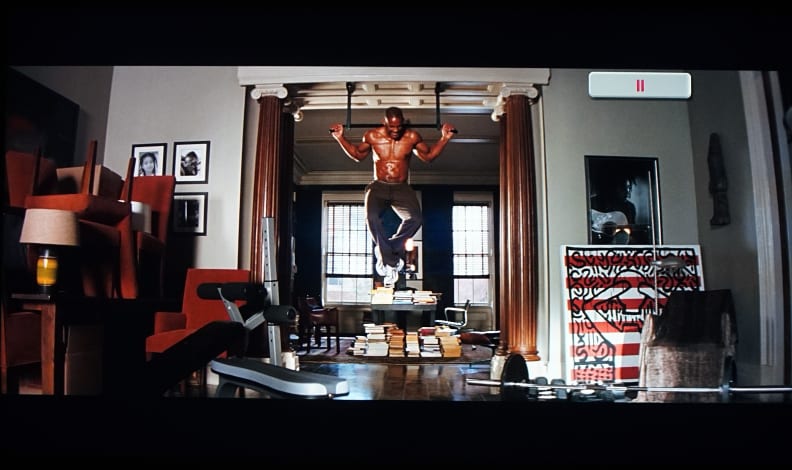 The most obvious difference between the JS7000 and the pricier SUHDs is contrast. While it does use a full-array backlight with some degree of local dimming, the JS7000's shadow production isn't stellar, mostly due to the prioritization of maximum brightness over shadow tones. On top of lacking the arresting shadow presentation of Samsung's best 2015 options, it also isn't quite as bright.
If you aren't too picky, however, the contrast performance here will definitely still satisfy. Over the weekend, I played the entire campaign for Halo 5: Guardians on this TV: a solid 7 straight hours of action-heavy combat and beautiful cutscenes, and the JS7000 never disappointed. I also played co-op with Reviewed's own Nick Schmiedicker, who played on the higher-end JS8500, allowing me to easily view them side-by-side.
The JS7000 upscales non-4K content just as effectively as the pricier JS8500.
In many ways the JS7000 and JS8500 are strikingly similar, though the JS8500 boasted better overall contrast despite its edge-lit design. From an upscaling perspective, however, I was very impressed that the JS7000 scaled non-4K content with just as much panache.
But it's in terms of color vivacity where the JS7000 really delivers. Everything from Halo's colorful weaponry, to streamed 4K footage of Costa Rica off YouTube, to our myriad Blu-ray discs were impressively colorful and rich. From a performance standpoint, the JS7000's nano-crystal color is definitely its strongest suit.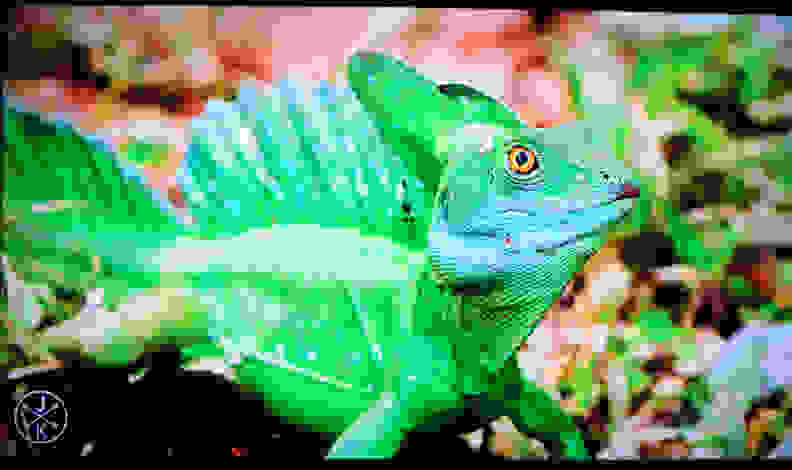 Finally, it's worth noting that the JS7000—unlike the other SUHD TVs—uses a 60Hz refresh rate instead of the 120 Hz refresh rate you'll find on the pricier models. It still handles most TV and movie content with aplomb, but also exhibits slightly more blur and judder, overall, than the 120 Hz equipped SUHD options where the most demanding content in concerned. Fortunately, Samsung's Auto Motion Plus software, a suite of judder/blur assistance controls, helps close the gap a bit.
For a more in-depth look at the JS7000's pre- and post-calibration results, check out the Science Page.
A bit about HDR
Like the other SUHD TVs, the entry-level JS7000 claims HDR (High Dynamic Range) compatibility. If you're jazzed about future TV tech, HDR is something you should keep on your radar: it's a new content format that promises to vastly widen both the contrast (luminance) and color requirements placed upon TVs, meaning the HDR-ready models tend to vastly outpace today's non-HDR sets.
While we don't doubt the JS7000 is able to receive and decode an HDR signal—as Samsung claims—we're a bit dubious as to how it'll actually look once HDR hits the mainstream, considering the seemingly limited backlight. On the other hand, the TV's nano-crystal (quantum dot) color gives it a healthy shot at matching HDR's "wide color gamut" standard. We'll have to wait until HDR becomes more mainstream to really quantify how much value the function adds here, however.
Considering that Samsung tends to aim for a 2.3 gamma (last we checked with the company), the JS7000's out-of-box Movie mode gamma of 2.32 is quite spot-on. This is an appropriate gamma curve for a room with dimmer but not totally dark lighting, which is probably the best viewing environment for the JS7000.
After calibration, I was able to hit close to the 2.4 dark room gamma standard, ending up with a 2.44 gamma by moving the TV's gamma slider from "0" to "-1".
Numerous positives and few drawbacks give the JS7000 notable value
Samsung's JS7000 series is a unique opportunity for budget-conscious buyers, dramatically lowering the cost of entry for Samsung's flagship SUHD series. And like all TVs that focus on value, it's a study in compromise; while the nano-crystal tech delivers rich color that really leaps off the screen, the limited backlight dimming process makes for disappointing contrast compared to other SUHD TVs like the Samsung JS8500.
But ultimately, there's a lot more good than bad here, with Samsung trimming costs by cutting back in things like design rather than performance. And with online prices starting just under $1,000 (for the 50-inch), the fact that you're getting things like quantum dot color and HDR compatibility is awesome.
If you're crazy for color and don't want to spend a bundle, the JS7000 must be on your list.
That said, it's not perfect, and those with dim home theaters will be better off with a TV like Vizio's 2015 4K M Series, which is less vibrant but offers superior black levels for slightly less money. That may change once HDR content becomes more commonplace, but that may not happen until late next year.
For those buying a new TV today, the JS7000 TVs may not be the best TV or even the best dollar-for-dollar, but it's big, affordable, and packs features that you won't find in other TVs at this price point. If you're crazy for color and don't want to spend a bundle, the JS7000 series must be on your list.
The JS7000's grayscale production is quite accurate, matching the .313/.329 (6504K) white balance standard quite closely by default in Movie mode. Out of the box, it registered a grayscale dE of 3.5, just .5 above the 3 or less ideal error limit. After calibration (using the built-in 2/10 point white balance controls), I was able to reduce the grayscale error a bit further, to 2.32.

If we take a look at the underlying RGB balance, we can see the reason for the error noted above: namely, an underemphasis of the red sub-pixel across the IRE spectrum.

Finally, the JS7000 tested with very accurate rec.709 color. We weren't able to test its color against the DCI-P3 standard at this time, but during a side-by-side comparison with the quantum dot-equipped JS8500 the JS7000 compared very favorably.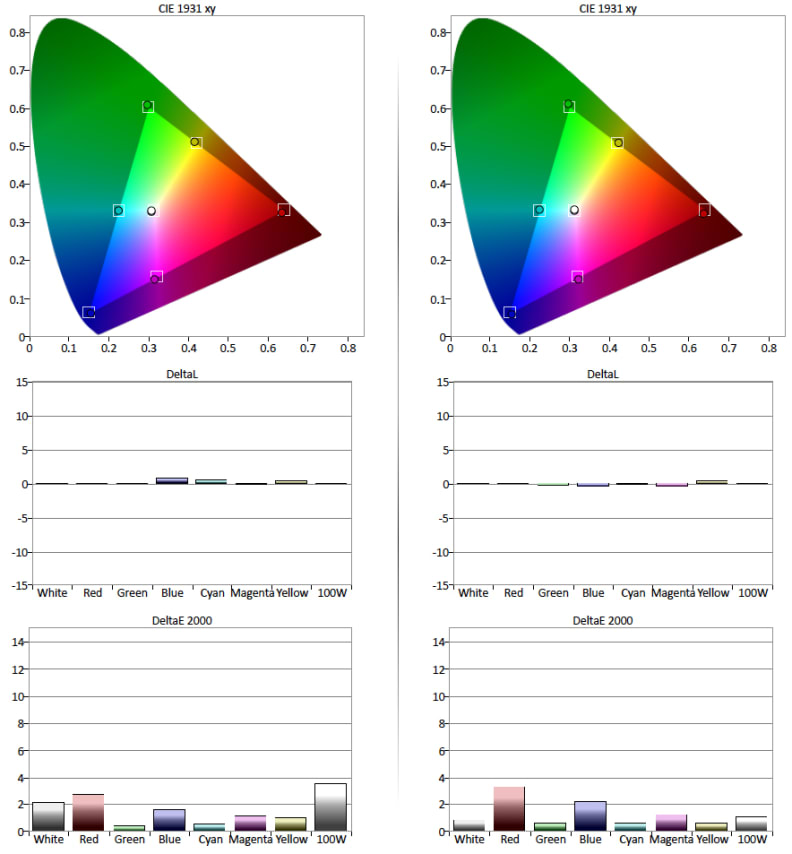 Meet the tester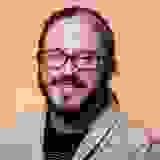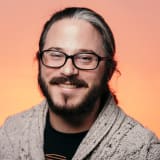 Lee Neikirk
Editor
@Koanshark
Lee has been Reviewed's point person for most television and home theater products since 2012. Lee received Level II certification in TV calibration from the Imaging Science Foundation in 2013. As Editor of the Home Theater vertical, Lee oversees reviews of TVs, monitors, soundbars, and Bluetooth speakers. He also reviews headphones, and has a background in music performance.
Checking our work.
We use standardized and scientific testing methods to scrutinize every product and provide you with objectively accurate results. If you've found different results in your own research, email us and we'll compare notes. If it looks substantial, we'll gladly re-test a product to try and reproduce these results. After all, peer reviews are a critical part of any scientific process.
Shoot us an email