Since they have fewer local dimming zones and traditional flat screens, the HU8550 4K TVs (available in 50-, 55-, 65-, and 75-inch sizes ranging from $2,199 to $5,999) cost about $1,000 less than their curved counterparts.
The HU8550 series is also internet-ready, 3D capable, and razor-sharp—thanks to a native resolution of 3,840 x 2,160 pixels. That resolution promises four times the detail of Full HD 1080p televisions, but whether you have the content to take advantage of it is another matter entirely.
As you might expect, the HU8550 wields picture quality that's quite good, but not as good as the HU9000 series. It won't blow your mind like a high-end plasma or OLED TV might, but like most of Samsung's LCD TVs it's a very solid performer with way more positive than negative qualities.
The Samsung UN65HU8550 (MSRP $3,499) is a solid performer—not game-changing, but the large majority of viewers will take no issue with the picture it produces. I measured the same black levels as the top-of-the-line HU9000, and an even brighter overall luminance. Thanks to its Smart LED local dimming, the HU8550 also tested with better uniformity than most edge-lit LCD televisions.
It wasn't all sunshine, roses, and Care Bears, though. The HU8550 tested with a fairly skewed color gamut, meaning the accuracy and purity of its colors could be better. Discrepancies in saturation (how colorful) and hue (which color) also led to gradation errors during color transitions. Finally, like many LCDs, the HU8550's horizontal viewing angle is narrow—you won't get a good picture if you watch from severe off-angles.
A flexible picture with minimal drawbacks
Traditionally, edge-lit LED televisions struggle with certain aspects of overall picture quality, such as black level, motion, and light uniformity. With plasma on the decline, however, LCD TVs are front-and-center this year—they need to be better, and the UN65HU8550 is a testament to what the newest models are capable of.
Time in the lab revealed healthy black levels and bright, vibrant white levels (keystones of good picture quality). Expect impressive shadows and satisfying highlights, thanks to the TV's Smart LED local dimming.
So-called "local dimming" controls the TV's backlight by manipulating autonomous zones (hence the name) of LEDs; that way, if the top left corner needs to depict a very bright lamp post while the bottom left depicts a very dark street corner, the local dimming can simultaneously boost and dim the LEDs in those zones to capture the necessary contrast.
The HU8550's uniformity is much better than standard edge-lit performance.
A common issue that plagues edge-lit TVs like the UN65HU8550 is poor uniformity—cloudiness or "flashlighting" that occurs when the backlight bleeds into areas of the screen that are supposed to be dark. While you can still see a bit of unwanted light while watching this TV in the dark, it's uniformity is much better than standard edge-lit LED performance.
Auto Motion Plus smoothes out blurriness and color trailing.
Additionally, LCD TVs like the HU8550 often struggle to maintain clarity during motion, especially when compared to plasma sets.
Fortunately, the HU8550 is equipped with Samsung's Auto Motion Plus frame interpolator and Motion Lighting black frame inserter. The latter can only be used when the local dimming is off, unfortunately, as it drops the entire backlight in order to reduce the motion blur associated with "sample-and-hold," the term for how LCD panels handle motion across changing pixels.
Auto Motion Plus functions on conjunction with the laudable local dimming feature, however, and it smoothes out blurriness and color trailing quite effectively. The one drawback to the AMP feature is that users will have to play around with the Custom setting to get the best results for different kinds of content—settings that work for sports, for example, won't necessarily work for film. And, as always, the motion performance still isn't comparable to a good plasma TV.
Highly compressed content shows some color banding.
One place where the HU8550 could have performed better was in color production and transition. Producing the ideal colors (per international standards) ensures that content not only looks the way the director intended, but that details are richly preserved.
I found during testing that the HU8550's Auto color space renders a few colors (such as green and cyan) as the wrong hue. While this isn't a drastic problem, it does cause some banding—where colors shifting in luminance or strength across a gradation transition too suddenly and have a banded appearance. Uncompressed content, such as from a Blu-ray disc, looks fine, but more highly compressed content (such as from cable or streaming apps) shows some color banding.
We calibrate each TV we review to show you what it's capable of under an expert eye. Most of our calibration settings aim to bring the TV closest to international ideals, such as those specified by the International Telecommunication Union. Others, such as ideal peak luminance and gamma, are ideals suggested by the Imaging Science Foundation specifically for operation within a very dark or completely dark room—the same condition we view, test, and calibrate in.
Below are my calibrated settings for the Samsung UN65HU8550, alongside Samsung's pre-sets in Movie mode. Changes involved lowering the Backlight setting from 17 to 10, reducing the TV's 100 IRE (peak level) luminance from about 70 fL to about 40 fL. Settings like Brightness, Contrast, and Color didn't need any tinkering. Most importantly, I used the TV's standard white balance and custom color controls to correct small errors in its grayscale and color production.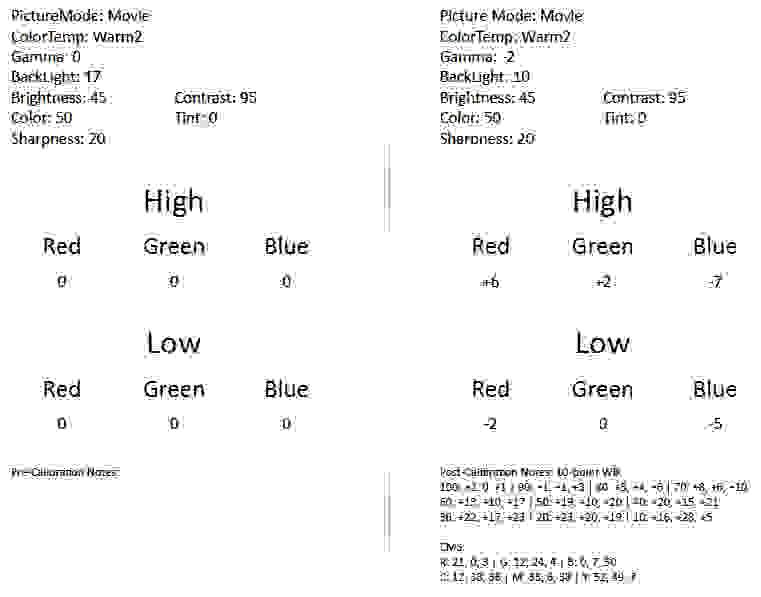 Elegant and modern
If you flattened out Samsung's premium 2014 curved TV, you'd get the HU8550. Trim bezels and a very narrow panel lend this television a modern air. Contrast is mildly enhanced by the black bezels, whereas the silver stand tends to catch ambient light in an attractive fashion.
The Samsung Smart Control is your best bet for handling smart features.
Unlike Samsung's premium curved TVs, the HU8550 displays don't include One Connect boxes (which work as external mainboards for ports so that users can more easily hide tangled cables). The HU8550 TVs do have a cable connection for the One Connect box, though, so buyers can purchase one if they so desire.
Video connections are instead found in the more traditional spot on the back of the TV, and there's still plenty of them: four HDMI inputs, three USB inputs, shared component/composite jacks, ethernet (LAN) in, RS-232c, IR blaster out, RF (coaxial) in, digital audio out, and analog audio out.
There's tons of cool stuff in the box, too. Samsung includes four pairs of active 3D glasses, an IR blaster, and two remote controls with batteries. One of these controllers is the usual infrared kind. It's reliable and backlit, with plenty of shortcut buttons. The other controller is the Samsung Smart Control, new for this year. This mouse-like remote is your best bet for deftly handling the TV's corncucopic smart features (more on those in the next section). The Smart Control creates an on-screen cursor for quick selection, and has a built-in microphone for voice commands.
What makes a TV pull you in? Some of it is willing suspension of disbelief, but a lot of it has to do with the television's contrast ratio. A high contrast ratio—which these days is ideally a number in the multiple thousands—lends more immersion to content. We determine a TV's contrast ratio by dividing its luminance at peak white (or 100 IRE) by its luminance at black (or 0 IRE). Simply put, having a high dynamic difference between the brightest and darkest elements on-screen looks more realistic.
The HU8550 performed well here. Using an ANSI checkerboard pattern (a series of equally-sized black and white squares), I measured a black level of 0.08 cd/m2 and a peak white level of 214.10 cd/m2 . This gives the HU8550 a contrast ratio of 2675:1, which is decent, but nothing exceptional.

Even the kitchen sink
If there's one trend that encompasses almost all modern, high-end TVs, it's smart (internet) functionality. The HU8550 has it in spades: Wielding Samsung's new Smart Hub, this TV provides all of the streaming content and web browsing functions you'd expect for the price.
This TV provides all of the streaming content you'd expect for the price.
This year, the Smart Hub is broken up into four pages: Movies & TV, Games, Multimedia, and Samsung Apps. There's a fifth page, called On TV, that only appears once you've integrated a cable or satellite provider into the Smart Hub.
To get started, you'll have to jump onto a wireless signal (or connect via ethernet cable) and create a Samsung account. Don't worry, it just requires an e-mail and password—no credit card nonsense. If you're a cable or satellite subscriber, you can plug the IR blaster in and program the TV to control your set-top-box and display what's on right in the Smart Hub. This isn't just a convenience feature: It's much more visually-appealing than most cable menus, and knocks down the wall between what's available online and what's piping into your home from your cable or satellite provider.
Best of all, as you use the Smart Hub, the TV will slowly learn which programming/apps you prefer, and put them front-and-center. While there's literally too much content in the Smart Hub for me to discuss it all, most of the apps you'll want to use (like Netflix) are already pre-installed on the TV, making it easy to set it up and get to binge watching.
Samsung's menu, where you'll primarily adjust picture, sound, network, and system settings, is largely unchanged this year. Basic controls like Backlight, Contrast, and Color are easy enough to find, but if you want to tamper with the TV's local dimming, for example, you'll have to dig a little deeper. Experienced calibrators will want to navigate to the Advanced Picture menu for gamma, white balance, and color space controls.
Expect the 4K resolution to improve the depth and feel of 3D content.
Two important menu items that set the HU8550 apart from Samsung's lower-end, non-4K lineup are Smart LED and Multi-Link Screen.
The former is the control for the TV's local dimming, which is where its primary strength lies as far as picture quality goes. This control toggles between Standard, High, and Off. You'll want to leave it on to get the most out of this television.
Multi-Link Screen lets you display multiple Full HD (1080p) images at the same time. For example, you can watch a movie in one "box" while surfing on the TV's web browser in another. This feature isn't completely customizable, which is my only complaint about it—you can only choose from a few different sources to split.
Last but not least, you'll find four pairs of active 3D glasses in the box because the HU8550 is a fully-capable 3D display. Whether watching full 3D content or using the TV's 2D-to-3D converter, expect the 4K resolution to improve the depth and feel of this feature a notable amount. We can't fully commend the 3D of 4K TVs until native 3D content exists in that resolution, however.
There's almost nothing worse than a TV with a great picture that looks shoddy and washed out from the side, but unfortunately, that's most of them these days. The UN65HU8550 is no exception to the rule, but it's better than average: I measured a total viewing angle of 51°, or ±25.5° from center to either side of the screen.
This means that groups watching together won't be able to spread out all over the room, but you won't have to cram together on one couch either. The HU8550 offers a wider viewing angle than similarly sized models, so watching together is still very possible.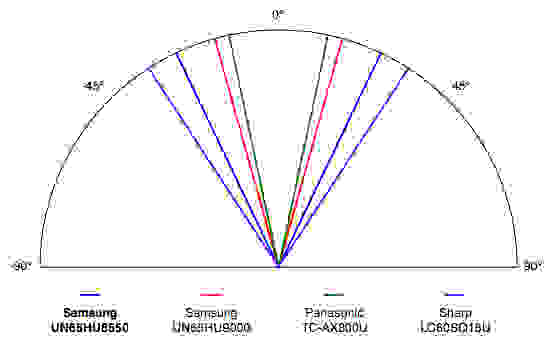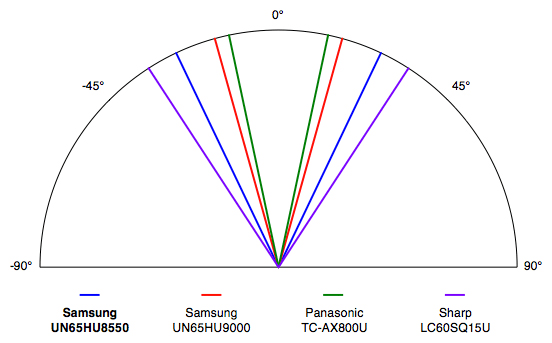 Reliable performance and high-end features
The 65-inch HU8550 (MSRP $3,499) is a strong performer, especially when you stack it up against both Samsung's 65-inch HU9000 and Panasonic's 65-inch AX800U. Those 4K options may perform a little better, but they also cost $1,000 more than the HU8550, and that's a huge selling point.
The reason for this discrepancy in price? The HU8550 has fewer local dimming zones, meaning its overall picture quality is a little worse—but only a little. The TV's dynamic performance (black and white luminance), motion, and uniformity are very comparable to the excellent HU9000 series, and both series feature identical smart features.
So unless you absolutely need the highest performance pedigree, the HU8550 is a decent 4K option. It's true: This TV doesn't hold up next to Panasonic's plasmatic AX800U in a black, home theater environment. You'd be hard-pressed to notice a major difference in normal lighting conditions, though—and you'll definitely notice an extra $1,000 in your wallet.
A color gamut is a visual illustration of a product's color production (at 100% saturation) within a color space. In the case of TVs, we test color points and map them against the Rec. 709 color standard, which is contained within the CIE 1931 color space. The Rec. 709 standard contains ideal color points for a TV's red, green, blue, cyan, magenta, yellow, and white points. Deviating radically from those standards can really mess with the way movies and TV shows look, either by blowing out subtle details, or by stemming the vivacity and brilliance of colors on-screen.
Fortunately, the HU8550 tested with no major color issues—though it wasn't perfect, either. Testing revealed that the TV's green, magenta, and cyan points are all mildly but notably skewed into the wrong hue, which can spell trouble for more complex content with lots of subtle gradation and color mixing. Using the TV's Custom color space control, I was able to gently nudge these points into the ideal locations.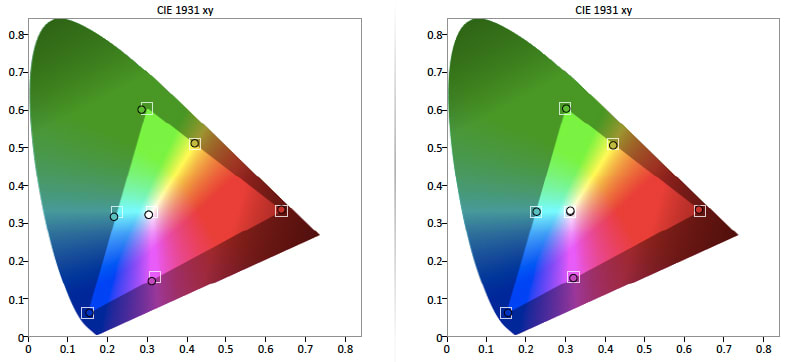 In the world of digital displays, the grayscale refers to the transition in luminance from black (least possible luminance) through gray to white (maximum luminance). Ideally, all of the shades across a TV's grayscale have the same color temperature—meaning they're roughly the same "kind" of neutral tone. Televisions adhere to a grayscale point called D65, which refers to a color temperature of 6500K. This is the same color temperature that studios use when capturing and mastering content, so it's important for a television to do the same.
Errors in grayscale accuracy are generally expressed as a collective called DeltaE, wherein a DeltaE of 3 or less is considered acceptable, and will look best to viewers. In its Movie pre-set, the HU8550 tested with a DeltaE of 5.09—not bad, but it still needed a little tweaking during the calibration process. After calibration, I achieved a grayscale DeltaE of 1.25, which is well within acceptable error limits.
Error within the grayscale can usually be attributed to an imbalance in sub-pixel emphasis. Most TVs have a red, green, and blue sub-pixel build within their panels; ideally, each sub-pixel will be emphasized evenly, achieving the most neutral, colorless shades within the grayscale. Over-emphasizing green or blue will result in greenish or blueish blacks, grays, and whites, respectively.
Prior to calibration, the HU8550 tends to overemphasize the blue sub-pixel. This is the most acceptable overemphasis because humans are less sensitive to blue than to red or green, but it still requires correction. The HU8550's 2- and 10-point white balance controls allow an experienced calibrator to tweak the sub-pixel emphasis in conjunction with light-measuring equipment; using these controls, I was able to slim down and balance the sub-pixel emphasis, achieving the acceptable grayscale DeltaE detailed above.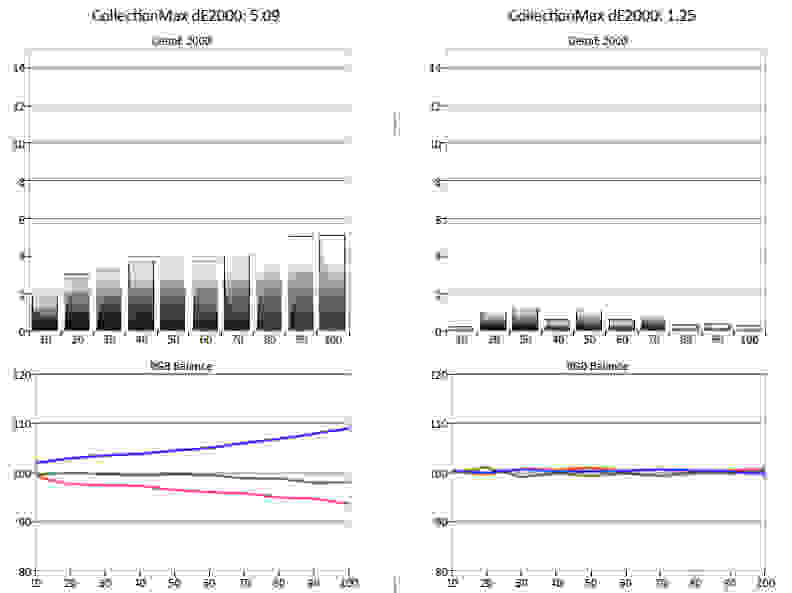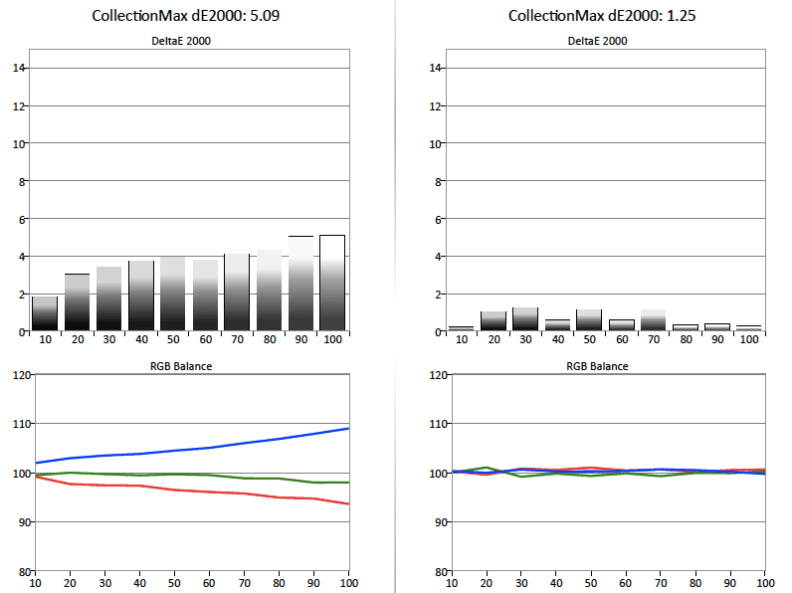 If black (0 IRE) is the bottom of the dynamic range, and white (100 IRE) is the top of the dynamic range, gamma is what controls everything in the middle. A gamma curve determines how much luminance is added at each step of the grayscale, correcting the digital formula so that it looks correct to our vision, which is essentially analog. Different gamma sums are appropriate for different environments—a gamma of 2.2, for example, is ideal for a moderately lit room, while a gamma of 2.4 is ideal for a completely dark room.
Out of the box (with Smart LED set to Standard), the HU8550 tested with a gamma sum of 2.15. We noted a steady gamma of about 2.3 until about 80 IRE (80% across the grayscale), where the TV's local dimming causes a sharp drop in luminance increase between 80 and 100 IRE. This isn't really something most viewers will notice. During calibration we aim for a gamma sum of 2.4, and ended with a gamma sum of 2.38.

Meet the tester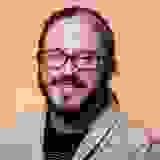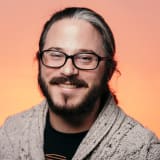 Lee Neikirk
Editor, Home Theater
@Koanshark
Lee has been Reviewed's point person for most television and home theater products since 2012. Lee received Level II certification in TV calibration from the Imaging Science Foundation in 2013. As Editor of the Home Theater vertical, Lee oversees reviews of TVs, monitors, soundbars, and Bluetooth speakers. He also reviews headphones, and has a background in music performance.
Checking our work.
Our team is here for one purpose: to help you buy the best stuff and love what you own. Our writers, editors, and lab technicians obsess over the products we cover to make sure you're confident and satisfied. Have a different opinion about something we recommend? Email us and we'll compare notes.
Shoot us an email