televisions
Samsung UN65JS8500 4K LED TV Review
With great contrast, color, and HDR capability in tow, this one's worth howlin' about.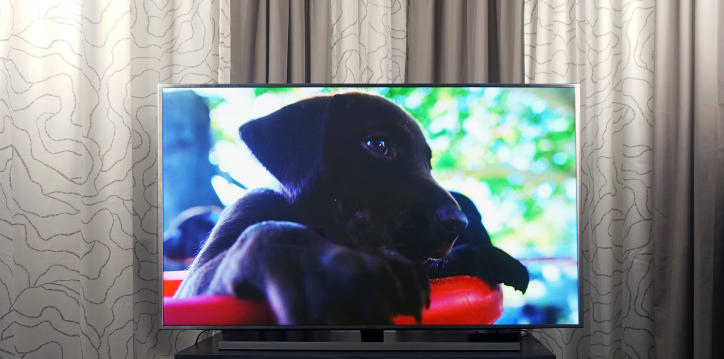 Credit: Reviewed.com / Lee Neikirk
Samsung's been all about curved TVs lately, but the company still knows how to craft a handsome flat-panel option. The Samsung UN65JS8500 (MSRP $3,999, online for $2,999) is not only Samsung's best performing flat TV this year, it's one of the sleekest, sexiest displays the company has ever produced—replete with all the "SUHD" bells and whistles like quantum dot, HDR, and 4K resolution.
While it's not quite on the level of the company's flagship JS9500 SUHD, the JS8500 is a lot more affordable, and for what you're paying it compares favorably. The biggest difference is that the JS8500 uses an edge-LED backlight, and lacks the contrast prowess of its pricier big brother. But you still get enhanced (nano-crystal) color, the Tizen OS smart platform, the mini version of the OneConnect, and a sleek silver finish. Overall, it's a very shiny package.
But while the JS8500 is a great performer, at $3,000 it's quite a bit pricier than competing models. However, much of what you're paying for is the JS8500's HDR compatibility, something 99% of today's content won't even show off. The "shirring" finish and sleek metal edges also push up the price. But if you're on the hunt for a UHD TV that's exceedingly future-proofed and super stylish, the JS8500 has very little competition.
Series Information
The JS8500 series is available in three screen sizes
The flat JS8500 SUHD series is available in three screen sizes: a 48-inch version (Samsung UN65JS8500, MSRP: $2,499), a 55-inch version (Samsung UN55JS8500, MSRP: $2,999), and a 65-inch version (Samsung UN65JS8500, MSRP: $3,999). You can find each of them discounted online, ranging from $1,500 to $3,000.

Other than screen size, the JS8500 TVs are identical. Each boasts the same flat screen, silver trim, and razor-straight stand; OneConnect mini external connectivity box; and smart features, a la Samsung's Tizen OS-based smart platform. We expect core performance aspects to be very similar between sizes, as each TV delivers 4K resolution, edge-LED backlighting, and nano-crystal (quantum dot) color.
We received our 65-inch JS8500 on-loan from Samsung. It was given roughly 50 hours to warm up and break in prior to review and evaluation.
Design & Hardware
Razor-straight and thin, the JS8500 puts fashion first
While you lose out on the flagship model's full-array backlight with local dimming, the JS8500's edge-lit design makes for a thin edge-to-edge panel that's perfect for mounting on a wall. The included stand is equally slender, describing a razor-straight footprint that takes up a minimal amount of surface space. The flat JS8500 is probably the sleekest, sexiest SUHD option in the lineup—and it knows it.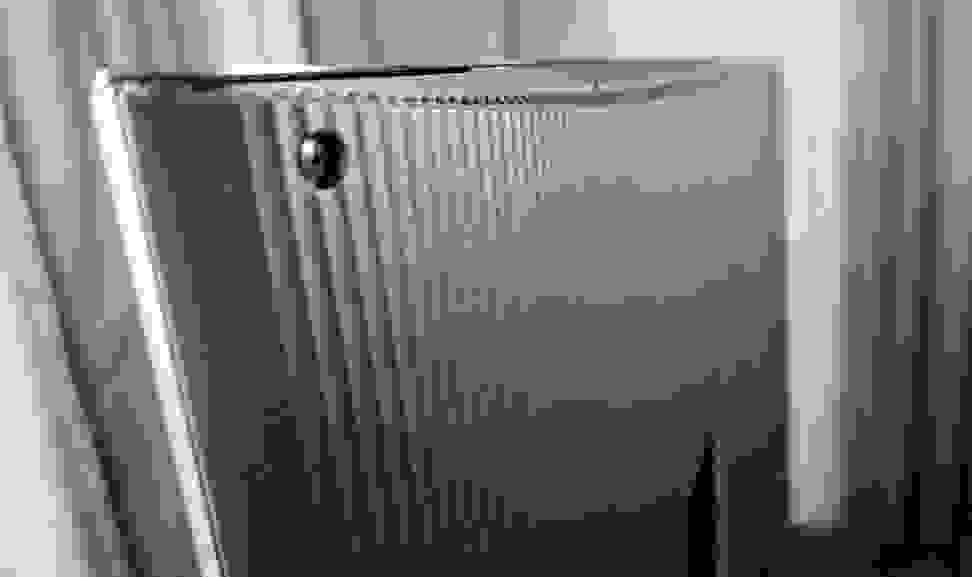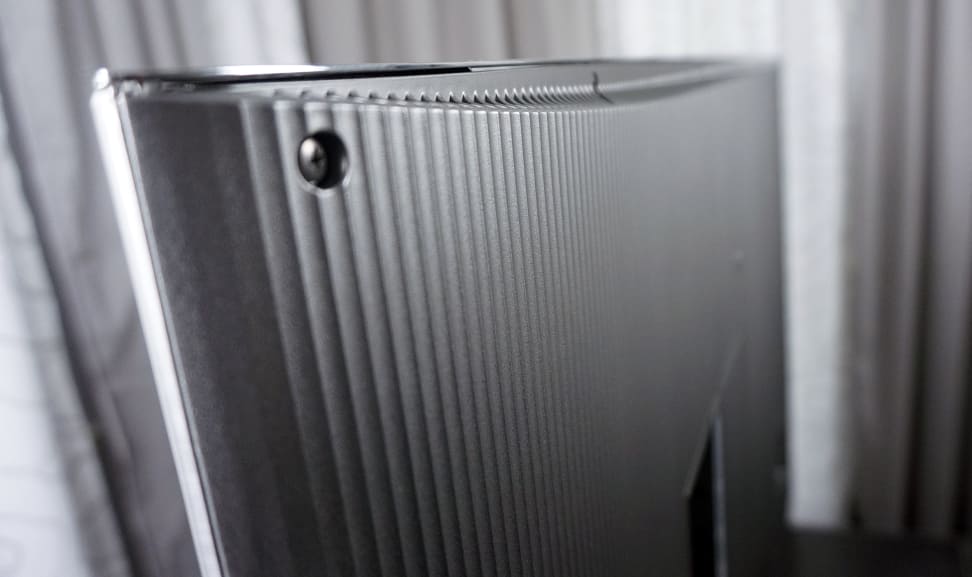 The rear casing is equally compelling. Like the curved JS9000, the JS8500 boasts a "shirring" rear finish. The clean, rippled gray finish is a welcome departure from the usual charcoal-colored plastic, making for a TV that looks about as good from the back as it does from the front.
The JS8500 also includes the OneConnect Mini, a smaller version of Samsung's OneConnect box. If you're unaware, most of Samsung's upper-crust 2015 TVs come with either a OneConnect or OneConnect Mini, an external box that houses some or all of the TV's audio-video ports (the connections that are usually found on the back of the TV). This can make for easier placement in home theaters, and the externalized ports are much easier to access if you choose to wall-mount the TV.
As for the Mini, it takes a hybrid approach, externalizing high-priority connections like HDMI and USB, while keeping options like component/composite and coaxial on the TV itself. On the Mini, you'll find four HDMI inputs, two USB inputs, and optical (digital) audio out. Component, composite, coaxial, and analog audio out live on the TV proper.
Finally, like the flagship JS9500, the JS8500 includes Samsung's Smart Touch control, a curved black remote that includes an on-screen cursor, voice recognition, and backlit keys. It's a great accessory, whether you're channel surfing, playing with picture controls, or browsing the smart hub.
Smart Hub & Software
One of the better options out there, but not the best
Hot take: If there's one thing smart TVs need to do win people over, it's step out of the screen's spotlight. By that, I mean they need to be easy to use, uncluttered, and—literally—not covering the screen all the time. Samsung's Tizen OS-based smart platform does a decent job of this, though it still doesn't quite compete with dedicated third-party set-top options like Apple TV, Roku, and Chromecast when it comes to ease of use and content access.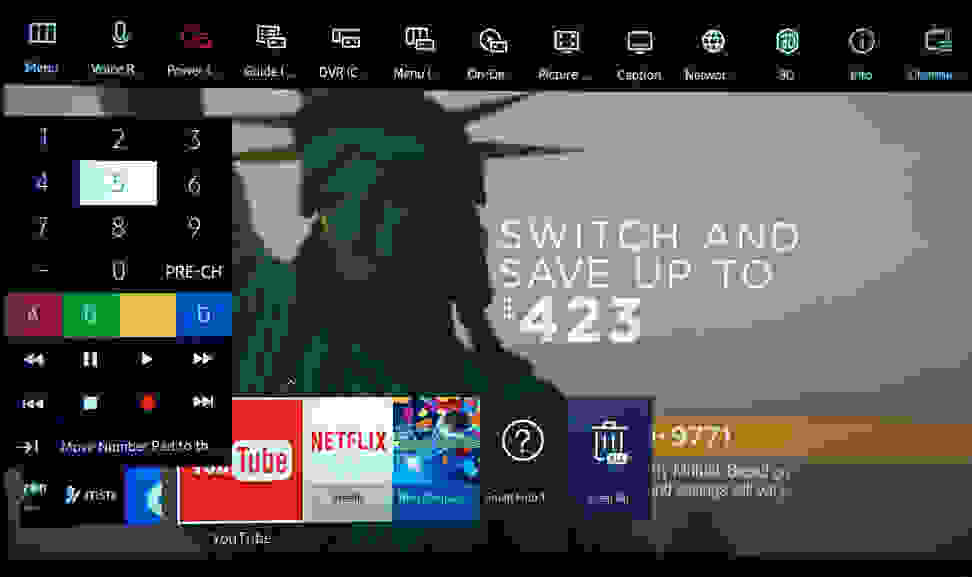 When you push the "Smart Hub" button on the remote, a quick-selection bar pops up at the bottom of the screen. This is a great jumping off point, especially since the bar can be customized to reflect your favorite apps. If you use Netflix or HBO Go all the time, they'll end up living in this bar. If you want to browse the full selection of apps/games or use the web browser, you'll have to go full screen, but there's a PiP (picture-in-picture) option so you can keep an eye on your programming, at least.
The JS8500's real claim to fame is in the streaming of 4K content from Netflix, Amazon, and YouTube.
But as a 4K TV, the JS8500's real claim to smart TV fame is that it allows you to stream 4K content from apps like Netflix, Amazon Instant Video, and YouTube. There's still not much 4K content out there, but it's better than nothing. Currently, third-party set-top options are still playing catch up in terms of 4K streaming—although Amazon's 4K-compatible Fire TV will be available soon—and a 4K smart TV like this one remains one of the easiest, simplest ways to stream 4K.
Samsung doesn't break the mold with its standard software interface, but it's just as user-friendly as ever. The traditional blue menu offers up ample picture, audio, or network settings. If you're a do-it-yourself calibrator, or like to tinker with really advanced picture settings, you'll be glad to know that Samsung's standard 2/10 point white balance controls, gamma slider, and custom color space adjustments are still available.
Picture Quality
A terrific 4K performer, with just a couple of drawbacks
The 65-inch JS8500 has a lot going for it. Like most TV manufacturers, Samsung employs a "trickle down" effect from its flagship TV to the more affordable models. In this case, the JS8500 is inheriting a lot of the best aspects from the flagship JS9500, including nano-crystal (quantum dot) color and a great backlight dimming algorithm, which enhances contrast and helps content pop off the screen.
I watched a lot of content, and at first was nothing but impressed. For example, our Blu-ray of The Dark Knight looked excellent, especially when the caped crusader was front and center, meting out justice amongst satisfying black levels and bright highlights. I also watched a few scenes from the Moving Art movies on Netflix: native 4K footage of landscape scenery like flowers, mountains, and oceans. Even in Movie mode—the subtlest picture mode—colors were rich and vivid without any banding or detail loss.
Much of the JS8500's success owes to its HDR compatibility. High Dynamic Range is a content format that's still coming to market, but the bits and demos we've seen here and there are very impressive. HDR will eventually deliver content with more color and much brighter highlights than current standards require, and the JS8500's HDR-ready hardware gives it a big advantage.
But there are some disadvantages, too. Because the JS8500 uses a super-bright, HDR-ready edge-LED backlight, all of its light emanates from the left and right sides of the screen. This is the case with many modern LED televisions, and it often causes unsightly "flashlighting," or edge bleed, during dark, shadowy scenes. However, the JS8500's dimming is fortunately good enough that it isn't an issue here. But what attentive viewers may notice is a small brightening along the edges of the screen, instead, at any given instance.
This isn't a huge issue, but it can be occasionally distracting if you're watching something with letterboxes (black bars) at the top and bottom of the screen. It's more of an issue with 4:3 (standard definition) content, where the left and right sides of the screen are black—but you're probably not buying an HDR-capable UHD TV to watch original aspect ratio reruns of Seinfeld. The edge-lit method also creates a narrower viewing cone compared to an LED TV with a full-array backlight, where there are lights behind the entire screen.
Outside of the issues that stem from the edge-LED design, however, the JS8500 is more or less flawless. Its 120 Hz refresh rate is complemented by Samsung's usual suite of blur/judder reduction modes (called Auto Motion Plus) that yield solid motion performance. The TV's unassisted performance is fine, but picky viewers will still want to jump between different motion modes/custom settings every now and then to complement content. You'll want different settings for filmic 24p content than Monday Night Football, for example.
Finally, what about upscaling? This term is used to describe how well the TV converts lower-resolution content (720p, 1080i, or 1080p) to fill its 4K screen—an essential skill for pretty much every 4K TV, since most content is still capped at 1080p or lower. Fortunately, the JS8500 does as good a job as the rest of Samsung's SUHD lineup, with only notably lower-rez content (like the 720p/1080i you get from most cable broadcasts) showing wear and tear. Naturally, you're better off sticking with 1080p, in stream or Blu-ray form, but any of the "p" (progressive scan) timing modes are generally agreeable until true 4K content becomes more common.
The Verdict
This top-tier Samsung makes good on its promise, but asks a high price
As a member of Samsung's SUHD line, we expected top-notch performance from the JS8500, and we weren't disappointed. Other than a couple of small drawbacks, this TV delivers on its promises with lush, vivid color, satisfying black levels, smooth motion, and crisp 4K resolution. The edge-lit design makes for shadow tones and uniformity that may not sit right if you like to watch in a pitch-black room, but everyone else is in good hands.
But if there's one thing to really address about the JS8500, it's the price. While it fosters excellent performance, content won't take advantage of the TV's true ace-in-the-hole—HDR compatibility—for some time. Judged by the limits of today's content, the JS8500 performs very similarly to options like the Sony X850C and Vizio M Series, both of which are considerably cheaper right now.
On the other hand, they've got nothing on the JS8500 in terms of its slim, sexy design. And when more HDR content does become available, the JS8500 will hit the ground running. It treats today's content to a small touch-up—thanks to its HDR-ready brightness and color—and though it won't fully shine for some time, it still looks excellent by today's standards. If you're hunting for a sleek, forward-facing option, keep the JS8500 on your short list.
Our editors review and recommend products to help you buy the stuff you need. If you make a purchase by clicking one of our links, we may earn a small share of the revenue. Our picks and opinions are independent from any business incentives.
Our editors review and recommend products to help you buy the stuff you need. If you make a purchase by clicking one of our links, we may earn a small share of the revenue. Our picks and opinions are independent from any business incentives.
Advertisement - Continue Reading Below
Compare Prices
Our editors review and recommend products to help you buy the stuff you need. If you make a purchase by clicking one of our links, we may earn a small share of the revenue. Our picks and opinions are independent from any business incentives.
Advertisement - Continue Reading Below
Advertisement - Continue Reading Below
Advertisement - Continue Reading Below
Advertisement - Continue Reading Below
Advertisement - Continue Reading Below
Get Our Newsletter
Real advice from real experts. Sign up for our newsletter
Thanks for signing up!