The Samsung UN65JS9000 (MSRP $5,999, sells everywhere for $3,499) delivers stunningly rich color and an impressive brightness that makes for jaw-dropping picture quality. Crucially, it will also play HDR and wide color content once those formats are available. Pot-sweeteners include Samsung's brand-new smart platform and an elegant "shirring" finish.
While the TV's edge-LED design means it lacks the raw contrast of something like LG's 4K OLED lineup, make no mistake—the JS9000 still packs a serious punch. Not only does it live in an entirely different class than most 4K sets, it's frankly one of the best LCD TVs we've tested. For $3,500, you're getting a terrific UHD TV and investing in awesome next-generation capabilities—what's not to love?
Series Information
The JS9000 series is available in three screen sizes
Samsung's JS9000 series features three curved 4K televisions in 48 inches (UN48JS9000, MSRP $2,499), 55 inches (UN55JS9000, MSRP $3,999), and 65 inches (UN65JS9000, MSRP $5,999). They're all currently available for way less than MSRP at $1,999, $2,499, and $3,499 respectively, as most of Samsung's 2015 TVs have immediately gotten a price cut.
Design, inputs, smart content, panel type, and performance features—like UHD dimming and nano-crystal color—are identical between sizes.
It's worth noting that the JS9000's panel is allegedly identical to the company's top-tier JS9500 lineup, with the primary difference being the JS9000's edge-lit design—the JS9500 TVs have full-array backlighting. Check our TV buying guide for more information on how they differ.
Our 65-inch JS9000 was received on-loan from Samsung, and given roughly 24 hours of break-in/viewing time prior to calibration and full evaluation. It was tested using the CalMan 5 Professional calibration software, a QuantumData 780a signal generator, a Konica Minolta CS-200 color meter, and a Konica Minolta LS-100 luminance meter. All picture modes were factory reset prior to evaluation.
Design Details & Hardware
Samsung continues to embrace the curved TV look—and then some.
The JS9000 is dressed head-to-toe in premium materials and elegant design details. A curved metal base complements—and subtly adds to—the screen's gentle arch. And while the stand's bright, silver finish doesn't perfectly meld with the TV's darker, brushed bezels, we think it'll jive with most rooms.
Because this is a 4K TV, you can sit much closer to the screen without seeing individual pixels. Sitting front-and-center enhances any immersion created by the curved screen, but it's not a giant improvement over flat-panel TVs. And as I've said in the past, viewers should be careful about room lights when dealing with curved TVs: At certain angles, glare from lights can compound in an arc across the screen, obscuring the picture.
Unlike most TVs, the JS9000's design filigree also extends to the rear casing, which boasts silver shirring. Shirring usually describes patterns in fabrics (thanks mom), but in this case it refers to evenly spaced, vertical ridges that run the length of the TV's backside. The sleek look is interrupted only by inputs for the power cable and OneConnect box.
What's the OneConnect box? Well, it externalizes the TV's A/V inputs, like the HDMI and USB ports. The box's compact design and 10-foot cable make it easier to access the TV's ports compared to traditional placement. It also (potentially) allows owners to keep pace with hardware and software upgrades by swapping in a newer box. It also means that if you run it through a wall you can swap out the box on one end rather than ripping out the whole system in a few years.
The box offers four HDMI inputs—all HDMI 2.0/HDCP 2.2 compliant—and three USB inputs (one USB 3.0, two USB 2.0), as well as component/composite (via splitters) and coaxial for cable/antenna. Utility ports include ethernet (LAN) in, IR out, and an RS-232c control port, as well as digital (optical) and analog audio outputs.
No standard TV clicker is included—you get Samsung's new "smart" control instead. It's a small, wand-like remote that delivers some hi-tech extras, like a microphone for voice commands, an on-screen cursor, and fully backlit keys. I'm not a huge fan of the control's tiny navigational keys, but the on-screen cursor and voice controls work like a charm.
Smart Features & Software
Samsung's Tizen platform floats blissfully along on the coat-tails of webOS.
Last year, LG stole the show with one of the snappiest, prettiest smart platforms we'd ever seen—webOS. Since then, Sammy has upped its smart game via a Tizen-powered platform that tries to pull a similar trick. The platform is fast, effective, and chock full of content ranging from essential to shovelware. But it's also sort of cold and lifeless—the opposite of LG's bubbly, colorful platform. Think of it as the Cameron to LG's Ferris.
Of course, you likely aren't buying this TV to be charmed by its internet features, and from a utilitarian standpoint everything here checks out handsomely. You'll get ample streaming services, including Netflix, Amazon Instant Video, and YouTube—all 4K compatible.
In fact, apps are really the primary focus, and most of the premium options—Pandora, Hulu Plus, VUDU, PlayStation Now—are already installed. App browsing is easy and the layout is clean, broken up into basic categories like "games," "lifestyle," and "kids."
While I usually can't stand TV web browsers, Samsung's smart control makes browsing much easier. The on-screen cursor is fluid and responsive, making tasks like typing or clicking links and images much more pleasant compared to the snails-pace navigation from previous years. It's not a PC browser replacement, but it works great in a pinch. The last notable features include cable integration and personal media sharing over DLNA or USB.
Menu Software
The JS9000 is flush with great software options and customizability, but accessing them can be a tad janky. To get into the full menu, you first have to open up a base menu with no fewer than 20 horizontal boxes that line the top of the screen. Scrolling through is tedious since all 20 are simply "shortcuts" to items you can already get to pretty easily in the traditional menu. We can see what Samsung was going for, but the function feels obscured by the design.
Naturally, the highlights here are the ample options for tweaking audio and picture quality. It's this deep level of customizability that sets the JS9000 apart from the company's less expensive TVs. Here are the major players:
Auto Motion Plus: Samsung's motion enhancement suite features multiple pre-set modes (Clear, Standard, Smooth) and a Custom mode. The latter allows you to tailor de-judder (for film) and de-blur (for fast-moving content) separately. This also gives access to LED Clear Motion, a black-frame insertion mode that improves motion by dimming the screen slightly.

Smart LED: Unlike a TV with a full-array backlight and local dimming, the JS9000 is edge-lit, meaning it relies on lights that line the sides of the screen. To enhance the picture, the Smart LED software dynamically dims and boosts different LED zones. You can set this to Off, Low, Standard, or High—we recommend leaving it on "Standard" for the best performance.

Cinema Black: It might sound like the latest Netflix original series, but this is actually a neat little option that helps darken the black (letterbox) bars that show up when you're watching anamorphic film content. When a scene darkens, the TV fixes the top/bottom LEDs at a certain dimness, and compensates for the middle via boosting.
For the TV geeks out there that may want even more, the JS9000 doesn't disappoint. You'll get a gamma slider, custom color space tuner, and dual/multi-point white balance controls. During calibration, the controls were surprisingly granular and responsive.
As for audio, the JS9000 sounds fine, but the speaker quality doesn't match the big, beautiful picture. You at least get plenty of sound options, including various pre-sets like "Music," "Movie," and "Clear Voice." You can also toggle an auto-volume mode and set the speakers for whether the TV is sitting on a tabletop/wall-mounted.
Picture Quality & Viewing
A gorgeous 4K TV that's slightly caged by today's content offerings.
Most people are going to love this TV, there's no doubt about it. Thanks to Samsung's nano-crystals (read: quantum dots) and micro-dimming, the JS9000 boasts an incredible color range and super bright highlights. The 4K eye candy on YouTube and Netflix leaps right off the screen with terrific detail and vivacity. Seriously—the JS9000 is much more than just a run-of-the-mill 4K TV.
But to really define its value—and the value of the entire S-UHD line—we have to dig deeper. I strongly recommend brushing up on the expected upgrades to UHD TVs via our in-depth guide if terms like HDR and wide color gamut are unfamiliar.
Potential buyers should consider that while the JS9000 is equipped to handle both HDR and wide color gamut content, there's almost none available at the moment. Besides a single TV series— Mozart in the Jungle, available only for Amazon Prime members—HDR content is still very hard to come by. That might sound like a deterrent, but lucky standard content still looks fantastic here, and there's bound to be more HDR coming along sooner rather than later.
In a nutshell, you're paying for functionality that you can't take advantage of yet (kind of like buying any 4K TV a couple years ago). The raw power here benefits content of all walks, but tight now, HDR is more like a bonus functionality. In the meantime, the JS9000 still rocks today's content in the manner of a hurricane.
Much ado about lighting
Okay, so you can't race along the HDR Autobahn yet, but the JS9000 still handles like a dream. Testing revealed world-class performance in color accuracy, panel brightness, and motion performance.
Likewise, upscaled content—non-4K content stretched to fit the full screen—looks excellent. Newer Blu-rays are flawless, older Blu-rays still look good, and stuff like cable and DVDs are, as usual, passable. That's important, since the overwhelming majority of "HD" content on cable is still 720p or 1080i outside of streaming options and Blu-rays.
On the downside, the JS9000 lacks the full-array backlight that our best-ranking 4K TVs deliver, and this causes a couple issues. For one, concentrated brightening ("flashlighting") at the sides of the screen may distract you in dim or dark-room viewing—I recoiled from it immediately, but that's also my job. I wish I could say it was only visible during dark scenes, but you can pretty much always see it.
Secondly, as we've seen before, the combination of a curved screen and edge-lighting makes for poor viewing angles. While head-on viewing is gorgeous (especially with a seat that's front-and-center in the curve), it would be risky to wall-mount this TV and expect perfect viewing from all around a huge room.
Finally, while the JS9000's contrast performance won't disappoint by any means, it's nowhere near OLEDs or the best plasma sets. The TV is super-duper bright, yes, but the black levels are merely above average, falling just short of great.
Want oodles more detail about this TV's performance? Check the Science Page to see our calibration recommendations and test results.
The Verdict
The JS9000 delivers an awesome picture today and superb value tomorrow.
If you want a truly premium UHD experience over the next few years, the UN65JS9000 is a step in the right direction. The TV's vivid nano-crystal color and intense brightness are literally futuristic, and designed to excel both today and down the road once the next generation of UHD content arrives.
While it's missing the extra "oomph" we've seen from super-premium options like full-array sets and OLEDs, it's still one of the best LCDs we've ever tested. Not only does it outpace the other wide color gamut models we've tested this year, it does so with no expense to contrast or core performance. That's an extremely important development whether or not you care about HDR.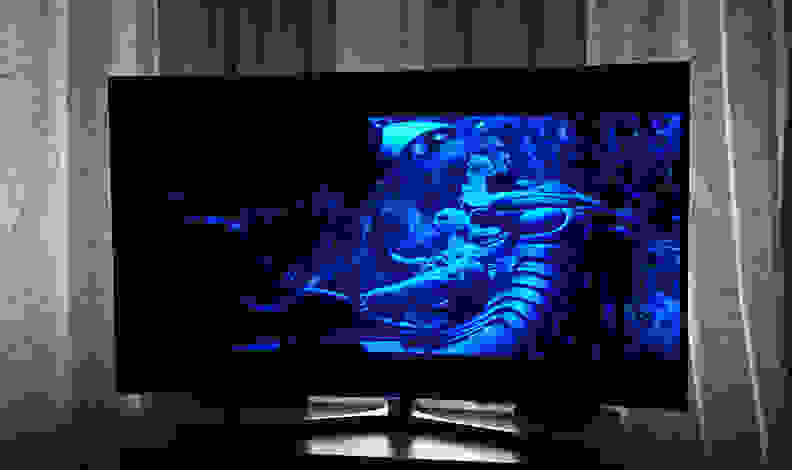 If you're a videophile, you'll probably take issue with the flashlighting problems caused by the TV's edge-lit design, especially if you're upgrading from a super-inky plasma. While 4K OLEDs like LG's EG9600 and full-array LCDs like Sony's X950B cure this problem, they are only slightly better and also cost almost twice as much.
The UN65JS9000 is a flagship-quality television in all the ways that matter: It's built to impress the moment it's out of the box, but like a fine wine will only get better with time. It's not the best TV that you can buy, but getting this kind of quality for $3,500 isn't just a bargain—it feels like stealing. The Samsung UN65JS9000 (MSRP $5,999, available for $3,499) is one of Samsung's top-tier 2015 TVs, and that was very clear during viewing and testing. While the JS9000 boasts some real UHD abilities, like the ability to handle high dynamic range and wide color gamut content, it's just as suitable in terms of the expected color, contrast, grayscale, and gamma performance defined by the rec.709 HDTV standards document.
In short, the JS9000 does an awesome job bridging the gap between the content of yesterday and the content of tomorrow. It's one of the better 4K TVs we've tested this year, and has a single drawback—its edge-LED backlight. Our favorite 4Ks—the top performers—are either the OLED variety, or tend to wield full-array LED backlights with hardware-level local dimming. While the JS9000 captures very good contrast for a curved, edge-lit TV, its uniformity and viewing angle aren't the best.
Calibration
Calibrating the JS9000 was a fairly easy process, mostly because the TV's performance was already well within the expected error tolerances for rec.709 performance standards. I started in Movie mode and aimed for our standard dark room settings, with a reference white of about 40 fL and a gamma curve of 2.4.
It's worth mentioning that absolute dark room viewing likely isn't the ideal use-case for this TV due to the visible flashlighting that occurs at the edges of the screen, but it's still very possible to achieve an above average dark room calibration. Note that for both the Movie mode defaults and my final calibration settings, the TV's "Smart LED" setting was left on standard.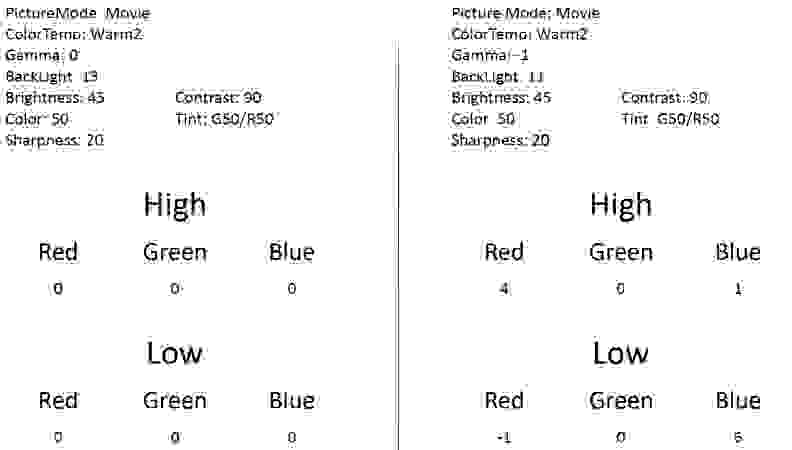 Contrast Ratio
Contrast is not a weak point for the JS9000, but it is an area where the TV lags behind a couple of TV types better suited for contrast performance—4K LCDs that sport full-array backlighting with local dimming, and OLEDs. That said, the JS9000's black levels and overall contrast are surprisingly rich for an edge-lit TV.
In the Movie mode defaults using a standard 6x6 ANSI checkerboard pattern (at 4K resolution), I measured a black level of 0.054 cd/m2 and a reference brightness of 163.30 cd/m2 , both very impressive numbers for an LCD TV. This gives the UN65JS9000 a contrast ratio of 3024:1. While this is less than the three full-array 4K TVs we chose to compare it to, the fact that it compares at all is striking.
Further, these levels held up across varying APLs, another strength for this TV. Measuring 90% and 5% black boxes yielded 0.06 and 0.054 cd/m2 , respectively, while white boxes measured 169.60 and 167.90.

Viewing Angle
Like other edge-lit, curved Samsungs we've tested this year, the JS9000 doesn't boast the strongest viewing angle. We measure viewing angle by comparing off-angle contrast to head-on contrast. When off-angle contrast drops below 50% of the head-on result, we call it a day.
The JS9000's viewing angle isn't terrible, but it won't impress you either. I measured a total viewing angle of 32°, or ±16° from the center to either side of the screen. This means from 10 feet away, you can move about 3 feet in either direction before contrast notably degrades.
Color Gamut
Color is likely the JS9000's strongest suit. Not only is it extremely accurate by rec.709 color standards, it's also capable of almost covering the entire DCI-P3 color space (the cinema space that's likely to be used for wide color gamut content). In fact, it comes closer than any TV I've seen this year.
In Movie mode, the UN65JS9000 delivers accurate primary and secondary colors; it's white/gray points are also basically spot-on. This is impressive for a TV that's capable of much more color due to the inclusion of nano-crystal (quantum dot) color enhancement. I made only very minor adjustments during calibration.
In the Dynamic pre-set, the JS9000 delivers the intense color of its native color space. While it doesn't quite push its green point to match the full DCI-P3 gamut, red and blue are within range. In vivid mode, white and gray need calibration, but it's worth noting that the gray point still falls within range of the ISO temperature line.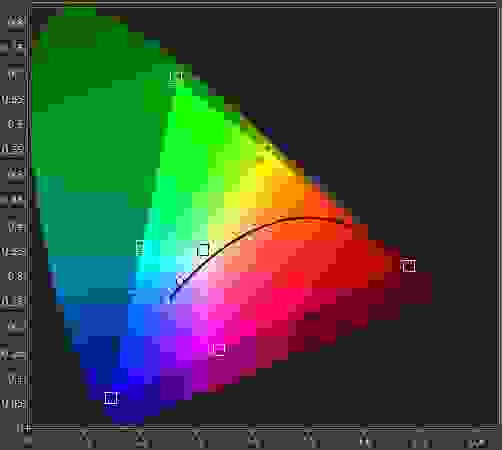 Grayscale & RGB Balance
Not unsurprisingly, the high-end JS9000 delivers grayscale tracking that falls within the ideal range of dE 3 (or less). This is another area where calibration was possible, but not entirely necessary. The TV's sub-pixel emphasis was very good (again, in *Movie mode), rendering clean, colorless grays and whites.
I tweaked the white balance controls a bit, primarily adjustments to the 2-point control. These were enough to make small but notable improvements to the TV's grayscale tracking. To call this one responsive would be an understatement.

If we scope out the RGB balance underlying each grayscale result, we can see where the JS9000's error (or lack thereof) arises from. The TV does an excellent job balancing color emphasis during grayscale/gamma ramping.
Gamma Curve
Gamma is another area where the JS9000 boasts awesome out-of-the-box performance. Samsung typically aims for a pre-calibrated gamma sum of 2.3, while we generally aim for a 2.4 gamma for dark room viewing.
Even though it lacks an individual-step gamma control, the JS9000 was very cooperative in terms of gamma production. Prior to calibration, we measured a gamma of 2.27—quite close to the 2.3 target. After calibration, the TV achieved a 2.39 gamma, just very slightly missing the 2.4 sum.
Meet the tester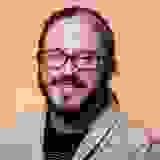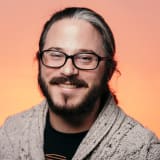 Lee Neikirk
Editor, Home Theater
@Koanshark
Lee has been Reviewed's point person for most television and home theater products since 2012. Lee received Level II certification in TV calibration from the Imaging Science Foundation in 2013. As Editor of the Home Theater vertical, Lee oversees reviews of TVs, monitors, soundbars, and Bluetooth speakers. He also reviews headphones, and has a background in music performance.
Checking our work.
Our team is here for one purpose: to help you buy the best stuff and love what you own. Our writers, editors, and lab technicians obsess over the products we cover to make sure you're confident and satisfied. Have a different opinion about something we recommend? Email us and we'll compare notes.
Shoot us an email