The TV's contrast is boosted by its HDR compatibility, making for bright, dazzling highlights alongside impressive black levels for an LCD television. As you'd expect, the TV's grayscale and color accuracy is also very good. Samsung's "Auto Motion Plus" and the 120 Hz refresh rate backlight deliver great motion performance, and upscaled sub-4K content looks great, too.
Read on to see our test data and calibration results.
The Samsung UN65JS9500 (MSRP $5,999, online for $4,499) is the headline member of Samsung's prestigious flagship SUHD JS9500 series. Also available in 78- and 88-inch sizes, the JS9500 TVs—like the rest of Samsung's SUHD lineup—offer more than a mere upgrade to 4K resolution, delivering a smorgasbord of cutting-edge features.
As such, the UN65JS9500 is compatible with the new High Dynamic Range (HDR) format, takes advantage of nano-crystal (quantum dot) technology to boost its color vivacity, and offers up excellent contrast performance thanks to a Full Array LED backlight with local dimming. Oh, and did I mention it's curved?
It should come as no surprise, but Samsung's future-proofed flagship TV is excellent. Though the JS9500 demands a high price, it delivers incredible performance in all the key areas of picture quality. Without question, this is the best LCD TV we've seen this year, and at $4,500 it stacks up well against many of the best OLED TVs we've tested. If you're looking for a premium option that welcomes the future with open, curved arms, Samsung's JS9500 is a step in the right direction.
The flagship JS9500 series is available in three sizes
You can find Samsung's flagship JS9500 series TVs in a 65-inch version (Samsung UN65JS9500, MSRP: $5,999), a 78-inch version (Samsung UN78JS9500, MSRP: $14,999), and a 88-inch version (Samsung UN88JS9500, MSRP: $22,999), though all three sizes are deeply discounted and have been from the moment they hit the market.
Other than screen size, the JS9500 TVs are practically identical with regards to design, connectivity ports, and extra features. Each TV boasts UHD (4K) resolution, a 120 Hz refresh rate, 3D capability, the Tizen smart platform, a full-array backlight with local dimming, quantum dot color, and a small, retractable camera on the top of the screen.
One area where the TVs differ is in number of local dimming zones, the controllable LED clusters behind the screen. The 65-inch JS9500 has 150 local dimming zones spread behind the screen, while the 78- and 88-inch options have 240 local dimming zones.
Our UN65JS9500 was purchased new from Amazon and given roughly 50 hours to warm up and break in prior to review and evaluation.
We calibrate each TV we review with two goals in mind. First, calibrating the TV to international standards (in this case, the rec.709 HDTV standard) gives us the best idea of how the TV's out-of-the-box, default performance compares. Second, calibrating the TV using controls available to consumers helps us to explore the efficacy of the TV's controls and flexibility in different viewing environments.
As usual, Samsung includes quite a few calibration-specific controls like 2/10 point white balance, a gamma slider, and a custom color space (Color Management System), though you don't get a 10-step gamma control or the more advanced 20-point white balance control.
In Movie mode, all controls are accessible, though the TV has been calibrated in conjunction with "Smart LED" (local dimming), which can make a very in-depth calibration difficult because the presence of the on-screen menu very slightly alters the measurements. During the process, I aimed for home theater standards, calibrating to a reference brightness of 40 fL and a gamma curve of 2.4.
Below, you'll see Samsung's default settings in the Movie picture mode (left) alongside my calibrated settings (right). The following sections and charts compare the pre- and post-calibration results for details like grayscale tracking, gamma, and color accuracy.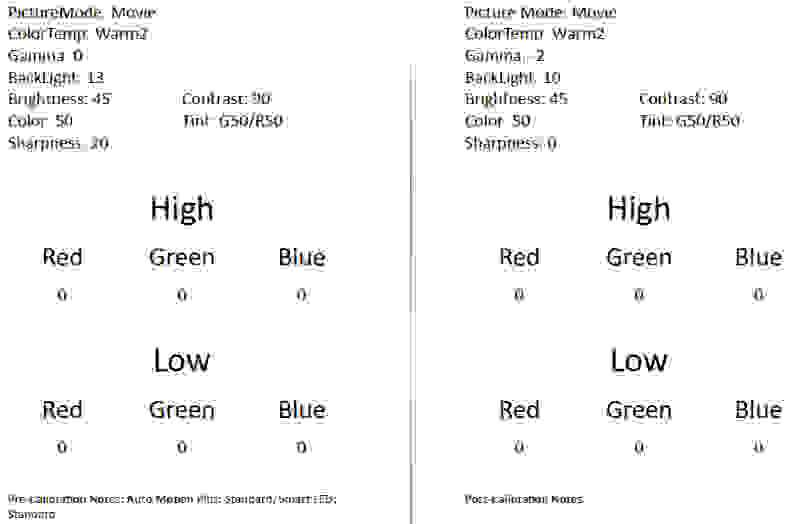 A curved, elegant design that'll spruce up your home theater
While Samsung often steers clear of the heavy-duty, industrial designs favored by companies like Panasonic and Sony, there's no denying that the South Korean giant knows how to craft a good-looking TV. Though it's the smallest in the JS9500 series, the 65-inch is still a humongous TV, yet it nevertheless feels sleek and approachable.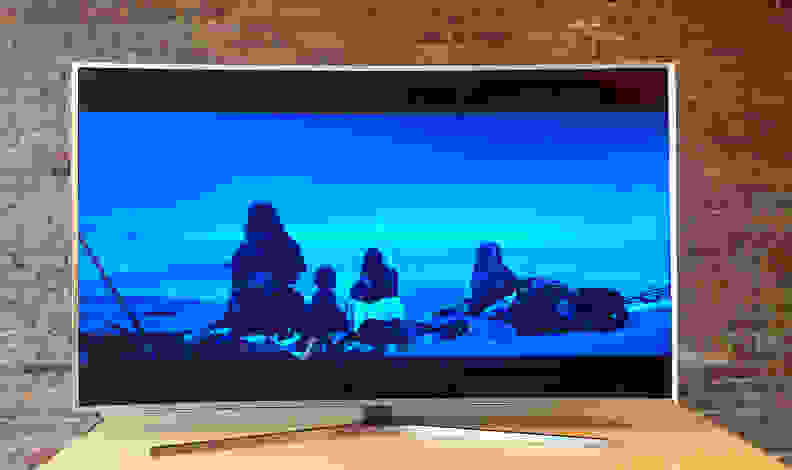 Silver bezels race the perimeter of the screen, matching the spindly, Y-shaped stand. You don't get Samsung's "shirring" finish like we saw on the step-down JS9000: The JS9500 instead offers up a plain black casing with two hood scoop-like vents for power and the OneConnect box. It's also wider at the edge due to the full-array backlight.
If you aren't familiar with Samsung's OneConnect box, it's a rectangular, external mainboard that houses all of the TV's audio and video connection options, connecting to the TV by way of a single 10-foot cable. The box delivers four HDMI inputs, three USB inputs, splitter-compliant composite/component inputs, and a coaxial jack for cable or antenna content. There's also a LAN (ethernet) input, IR blaster input, and outputs for both analog and digital audio.
You'll also find a single pair of active 3D glasses and the 2015 version of Samsung's Smart Control. This remote is a small, curved wand that operates traditionally and as a "smart" control, giving you access to features like an on-screen cursor, key backlight, and voice control. We think it's appropriately sleek and modern considering the TV's price and pedigree.
Contrast—the difference between a TV's darkest and brightest points—is a typical strength for sets equipped with full-array local dimming like the JS9500. This TV's active dimming zones (and HDR compatibility) lend it typically excellent contrast results, though the black levels do tend to shift from very good to only okay depending on content.
The TV's zone layout wasn't terribly congruous with our usual ANSI checkerboard contrast pattern, resulting in variable black levels depending on how much of the screen was dark. With a majority dark screen, I measured minimum luminances as low as 0.003 cd/m2 (in Movie mode) with typical brightnesses ranging from 170-200 cd/m2 (though much higher on small, pinpoint areas during content). Sometimes the black level would jump as high as 0.07 or 0.08 nits, however, when neighboring bright areas.
Overall, the JS9500 averaged a black level of 0.04 cd/m2 and a reference brightness of 194.20 cd/m2 , giving it an average contrast just under 5000:1. This is excellent for an LED TV, but doesn't come near the massive contrast of OLED sets.

Not too hot, not too cold.
At this point in the year, I've seen smart platforms from LG, Panasonic, Sony, Sharp, Vizio, and Samsung. Amongst the likes of LG's webOS 2.0, Sony's Android TV, and third-party options like TCL's Roku TV, Samsung's Tizen OS-based smart platform isn't my absolute favorite, but it's definitely got it where it counts.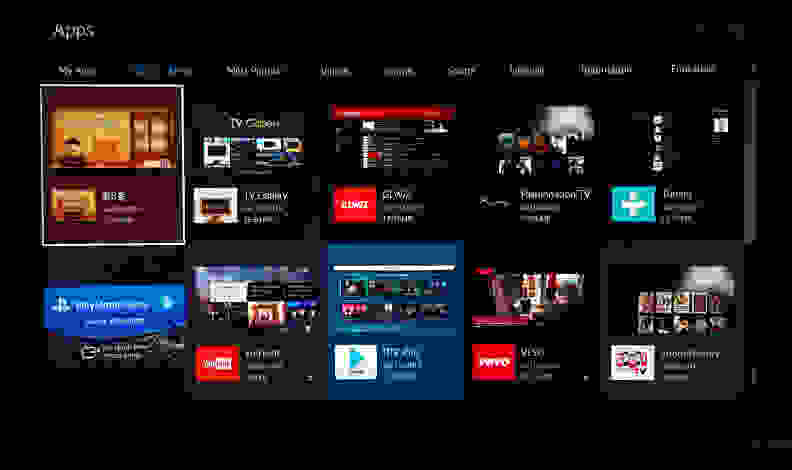 My sole complaint with Tizen has nothing to do with functionality, and everything to do with form. While the OS is clean, usable, and tailored for both quality and quantity—more than can be said for many smart platforms—LG's webOS proved last year that a TV platform needs some level of personality to stand out from the myriad of (often better) third-party options available to consumers. Samsung's Tizen platform doesn't disappoint, but it's not Roku either, and isn't a major selling point of the JS9500.
That said, it's still one of the best out there. You get tons of apps and features like a browser, screen sharing, and cable (or satellite) programming integration. For 4K apps, you'll find Netflix, Amazon Instant Video, and YouTube—three of the main providers of native, streaming 4K content (only UltraFlix is currently missing).
The Tizen OS platform doesn't disappoint, but it isn't a major selling point of the TV either.
The menu interface—audio, picture, and network options—is traditional Samsung fare. Opaque blue menus offer up crisp text and ample options for adjusting or customizing things like the picture mode, sleep timers, the boot logo below the screen, the EQ settings of the TV's speakers, channel locks, and software updates.
Of special interest here is the "Smart LED" setting, which controls the strength of the TV's local dimming. You can set it to "High" for a more contrast-heavy appearance, or "Low" to ease off the effect if it isn't needed, but we recommend leaving it on most of the time if you want the best picture quality. The local dimming is a big part of what you're paying for, after all—something we couldn't help but notice in our lab tests.
The curved JS9500 tested typically of most LCD TVs in terms of horizontal viewing area. This is one spot where OLEDs have a natural advantage, being emissive displays. I measured a total viewing angle of 53°, or ±26.5° from the center to either side of the screen. This is to be expected even amongst LED TVs with full-array local dimming technology.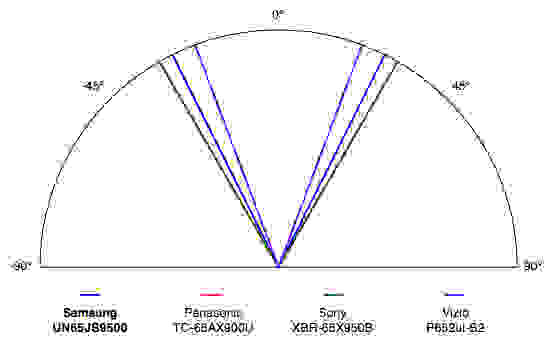 Gamma is another area where a TV's local dimming can have standout effects during the calibration process. Gamma refers to how evenly a TV adds (increases) luminance as it moves from black (0 IRE) to reference white (100 IRE), where typical gamma curves measure 2.2, 2.3, or 2.4.
Out of the box in Movie mode, I measured a gamma of 2.18—quite close to the 2.2 ideal, which is considered best for a room with typical lighting. During calibration, I moved the gamma slider from 0 to -1 and lowered the backlight to hit around a 40 fL reference brightness, resulting in a gamma of 2.38, closer to the 2.4 ideal.

Samsung's flagship does what every 4K LED TV should strive to do: make content look better
When Samsung announced its flagship TV series back at CES, I have to admit I was excited to see what it could do. After all, the JS9500 is the first curved LED TV to offer a full-array backlight with local dimming ​and compatibility with upcoming High Dynamic Range (HDR) content. And after a week with the it, I can confirm that it's every bit as good as advertised.
The JS9500 is simply an incredible TV. It's bright, crisp, and intensely colorful, making full use of Samsung's nano-crystal (quantum dot) technology to employ extremely vivid colors that are still very accurate. Specular (small area) highlights are especially impressive, as the TV intelligently lends its HDR ability even to non-HDR content, giving normally bright spots in content an extra kick in the pants that's well beyond the abilities of your average HDTV.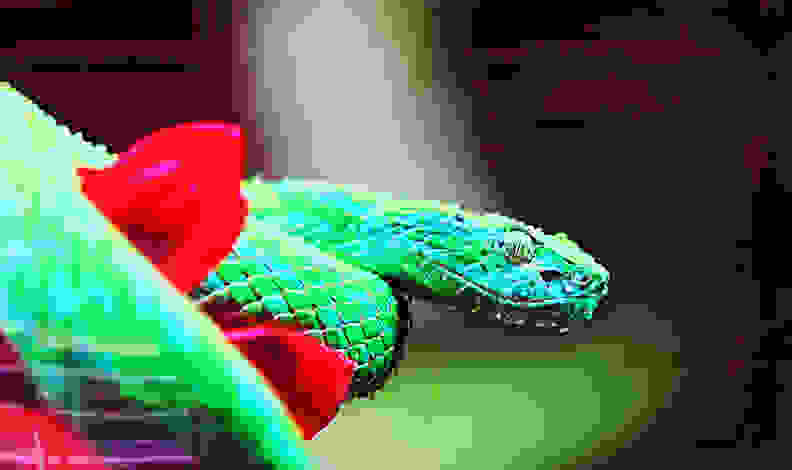 Naturally, this makes for awesome-looking native 4K content—even over streaming—but 1080p Blu-rays are great too. I watched a good chunk of Mad Max: Fury Road, and the TV's filmic contrast and color fidelity really made it shine. The red-brown desert days, blue-tinted nights, and dark, sand-beaten tires contrasting against shiny chrome metalwork looked their absolute best here. Sure, the extra resolution provided by the 4K panel did bring some details to the surface, but the JS9500's greatest strength proved to be its next-gen color vivacity and HDR-ready brightness.
That said, I do have a couple of qualms concerning the TV's shadow production. Make no mistake, it's very good—especially for a non-OLED television—but it doesn't get as consistently dark as we were hoping. Black levels are extremely impressive when a lion's share of the screen is dark, but the TV's stellar brightness can make for brighter shadow tones, too. This can occasionally make for uneven shadow levels from scene-to-scene, or between the Blu-ray content and the black (letterbox) bars at the top and bottom of the screen. This is a minor complaint to be sure, but it's worth mentioning for you die-hard home theater owners.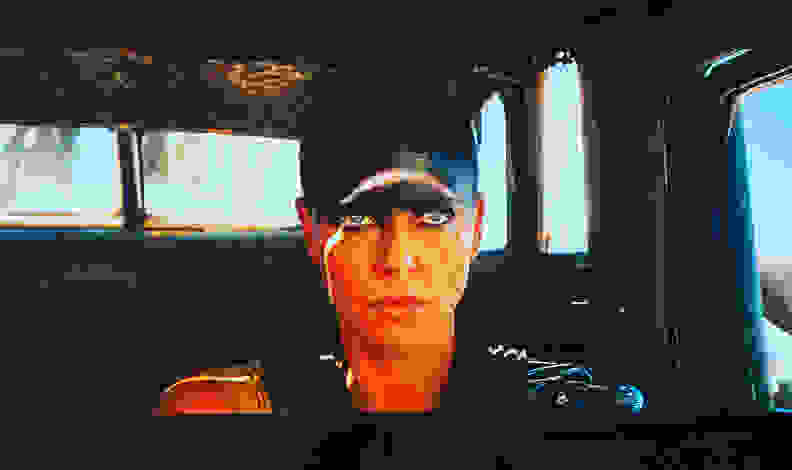 If you're concerned about jumping the gun on 4K, it's worth noting that the JS9500 upscales sub-4K content (like 1080p and 720p) with the best of them. You can expect today's content to (mostly) look as good or better than it would on a comparable Full HD television. While cable/satellite content—which tends to be both compressed and in most cases is still broadcast at 720p or 1080i—doesn't look amazing on this TV, that's the case with almost every big TV under the sun—4Ks included.
It's not an open-and-shut case, though. I also booted up the new Star Wars: The Force Awakens trailer off of iTunes, and watched it in 720p. Despite being a much lower resolution than the TV's native 4K, it looked awesome. The HDR-ready backlight really added some stunning pop to speculars, which were complemented by especially vivid colors—without spoiling anything, it was enough to give me chills. While we don't expect most 720p content to look this good, it's a real testament to the TV's upscaling prowess.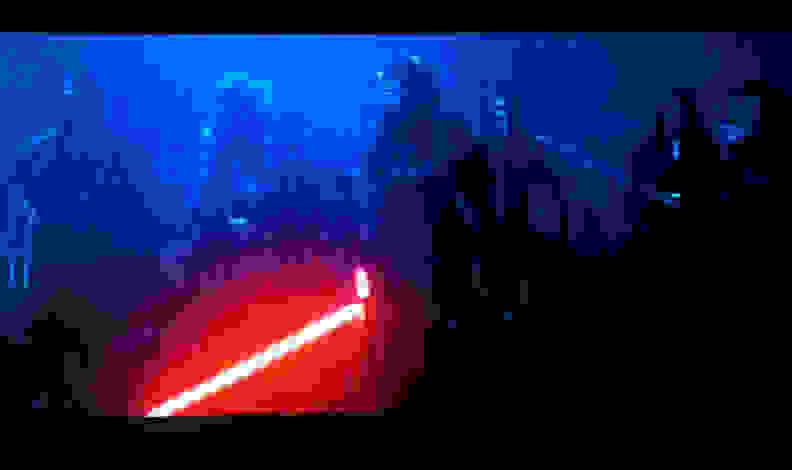 Finally, what about motion? The TV's 120 Hz refresh rate with motion assistance (called Auto Motion Plus) is standard for a flagship-class TV. So while you should expect good performance from the JS9500, don't expect it to do anything well beyond its peers. I noticed minimal blurring and juddering between 24/30/60p content, and the ability to customize Auto Motion Plus in terms of how much judder/blur correction it employs is a boon for picky viewers.
This is Samsung's best TV yet, and one of the best we've ever seen
The JS9500 is Samsung's most prestigious LED TV to date, delivering excellence across the board for the content of today. And to top it off, the TV's 4K resolution and HDR compatibility mean it'll be a stellar companion to 4K/UHD Blu-ray discs, the High Dynamic Range format, and whatever other cutting-edge content comes along in the next four or five years. It's a blue-ribbon display, to be sure.
But is it an insta-buy? At $4,500, not for most people. But if that's your price range, you're also jostling amongst LG's latest crop of HDR-capable 4K OLED televisions, such as the flat 65EF9500 or curved 65EG9600, both of which start at $5,999 just like the JS9500. Whether the JS9500 is a better choice for you really comes down to your viewing conditions.
LG has also claimed HDR compatibility for its 2015 OLEDs, but in my experience the JS9500 is much brighter. The overall effect can be stunning with the right content, lending a sort of "faux HDR" look to content that the OLEDs lack. On the other hand, the JS9500's black level production is a far-cry from the absolute inky prowess of competing 4K OLEDs.
Most practically, it's a decision that comes down to your personal preferences for viewing today's content. If you tend to watch in dim or darker environments, we'd recommend one of LG's 4K OLEDs over the JS9500. But if you mix between day/night settings, or have a notably bright room, the JS9500 is arguably the better choice. Regardless of your viewing environment, however, Samsung's flagship won't disappoint at the end of the day. This is the best TV the company has ever made, and it's worth every penny.
Televisions create "grayscale" elements (dark grays, midtones, and highlight whites) via a combination of their primary color sub-pixels (red, green, and blue). The proper, 100% emphasis of each sub-pixel results in a neutral and identical gray coloration across the luminance levels of the grayscale. Ideally, a TV will not show coloration in grayscale elements nor represent different "colors" of gray, where ideal HDTV white/gray point adheres to a 6504K correlated color temperature, exactly x = 0.313, y = 0.329 on the 1931 CIE color gamut (for rec.709 color).
Such grayscale error is measured in statements of maximum/collective error called deltaE, where a deltaE (or dE) of 3 or less is considered ideal. The JS9500 tested with a bit of error out of the box, with pre-calibrated settings resulting in a grayscale dE of 4.6. After calibration, adjusting the TV's 2/10 point white balance resulted in a grayscale error of 3.13, which is just marginally above a perceptibly perfect result.

Here's a closer look at the TV's individual RGB emphasis, which correlates exactly to the dE of various grayscale IRE steps found above:

A color gamut is a visual illustration of a a TV's color abilities, specifically the hue and saturation of its red, green, blue, cyan, magenta, and yellow colors. While a color gamut can illustrate a TV's produced color space against any set color standard, in this case we tested the JS9500 against both the rec.709 (SDR) and DCI-P3 (HDR) color spaces, as has been the case for most HDR-capable TVs this year.
The JS9500's out-of-the-box rec.709 adherence is, as you might expect, very good. The TV delivers vivid but accurate rec.709/sRGB color, requiring almost no correction during calibration.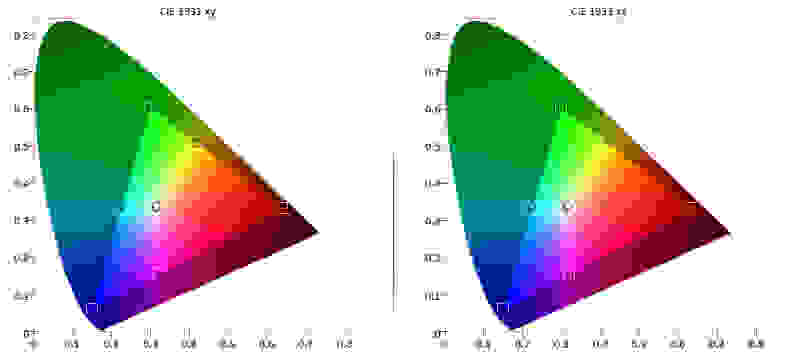 Compared to the DCI-P3 color space, the JS9500 doesn't quite offer full coverage, but still produces the greatly increased quantum dot color that we've come to expect from Samsung's SUHD lineup. In the set's Dynamic or Native color space options, expect a great deal more color for content old and new than you'd get from the average HDTV.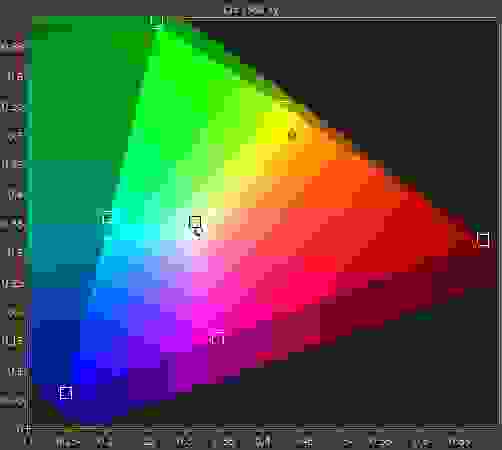 Meet the tester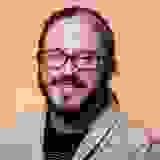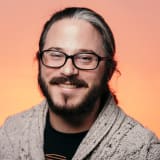 Lee Neikirk
Editor, Home Theater
@Koanshark
Lee has been Reviewed's point person for most television and home theater products since 2012. Lee received Level II certification in TV calibration from the Imaging Science Foundation in 2013. As Editor of the Home Theater vertical, Lee oversees reviews of TVs, monitors, soundbars, and Bluetooth speakers. He also reviews headphones, and has a background in music performance.
Checking our work.
We use standardized and scientific testing methods to scrutinize every product and provide you with objectively accurate results. If you've found different results in your own research, email us and we'll compare notes. If it looks substantial, we'll gladly re-test a product to try and reproduce these results. After all, peer reviews are a critical part of any scientific process.
Shoot us an email