The JS9500 is an "S-UHD" or Super Ultra High Definition TV, which means it uses Quantum Dot technology to vastly improve its color reproduction compared to traditional LCDs. In fact, it should be the most color-rich Samsung TV ever made.
The most notable feature, however, is that it's the world's first curved TV to utilize a full-array LED backlight—a process that Samsung's David Jung described as "extremely difficult" to design and engineer. The difficulty was worth it, though—the JS9500 looks incredible.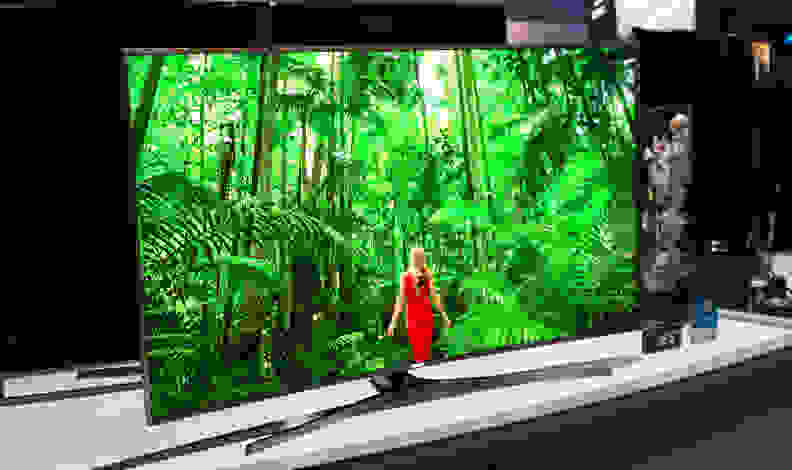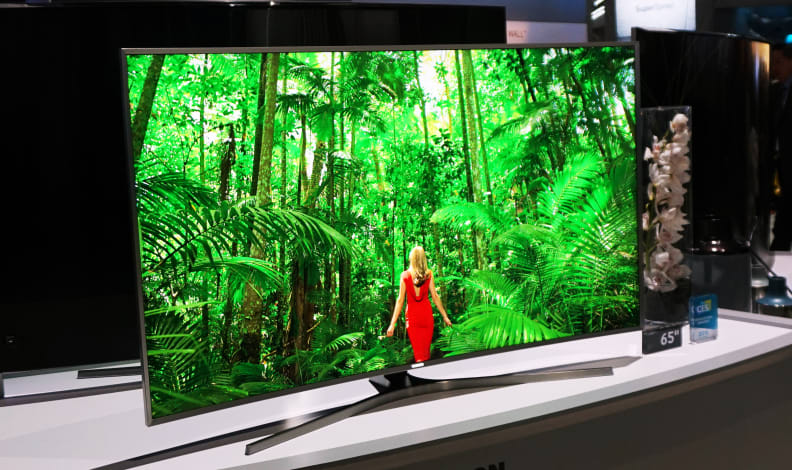 This might be the most advanced Samsung TV ever made.
A lion's share of last year's Best of Year winners were 4K televisions with one particular feature: a full-array backlight with hardware-level local dimming.
While Samsung brought a number of great TVs to market in 2014, their best offering for hardcore picture quality enthusiasts was still the F8500 plasma, a carry-over from 2013.
The UN65JS9500 is the first Samsung TV we've seen that not only rivals the quality of the company's best plasmas, it surpasses them altogether.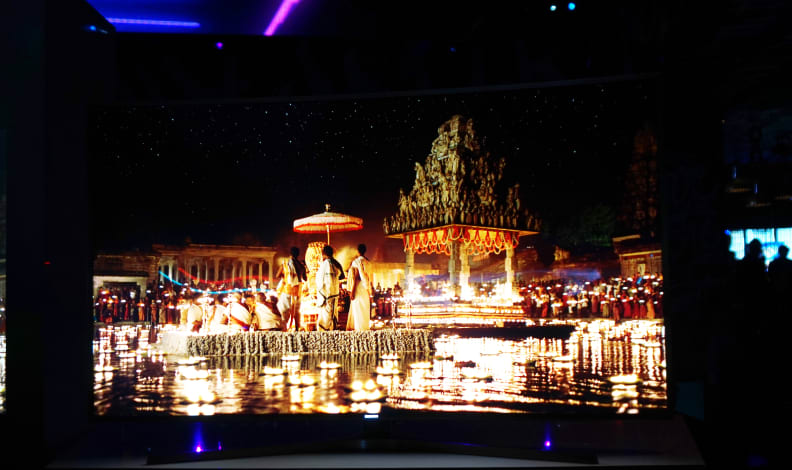 I saw this TV in various situations—in a dark, shadowy nightclub, in a specially prepared "shootout" chamber, and on Samsung's brightly lit CES show floor—and each time, I walked away impressed by its intense color saturation, high brightness, and screen contrast.
The UN65JS9500 not only rivals the quality of the company's best plasmas, it surpasses them altogether.
Because of the Quantum Dot technology in the panel, the JS9500 boasts roughly 20-30% more color than a standard HDTV. This is the kind of image improvement that's especially hard to quantify with words—seeing is really the best option. Suffice it to say the intensity of the colors leaves a lasting impression.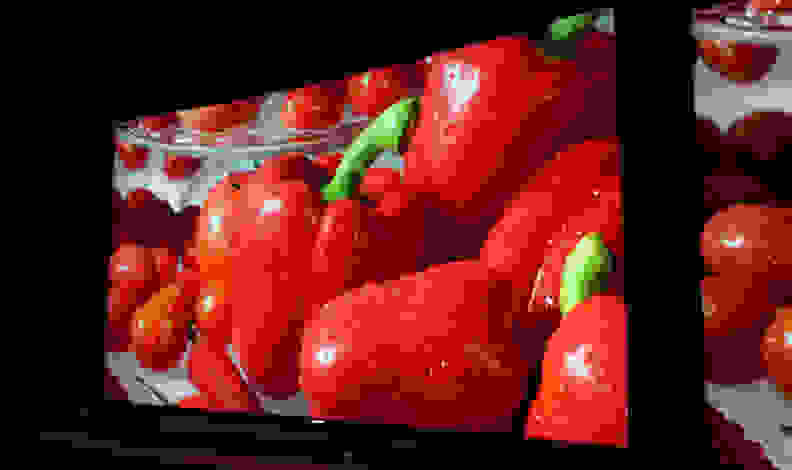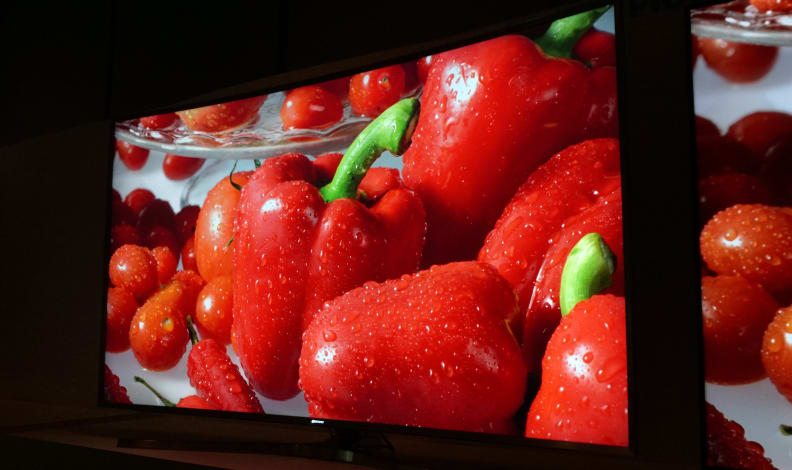 According to Samsung, the JS9500 is capable of about 92% of the DCI P3 color space, meaning it easily exceeds the color abilities of traditional, non-Quantum Dot HDTVs.
The JS9500 wields a 10-bit panel, allowing finer color gradation and greater color expression.
It also wields a 10-bit panel (as opposed to the traditional 8-bit panel), which might sound like tech jargon, but is actually pretty cool. Think of them like staircases of different lengths: An 8-bit panel has 256 stair steps available to render shades of color, while a 10-bit panel has 1,024 stair steps, allowing for finer color gradation and greater color expression.
Man, the idea of walking up all those stairs really makes me wanna kick back and watch some TV....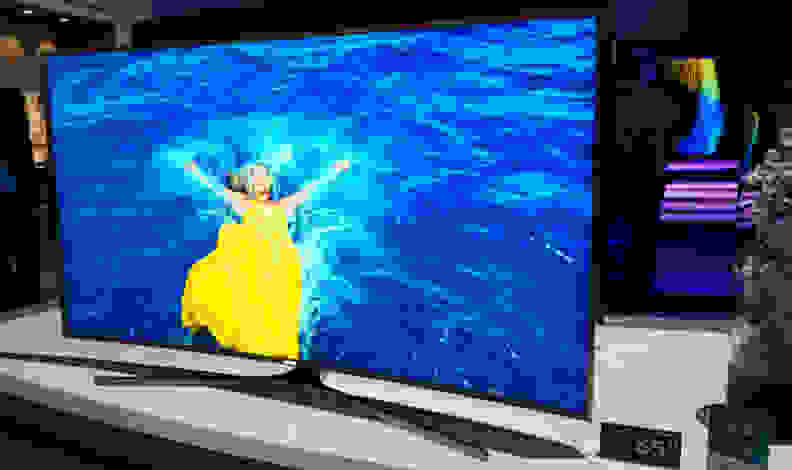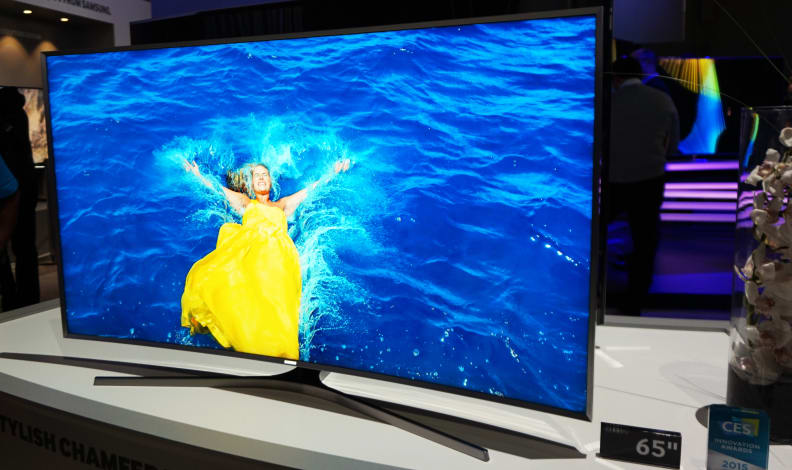 The JS9500's full-array backlight with local dimming means the whole curvy screen has bright LEDs embedded behind it. Those lights can be tuned to different luminance levels and turned on or off to create excellent contrast.
In fact, full-array with local dimming works an awful lot like an emissive display, such as an OLED. "But this is an LCD, it'll never be as good as an OLED TV!" Maybe, but I saw it side-by-side with an OLED, and it looked better.
The JS9500 looked much brighter than the OLED beside it, and we have no reason to doubt that it actually is.
Some caveats: For one, the side-by-side shootout was organized by Samsung, and the OLED was calibrated under Samsung's purview. The shootout left the JS9500 sitting real pretty, it looked much brighter than the OLED, and we have no reason to doubt it actually is based on how both technologies work.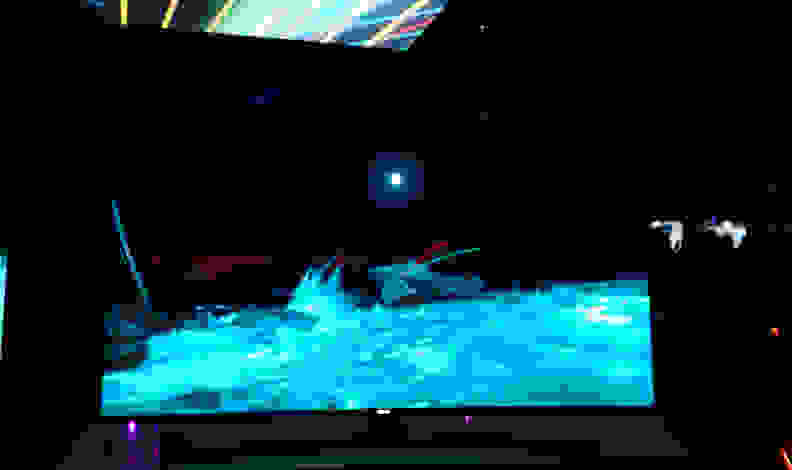 According to a few of the specifications we know about following the recent UHD Alliance announcement, the JS9500 is purportedly capable of 1000 nits of specular highlight output—the minimum requirement for HDR (High Dynamic Range) functionality.
Honestly, I could go on-and-on about this TV, but the takeaway here is that it's fitted with the best, most future proof, and most impressive TV tech available right now.
Any Samsung flagship with full-array local dimming would have been a base hit—as it stands, the JS9500 is a home run.
A clean, curvy look powered by Tizen.
In the looks department, there's not a ton to say about the JS9500. This series is available in 65- or 88-inch sizes, and both feature similar designs: silver, curved "Y" stands and trim silver bezels that emphasize the screen. We haven't yet confirmed if the JS9500 series will use Samsung's "One Connect" external mainboard.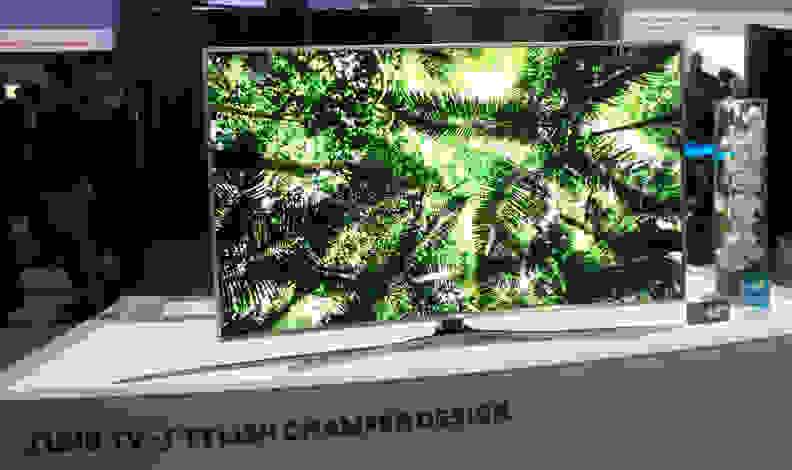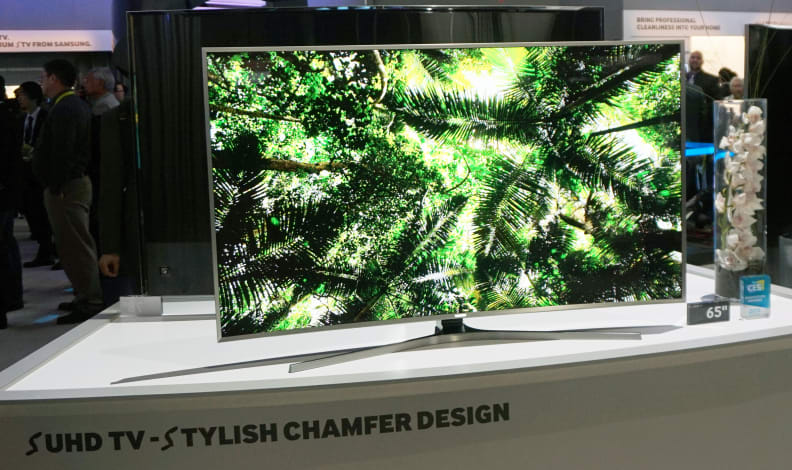 The most interesting design feature is something Samsung calls the "Chamfer" design, which incorporates slightly thicker, tapered bezels to add a sense of depth to the screen. This flourish graces both the 65- and the 88-inch JS9500 TVs.
As for the menu and smart features, we haven't seen much yet. We know Samsung's new smart platform is built around the Tizen OS, but haven't yet gone hands-on with it.
Samsung did have a couple of demos on display, however, which showed off the octa-core processor's ability to run the game Just Dance, which is a fully-featured "real" video game.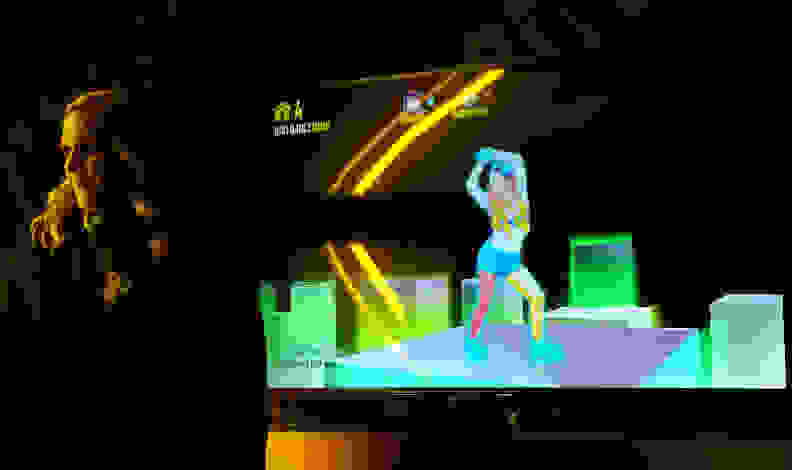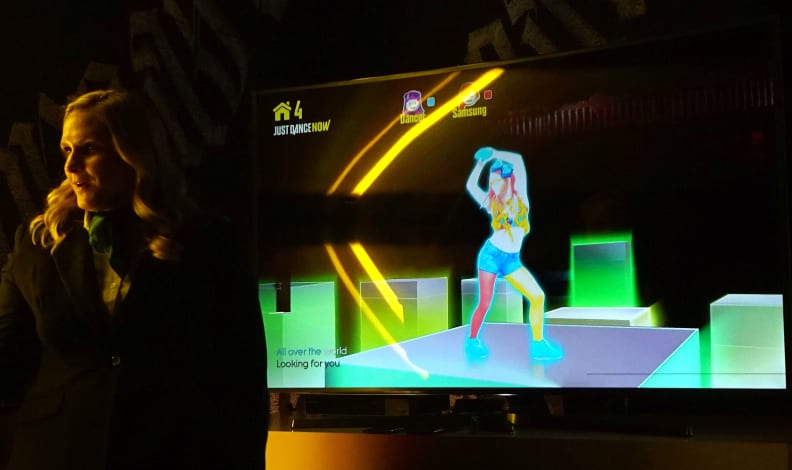 The Tizen platform has garnered some notable buzz during the show, but until we go hands-on, we can only assume it won't detract from the TV's overall value. And let's be honest—nobody's buying a full-array, quantum dot, 4K TV for the smart features.
Samsung's Valedictorian
The JS9500, in either its 65-inch or 88-inch size, looks like it's going to be an incredible TV for Samsung this year.
The combination of its super-bright output, quantum dot color, and full-array backlighting not only eliminate our concerns about the performance drawbacks of curved TVs, they easily mark the JS9500 one of the most exciting TVs this year, and potentially Samsung's best TV ever.
The combination of its super-bright output, quantum dot color, and full-array backlighting easily mark the JS9500 one of the most exciting TVs this year.
Unfortunately, Samsung has just to announce pricing and availability for the JS9500, but we expect it to be fairly expensive. And while we can't make any concrete judgments about performance until we get the UN65JS9500 into our labs for testing, the specs really check out, and we can't wait to see more.
Meet the tester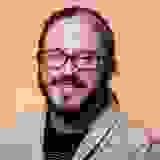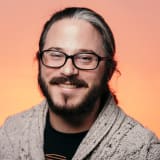 Lee Neikirk
Editor, Home Theater
@Koanshark
Lee has been Reviewed's point person for most television and home theater products since 2012. Lee received Level II certification in TV calibration from the Imaging Science Foundation in 2013. As Editor of the Home Theater vertical, Lee oversees reviews of TVs, monitors, soundbars, and Bluetooth speakers. He also reviews headphones, and has a background in music performance.
Checking our work.
Our team is here for one purpose: to help you buy the best stuff and love what you own. Our writers, editors, and lab technicians obsess over the products we cover to make sure you're confident and satisfied. Have a different opinion about something we recommend? Email us and we'll compare notes.
Shoot us an email