Now that introductions have been made, let's get down to brass tacks: The 757U is high-end in every sense of the word. This TV is packed full of settings to toggle and options to tweak; it is highly customizable, and offers a wide, diverse array of connectivity. The 60-inch version we tested (MSRP $2,299) is fairly priced, and would make a handsome centerpiece for your living room—though it's not without a performance flaw or two.
A squat, sturdy LCD, but not without a classy feel
Sharp's 757U series eschews the usual trappings of modern liquid crystal televisions for a more sturdy, traditional appearance. It sits close to its wide stand, achieving a solid, handsome appearance. The 757U is about an inch thick at its sides, and sports a thin—but not invisible—bezel around the screen. This is a TV that would look good as your living room centerpiece.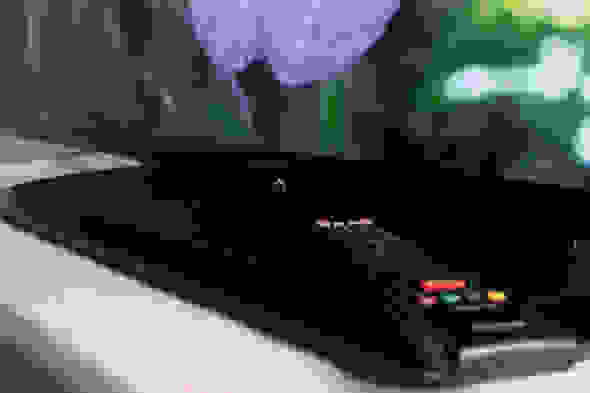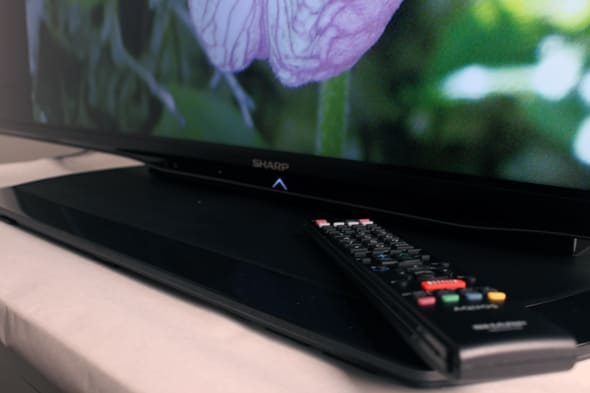 "This TV would look good as your living room centerpiece."
In the box with it, you'll find two pairs of active 3D glasses, and a long, skinny remote. The remote is similar to the TV: rather than attempting to blend into its surroundings, it seems to seek attention: "I am a Sharp remote. Look at me on your table." Together, the remote and the TV—both black, with chiseled contours—are a pretty dapper pair.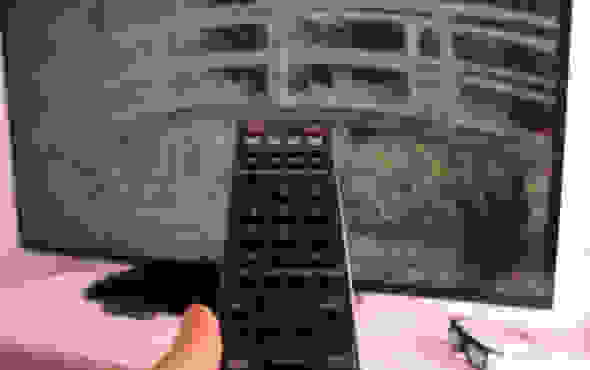 As for Sharp's 3D glasses, they are lightweight and comfortable. Each of the two comes with its own cleaning cloth and carrying bag. Really, the 60-inch 757U seems to echo Sharp's Elite series from last year: proud to be a television, proud to be expensive. I would put this TV where everyone could see it; Sharp's matte-finish "wallpaper mode" is surprisingly attractive, and not at all electronic in appearance.
As for usability—this Sharp doesn't skimp. Both the on-set controls and the connectivity ports are tucked away on the back of the TV, clustering on the rear left. The 757U series allows for four HDMI cables, two USB inputs, a shared component/composite cable, analog RGB (VGA), RS-232C, digital and analog audio out, auxuliary audio in, a cable (RF) connection, and a LAN input. Even by today's standards, that's about all the connectivity you'd ever need.
Looking Further
This smart TV could be smarter
The 757U is a 3D, smart TV, and its software is tooled up to allow people like you and me a good amount of control over all processing and display functions. Sharp's one of those companies that understands the potential audio-videophile nature of their customers, and the company reflects that knowledge in its software package this year. The settings are tucked away in their own menus, for the most part, so you don't have to sort through them unless you want to.
"The hardware itself does not support smart content the way it could."
Smart Central is Sharp's smart platform, and after a fairly quick update, the 757U populated with a decent amount of content: Streaming services, games, apps, and a web browser. Most of this is standard smart TV fare, but we like the layout of Smart Central. Navigating through is easy, with apps represented by large button-widgets. However, the hardware itself does not support smart content the way it could... by that I mean, browsing and typing using the remote is a big hassle; to use this TV to full effect, you really want to pair it with a mouse and keyboard.
Using the 757U is fairly intuitive, but there's a lot of "gibberish" to sort through, and I mean that in the most loving way possible. Sharp does not shy away from the technical, jargon-heavy world of AV appreciation and usage, and the menu and smart software are rooted in that nature. That's fine for TV reviewers like us, but it doesn't constitute the most user-friendly package, visually. Assuming you have the additional Bluetooth companions to make browsing and typing a better experience, you'll like what you find, but this isn't a "set up and sit back" experience.
The 757U, like many of Sharp's past LCDs, is bright and vivid. Blu-ray and cable playback looked fine, though there are some performance drawbacks here that I'll discuss in the next section. The 757U provides plenty of connectivity options, and cable content at 720p to Blu-ray content at 1080p all look pretty decent. I wasn't wowed by it, but unless you're a real picture purist, a quick calibration in the menu can really boost this TV's abilities. Perhaps its best asset is nestled in its 35w side-mounted speakers, which provide a big, full-room sound to accompany the big, bright screen.
Looking Further
A bright, vivid picture from many angles
While the 757U sports a fairly attractive design, and is replete with features useful and not, its real claim to fame is its core performance, which is really quite good. We test a number of aspects when determining a television's picture quality, and the most important—color integrity and contrast ratio—tell us a lot about how a TV will fare, subjectively.
The Sharp 757U is a good-looking TV, though it's by no means the best we've seen all year. This TV looks great in well-lit or even sunlit spaces; at half backlight, it's still bright enough to compete with standard room lighting. It doesn't, however, fare so well in dim or dark lighting, where its black levels tend to look washed out. Colors are rich, with an almost oversaturated appearance, but they suffer loss of detail at times.
"Colors are rich, and pop with an almost oversaturated appearance."
Fortunately, the 757U handles motion well, and is actually stuffed with motion settings: 120 Hz Low, 120 Hz High, AquoMotion 240, and Aquomotion 480. These motion settings allow for a diverse range of control. For example, 120 Hz Low allows for suppression of basic blurring, but does not cause the overly smooth effect commonly attributed to daytime soaps.
We also found that the 757U possesses a wider viewing angle than most LCDs, owing primarily to the integrity of its panel, and to the effects of Sharp's extra, yellow sub-pixel (which I discuss in more detail on the science page). This added flexibility makes the 757U a solid choice for living room display where lots of people might be watching—its 35w side-mounted speakers solidify that claim, as they do a terrific job creating loud, clear sound. Some of the surround effects, such as 3D Hall, give a bizarre echo such as would be found in a chamber music setting. On the whole, though, the 757U's audio is commendable.
The 757U delivers a great viewing experience for most content, and its variable motion smoothing modes make it a good choice for film, gaming, or sports. While colors are not as accurate and smooth as they could be, these flaws are only truly visible in a darkened, home cinema setting.
A great non-specialized TV
The Sharp 757U is a great choice for non-specialized viewing. By that, I mean it does many things well, but nothing perfectly. My experience with this series has been a positive one, but it required jumping through a few hoops. There's a lot to the "package" here, with a plethora of toggle-possible settings that may confuse/put off more casual TV users.
The 757U is stuffed with features, but its main strength is really its performance. Sharp hasn't taken the initiative to streamline the 757U's hardware to contribute heavily to its smart platform, Smart Central. While Smart Central has plenty of content, and is laid out in a fairly organized fashion, working through everything is not an easy task, and typing using the basic remote is especially frustrating.
If you're looking at the 757U for its performance, though, you won't be disappointed. The 757U sports a healthy contrast ratio, decently dark blacks, and a bright, vibrant picture. Its numerous motion settings make it a good choice for most content, though again, it doesn't look great in a dim/dark room. However, we think for its performance and wide range of abilities, this series has a lot to offer the interested consumer. If you want a wide range of control over your audio/video experience, the 757U series (starting at $2,299) is a good choice.
Welcome to the Science Page. Here, you'll find all of the data, numbers, and charts detailing the hard evidence that supports our front page claims. For each TV, we run a series of objective, codified tests in a controlled, black room environment. All of our tests are conducted using the Konica Minolta CS-200 chroma meter, and the Konica Minolta LS-100 luma meter, in conjunction with DisplayMate software.
A decently wide contrast ratio
If there's one thing this TV does very well, it's getting very bright. At max backlight, it's almost unwatchable in a dark room. However, to really see what it could do, I set it to half backlight, and tested a very respectable black level: 0.045 cd/m2 . Its 20% APL luminance at this backlight setting is 129.30 cd/m2 , which is a good level for a dimmer environment, though the aforementioned blacks are not quite dark enough to blend seamlessly into a black room.
The resulting contrast ratio of 2874:1 is decent for an LCD, and comparatively better than the Panasonic DT60 and Sony W802A, though none of the three could compete with Samsung's LCD F5000.
Respectable color accuracy, not without flaw
When testing a TV's color accuracy, we take L'u'v' (CIELUV) readings using our Konica Minolta CS-200 chroma meter. We test color gamut, color temperature consistency, and color/greyscale curves. The results say a lot about a TV's objective and subjective picture quality.
Within the realm of color gamut, the 757U tested fairly well. Its white point was mostly accurate, and peak red and green were both arguably perfect. Peak blue is oversaturated, meaning it's more "blue" than it should be. While you won't have a completely perfect color response from the 757U, its oversaturated blues will make mid- and shadow blues a little easier to see. Considering that blue is the hardest color for human eyes to perceive, this is a mostly negligible flaw.
The 757U demonstrated a few points of error during our color temperature consistency test. Its average temperature was about 6650° K, which is very close to the 6500° K ideal. However, the consistency of its color temperature tends to waver as it darkens from peak white to reference black, getting warmer in appearance towards the 0 input. This will cause some orange hues to affect the greyscale within certain areas, but overall is not a huge drawback.
The 757U had the most trouble producing accurate color curves. Its greyscale gamma is roughly perfect, ramping up slowly to give details to shadow- and low mid-tones, and peaking just a little early. This is a good result; unfortunately, the 757U's color curves did not adhere to the same level of quality. Green peaks much too early, resulting in a severe loss of detail in high-end greens. Both red and blue struggled to transition in smooth, linear increments at the mid-high end of the input spectrum. Overall, we'd have liked better color management from this high-end Sharp.
A wider-than-average viewing angle
Viewing angle is an important aspect of determining a TV's screen flexibility and panel integrity. Most LCDs don't do so well during this test, as the nature of liquid crystal displays forces their backlighting to travel further before reaching the screen. The Sharp 757U, however, tested respectably.
Out of the LCDs we pulled to compare it to (a Panasonic, Sony, and Samsung from 2013), the 757U sported the widest viewing angle, offering viewers a total of 107° (or 53.66° from center to either side). This means the 757U stands up to scrutiny at off-angle viewing, and could be reliably wall mounted, for example.
Meet the tester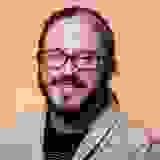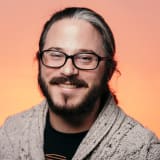 Lee Neikirk
Editor
@Koanshark
Lee has been Reviewed's point person for most television and home theater products since 2012. Lee received Level II certification in TV calibration from the Imaging Science Foundation in 2013. As Editor of the Home Theater vertical, Lee oversees reviews of TVs, monitors, soundbars, and Bluetooth speakers. He also reviews headphones, and has a background in music performance.
See all of Lee Neikirk's reviews
Checking our work.
We use standardized and scientific testing methods to scrutinize every product and provide you with objectively accurate results. If you've found different results in your own research, email us and we'll compare notes. If it looks substantial, we'll gladly re-test a product to try and reproduce these results. After all, peer reviews are a critical part of any scientific process.
Shoot us an email