Despite its stacked resumé, the 857U fails to perform to standards. We tested shallow contrast, skewed colors, and aggressive motion processing; this TV looks great on a retail floor, but doesn't hold up during theater-style viewing. There are better options out there for less money—toss this fish back.
Lucky Number 13
Sharp calls the 60LE857U's color scheme "aluminum two-tone." For what it's worth, this TV wields the 13th element with serious class. A heavy, silver stand, rounded, aluminum top-and-bottom bezels, and narrow black edges on the sides of the screen give this Sharp simultaneous heft and polish—words rarely associated with an LCD.
Perhaps the most interesting thing about this TV's design is how it plays subtle visual tricks.
The bezels are (thankfully) matte, absorbing incoming light rather than reflecting it back. The heavy silver stand is hollow, describing a generous oval that gives the panel an ample footprint. Scarcely over two inches in depth, the screen feels decidedly modern. It sits low over the pedestal, demanding the attention of all eyes in the room.
Perhaps the most interesting thing about this TV's design is how it plays subtle visual tricks on the viewer. The silver stand and bezels emphasize the horizontal, rather than vertical aspect of the screen. In the dark, the black bezels seem to disappear, giving the impression of infinite continuity as the picture floats in the void. Where the black attempts to eliminate edge perceptibility, the silver acts as a foil to boost the appearance of black levels within the picture.
So, yeah, you might say this TV's a little bit fancy.
From the rear, the illusion is shattered: A cheap plastic casing holds the TV's on-set controls and connectivity options. Fortunately, you're probably not going to spend too much time checking out this TV's backside. If you do, however, you'll find a home theater-worthy selection of ports: four HDMI, two USB, RS-232, VGA in, two composite in, component in, 3.5mm audio out, PC audio in, digital audio out, LAN in, and a coaxial jack for a cable/antenna connection. In my experience, that's more than enough input flexibility for even the most posh of viewing environments.
There are some other goodies along for the ride, too. Sharp includes two free pairs of 3D glasses, and of course a long, button-heavy remote control fit for a TV of such grandiose stature (and price). Subtle touches of color dot this remote's populous topside, which is primarily black. Shortcut buttons for the menu, Smart Central, Netflix, favorite apps, and 3D activation live alongside a full number pad, rockers for volume and channel, and playback controls. The controller is just as complicated as we'd expect; it's also about nine inches long, which is a bit excessive.
A cornucopia of features
Sharp's flagship 857U is loaded with features and settings—it's almost overwhelming. Smart content, 3D tech, and a huge array of picture and audio settings make navigation through this TV's software almost maze-like. With a little practice, however, users will see this level of complexity bear some customizable fruit.
Sharp's smart platform, SmartCentral, is fitted with all of the standards we've come to expect from internet TVs: streaming content, apps, a web browser, background wallpaper, social networking, media sharing... the list is a lengthy one. The 857U, or 8 Series, makes use of a proprietary dual-core processor to allow for decently fast handling of all of these tasks, but the means of input—Sharp's infrared remote—needs some work. While browsing through SmartCentral is easy enough with the navigational buttons, tasks such as typing in search terms and scrolling web pages are still cumbersome.
Out of the box, most of the standard streaming apps are already pre-installed.
Out of the box, most of the standard streaming apps are already pre-installed: Netflix, Hulu Plus, Facebook, and Twitter, to name some of the most popular. Streaming works quite well with a decent LAN or WiFi connection; scrolling your status on Facebook is possible, but is not preferable to PC or smartphone functionality.
Overall, the platform itself is smooth and intuitive, but lacks much-needed tools like the voice/gesture controls available from Samsung, LG, and Panasonic. For our full breakdown of SmartCentral, click here.
Beyond smart features, there's still a lot to fiddle with. The 8 Series is equipped with some of Sharp's signature performance "enhancers." Namely, the company's questionable Quattron technology, as well as a new method of light output called Super Bright.
Bass lovers can rejoice: This TV packs some woof!
Sharp claims its four-sub-pixel setup enhances the brilliance of yellow and gold within the TV's color space, but anyone familiar with the international standard knows that the yellow/gold spectrum is already a very small part of a TV's color palette. Super Bright, on the other hand, may be a useful addition, as this TV's light output is definitely higher-than-average.
Calibrators will be pleased to know that this TV offers up the full spectrum of controls. Backlight, Brightness, Contrast, Color, and Tint controls are joined by lesser-seen, more-useful options: a full CMS (Color Management System), 10-point grayscale balance, gamma correction, and color space selection. This is good news—if you're not happy with how the TV looks out of the box, or if Sharp's pre-set calibration has slipped during shipping, some well-informed tweaking can get the 857U looking theoretically perfect.
On the audio side, bass lovers can rejoice: This TV packs some woof! Compared to the standard 2-speaker, 20-watt setup, the 857U's 35-watt audio setup (with two speakers and an integrated sub-woofer) is, as the company claims, quite thunderous. The big sound maintains consistent bass presence throughout a span of content types, adding that supportive low end to the TV's audio that's so often missing. Our 60-inch unit feels especially powerful, as its output has the raw power to present a soundscape that matches the picture.
All bark, not enough bite
The 857U may be Sharp's top-of-the-line model, but time in the lab revealed generally poor performance, with only a few redeeming qualities. Overall, this TV's dynamic range and color production—our highest-weighted testing categories—are quite poor, especially for such a high price tag.
Consumers looking for a TV that complements their film collection should pass this one by.
Consumers looking for a TV that complements their film collection should pass this one by. We tested light-polluted, poor black levels that fail to capture the proper depth and contrast that 35mm film is famed for.
When the 857U employs its high peak brightness, dark areas of the screen are compromised. We saw grayed-out corners, noisy shadow tones, even color shifting within black areas of the picture.
One place where this TV performs decently is in motion—but, again, not for film content. Sharp's "Aquomotion" processor enables the native 240Hz panel to capture assimilated smoothing of up to 960 Hz, but this enhancement makes for an unnaturally fluid smoothing process.
The Aquos 480Hz setting, more in the middle, does the best job of reducing blur and judder without serious soap opera effect, but the higher 960 Hz is more-or-less unbearable unless you're watching very hyperactive sports.
This TV is geared to look as good as possible beside the competition in a retail store.
We figured out what was happening after running our color tests: This TV is geared to look as good as possible beside the competition in a retail store, even in Movie mode. Unfortunately, that doesn't mean it's going to look good in your home. To achieve its high brightness, the 857U massively oversaturates blue within its picture. To the human eye, this makes whites appear brighter, but also causes huge loss of detail within blue picture areas. This perceptible imbalance in the sub-pixels ruins the TV's ability to render a smooth picture, resulting in a "stretched" appearance lacking subtler details.
Between its shallow contrast, poor color scores, and hyperactive motion processor, it seems clear that this TV is not the best of this year's flagship bunch. Well, we're here to advise you: Don't be fooled. In a relaxed home environment, this kind of aggressive light and motion does not make for a beautiful picture.
More is not always more.
On paper, the 857U looks like a truly premium television. Over $2,000 in price, packed with a staggering amount of features, and equipped with a winning design, it seems like a set that could win awards and accolades. Unfortunately, the on-paper specs don't translate on screen.
Poor performance in most categories and the inability to look truly impressive playing content where detail is everything ultimately stick this TV with a low score. If you're looking for a same-size alternative, the 60-inch Samsung F7500 is an excellent place to start.
However, if you've really got your heart set on this Sharp, there is one small hope: With full calibration controls, the 857U could potentially be tweaked to picture perfection.
The Sharp Aquos LC-60LE857U ($2299) is expensive and loaded with features, but its performance does not live up to its supposed premium status. We tested a disappointing black level, skewed color accuracy, troublesome colorimetry, and color temperature error in both of the 857U's available color space options. While this LCD handles motion quite fluidly, it struggles on the more basic front of content recreation.
Super Bright... not super dark
Contrast ratio is a measure of a TV's maximum light output, divided by its minimum; essentially, a measure of possible dynamics. While Sharp's "Super Bright" technology may aid the 857U in achieving brighter-than-average peak white levels, its black level is still lacking the depth to impress.

We measured a laudable peak brightness of 306.30 cd/m2 at max backlight, which is brighter than most rooms require. Unfortunately, the 857U's edge-lit design causes this intense brightness to wash out its black level. The best we measured at 20% APL (Average Picture Level) was 0.10 cd/m2 , which is simply not very dark. The resulting contrast ratio of 3,063:1 is decent, but not worthy of a TV that costs two grand.
Better than average
Viewing angle is a measure of how far from center you can watch a TV before its picture starts to degrade. Plasma TVs perform beautifully here, usually offering a full 178° of viewing flexibility. LCDs, on the other hand, often flounder. Fortunately, this was not the case with the 857U.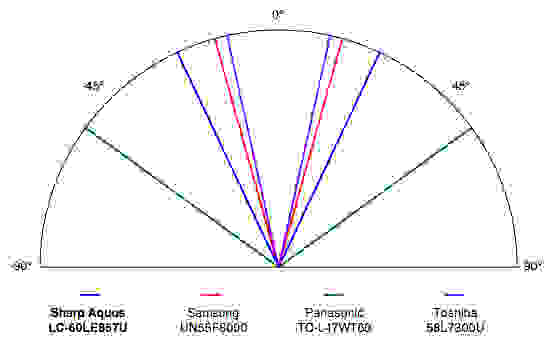 We measured a total viewing angle of 50°, or ±25° from the center of the screen to either side. While this isn't an amazing result, it's much better than the average LCD. Interested consumers could consider wall-mounting the 857U and enjoying it from a fairly wide spectrum of angles; just don't try to watch it from too far to one side, or you'll see blacks/whites turning gray, and colors shifting in hue.
Disappointing results overall
When we test a TV's color, we look for three things: the right amount of saturation, the right hue, and a consistent color temperature across the grayscale. The Sharp Aquos LC-60LE857U failed to ace any of these tests—it's results range from acceptable to quite poor.
Perhaps most important is our test for proper hue and saturation (per the Rec. 709 standard). The 857U was able to match the ideals for HDTV color decently—red and green are spot-on. Unfortunately, it produces a white that is too blue/magenta, due to an uneven RGB balance.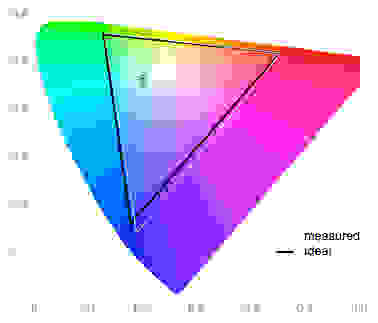 This skewed white coordinate becomes very clear during grayscale production, where the 857U produces visible errors with the darker half of the grayscale. Visible cooling (blue coloration) becomes apparent in the darker grays this TV produces; it then overcorrects as it transitions into black, adding an orange tint to the darkest shadow tones.
Finally, the 857U performs in an absolutely terrible fashion when it comes to transitioning smoothly between its 1,024 hues/shades. The darker, shadow areas will move smoothly between one another, but as it begins to produce low- and mid-tones, it over emphasizes blue, leading to heavy ramping that destroys sub-peak details within that shade. Each of its curves and grayscale were very bumpy, producing the wrong shades and hues throughout transitions.
Meet the tester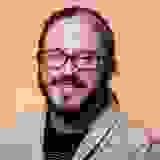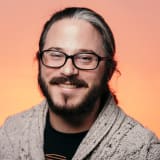 Lee Neikirk
Editor, Home Theater
@Koanshark
Lee has been Reviewed's point person for most television and home theater products since 2012. Lee received Level II certification in TV calibration from the Imaging Science Foundation in 2013. As Editor of the Home Theater vertical, Lee oversees reviews of TVs, monitors, soundbars, and Bluetooth speakers. He also reviews headphones, and has a background in music performance.
Checking our work.
We use standardized and scientific testing methods to scrutinize every product and provide you with objectively accurate results. If you've found different results in your own research, email us and we'll compare notes. If it looks substantial, we'll gladly re-test a product to try and reproduce these results. After all, peer reviews are a critical part of any scientific process.
Shoot us an email