This edge-lit LED TV claims the title of largest THX-certified 4K TV, an allegedly stringent process meant to hold the UD27 to higher standards of performance. It's also equipped with Sharp's latest smart TV platform, SmartCentral 3.0, enabling key features like 4K streaming and video playback.
While you can find this TV online for less than $2,000, there are better performers out there. Despite its plentiful pixels, the UD27 is held back by problems commonly associated with edge-lit LED televisions, such as a narrow viewing angle and blue-tinted neutral tones.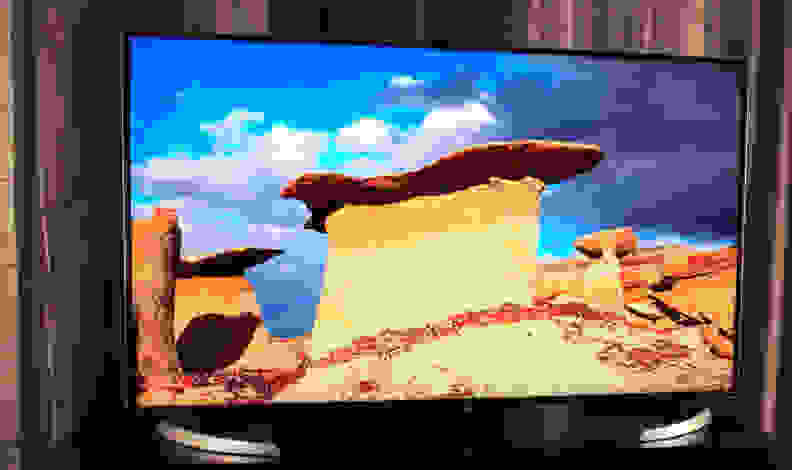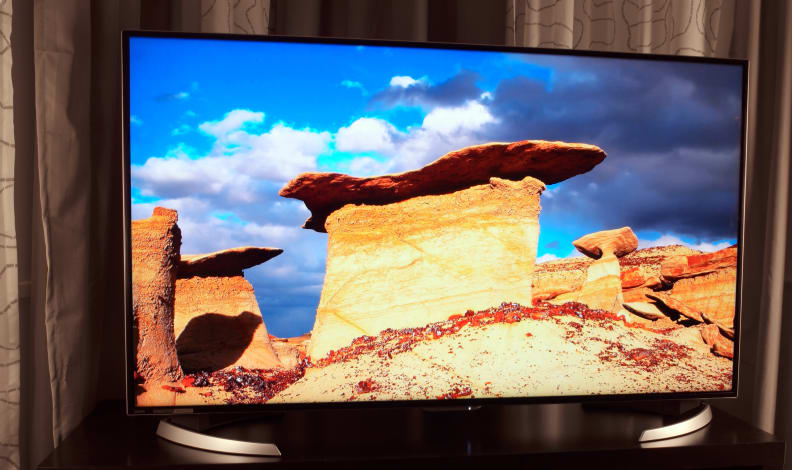 The Sharp LC-60UD27 (MSRP $3,199) serves up a steaming platter of features and a smoking hot design, but unfortunately, its picture quality is merely luke warm. Actually, it's "cold," a term used to describe a picture with bluer, cooler appearance—but more on that in a minute. We measured solid contrast results for an LCD TV, perfectly acceptable resolution retention during motion, and color accuracy that's passable—especially after a little calibrating.
Unfortunately, like the SQ17U, the UD27's 2- and 10-point white balance controls (used to hone in the white/gray elements to D65, the standard "color" of white for TVs) don't interact properly, making a full calibration very difficult. Even with the color and grayscale errors fixed, however, there are issues like a poor viewing angle and sub-optimal backlight uniformity that can't be fixed with any tweaking, ultimately making the UD27 a poor choice for home theater purists for whom only the best will do.
Not bad in a bright room, but a poor choice for videophiles.
As Sharp's latest flagship television, the UD27 wields an appropriately massive 60-inch panel that looms over the entirety of your living room. As the maker of gigantic panels for nearly every manufacturer, Sharp has elected to go with their own proprietary VA (Vertical Alignment) panel here. These types of TVs typically exhibit very good contrast, but are let down by a poor viewing angle. That's precisely what we saw with the UD27, both in and out of our labs.
To test the UD27 I utilized our standard test procedures and lab equipment, backing that up by watching content in the TV's Movie (THX) mode with the "Dark room" preset. Though the TV offers up solid black levels and good brightness for an LED LCD model, it suffers from a distracting amount of blue tinting in white and gray tones by default. You won't notice too many issues if you're watching dynamic, colorful content, but monochromatic and grayscale details tend to "pop" excessively thanks to the excess blue.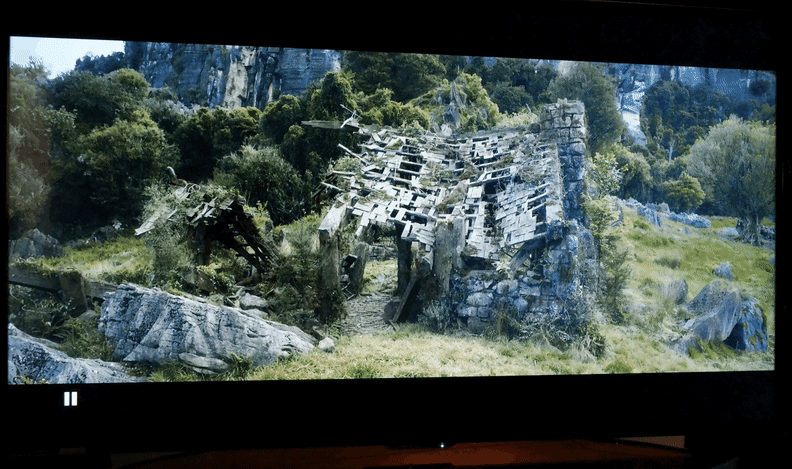 For example, in The Hobbit: An Unexpected Journey, even scenes that aren't predominantly blue or gray—such the green fields or forests during the company's journey to the Misty Mountains—are skewed by this excessive blue tint. In one scene featuring a run-down wooden cabin, the large gray boulders peppering the grass around the rotting wood are rendered in an overly blue version of gray, while the green grass winds up somewhere closer to yellow.
This skewed white balance is actually very common amongst modern televisions, especially edge-lit LED TVs like the UD27. It's not the kind of thing you'll notice as much in a room with lights on, however, as the interference from ambient lighting tends to hide it. In fact, TVs that overdrive blue sometimes look better in brighter lighting—a fact that tends to help them under the hot lights of big box stores.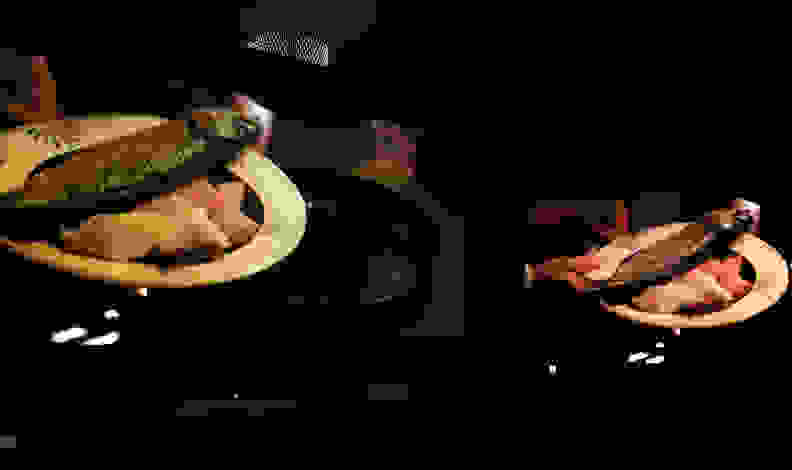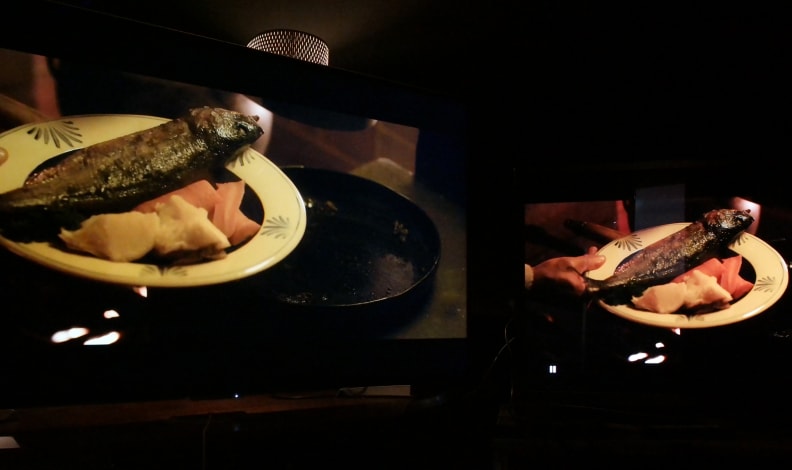 This has negative impacts during warmer scenes, too. Consider the rosy, woodsy tone inside Bilbo's house: On our reference screen, the fire-lit room casts orange hues and deep shadows onto skin tones and shadow areas, causing something like a white plate to really stand out. On the UD27, said plate has more of a yellow coloration, while low-light colors lose their definition as they're mixed with excess blue. Again, you won't notice this as much in a bright room, and it's mostly visible during side-by-side comparisons.
On the plus side, the UD27 boasts good contrast performance. Sharp's "AquoDimming" feature—software-based local dimming—darkens shadowy areas while maintaining crisp, bright highlights. We value contrast performance as a key element of picture quality, so this is a big thumbs up for this Sharp 4K.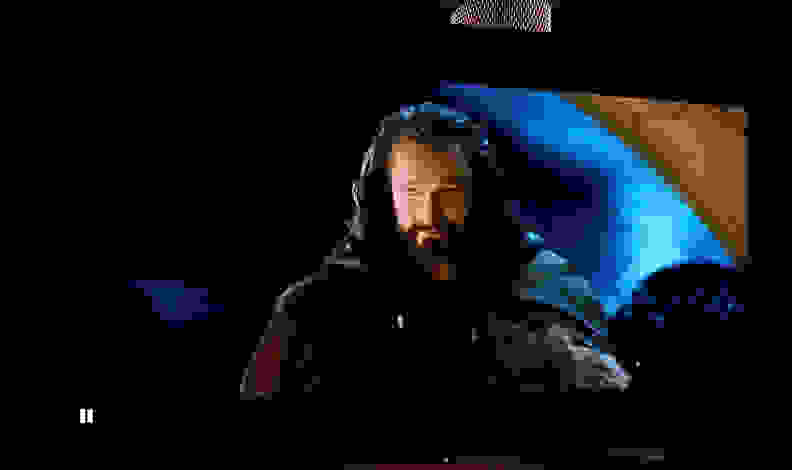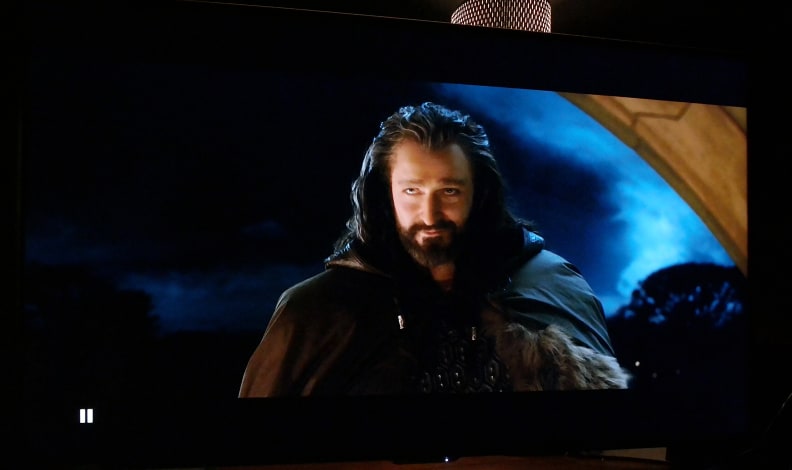 Of course, like all current 4K TVs there's a notable lack of native 4K content available at the moment. Despite the blue haze, I was satisfied with the upscaling and motion retention during the content I watched—as long as your source is at least 1080p. Anything lower than that such as an old DVD will look dreadful on the UD27.
Overall, we'd recommend the UD27 to anyone who wants a big, bright TV to complement a windowed den or a well-lit room. Though overdriven blues will drive videophiles nuts, these issues are most apparent in very dark home theater setups. The TV also has a limited viewing angle, but it's such a large panel that you'd have to have a physically wide space for it to matter that much.
We test each TV we review both before and after a calibration that aims to reproduce the ITU's HDTV standards. These standards call for exact hue, saturation, and luminance values for a TV's primary colors, secondary colors, and white point, as well as for a specific allocation of luminance (gamma) and proper legal limits for video signal levels. In short, there's a "correct" way for a TV to look, and our calibration serves the dual purpose of revealing how closely a TV adheres to these standards with default settings, and how closely it can match them with a professional calibration.
Like previous Sharp TVs, the UD27 was a bit dodgy in terms of functioning controls. Testing revealed excessive blue tinting in grayscale elements (neutral tones), slightly skewed color properties, and a gamma sum that was close to correct but was not very linear. The TV's CMS (Color Management System) allowed us to tweak the color values to approximate mostly perfect color, but the 2- and 10-point white balance (grayscale) controls did not interact simultaneously, and correcting the RGB balance in a multistep format rendered massive errors in a single IRE step (usually 100) to the point that the courser 2-point control was actually more ideal. Below, you'll find Sharp's default settings in Movie THX Dark room mode, alongside my final calibration results.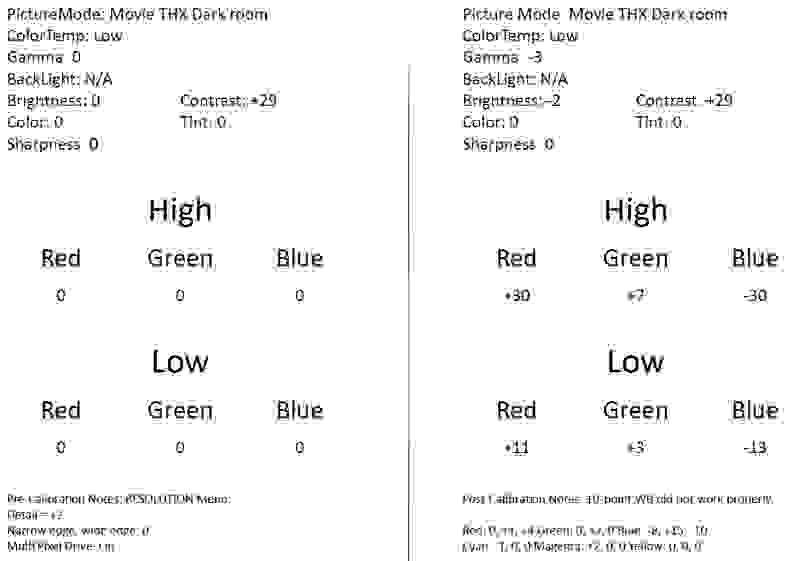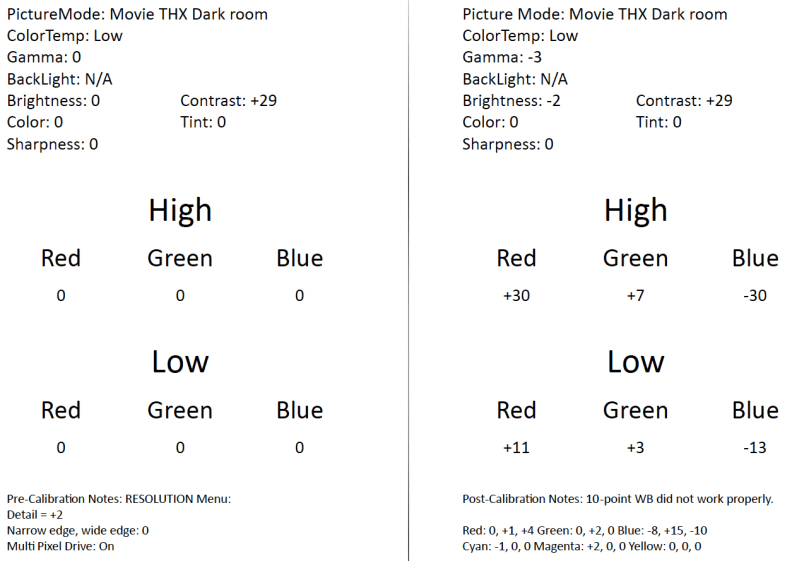 This Sharp TV is a sharp dresser
As Sharp's flagship 4K TV, the UD27 has to look the part. It certainly doesn't disappoint, with hyper-thin black bezels trimmed by a subtle silver coating wrapping around the 60-inch screen. The panel rests upon two wide-set, curved feet that are cut in decidedly un-sharp semi-circles while taking up a very minimal amount of surface space. Like other Sharp TVs, the UD27 sits very low to whatever surface it's on, precluding you from stacking it on top of set top boxes and receivers.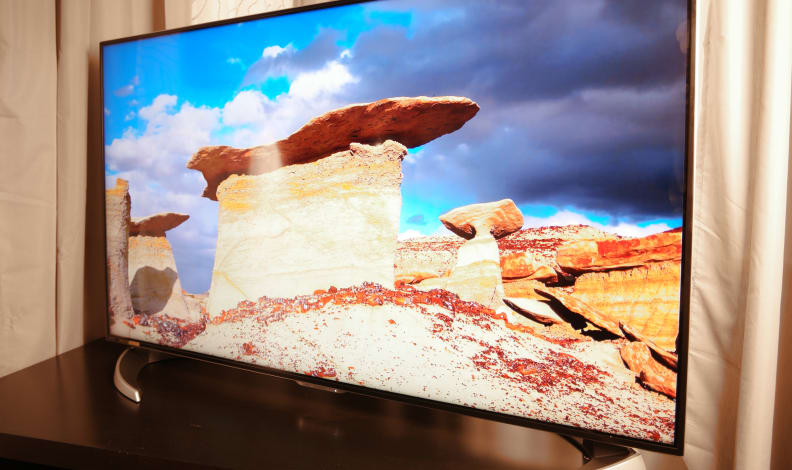 The rear of the TV is smooth, contoured aluminum that maintains a slim profile interrupted only by Tetris-piece shaped cutouts. Back here, you'll find the TV's on-set controls (Power, Volume, Channels) as well as the audio and video inputs, which are neatly tucked into an L-shaped cutout on the left side of the TV.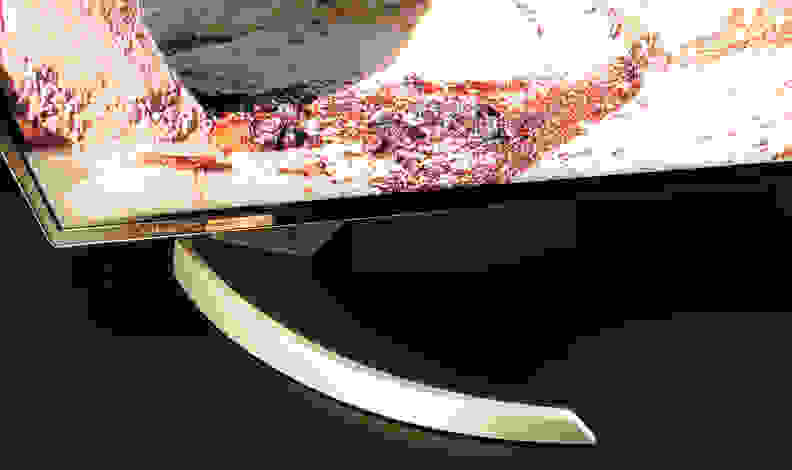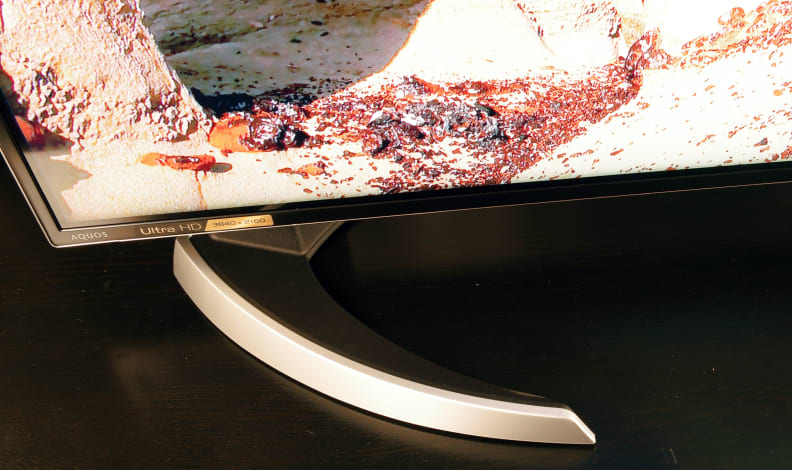 Side-oriented ports include four HDMI inputs (4K at 60Hz each), an SD/SDHC card slot, a USB input, and a 3.5mm analog audio port. For the downward-facing ports, you'll find two more USB inputs, ethernet (LAN) in, optical (digital) audio output, and a coaxial jack for a cable/antenna connection. There's also a cluster of component/composite ports alongside a VGA (D-sub, PC) input.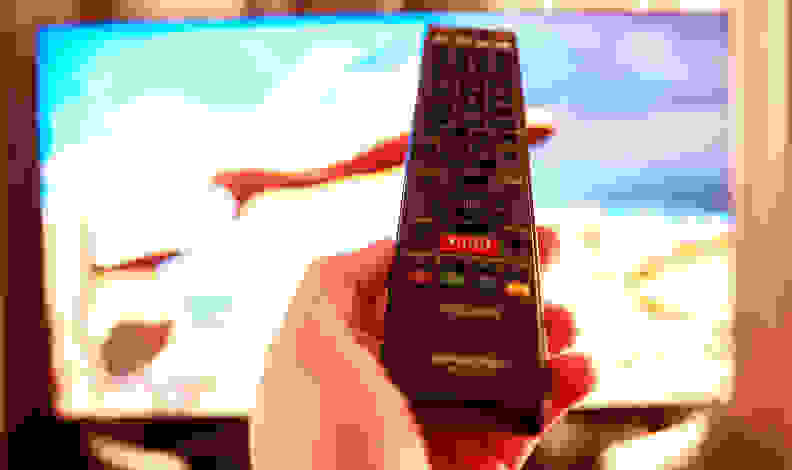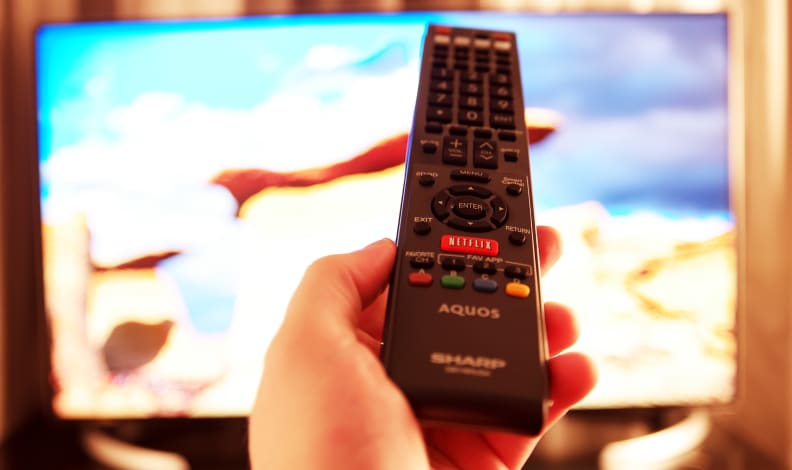 In the box, Sharp includes its standard infrared remote. This long controller is stuffed with buttons like volume and channel rockers, a full number pad, and the Netflix button that's slowly becoming a staple of modern TV remotes. Unlike the UQ17U—the Sharp series that sits one step down from this one—the UD27 doesn't support 3D playback, so you won't find any 3D glasses included.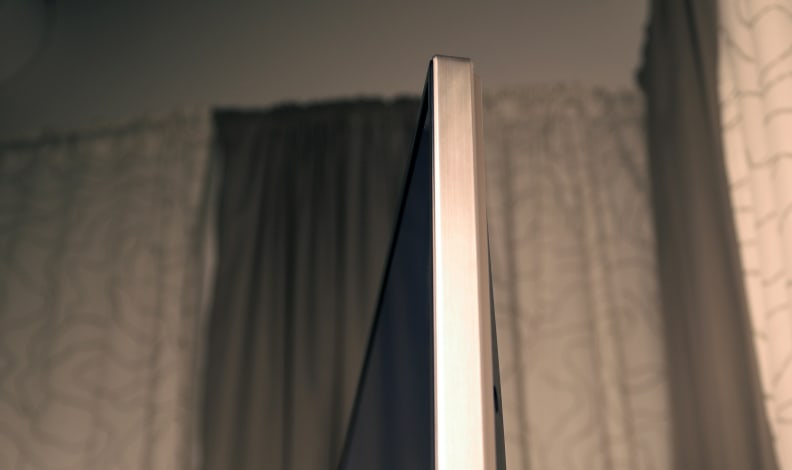 ×
New Gallery
We determine a display's contrast ratio by dividing its reference white (100 IRE) by its black level (0 IRE), where both luminance values are taken from a standard ANSI checkerboard test pattern prior to any calibration. In this case, I stuck with the defaults in Movie THX Dark room mode to suit the test lab. Note that this mode grays out (locks) the backlight control.
The UD27 boasts pretty good contrast for an edge-lit LED. I was impressed with its 0.05 cd/m2 black level, though that's to be expected from a VA (Vertical Alignment) style panel. I also measured a pretty good peak brightness of 126 cd/m2 , which is plenty of luminance for a very dim or dark room. This gives the UD27 an ANSI contrast ratio of 2520:1, which is nowhere near plasma/OLED levels, but is quite good compared to peers like the Samsung HU8550 and Sony X850B. The Vizio P Series (used for comparison) has a full-array backlight with hardware local dimming, which gives it a rather large contrast advantage.

Our viewing angle test measures how far from head-on (center) you can watch a TV before the picture loses 50% of its original contrast, becoming either unwatchable or simply unpleasant to watch. We measure full-field contrast, starting at 90° and moving in 10-degree increments to one side or the other, comparing measured contrast to the original until off-angle contrast drops to 50% or less.
The edge-lit UD27 performed as expected here: like most LCD televisions, it simply doesn't offer much by way of a wide viewing angle. I measured a total viewing angle of 29°, or ±14.5° from the center to either side of the screen. This is a rather poor result, and may make group moving watching a tricky task.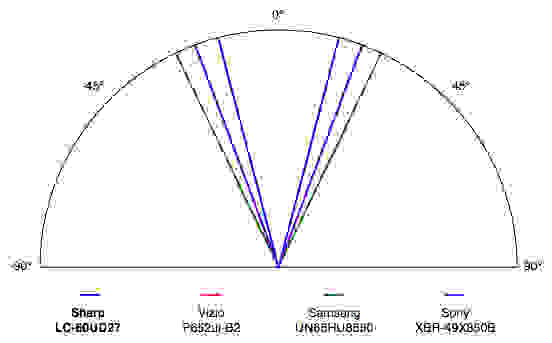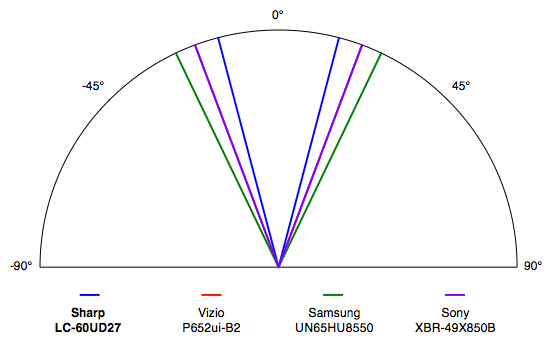 Bring on the 4K streaming
The UD27 is a smart TV, utilizing a built-in platform called SmartCentral 3.0. The third-generation SmartCentral carries over many of the features from previous iterations like a web browser, personal media sharing, and streaming apps such as Netflix, Hulu Plus, and Amazon Instant Video. For interested buyers, however, the TV's most important features are all about 4K.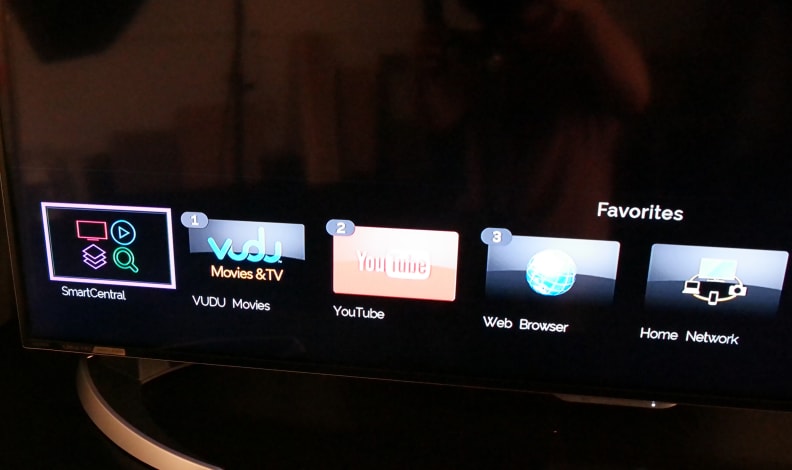 The UD27 is equipped with four HDCP 2.2-compliant HDMI inputs, meaning it will "play nice" with 4K disc players and AV receivers once content protocols are ready. In the meantime, streaming 4K is the best option, and the UD27 is ready for 4K streaming right out of the box.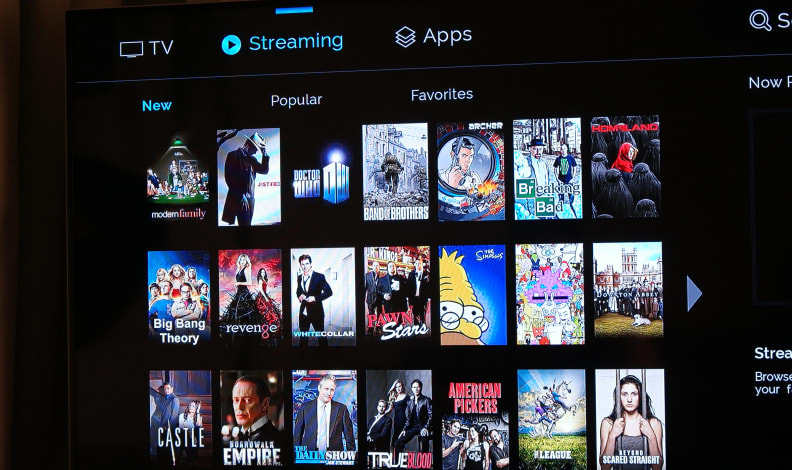 4K content has four times the pixels of standard 1080p content, which would normally mean four times as much data. To combat this growing concern, 4K streaming providers are turning to a new type of compression called HEVC. This "High Efficiency Video Codec" is significantly better at compressing video data than older codecs—especially for 4K content—but it requires special hardware in order to play it back smoothly. The UD27 is equipped with the proper HEVC (H.265) decoder that allows it to stream 4K content from a provider like Netflix or Amazon Instant Video.
Immediate access to actual 4K content is far-and-away the most useful part of SmartCentral 3.0 on this set, as most of us already have some way to mirror apps like Netflix on the big screen. With much more 4K content slated to be available in 2015 than today, the UD27 is future-proofed.
And if you're averse to slowly clicking through a smart interface with a TV remote, you'll be glad to know that full navigation is possible via a dedicated SmartCentral mobile app. It's available for Android, iOS, and Windows devices, though compatibility may not be complete across every device.
The app controls your TV by simply syncing up with the UD27 over WiFi. It took me a few tries to get connected, but ultimately it proved to be a very convenient way to browse the TV's available smart content. Since the UD27 doesn't include a dedicated "smart" remote like so many modern TVs, this is at least a solid alternative.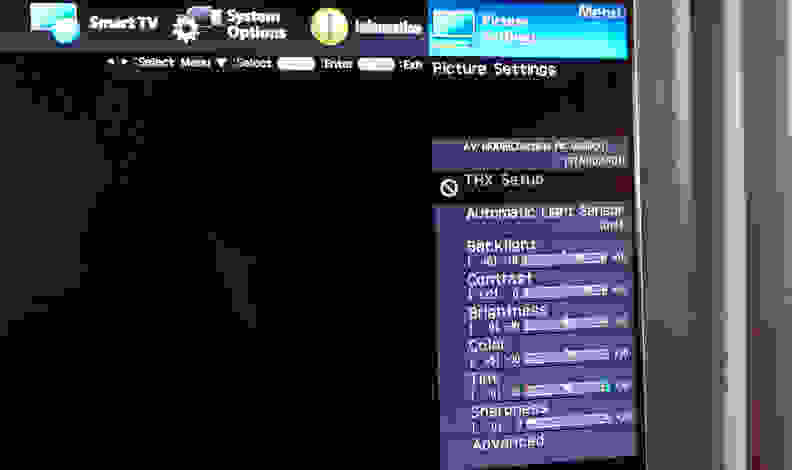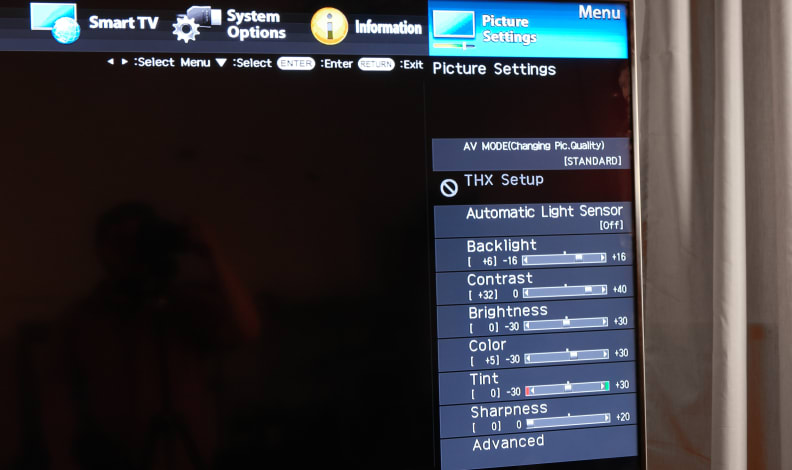 The basic software features (picture, audio, network menus) follow a similar style and navigation scheme as Sharp's other high-end televisions, offering up a full, modern suite of controls. Picture purists will be glad to know that the UD27's picture menu includes controls for gamma presets, white balance (grayscale correction), and color adjustment. Though like previous Sharps the controls are not as responsive and granular as they could be, this will let you rein in some of this panel's thornier white balance issues.
Televisions should adhere to particular color standards dictated by the International Telecommunications Union (ITU), which is basically like the UN of TV picture quality. The color parameters set forth co-exist alongside the same color parameters used by videographers and film re-master teams at movie studios. If the TV matches these color parameters, then you'll see what the director or cinematographer intended. If not, you'll see... some other version.
The UD27 performed decently here, though its white point and secondary colors were initially skewed towards blue (which is aggressively pushed in the TV's white balance). Using the TV's on-board CMS (Color Management System), we matched the TV's primary and secondary colors to the Rec.709 color values, the current standard for most TV/movie content.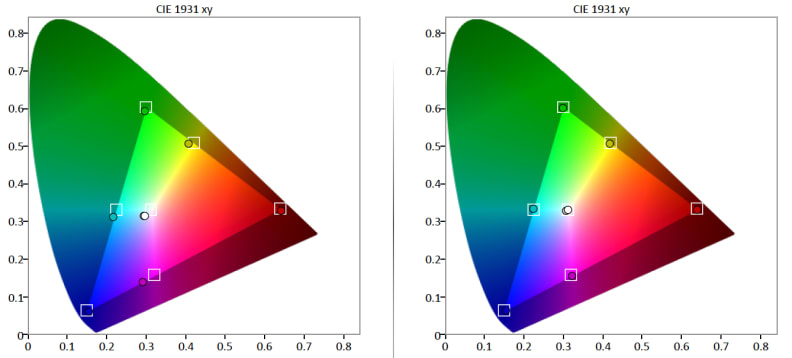 Decent for the price, but shell out for a proper calibration.
The Sharp LC-60UD27 has plenty of good things going for it, especially for consumers who are upgrading their living room TV after 6-8 years. For example, if you haven't yet jumped on board the streaming video wagon, the Smart Central platform gives easy access to apps like Netflix and Amazon Instant Video, as well as the 4K content they now provide. If you're a little more tech-savvy, you can control it all with your smartphone, obviating the need for a second, dedicated smart remote.
This TV's svelte appearance and sleek design are bonuses as well, and it looks as good or better than many pricier 4K flagships. It's a big, bright TV that will handsomely complement most homes' living room setups right out of the box.
The UD27's performance limitations make it a hard sell to picture purists.
Though the UD27's performance limitations make it a hard sell to picture purists, we do feel that it could be a good choice as long as you know what you're getting into. If your living room is bright and sunny, the picture quality issues we saw in our pitch-black TV lab won't be as apparent. They can also be mitigated with the TV's built-in calibration controls. You'll need a talented (or patient) calibrator, however, because the necessary adjustments aren't easy to make.
Otherwise, the UD27 is not a bad choice if you're looking to get a flagship-level 4K TV without the typical flagship-level price tag. Of course, there are a couple other budget-friendly options that do beat out the UD27 in our tests. For the best out-of-the-box performance we'd opt for either the Vizio P Series or the Samsung HU8550 Series TVs, which at 60 inches will run you about $1,600 and $2,200, respectively.
In the end, Sharp's put together a very credible performer that fits well in what has become an increasingly crowded part of the market. It doesn't do much to distance itself from the competition, and you'll absolutely want to hire a proper calibrator to get the most from this panel, but it's safe to say Sharp's 2014 flagship has us eager to see what it can put together once 2015 rolls around.
Because TVs use a form of digital, "additive" color, they produce neutral tones (blacks, grays, whites) via a combination of three primary color filters: red, green, and blue. When these primary filters are properly emphasized, the proper "color" or balance of white is achieved. For HDTVs, grayscale elements should be matched to (or very close to) the D65 white point, which adheres to a correlated color temperature (CCT) of 6500 Kelvin and gamut coordinates of x = 0.313, y= 0.329. When these conditions aren't met, you end up with blue-tinted or peach/green color grayscale elements.
This is probably the UD27's biggest issue. It aggressively emphasizes the blue color filter—we assume to achieve more luminance as it gets brighter—but at the expense of the red color filter, resulting in a blue haze and blue tinting over most of the screen. This can be (somewhat) fixed using the TV's white balance controls, but the two controls or tuners (2- and 10-point) don't interact. This is like trying to tune a violin using either the larger tuning pegs or the micro-tuning pegs, but never both. Perceptible grayscale error is expressed in a collective called DeltaE (dE), where a dE of 3 or less is considered ideal.
In the Movie THX default settings, I measured a DeltaE of 8.01, primarily owing to a CCT that was too high (or "cool"), ranging between 8108 Kelvin and 7671 Kelvin, but never below 7000 and thus never near the ideal CCT of 6500K. This causes the white/gray elements to push towards blue, which is very visible during content. I had trouble using the TV's 10-point control—whenever I corrected 0-90 IRE, 100 IRE would push into huge amounts of error. Using the 2-point control instead, I whittled the grayscale error down to 2.96 dE, just below the 3 threshold.


If we take a look at the underlying color filter emphasis beneath these grayscale steps, we can see the problem very clearly:

No, not the radiation, Mr. Banner. In displays, "gamma" refers to mid-tone luminance, or rather, how luminance is allocated or "spent" from step-to-step out of absolute black and into the brightest white. If you've ever played a video game or watched a movie where bright midtone elements seemed to "pop" too much, or shadow details were crushed down into an ugly mass of non-detail, that's a gamma issue. TVs should adhere to a flat gamma curve—meaning that, logarithmically, luminance should be the same amount, scaled, from step to step, increasing by pre-set increments that allow human (analog) eyes to perceive the difference between steps.
This is another area where the UD27 isn't quite up-to-par. Ideal gamma "sums" are 2.2, 2.3, 2.4, or BT.1886 for televisions and most displays, where the smaller number is better for a brighter room, and the larger number is better for a darker room. We measured a gamma of 2.16 from the UD27 by default, and though this isn't far from the 2.2 ideal, it peaked at white, leaving very little definition between 90 and 100 IRE. This isn't a big deal for compressed cable/satellite content, but will eat away at valuable details when you're watching Blu-ray discs.
Because the 10-point control didn't work properly and the TV lacks a detailed gamma calibration tool, the gamma I ended up with was arguably worse, though its 2.31 sum is slightly better for a darker viewing environment.

Meet the tester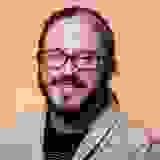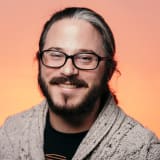 Lee Neikirk
Editor, Home Theater
@Koanshark
Lee has been Reviewed's point person for most television and home theater products since 2012. Lee received Level II certification in TV calibration from the Imaging Science Foundation in 2013. As Editor of the Home Theater vertical, Lee oversees reviews of TVs, monitors, soundbars, and Bluetooth speakers. He also reviews headphones, and has a background in music performance.
Checking our work.
We use standardized and scientific testing methods to scrutinize every product and provide you with objectively accurate results. If you've found different results in your own research, email us and we'll compare notes. If it looks substantial, we'll gladly re-test a product to try and reproduce these results. After all, peer reviews are a critical part of any scientific process.
Shoot us an email