This is the effect that the Sharp Aquos LC-80LE844U (MSRP $5,999) has on most humans. A TV of this size is really a sight to behold, especially up close. What we really care about is how this plus-sized television performs: will this giant Sharp make Jaws look like a Megalodon or will performance issues take a bite out of this TV's appeal?
The LC-80LE844U sinks when it comes to color accuracy and its slightly barren smart platform, but it does have some redeeming qualities in its audio and outstanding screen uniformity. When looking at this Sharp as a total package, it's a mixed bag, but the real question is whether an 80-inch screen makes this mixed bag any more appealing.
Once we got over the monstrous size of this Sharp, we started to realize how average its design is. What you see is what you get: a whole lot of screen real estate, bezels that could be thinner, and an uninspired base. While this is not a perfect ten aesthetically, we do have to give credit to Sharp for creating a very thin television – the LC-80LE844U is slightly less than four inches thick. Certain concessions must have been made to accommodate a screen of this size, with the lack of a swivel being one of them.
By the way, if someone were to comment about the boring design of your 80-inch TV in your living room, you have every right to exclude that person from your mandatory Super Bowl party.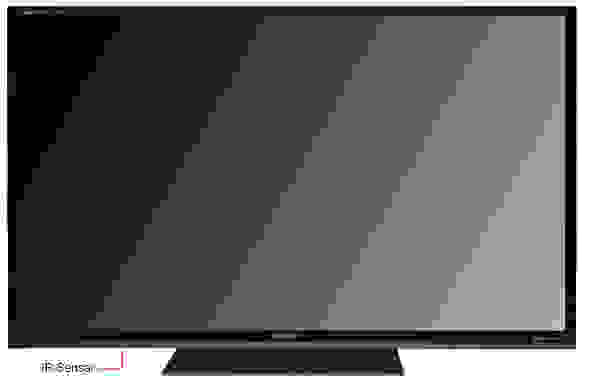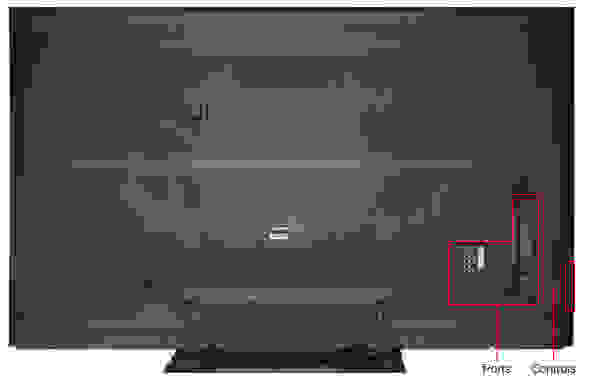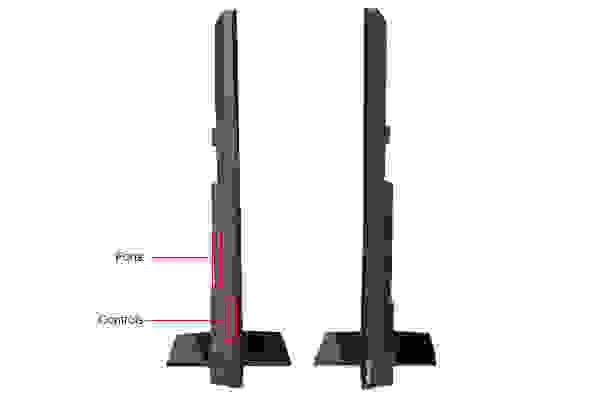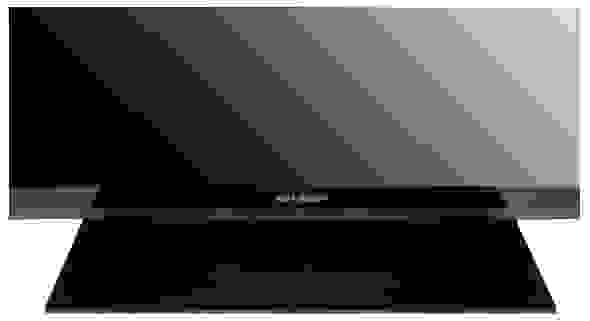 The on-set controls on the LC-80LE844U are located on the left side. There are buttons for turning the power on/off, accessing the menu, changing the input, changing the channel, and adjusting the volume.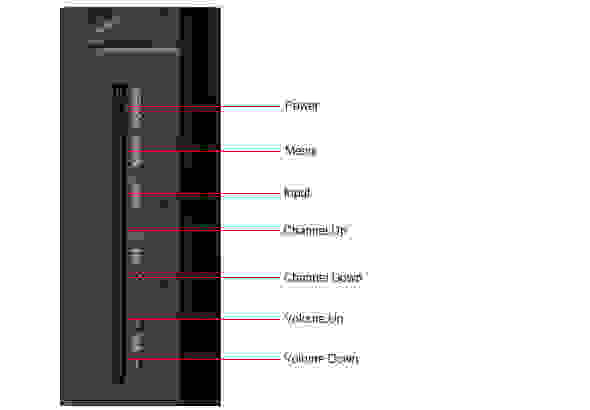 Sharp's remote feels slightly thinner than other remotes do, although this may only be something that you notice after reviewing countless TVs. This thin feel isn't a bad thing at all since Sharp still gets an ample amount of buttons on this remote. In addition to all of the standard buttons for changing the channel and volume, there are dedicated buttons for toggling the 3D, accessing Sharp's smart platform, and Netflix.
The Sharp LC-80LE844U comes with a remote, batteries, two pairs of active-shutter 3D glasses, a user manual, a connection guide, warranty information, and registration information.
Unboxing Video
Sharp gives you all sorts of options when it comes to connections on this TV, including the fabled RS-232C port, which is a low-speed data transfer port that became more or less obsolete when the USB was invented. This port is most likely included to aid Sharp technicians in troubleshooting.
The ports are all placed adequately on the left-side, especially the four HDMI ports – they're located directly on the side of the TV and are very easy to access here. The component input and the two composite inputs are also easy to access on the back, although we do wonder why there are two sets of standard definition ports on this TV titan. Wouldn't it have made more sense to throw in another component input?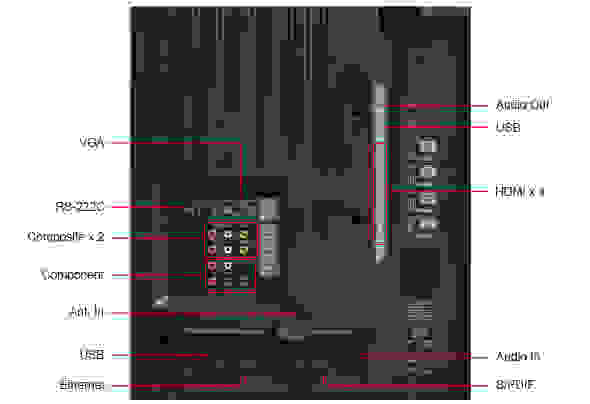 For a TV that costs $5,999, we were expecting some great performance scores. The Sharp LC-80LE844U only managed to impress us in the screen uniformity and sound categories – everything else was average and in some cases, subpar. The two biggest concerns for this TV are the color temperature and color gamut, which did not have the best results. The contrast was decent and the previously mentioned audio quality was actually quite good for built-in TV speakers.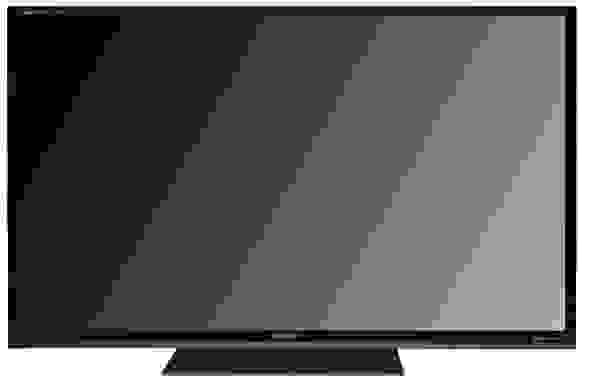 The LC-80LE844U had an average contrast, although it was outperformed here by the competition. The black level of 0.08 cd/m2 was good, but this Sharp could not get above 200 cd/m2 for its peak brightness. More on how we test contrast.

These curves show that the Sharp LC-80LE844U has good colors. None of the curves peaked early, which means that the colors do not display their peak values too soon. The red and blue curves are a bit jagged, which implies that these colors do not transition very smoothly. The black curve, representing the greyscale, has a very smooth transition. More on how we test color performance.
This is not a good color temperature chart. The blue area above the perceptible error limit line means that the picture displayed will be on the cooler (bluer) side. The reason this color temperature is bad is because it registers as cool for the majority of the chart. More on how we test color temperature.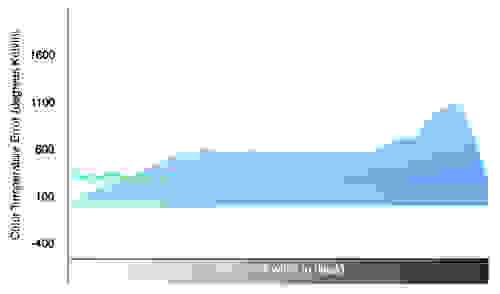 The greens look good on the LC-80LE844U's color gamut, but that's about it. The reds start to get slightly oversaturated (more vivid) and the blues are very oversaturated. More on how we test color temperature.
The picture dynamics were excellent on the UN55ES7500. This TV kept a consistent black level with an increasingly white screen and a consistent white level with an increasingly black screen. More on how we test picture dynamics.
The Sharp LC-80LE844U is a native 1080p HDTV. It supports all NTSC resolutions and formats.
This Sharp has a pretty subpar total viewing angle of 38° and was easily bested by a few other TVs. Interestingly, the top performer here is a 60-inch Sharp: the LC-60LE847U.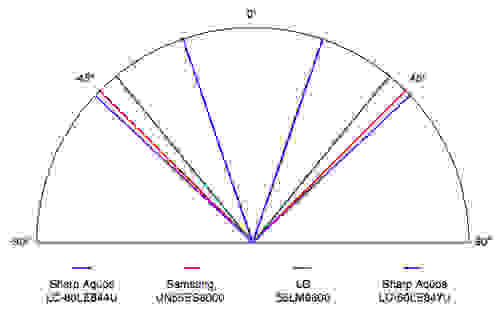 The LC-80LE844U had average motion performance results. During our blurriness test, which involves a picture moving horizontally across the screen, this Sharp produced a moderately blurry image. Color trailing wasn't much of an issue, but we did notice a trail of red behind a moving red square. Our jagged line test, which has a vertical line moving horizontally across the screen, was nearly perfect: the line stayed mostly straight with very little jaggedness.
The uniformity on Sharp's 80-inch LCD was superb. This back-lit LED TV produced a crisp and smooth image. An all-white screen was bright with no shadowing, while an all-black screen was very dark and avoided any sort of bright spots. Having a screen uniformity this good on a TV this big is no small feat, and we applaud Sharp for this.
Let's get one thing out of the way: no built-in TV speakers will ever be as good as a decent 5.1 or even 2.1 speaker arrangement. With that said, the audio quality on the Sharp LC-80LE844U is very good for TV speakers. The two 10-watt speakers are aided in their quest for sound superiority by a 15-watt subwoofer. The result is a fuller sound emanating from this Sharp, just as long as you remember to take advantage of it.
To get the most out of these speakers, and especially the subwoofer, we turned on the bass enhancer setting and then toggled on the 3D surround mode. We found that the clear voice setting, which boosts the sound of voices, was helpful to have on. There are options to individually boost the bass and the treble, although we didn't need to use either of them with the other settings turned on.
No one said powering an 80-inch television was going to be efficient. As you can see by the chart, the Sharp LC-80LE844U is much more costly to operate over the course of a year than its competition. The maximum backlight setting and the minimum recommended setting are the same here – our minimum recommended setting involves turning the backlight down until the TV reaches a peak brightness of 200 cd/m2, but the Sharp LC-80LE844U does not get that bright with the backlight cranked up all the way.
Calibrating the LC-80LE844U was simple and involved tweaking just a few settings. Sharp offers a vast amount of different options to play with, but most are pretty advanced (hue, saturation, gamma adjustment, etc.) and we wouldn't recommend touching them unless you completely understand them.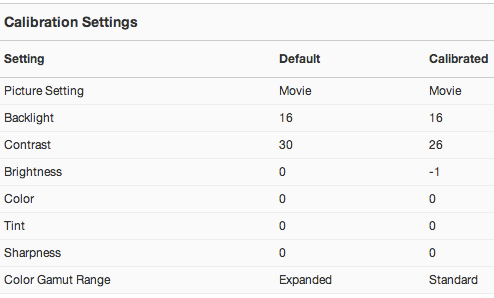 All of our calibration is done in conjunction with the DisplayMate software.
](http://www.displaymate.com/)
Sharp gives plenty of options to choose from when selecting a video mode. Settings can be fine-tuned in each mode, except Dynamic (fixed).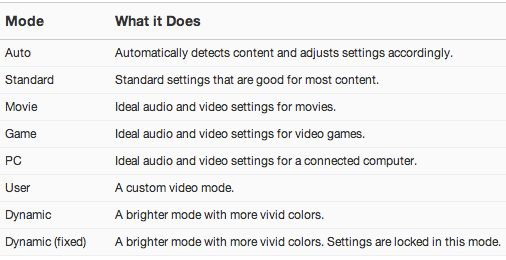 If not for the annoying image ghosting problems, this TV would rank as one of the best 3D TVs we have seen. The Sharp LC-80LE844U makes use of active 3D technology, which means that the 3D glasses sync up with the TV in order to display two separate and alternating images. The effect produced flirts with greatness: closeups of images are great and we would sometimes get a lovely pop-out effect. Unfortunately, the aforementioned problem of image ghosting surfaces: most movie scenes that we tested had noticeable crosstalk issues.
The thought of watching a 3D movie on this 80-inch mammoth excited us from the moment we received it, but alas, this love affair was not meant to be. The actual 3D effect – images occasionally popping out and added depth – is quite good, but the real problem comes from some annoying image ghosting, which we get into later.
Sharp gets a pat on the back for including two pairs of their active 3D glasses with the LC-80LE844U. These glasses, model AN-3DG10-S, retail for around $100 a pop. While we love having 3D glasses included with our TVs, we weren't fans of the actual glasses. They are bulky and heavy enough to notice; wearing these for a two-hour movie wouldn't be our idea of a good time.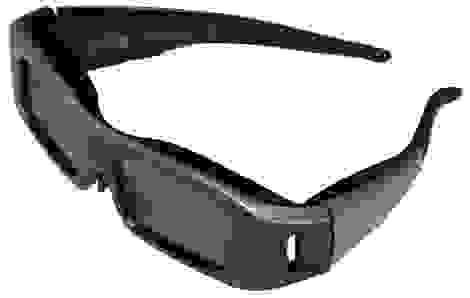 Wearing a pair of 3D glasses is akin to wearing sunglasses, so the peak white level is drastically reduced while the blacks get darker. The Sharp LC-80LE844U still has a respectable contrast ratio of 1040:1.
While the 2D color temperature took an a cooler tone, the 3D color temperature is much warmer. This is noticeable throughout the whole chart, which means that the lowest input signal to the highest input signal are affected.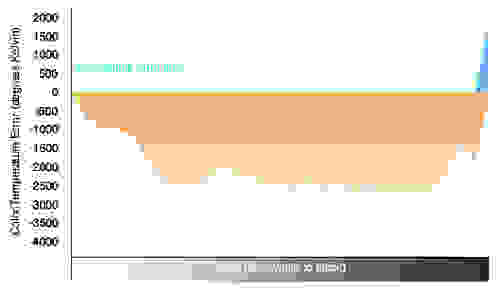 These curves are very inconsistent. None of them transition very smoothly, which means transitional colors are left out. The red and green curves peak too early, while the greyscale curve (black) and blue curve do not.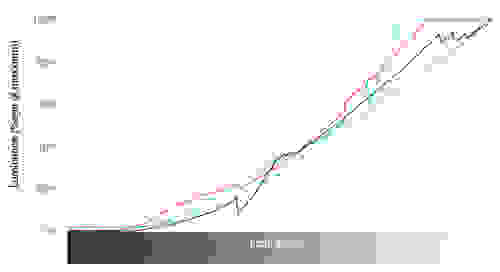 The 3D color gamut is very similar to the 2D gamut, which was nothing to brag about. The white point on this one is towards the blue side and the greens are slightly oversaturated.
Crosstalk, or image ghosting, is when an image intended for one eye bleeds into the image intended for the other eye. This annoying byproduct of 3D was pretty noticeable during our testing. Greys and reds produced the most crosstalk; a person with a grey outfit or a building that was red would be plagued by a ghost image.
Sharp's smart platform, SmartCentral, feels a bit too simple. It is an easy interface to navigate, but there are a total of twelve apps to actually use on it. If you were looking to remedy this situation with an app store, there is none to be found. We appreciate Sharp's simple design of SmartCentral, but without much content, there is no reason to come back except for Netflix and Hulu Plus. If Sharp can implement an app store, or partner up with another company that can assist with apps, then we can see SmartCentral being of more use. Until then, it is simply a talking point on the box.
TV browsers in general are lackluster and Sharp's browser is no different. There is an address bar, favorites, and not much else. Websites seemed to load slowly, which is doubly frustrating when you consider how long it takes to input a URL with the remote.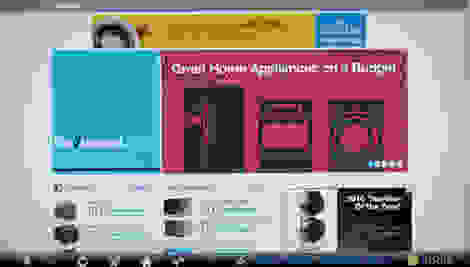 For a more detailed look at Sharp's Smart TV browser, take a look at our detailed overview here.
Netflix, Hulu Plus, and YouTube are here, but not much else. Sharp does not currently have an app store, so if you expected to expand on the twelve apps offered, you are out of luck.
Vudu Apps is included and it looks an awful lot like an app store, but it is not. Vudu is more like a separate interface that has a few built in apps, like Facebook, Twitter, and Picasa. Most of the content included on Vudu is streaming video content, usually in the form of a trailer or a clip for a TV show.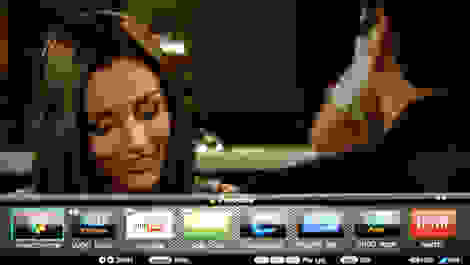 Setting up an internet connection on the Sharp LC-80LE844U can be done when you turn on the TV for the first time or, if you decide to skip doing that, by going to the system options tab in the main menu. The LC-80LE844U had no problem detecting our wireless network and connected immediately after we entered our network password.
The LC-80LE844U can detect USB media files and play them back. We were able to view photos and play videos and music on this TV. The interface is easy enough to use, but it won't win any beauty pageants – it looks like someone's high school Powerpoint project.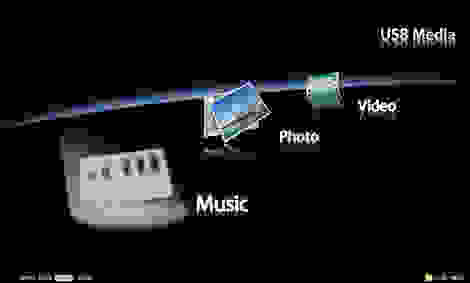 The menu interface that Sharp uses is basic, but it looks decent and it navigates smoothly. The menu is divided into six different categories: picture settings, audio settings, power control, system options, initial setup, and information.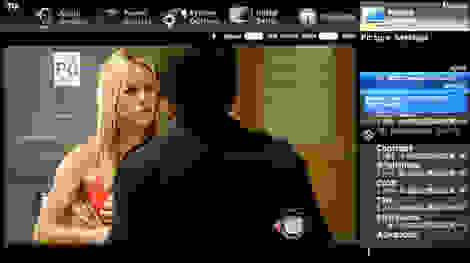 Sharp's menu interface has a retro feel to it – the font used resembles the late, great MS-DOS. This isn't a bad thing at all since the actual menu controls so well, not to mention everything is easy to read because of the screen size.
If there was ever a user manual that was made for the LC-80LE844U, it would be this one. This encyclopedia-sized manual includes sections for English, French, and Spanish, but each section is around 90 pages long. There are detailed instructions for doing almost everything with this TV, including accessing 3D, setting up a wireless connection, and connecting your TV to a PC.
We enjoyed our time with the Sharp Aquos LC-80LE844U (MSRP $5,999). It's not everyday that we get a chance to review a TV of such proportions and this one certainly didn't disappoint when it came to delivering the "wow" factor.
After being around the LC-80LE844U for a couple of days, that "wow" factor starts to fade and the realization that this is just an ordinary smart TV with extraordinary proportions kicks in. That isn't to say that we didn't have good things to say about this TV, because we did. The screen uniformity was fantastic and the audio quality coming out of its built-in speakers was quite good. This TV had a decent contrast ratio and displayed greys and blacks very well.
Unfortunately, we had plenty of not-so-good things to say about the LC-80LE844U. The colors in general were not bad, but the TV's color temperature consistency was problematic. This Sharp displayed a slightly cooler (bluish) tone. The 3D effect on this started out good, but image ghosting became too noticeable in too many scenes and ruined the experience. Then there is SmartCentral, Sharp's smart platform, which has barely any content.
Purchasing an 80-inch TV is not something that we envision the average consumer doing very often. TV's like the LC-80LE844U might be purchased for commercial properties or for those who have plenty of space to fill in their living rooms – we won't judge. If you absolutely must purchase an 80-inch TV, your options are rather limited, but the Sharp Aquos LC-80LE844U is really not a bad choice when it comes to watching TV – just don't expect to get much use out of the extras features like 3D and internet.
Meet the tester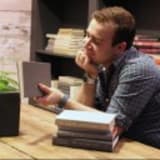 Josh Fields
Staff Writer
@reviewedtech
An enthusiast of all things tech, Josh is one of Reviewed.com's resident television experts. When he's not looking at bright TV screens in a dark room, he's probably reviewing a laptop or finding a new snack at 7-11.
Checking our work.
We use standardized and scientific testing methods to scrutinize every product and provide you with objectively accurate results. If you've found different results in your own research, email us and we'll compare notes. If it looks substantial, we'll gladly re-test a product to try and reproduce these results. After all, peer reviews are a critical part of any scientific process.
Shoot us an email