There were some color accuracy errors on the LC-80LE844U and the 3D effect was riddled with crosstalk. This Sharp does have a few things going for it, including a decent interface and fantastic screen uniformity. Whether or not this justifies the exorbitant price depends on how badly you need an 80-inch television in your living room.
An average looking TV that is thin for its size.
After getting over how massive the LC-80LE844U is, the realization that this is a mundane TV starts to sink in. There is nothing inherently wrong with this TV's design, but it doesn't stand out from the crowd, either. The bezels are thicker than we would have liked and the stand is unspectacular. Some concessions probably had to be made to accommodate an 80-inch TV—the lack of swivel was most likely one of them. We should point out that despite its middling looks, this Sharp TV is very thin.
There are plenty of connections on the LC-80LE844U, located on the right if viewing the TV from the back. There are four HDMI inputs, two composite inputs, a component input, and even an RS-232C port, just to name a few. The lack of a base that swivels might make accessing some of these connections difficult, depending on where the TV is placed.
Sharp's smart platform feels a bit too simple.
The menu interface on the LC-80LE844U is appealing and a breeze to navigate, thanks in part to the massive screen size that makes text larger and easier to read. It is divided into six different categories: Picture Settings, Audio settings, Power Control, System Options, Initial Setup, and Information.
SmartCentral, Sharp's smart platform, is very easy to navigate, which is largely due to the lack of content. We counted a total of twelve apps on SmartCentral, with the standouts being Netflix and Hulu Plus. If you were looking to remedy this situation with an app store, prepare to be disappointed, because Sharp did not include one.
There is a browser included on the LC-80LE844U which falls into the same category as most TV browsers: useless. There is an address bar and access to favorite websites, but not much else. To make matters worse, websites loaded very slowly, which is doubly aggravating since inputting text with the remote takes long enough.
Mediocre colors overshadow this Sharp's great uniformity.
We weren't too impressed with the picture quality on the Sharp LC-80LE844U, with color in particular having some errors. The worst offender is the poor color temperature: there is a bluish tint to most images. This may be directly related to the incredibly vivid blues that the LC-80LE844U produces.
This 80-inch monster handles motion performance slightly better than it does colors. Motion artifacting was present when testing for blurriness and color trailing. Highly detailed images showed some blurriness, while red colors showed an amount of color trailing. The LC-80LE844U handled straight lines and edges almost perfectly.
...the screen's uniformity is excellent.
While the viewing angle was an unspectacular 38°, the screen's uniformity is excellent. Whether the 80-inch Sharp had a completely white image or a completely black image on the screen did not matter—they both looked crisp and uniform. Managing quality screen uniformity on an 80-inch panel is no small feat, and Sharp should be applauded for it.
Good 3D is ruined by recurring crosstalk
The 3D experience offered on the Sharp LC-80LE844U is disappointing, to say the least. Some movie scenes looked great, with the added depth and immersion that 3D offers, but crosstalk would rear its ugly head to ruin the experience. Greys and reds produced the most crosstalk: a person with a grey outfit or a building that was red would be plagued by a ghost image.
Sharp gets a pat on the back for including two pairs of active 3D glasses with this TV. These glasses retail for about $100 each, so it was a pleasant surprise to find them in the same box as the TV. Unfortunately, Sharp's 3D glasses aren't the most comfortable spectacles I have used. They are bulky and heavy—adjectives that you don't want affixed to anything placed on your head.
Don't let its size fool you—this is an average TV.
It's not everyday that I get a chance to review a TV of such monstrous proportions and the Sharp LC-80LE844U certainly didn't disappoint when it came to delivering the "wow" factor. However after spending a good deal of time with this TV, the unfortunate news is that, considering its size and price, it doesn't live up to expectations.
The core performance this Sharp offers is mediocre.
There isn't a real standout feature on the LC-80LE844U. While the menu interface looks good and the screen's uniform light distribution is great, we can't recommend a TV that costs $5,999 based on those features alone. The core performance this Sharp offers is mediocre. Motion performance is acceptable, but the viewing angle is subpar. The most troubling thing about the LC-80LE844U is its flawed color accuracy. The sigh-inducing smart platform and crosstalk-heavy 3D only add to this Sharp's problems.
If you absolutely must purchase an 80-inch TV, your options are rather limited. The Sharp Aquos LC-80LE844U is not the worst choice when it comes to watching TV—just don't expect to get much use out of the extras features.
The Sharp Aquos LC-80LE844U did not have the worst performance results that we have ever seen, but they did not justify the steep asking price. The biggest snags that this Sharp ran into were issues with color accuracy and a poor viewing angle.
The Sharp LC-80LE844U displays a great deal of color temperature error.
The blue area above the perceptible error limit line means that the picture displayed will be on the cooler side. The majority of the chart displays this visible color temperature error, which in the case of the LC-80LE844U, is simply awful. More on how we test color performance.
Deep blacks help give this TV a decent contrast ratio.
The Sharp LC-80LE844U's contrast was decent, although it was outperformed by its competition. The black level of 0.08 cd/m2 is good for an LED, although the peak brightness of 194.04 cd/m2 is not that bright. More on how we test contrast.
The LC-80LE844U displayed a narrow viewing angle.
This Sharp's total viewing angle of 38° was not the worst that we have seen, but it was easily bested by its competition. Interestingly, out of the three TVs that we compared the LC-80LE844U to, the top performer was a similar Sharp: the LC-60LE847U. More on how we test viewing angle.
Meet the tester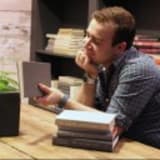 Josh Fields
Staff Writer
@reviewedtech
An enthusiast of all things tech, Josh is one of Reviewed.com's resident television experts. When he's not looking at bright TV screens in a dark room, he's probably reviewing a laptop or finding a new snack at 7-11.
Checking our work.
Our team is here for one purpose: to help you buy the best stuff and love what you own. Our writers, editors, and lab technicians obsess over the products we cover to make sure you're confident and satisfied. Have a different opinion about something we recommend? Email us and we'll compare notes.
Shoot us an email