Unfortunately, where the UB30U delivers a lot of flash, it isn't so strong in terms of subtlety and color accuracy. To get as bright as it does, the panel really pushes the blue sub-pixel, resulting in blue-tinged grayscale (neutral) elements and skewed colors. Check out the charts and data below.
Still feel like 4K TVs are brand-new? That's understandable. But the truth is, they've been on the market long enough that you've got tons of options—from $10,000 behemoths down to triple-digit budget buys, and everything in between. It's a jungle out there!
Thankfully, there are sets like the Sharp LC-65UB30U (MSRP $2,399, online for $1,599) that carve out a valuable niche between super-premium and bargain bin. For less than two-grand, you get a full-array backlight with local dimming, apps that stream 4K content, and above-average build quality.
But while the 65-inch UB30 checks off a lot of the right boxes on paper, time in the lab revealed that the TV needs an attentive calibration in order to look its best. While that's not a deal-breaker, it compares unfavorably to similarly priced options with more accurate pre-set picture quality.
The UB30U Series is available in 4 screen sizes
Sharp's UB30U series is the company's entry-level 4K lineup for 2015. It includes four screen sizes: a 43-inch (Sharp LC-43UB30U, online for $549), a 50-inch (Sharp LC-50UB30U, online for $697), a 55-inch (Sharp LC-55UB30U, online for $829), and a 65-inch (Sharp LC-65UB30U, online for $1,599).
The TVs are identical in appearance and smart features, but differ in picture quality. Notably, the 65-inch features a full-array backlight with local dimming technology, while the 43-, 50-, and 55-inch options are still full-array, but don't utilize the same local dimming. This makes for considerable performance differences.
Check out our review of the LC-43UB30U for more information.
We calibrate each TV we test for two reasons. For one, a full professional calibration reveals the full extent of a TV's calibration controls, in case buyers decide to get the same model calibrated at home. Second, the calibration illustrates the extent to which the TV misses or matches the international standards for HD/UHD TV performance.
Calibrating the UB30 was a somewhat difficult process. Calibrating any FALD (full-array local dimming) set is always challenging, because the algorithms that control the dimming function don't always interact properly with test patterns, especially when measuring gamma. We aimed for a dark room calibration, with a reference brightness of 40 fL and a gamma slope/curve of 2.4. While calibrating for these settings was possible, I had to shut off the AquoDimming function during calibration, and make fairly major tweaks to the TV's grayscale and color tuners.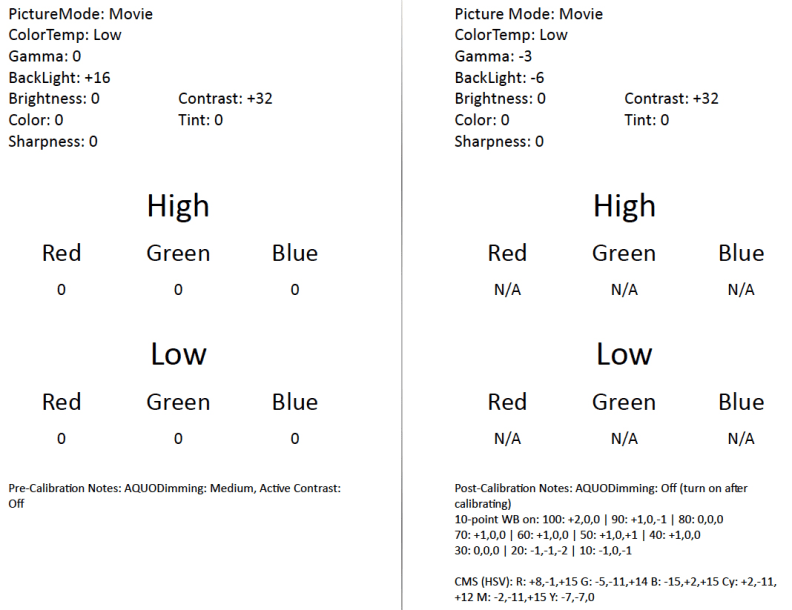 Contrast is one of the UB30U's strongest areas. Because it's a FALD LED, it's capable of generally better black levels than competing sets, though it's not nearly as dark as some of the other FALD TVs we've seen last year and this year. It makes up for it with a blistering reference brightness, however. In Movie mode, I measured a solid black level of 0.08 cd/m2 and a reference brightness of 318.60 cd/m2 , giving the 65-inch UB30 a contrast ratio of 3982:1, which is great for this price range.

Not the sharpest dresser, but most people will like the way this TV looks.
For a little under $2,000, this mammoth 4K TV could look a lot worse and still get away with it. While its appearance might not warrant the same oohs and ahhs as the flashiest sets, the design materials still skirt well above the cheapest options.
Like all your friends, this TV does the lowrider—rather, it follows a traditional Sharp design schema that focuses on minimizing space between the panel and tabletop. The TV's dual curved feet also sit very far apart, so compare your TV stand against the panel width before you buy.
Beyond the wide feet and low panel height, the UB30 won't drop jaws, but it's modern-looking and stable, at least. Though if you haven't seen a modern TV in a while you'll probably be impressed by the super-narrow bezels. At only half-an-inch thick, they practically shout "look at this gigantic screen!"
Audio-video connections and control buttons are hidden on the back of the TV amongst an expanse of charcoal-colored plastic. Here, you'll find four HDMI inputs (all HDCP 2.2/HDMI 2.0), two USBs, a coaxial jack for cable/antenna, and component/composite inputs. There's also an input for a LAN (ethernet) cable, but we imagine most people will just use the built-in WiFi.
The general speaker quality isn't bad, but if you want big sound to match the big picture, you might want to upgrade. You can connect external audio via digital (optical) out, analog stereo out, or aux. (3.5mm) output. If you do go for something like a soundbar, keep in mind that it could block the TV's remote sensor because of how close the panel sits to the table.
Finally, the remote control included with the UB30 works well in a general sense, but suffers from something of an identity crisis. Despite mimicking the light, slim look of this year's fancy "smart" remotes, it doesn't actually do anything that makes those remotes worthwhile, such as voice search or cursor control. Frankly, I miss the sturdy heft and reliable button travel of Sharp's older remotes.
Smart Central does a great job, and (thankfully) doesn't try to get too fancy.
Today's premium TVs usually include a "smart" remote or motion wand. These remotes often tout cutting-edge features like voice recognition or built-in track pads. When they work, they make tasks like typing and web browsing much easier (though they also bump up the price).
You don't get one of those fancy remotes with the UB30U, and it makes a big difference. You're saving some money, but the smart experience isn't as smooth as it could be. Navigating a well-designed app like Netflix is easy enough, but typing search terms or browsing can be woefully sluggish.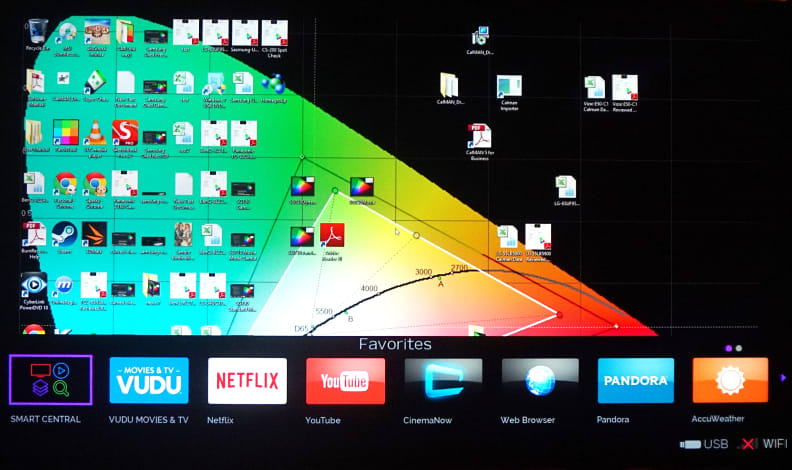 For example, it takes forever to type in something like "Crouching Tiger, Hidden Dragon," especially with no autocomplete functions to speed things along. Web browsing is dicy, too, and page load times occasionally tank into sloth territory. But while the UB30 isn't the best choice if you need your smart TV to be the fastest gun in the west, it still works in a pinch.
The 65-inch UB30 can display real-time programming from a cable or satellite provider.
There are some cool features here, too. We particularly like the UB30's cable integration, which allows it to display real-time programming from cable/satellite. Setup is quick and easy, and the end result is much more attractive than typical cable menus. Just remember that more cable and over-the-air content is still capped at 720p or 1080i resolutions, so it may not look amazing on a big 4K screen.
The UB30 streams 4K as well as any other 4K TV you can buy, but the Smart Central platform doesn't offer as many 4K apps as some of the competition. You do get Netflix and YouTube—two of the biggest sources of 4K—but Amazon Instant and UltraFlix are missing.
In the past, you could just plug in a Roku stick, but since most streaming devices can't handle 4K content yet that isn't an option here. If 4K streaming is driving your purchase, consider that competing 4K sets may provide more 4K-capable apps.
Finally, the 65-inch UB30U delivers a suite of software enhancements and picture controls that compete with what you'll find on pricier TVs. For example, AquoDimming allows you to adjust the strength of the TV's local dimming. You also get a separate Active Contrast mode, a full CMS, 2/10-point white balance controls, a film mode, and Sharp's Wallpaper mode.
Gamma refers to how quickly or slowly a TV adds luminance at each electrical signal step as it moves out of black (minimum luminance) to reference white (maximum required luminance). Gamma will ideally move smoothly from point to point, adding the same luminance (logarithmically) between each IRE step from 10 to 100.
The UB30U behaved strangely here, probably because its dimming function tends to darken elements below 50 IRE and brighten elements above it, creative a sort of zig-zagged gamma. However, when we turned the dimming function off during calibration, we found that the TV was able to produce a very flat, even 2.38 gamma (close to the 2.4 we aimed for).

The TV's white balance (or grayscale tracking) and RGB sub-pixel emphasis is where it begins to exhibit problems that we don't see often in a pre-set Movie mode. Namely, this mode is meant to be a TV's closest approximation of "correct" color and white balance production, as detailed in the international standards document for HDTVs, colloquially called "Rec. 709."
Testing revealed a rather high degree of grayscale error—we've seen worse, but only from very cheap off-brand sets. I measured a grayscale error of 9.82, where 3 or less is considered ideal. Calibration revealed the TV is very much capable of good grayscale tracking, as the post-cal reading was dE 0.95.

If we take a closer look at the TV's sub-pixel emphasis, we can see where it pushes blue well out of nominal percentage ranges. Ideally, each sub-pixel primary (red, green, blue) will receive 100% emphasis from 0 IRE through 100 IRE. The UB30U pushes blue up above the 105% and even 110% ranges, approaching 115% blue emphasis by the end of the signal chain. Again, correcting this during calibration wasn't terribly difficult.
Full-array local dimming is still a home-town hero.
If you're looking for a high-quality LCD TV, 4K or otherwise, a set with a full-array backlight and local dimming—or "FALD"—is a good place to start. These TVs feature lights (LEDs) behind the entire panel rather than just along the edges, and locally dim/boost them to complement content.
While all of the UB30 models (such as the 43-inch we recently reviewed) feature a full-array backlight, only the 65-inch version has local dimming, and it makes a big difference. While the 43- and 65-inch UB30 TVs produce similar black levels, the latter is much brighter, and capable of dynamic, area-based contrast results that reach well beyond the smaller model.
On the other hand, I found that the number of local dimming zones could create similar problems to what we saw on Vizio's similarly spec'd M Series: namely, very bright and very dark areas really pop, but the in-betweens sometimes struggle to fit smoothly in the middle. This occasionally makes for blocky transitions from heavy shadows to brighter areas, especially with moving objects.
The TV's local dimming is still a huge plus overall, however. For example, the 65-inch boasts better backlight uniformity than competing edge-lit models by a long shot. While our unit did exhibit some backlight bleed in the lower left corner, it was only readily visible in a completely dark room—hardly a deal-breaker for most viewers.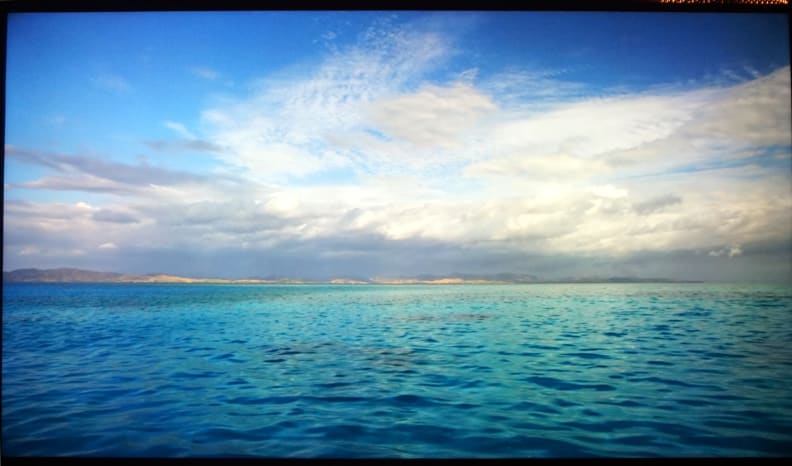 Like the 43-inch model, the 65-inch wields a VA (vertical alignment) style panel. This comes with the usual pros and cons: contrast is solid, but the TV's horizontal viewing angle isn't great. This isn't as much of a problem on smaller TVs, but for a 65-inch it's worth keeping in mind, especially if you're considering wall-mounting this set. If you're watching from 10 feet away, you can only move around four feet to the left or right of center screen before the picture begins to look washed out.
The LC-65UB30U wields a 120 Hz refresh rate panel, the best available for LCD TVs in terms of motion performance. I watched a good portion of Prometheus on Blu-ray, and found that (generally) the motion was acceptable, but I actually preferred the look of things with the TV's motion enhancement set to "Low"—this reduced motion blur considerably. Occasionally, it also over-smoothes the look of film-based content, but it's much subtler than what we've seen from similarly priced models.
Color Accuracy (or lack thereof)
Clearly, the 65-inch UB30U checks off a lot of the right boxes: solid contrast, tons of brightness, decent motion handling, and good backlight uniformity. It's on the path to being one of the best 4K TVs in this price range—almost entirely because it isn't edge-lit. Unfortunately, the TV veers a little off course in terms of traditional color accuracy and presentation.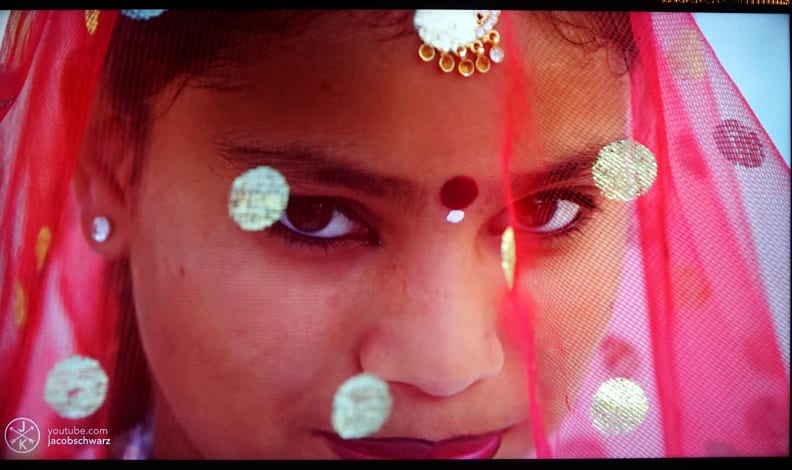 We tested every picture mode, and found that while Movie mode does present the most accurate out-of-the-box picture, it's still notably less accurate than a wide majority of the year's LCD TVs.
More specifically, the UB30U puts so much emphasis on being very, very bright that it has trouble with balance: dark, middle gray, and white elements are tinged with blue, where normally they'd be a much "warmer" temperature. This can make for some jarring-looking content, especially with very neutral content like classic black-and-white movies.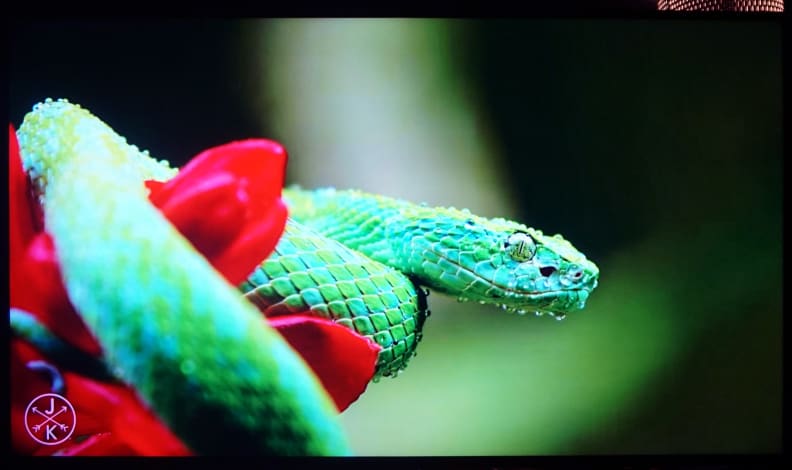 We also found that the TV's basic color production, while not entirely inaccurate, was less on-the-mark than much of the competition, tending to oversaturate green and red, with the excess blue pulling secondary colors like cyan and magenta into the wrong hues. This makes for odd-looking content some of the time, especially if it's something you're very familiar with, like family photographs.
For charts and test results, as well as our calibration results, check out the Science Page.
Most people will love this TV, but videophiles should steer clear.
If you're looking for the most accurate picture or consider yourself a videophile, you may be disappointed with the 65-inch UB30. While the TV's local dimming scheme works well in terms of contrast, it falls a little short of winning any awards in terms of color accuracy and white balance. While you could argue that it's standard performance for a TV in this price range, Vizio's 65-inch M Series begs to differ.
On the other hand, if you're not too hung up on accuracy and a "calibrated" white balance, you'll likely love this TV for its sleek, minimal appearance; simple smart features; and solid contrast via full-array local dimming. And unlike some dimming-based LED TVs, the 65-inch UB30 is blazingly bright, making it an awesome choice for a well-lit room with lots of lights or windows.
You won't find many 65-inch full-array 4K options for $1,600, that's true—but it's also a little hard to wholly recommend this Sharp against the competition. While you can get this one looking about as good as the Vizio with a calibration (check our results here), you also aren't saving any money with this option, making it a hard sell at the end of the day.
Finally, a look at the UB30U's color production reveals that (compared to standard rec.709 HD TV color) this excessive blue emphasis has a negative impact on the TV's secondary colors and white point. In the charts below, the seven boxes represent the ideal color production points for current HDTVs, while the color dots represent pre- and post-calibration results.
Because it produces so much blue by default, the UB30U's white point is skewed outside of nominal ranges towards the blue dot, while cyan (green + blue) and magenta (red + blue) are skewed in a similar direction. Fortunately, it's possible to correct much of this color error via the TV's built-in CMS (Color Management System).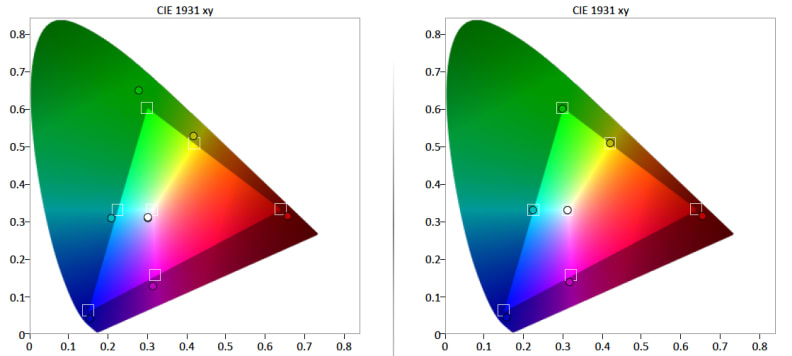 Meet the testers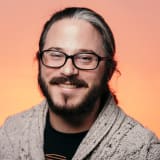 Lee Neikirk
Editor
@Koanshark
Lee has been Reviewed's point person for most television and home theater products since 2012. Lee received Level II certification in TV calibration from the Imaging Science Foundation in 2013. As Editor of the Home Theater vertical, Lee oversees reviews of TVs, monitors, soundbars, and Bluetooth speakers. He also reviews headphones, and has a background in music performance.
See all of Lee Neikirk's reviews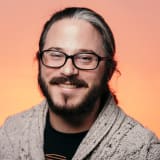 Lee Neikirk
Editor
@Koanshark
Lee has been Reviewed's point person for most television and home theater products since 2012. Lee received Level II certification in TV calibration from the Imaging Science Foundation in 2013. As Editor of the Home Theater vertical, Lee oversees reviews of TVs, monitors, soundbars, and Bluetooth speakers. He also reviews headphones, and has a background in music performance.
See all of Lee Neikirk's reviews
Checking our work.
We use standardized and scientific testing methods to scrutinize every product and provide you with objectively accurate results. If you've found different results in your own research, email us and we'll compare notes. If it looks substantial, we'll gladly re-test a product to try and reproduce these results. After all, peer reviews are a critical part of any scientific process.
Shoot us an email