So is the 450U king of the budget-TV mountain? Sadly, no. Measly motion and crummy color bully this TV's picture quality quite a bit, pushing it right out of purchase consideration.
Dressed in black (plastic)
The LE450U is entirely ordinary. A dinky, rounded stand sits glumly below, and a chunky rectangle balances on top. Everything is shrouded in black. In a word, the design looks cheap—which it is. One positive note? This 32-inch TV barely weighs a thing—less than 20 pounds with the stand—so I could effortlessly move it around by myself.
And as for connectivity, it's really not so bad. On the left side, facing out, users will find two HDMI hookups, one USB port, and a headphone jack. On the back, facing the floor (annoyingly), are shared composite/component ports, a PC audio in, a digital audio out, an antenna hookup, and a PC in.
Little price tags don't deliver the extras.
Again, since this is such a low-end item, users will find the feature set quite limited: We're talking child locks and sleep timers here. If you want 3D, content streaming, funky remotes, and other modern-day TV extras, you must prepare your billfold for a harder blow.
If you want modern-day TV extras, prepare your billfold for a harder blow.
The menu provides a very basic pack of settings to tinker with. Oddly, many of them do very little. For instance, Color Temperature consists of about four settings, but the variance between each is rather indistinct, and none solve the visible temperature errors anyway. The same goes for the Surround Sound mode—I literally couldn't detect a difference between the on and off positions! Luckily, there is an equalizer on hand to help with your 5-watt speaker woes. Wrapping things up, Contrast, Brightness, Backlight, and Sharpness are all included–but again, none of them are particularly responsive.
Stupendous contrast pestered by color trouble
This is one dark little TV! For a 32-inch display that costs less than $300, we weren't expecting such stupendous blacks, especially for an LED. Not only this, but the 450U shines very brightly, too. Packed with contrast like this, a TV is well on its way to delivering beautiful, lifelike images.
The viewing angle is very narrow and motion performance is poor.
But color is the other key component, and the 450U just doesn't deliver. Frankly, during the remainder of the performance tests, the wheels fell off. Inaccuracy is the first problem: This TV's whites have an unpleasant blue tint; its reds are faded; its blues are too vibrant. From there, the troubles just keep coming. Medium and dark greys are polluted by visible color temperature errors, so shadows often have orange or blue tints. The viewing angle is very narrow and motion performance is poor (terrible blows to sports fans). Blurring and trailing pestered detailed, fast-moving objects during testing, and there are no special settings to offset these troubles.
A bargain-bin TV that should probably just stay in the bin
Everyone loves a great value, but the 450U just isn't the deal of the day. I felt hopeful after running the first test and noting such excellent contrast—low-end LEDs don't usually deliver blacks this deep. But I smelled trouble, too. The 450U required quite a bit of calibrating, as it was too bright out of the box, and color temperature errors were clearly visible. In the end, the host of color errors, motion problems, and poor viewing angles really knocked this TV out of the running.
For $289.99, you can't expect the world, but performance problems this visible just aren't worth the trade-off in dollars.
Sometimes, it's hard to face the truth. When you read a review that shatters your bargain-bin dreams, you just don't want to believe it. Well, here on the science page, we publish the hard data upon which we stake our claims.
After time in our lab, and with the help of Konica Minolta's CS-200 chroma meter and LS-100 luma meter, as well as test patterns from DisplayMate software, we have the numbers that tell the 450U's story.
A TV fit for Poe
I was not expecting to measure the black level that this little TV produced. Frequently, even mid- and top-tier LEDs don't get very dark, due to design challenges inherent to the technology. Therefore, when I collected a 0.04 cd/m2 dark reading, I was delighted. And Sharp's 450U shines quite brightly as well, with a peak luminance of 202.9 cd/m2 that puts its contrast ratio at a hardy 4831:1.
Contrast like this is what allows a display to render the contours of an image in a detailed, lifelike way. As such, it is one of our more important tests.
Consider the performance party crashed.
Well, even with its spectacular contrast, the 450U scored poorly overall—and its color is largely to blame. During color testing, we look at three major aspects of performance: gamut, temperature, and curves. A television's gamut shows how accurate its hues are by comparing them to the Rec. 709 international standard for HDTV color. The results for the 450U reveal undersaturated reds, oversaturated blues, and a wandering white point. Thus, blues appear unnaturally vibrant and punchy, reds are underemphasized and faded, and whites have a bit of an azure tint—not what you want at all. Meanwhile, visible color temperature errors occurred at the medium to dark end of the greyscale, plaguing shadows with orange and blue tints.
Color curves looked satisfactory, at least. The 450U produced fairly smooth curves, indicating seamless shifts from hue to hue, and thus a clean, detailed picture. The only notable error here is an odd drop in luminosity of reds at the upper end of the scale, indicating a momentary loss of detail at that point.
Stingy viewing angles
If you have ever watched TV from a hard angle and noted a dim, muddled picture, then you're familiar with the unpleasantries of a panel with a stingy viewing angle. To procure a measurement as to this aspect of a TV's performance, we measure its contrast from head-on first; next, we collect contrast readings from positions along an arc and compare them to the original. When the contrast falls below 50% of its original point, we mark the angle.
The 450U did quite poorly on this test, as LEDs often do, with a total viewing angle of 28º. That means that if you're at more than a measly 14º from the middle of this display, your picture will look far worse than from front-and-center.
Meet the tester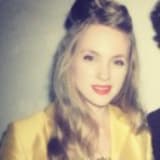 Virginia Barry
Former Managing Editor
@
Virginia is a former Managing Editor at Reviewed.com. She has a background in English and journalism. Away from the office, Virginia passes time with dusty books & house cats.
Checking our work.
We use standardized and scientific testing methods to scrutinize every product and provide you with objectively accurate results. If you've found different results in your own research, email us and we'll compare notes. If it looks substantial, we'll gladly re-test a product to try and reproduce these results. After all, peer reviews are a critical part of any scientific process.
Shoot us an email