Last year, Sony FINALLY joined the OLED TV party by debuting its flagship A1E OLED TV. Available in 55, 65, and 75 inch sizes, the TV wielded some odd features: an "acoustic surface" screen and an easel stand that caused the TV to lean back at an angle.
We never got the chance to review that model, but fortunately, Sony is carrying it over into 2018 as its flagship. Even more fortunately for consumers, the company has also added a new OLED line: the A8F series.
Available in 55- and 65-inch sizes, the A8F OLEDs (AF8 in EU) have more traditional stands and orientations, and—unlike the A1E, which started at $3,000—might actually be affordable. I went eyes-on with the A8F at Sony's booth during CES, and these are my impressions.
About the Sony A8F series
Sony's A8F OLED TVs are available in two screen sizes:
• 55-inch (Sony XBR-55A8F), price not confirmed
• 65-inch (Sony XBR-65A8F), price not confirmed
Both A8F TVs deliver most of the same great specs as the higher-end A1E: 4K resolution, HDR, the Android TV smart platform, and—yes—the "acoustic surface" screen. They'll also use the same X1 Extreme processor, so the major differences are almost entirely cosmetic, related to the A1E's leaning stand.
What We Like
No more lean!
It's hard to point out boons and banes when it comes to OLED panels. They simply look so good already—offering perfect black levels for amazing contrast, rich color, excellent viewing angles, etc. etc. But one of the biggest enthusiast complaints about Sony's freshman OLED outing, the A1E, was the strange stand design choice.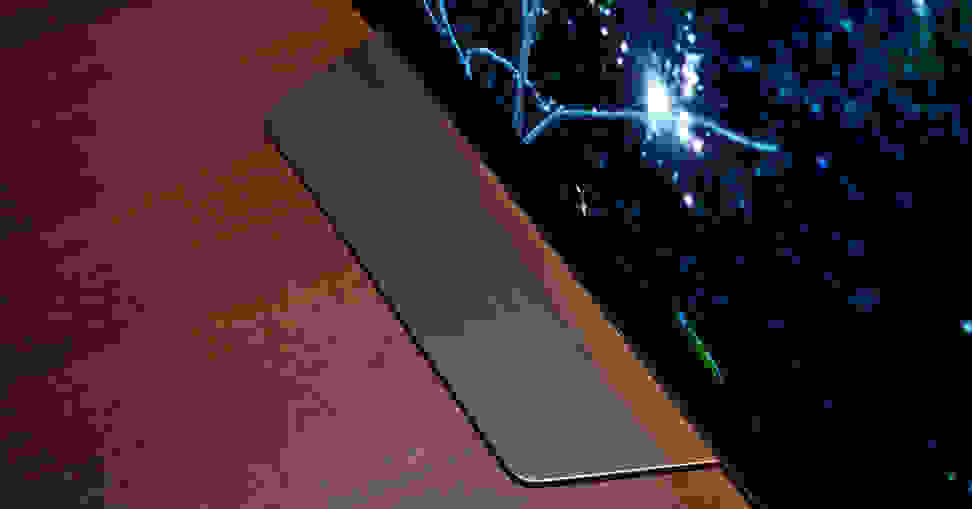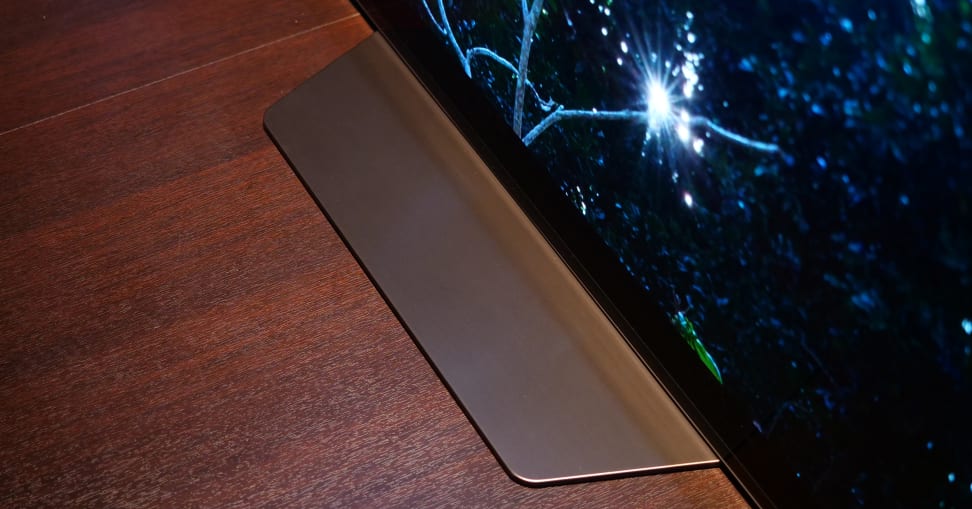 I didn't personally have an issue with the leaned-back nature, but I also primarily viewed the TV while it was sitting on the floor. The stand apparently didn't jive well with buyers, and made wall-mounting pretty odd as well due to the TV's angled rear surface. The A8F TVs have changed that up, using much more traditional tabletop stands. This should also mean they're that much cheaper, whenever pricing is announced.
These TVs are just breathtaking
OLED is oled hat for me as a TV reviewer, having been dominating our top TV lists since late 2013, but something about the A8F models just looks extra awesome.
While they of course have the usual slew of OLED picture quality advantages, Sony's approach to color management and sparkling HDR highlights looks really, really good. It's hard to capture on camera, but if you're at CES this year I recommend going and checking these TVs out.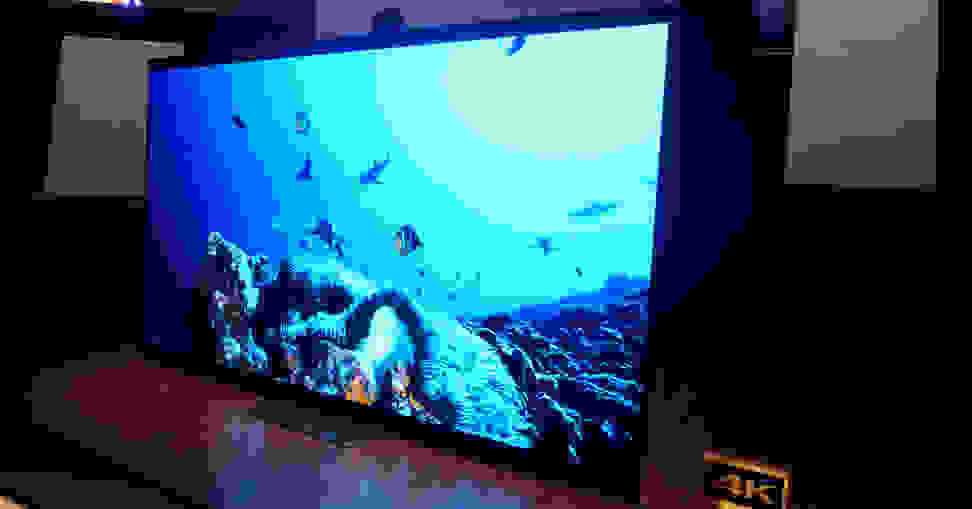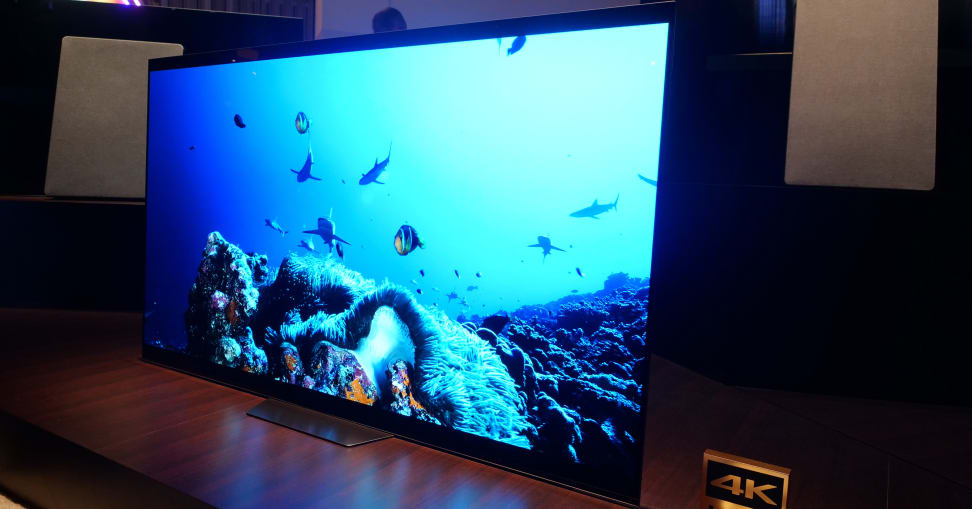 Most of the footage I've seen is from nature documentaries, featuring underwater vistas full of sharks, leopards on the hunt, toucans and tropical birds, and a slew of nighttime vistas and setting suns. The colors don't scream at your eyes—they're subtle and natural-looking—and it makes all the difference.
Colors don't scream at your eyes—they're subtle and natural-looking.
A lot of this may have to do with Sony's new processor, the "X1 Extreme," which is upgraded from last year for handling video situations that might involve banding, contouring, or other picture-marring processing methods that plague even very high-end TVs like these during certain kinds of content. It's hard to definitively say that the A8F looks "better" than competing OLEDs, but the content on the show floor was striking nonetheless.
Android TV, Acoustic Surfaces a bonus
The demo of the A8F at CES is fairly limited. I haven't been able to try out the Android TV platform or really get a good listen on the Acoustic Surface, but on top of the small but valuable design improvements and the stunning picture quality on display from these sets, the smart features and audio really just need to work to be icing on this very delicious cake.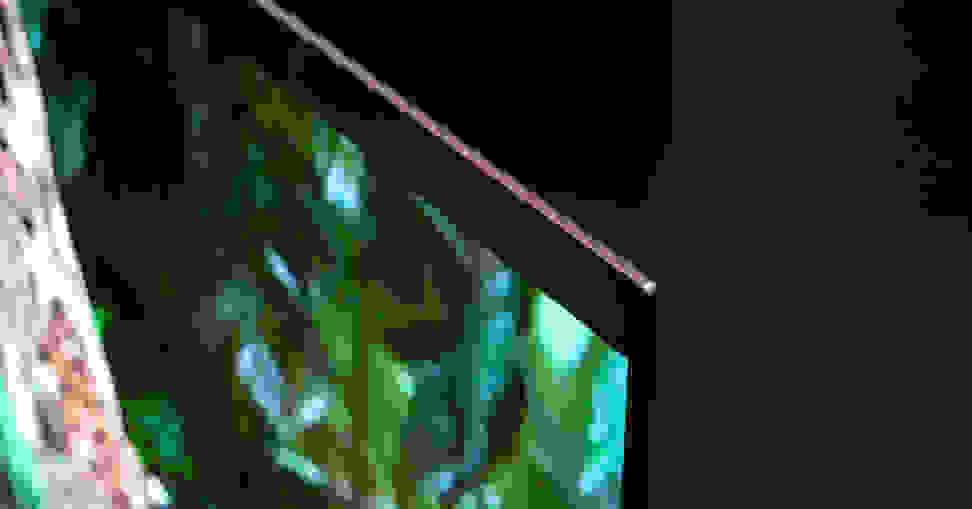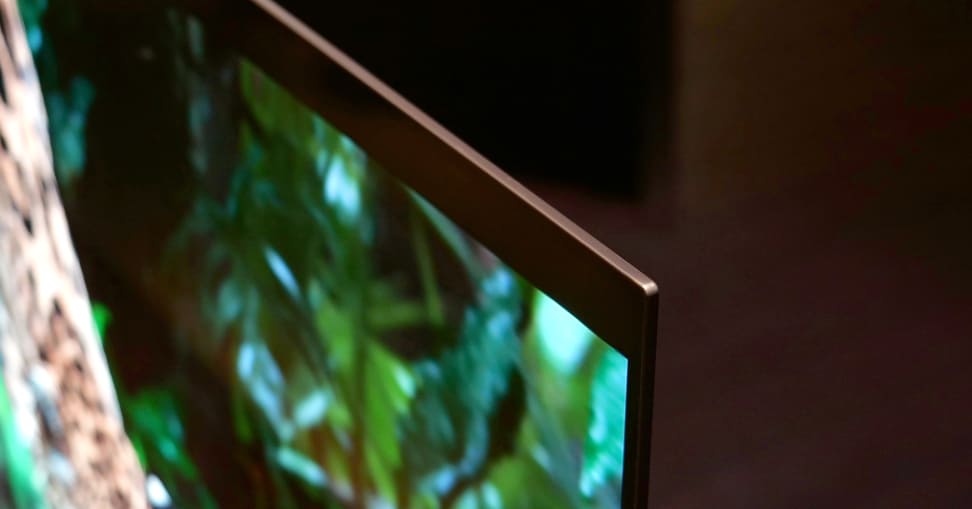 What We Don't Like
Under construction
It's likely these TVs will be very expensive—but that's hard to complain about when they look this good. There's bound to be drawbacks, but nothing that I can discern at Sony's booth.
Should You Buy It?
Maybe—it all depends on the price
Sony's A1E OLED was a success last year, but it was priced out of range of 90% of consumers, with the 55-inch starting at a whopping $3,000.
With the A8F, which is altogether more affordable, we're hoping the 55- and 65-inch models—while definitely still pricy—are somewhere within range of more buyers. The more practical stand and feature set are good news, too.
Check back later this year when we do a full, hands-on lab review of the A8F OLED TV. Until then, I'll just be pining to see it again.
Our editors review and recommend products to help you buy the stuff you need. If you make a purchase by clicking one of our links, we may earn a small share of the revenue. Our picks and opinions are independent from any business incentives.