The BX330 didn't exactly blow us away, but it does have decent motion performance, a good viewing angle, and a simple menu system. For a TV that can be found for under $300 online, those are some nice features to have.
The Sony Bravia BX330 looks like your standard budget TV. It has a thick profile, wide bezels, and a distinctly cheap feel to it. One area that surprised us was the on-set controls, which are located on the bezel and are touch-sensitive; they give this average-looking TV a somewhat modern vibe.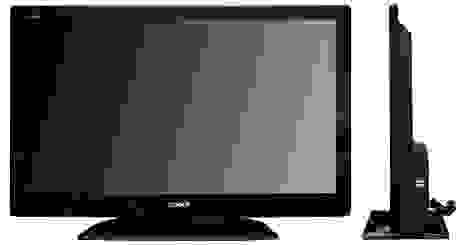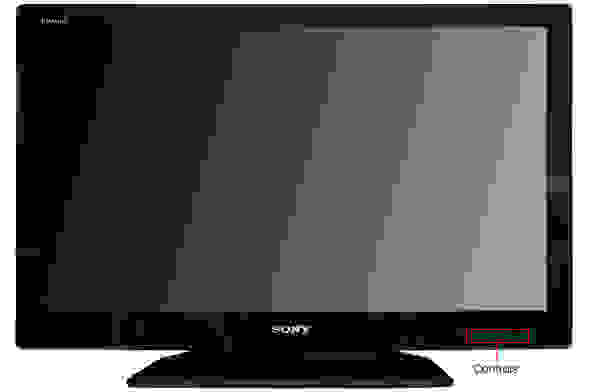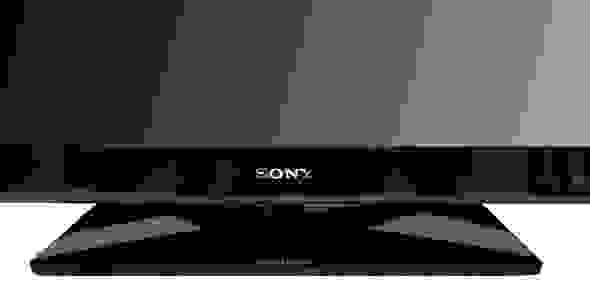 Sony uses touch-sensitive controls for the BX330. These controls are located on the bottom-right bezel. There are options to change the volume, channel, and input, as well as buttons for accessing the home menu and powering the TV on/off. These "buttons" work fine, but touch-sensitive controls without haptic feedback always feel odd.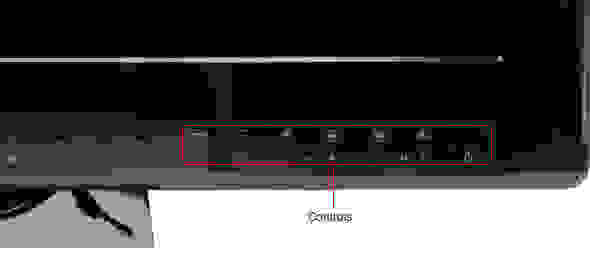 While basic, this remote has all of the buttons you will ever need for this TV. The buttons are spaced out so that everything is easy to find without being cramped.

The Sony Bravia KDL-32BX330 comes with a remote, batteries, and a user manual.
There aren't too many connections to choose from on this Sony Bravia, but with an MSRP of $329, we can't compain. The ports are located on the left-side (right-side if viewing from the back) and include two HDMI inputs, a VGA input, a component input, audio in, audio out, an antenna input, a digital audio output, and a USB port.

Everything is easy to find—consumers who purchase this TV shouldn't have a hard time accessing the ports, even though there is no swivel to make the task of connecting your cable box easier.
We were treated to decent performance from the Sony Bravia KDL-32BX330. Motion was handled well, the screen had good uniformity, and the viewing angle was great for an LCD. Colors on this TV were inconsistent: while they transitioned from black to red, green, and blue smoothly, the actual gamut of colors that the BX330 can produce does not match up well with the industry standard.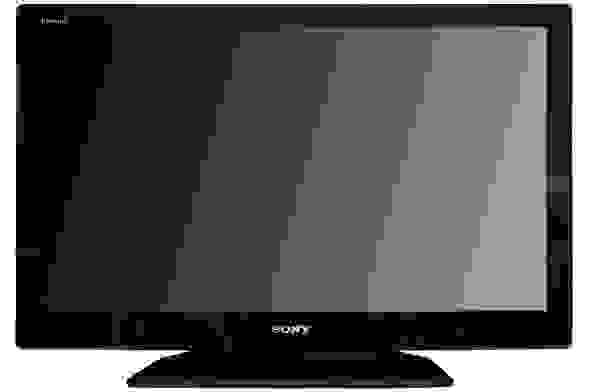 The Sony Bravia BX330 was able to achieve a decent black level, but its peak brightness was very dim and more in line with a plasma TV. More on how we test contrast.

The Sony BX330 was able to transition smoothly from an input of 0 (pure black) to an input of 255 (pure red, green, or blue). More on how we test color performance.
The color temperature on the BX330 was very good. There are minor fluctuations in the color temperature—lighter greys can take on a warmer tone while darker greys can get slightly cooler—but the changes are not enough to detract from the overall picture. More on how we test color temperature.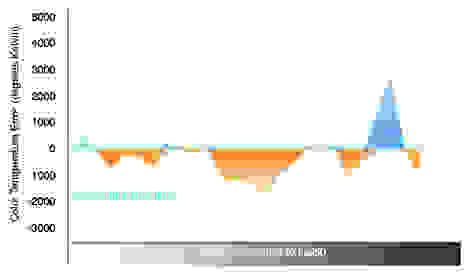 Even though the color curves and color temperature were great on the BX330, the color gamut is not. Greens and reds are off, while the white point is nowhere close to the industry standard. More on how we test color temperature.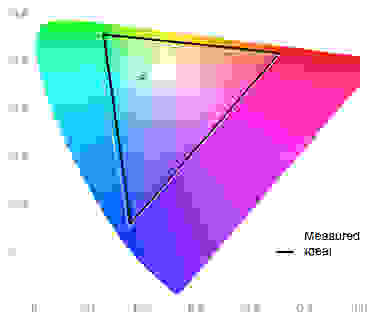 The picture dynamics were excellent on the Sony Bravia KDL-32BX330. The black level on this TV stayed consistently dark when the screen was mostly white, while the peak white level stayed consistently bright when the screen was mostly black. More on how we test picture dynamics.
The Sony Bravia KDL-32BX330 has a native resolution of 720p and supports all NTSC formats.
The Sony Bravia BX330 produces a very good viewing angle for an LCD TV. We measured a total viewing angle of 75°, which was better than the larger Sony Bravia BX450 and the Dynex DX-L100A13, but was still not as good as the excellent LG 42LS3400.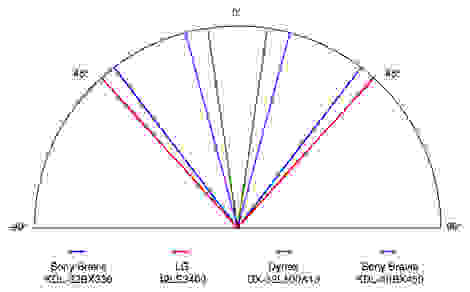 The motion performance on Sony's little TV wasn't bad at all, especially for a budget TV that has no motion enhancement options. There was some blurriness from fast-moving images, but nothing bad enough to detract from a movie or football game. The BX330 performed admirably with straight lines and edges—there was barely any distortion.
The screen uniformity on the BX330 is pretty good. An all-white image on the screen was bright and had very minimal shadowing along the edges. An all-black image was mostly uniform, although we noticed the occasional bright spot near the corners.
We wouldn't say that the BX330 has horrible audio, but we will say that it isn't very good. The mid-range frequencies sounded good, so hearing dialogue was never an issue. The bass and the high-end frequencies sounded bad, though. Bass was muddled and underwhelming while sounds with more treble were very tinny.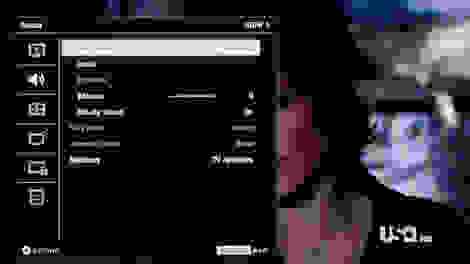 There are three sound modes to choose from: dynamic, standard, and custom. Dynamic appears to be a surround mode, although it doesn't do much for the audio. Standard is the basic sound mode and custom gives users the ability to play around with an equalizer. We tried using the equalizer, but couldn't manage to make the overall audio quality sound better.
The BX330 does not get very bright, which helps explain why it does not draw much power. We were only able to achieve a peak brightness of 107.60 cd/m2, so results from our minimum recommended backlight setting and maximum backlight setting are the same. This Sony faced some stiff competition in this category, with the LG 42LS3400 and Dynex DX-32L100A13 outperforming it. The estimated annual cost of $13.67 means that the BX330 costs a little over a dollar per month to run, which is still really good.
We had to play around with the picture settings quite a bit in order to calibrate the Sony Bravia BX330. We usually don't choose a cool color temperature when calibrating, but this TV seemed very warm—a neutral color temperature produced greys that had reddish hues.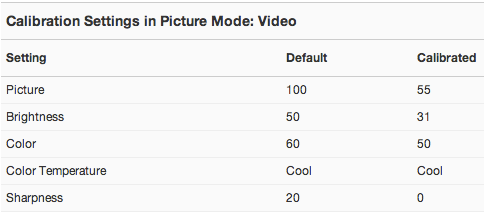 All of our calibration is done in conjunction with the DisplayMate software.
There are five video modes to choose from.

We were never big fans of Sony's convoluted menu interface on their pricier, feature-packed TVs like the HX850 and HX750. The menu interface on the BX330 is much different and offers a simplified way of accessing basic picture and audio settings. As you might expect, we like this menu design.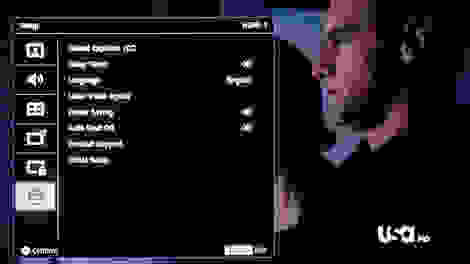 Sony's menu interface on the BX330 has a simple design and navigating through it is no problem, as opposed to other Sony televisions like the HX850 and HX750. There are six menu categories on this TV: picture, sound, screen, channel, lock, and setup.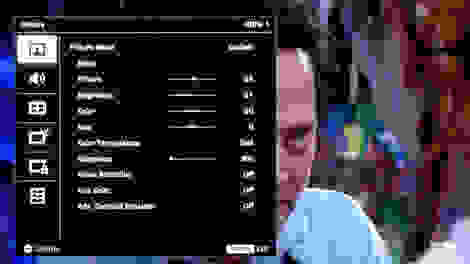 There isn't a whole lot to see on this menu, but we weren't expecting tons of settings to tweak on a TV that retails for $329. We were more than satisfied with all of the options that Sony included.
Inserting a USB drive will allow you to browse files on it. Unfortunately, the BX330 likes to pick and choose what files it wants to display. We had no problem playing .mp3 music files, but pictures were hit-or-miss: some .jpg files worked fine, but the BX330 refused to show others.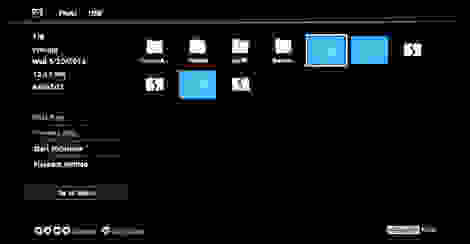 For an inexpensive 32-inch LCD television, the Sony Bravia KDL-32BX330 (MSRP $329) delivers. The motion performance is good, navigating the menus is simple, and the viewing angle is wide—for an LCD, that is. Not only is this TV budget-conscious, but so is its power consumption.
Not every feature can be a knockout on a TV this cheap, though. We weren't particularly impressed by the range of colors that the BX330 can produce, which does not measure up nicely with the industry standard. The audio was also below-average, with muffled-sounding bass and weak treble.
Since the Sony Bravia BX330 can be found for under $300 on the internet, we think consumers can look past some of its shortcomings, especially if they are in need of a small TV with just the basics.
Meet the tester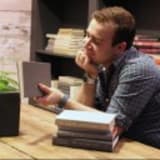 Josh Fields
Staff Writer
@reviewedtech
An enthusiast of all things tech, Josh is one of Reviewed.com's resident television experts. When he's not looking at bright TV screens in a dark room, he's probably reviewing a laptop or finding a new snack at 7-11.
Checking our work.
We use standardized and scientific testing methods to scrutinize every product and provide you with objectively accurate results. If you've found different results in your own research, email us and we'll compare notes. If it looks substantial, we'll gladly re-test a product to try and reproduce these results. After all, peer reviews are a critical part of any scientific process.
Shoot us an email